These are The Easiest Fall Dinner Recipes to make this year! Easy dinner recipes that are so flavorful and cozy they are sure to be a family favorite.
Autumn is one of my most favorite times of year! The temperature starts to cool down, the leaves begin to fall, and of course I love all of the warm, delicious food. These recipes make it super easy to make tasty fall dinners quickly, so you can enjoy the season. From comforting soups to hearty roasts and savory skillets, the fall dinner options are endless.
So, whether you're gathering around the table with family or enjoying a quiet meal by the fireplace, these fall-inspired dishes create the perfect backdrop for making cherished memories during this wonderful season.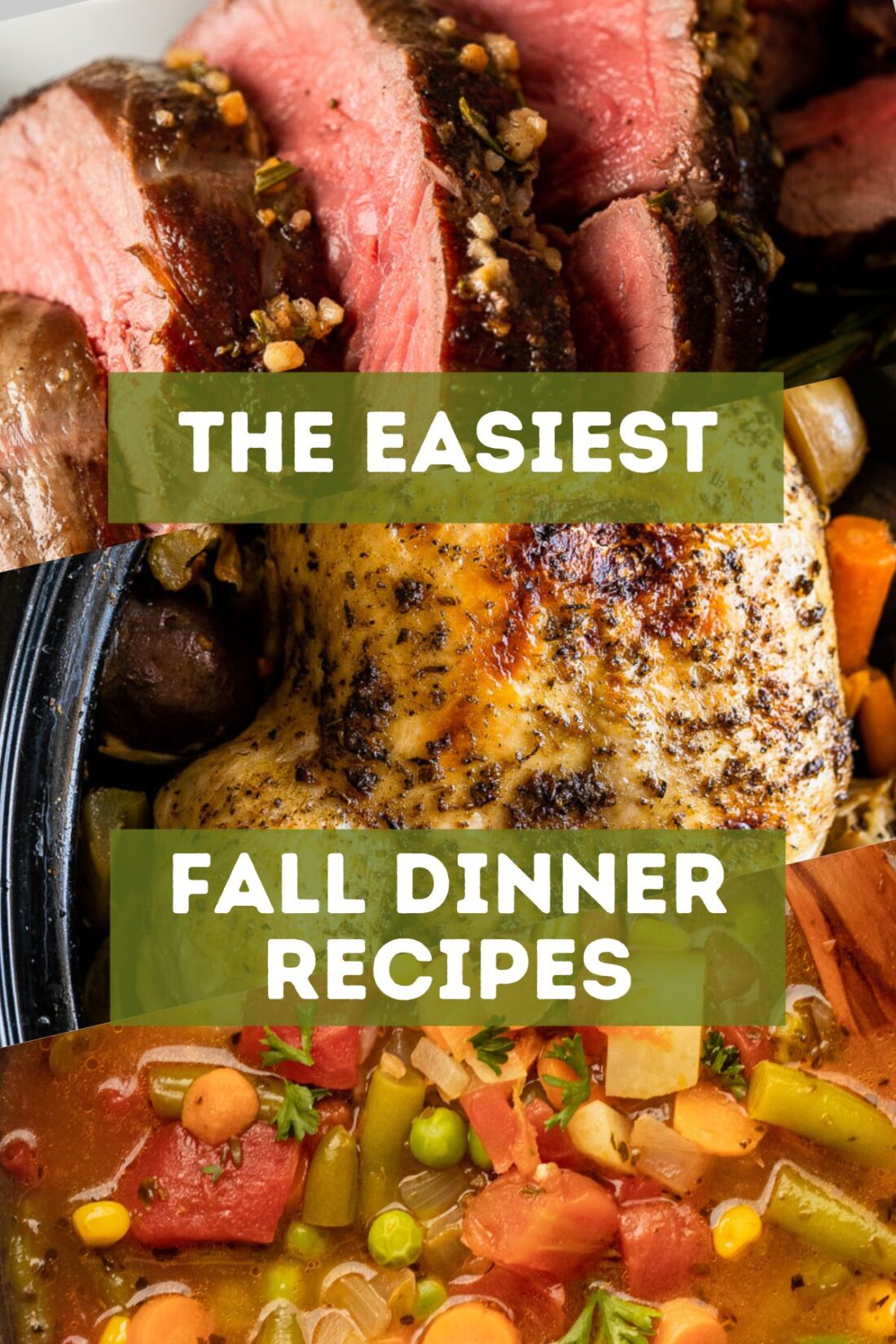 Easy Fall Dinner Recipes
I'm going to break down for you my top Fall-inspired soup recipe, chicken recipes, beef recipes and even pasta recipes. You're sure to find something that will spark your interest.
Fall Soup Recipes
Hot soup is always a crowd favorite simply due to the many different kinds and variations that exist. You can make a thick creamy soup, or a more simple variation with just broth and plenty of vegetables. The beauty of soup lies in its ability to cater to so many different tastes, whether you crave a spicy chili to warm you up, or an easy homemade tomato soup that embodies the essence of fall. This is my favorite stock pot for cooking soup!
Fall Chicken Recipes
Chicken is one of the most versatile proteins, in that you can season it so many different ways to make your favorite comfort food. Whether you're craving a hearty chicken pot pie, chicken with potatoes, or a quick-cooking chicken stir fry, the possibilities for creating tasty autumn dishes are endless with chicken as your main ingredient.
Fall Beef Recipes
Beef is so hearty making it one of the best protein options this time of year. You can use different marinades and sauces to transform your dish and accentuate different flavors! From beef skillets that fill your home with savory aromas to perfectly seared steaks paired with earthy mushroom sauces, beef adds a rich and satisfying element to your fall menu.
Fall Pasta Recipes
For me pasta is a year-round comfort food. However, when the weather starts to get a little chilly, nothing comforts me more than a big bowl of pasta. It's so easy to add a protein to your favorite sauce or add more seasonal ingredients like squash and mushrooms. Get creative with pasta and these tantalizing recipes.
What To Serve With These Fall Dinner Recipes
There are so many dinner options, but what about sides? To create the most hearty, filling, and nutritious meals this fall, you can pair your main dish with any of these warm and delicious sides!
Frequently Asked Questions
How Do I Cook A Perfect Steak?
There is nothing better than a perfectly cooked steak! The juiciness of each bite, the rich, savory flavors, and the satisfying tenderness make it a culinary delight that's hard to beat. Cooking the perfect steak doesn't have to be difficult, here are some tips to achieving the juiciest, most mouth-watering steak!
Choose Quality Meat: Start with a high-quality steak with good marbling for flavor and tenderness. Look for Prime or Choice cuts in the butcher section of the grocery store.
Room Temperature: Allow the steak to come to room temperature for about 30 minutes before cooking to ensure even cooking.
Preheat Grill or Pan: Make sure your grill or pan is hot before placing the steak on it. High heat helps with searing.
Use a Meat Thermometer: For precision, I always recommend using a meat thermometer to check the steak's internal temperature:

Rare: 120-125°F (49-52°C)
Medium Rare: 130-135°F (54-57°C)
Medium: 140-145°F (60-63°C)

Rest the Steak: Allow the steak to rest on a cutting board for 5-10 minutes to let the juices redistribute and ensure a juicy result.
By following these tips, you can cook a perfect steak that is both flavorful and tender. Adjust the cooking times to your preference, and practice will help you master the art of steak cooking in no-time!
What's The Secret To Cooking A Chicken In The Oven?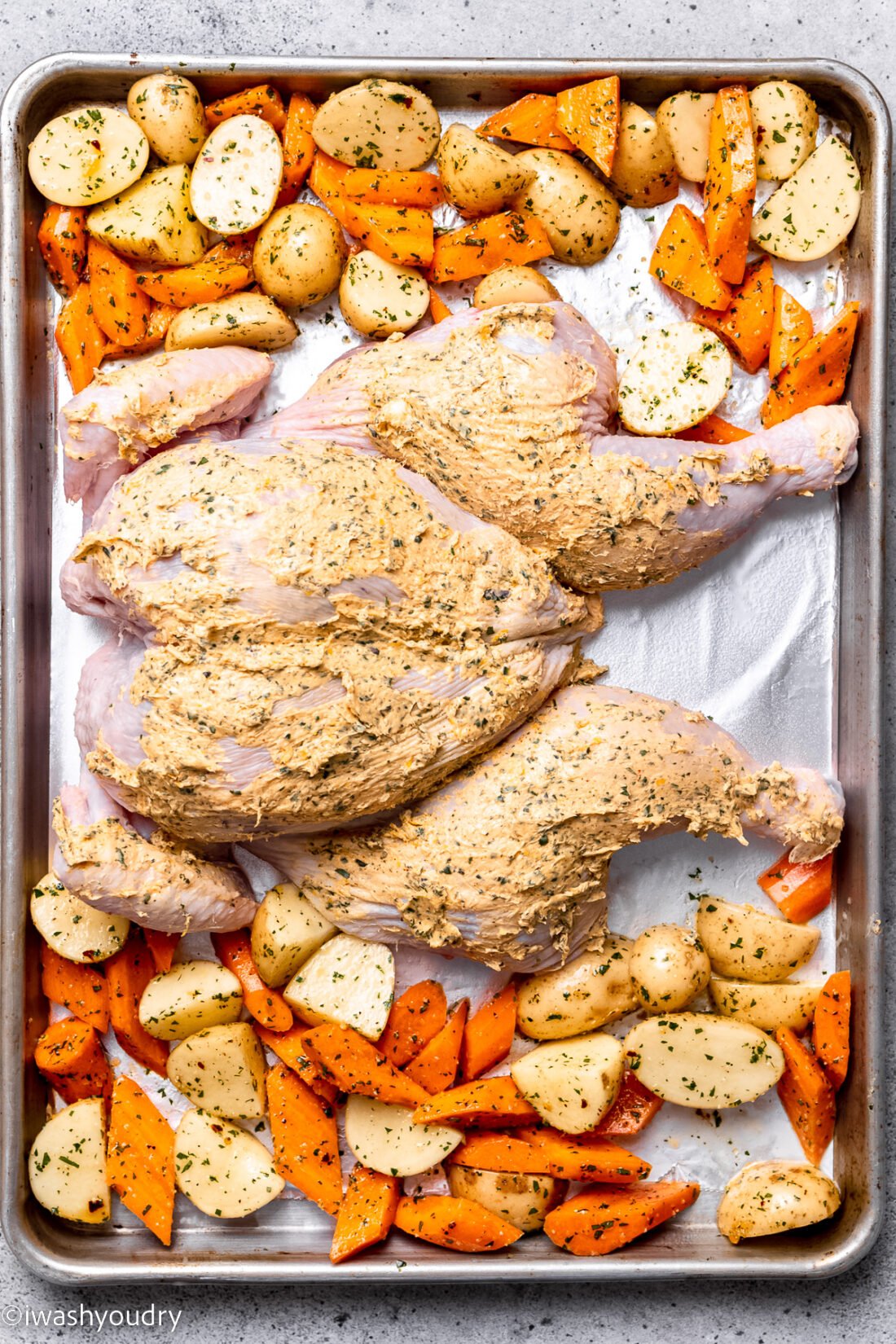 Cooking a whole chicken in the oven may seem scary at first, but with the right techniques and a little practice, it becomes a rewarding and delicious endeavour that will impress your friends and family. Plus, the aroma of a roasting chicken filling your kitchen practically summons a cozy, homey atmosphere. So don't be daunted by the task! Grab a whole chicken, follow these tips, and you'll soon master the art of oven-roasted poultry.
Choose Quality Meat: Choose a fresh, high-quality chicken, preferably organic or pasture-raised, ensuring it's plump with firm, moist skin.
Allow for Proper Air Circulation: Place the chicken in a roasting pan or on a rack inside a baking sheet to allow proper air circulation around the bird for even cooking.
Baste to Maintain Moisture: Baste the chicken with pan juices or melted butter every 30 minutes during the roasting process to keep it moist and add flavor.
Use a Meat Thermometer: Confirm the chicken's doneness with a meat thermometer; it's ready when it reaches an internal temperature of 165°F (74°C) in the thickest part of the thigh.
Rest the Chicken: After removing from the oven, allow it to rest for at least 15 minutes; cover it loosely with aluminum foil to keep it warm while the juices redistribute for a juicier result.
Carve against the Grain: When ready to serve, carve the chicken into serving pieces, starting with the legs and wings, and slice the breast meat against the grain for maximum tenderness.
Can You Freeze Leftover Homemade Soup?
The short answer is yes, you can absolutely freeze homemade soup! However, soups with pre-boiled pasta, rice, or quinoa don't retain texture through freezing and defrosting very well, so it isn't recommended for soups with those ingredients.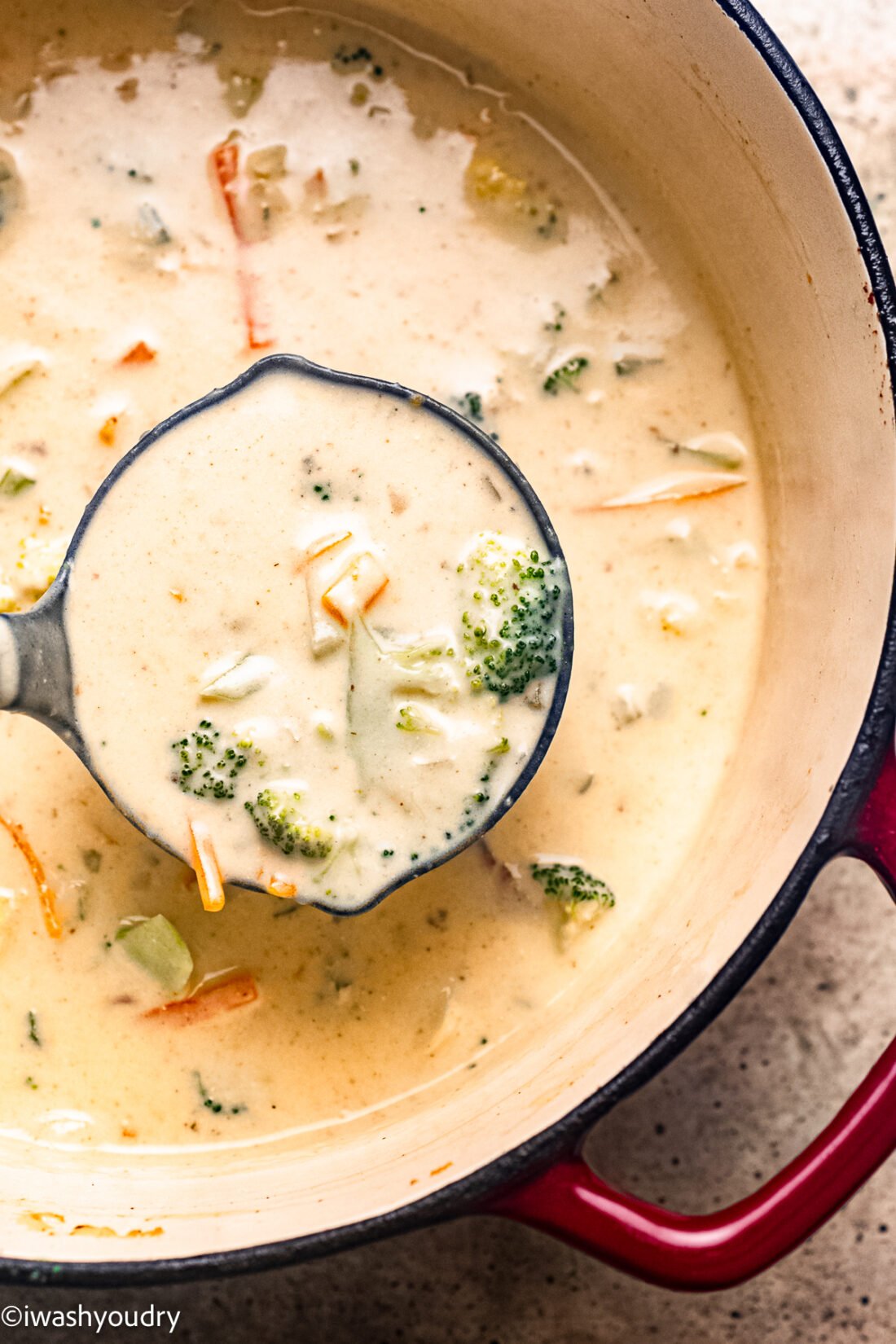 To freeze your other soups though, you can ladle the soup into ziplock bags, mark the date, and freeze flat! A good rule of thumb is to keep it in the freezer for up to 3 months. After that, it begins to lose its freshness.
PRO TIP: I love using these Souper Cubes to freeze my soup (and loads of other leftovers) for easy storing and reheating in smaller portions.
If you feel like keeping the good fall vibes going, you can always add dessert to the menu! This guide to The Easiest Pumpkin Recipes should have exactly what you are looking for, or take a look around for yourself!