This Dry Brine Roasted Turkey Recipe will give you juicy turkey breasts, crispy skin and perfectly seasoned meat with very little prep!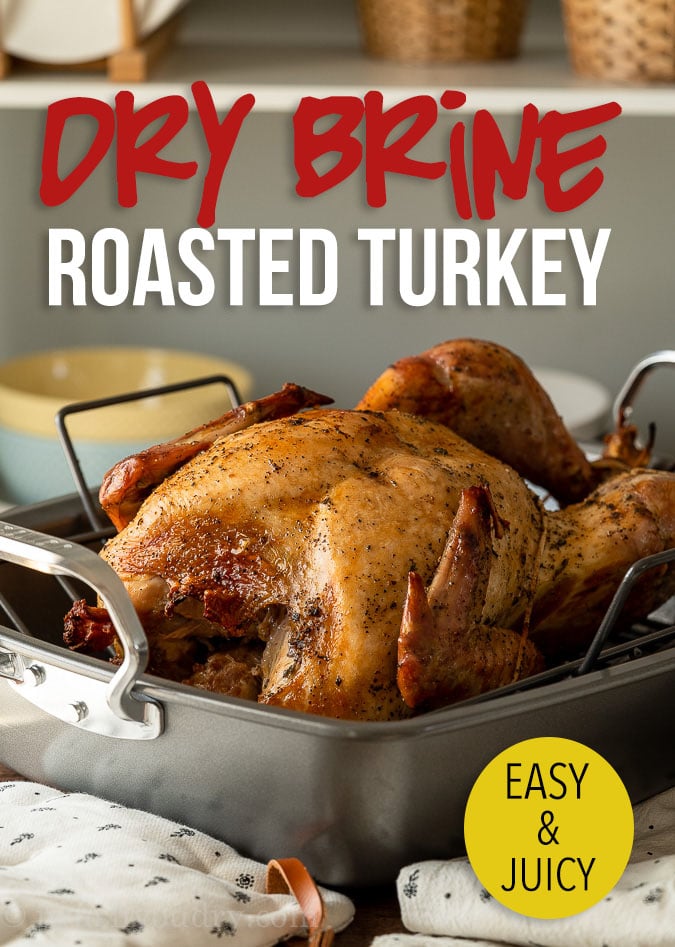 It's just about that time when we all gather around the Thanksgiving feast to enjoy a nice meal and be thankful! The last thing you want is to show up with a bland, dried out turkey that nobody wants to touch.
Luckily, with this recipe that will not be the case. This JUICY roasted turkey will be the star of the show and it requires VERY LITTLE prep and work on your end!
What Is a Dry Brine?
Brining is simply the act of using salt to change the chemical makeup of a piece of meat. There are two types of brining, dry and wet.
For a wet brine you would submerge your turkey in a bucket of salted and seasoned water for 24 hours, which is fantastic… BUT sometimes we don't have room for 5 gallon buckets inside our fridge. Am I right?! (here is my wet brine method)
For a dry brine you simply create a salt blend of seasonings and sugar and rub down the thawed turkey, cover it with plastic wrap and place it in the fridge for 24 hours. No big sloshing buckets of water needed!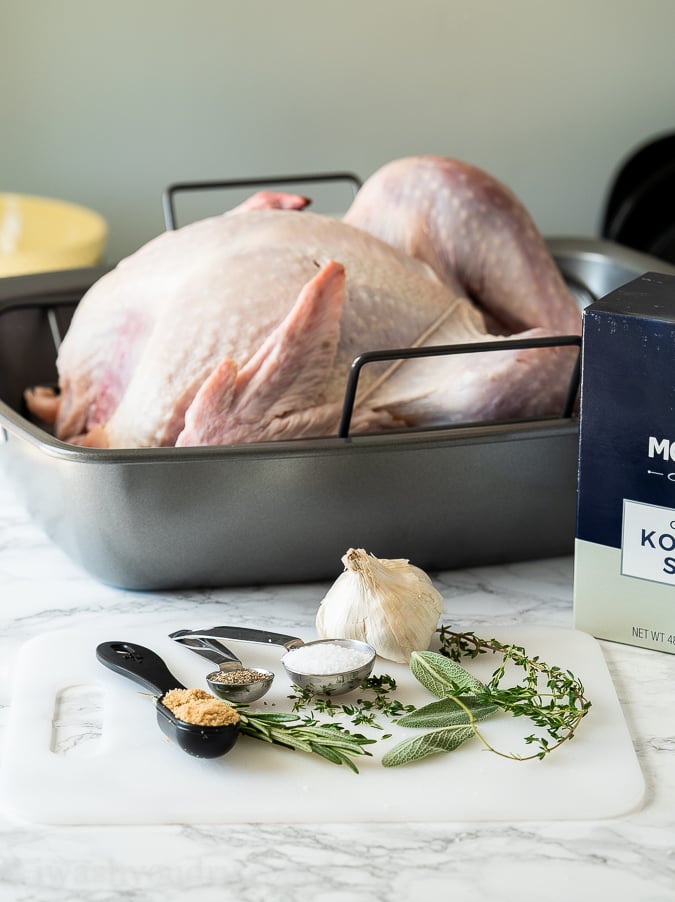 Ingredients Needed For Dry Brine Roasted Turkey
Here's a list of the basic ingredients you'll need in order to mix up a dry brine for your turkey. As always you can find the full list of ingredients located in the recipe card below.
Kosher Salt – make sure you're using kosher salt for the brine!
Black Pepper
Brown Sugar – I love the richness the brown sugar brings to the turkey.
Garlic – make sure you mince the garlic and don't use a press. Pressed garlic can burn when cooking at high temps.
Fresh Herbs – I love to use a blend of fresh rosemary, thyme and sage
How Long To Brine A Turkey
Once you've created your dry brine, you'll rub down the turkey, massaging it into the skin and even a little inside the cavity of the bird. Place it on a rack inside a roasting pan and cover it with plastic wrap. Refrigerate for at least 24 hours, then UNCOVER the turkey and let sit in the fridge for another 24 hours. For a total of 48 hours.
I know that might sound crazy, but doing this will help dry out the skin on the turkey and give you a nice crispy skin when roasted.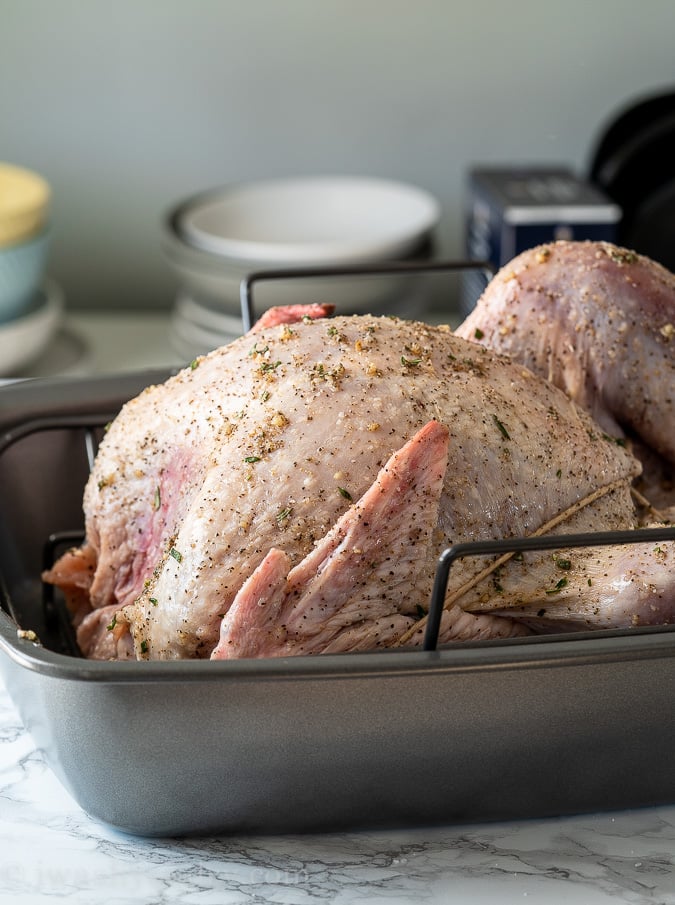 Do I Need To Rinse The Turkey?
NOPE! The dry brine does double duty here, creating an ultra juicy turkey with crispy skin AND seasoning it perfectly!
The only thing that's left to do after it's set in the fridge for about 48 hours is to stuff the cavity and pour some melted butter all over, then pop it into the oven!
How Long Do I Cook a Turkey In The Oven?
Timing is E.V.E.R.Y.T.H.I.N.G when it comes to Thanksgiving.
Making sure you get your turkey out and sides finished at just the right time can almost feel like a giant math equation. Here is a good guide to go off of, but keep in mind, times can vary based on how cold your turkey is when it goes into the oven, how stuffed it is, and how long it was brining. To be absolutely sure your turkey is cooked perfectly, invest in a good digital thermometer.
For every 1 pound of turkey, it should take approximately 11 to 13 minutes to cook.
Brined turkeys, however, tend to cook a little faster since the chemical makeup of the meat has changed.
Allow time for the turkey to rest after it's been cooked. Give it at least 20 minutes under loose foil to allow the juices to have a chance to redistribute.
What Temperature to Cook a Turkey at?
You're going to start your turkey off at 425 degrees F. for 30 minutes, then reduce the temperature to 350 degrees F and cook until the internal temperature of the thickest part of the thigh reaches 165 degrees F.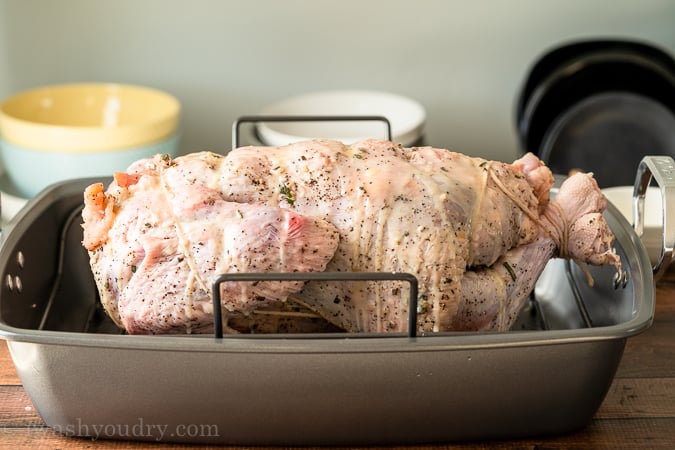 Tips To Get The Juiciest Turkey Breast
It's all about gravity when it comes to roasting a turkey. You typically see a bird cooked with the breast side of the turkey staring straight up, right at the top burner in your oven. Well, that's just asking for your turkey breast to get dried out, while all the juices flow down to the back of the turkey.
Flip that bird over and start her out, back-side up!
The juices will flow down into the breast, giving you the juiciest turkey breast you've ever had.
With about 30 minutes left in cooking, carefully remove the turkey from the oven, flip her back over, baste with the pan juices and pop her back in the oven. This will give you that nice golden brown and crispy skin that you're after, but with the juiciest breasts too!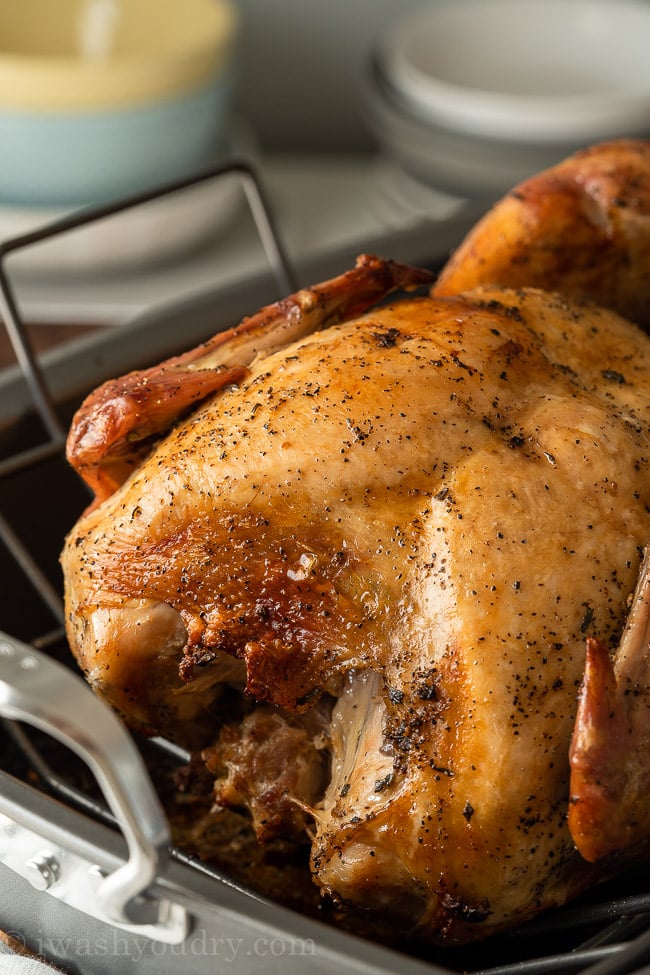 Frequently Asked Question –
When it comes to making a Dry Brine Roasted Turkey, here are the most frequently asked questions I get…
Do I need to remove the plastic leg ties prior to cooking the turkey? – Most of those plastic ties are food grade and should be perfectly fine to roast with the turkey in the oven. If you're going to fry the turkey, then YES, remove the plastic! I prefer to use butchers twine to truss my turkey.
Should I rinse the turkey before brining? – Give your turkey a quick pat down with paper towels to dry the skin before rubbing it down with the dry brine. Try to avoid rinsing the turkey in the sink which can spread bacteria. If you do, just make sure to wash real good afterwards.
Can I dry brine my frozen turkey? – Nope, you'll need a thawed turkey to get that dry brine to stick to the skin.
I don't have 48 hours to dry brine, what should I do? – The most important part is getting that salt brine on the turkey, so start there. Let it sit with the brine covered in the fridge for as long as you can. Drying out the skin isn't crucial, and you will still get great results from just brining while covered.
When should I start defrosting my turkey? – A frozen turkey can take several days to defrost in the fridge, so get started at least 1 week prior to cooking (allowing the 48 hours to dry brine).
How much turkey is needed per person? – As a good guide, plan on 1 pound of turkey per person (so a 14 pound bird should feed about 14 people).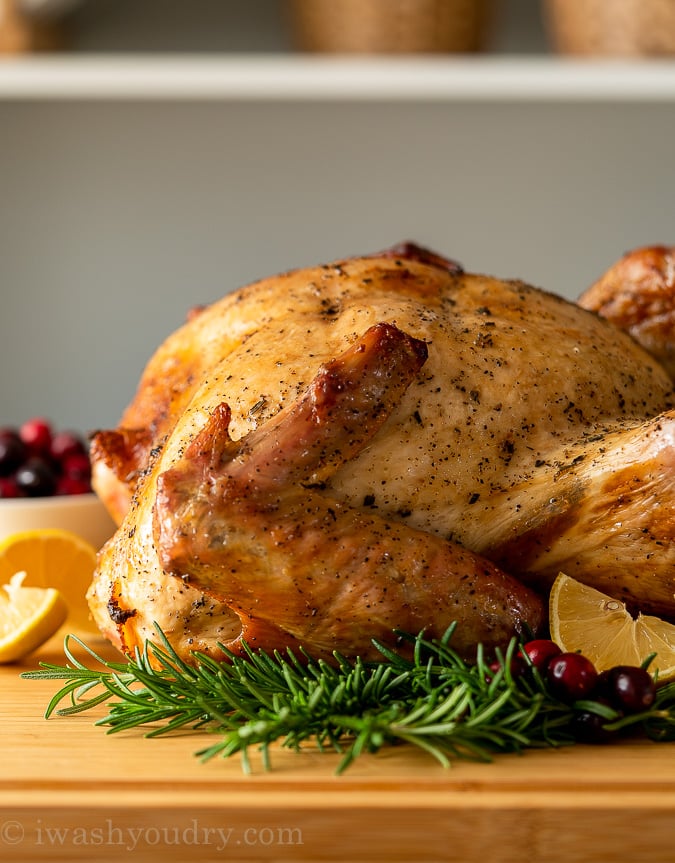 If this is your first time roasting a turkey, do NOT be afraid. It's crazy how simple it is. It can be a little longer of a process, but most of that is just waiting for the turkey to do it's thing. Not a lot of hands on work here!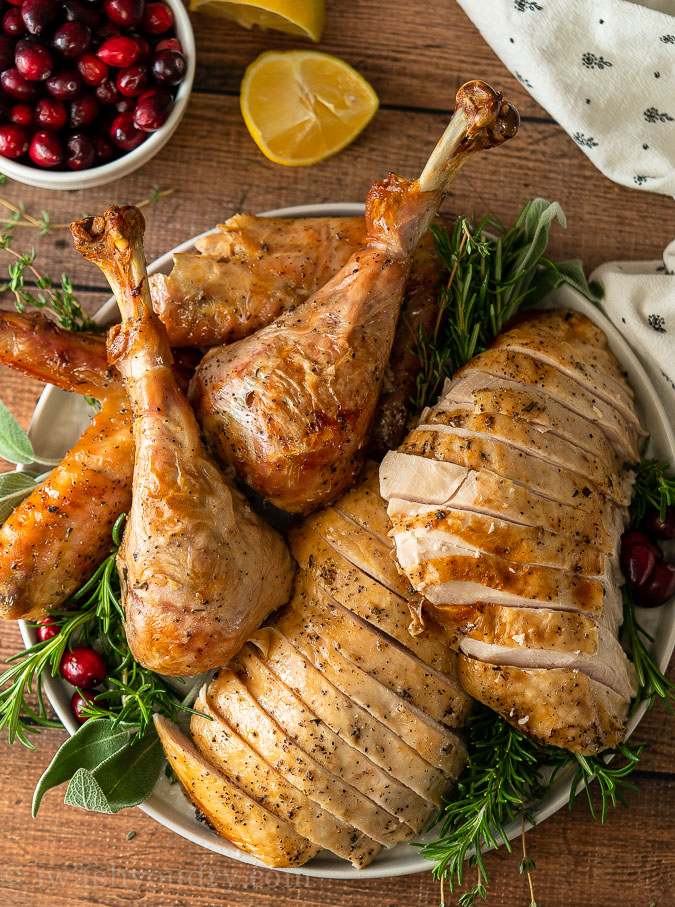 Can you see how crispy that skin is?! The dry brine really helps add some gorgeous flavor and color to the turkey.
What To Serve with Roasted Turkey: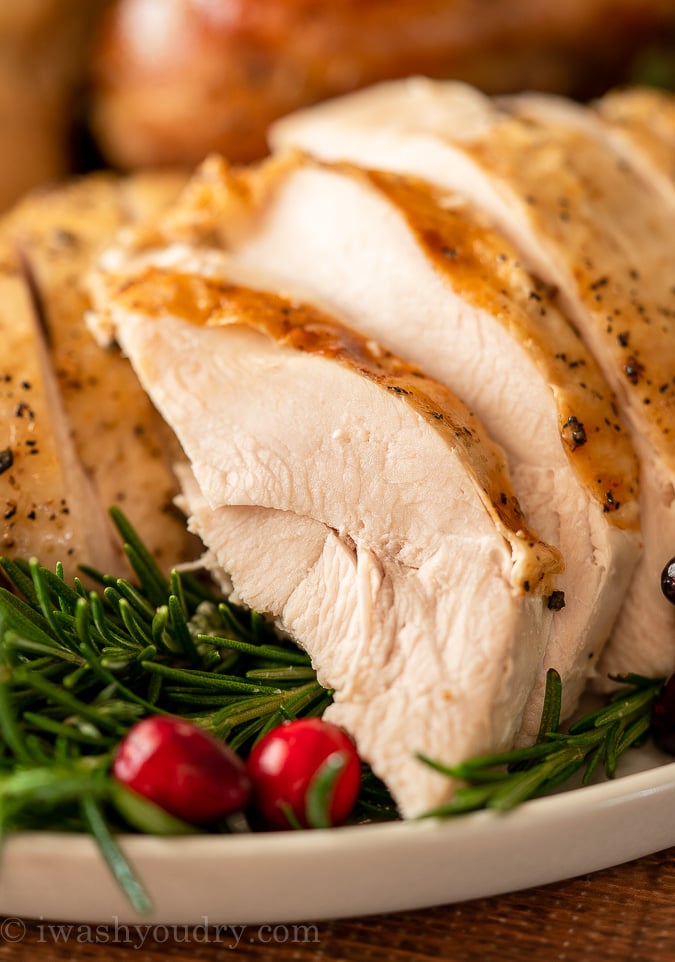 I can't wait for you to give this Dry Brine Roasted Turkey Recipe a try this year! I hope you enjoy it as much as we do!
Helpful Products To Make Recipe:
Last updated on October 2, 2023 4:35 pm
Dry Brine Roasted Turkey Recipe
This super easy Dry Brine Roasted Turkey Recipe will give you crispy skin turkey with a juicy meat on the inside!
Ingredients
For the Dry Brine:

,

for every 5 pounds of turkey use -

1

tbsp

salt

1 1/2

tsp

rosemary, thyme & sage

,

chopped (equal parts)

1

clove

garlic

,

minced

1

tsp

black pepper

1

tsp

brown sugar
For the Turkey:
12 to 15

pound

defrosted turkey

,

neck and giblets removed

1/2

onion

,

quartered

1

lemon

,

quartered

4

carrot sticks

2

celery sticks

2

cloves

garlic

4

tbsp

butter

,

melted

1 1/2

cups

chicken stock
Instructions
For the Dry Brine: (48 hours prior to cooking day)
Pat the defrosted turkey dry with paper towels.

Combine the dry brine ingredients in a small bowl and add 1 tbsp of the mixture to the inside cavity of the turkey and press around to coat. Use the remaining brine to massage all over the turkey. Place on a rack inside a roasting pan and cover with plastic wrap. Place in fridge for 24 hours.

After 24 hours simply remove the plastic wrap and let sit UNCOVERED in fridge for another 24 hours.
For the Turkey: (On Cooking Day)
Remove turkey from fridge and drain out any juices from the roasting pan.

Add the onion, lemon, carrots, celery and garlic to the cavity of the bird and carefully flip the bird over, so it's back-side is up and breast-side is down in roasting pan.

Drizzle 4 tbsp of melted butter all over the back-side of the turkey and pour 1 1/2 cups of chicken stock into the roasting pan.

Place a digital read thermometer into the thickest portion of the thigh if available.

Preheat oven to 425 degrees F. and cook turkey for 30 minutes. Reduce heat to 350 degrees F. and cook until the turkey reaches about 140 degrees F.

Carefully remove the turkey from the oven and flip it over so it's now breast-side up. Baste the turkey breasts with the pan juices and place back in the oven until the turkey reaches 165 degrees F.

Remove turkey from oven and loosely cover with foil for 20 to 30 minutes before carving.
Notes
How Long Does It Take To Cook? 
For every 1 pound of turkey it should approximately 11 to 13 minutes to cook, depending on how cold your turkey was when it was put into the oven.
EXAMPLE:  A 14 pound turkey should take between 154 minutes (2 1/2 hours) to 182 minutes (3 hours) to cook. This is why using a thermometer is so important!
Nutrition
Calories:
441
kcal
|
Carbohydrates:
4
g
|
Protein:
61
g
|
Fat:
19
g
|
Saturated Fat:
6
g
|
Cholesterol:
208
mg
|
Sodium:
886
mg
|
Potassium:
717
mg
|
Fiber:
1
g
|
Sugar:
2
g
|
Vitamin A:
3168
IU
|
Vitamin C:
6
mg
|
Calcium:
42
mg
|
Iron:
3
mg
Keywords:
Dry Brine, Easy, Juicy, Roasted Turkey
PIN THIS IMAGE TO SAVE THE RECIPE: