This Classic Mashed Potatoes Recipe is creamy and fluffy and ready in a flash! Follow my tips and tricks for the best mashed potatoes you'll ever make.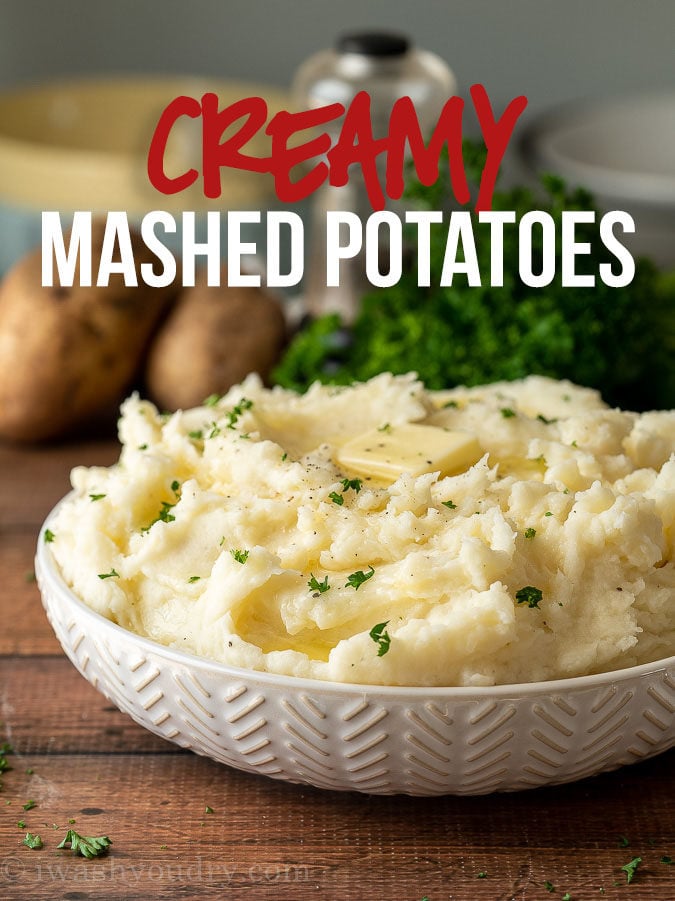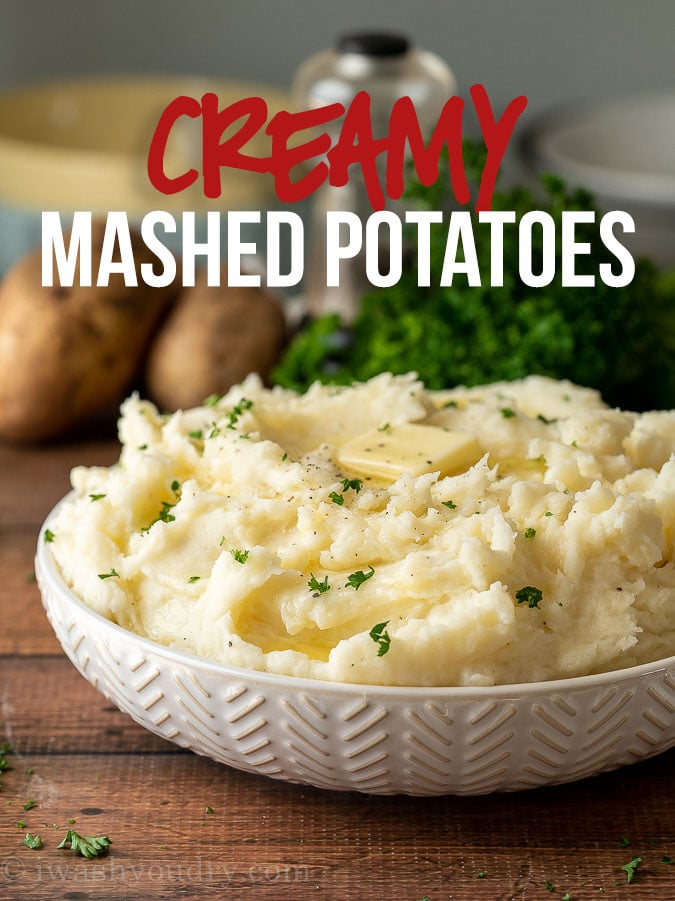 Everyone's favorite side dish for the holidays seems to be good old classic Mashed Potatoes. It's no wonder, with the buttery and silky smooth texture, these potatoes pair perfectly with roasted turkey, ham and even prime rib.
How To Make Mashed Potatoes:
Start by washing and peeling your potatoes. For this recipe I've peeled the potatoes 100% of the way, but sometimes I like to leave half the peels on for some added texture. It's your choice!
Quarter your potatoes so they're about the same size. This helps them to cook more evenly.
Place your potatoes in a large pot and cover with cool water, just until the potatoes are covered.
Season with 3/4 tsp salt and bring the pot to a boil, until the potatoes are fork tender.
Drain the potatoes well and return to the hot pot.
Pour in warm milk, melted butter then season with salt, pepper and my personal favorite – a little bit of garlic powder.
Use a potato masher to mash the potatoes to your desired consistency.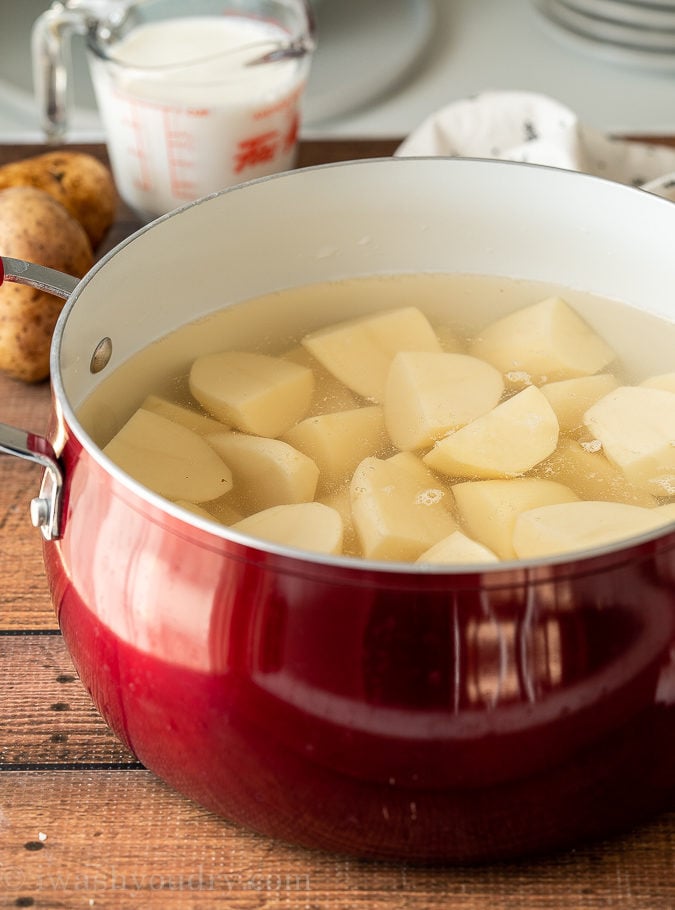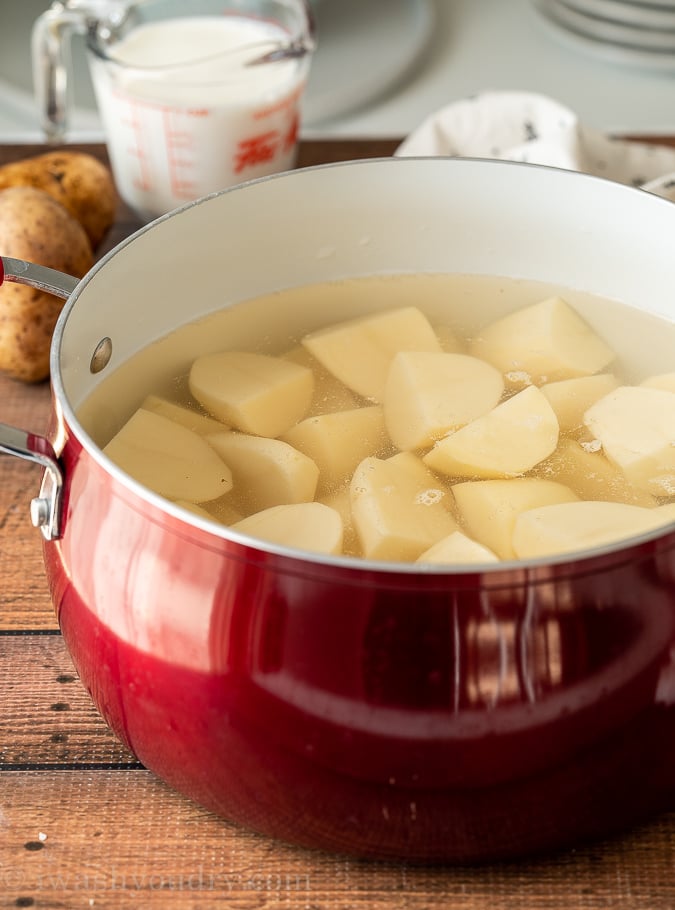 What Type of Potatoes To Use?
For this recipe I'm using the classic Russet Potato (or baking potato). It's super affordable and produces a great consistency.
My other favorite potato to use for mashing is the Yukon Gold potato. The skins are so thin that you don't even need to peel them prior to cooking! Either one would work great.
4 Tips For How To Make The BEST Mashed Potatoes:
Boiling the Potatoes – How you start out can make a big difference in the end. In order to get that perfect consistency, make sure to cut your potatoes BEFORE BOILING. This will help ensure even cooking of the potatoes. I usually quarter the potatoes so they are all about the same size.

Start with cool water that's been salted, then bring the mixture to a boil.
Boil just until the potatoes are fork tender, don't let them overcook!
For this recipe – once the water starts to boil, it should only take about 15 minutes, depending on how big your potatoes are cut.

Draining the

Potatoes

– Too much water in the potatoes can make for a gritty and grainy mashed potato texture. Make sure to drain the potatoes well, then toss them back into the drained (hot) pan and let them sit for another few minutes to really let the moisture evaporate.
Warm Milk & Butter – Don't shock your hot taters with cold milk and butter! Heat up your milk (microwave is fine) and butter before adding to the freshly drained potatoes.

I like to use whole milk and salted butter.
You could also substitute the milk for cream for a more indulgent dish.

Don't Over Mix! – Invest in a good hand masher (this is the one I use) and only mash until the desired consistency is reached. If you over mash the potatoes you can end up with a gummy consistency which is unpleasant.

You could also use a potato ricer if desired.
Avoid using a hand mixer or stand mixer.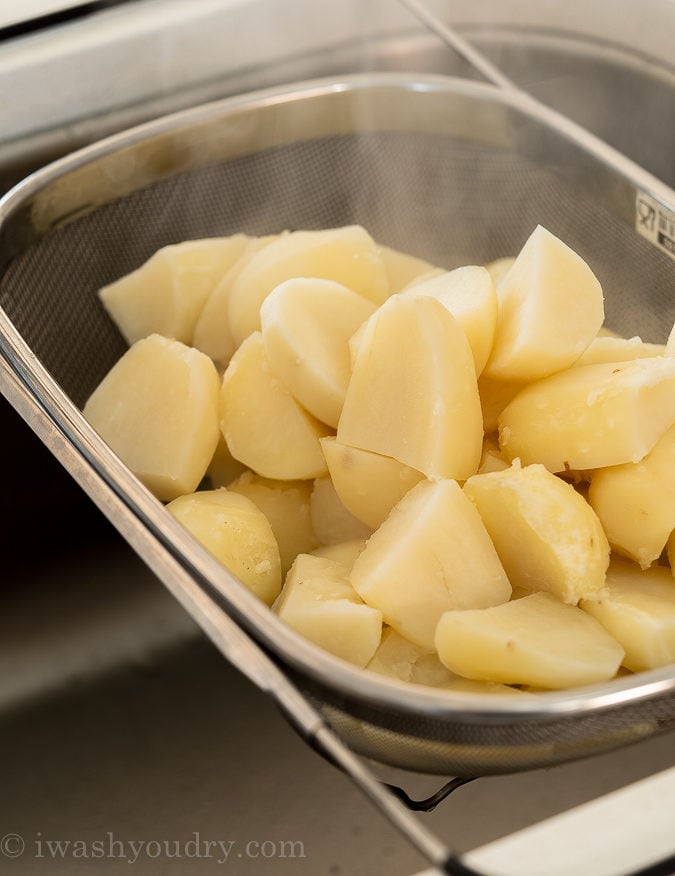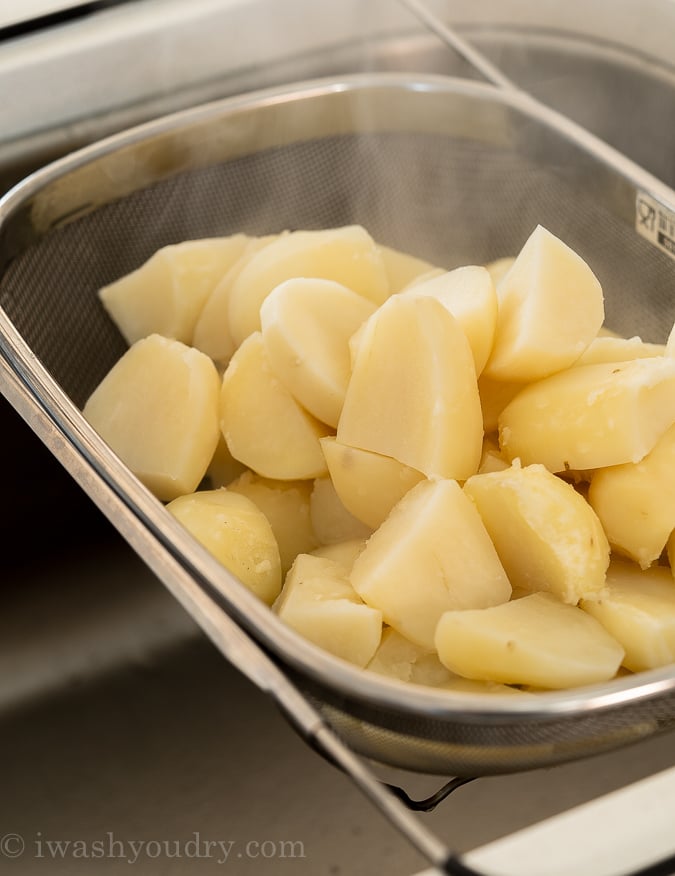 How Much Potatoes Should I Make?
Making mashed potatoes for a crowd and not sure how much you'll need to prepare? Follow this handy chart to make sure you have just the right amount!
*As a side dish, you should plan on using 1/2 pound of potatoes per person.
8 people – 4 pounds of potatoes (12 oz milk + 6 tbsp butter)
10 people – 5 pounds of potatoes (15 oz milk + 8 tbsp butter)
12 people – 6 pounds of potatoes (18 oz milk + 10 tbsp butter)
14 people – 7 pounds of potatoes (21 oz milk + 12 tbsp butter)
20 people – 10 pounds of potatoes (30 oz milk + 16 tbsp butter)
25 people – 13 pounds of potatoes (40 oz milk + 20 tbsp butter)
When in doubt, always make more. Mashed potatoes are great as leftovers, and perfect for recipes like my Loaded Mashed Potato Cakes.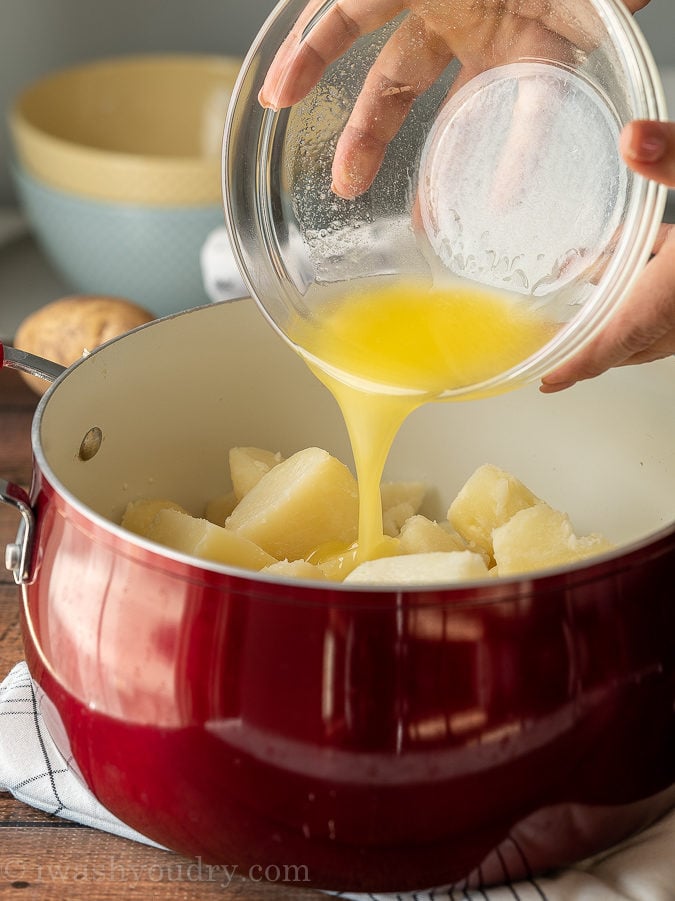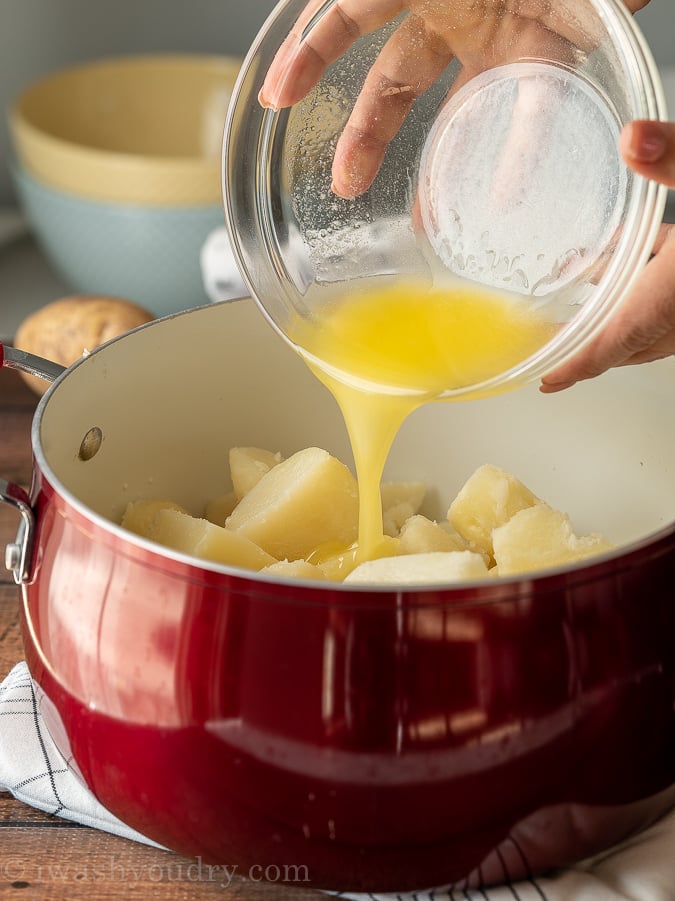 How To Store and Reheat Mashed Potatoes:
Mashed potatoes are super easy to prep ahead and then reheat later, making it a great item to check off your list a day or two early.
Store: Placed cooked potatoes in an air tight container in the refrigerator up to 4 days ahead of time. Or freeze for up to 1 month.
Microwave: Cook for 2 minutes, stir, then cook another 2 minutes and stir. Keep doing this until heated through.
Stovetop: Pour enough milk into the bottom of the pot to coat and bring to a simmer. Gradually stir in the potatoes until the they are heated through. Add more milk to reach desired consistency if desired.
Instant Pot: Add enough milk to cover bottom of pot. Turn the instant pot to "warm" setting and add potatoes, stirring every 15 minutes until heated through.
Slow Cooker: Coat sides of crockpot with butter then add enough milk to cover the bottom of the crockpot and stir in the mashed potatoes. Set to LOW and stir every hour.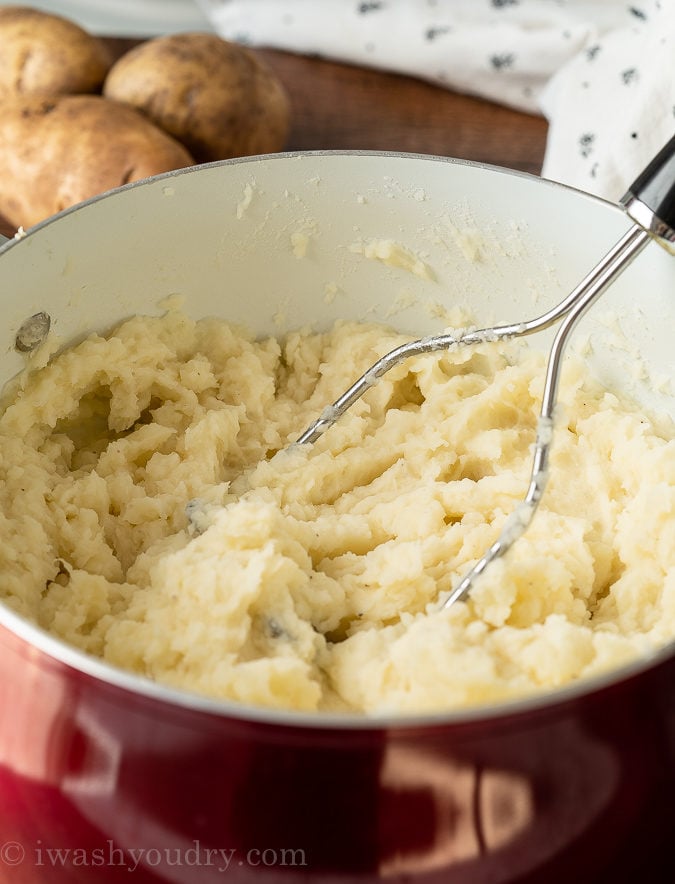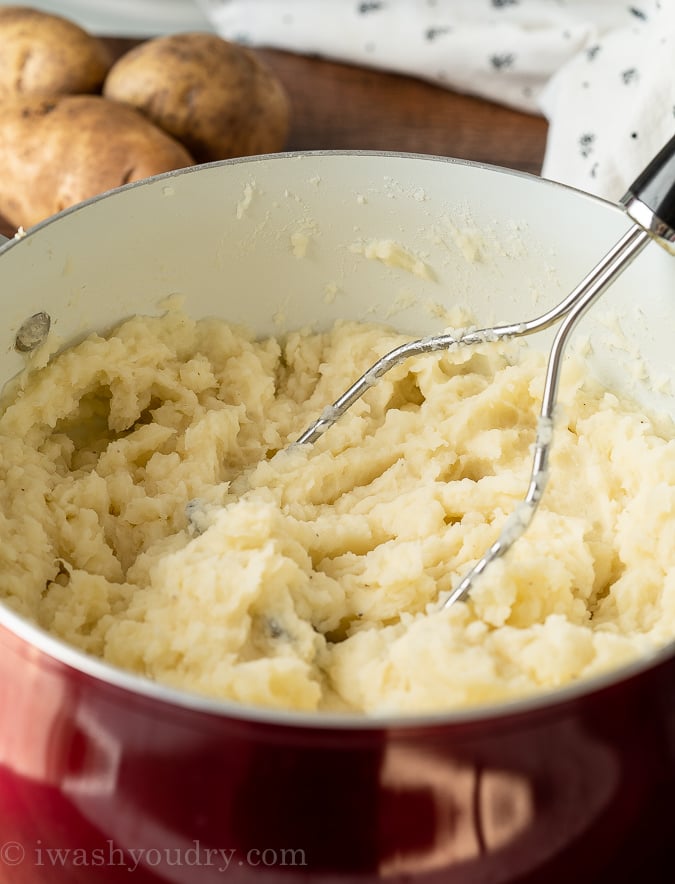 What To Serve With Mashed Potatoes:
Mashed potatoes are one of the most popular side dishes in America. You really can't go wrong having them as a side dish to any one of these main dishes…
Prime Rib
Turkey Gravy or Brown Gravy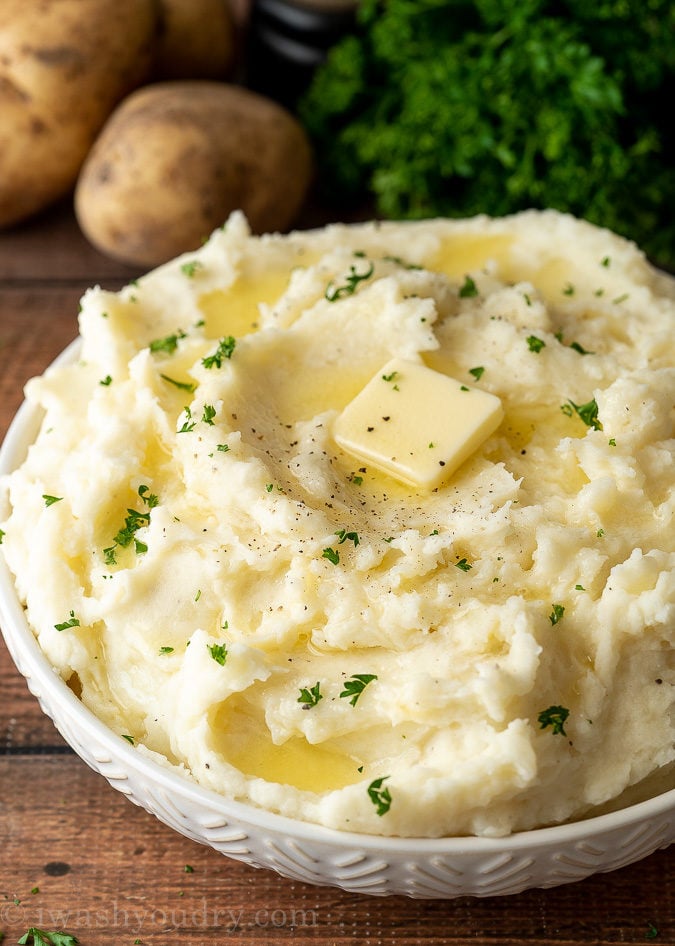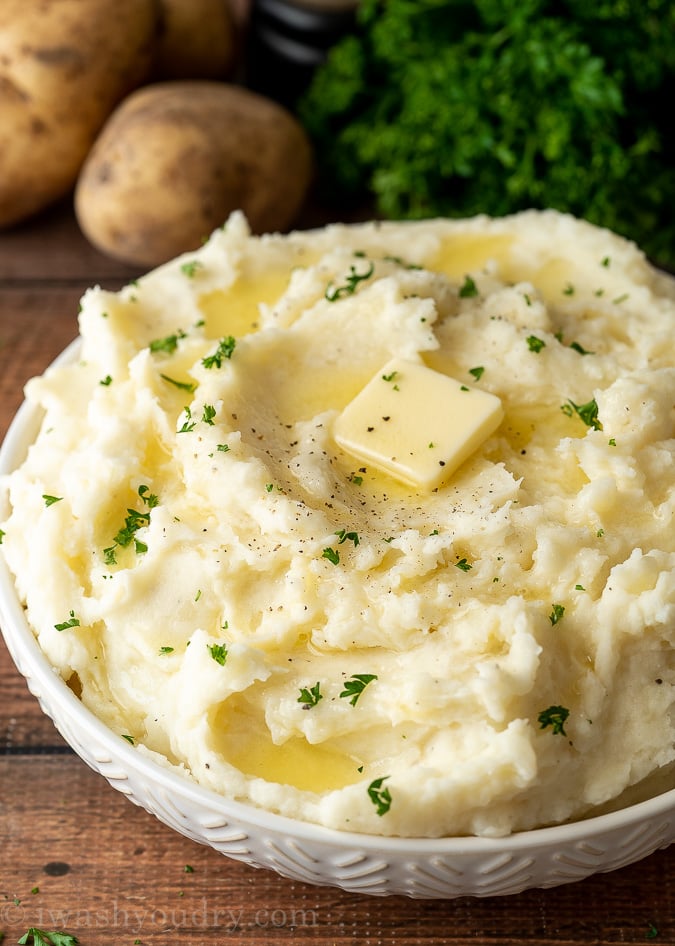 More Classic Potato Recipes To Try: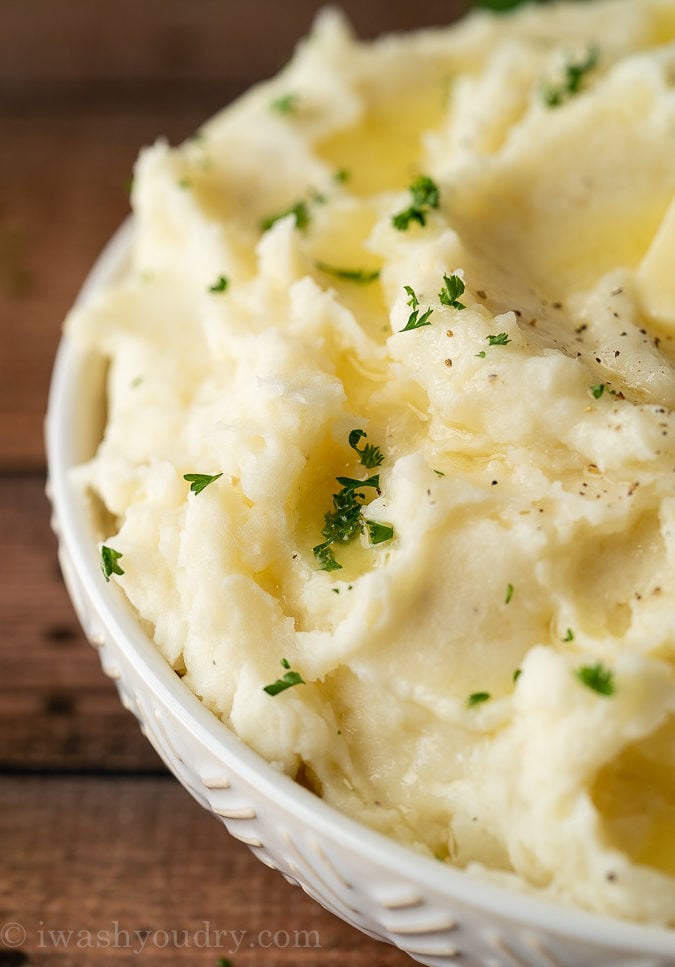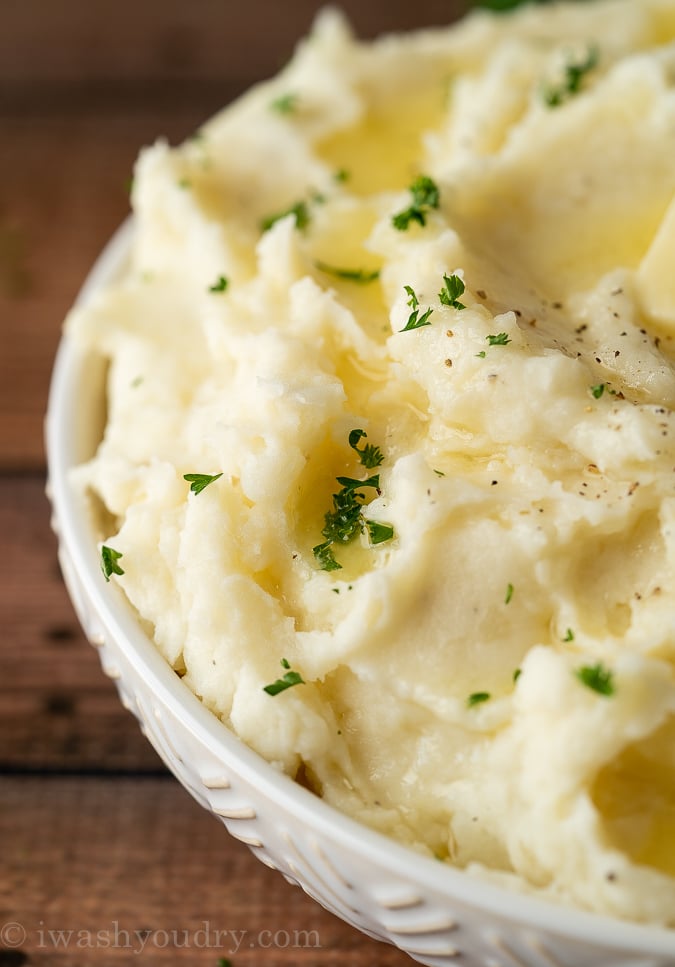 Get ready for the BEST Mashed Potatoes Recipe you've ever made with this simple and tasty recipe!
Helpful Products To Make This Recipe:
Last updated on December 7, 2023 3:35 pm
The BEST Classic Mashed Potatoes Recipe
These creamy and fluffy Mashed Potatoes are simple and easy to make with outstanding results each time!
Ingredients
4

lbs.

Russet Potatoes

,

peeled and quartered

1 1/2

tsp

salt,

divided

6

tbsp.

butter

,

melted

1 1/2

cups

whole milk

,

heated till warm

1

tsp

garlic powder

1/4

tsp

black pepper
Instructions
Place peeled and quartered (make sure they're all about the same size) potatoes in a pot and fill with cool water till it reaches the top of the potatoes. Add 3/4 tsp salt and bring pot to a boil.

Cook potatoes just until they're fork tender, should take about 15 minutes once it reaches a boil. Drain the potatoes in a strainer for a few minutes to really remove water, then add back to the hot pot and let sit for another few minutes to get all the moisture out.

To the potatoes add the melted butter and warm milk. Use a potato masher to mash the potatoes until the milk and butter have been absorbed and potatoes are creamy. *Don't mash or mix too long or they can turn gummy in texture.

Season with the remaining salt, garlic powder and black pepper and stir. Taste and add more seasonings if desired.
Notes
For a pretty presentation, top with melted butter and freshly chopped parsley!
Nutrition
Calories:
288
kcal
|
Carbohydrates:
44
g
|
Protein:
6
g
|
Fat:
11
g
|
Saturated Fat:
7
g
|
Cholesterol:
28
mg
|
Sodium:
546
mg
|
Potassium:
1011
mg
|
Fiber:
3
g
|
Sugar:
4
g
|
Vitamin A:
351
IU
|
Vitamin C:
13
mg
|
Calcium:
84
mg
|
Iron:
2
mg
Keywords:
Buttery, Creamy, Easy, Fluffy, Mashed Potatoes
PIN THIS IMAGE TO SAVE THE RECIPE: