Make light and fluffy Instant Pot Baked Potatoes in a fraction of the time it takes in the oven with this simple, no-fail recipe!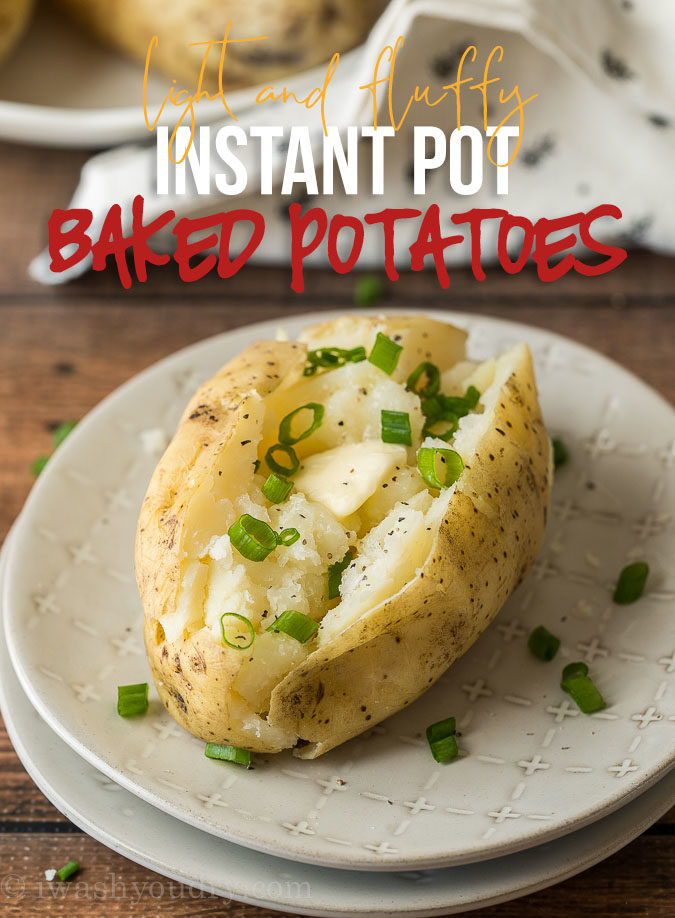 If there's one ingredient that I would label as my all time favorite, it the potato. Whether they're mashed, fried, roasted or stuffed into an egg roll (oh yes), they're simply the perfect starting point for something delicious.
How To Make Baked Potatoes In The Instant Pot
First of all, making your "baked" potato in the pressure cooker is a great way to get light and fluffy potatoes without heating up your oven and house. Plus they cook in a fraction of the time with VERY LITTLE prep or steps.
Start by scrubbing your potatoes under warm water until they're nice and clean.
Use a fork to pierce the potatoes all around (I do 3 pokes on one side and 3 pokes on the other).
Place 1 cup of COLD WATER in the bottom of your pressure cooker, then put in your trivet.
Place the potatoes on the trivet, close the lid, seal the vent and cook on HIGH pressure for 13 minutes, followed by 10 minutes of natural pressure release.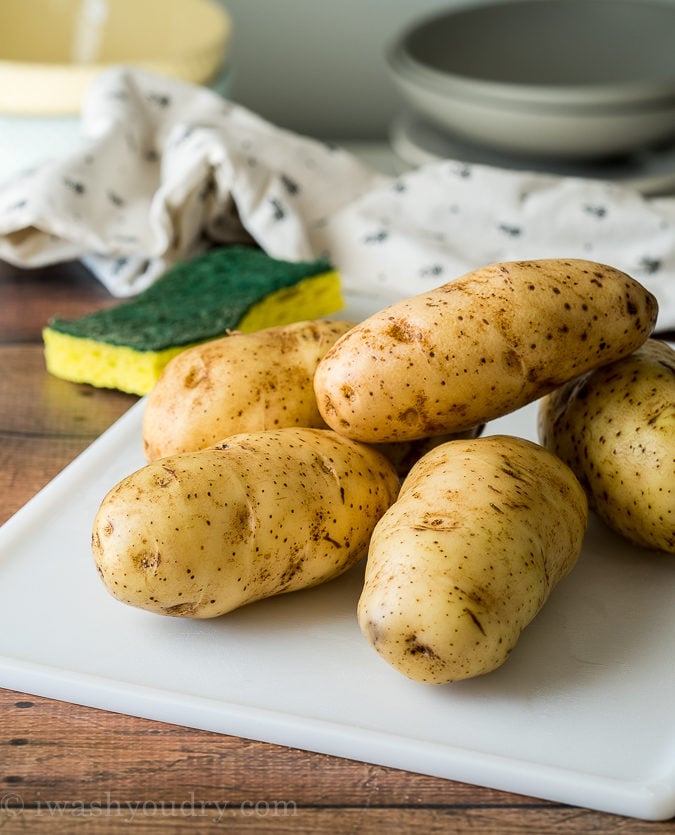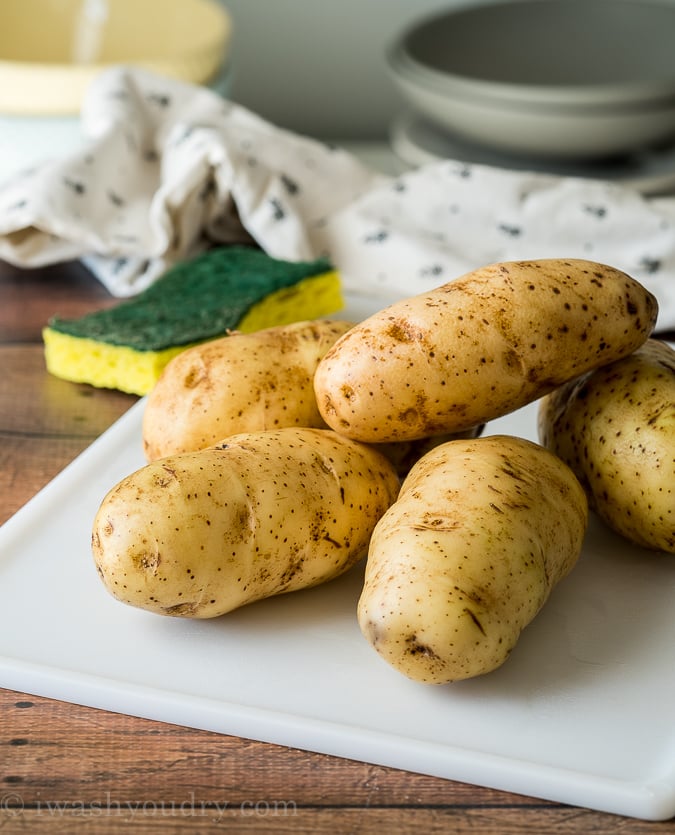 Do I Have To Wash Potatoes Before Cooking?
Yes! Potatoes are grown under ground. In the dirt. You'll want to always wash your potatoes before cooking to prevent any dirt getting into your food.
Use warm running water and a scrubbing pad or vegetable brush to scrub off any dirty bits.
For this recipe, there is no need to dry the potatoes after washing.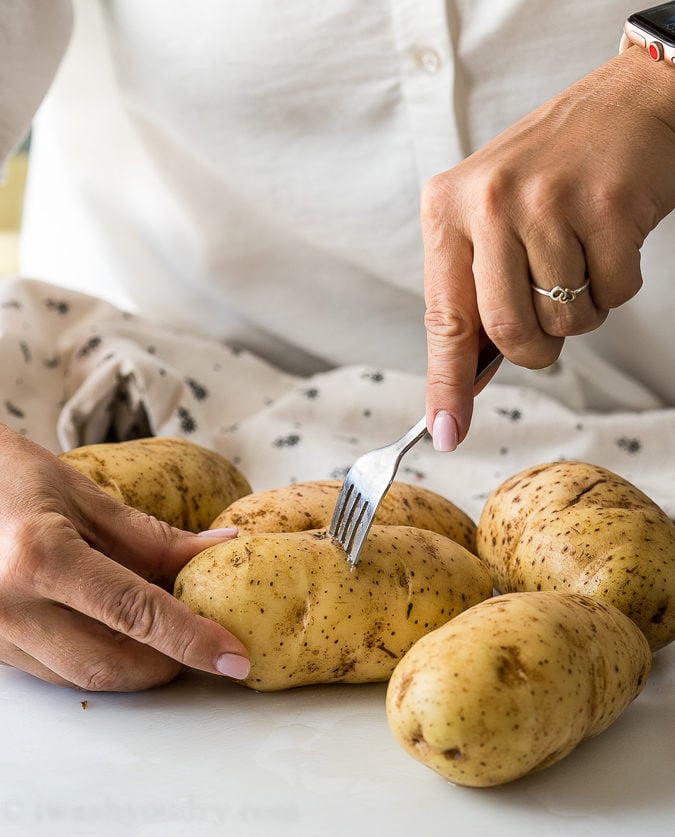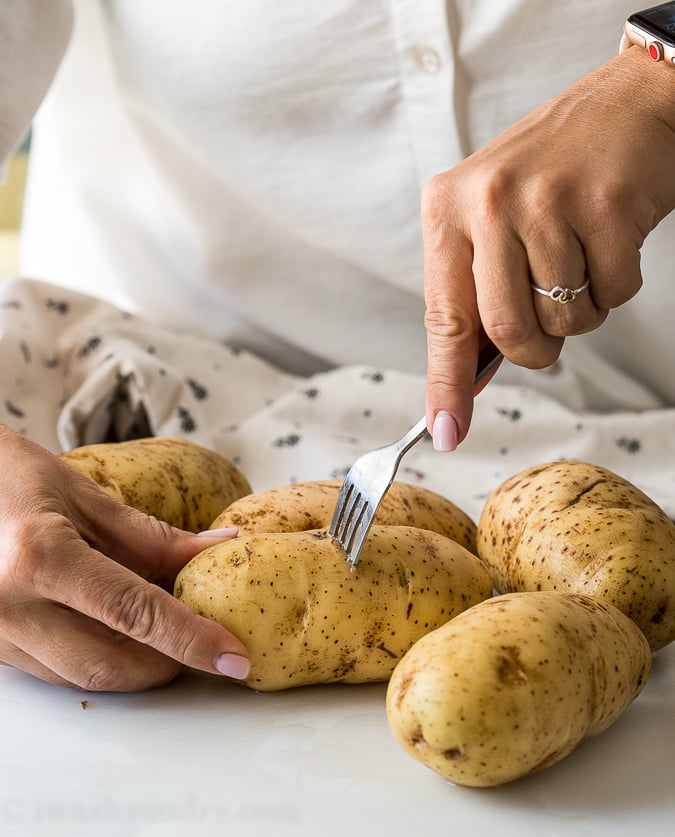 Do I Need To Pierce Potatoes Before Baking?
Another YES here! Potatoes are dense and when baked (or pressure cooked) they're going to want to release some steam. Poking the holes in the potato will help the potatoes to release that steam without any accidental potato bombs going off.
Use a sturdy metal fork or knife to poke holes all over the potatoes.
I usually poke each potato 3 times on one side, flip and then poke 3 more holes.
*PRO TIP: Place the potato on a cutting board when poking, making sure your hand is not underneath so you don't poke yourself.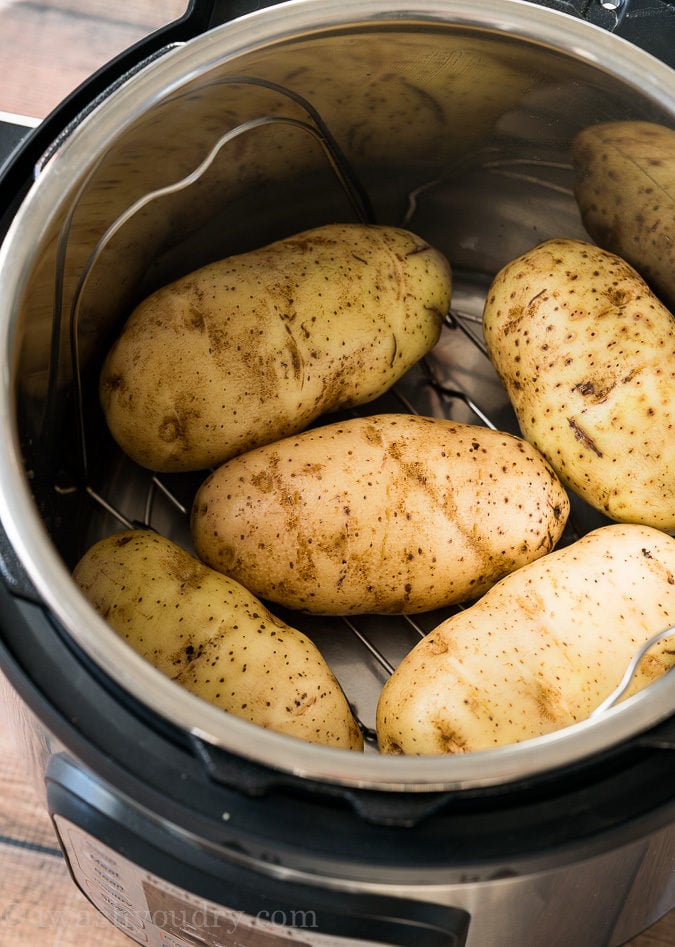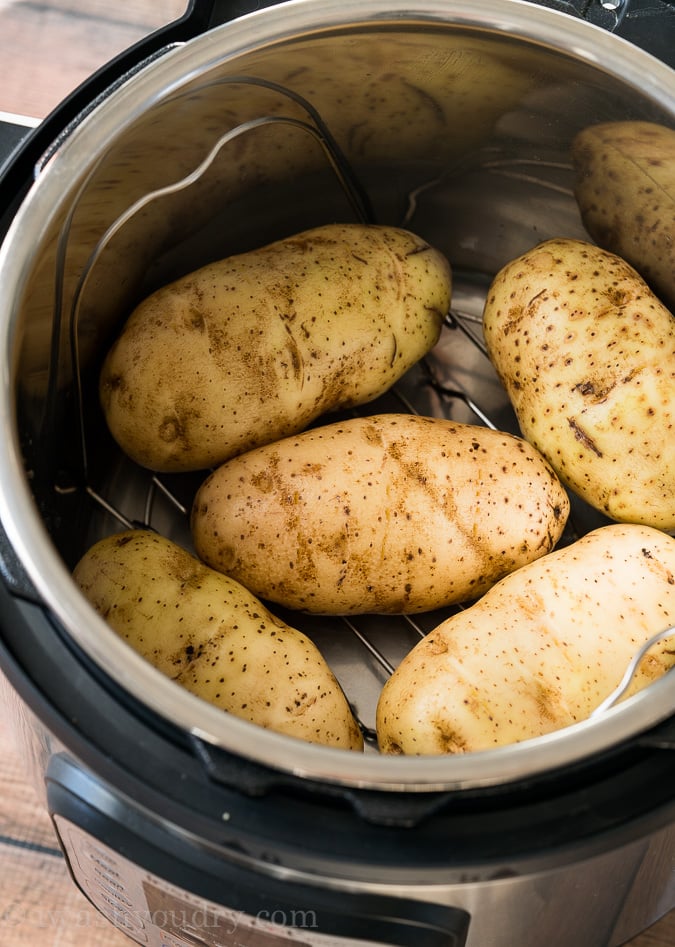 How Many Potatoes Can I Bake In Pressure Cooker?
Here's the neat thing about cooking your potatoes in the instant pot – you can cook between 4 and 10 potatoes in the instant pot and they will still cook in the same amount of time!
I have an 8 quart instant pot and can fit up to 10 medium size potatoes in there.
You'll still only need 1 cup of water on the bottom.
If you have a smaller pressure cooker, just make sure you don't over fill.
Need less than 4 potatoes? I've found that cooking less than 4 changes the amount of time needed to cook. You'll actually have to increase the cook time to about 16 minutes.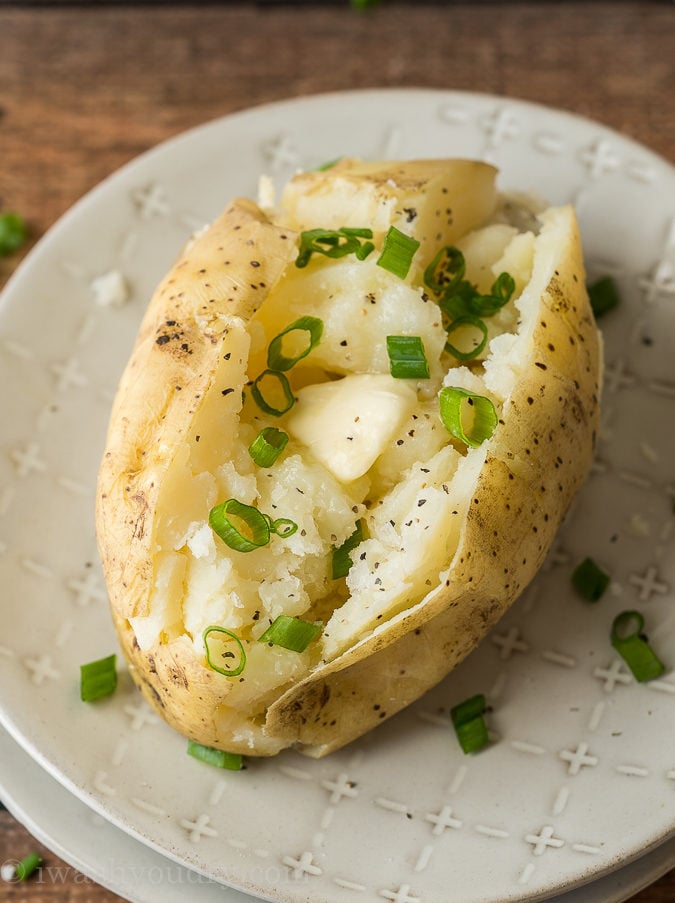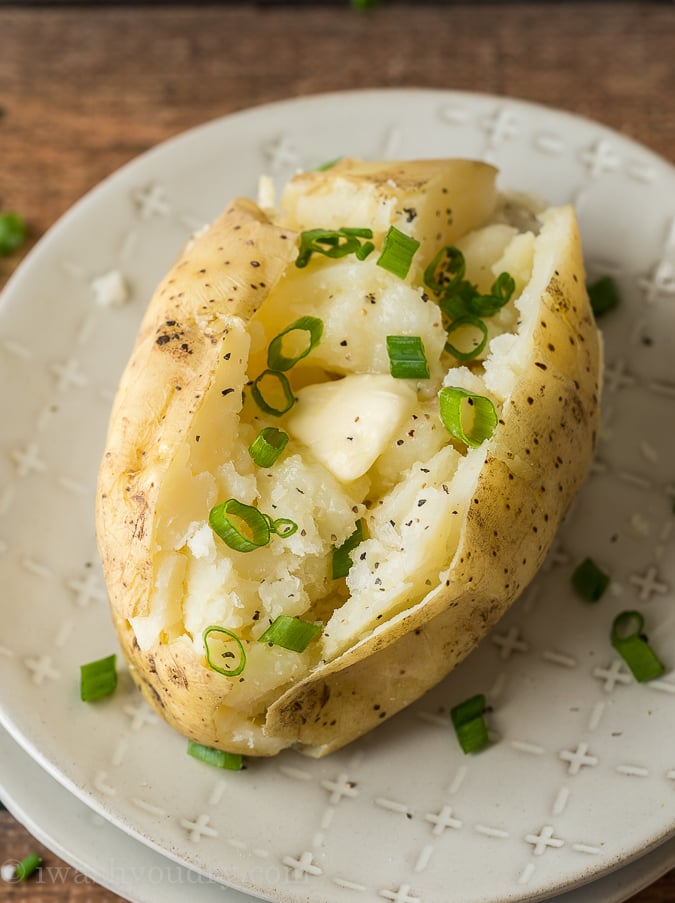 Perfect Instant Pot Baked Potatoes Tips for Success:
Do I Need To Wrap Potatoes With Foil? – Nope! Similar to my perfect oven baked potatoes, these potatoes do not need to be wrapped in foil.
COLD Water… is it necessary? – Yes, it actually matters here. We don't need ice cold water, just cold tap water will do the trick. The water has to come to a boil, to create steam, which in turn creates the pressure. If it's warm or hot water when you start, it'll effect the overall cook time of the potatoes.
Do I Need to Use a Trivet? – Yes, this is important to keep the potatoes out of the water, giving them an ideal texture and consistency when done.
Natural Release of Pressure – Once the pressure cooker is done cooking, let the pressure naturally release (meaning, don't touch anything) for 10 minutes. Then simply flip the pressure valve open and release the remaining pressure.
Baked Potato Toppings – Cut open your potatoes and fill with your favorite toppings like: butter, green onions, sour cream, cheese or chili.
What Is the Texture of the Potatoes Like?
These potatoes have a light and fluffy texture on the inside with a soft skin around.
Want your potato skins to be more crispy? Once they are done cooking in the instant pot, brush them with olive oil and sprinkle with coarse sea salt. Place directly on the oven rack and cook at 400 degrees for just 10 minutes.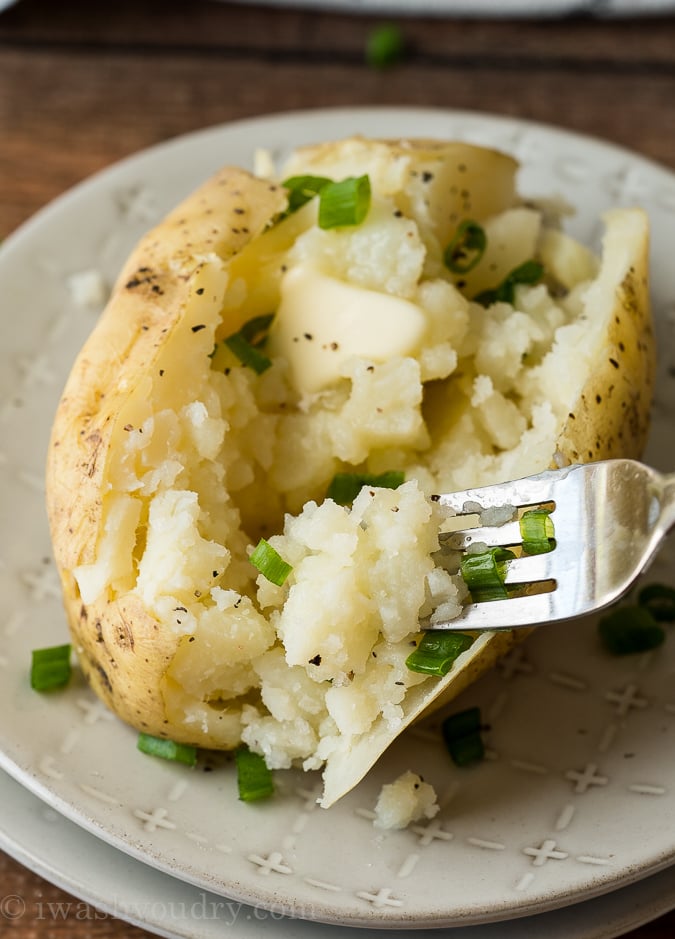 More Instant Pot Potato Recipes:
Helpful Products To Make Recipe:
Last updated on December 8, 2023 1:42 am
Perfect Instant Pot Baked Potatoes
Make light and fluffy Instant Pot Baked Potatoes in a fraction of the time it takes in the oven with this simple, no-fail recipe!
Ingredients
5

medium size baking potatoes*

1

cup

COLD water
Instructions
Scrub potatoes under warm water until clean. Pierce each potato several times with a fork or knife.

Place cold water in inner liner of instant pot, then place trivet inside pot. Line potatoes in the pressure cooker, making sure they don't touch the water.

Place lid on pressure cooker and make sure vent is in sealed position.

Cook on HIGH pressure for 13 minutes, followed by 10 minutes of Natural Pressure Release. Release remaining pressure and use caution when removing potatoes as they will be very hot.

Cut open and enjoy with favorite toppings such as: butter, chives, sour cream, cheese, etc.
Notes
*If using larger baking potatoes, increase cook time by 2 minutes.
You can cook anywhere from 4 to 10 potatoes at a time, using the same amount of liquid and cook time (as long as they fit in your pressure cooker).
Time to come to Pressure: 8 minutes
Time to cook: 13 minutes
Pressure release: 10 minutes
Nutrition
Calories:
164
kcal
|
Carbohydrates:
37
g
|
Protein:
4
g
|
Fat:
1
g
|
Saturated Fat:
1
g
|
Sodium:
15
mg
|
Potassium:
897
mg
|
Fiber:
5
g
|
Sugar:
2
g
|
Vitamin C:
42
mg
|
Calcium:
26
mg
|
Iron:
2
mg
Keywords:
Baked Potato, Fluffy, Instant Pot
PIN THIS IMAGE TO SAVE THE RECIPE: