These luscious and buttery Pecan Pie Bars are the perfect treat to make for the holidays! 
If you're not a fan of pie crust, but love that pecan pie filling, this recipe is for you.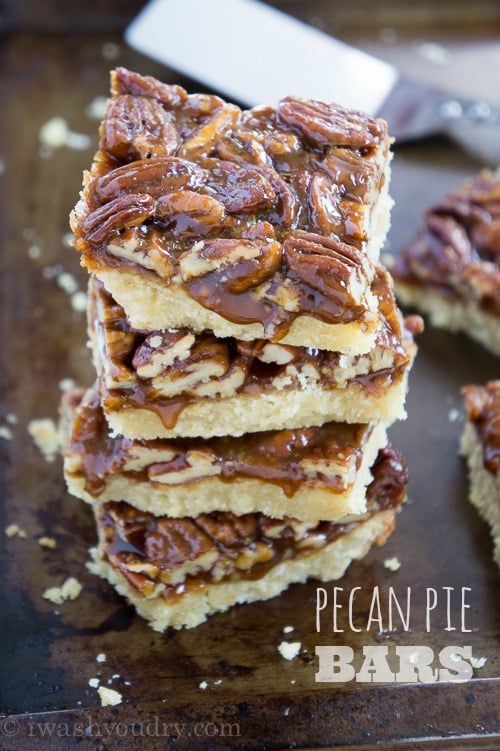 A few weeks ago I had a group of ladies over for lunch to celebrate the start of school. It was pot luck style and my girl's did not disappoint.
My friend Heather brought these insanely delicious Pecan Pie Bars for dessert, and e.v.e.r.y.o.n.e. loved them.
We were pulling the- "What's that over there?" then swipe the last bar when they're not looking maneuver.
I had to get the recipe. HAD TO. I mean, for the blog… of course.
Pecan Pie Bars
It came as no surprise that the recipe calls for a full pound of butter.
Ingredients for Pecan Pie Bar Crust:
The crust for these pecan pie bars is like a delicious shortbread cookie crust. It's flakey and not overly sweet. The lemon juice adds the perfect brightness, so don't skip it!
Butter
Brown Sugar
All Purpose Flour
Egg
Lemon Juice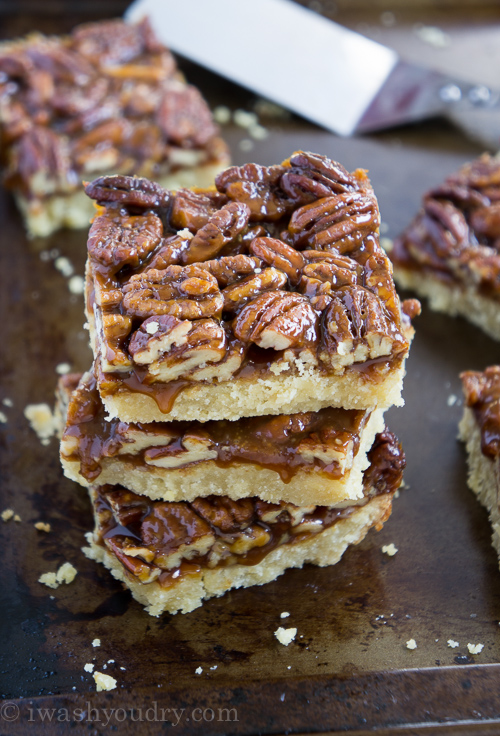 Ingredients for Pecan Pie Filling:
The topping is filled with caramel lathered pecans, oh so gooey and sweet.
Butter
Honey
Brown Sugar
Whipping Cream
Pecans – toasted pecans will add an extra depth of flavor!
These make a full 9″ x 13″ pan, and are perfect for bringing to any holiday party or gathering. They'll be gone quick, so make sure you keep some at home for yourself.
How To Make Pecan Pie Bars –
Start by mixing up your crust. You can either do this in a food processor or by using a pastry cutter to create a crumb texture.
Press this crumb mixture into the bottom of a greased 9×13″ baking dish and bake the crust for just 15 minutes.
Meanwhile mix up the pecan pie filling by combining the butter, honey and brown sugar in a large pot over medium-high heat. Let the mixture boil for just 5 to 7 minutes (the longer you let it boil, the more firm the finished pecan filling will be).
Remove the mixture from the heat and carefully add in the heavy cream. Finally stir in the pecans and pour mixture over the prepared crust.
Finish off the bars in the oven for another 20 minutes, and let them cool completely before slicing.
How To Store Pecan Pie Bars
These pecan pie bars can be stored covered at room temperature for up to 1 week.
If you'd like to freeze them, you can do so, but they will need to be thawed at room temperature again before enjoying.
More Pecan Pie Recipes To Try:
Craving more delicious pecan pie recipes? I've got you covered with these delicious pecan treats…
Pecan Pie Bars
Pecan Pie Bars have an easy crust and are filled with caramel lathered pecans. Yum! recipe adapted from
White Water Cooks Cookbook
Instructions
Preheat oven to 350 degrees F. Lightly spray a 9"x13" baking dish with cooking spray, set aside.

In a large bowl combine the ingredients for the crust. Use your hands or a pastry cutter to combine, until the mixture is crumbly. Pour into the baking dish, and press into an even layer. Bake for 15 minutes. Remove from oven and set aside.

Meanwhile in a large (3 quart size) pot combine 1 cup of butter with 2/3 cups honey and 1 cup of brown sugar over medium high heat. Stir and bring to a boil. Boil for 5-7 minutes. Remove from heat and immediately, but slowly, stir in the whipping cream. It will begin to sputter, so use caution.

Add the pecans to the pot and stir to coat. Pour the mixture over the crust and spread to an even layer. Bake for an additional 20-22 minutes or until the caramel is soft set in the middle. Remove from oven and let cool completely before cutting into bars. Enjoy!
Nutrition
Calories:
728
kcal
|
Carbohydrates:
67
g
|
Protein:
6
g
|
Fat:
51
g
|
Saturated Fat:
22
g
|
Cholesterol:
102
mg
|
Sodium:
285
mg
|
Potassium:
195
mg
|
Fiber:
3
g
|
Sugar:
40
g
|
Vitamin A:
1053
IU
|
Vitamin C:
1
mg
|
Calcium:
58
mg
|
Iron:
2
mg
Keywords:
bar cookies, Brown Sugar, Butter, pecan