This is the BEST Classic Meatloaf Recipe out there! Super moist, easy to make with basic pantry ingredients and everyone always gives it RAVE reviews!
We love to pair this delicious meatloaf with my Cheesy Scalloped Potatoes or Classic Mashed Potatoes for a true comfort dinner.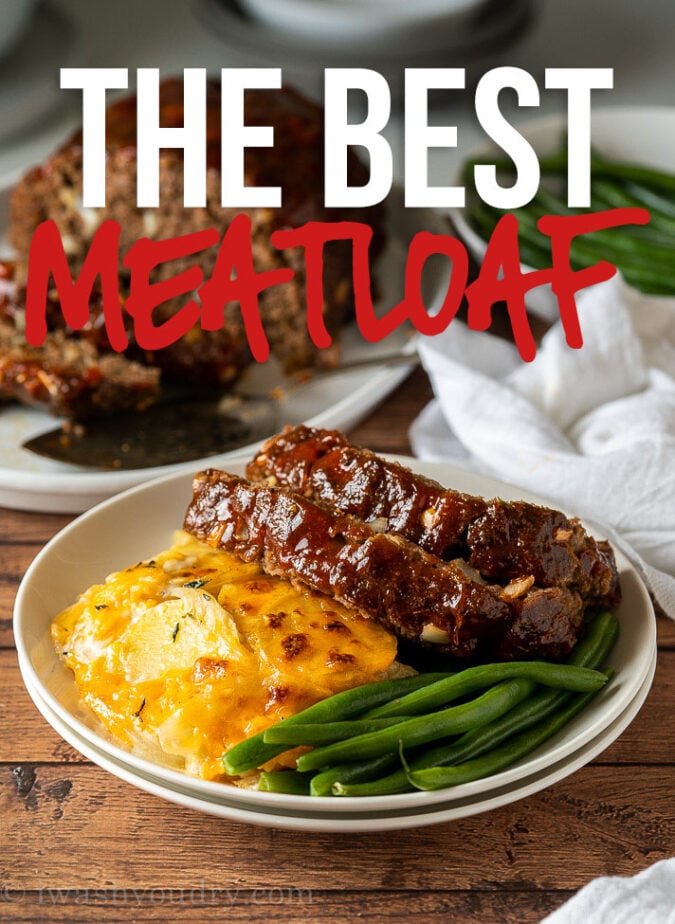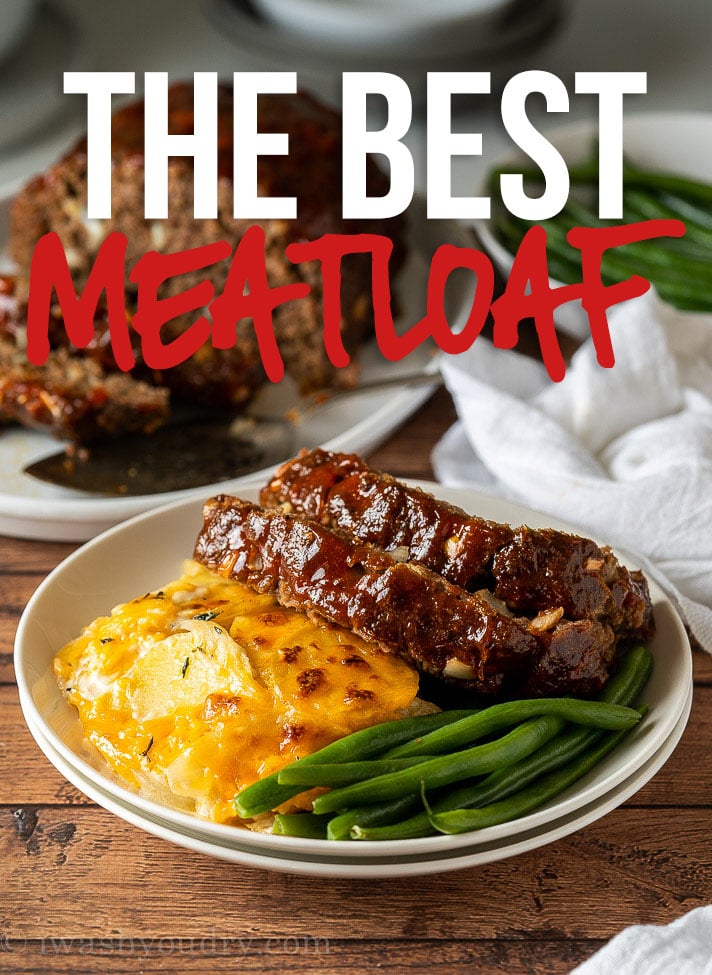 Nothing says comfort food better than a good old fashioned meatloaf recipe. This meatloaf is not a complicated dish. In fact, my recipe has the most basic, simple ingredients, yet still gets 5 stars all the way!
Meatloaf Recipe
The key to making the best meatloaf is to use a lean ground beef, plenty of binding ingredients (eggs and seasoned breadcrumbs) and keep it moist by using your favorite BBQ sauce.
We're making this a "Free Form" meatloaf, meaning it's baked on a baking sheet rather than in a pan. It will allow the meatloaf to cook faster and more efficiently and any excess fat can drain away from the meatloaf.
Best Classic Meatloaf Ingredients:
Here's what you'll need in order to make this moist meatloaf recipe. As always, you can find the full list of ingredients in the printable recipe card below.
Ground Beef – I like to use a lean ground beef, around 90 to 93% fat free.
Binding Ingredients – eggs and breadcrumbs.
Seasonings and Spices – diced onion, garlic powder, parsley, salt, pepper and my secret ingredient: BBQ sauce!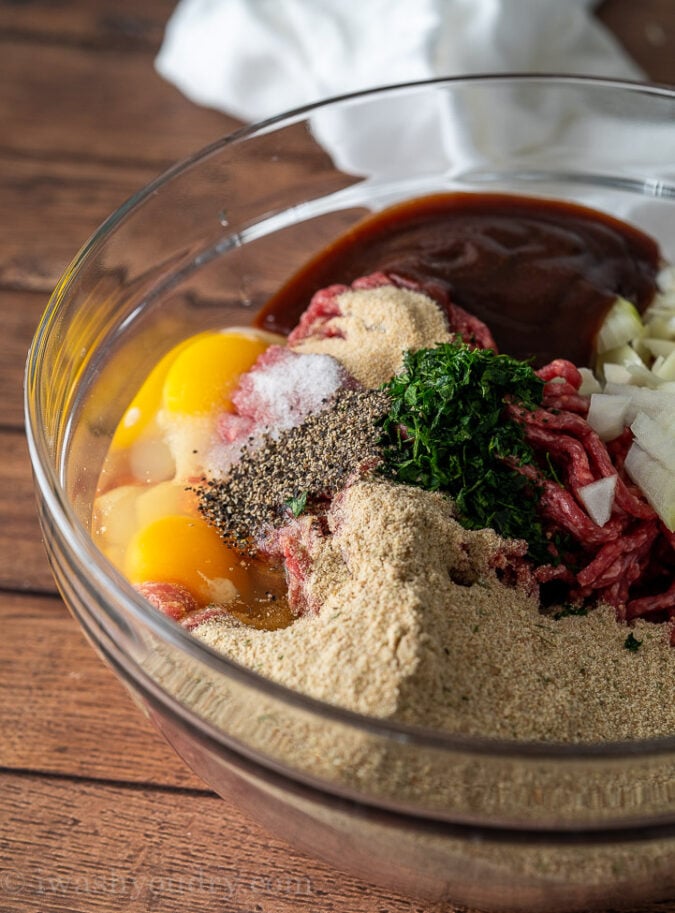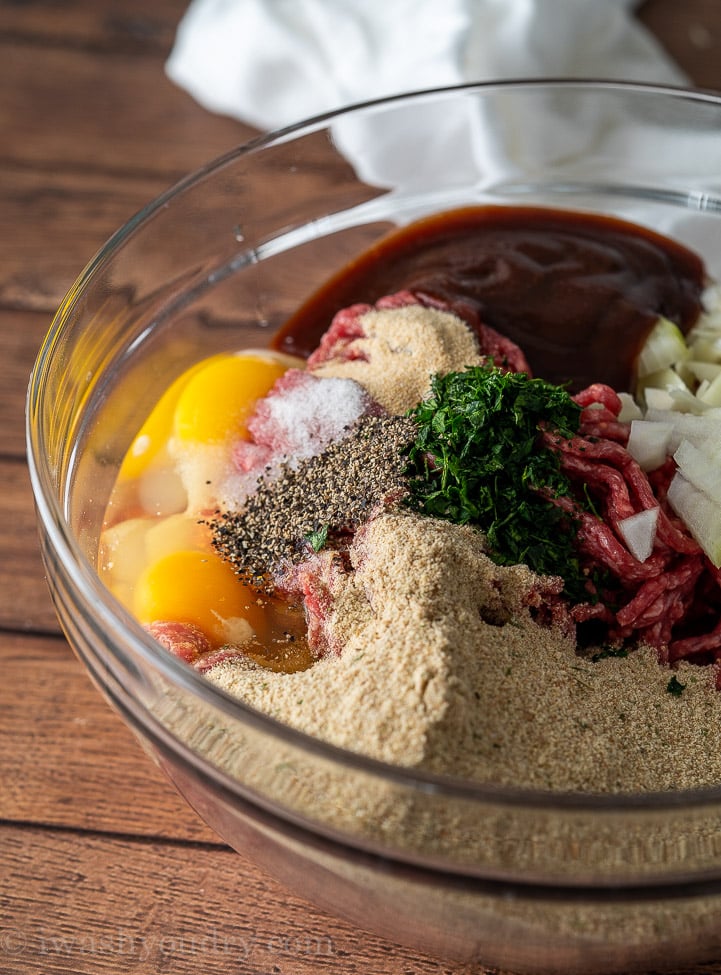 How To Make Meatloaf:
Once all your ingredients are combined, use your clean hands to really get in there and mix it all together. This is one of my favorite parts!
We are doing what is called a "Free Form" meatloaf. You'll shape your meatloaf on top of a foil lined baking sheet. Try to get it about 8 inches long and 4 inches wide.
Pop the meatloaf into the oven and let it cook for about 45 minutes.
PRO TIP: try sautéing your onions in a little oil before adding them to the meatloaf to give it an incredible change of flavor!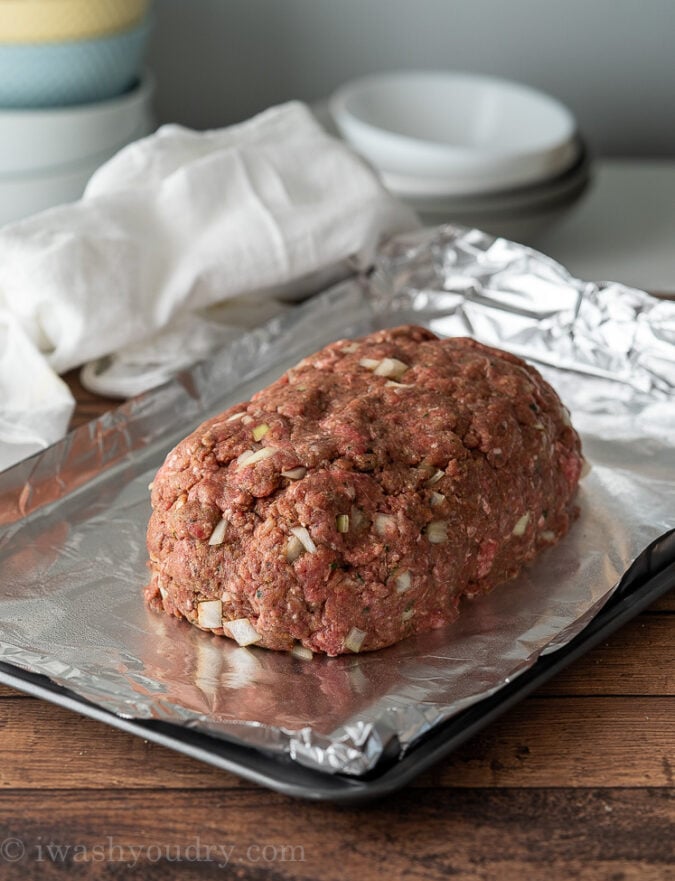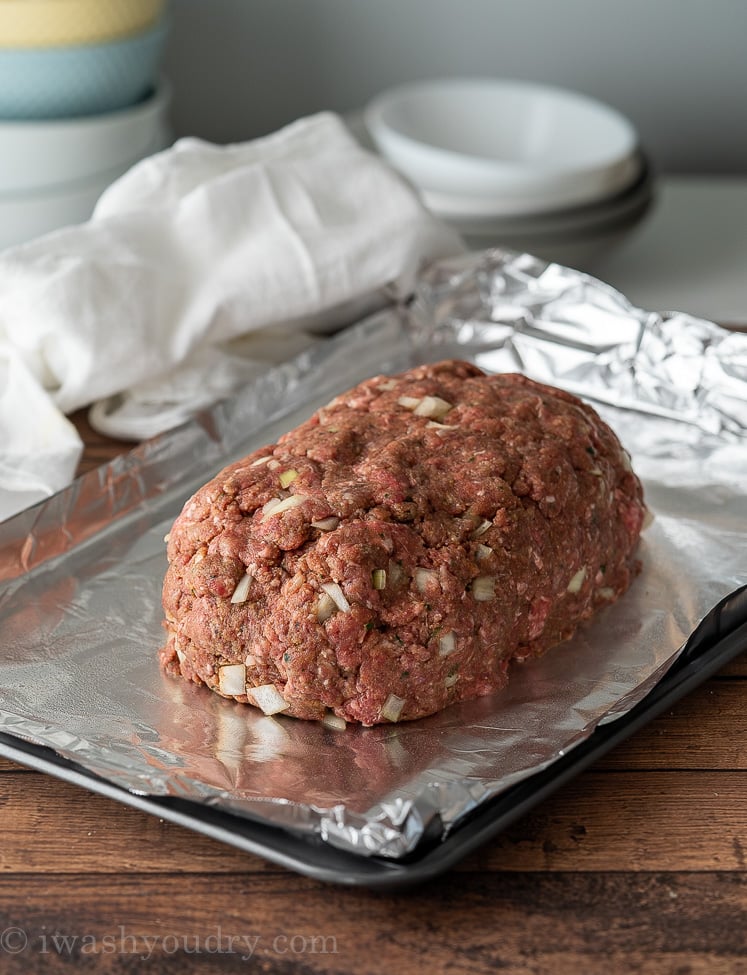 How Long Do You Cook Meatloaf Per Pound?
This Classic Meatloaf Recipe calls for 2 pounds of ground beef, which is enough to feed around 6 to 8 people.
If you want to reduce the amount of beef to just 1 pound, you'll want to bake for just 30 minutes, then add +15 minutes per pound after that.
So a 3 pound meatloaf would be (30 minutes for the first pound + 15 minutes for the second pound + 15 minutes for the third pound) = one hour of cook time.
PRO TIP: You can easily adjust the amounts of ingredients needed in the recipe card by hovering over the serving amount and sliding it up or down to adjust to your needs.
What Temperature To Cook Meatloaf?
You're looking for a final internal temperature of 160 degrees F. Notice how I say FINAL? This is because the last 10 to 15 minutes we're going to bump up the heat to 400 degrees and add our topping. So the first round in the oven it won't be to temp yet.
I love using my quick read digital thermometer to check the temperature of meats. I recommend every cook to have one!
If you decide to cook your meatloaf in a pan, rather than free form, you'll want to increase cooking time a bit. Just check with an instant read thermometer for 160 degrees.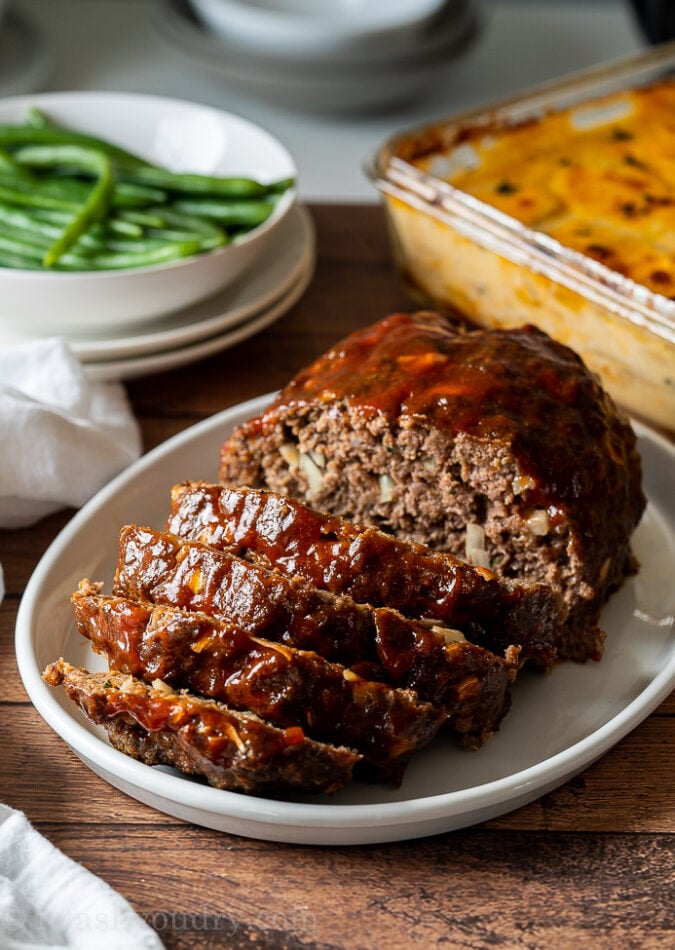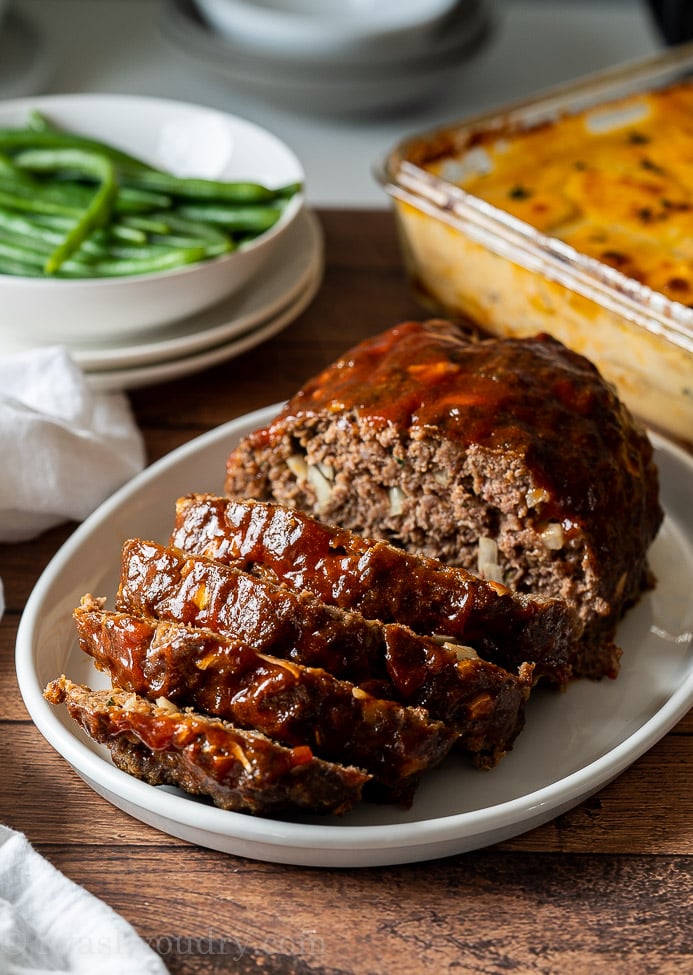 The Best Meatloaf Glaze:
I love this super easy topping for my meatloaf because it's just 3 simple ingredients and I always have them on hand.
Ketchup
Mustard
Brown Sugar
Mix the ketchup, mustard and brown sugar together in a bowl. After the first round of baking, spread the sauce evenly over the top of the meatloaf, then increase the oven temperature and bake again until finished.
The sauce gives the meatloaf a nice kick of flavor on top!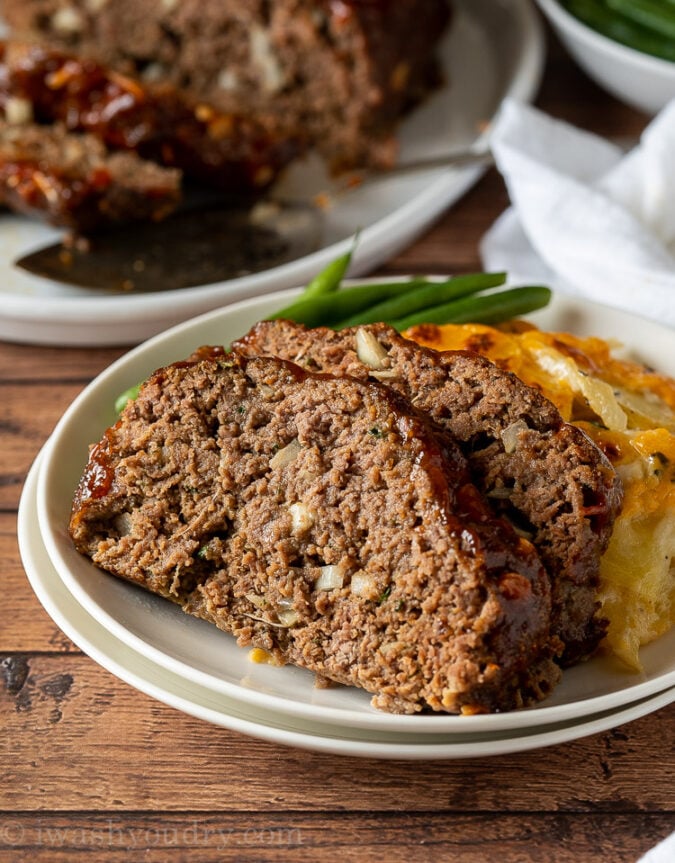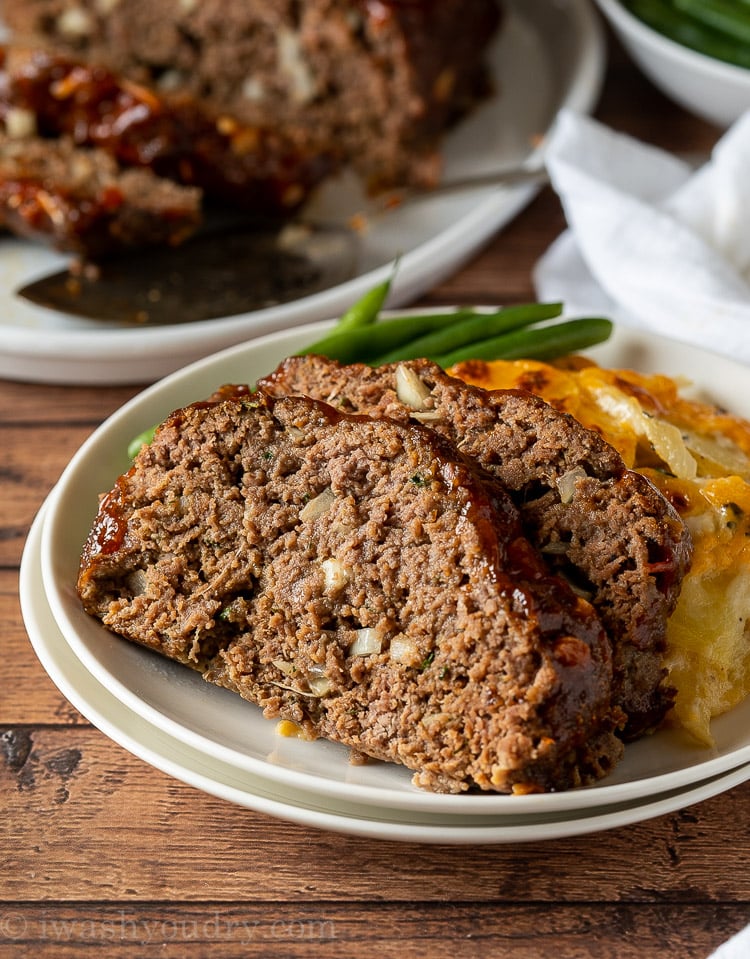 Easy Meatloaf Recipe Tips & Variations:
If you're not into seeing pieces of onion in your meatloaf, sauté the onion ahead of time or swap out the diced onion for 1 tsp onion powder.
Want to sneak in more veggies? Try adding in shredded carrots, zucchini or diced bell peppers!
Commonly Asked Questions
Can I Use Ground Turkey for Meatloaf? Yes! You'll want to make sure you cook till internal temperature reaches 165 degrees F.
Why Did My Meatloaf Fall Apart? If your meatloaf is falling apart, chances are you don't have enough binding ingredients or you didn't press the loaf together tight enough.
How Can I Make Meatloaf Gluten Free? An easy way to make this recipe gluten free is to crush up some Rice Chex or Corn Chex in place of the breadcrumbs!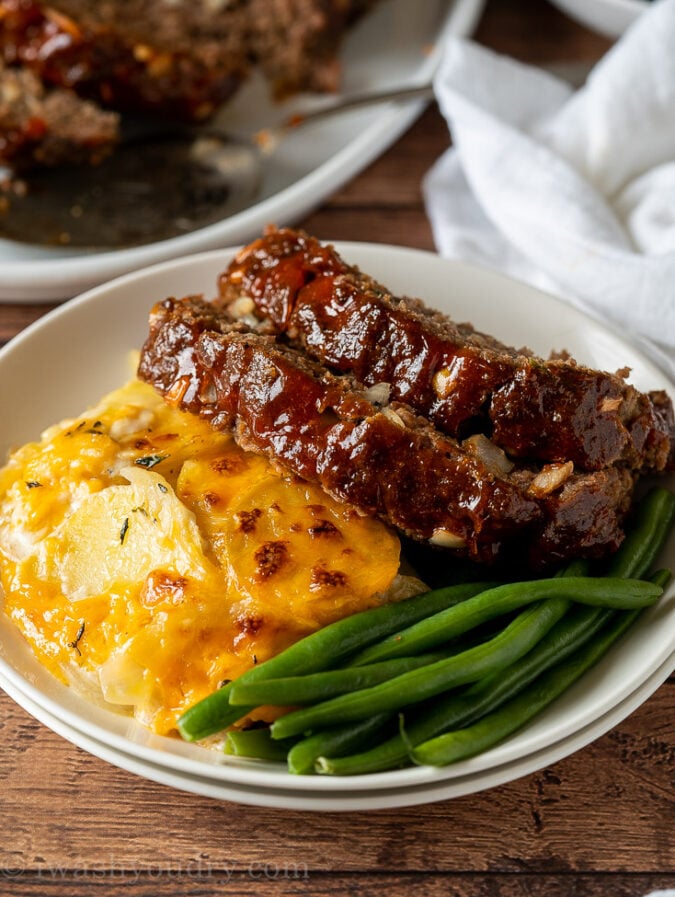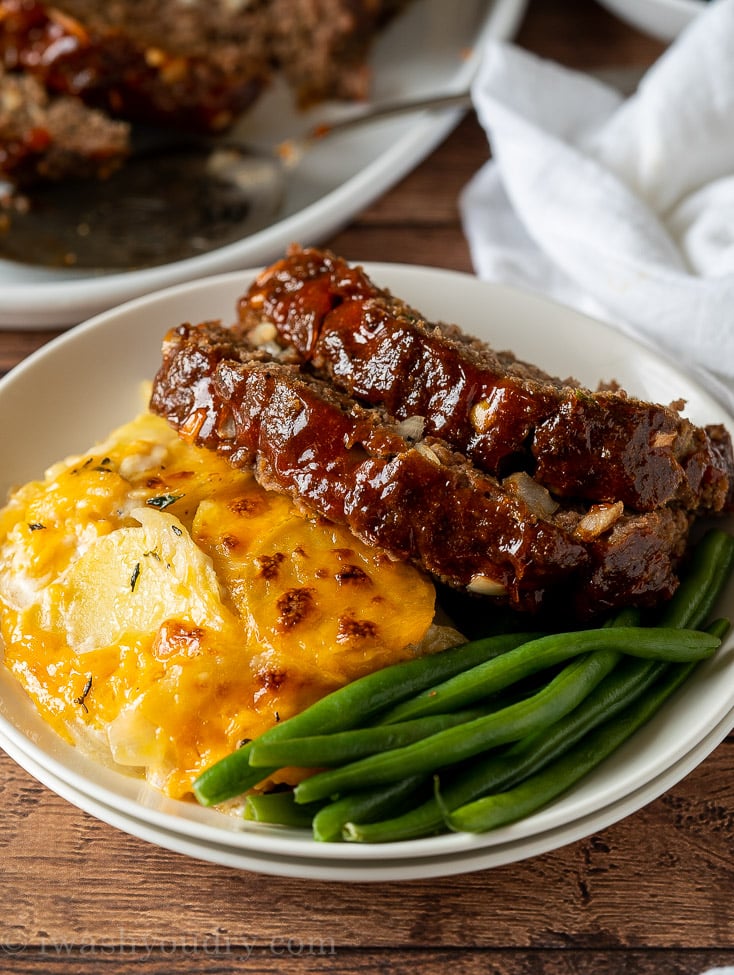 What To Serve With Meatloaf Dinner:
Planning to make this delicious Classic Meatloaf Recipe for dinner? Here are some super simple side dishes that'll make this a complete meal.
Any steamed veggie – green beans, broccoli, carrots, etc.
More Easy Meatloaf Recipes:
Meatloaf is one of our favorite comfort foods, so it's no surprise we have plenty of variations on the site. Give these other tasty recipes a try too!
Best Classic Meatloaf Recipe
This is the BEST Classic Meatloaf Recipe out there! Super moist, easy to make and everyone always gives it RAVE reviews!
Ingredients
2

lbs.

lean ground beef

1

cup

Italian breadcrumbs

2

eggs

½

cup

onion

,

diced

2

tsp

garlic powder

2

tsp

chopped parsley

1

tsp

salt

1

tsp

pepper

½

cup

bbq sauce
Instructions
Preheat oven to 350 degrees F. Line a baking sheet with foil and coat with non-stick spray, then set aside.

In a large bowl combine the meatloaf ingredients and mix with clean hands, until fully combined. Press the meatloaf mixture into an 8" x 4" loaf on the prepared baking sheet.

Bake for 45 minutes, then remove from oven and increase oven temperature to 400 degrees.

Whisk together the topping ingredients, spread over the meatloaf and continue cooking for 10 to 15 minutes, until internal temperature reaches 160 degrees in center.

Let meatloaf rest for about 5 to 10 minutes before slicing. Enjoy!
Nutrition
Calories:
289
kcal
|
Carbohydrates:
25
g
|
Protein:
28
g
|
Fat:
8
g
|
Saturated Fat:
3
g
|
Cholesterol:
111
mg
|
Sodium:
865
mg
|
Potassium:
539
mg
|
Fiber:
1
g
|
Sugar:
12
g
|
Vitamin A:
180
IU
|
Vitamin C:
2
mg
|
Calcium:
56
mg
|
Iron:
4
mg
Keywords:
Best, Classic, Easy, Meatloaf Recipe, Simple
PIN THIS IMAGE TO SAVE RECIPE: