This Crock Pot Sweet Potato Casserole is all made in the slow cooker for an easy, fuss-free side dish, perfect for Thanksgiving or Christmas dinner.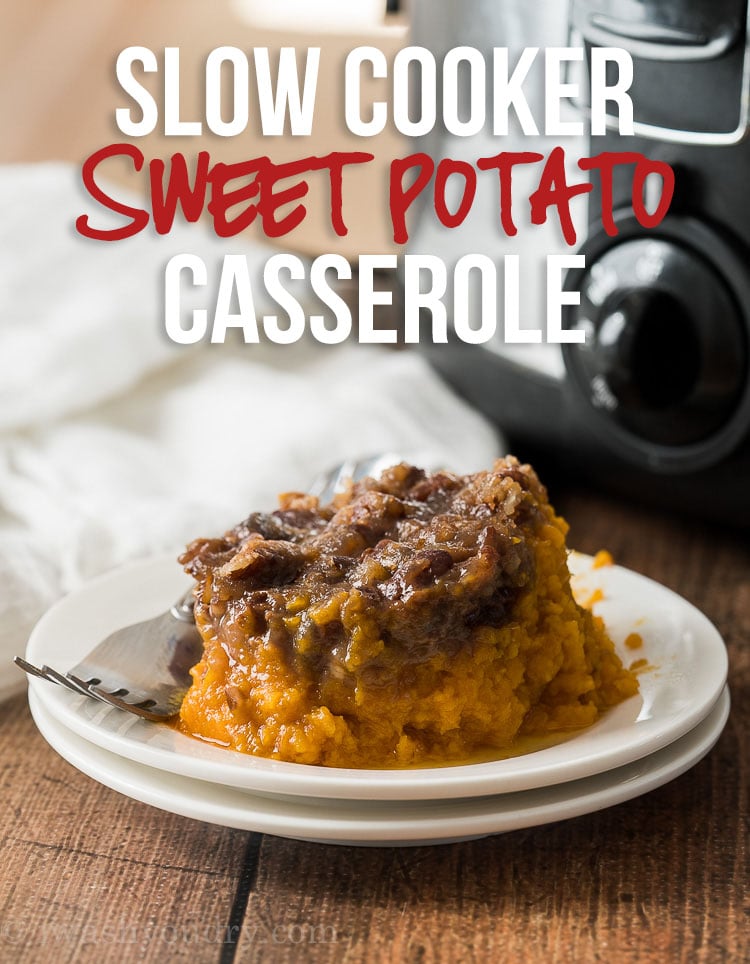 Perfect for a big holiday meal, like Thanksgiving dinner or Christmas, this delicious side dish pairs perfectly with Thanksgiving Stuffing and Roasted Turkey Breast!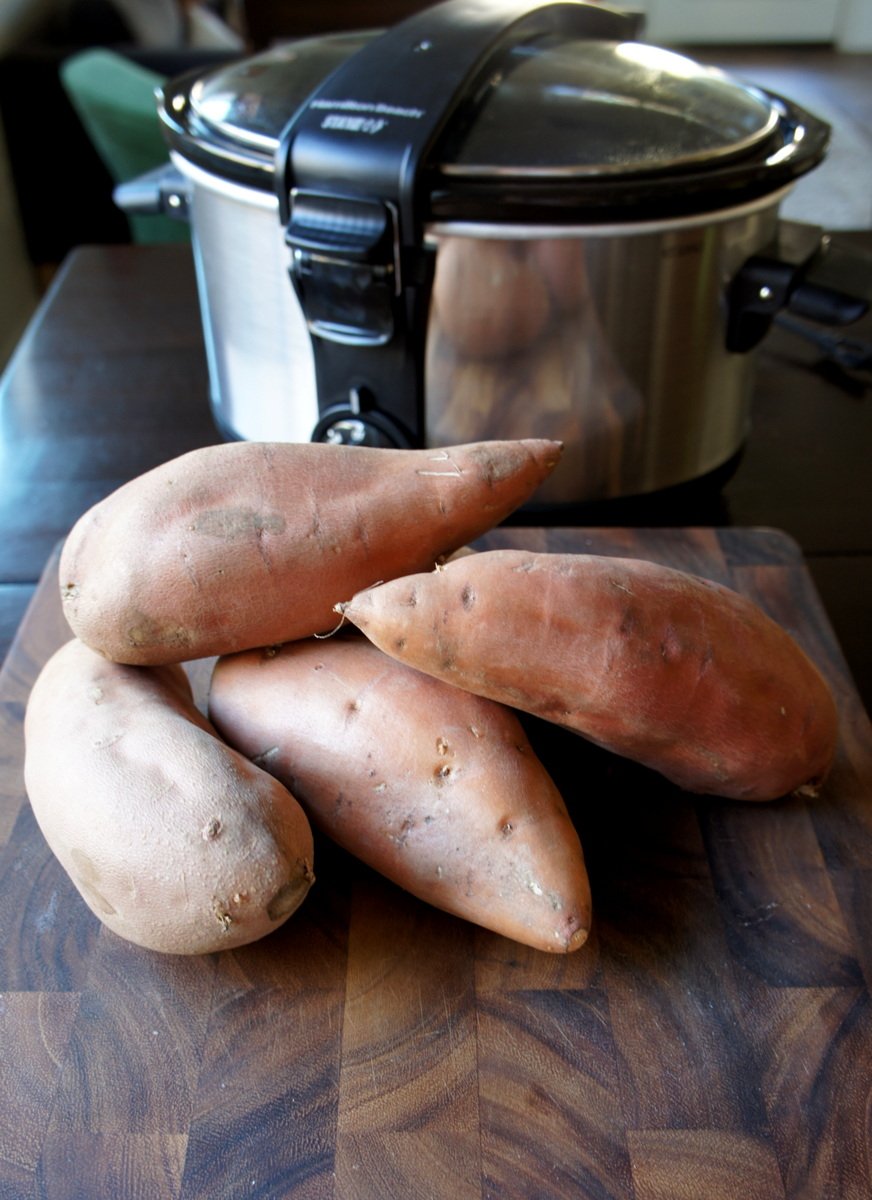 This classic Sweet Potato Casserole is anything but ordinary! Whether you're making it for the first time or want to change up your usual recipe, this Sweet Potato Casserole recipe is for you!
Crock Pot Sweet Potato Casserole
With simple ingredients like sweet potatoes, butter, vanilla, and brown sugar, this traditional Sweet Potato Casserole has a ton of sweet and nutty flavor!
Ingredients Needed
Here's the basic list of ingredients you'll need in order to whip up Slow Cooker Sweet Potato Casserole. As always, you can find the full list of ingredients located in the printable recipe card below.
Sweet potatoes
Chicken broth
Butter
Eggs
Vanilla extract
Brown sugar
For The Topping
Brown sugar
Butter
All-purpose flour
Chopped pecans
How To Make Crock Pot Sweet Potato Casserole
PREP SWEET POTATOES
To make the sweet potato casserole, simply find 5 medium-large sweet potatoes or about 5 pounds.
Peel them and then cut them into even-sized cubes (about 1-2 inches). This doesn't have to be precise; it just helps them cook evenly.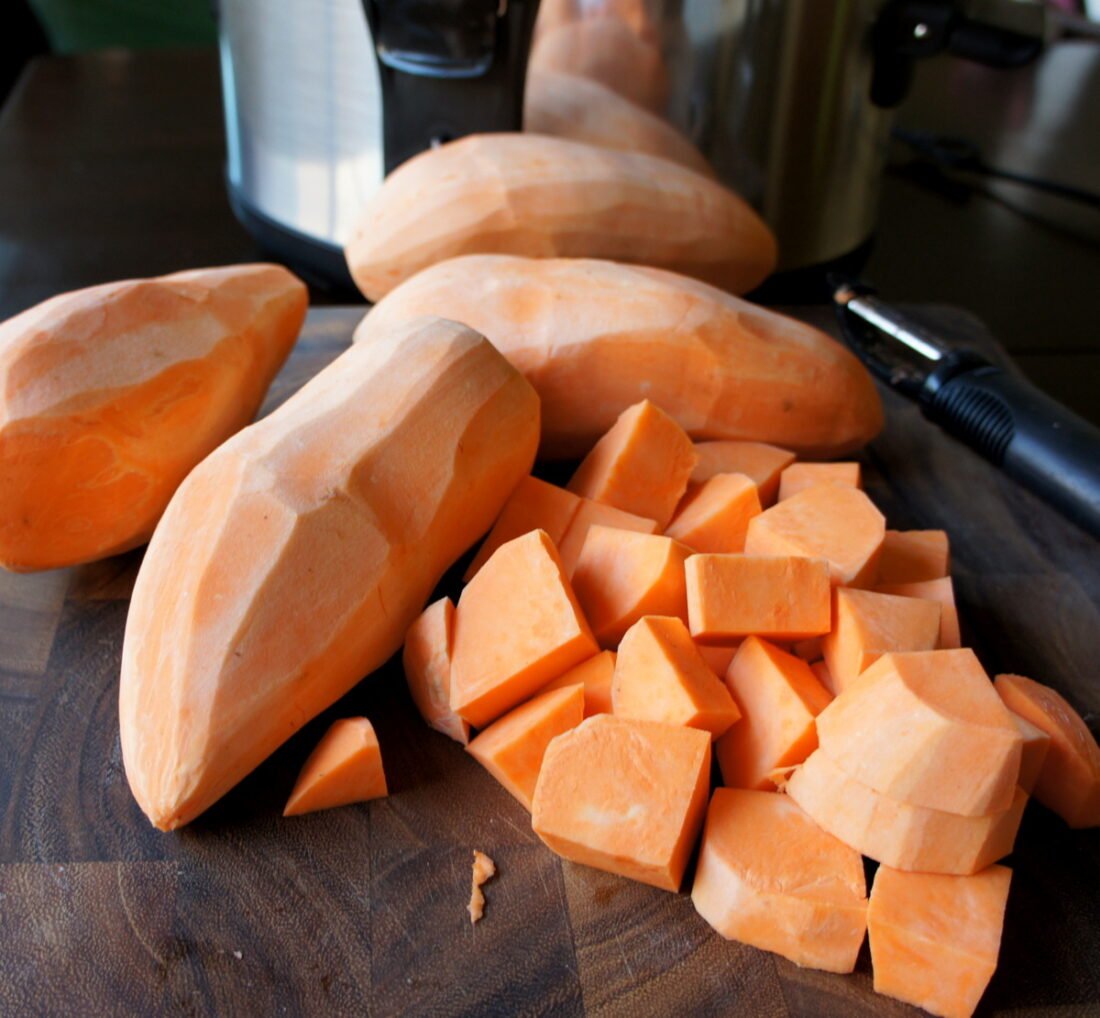 ADD SWEET POTATOES TO THE CROCK POT
Toss them all into the crock pot, along with some chicken broth and a little butter.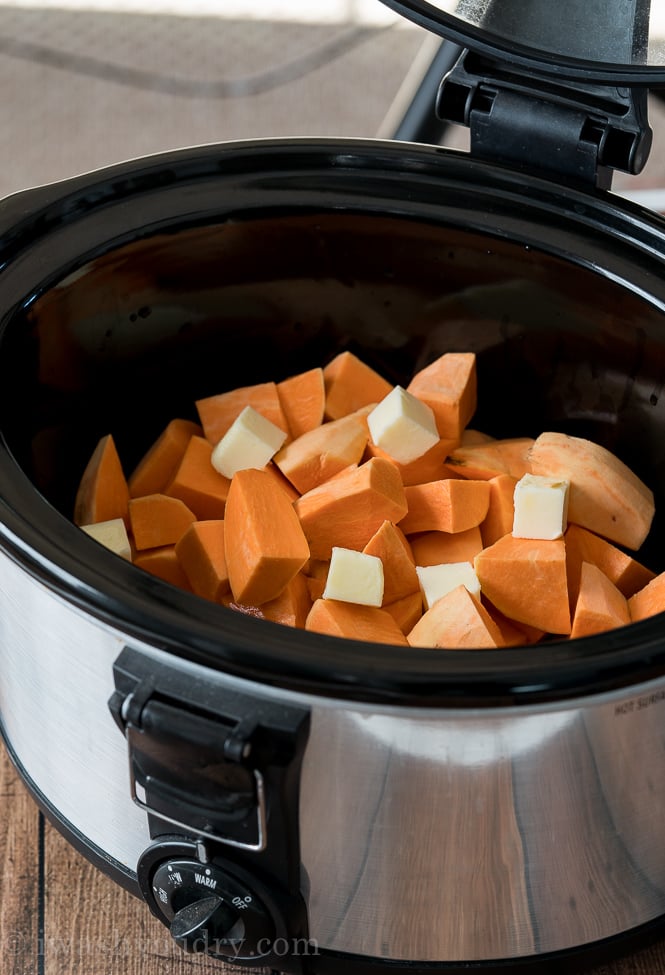 Close the lid and walk away.
After 3 hours, you'll be able to easily mash the sweet potatoes using a potato masher.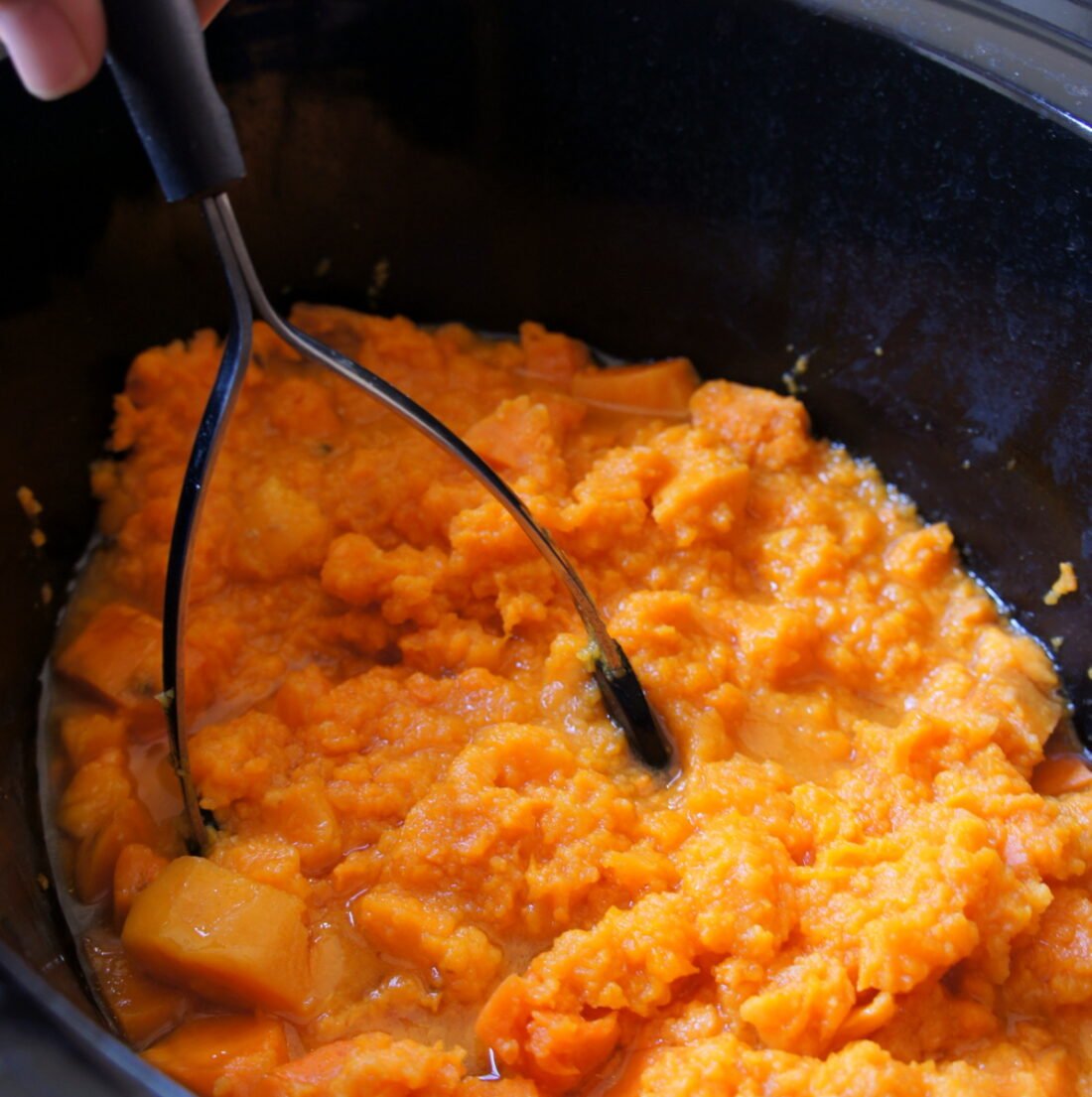 EGGS, BROWN SUGAR, AND VANILLA
Once it's all mashed up, lightly beat 2 eggs along with some vanilla and pour it right into the crock pot.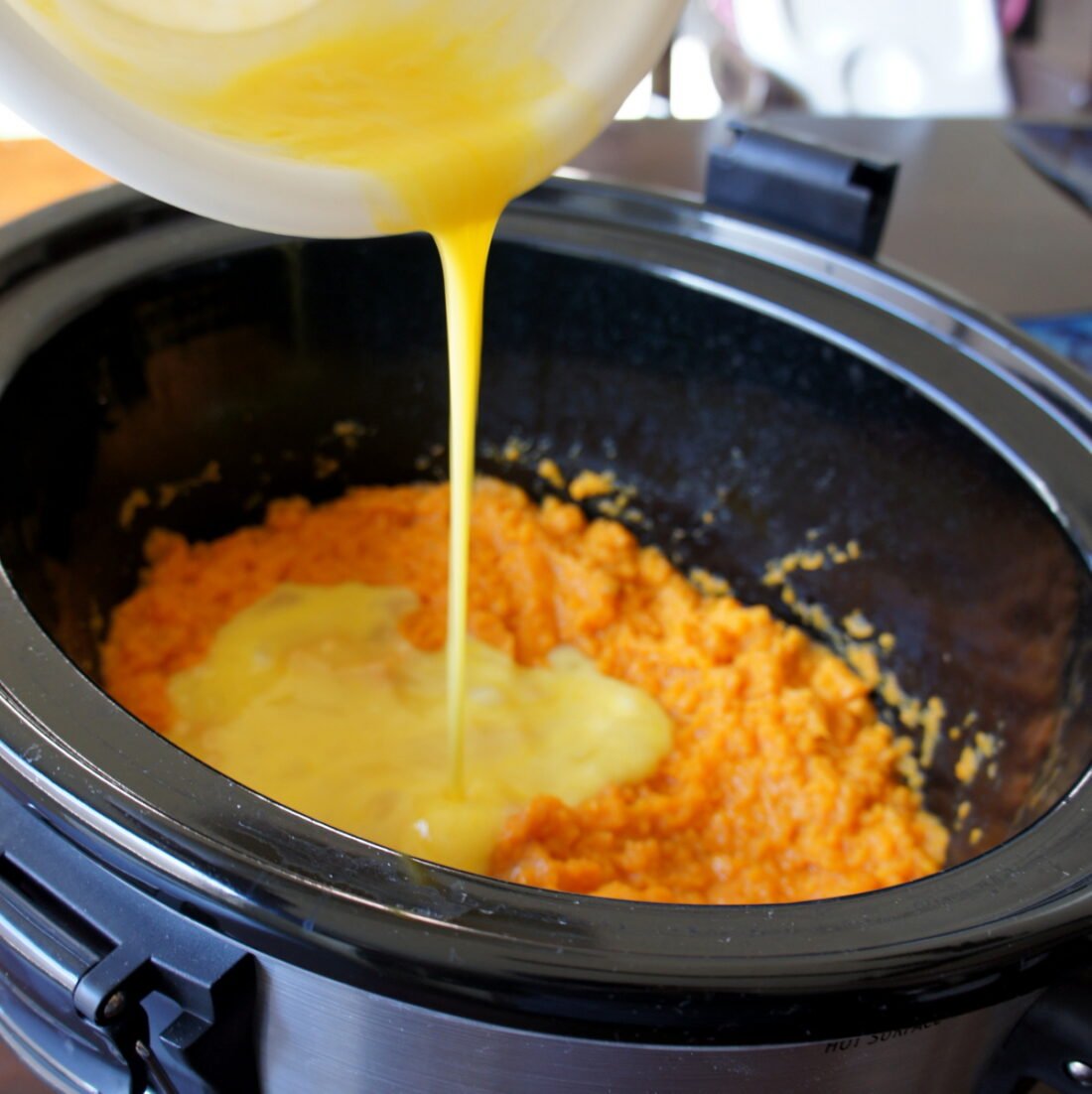 Add a little more sweetness with a cup of brown sugar and a touch of vanilla extract.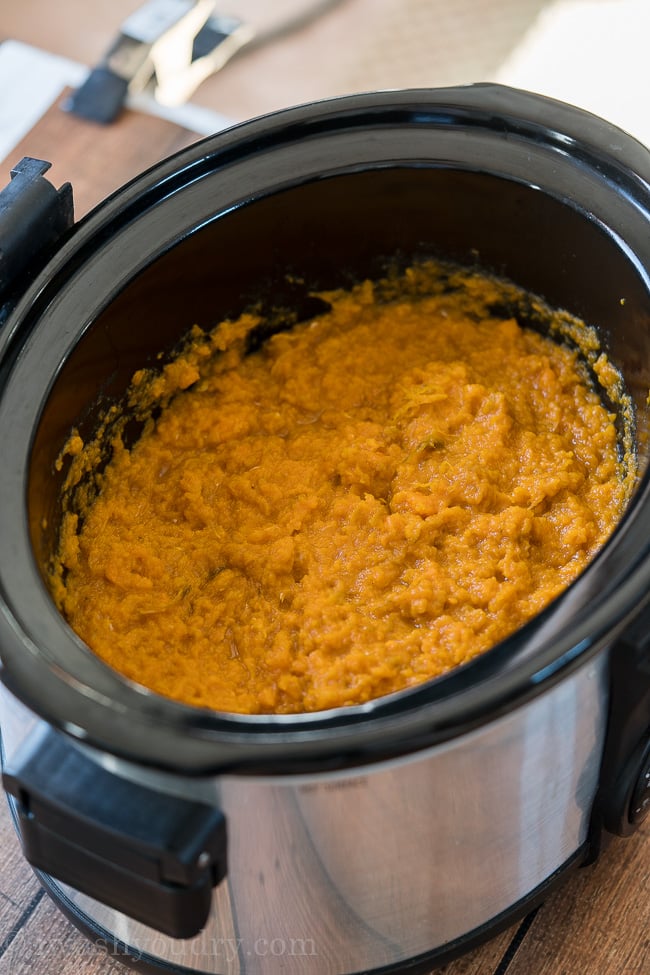 Give the sweet potato mixture a good stir, and mix thoroughly.
MAKE THE PECAN TOPPING
Quickly whip up the pecan topping by combining the brown sugar, melted butter, all purpose flour and chopped pecans in a small dish.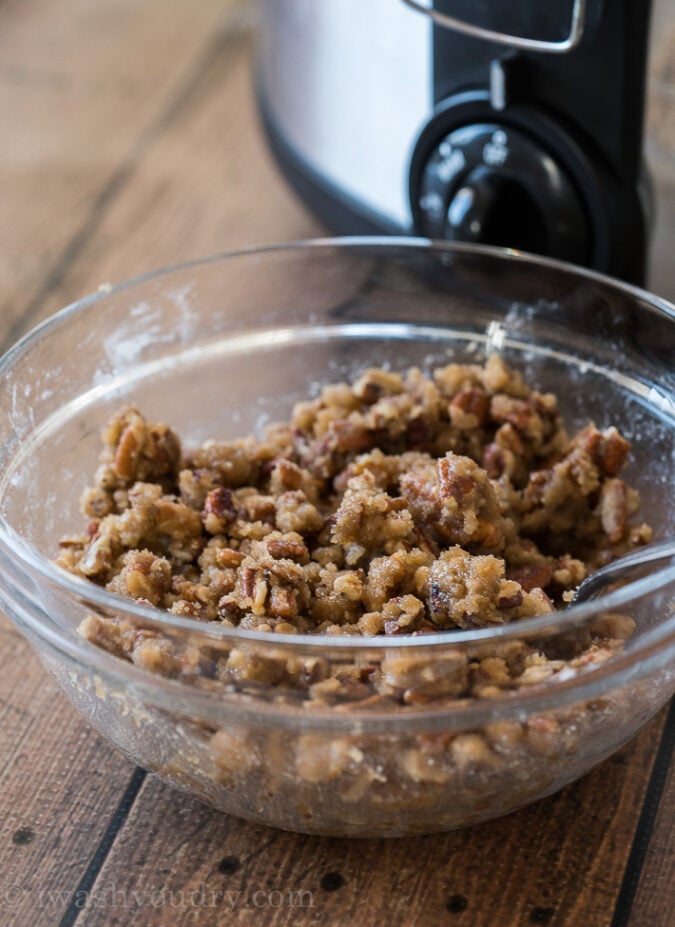 Sprinkle the brown sugar pecan mixture evenly over the mashed sweet potatoes, cover, and let it cook for another 2 hours.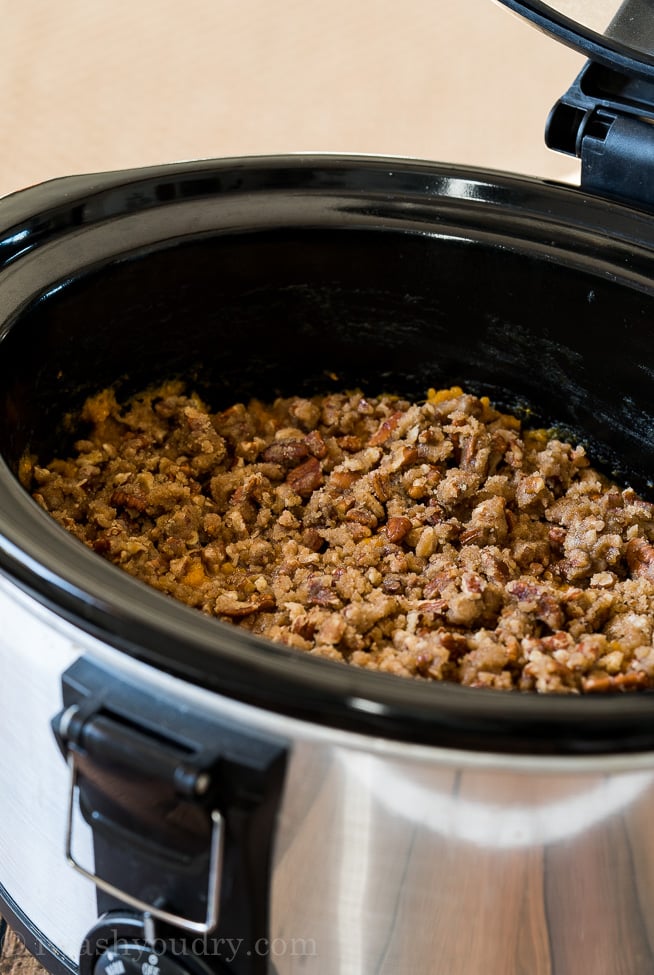 Slow Cooker Sweet Potato Casserole Tips and Substitutions
The more liquid with the sweet potatoes will give you a softer, more loose casserole texture.

If you want a firmer sweet potato base, drain some of the liquid before mashing.

Just make sure to let the casserole sit for a few minutes after you turn off the crock pot before digging in.

Want to add even more flair? Add some mini marshmallows on top!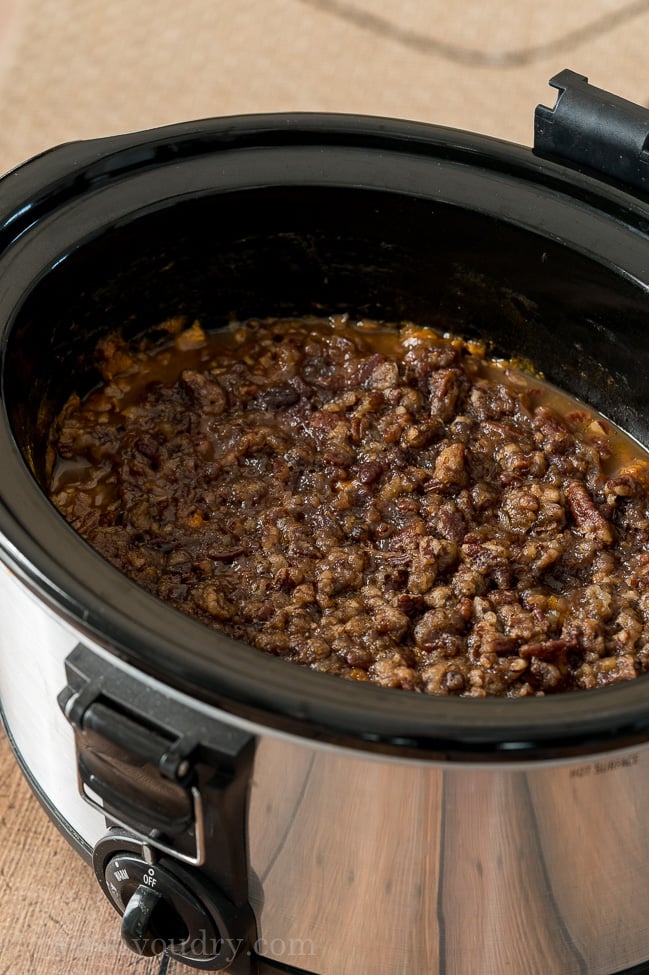 Make Ahead and Storage
Mix the Slow Cooker Sweet Potato Casserole up until adding the pecan topping. Make the topping separately and sprinkle it on top of the sweet potatoes when you're ready to reheat it. Store the casserole and topping in the fridge for 1-2 days before serving. Then, to reheat, turn the slow cooker to LOW heat until heated.
If you have leftover sweet potato casserole, store it in an airtight container in the fridge for 4-5 days. You can also freeze sweet potato casserole in individual portions for up to 3 months, BUT it's better to store it uncooked. In that case, make the sweet potato casserole in a mixing bowl instead of the crock pot and freeze up until the point of baking, excluding the topping until you're ready to bake. Then, let it come to room temperature before baking and bake at 350 degrees F for 35-40 minutes.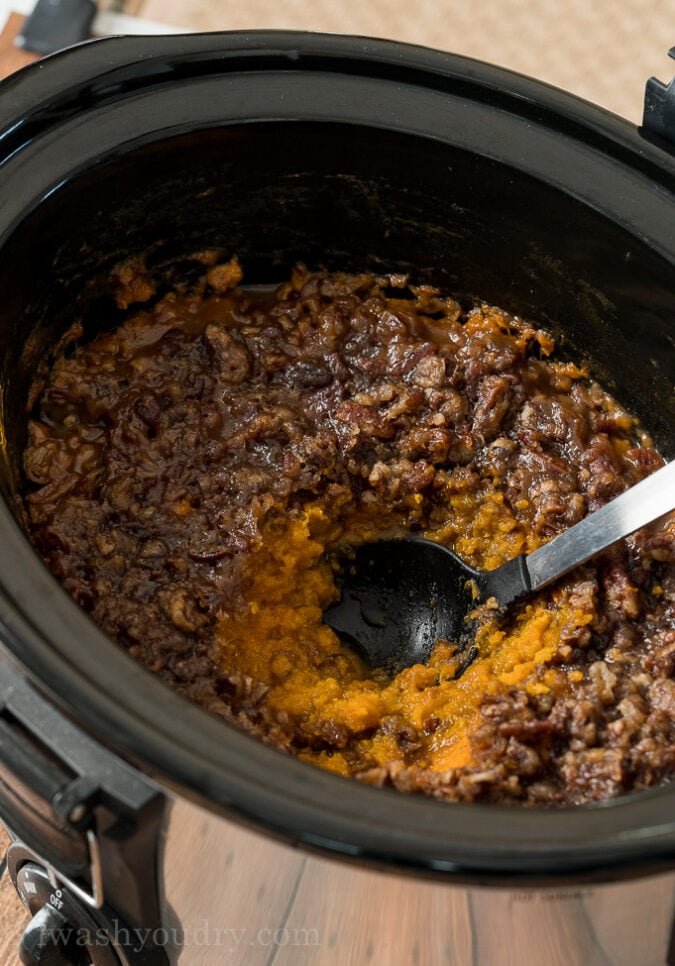 Common Questions
​Can I substitute canned sweet potatoes for fresh sweet potatoes?
Absolutely! You can buy either canned diced sweet potatoes or canned sweet potato puree instead of whole sweet potatoes! I suggest buying the same number of cans as pounds of sweet potatoes. If using canned, simply skip the first part of cooking the sweet potatoes, and mash them up then add in the eggs and brown sugar.
What can I use instead of a potato masher?
Feel free to use a hand mixer to puree the sweet potatoes inside the crock pot insert! If you don't have a hand mixer, you can remove the sweet potatoes from the crock pot and use a food processor or blender to mash the sweet potatoes.
What kind of brown sugar should I use?
It depends on how much molasses flavor you want in your casserole. Light brown sugar has a more mild molasses flavor than dark brown sugar, so it really depends on your personal preference!
More Easy Side Dish Recipes
You're going to love this deliciously sweet and tasty Thanksgiving side dish! Here are a few more cozy side dishes I think you'll love…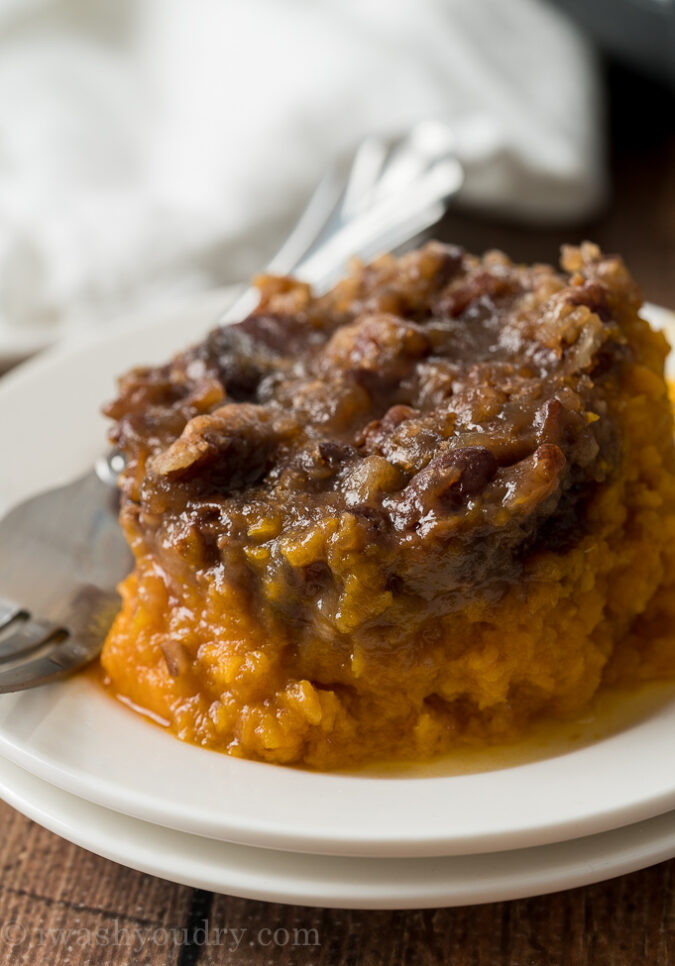 If you want to take your Thanksgiving menu to the next level, this Sweet Potato Casserole is the perfect side dish for you!
Crock Pot Sweet Potato Casserole
Whether you're hosting dinner at your place or bringing a dish to the party, this Crock Pot Sweet Potato Casserole is here to save the day. It's so simple to make, but tastes like you slaved for hours over it. Everyone will love it!
Instructions
Peel sweet potatoes and cut into even 1-2 inch cubes. Place the potatoes into your crock pot and add the chicken broth and sprinkle the cubed butter on top.

Cover and cook on HIGH for 3 hours, or until the sweet potatoes are soft enough to mash. (*see notes)

Use a potato masher and mash the potatoes to your desired consistency.

Add the lightly beaten eggs, brown sugar and vanilla to the crock pot and stir to combine.

In a separate bowl combine the topping ingredients and stir to coat. Sprinkle over the mashed sweet potatoes, replace the lid and continue to cook on high for 2 more hours.

Serve warm right out of the crock pot. Enjoy!
Notes
For a more firm sweet potato casserole base, drain some of the liquid from the crock pot before mashing.
Nutrition
Calories:
424
kcal
|
Carbohydrates:
60
g
|
Protein:
5
g
|
Fat:
20
g
|
Saturated Fat:
8
g
|
Cholesterol:
61
mg
|
Sodium:
308
mg
|
Potassium:
514
mg
|
Fiber:
5
g
|
Sugar:
37
g
|
Vitamin A:
16416
IU
|
Vitamin C:
5
mg
|
Calcium:
79
mg
|
Iron:
2
mg
Keywords:
Casserole, Sweet Potato