These quick and easy Philly Cheesesteak Sandwiches are loaded with peppers, onions, mushrooms and thinly sliced ribeye steak!
We love to pair this classic Philly Cheesesteak with potato chips, crunchy Dill Pickles or my Macaroni Salad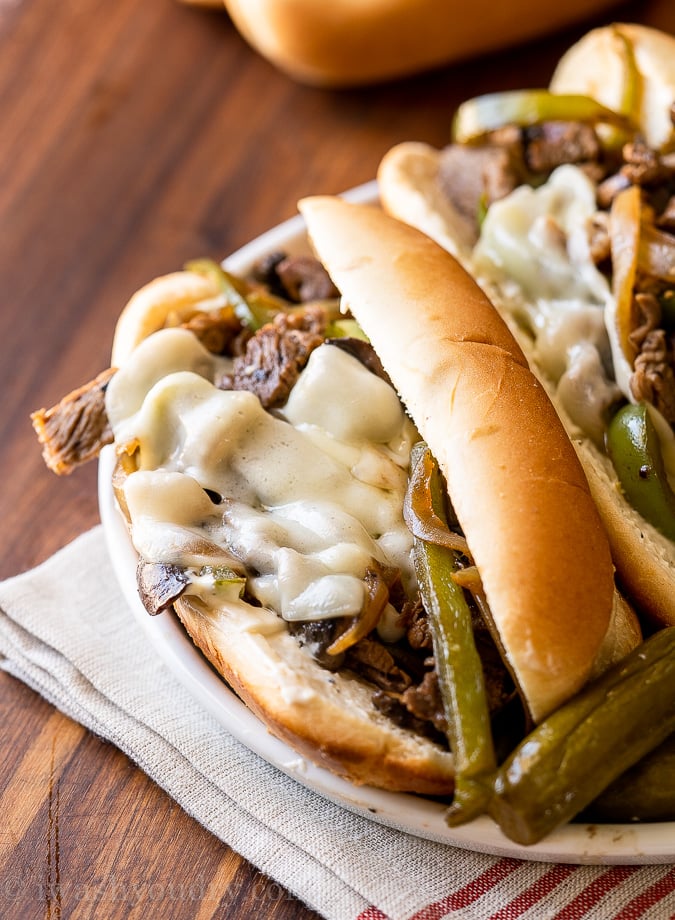 If you're looking for a delicious warm sandwich to fill you up, this is definitely it.
I've taken the classic street food sandwich and made it into an easy homemade meal that you'll absolutely love.
Philly Cheesesteak Sandwiches
So what is a Philly Cheesesteak Sandwich? And why are so many people so passionate about the origins and what goes in it?
The cheesesteak sandwich is made up of thinly sliced steak that served hot with melted cheese in a long, crusty Italian roll. Peppers, onions and mushrooms are optional, but highly recommended (by me).
It's a popular street-cart food, with its origins coming from Philadelphia, Pennsylvania. With this recipe, you'll be able to make that crave-able sandwich in your own home!
Ingredients for Philly Cheesesteak Sandwiches
Here's the basic list of ingredients you'll need in order to make the cheesesteak sandwiches. As always, you can find the full list of ingredients in the printable recipe card below.
Green Bell Peppers
White Onion
Mushrooms – buy pre-sliced mushrooms to make it easier
Ribeye Steak – or some other cut of beefsteak that is well-marbled and thinly sliced or shaved
Seasoned Salt
Worcestershire Sauce
Provolone Cheese
Toasted Hoagie Rolls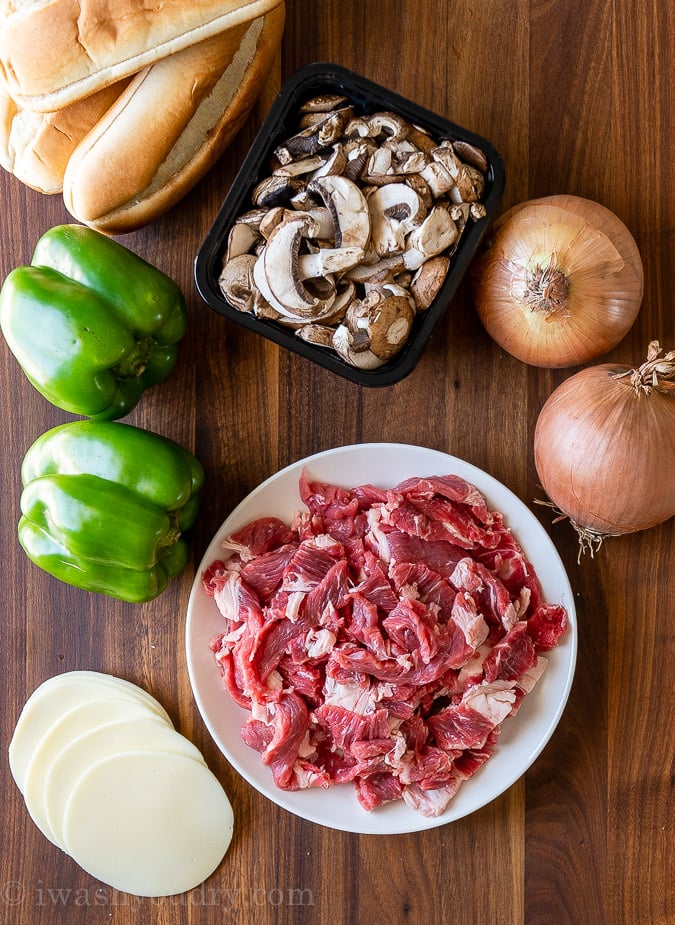 How To Make Philly Cheesesteak Sandwiches
Now that you have all of your ingredients gathered, let's make these quick-cooking steak sandwiches!
COOK PEPPERS, ONIONS & MUSHROOMS Heat a large cast-iron skillet over medium-high heat and toss in the bell peppers, onions and mushrooms and cook until they're softened, slightly browned and tender. Remove from the skillet and set aside.
COOK SHAVED STEAK To the same skillet, add in some butter and toss in the thinly shaved steak and season with seasoned salt, black pepper and a little Worcestershire sauce. Cook quickly, just until it's still slightly pink in the center, but don't over cook!
TOP WITH CHEESE Add the veggies back into the steak, stir to combine and top with the sliced provolone cheese and let it melt.
SERVE ON TOASTED BUNS Get a big helping of the steak, peppers, onions, mushrooms and cheese and pile it onto a toasted bun and enjoy!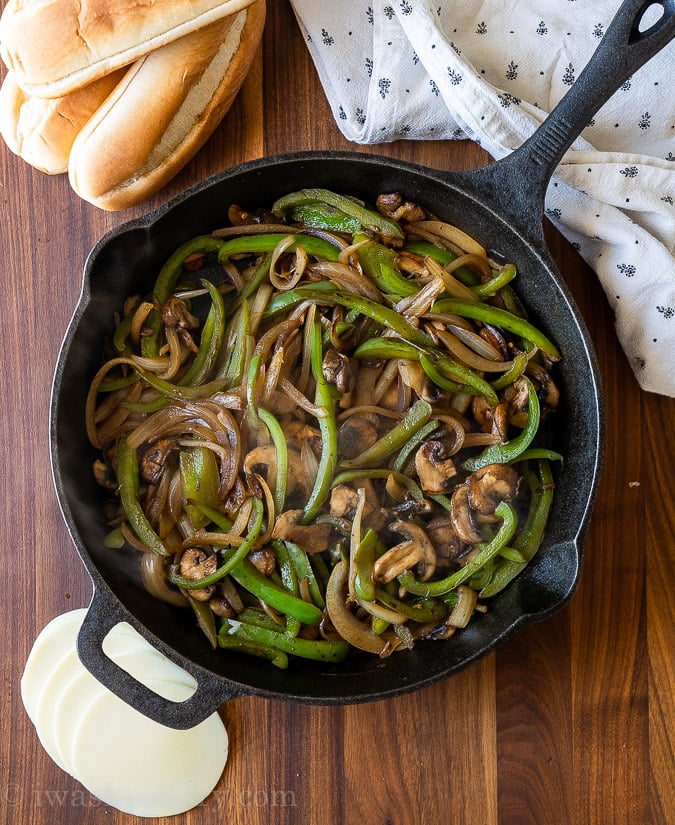 Special Sauce For Philly Cheesesteak
It may go against all things Philly Cheesesteak, but I LOVE adding this special (and quick) homemade sauce to my steak sandwiches. It really adds a punch of flavor and a creamy touch that is simply irresistible.
Mayo
Horseradish
Black Pepper
That's it! Just combine the ingredients together and then slather the sauce over the toasted bun and then pile on the saucy steak and peppers. Oh mama! It's a delicious bite.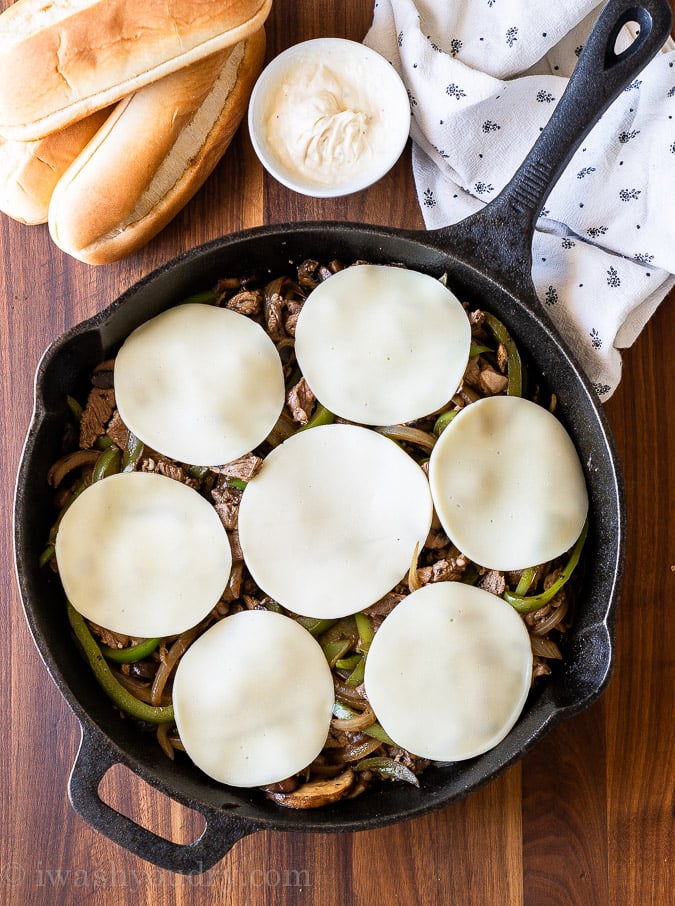 Let's get into the nitty-gritty of some of the common questions people have when it comes to the Cheesesteak Sandwich.
What Type Of Beef For Cheesesteak?
Ribeye! It may be an expensive choice, but it'll give you the BEST flavor and texture. With fat marbled throughout, it'll stay nice and juicy any way you cut it.
If you can't do ribeye, look for a cut of beef that is well-marbled and be sure to slice thinly against the grain. Some choices are: Flank Steak, Beef Chuck, Sirloin, etc.
Leftover Prime Rib also makes for a delicious Philly Cheesesteak Sandwich!
How To Thinly Slice Steak
The trick to a good cheesesteak sandwich is in that THINLY sliced steak. It will almost melt in your mouth.
The easiest way to thinly slice steak is to place the steak in the freezer for about 30 minutes, then use a sharp knife to thinly slice against the grain.
You could also invest in a meat shaver… but that might be a little extreme.
What Type Of Cheese For Cheesesteak?
There is much debate on which type of cheese to use for a good Philly Cheesesteak Sandwich. While some are insistent on a classic American cheese sauce, I prefer something more mild, like Provolone.
Try to avoid using a smoked provolone, which can be over-powering. You can also use gruyere cheese.
Really, the choice is up to you. Make it how you like it! It's a sandwich for crying out loud!
Peppers and Onions In Cheesesteak?
It's true, a classic cheesesteak sandwich does not usually come with peppers, onions or mushrooms. HOWEVER, I use every opportunity I can to sneak in veggies for my family, and since the combination of caramelized onions, peppers and mushrooms pair so nicely with the thinly sliced steak, we go for it.
It bulks up the filling, meaning I can serve more people, and everyone is happy. That being said, if you're not a fan of any of these ingredients, feel free to leave them out!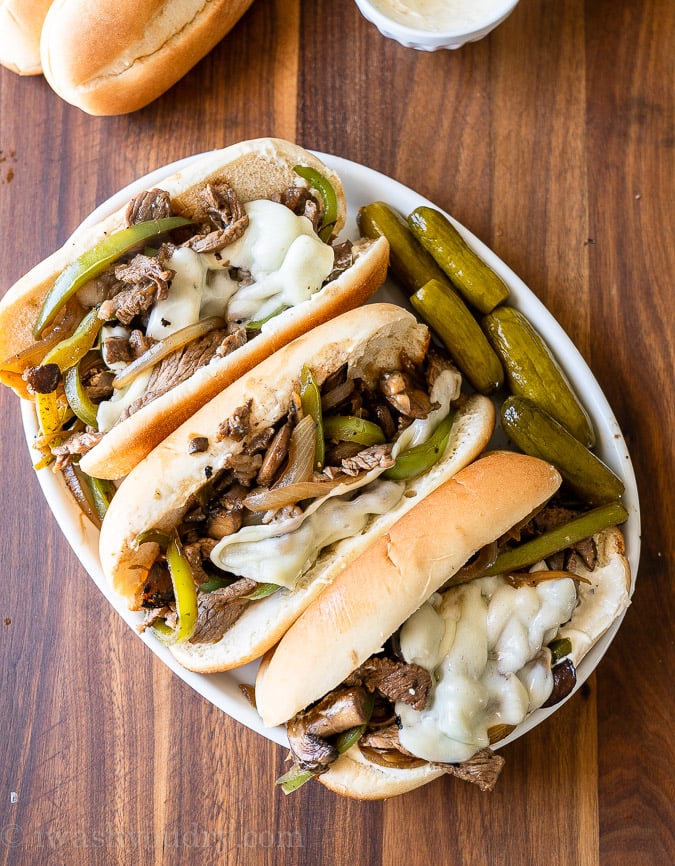 More Philly Cheesesteak Recipes
You know I'm a huge fan of the flavors that come in a Philly Cheesesteak Sandwich, because I've added it to so many other vessels. Check out these fantastic recipes…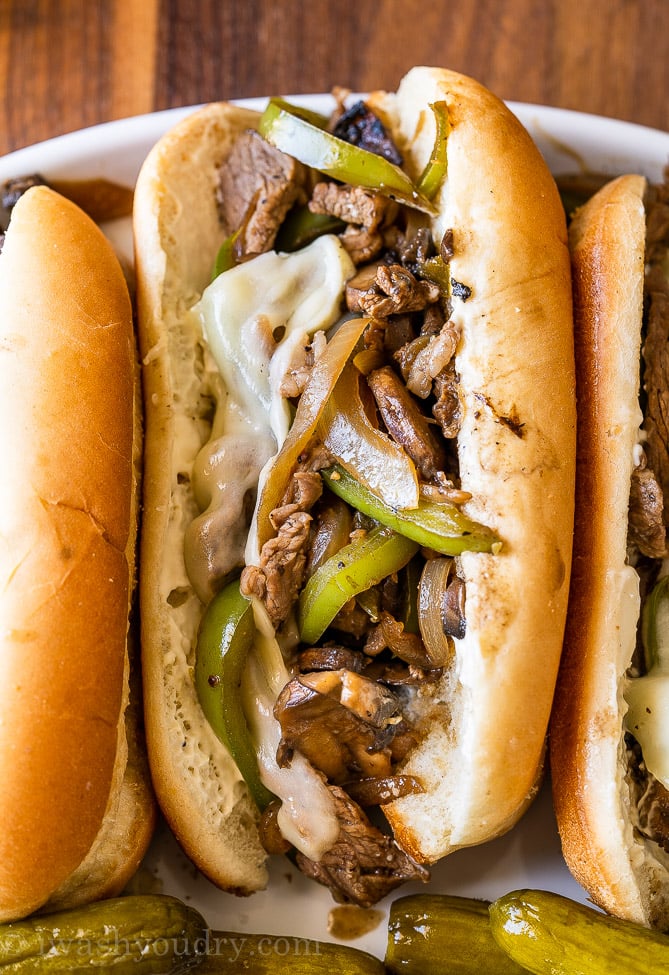 I can't wait for you to give these saucy sandwiches a try! I know you're going to love them!
Philly Cheesesteak Sandwiches
The popular street sandwich is easily made at home with this deliciously quick and easy recipe.
Ingredients
2

medium

green bell pepper

,

sliced

1

large

onion

,

sliced

8

oz

mushrooms

,

sliced

1

tbsp

butter

1 ½

lb.

ribeye steak

,

boneless, thinly sliced

1

tsp

seasoned salt

½

tsp

black pepper

2

tsp

Worcestershire sauce

6

oz

provolone cheese

,

sliced

6

Toasted hoagie buns
Instructions
Heat a large cast iron skillet over medium-high heat and toss in the sliced bell peppers, onions and mushrooms. Cook, stirring occasionally, until the peppers, onions and mushrooms are softened and slightly browned, about 7 minutes.

Remove peppers, onions and mushrooms from skillet and set aside.

To the same skillet add in the butter and then toss in the thinly sliced ribeye steak. Season with seasoned salt, black pepper and worcestershire sauce. Cook, just until still slightly pink in center, do not over cook steak!

Add the peppers, onion and mushroom mixture back to skillet and stir to combine. Top with provolone cheese and let melt slightly.
Make Special Sauce
Combine ingredients for special sauce in a small dish and whisk together.

Scoop Philly Cheesesteak mixture into toasted buns and add special sauce if desired. Enjoy!
Nutrition
Calories:
640
kcal
|
Carbohydrates:
39
g
|
Protein:
37
g
|
Fat:
37
g
|
Saturated Fat:
15
g
|
Trans Fat:
1
g
|
Cholesterol:
99
mg
|
Sodium:
1117
mg
|
Potassium:
598
mg
|
Fiber:
3
g
|
Sugar:
8
g
|
Vitamin A:
483
IU
|
Vitamin C:
35
mg
|
Calcium:
246
mg
|
Iron:
13
mg
Keywords:
bell peppers, mushrooms, Philly Cheesesteak, ribeye steak, Sandwich, Steak
PIN THIS IMAGE TO SAVE THE RECIPE