This quick and easy Edible Cookie Dough Recipe is a fun and tasty treat that you can eat straight from the bowl!
We also love these easy No Bake Peanut Butter Oatmeal Cookie Balls for a fun and tasty treat.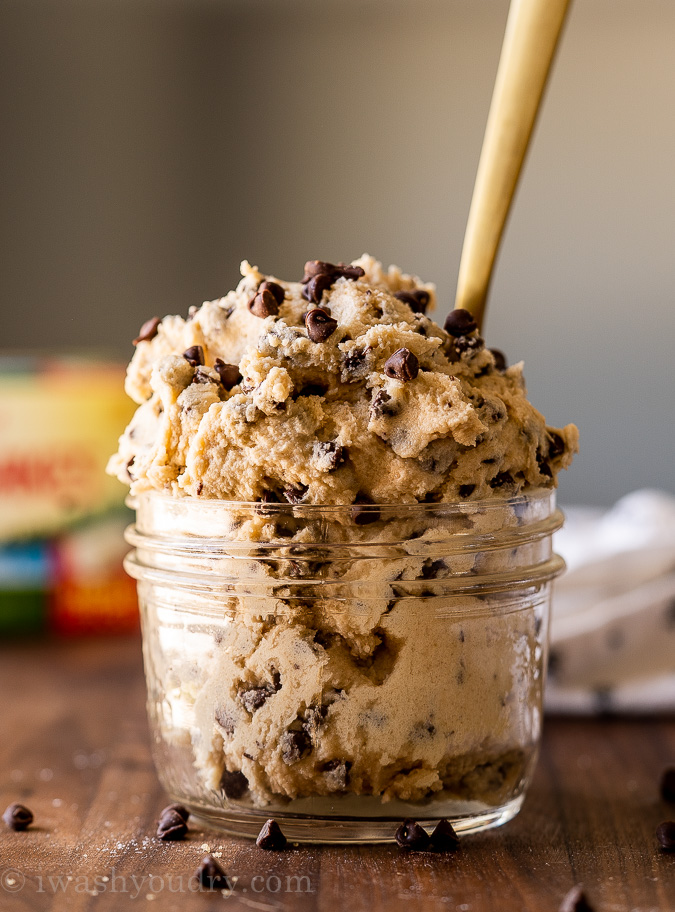 This edible cookie dough recipe is presented in partnership with Land O'Lakes.
Sometimes we just need a quick treat to satisfy our sweet tooth, and this edible chocolate chip cookie dough does just that.
No need for baking here folks! Just pure, buttery, cookie dough deliciousness.
How To Make Edible Cookie Dough
You might be wondering HOW on earth we can eat cookie dough when it's filled with raw eggs and flour.
Simple… we're not using them in this recipe.
Instead of using raw, all-purpose flour, we're going to heat-treat the flour (cook it 'til it reaches at least 165 degrees F), ensuring that it is safe from any harmful bacteria.
We're going to skip the eggs altogether and use milk in its place to give our cookie dough the added moisture it needs.
What Ingredients are in Edible Cookie Dough?
Here's the basic list of the ingredients you'll need for this edible cookie dough recipe. As always, you can find the full list of ingredients in the printable recipe card below.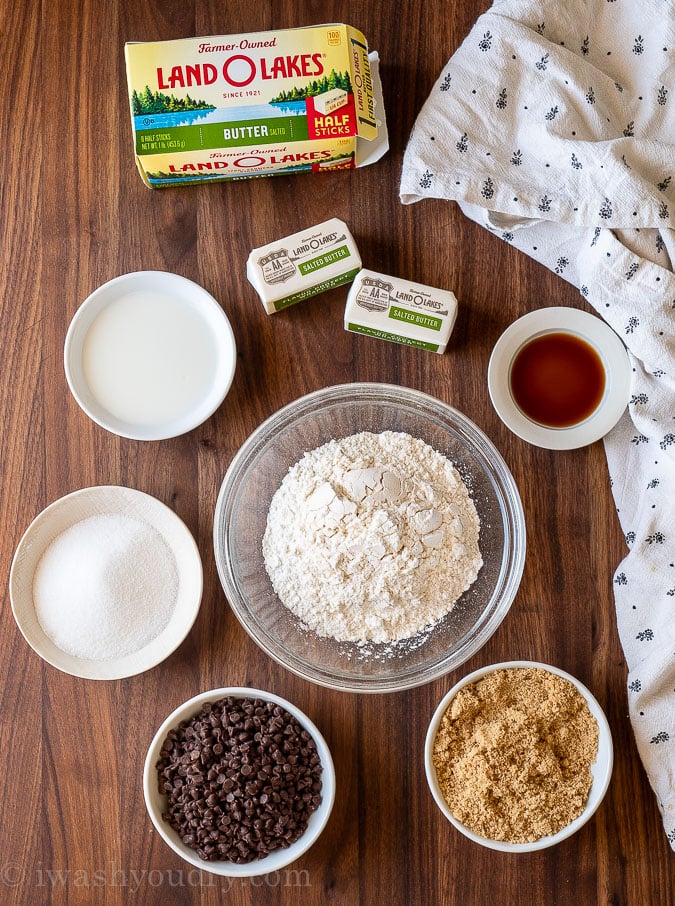 How To Heat-Treat Flour So It's Safe To Eat
There are two different methods for heat-treating flour. You can either spread the flour out on a large, rimmed baking sheet and bake it, or you can simply pop it in the microwave and heat it up.
The microwave method is great because it only takes about 1 minute to reach that 165 degree temperature.
Place flour in a microwave-safe dish and microwave in 30-second intervals, stirring to break up any hot spots in the flour.
Use an instant-read thermometer to make sure flour reaches 165 degrees F.
Let cool to room temperature before using.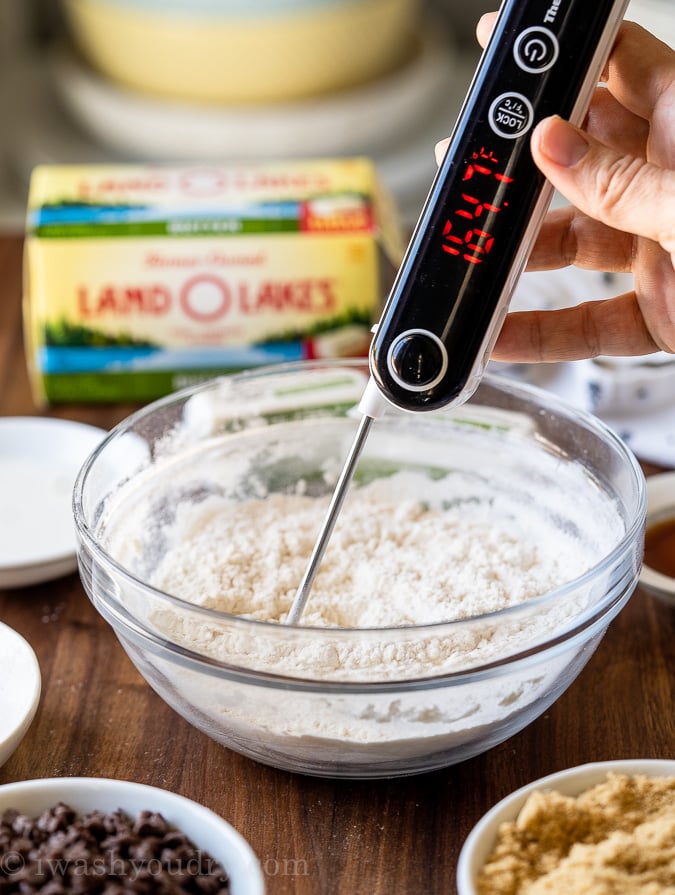 Now that your flour is ready, the rest of the process is just as simple.
CREAM BUTTER & SUGAR Combine the Land O Lakes® Butter in Half Sticks with the brown sugar and granulated sugar in a mixing bowl and cream together using a hand mixer or stand mixer until light and fluffy.
ADD WET INGREDIENTS Pour in the milk and vanilla extract and continue mixing until smooth in consistency.
INCORPORATE FLOUR Mix in the heat-treated flour until the cookie dough comes together.
FOLD IN CHOCOLATE CHIPS All that's left is to add the chocolate chips and mix until they're blended throughout!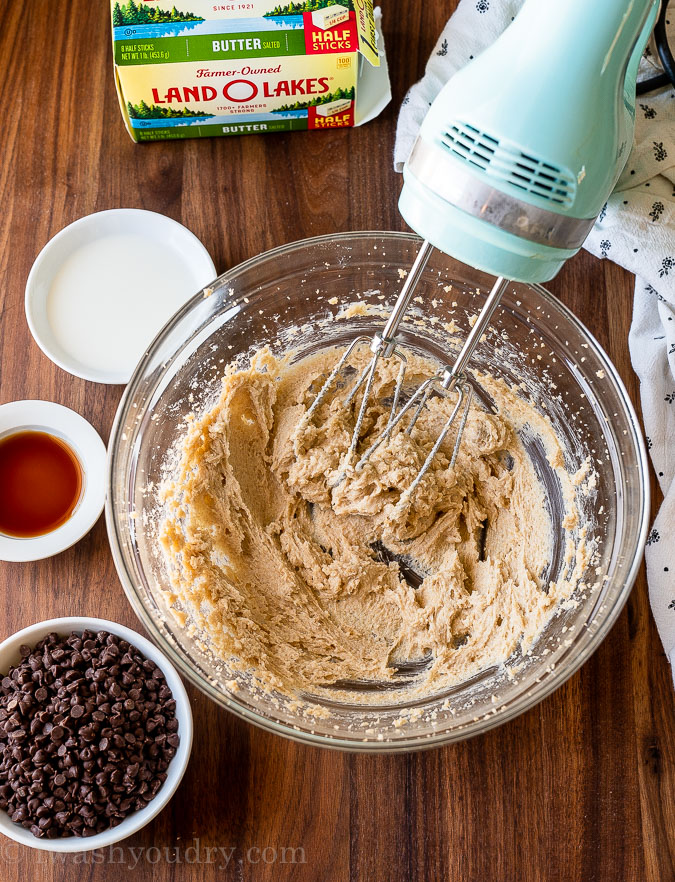 Quality Ingredients Matter
When it comes to this simple recipe, you'll want to make sure you're using quality ingredients like the rich and flavorful Land O Lakes® Salted Butter in Half Sticks.
Land O'Lakes is a farmer-owned company with hard-working people who care. You can really taste the difference in the butter.
I love using a salted butter, but if you want you can also use unsalted and just add a pinch of salt to the dough when mixing.
Stick to whole milk and a true vanilla extract to give the cookie dough a nice flavor.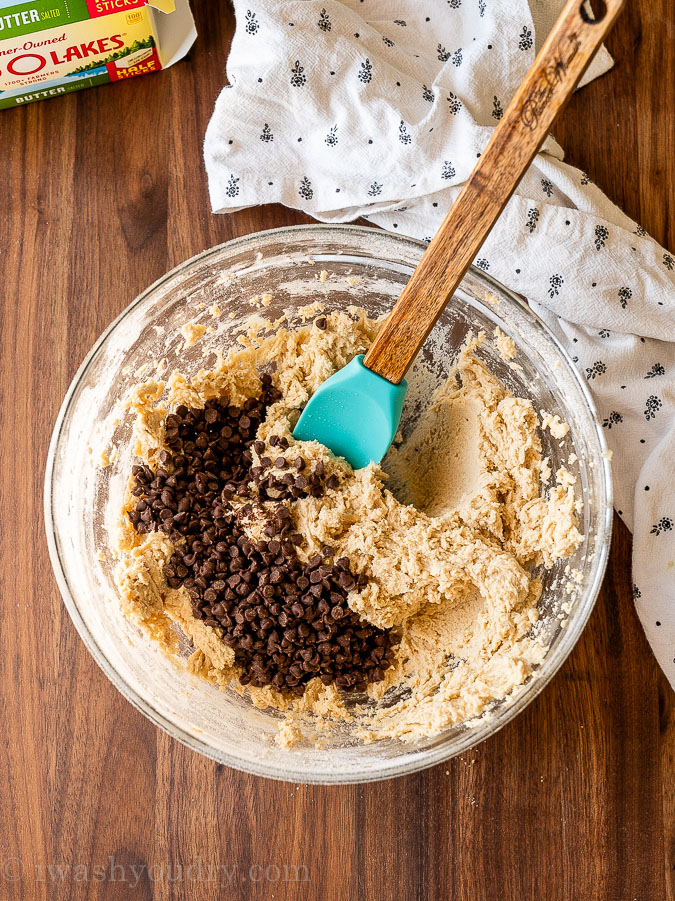 My kids REALLY love when I make this edible cookie dough. It's a fun and special treat that comes together in minutes!
How Long Does Cookie Dough Last?
This edible cookie dough can last up to 7 days in the refrigerator when it's sealed in an air tight container.
You can also freeze this cookie dough for up to 3 months!
Can You Bake Edible Cookie Dough?
Unfortunately, no, you cannot bake this cookie dough. It does not have any leavening agents (like eggs or baking powder) to give it any rise.
You'll end up with a flat, lifeless cookie.
If you're looking for soft and delicious cookies to bake… here are a few you can try…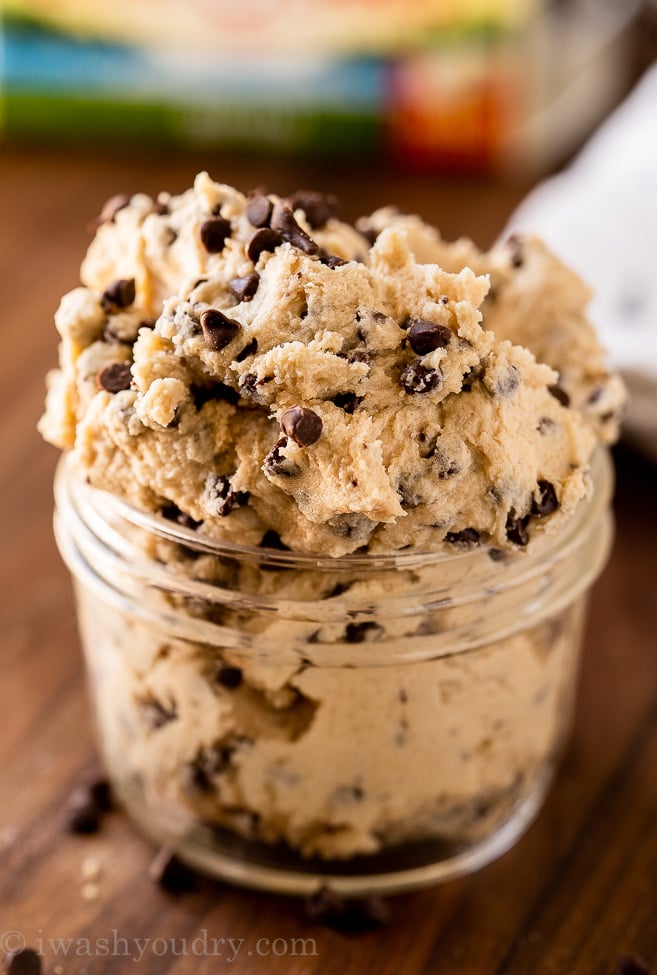 I can't wait for you to take a big spoonful of this fun cookie dough. I know you're going to love it!
Edible Cookie Dough Recipe
Craving cookie dough? You've come to the right place! This easy recipe comes together in minutes and is safe to consume all day long!
Instructions
Place the flour in a microwave-safe bowl and heat in 30-second intervals at max power, stirring in between bursts, until the temperature of the flour reaches 165 degrees F.

Transfer flour to a cool dish and place in fridge to cool completely.

Meanwhile, combine the softened butter, brown sugar and sugar in a bowl and use a hand mixer to beat until light and fluffy. Mix in the milk and vanilla, scraping the sides of the bowl as needed.

Add in the flour and mix until combined. Fold in the chocolate chips and enjoy right away, or chill in an air tight container in the fridge for up to 1 week.
Notes
*In order to safely consume flour, it must be heat-treated to properly kill any chance of bacteria. Please do not skip this step.
**Since this cookie dough does not contain any leavening ingredients, it is not recommended to bake into cookies. 
Nutrition
Calories:
158
kcal
|
Carbohydrates:
21
g
|
Protein:
1
g
|
Fat:
8
g
|
Saturated Fat:
5
g
|
Trans Fat:
1
g
|
Cholesterol:
17
mg
|
Sodium:
59
mg
|
Potassium:
22
mg
|
Fiber:
1
g
|
Sugar:
14
g
|
Vitamin A:
199
IU
|
Vitamin C:
1
mg
|
Calcium:
21
mg
|
Iron:
1
mg
Keywords:
Chocolate, chocolate chips, cookie dough, snack
PIN THIS IMAGE TO SAVE THIS RECIPE