Put all those garden cucumbers to good use with this easy Homemade Canned Dill Pickles Recipe!
You may also enjoy these Quick Pickles and Onions or my Homemade Pickled Beets too.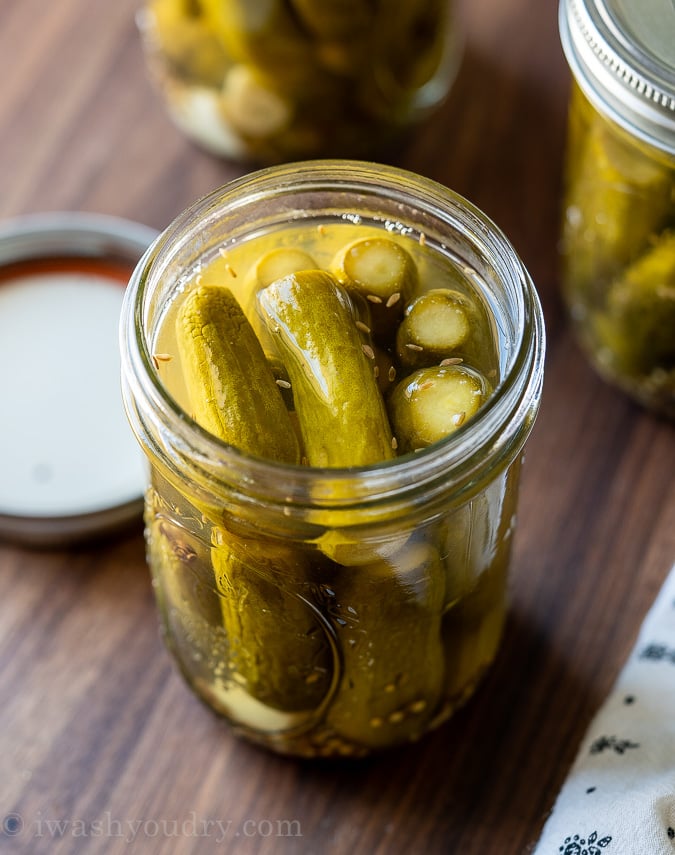 My family is OBSESSED with pickles. Open up a jar and they are gone in minutes.
That's why we've planted rows and rows of cucumbers this year in our backyard garden. I've perfected my homemade canned dill pickles recipe and I should be set for crunchy, dill pickles all year long.
Homemade Canned Dill Pickles
This recipe is for making shelf stable (meaning they can be stored in the pantry for up to a year) pickles.
It does require a little bit more work than my Quickles (quick refrigerator pickles), but it's well worth the time.
Ingredients Needed For Homemade Dill Pickles
Here's a basic list of the ingredients you'll need in order to make these dill pickles at home. As always, you can find the full list of ingredients in the printable recipe card below.
Pickling Cucumbers
Whole Cloves of Garlic
Whole Peppercorns
Water
White Vinegar
Pickling Salt – you can also use a kosher salt that does not contain iodine
Sugar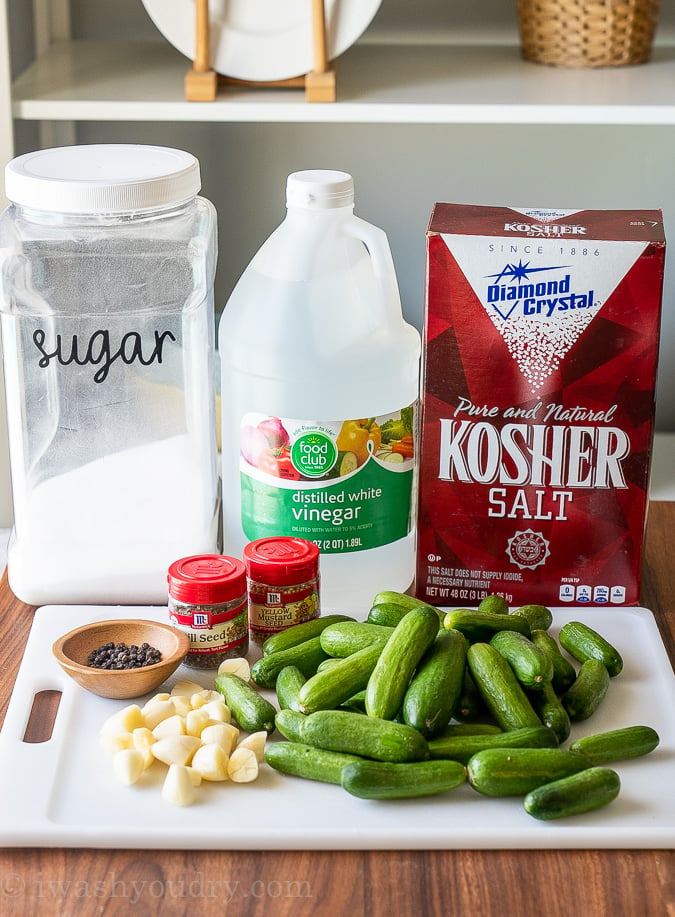 Special Tools Needed For Canning Pickles
We're going to be processing the pickles in a water bath, making sure they're safe to store on the shelf and create a long life for them. Here's some tools I recommend to have on hand…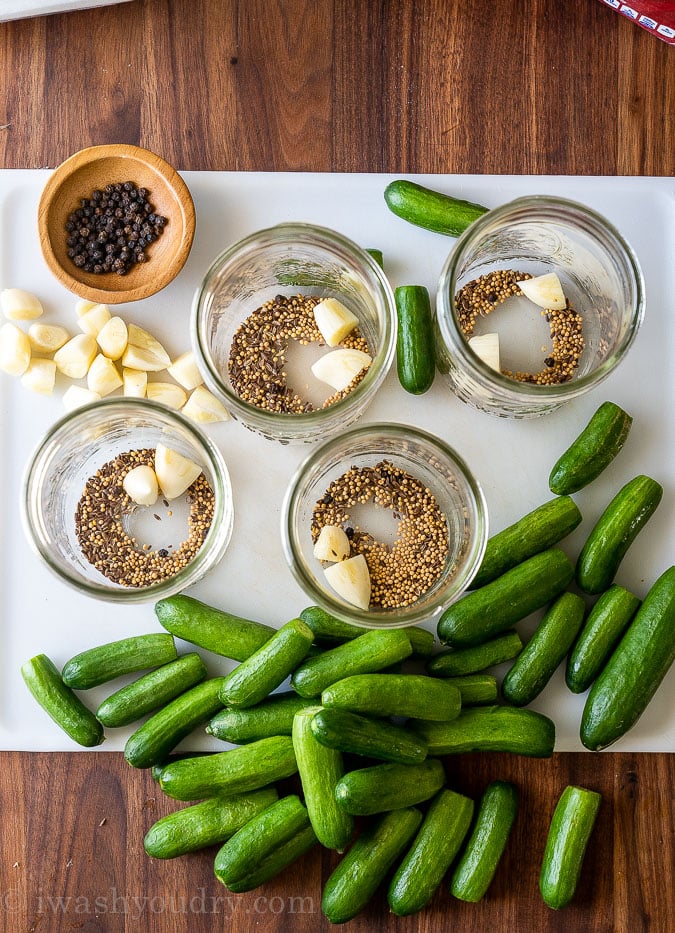 How To Make Homemade Dill Pickles
Did you know pickles are made from cucumbers?
It blows my kid's minds when we turn those crunchy cucumbers into delicious, snack-able pickles.
Making homemade pickles is actually quite easy…
BOIL JARS TO SANITIZE It's important to make sure you dip your glass jars AND lids into a pot of boiling water to fully sanitize them. This way you can rest assured that your pickles will be safe from any harmful bacteria.
PREPARE CUCUMBERS Wash the cucumbers, then

trim off the flowering end on each cucumber

. There is an enzyme in that end that softens the cucumbers over time, by removing it, we will have crunchy cucumbers.
COMBINE PICKLING SPICES I've created a simple and easy garlic dill flavor that adds a nice punch of flavor. Just add the ingredients to each jar, then fill the jars with your prepared cucumbers.
MAKE THE BRINE To make the simple sugar, salt and vinegar brine, you'll add all the ingredients to a pot and bring to a boil, until the sugar and salt are dissolved. Then just pour the hot mixture into the prepared jars, up to 1/2″ from the rim. Hand tighten the lids, but not too tight.
WATER BATH Now is when we turn our cucumbers into pickles! Bring a large pot of water to a boil, with the rack on the bottom. Make sure it's filled with enough water so the jars are fully submerged. Bring the jars to a boil and let them sit in there for about 10 minutes. Remove from the boiling water with the canning tongs and let cool completely.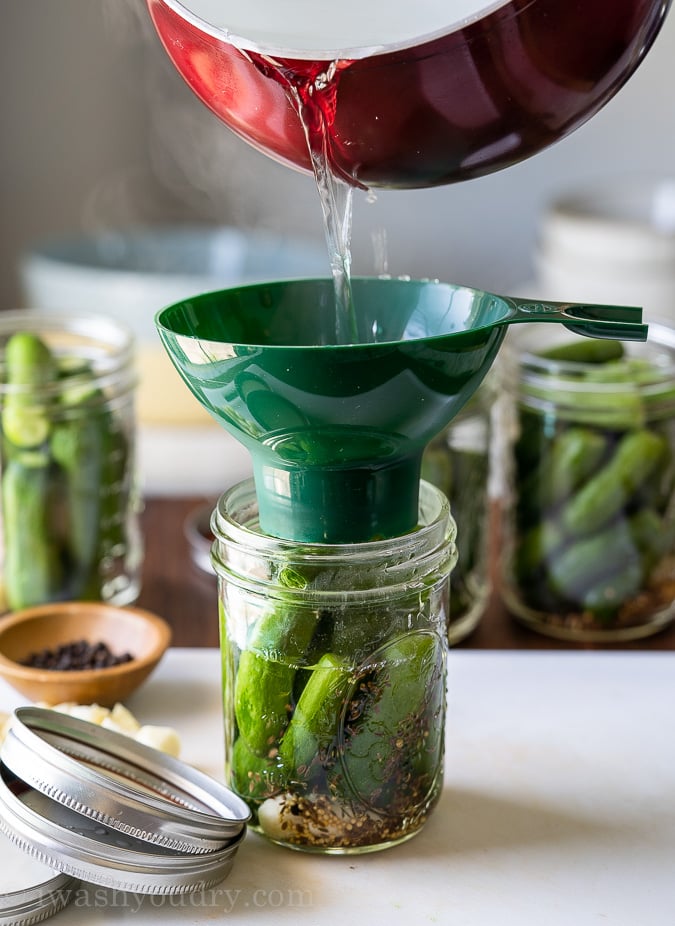 What Type Of Dill Should I Use For Pickles?
Dill is a very versatile plant! Did you know there are actually 4 different ways the plant is used?
Fresh Dill Weed – the leafy, feather-like part of the dill plant that is an herb used in sauces, dressings and of course with seafood.
Dried Dill Weed – found in the spice aisle, the dried version of the fresh herb, has a sweet and bright flavor.
Dill Seed – also found in the spice aisle, is the fruit of the plant. It's more aromatic than the herb and used whole or crushed to add a bright lemony flavor.
Dill Heads – the part of the fresh dill plant where the flowers bloom. Many recipes for canned pickles call for this, but unless you have dill growing in your garden, they can be difficult to source.
Since I don't have fresh dill plants growing in my garden, I am using the dried dill seed to give that bright flavor to these canned pickles. It's easier to find and stores great in the pantry.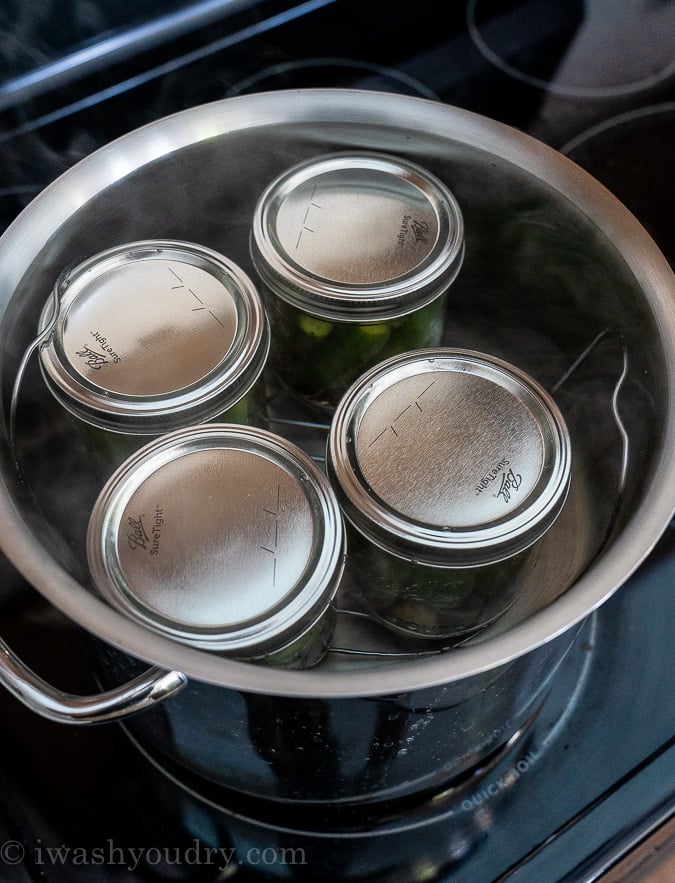 Water Bath Canning Method
If you're new to canning, this method is by far the easiest. It may seem intimidating at first, but you'll quickly see how easy it is to preserve your veggies or jellies to make them last in your pantry all year long.
PRO TIP – Make sure you use a large pot and allow enough room for the water to come to a rolling boil.
You should see some bubble releasing from each of the jars as they boil in the water bath. This is normal and expected. The release of bubbles helps create a nice seal on the jars.
How Long Do Homemade Pickles Last?
Once you've processed your pickles, you'll want to let them sit for 24 hours on the counter before opening. Press the top of the jar to see if it pops back up. If it does not, then you are good to store the UNOPENED jars in the pantry for up to 1 year.
Make sure to write your dates on the top of the jars so you don't forget when you made them.
If the lid did not seal for some reason, just place the pickles in the fridge and consume within 7 days. After opening your jars of pickles, they should be stored in the fridge.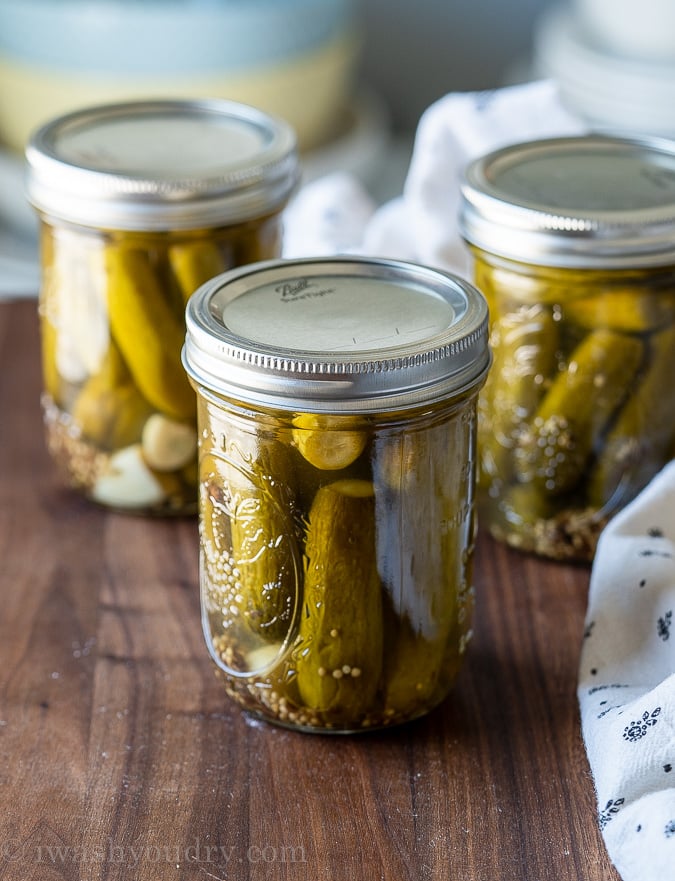 How To Customize Flavor of Dill Pickles
This recipe is for your basic, crunchy dill pickle, with a nice punch of garlic. If you want to customize the flavors or change things up, here are some ideas…
Swap out the dill seed in each jar for one dill head
Use pickling spice in place of the dill seed, mustard seed and peppercorn
Don't try to use fresh dill weed or dried dill weed as they won't work for this recipe
The longer you cook your cucumbers, the softer your pickles will be.
Can I Make Pickle Spears Or Chips?
YES! You can cut or slice your cucumbers however you like and process them the same way I do in this recipe.
I'm using pint size jars, but you can also use quart size if you have larger cucumbers.
My brine is enough for 4 pint size jars, or 2 quart size jars. You can easily double the recipe to increase the amount of brine made.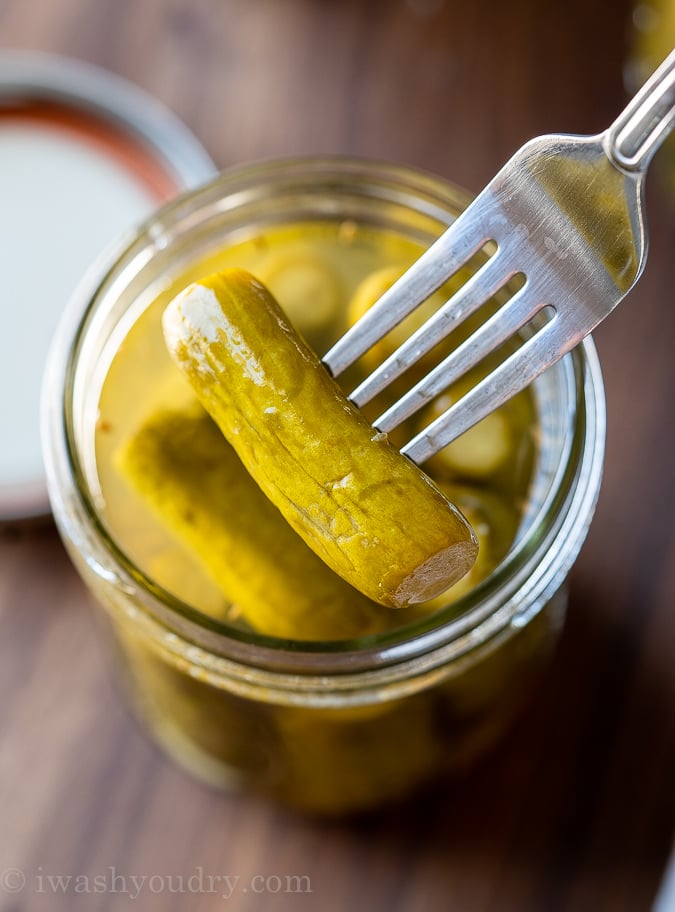 I hope you enjoy this yummy Homemade Canned Dill Pickles recipe and have a bountiful gardening year!
Homemade Canned Dill Pickles
Make your own delicious Dill Pickles with fresh cucumbers that are shelf stable and taste AMAZING!
Ingredients
3

lbs.

pickling cucumbers

,

*see notes

4

tsp

dill seeds

2

tsp

mustard seeds

4

cloves

garlic

16

whole black peppercorns

2

cups

water

1 ½

cups

white vinegar

2

tbsp

pickling salt

1

tbsp

sugar
Instructions
Prepare The Mason Jars
Clean mason jars and lids with soap and water, then dip in a large pot of boiling water to completely sanitize jars and lids. Carefully remove from boiling water and set on clean towels to dry.
Prepare The Cucumbers
Wash and rinse the cucumbers. Trim off the ends of the cucumbers, to remove the enzyme in the cucumbers that promote softening. This will keep your pickles crisp and crunchy!

If your cucumbers are larger, cut them down to size, so they can easily fit into your jars.
Prepare For Pickling
To each jar, add: 1 tsp dill seeds, ½ tsp mustard seeds, 1 clove garlic and 4 whole peppercorns. Divide the prepared cucumbers between the jars, packing them as tightly as possible.
Make The Pickle Brine
In a medium size pot, combine 2 cups of water, 1 ½ cups white vinegar, 2 tbsp pickling salt and 1 tbsp sugar. Heat over medium-high heat until the mixture boils and sugar and salt is dissolved.

Pour hot mixture into prepared jars, leaving just ½" of headspace (to the top). Place on lids and hand tighten, but not too tight.
Water Bath Canning Instructions
Prepare a large stock pot, fitted with a rack on the bottom, and fill with water. Bring water to a rolling boil. Carefully add the jars, making sure they are submerged under water, and let them boil for 10 minutes.

Bubbles will escape from the jars, this is normal! Carefully remove the jars from the boiling water and set aside on a cooling rack. You might hear a loud POP from the lids as they seal, this is normal.

Let the pickles sit for at least 12 to 24 hours, before pushing down on the lid to test if it's sealed. If for some reason, the lid did not seal, place pickles in the fridge and enjoy within 7 days. If sealed, the pickles are shelf stable and can be enjoyed within 1 year (refrigerate after opening).
Notes
Nutrition facts are PER PINT of pickles.
Nutrition
Calories:
89
kcal
|
Carbohydrates:
13
g
|
Protein:
3
g
|
Fat:
1
g
|
Saturated Fat:
1
g
|
Sodium:
3504
mg
|
Potassium:
519
mg
|
Fiber:
3
g
|
Sugar:
8
g
|
Vitamin A:
249
IU
|
Vitamin C:
12
mg
|
Calcium:
102
mg
|
Iron:
1
mg
Keywords:
Cucumber, dill pickles, Garlic, Pickles
PIN THIS IMAGE TO SAVE THE RECIPE