This Quick Pickled Beets Recipe will walk you through how to cook beets in the pressure cooker and how to make delicious refrigerator pickled beets in a flash!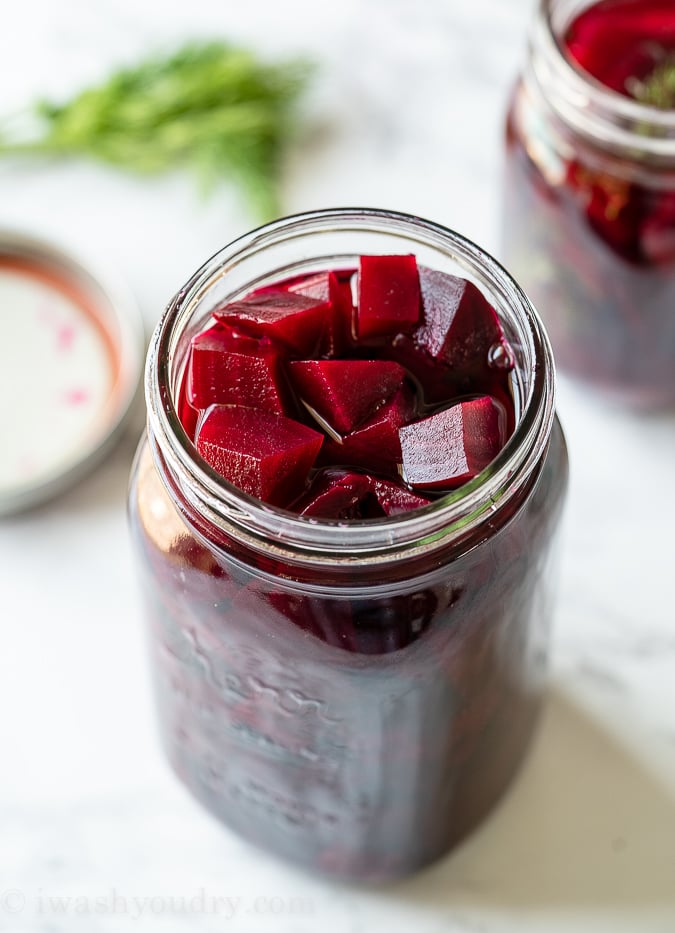 This year we grew beets in our garden and it has been so fulfilling. Not only do beets grow fairly fast, they are also full of many vitamins and nutrients, so it was a great addition to our summer garden.
I've always been a fan of pickled beets. When we go to salad bars, I'm always that person piling on as many pickled beets as I possibly can. When I planted the beet seeds in my garden I was already dreaming of all the different ways I could enjoy them.
How To Pick Beets
When it comes to picking your beets, you want to look for beets that are similar in shape and size. This helps to cook them evenly and efficiently.
Sometimes you don't really have a choice on the sizes (if you're picking from your garden). Just batch similar sizes together and cook accordingly. I don't necessarily mind having some varied sizes, as this gives each beet a slightly different texture and bite when cooked.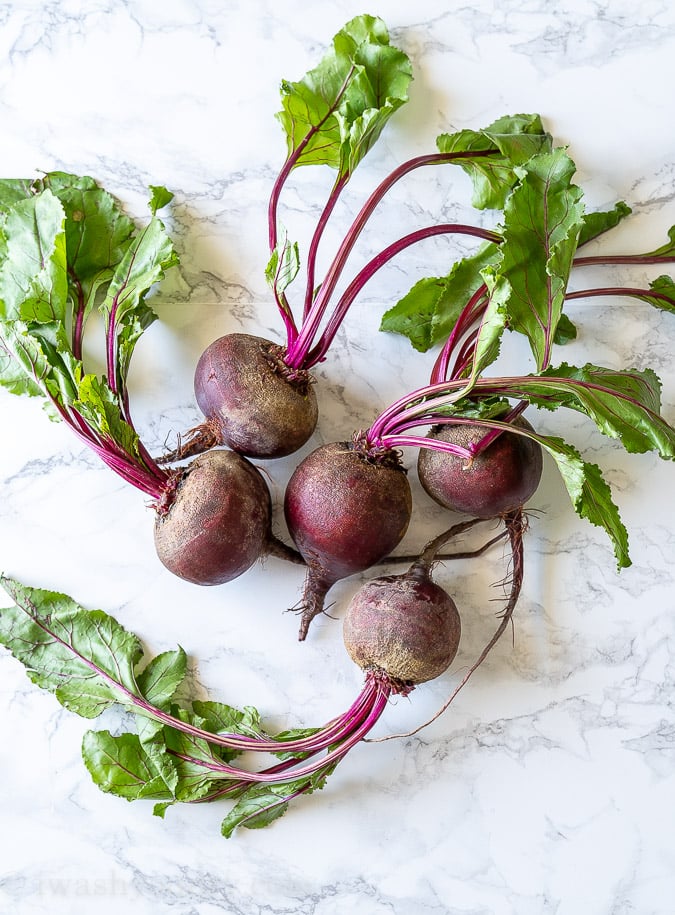 Beet Greens & How To Use Them
When trimming up your beets, you'll find that they have leafy green tops to them. These are called Beet Greens. Don't toss those away! They can be used in places where you would typically use other leafy greens like spinach, swiss chard and bok choy. Here are some great ways to use them up…
Steam them
Sauté in stir fries
Add to Soups
Add to Smoothies
How To Cook Beets in The Instant Pot
There are a few ways to cook beets, but my all time favorite has to be the pressure cooker. The pressure cooker doesn't heat up my house in the warm summer months, and cooks the dense root vegetable in a fraction of the time. Plus it couldn't be easier!
Trim the tops and bottoms of the beets and scrub clean under warm water.
Add the beets to a trivet in your pressure cooker and add cold water to the pot.

For an 8 quart Instant Pot use 1 1/2 cups of cold water
For a 6 quart Instant Pot use 1 cup of cold water

Cook on HIGH pressure for 13-35 minutes (depending on size of beets) with a Quick Pressure Release after cooking.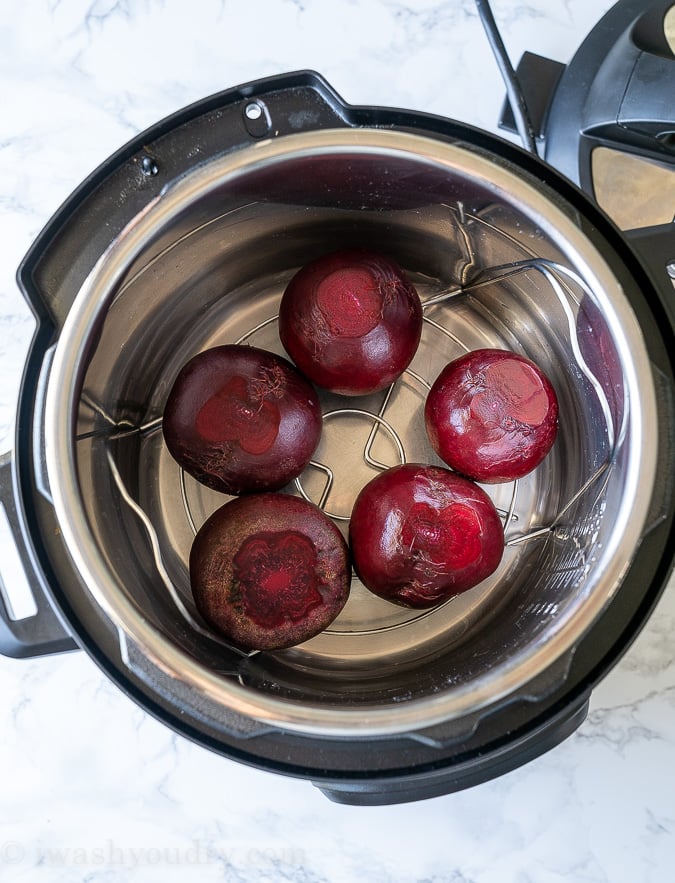 Time Chart For Cooking Beets In Pressure Cooker
Beets can vary greatly in size, so pay close attention to this chart below to make sure you cook them to a nice tender consistency.
Beet Circumference  –   Time (firmer – soft with chew)
Less than 5″  –  HIGH PRESSURE 11 – 13 minutes, quick release
5″ – 6″  –  HIGH PRESSURE 13 – 20 minutes, quick release
6″ – 7″  –   HIGH PRESSURE 20 – 27 minutes, quick release
7.5″ and more   –   HIGH PRESSURE 28 – 35 minutes, quick release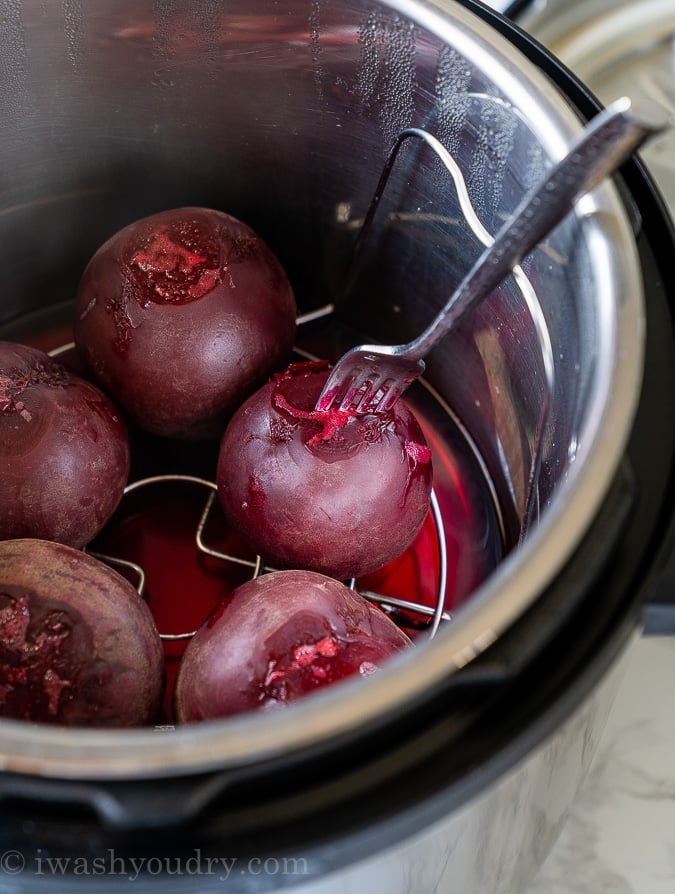 How To Tell When It's Cooked Through
When it's your first time cooking beets, you might not be sure when your beets are tender and cooked through.
Simply take a fork and pierce the beet, like you would a potato. If the fork goes through easily to the center, you know it's done. If it's still not done, simply put the lid back on, close the valve and cook an additional 2 minutes, then test again.
Cooling & Peeling Beets
Once the beets are done cooking, turn off the instant pot, leave the lid off and let them cool in the instant pot.
Once the beets are cooled down, you can easily handle them and remove the outer peels. The nice thing about cooking in the instant pot, is the peels come off so easily!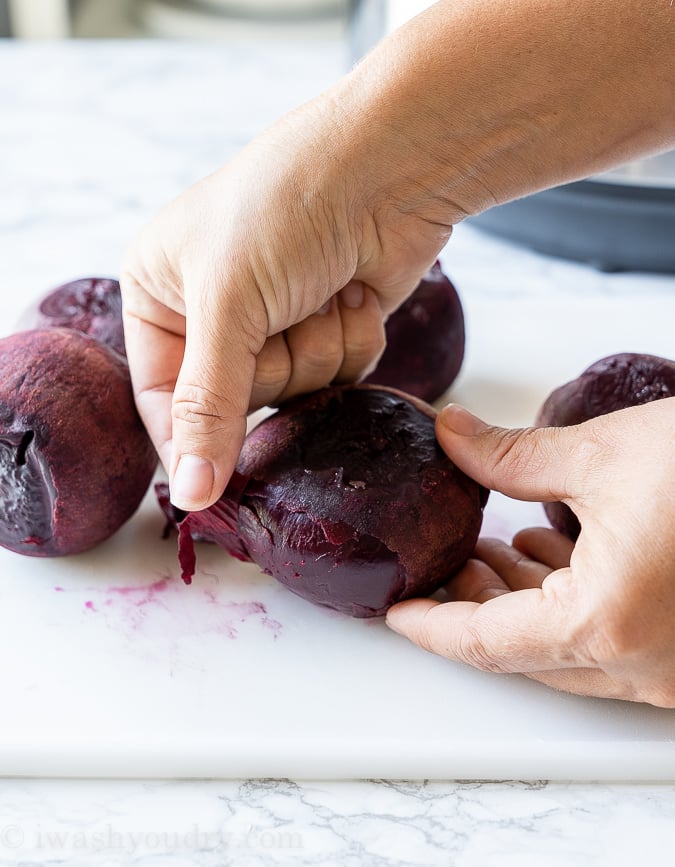 Some people prefer the skin on the beets, and that's totally fine. They're edible!
If you decide to leave them on, they'll add a chewy texture to the outside of your pickled beets.
Ingredients Quick Pickling Brine
Now that your beets are ready to go, here are the ingredients needed to make the quick pickled beets recipe…
Apple Cider Vinegar
Water
Sugar
Salt
Whole Peppercorns
Herbs – optional
Please be aware that this is for a QUICK pickling process. These beets are NOT shelf stable, and should only be stored in your refrigerator.
That being said, these pickled beets will last up to 6 weeks in the fridge, so they do have some life to them.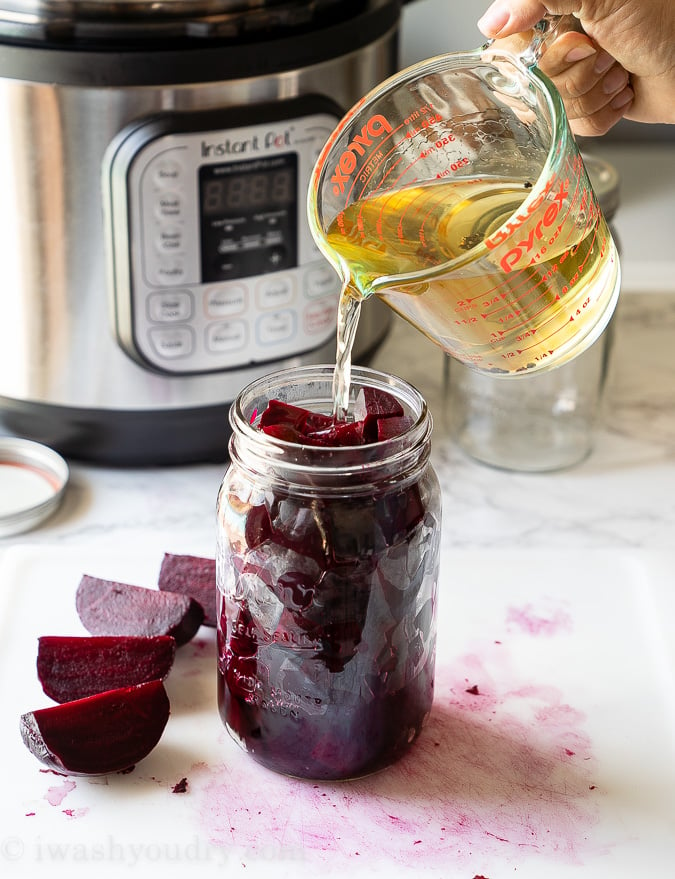 Easy Microwave Brine
You're going to love how quickly the brine comes together! No boiling over the stove top!
Combine the vinegar and water in a microwave-safe bowl or measuring cup (makes for easy pouring). Heat in microwave for just 1 minute and 30 seconds.
Stir in the sugar, salt and peppercorns until the sugar and salt are dissolved in the mixture. Let cool slightly.
Pour the brine mixture over the cooked beets in the mason jar.
PRO TIP: If you want to add extra herbs (dill, bay leaves, sage, etc.), place the fresh herbs in the mason jar first, before the beets, so they don't end up floating to the top of the jar.
Cover and let the beets sit at room temperature for up to 24 hours before placing in the fridge. This time allows the brine to really penetrate into the beets and give them that delicious flavor.
Tips and Recipe Variations –
Reminder – this recipe is ONLY for refrigerator pickled beets, not shelf stable beets. There is a different process involved for shelf stable beets.
This quick pickled beets recipe is so easy, but here are some extra tips and variations to get your tastebuds flowing…
You can swap out the apple cider vinegar for white vinegar if desired.
Try adding in sliced sweet onion along with the beets.
Slice or cube the beets however you prefer to eat them.
Feel free to add in extra spices like mustard seeds, cloves, cinnamon sticks, etc. to your desired taste preference.
Beets are already naturally sweet (especially after being cooked), this recipe only contains 1/4 cup of sugar, but you can reduce the amount of sugar if desired.
Use a glass or plastic container to store the brined beets, metal containers could react to the vinegar and give an undesirable taste.
Beets can stain clothing and surfaces, use caution when handling! Wash surfaces right away to avoid stains.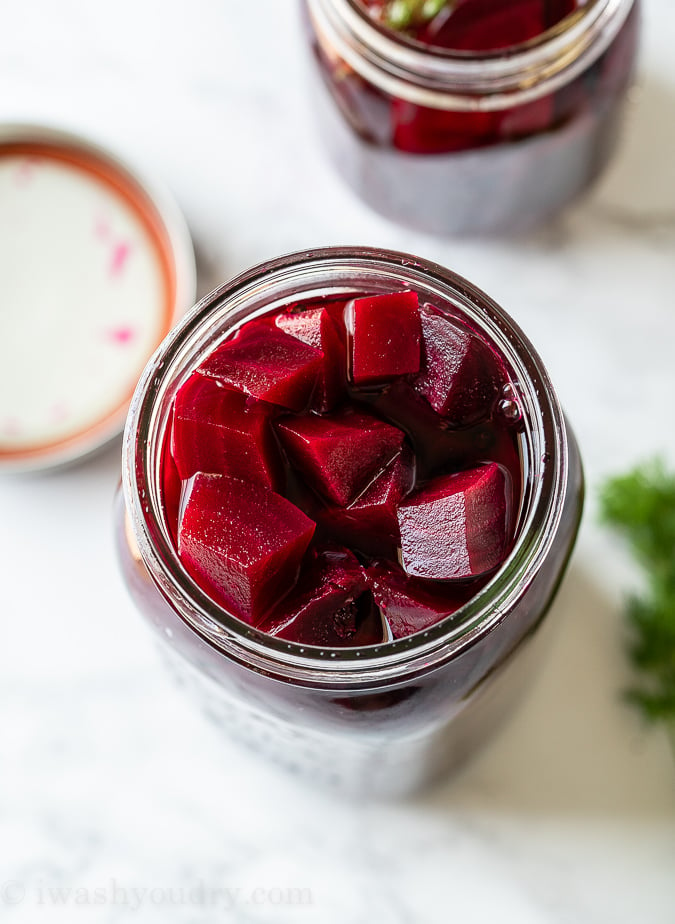 If you're looking for more ways to use up summer produce, check out these Quick Pickled Cucumbers with Onions (Quickles).
Luckily, you can find beets any time of the year in the produce section, so you don't have to wait for summer to enjoy them!
Quick Pickled Beets Recipe
These quick pickled beets are perfect for stashing in your fridge and topping salads, meats and snacking!
Ingredients
5

medium

Beets

,

greens trimmed, washed
Instructions
Place beets on trivet in pressure cooker and add 1 cup of cold water (if using 8 quart pressure cooker add 1 ½ cups cold water).

Cook on HIGH PRESSURE for 13 to 30 minutes (refer to chart in notes on timing), followed by a quick pressure release. Test beets for tenderness with a fork. Let cool and then peel beets and slice or cube as desired.

Place beets in clean glass mason jars or plastic canning jars.
For the Brine
Combine the vinegar and water in a microwave-safe measuring cup or bowl and heat for 1 ½ minutes. Stir in sugar, salt and peppercorns until sugar and salt are dissolved.

Pour the brine over the cut beets until fully submerged. Cover and let sit at room temperature for up to 24 hours. Then place beets in fridge. Can be enjoyed right away and lasts up to 6 weeks in the fridge.
Notes
Beet Cooking Times:
Less than 5" circumference  -  11 - 13 minutes
5" - 6" circumference -  13 - 20 minutes
6" - 7" circumference -   20 - 27 minutes
7.5" and more circumference  -  28 - 35 minutes
*If your beets are not to your desired doneness, simply place lid back on instant pot and cook an additional minute or two until desired texture is reached. 
These beets are NOT shelf stable and MUST be stored in the refrigerator. 
Nutrition
Calories:
62
kcal
|
Carbohydrates:
14
g
|
Protein:
1
g
|
Fat:
1
g
|
Saturated Fat:
1
g
|
Sodium:
301
mg
|
Potassium:
300
mg
|
Fiber:
2
g
|
Sugar:
11
g
|
Vitamin A:
28
IU
|
Vitamin C:
4
mg
|
Calcium:
17
mg
|
Iron:
1
mg
Keywords:
Beets, Pickled, Refrigerator
PIN THIS IMAGE TO SAVE THE RECIPE: