This Air Fryer Bang Bang Chicken Recipe has crispy and tender chicken breast chunks tossed in a simple creamy and slightly spicy sauce.


Forget the mess and grease that comes with deep frying, air frying is the way to go! If you haven't jumped on the air fryer train yet, now is the time. I use my air fryer at least 5 times per week. Worth it!
Air Fryer Bang Bang Chicken Recipe
If you're not familiar with Bang Bang Chicken, it's a classic Asian dish that consists of deep fried, crispy breaded chicken breast pieces that are then tossed in a creamy, slightly sweet and spicy sauce. Now you can easily make this fantastic dish at home without the mess of a deep fryer!
You'll be hooked. Trust me.
Ingredients Needed For Breaded Chicken
The list of ingredients for the breaded chicken is short and sweet. However, it's a great jumping off point for any "fried chicken" recipe, and can take on just about any flavor profile you like.
Boneless skinless chicken breasts – cut into 1″ pieces
All purpose flour
Eggs
Panko Breadcrumbs – can be found in the Asian aisle of most grocery stores
Seasonings – garlic powder, onion powder, salt and pepper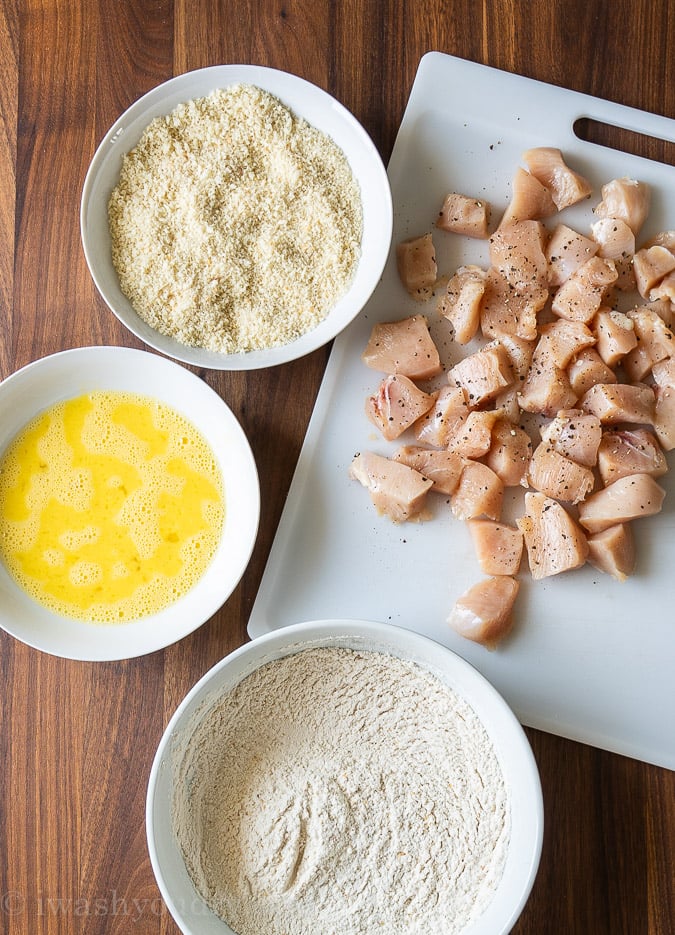 How To Bread Chicken Without Getting Clumpy Fingers
This method of breading chicken is pretty straightforward, but can get messy pretty quickly if you're not paying attention. Using one hand to manage dry ingredients and the other hand to manage the wet ingredients, you'll be able to keep your fingers fairly clean and reduce buildup of breading ingredients in the bowls.
First, you'll

use one hand

to pick up your chicken breast pieces that have been seasoned with salt and pepper and dip them in the flour. (this is now your "wet hand")
Next, use

the opposite hand

the pick up the floured chicken and place it in the lightly beaten eggs. (this is now your "dry hand")
Now use

your wet hand

to coat the floured chicken in the eggs and then place it in the bowl of breadcrumbs.
Finally, use

your dry hand

to coat the egg dipped chicken piece with breadcrumbs and then transfer the breaded chicken to a plate until ready to air fry.
This is the most time consuming part of the recipe, however, it should only take about 10 minutes to complete the whole process. Well worth it, in my opinion.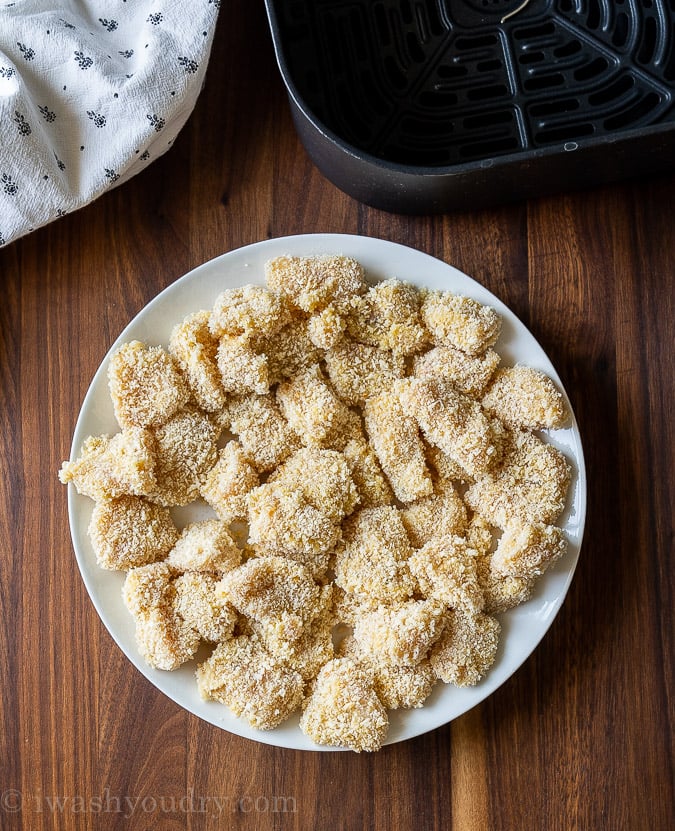 Crispy Air Fryer Breaded Chicken
While you're finishing up with breading your chicken, turn on your air fryer to get it preheated. To preheat an air fryer simply let it run for about 3 to 5 minutes at the desired temperature before adding the ingredients.
Cooking Spray Give the breaded chicken pieces a good spritz with non-stick cooking spray to help give the chicken a nice golden brown finish.
Shake the Basket About halfway through cooking, open the air fryer and either flip the chicken pieces over or give your basket a little shake to make sure they're evenly cooking.
Temperature For this recipe I'm cooking at 400 degrees F.; a great temperature to quickly cook and crisp the outside of the chicken.
How Long Depending on the size of your chicken breast pieces and the wattage of your air fryer, it should take 12 to 15 minutes to get perfectly crisp and cooked chicken.
Try my Air Fryer Crispy Chicken Tenders for a bigger crunchy version!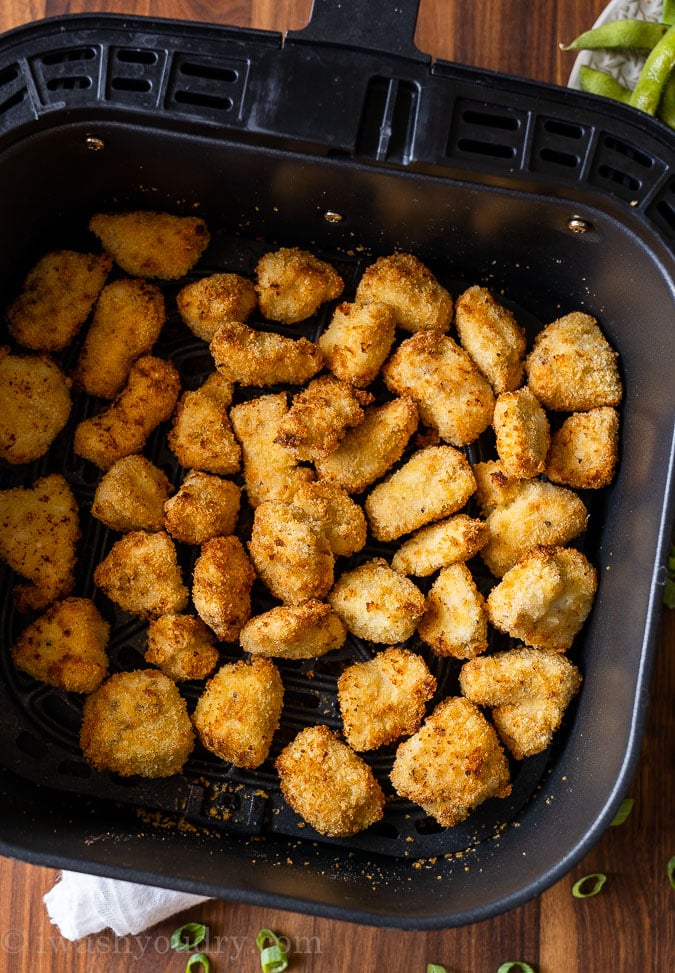 Bang Bang Chicken Sauce
This classic sauce is mayo-based and filled with sweet chili sauce, Sriracha hot sauce and a little bit of sugar to balance it all out.
You can find the Sweet Chili Sauce and Sriracha hot sauce in the Asian section of the grocery store.
I've used the sweet chili sauce in recipes like my Thai Cucumber Salad and in the dipping sauce for Air Fryer Coconut Shrimp. It's a great condiment to have in your fridge. You'll love it!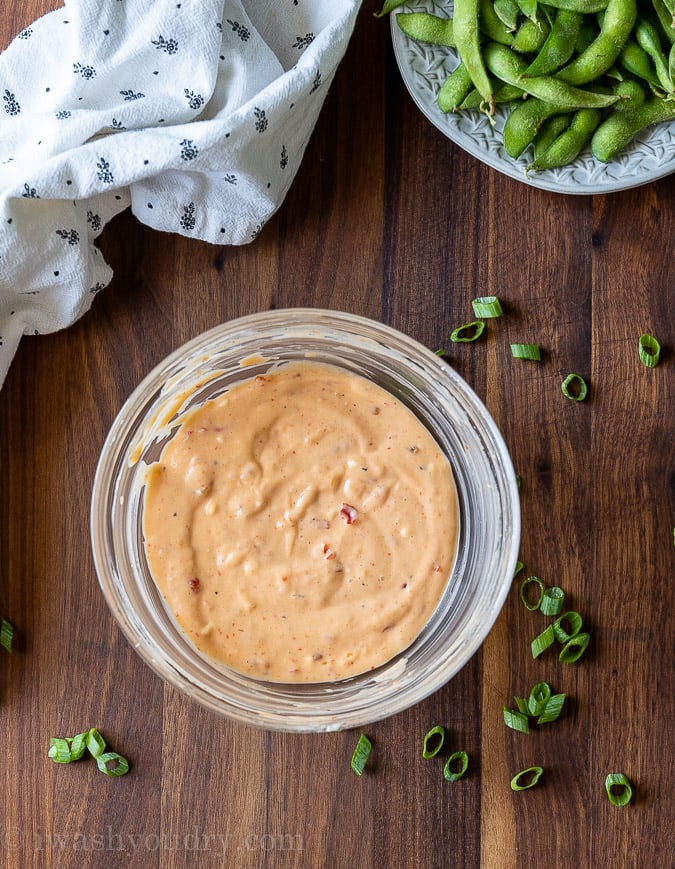 This recipe makes for quite a bit of sauce. Either coat the hot chicken in the sauce, drizzle it over the top of the chicken, or serve it on the side for dipping.
You may find you have more sauce than you need, but no worries, you can easily refrigerate and store this sauce for up to 2 weeks. Perfect for making this Air Fryer Bang Bang Chicken recipe again and again!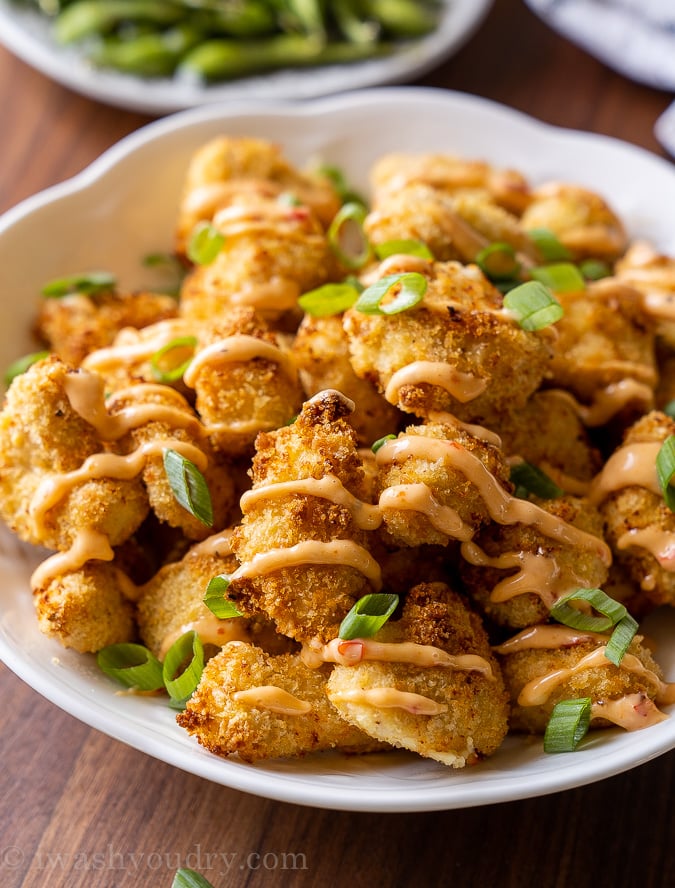 Best Side Dishes To Serve
You can serve this crispy chicken as an appetizer or pair with any of these easy sides and make it a main dish.
Steamed White Rice
Salted Edamame (soy beans)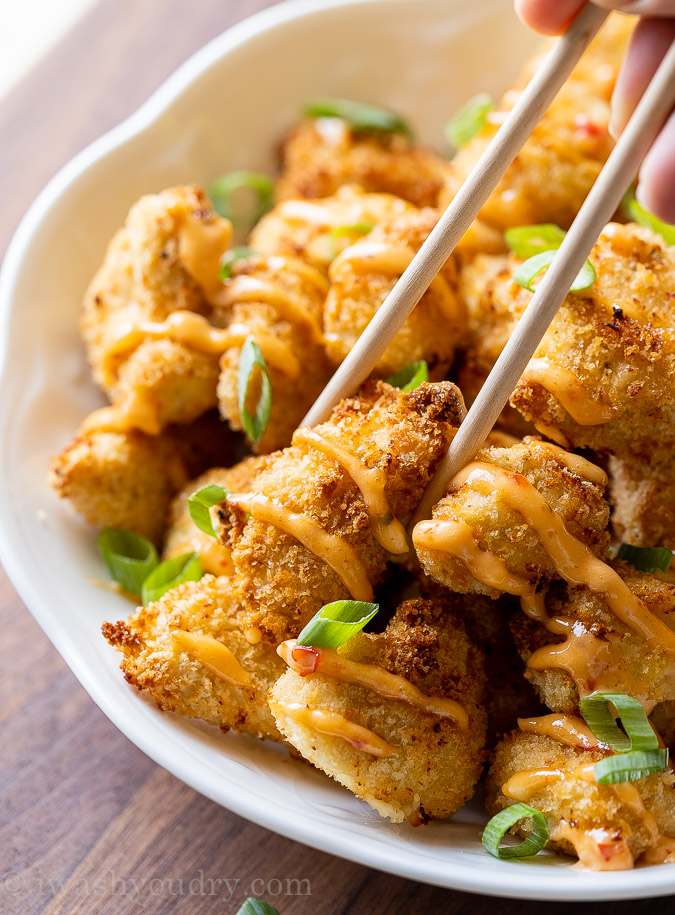 More Quick Asian Recipes To Try
Here are a few of my favorite Asian recipes that are a hit with the family!
I hope you enjoy this recipe as much as we do. I'm confident you'll be hooked!
Air Fryer Bang Bang Chicken
This quick and easy Air Fryer Bang Bang Chicken recipe is filled with crispy, tender chicken pieces in a creamy, sweet and spicy sauce.
Ingredients
For the Chicken
2

large

boneless skinless chicken breasts

,

cut into bite-size pieces

½

cup

all purpose flour

2

large

eggs

,

lightly beaten

1 ½

cups

Panko Breadcrumbs

1

tsp

garlic powder

1

tsp

onion powder

Non-stick cooking spray or olive oil spray
For the Bang Bang Sauce
½

cup

mayo

3

tbsp

Sweet Chili Sauce

1

tbsp

Sriracha Sauce

1

tsp

sugar
Instructions
Make sure air fryer is preheated at 400° F for at least 3 to 5 minutes before chicken goes in basket.

Season chicken breast pieces with salt and pepper and set aside. Place flour in a small bowl, eggs in a separate bowl and combine breadcrumbs, garlic powder and onion powder in another small bowl.

Dip chicken pieces in flour, shaking off excess flour. Place floured chicken in eggs and turn to coat. Remove from eggs, letting any excess drip off and then place into breadcrumb bowl. Coat chicken with breadcrumb mixture and then transfer to a plate until all pieces have been breaded. (it's easier to work one piece at a time, so all pieces are evenly coated).

Spray the chicken pieces with non-stick spray and place in an even layer (or as close to an even layer as you can) in the air fryer basket. Cook at 400° F for 12-15 minutes, shaking basket halfway through, until chicken is golden brown and crisp on the outside. Make sure chicken reaches at least 165° F.
For the Bang Bang Sauce
Combine the sauce ingredients in a small bowl and season with salt and pepper to taste. You can either coat the cooked chicken pieces in the sauce, drizzle it over the top or serve as a dipping sauce on the side. Enjoy!
Notes
Baking Instructions - If you don't have an air fryer you can bake the chicken on a wire rack over a baking sheet at 400 degrees F. for 16 to 20 minutes, flipping chicken halfway through. Make sure chicken reaches 165 degrees F. 
Nutrition
Calories:
472
kcal
|
Carbohydrates:
37
g
|
Protein:
20
g
|
Fat:
26
g
|
Saturated Fat:
5
g
|
Cholesterol:
141
mg
|
Sodium:
658
mg
|
Potassium:
314
mg
|
Fiber:
2
g
|
Sugar:
9
g
|
Vitamin A:
170
IU
|
Vitamin C:
3
mg
|
Calcium:
58
mg
|
Iron:
3
mg
Keywords:
Air Fryer, Bang Bang, Chicken, Spicy
PIN THIS IMAGE TO SAVE THE RECIPE