These quick and easy Ultra Juicy Grilled Chicken Recipes are perfect for making over and over again all summer long.
Any of these yummy grilled chicken recipes would pair perfectly with a cool and refreshing pasta salad, like my Classic Macaroni Salad or Caesar Pasta Salad.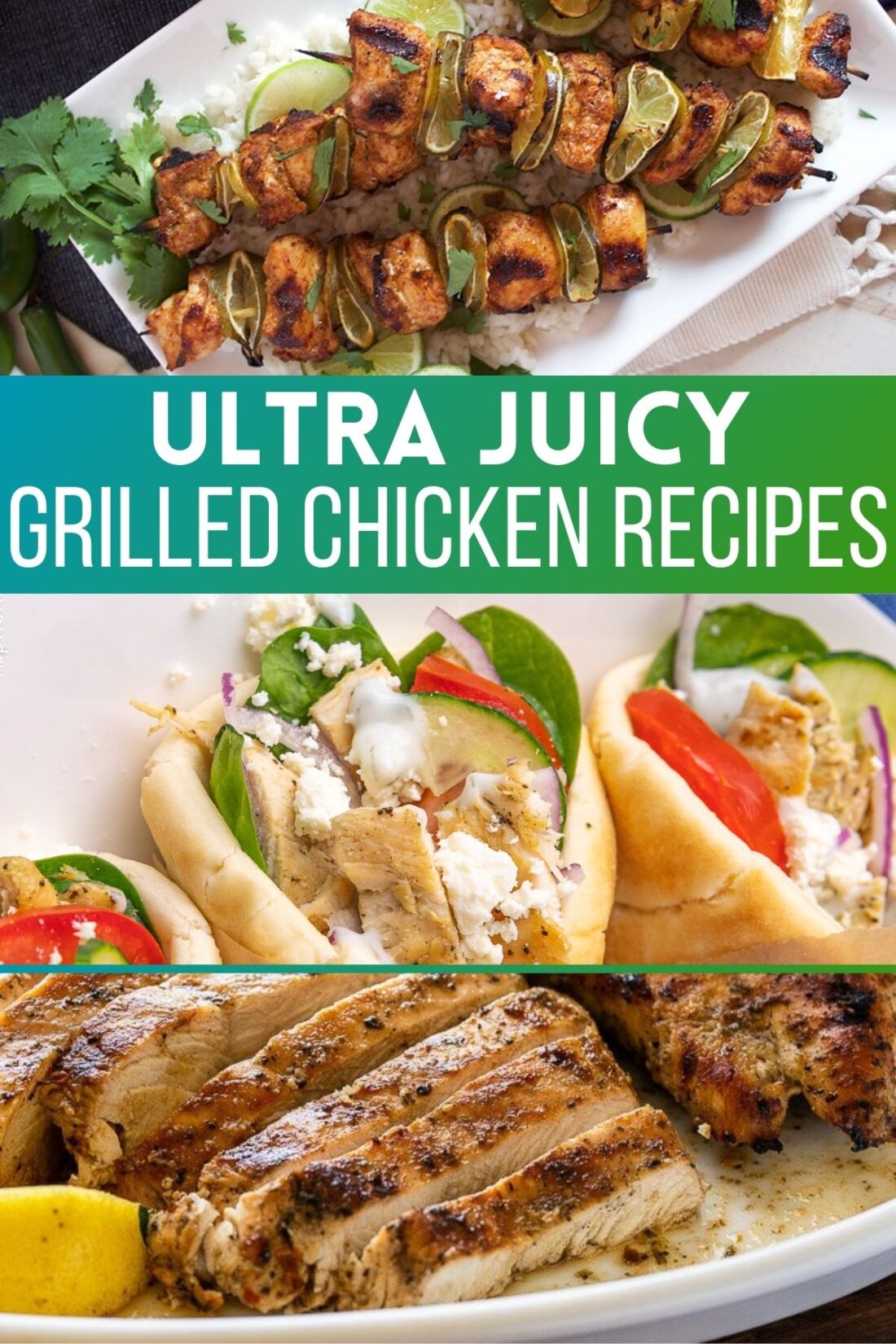 Grilled Chicken Recipes
Whether you're making grilled chicken breasts or grilled chicken thighs, these recipes are sure to be a hit at your next backyard cookout. I'm going to give you all the tips and secrets you need to making ultra juicy chicken every single time.
Grilled Chicken Breast Recipes
When it comes to making grilled chicken breast, you want to follow a few simple steps to make sure your end result is extra juicy chicken and not bland, dried out chicken breast.
What Is The Secret To Grilling Chicken Breast?
The natural shape of a chicken breast is in a tear drop. It's thicker and meatier at the top, then narrows down to a thinner portion at the bottom. In order to help the chicken cook evenly, it's important to pound the chicken to an even thickness so it finishes cooking all at the same time.
Use a heavy rolling pin or meat mallet to pound the chicken breast to an even thickness.
Marinade the chicken for at least 10 to 15 minutes, longer if time allows.
Cook chicken until the internal temperature reaches 160-163 degrees F.*
Remove from heat and let rest for 5 minutes under a loose piece of foil.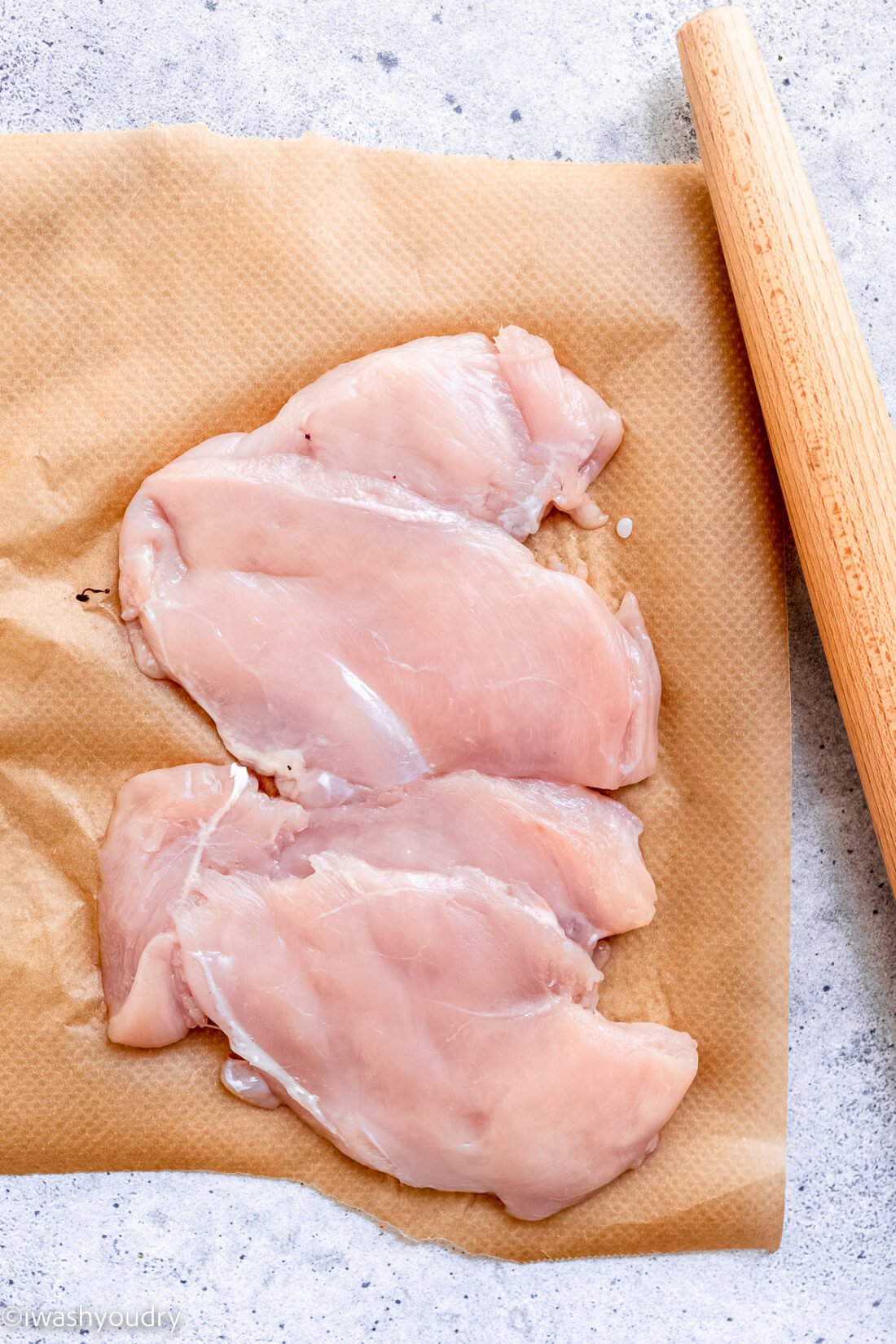 PRO TIP: *By removing the chicken just before it reaches the safe temperature of 165 degrees F, then allowing it to rest under foil, it will continue to climb in temperature. This makes sure your chicken doesn't get overcooked and dried out.
Easy Grilled Chicken Recipes
Grilled Chicken Souvlaki Pita
30

minutes
Chicken Souvlaki in a pita sandwich, topped with fresh spinach, tzatziki sauce, feta cheese, and fresh sliced tomatoes.
TRY THIS RECIPE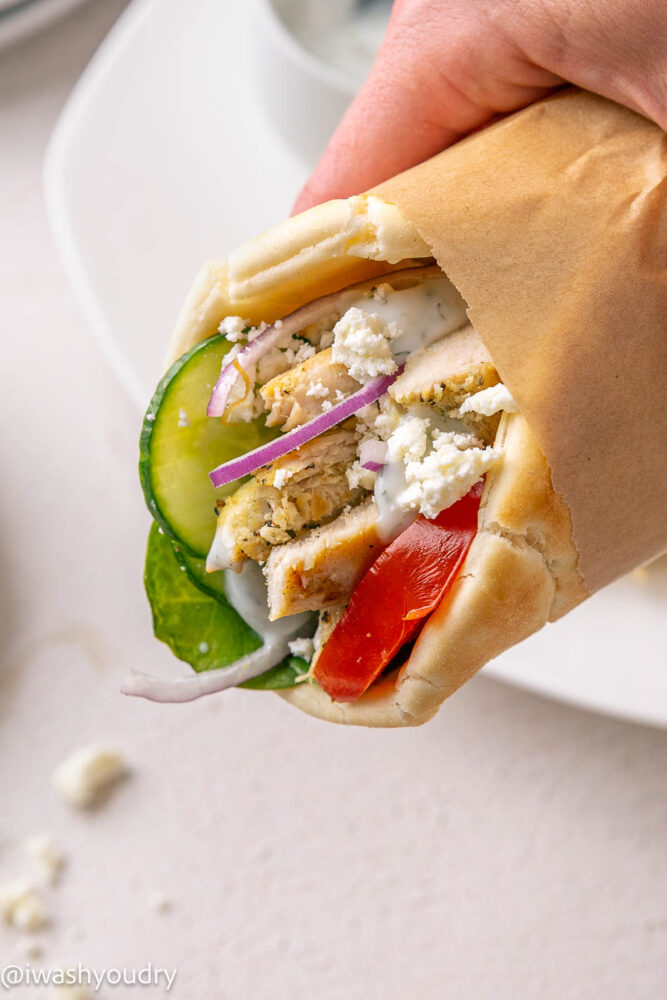 Bacon Ranch Grilled Chicken Recipe
20

minutes
This super easy Bacon Ranch Grilled Chicken Recipe is juicy, tender and topped with a quick two ingredient sauce.
TRY THIS RECIPE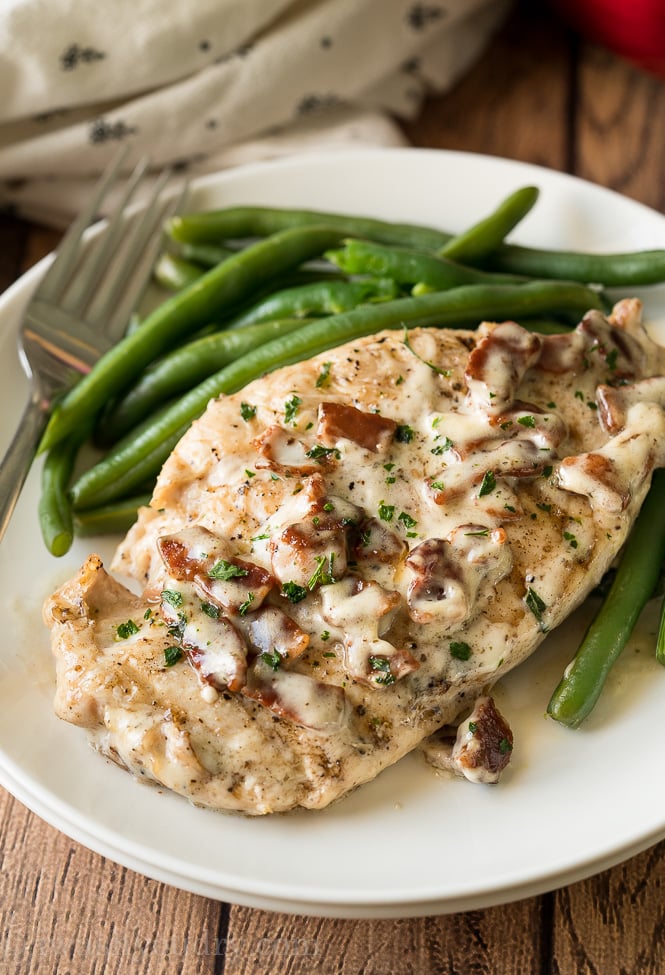 Easy Chicken Fajita Recipe
35

minutes
This quick and easy Chicken Fajitas Recipe is filled with marinated chicken breasts and tender bell peppers and onion. 
TRY THIS RECIPE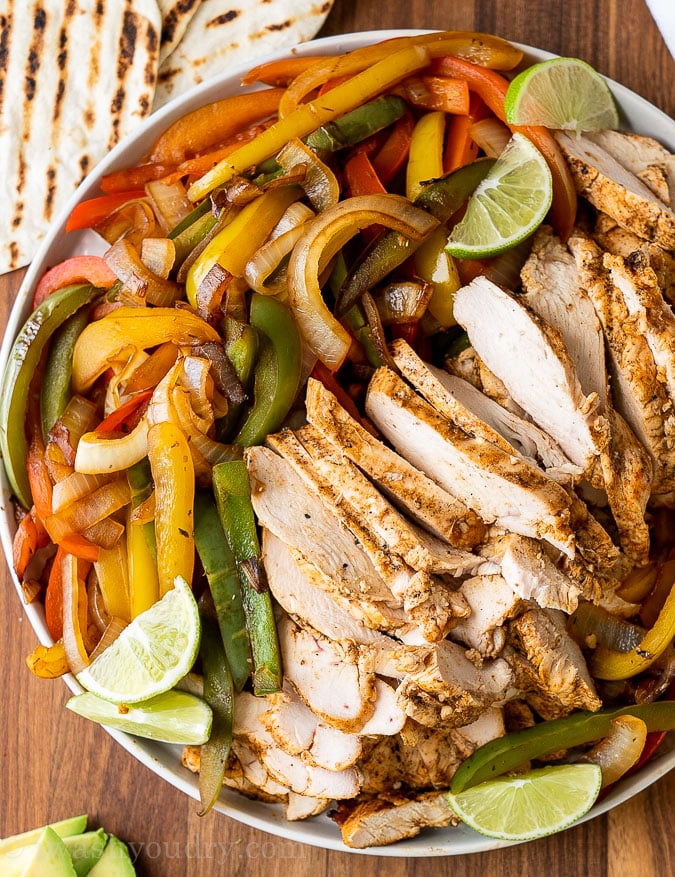 Easy Teriyaki Chicken
2

hours
25

minutes
Easy Teriyaki Chicken is marinated in a homemade, sweet (and a touch of spicy) sauce then grilled to perfection!
TRY THIS RECIPE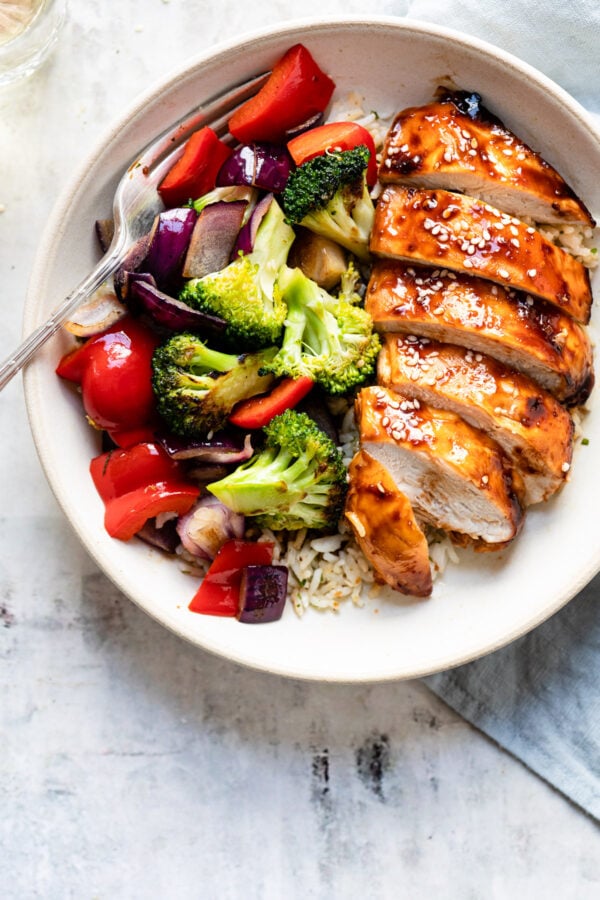 Grilled Chicken Thigh Recipes
When it comes to chicken thighs, you can grill them with or without the bones inside.
I prefer to go boneless and skinless when grilling because it tends to cook quicker and easier.
Last Minute Chicken Recipe
15

minutes
This Last Minute Chicken Recipe is the perfect way to get juicy chicken thighs on the table in a hurry!
TRY THIS RECIPE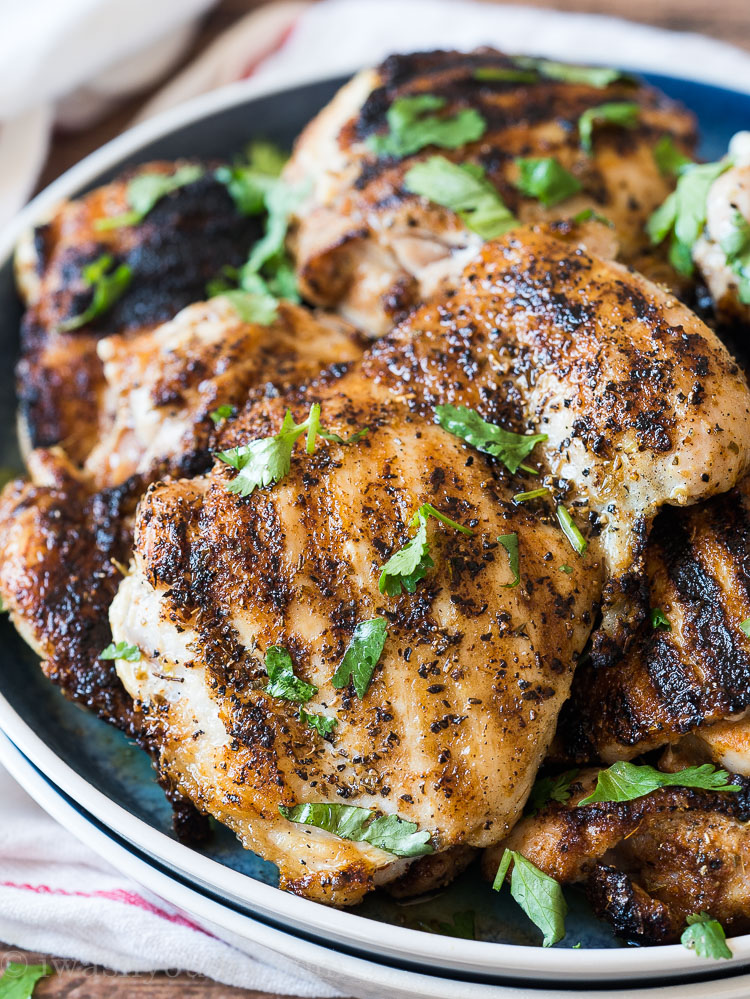 Grilled Chili Lime Chicken Kabobs with Mango Salsa
1

hour
23

minutes
Fiery flavor ready in a flash, Grilled Chili Lime Chicken Kabobs with Mango Salsa are quick and easy for super fast weeknight dinner.  Topped with a refreshing Mango Salsa, this meal will be a summer favorite all season long.
TRY THIS RECIPE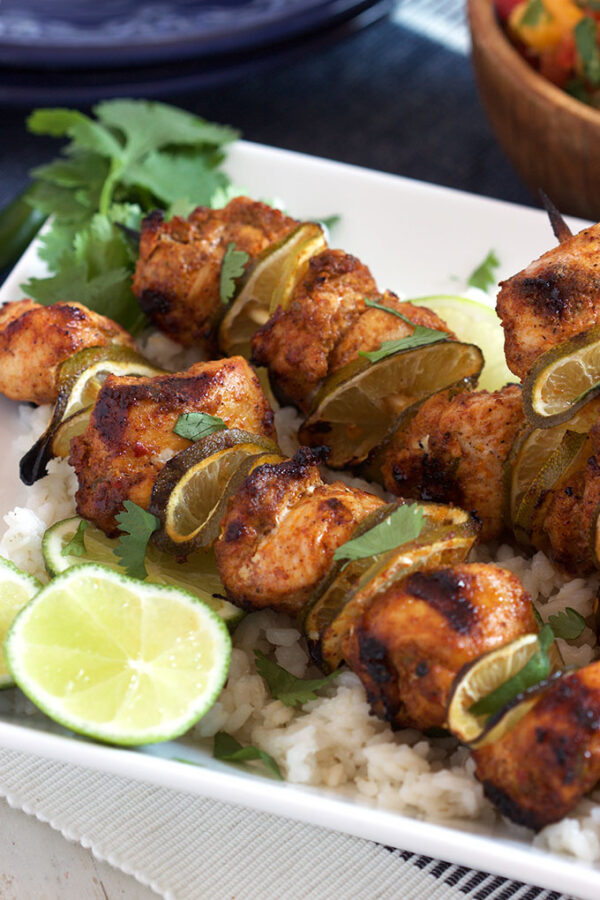 Grilled Chicken Marinades
By marinating your chicken in different sauces and seasonings, you can create a bunch of delicious ways to grill chicken.
Here are a few of our favorite quick and easy chicken marinade recipes to try at your next cookout…
Italian Grilled Chicken Marinade
42

minutes
All you need is a handful of ingredients to make this super easy Italian Grilled Chicken Marinade. The flavor is zippy and robust with the perfect punch of spice.
TRY THIS RECIPE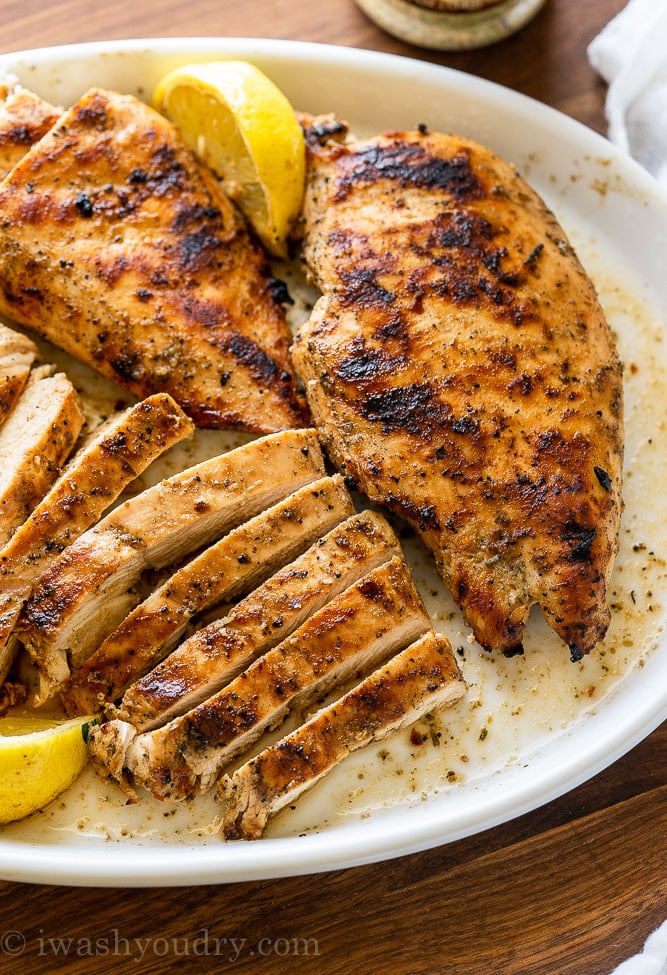 Thai Chicken Satay Marinade
2

hours
10

minutes
Tender pieces of chicken marinated in peanut butter, coconut milk, lime, brown sugar and soy sauce then grilled to perfection.
TRY THIS RECIPE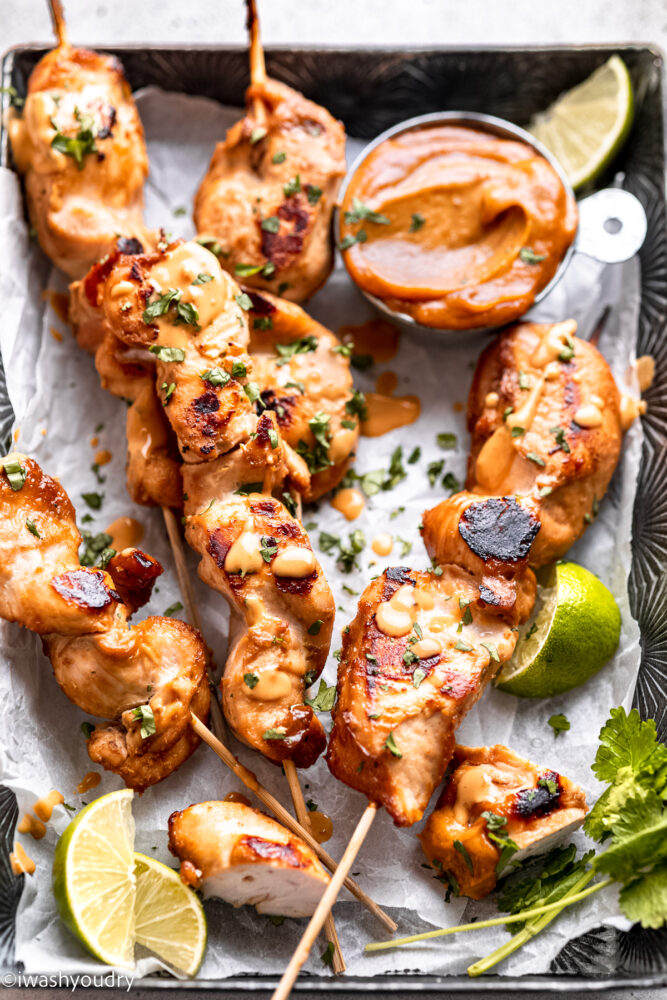 Balsamic Grilled Chicken Marinade
35

minutes
This perfectly seasoned Grilled Chicken is topped with a finger-licking good balsamic glaze and served with fresh mozzarella and sliced tomatoes.
TRY THIS RECIPE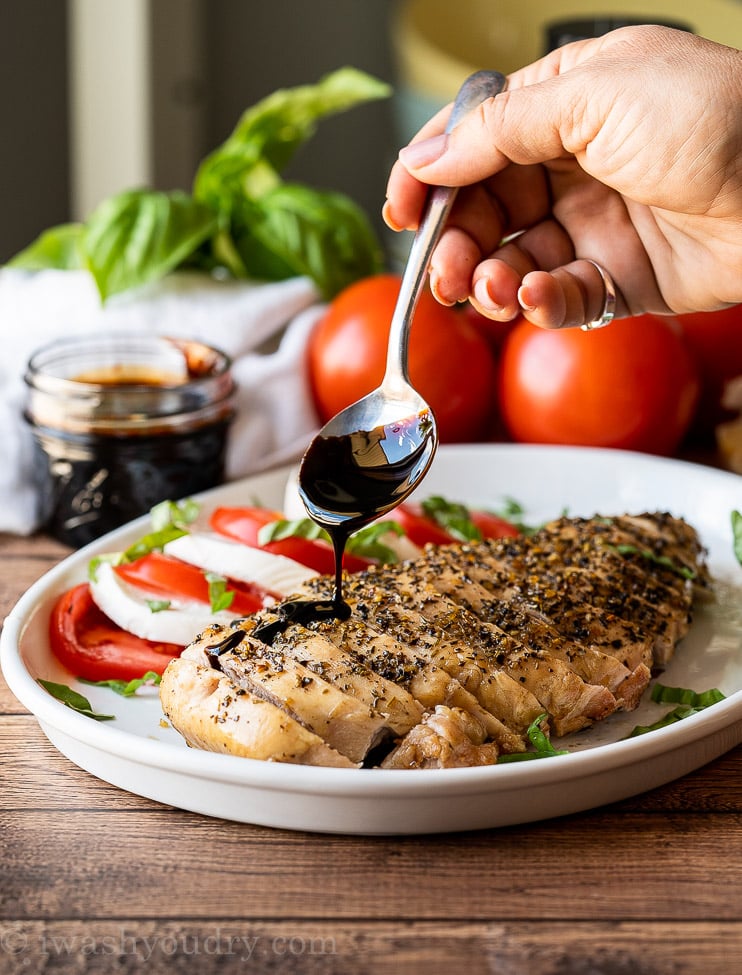 BBQ Grilled Chicken Marinade
25

minutes
This quick and easy Monterey Chicken recipe is filled with juicy bbq grilled chicken breasts, topped with crispy bacon, sauteed onions and melty cheese!
TRY THIS RECIPE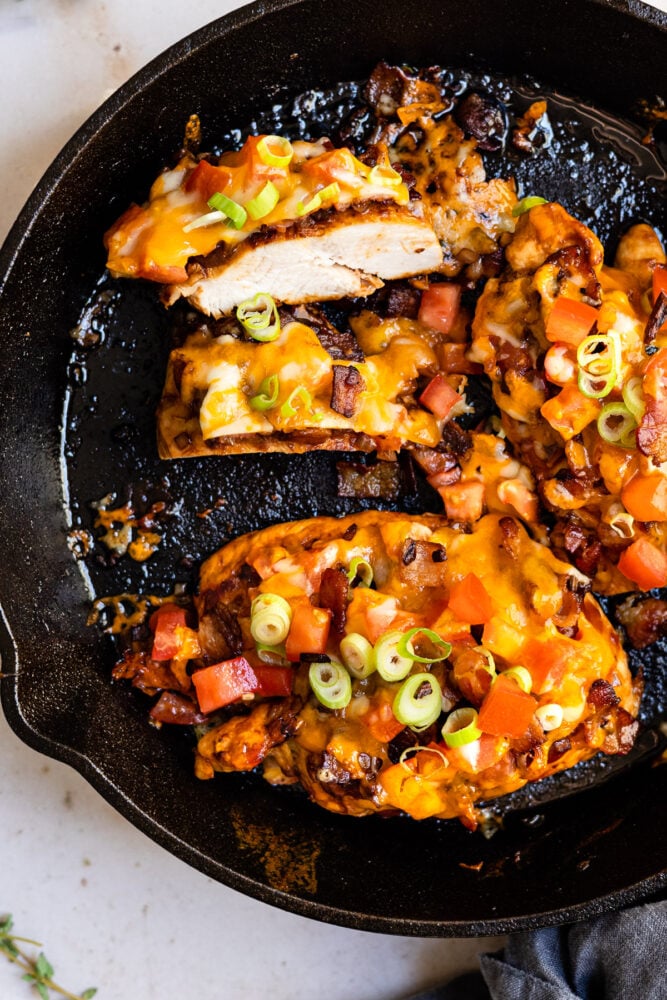 What To Serve With Grilled Chicken
When serving grilled chicken, you can pair it with a quick-cooking vegetable, a refreshing salad or even on a toasted bun. The options are endless, but here are a few ideas to get you started…
Frequently Asked Questions
When do you add a glaze or sauce to grilled chicken?
If you want to add a glaze or sauce to your grilled chicken and it contains some sort of sweetener (honey or sugar), you'll want to wait to add it towards the end of cooking.
The sweetener can burn or char if added too soon.
How to make grilled chicken without drying it out?
My top three tips for making sure you don't dry out your chicken when grilling…
Pound chicken to an even thickness
Cook quickly at a high heat until chicken reaches 163 degrees F.
Cover loosely with foil and let rest for 5 minutes before slicing.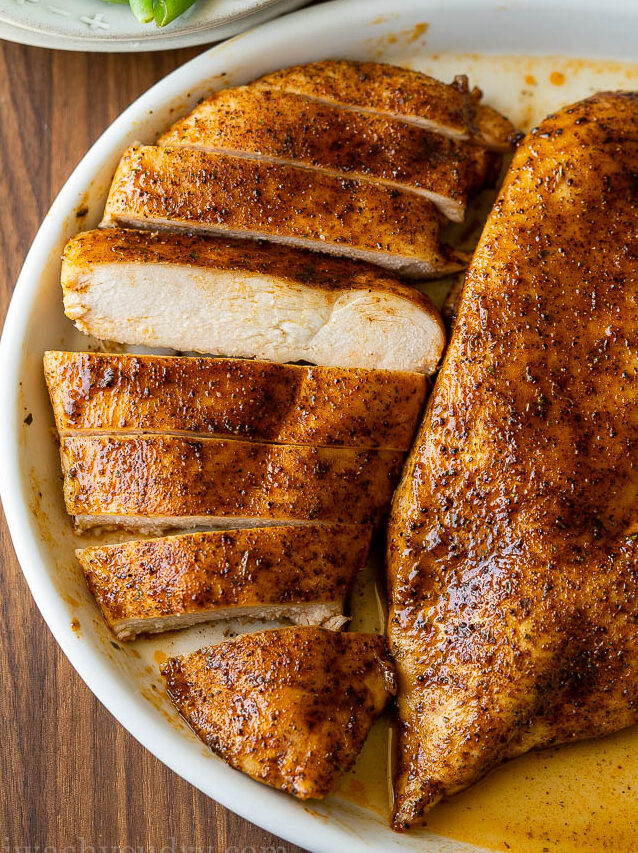 Why do you put oil on chicken before grilling?
Use an oil with a higher smoke point to avoid any burning taste or smells.
Oils like: canola oil, vegetable oil, peanut oil, avocado oil will work wonderfully at a higher temperature.
Adding oil to the chicken and the cleaned grill grates will help prevent the chicken from sticking, while also giving the chicken a nice sear on the outside.
How do I get grill marks on chicken?
Make sure your grill is really hot before adding the chicken directly over the heat source.
You may need to move the chicken to a less hot spot on the grill to allow it to finish cooking fully without it burning the outside.
Tools For Grilling Chicken
Whether you're grilling outdoors over a fire or inside with an electric grill, here are some basic tools you will want to have on hand when grilling chicken.
Here you can find all of my quick and easy Chicken Recipes along with plenty of tips and tricks for making your dinner routine easier.