This easy and versatile Italian Grilled Chicken Marinade is quick to make and results in ultra-flavorful grilled chicken that's juicy to the max!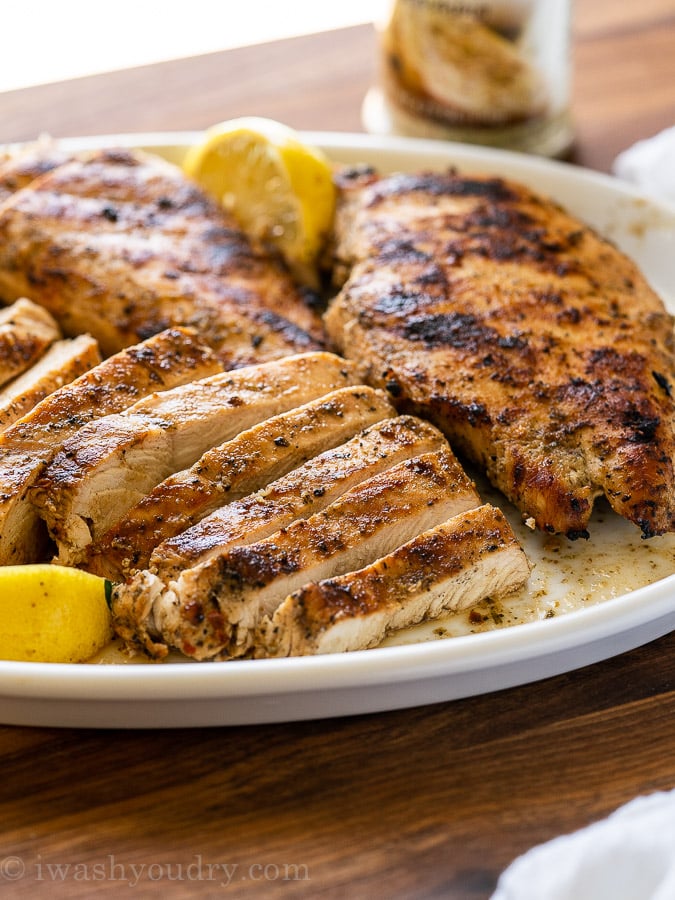 I'm partnering with Tastefully Simple again today to bring you this super quick and easy Italian Grilled Chicken Marinade!
With the temps rising, I'm moving my cooking outside to the grill! Don't worry though, this marinade also works very well with baked chicken or cooking chicken on the stove top as well!

How To Make Italian Grilled Chicken Marinade
When it comes to making a marinade there are a few key ingredients that you'll want to use. These ingredients are easily customizable, which makes it great for creating a marinade that's new and delicious.
OIL –   Oil is essential when creating a marinade, especially one that's going to be grilled. It will help to tenderize the chicken, while also preventing a lot of sticking to the grill grates.
VINEGAR – I'm using a red wine vinegar to compliment my other seasonings, but you can easily swap this out for plain white vinegar, apple cider vinegar or even a rice wine vinegar would be great for an Asian-inspired marinade. The vinegar helps cut through the oil and also tenderize the chicken, with boosts of extra flavor.
SEASONINGS – Grab a shaker of this Italian Garlic Seasoning from Tastefully Simple and you'll be so glad you did. It's packed with garlic, onion, parsley, red bell pepper and chives plus other spices. It's the perfect blend of spices and herbs to add to this easy marinade. I also add a pinch of red pepper flakes, salt and pepper to the marinade.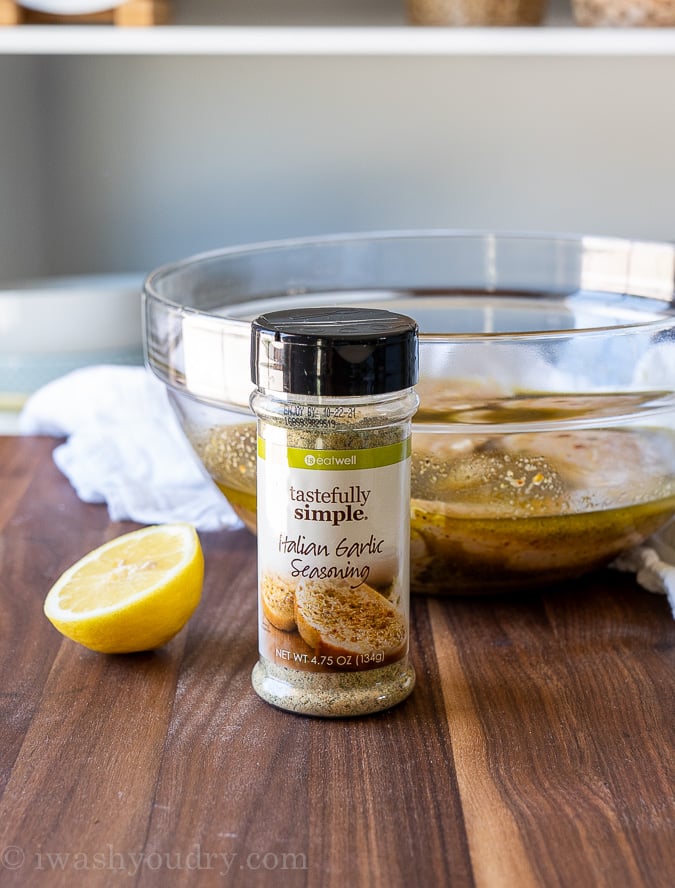 Not only is this seasoning great for grilled chicken, but it's also fantastic sprinkled onto pasta, pizza and stirred into sauces and soups!
Of course, let's not forget about adding it to some softened butter and spreading over French bread… I mean, it's just one handy spice blend to have in  your cupboard.
How Long Should I Marinate?
You can get away with marinating your chicken for as little as 30 minutes, and up to 12 hours. 
Don't let your chicken marinate for longer than 12 hours or the acidity of the vinegar and lemon juice could start to "cook" your chicken, similar to a ceviche. You'll want the grill to do the cooking for this recipe.
Grilling Tips and Suggestions
Make sure your grill is heated to at least 375 degrees F.
Scrub the grill grates with a grill brush and use some Tastefully Simple® Avocado Oil to wipe down the grates if needed.
Once you put the chicken on the grill, try to avoid moving it until the chicken naturally releases (about 5 to 7 minute).
When the chicken reaches 165 degrees F, (check with a digital thermometer) remove from the grill and let rest under a piece of foil for at least 5 minutes before slicing.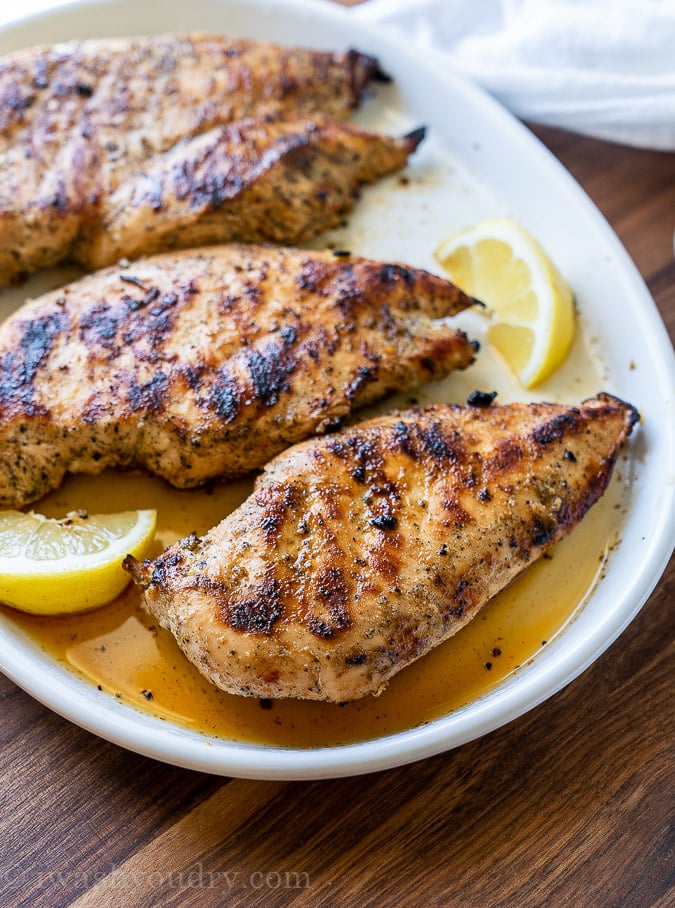 How To Serve Grilled Chicken
Grilled chicken is fantastic because it can be used in so many ways. Slice into strips and serve over salads or pastas, or in tacos. Serve whole as a main dish.
If you pound the chicken breast thin enough before grilling, it would be fantastic for a grilled chicken sandwich!
MEAL PREP:    Grilled chicken is also a great meal prepping tool. Prepare ahead of time for the week and you're all set!
Great Side Dish Options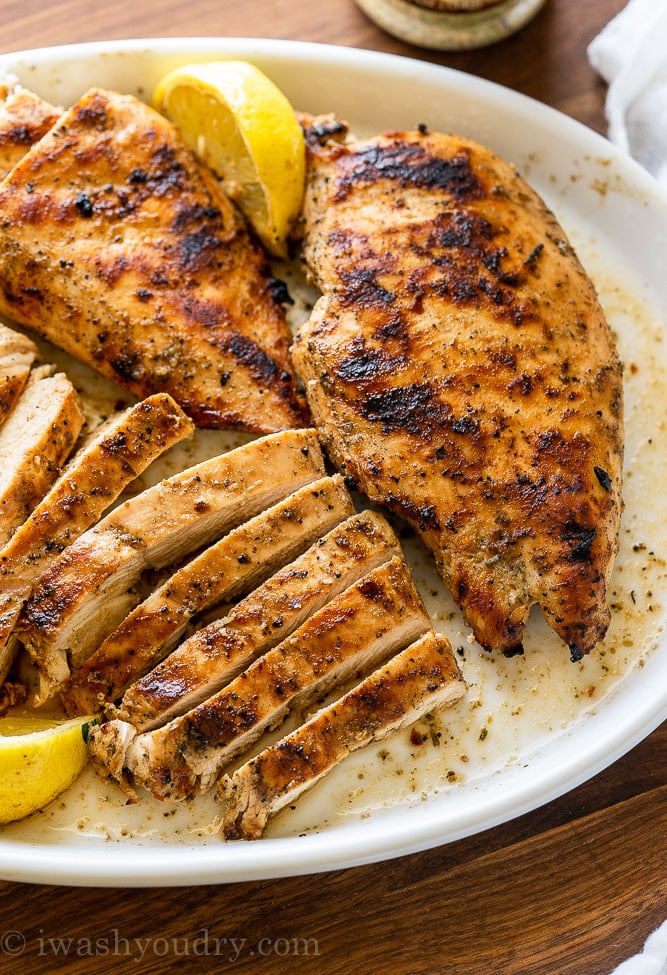 More Grilled Chicken Recipes To Try
This simple marinade has the perfect amount of zippy flavor and seasonings and spices. It's subtle Italian flavor allows it to be paired with so many other flavors.
You're going to love it!
*Use my code WASHDRY15 for an extra 15% off your entire purchase through 7/15/2020!  Shop here: www.tastefullysimple.com
Italian Grilled Chicken Marinade
All you need is a handful of ingredients to make this super easy Italian Grilled Chicken Marinade. The flavor is zippy and robust with the perfect punch of spice.
Ingredients
2

lbs

boneless skinless chicken breast

¾

cup

olive oil

¼

cup

red wine vinegar

1

tbsp

lemon juice

¾

tsp

salt

½

tsp

crushed red pepper flakes

½

tsp

black pepper
Instructions
Place chicken breast between two sheets of parchment paper and use a heavy rolling pin or meat mallet to pound chicken to an even thickness.

Combine the olive oil, red wine vinegar, Tastefully Simple® Italian Garlic Seasoning, lemon juice, salt, red pepper and black pepper in a large bowl or zip-close bag and mix to combine. Add chicken breast to marinade and turn to coat evenly.

Cover chicken or zip bag. Place in fridge and let marinate for 30 minutes, up to 12 hours.

Heat grill to 375° F. Brush grill grates with oil if needed. Remove chicken from marinade and grill on each side for 5 to 7 minutes, until chicken reaches 165° F. Discard leftover marinade.

Remove chicken from grill and let rest under a sheet of foil for 5 minutes before slicing. Enjoy!
Nutrition
Calories:
332
kcal
|
Carbohydrates:
1
g
|
Protein:
48
g
|
Fat:
14
g
|
Saturated Fat:
2
g
|
Cholesterol:
145
mg
|
Sodium:
409
mg
|
Potassium:
839
mg
|
Sugar:
1
g
|
Vitamin A:
68
IU
|
Vitamin C:
4
mg
|
Calcium:
11
mg
|
Iron:
1
mg
Keywords:
Chicken, Easy, grilled, marinade
PIN THIS IMAGE TO SAVE THE RECIPE: