This Juicy Oven Baked Chicken Breast Recipe is ultra tender chicken every time thanks to these quick tips and tricks I'm sharing with you!
Looking for the best FRIED CHICKEN recipe? I've got you covered with my amazing KFC copycat Fried Chicken!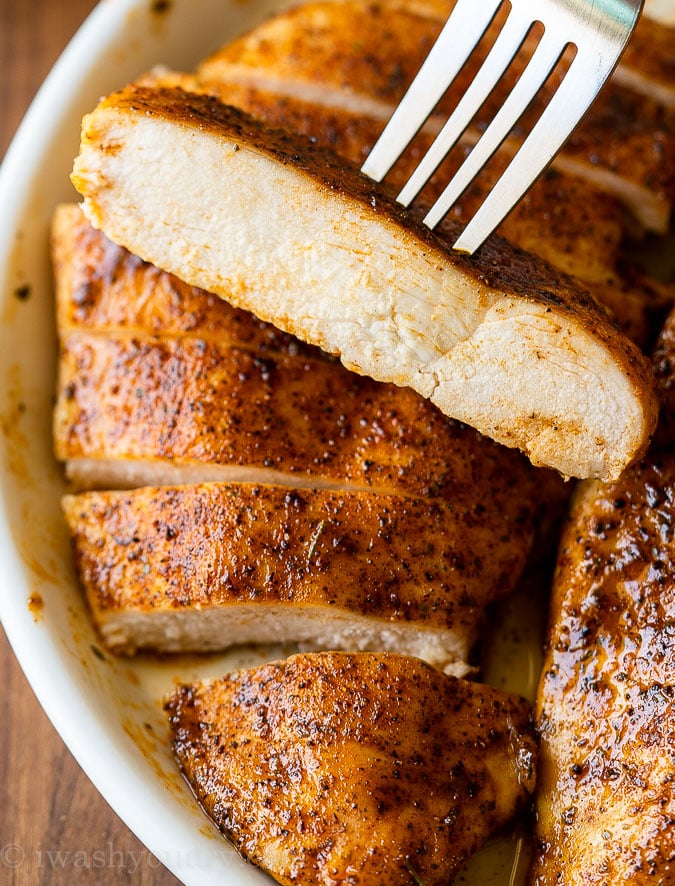 Say goodbye to boring, bland and dried out baked chicken breasts.
This recipe is my tried and true method for cooking the BEST chicken breasts in the oven. You're going to fall in love!
Juicy Oven Baked Chicken Breast Recipe
Yes, it's true, you CAN have tender and juicy white meat chicken that's BAKED in the oven!
Check out my Google Web Stories for a quick preview! 
No, you do NOT need to brine your chicken before baking. You also do NOT need to bring it to room temperature. Who has time for that?!
The trick to making ultra tender chicken (whether baked, grilled or cooked on the stove top) is all thanks to these 3 easy steps…
Even Thickness
High Heat
Resting
How To Get Perfect Baked Chicken Every Time
Let's get right to it, shall we?
Follow these steps and you'll be majorly impressed with how your baked chicken turns out. It really is this simple.
Pound Chicken   –   Start by using a heavy rolling pin or meat mallet to pound your chicken breast to an even thickness.
Season    –   Season liberally with my special seasoning blend (in the recipe card below).
Bake   –    Bake for just 20 minutes at 425 degrees F, then let rest for 5 minutes under foil before slicing.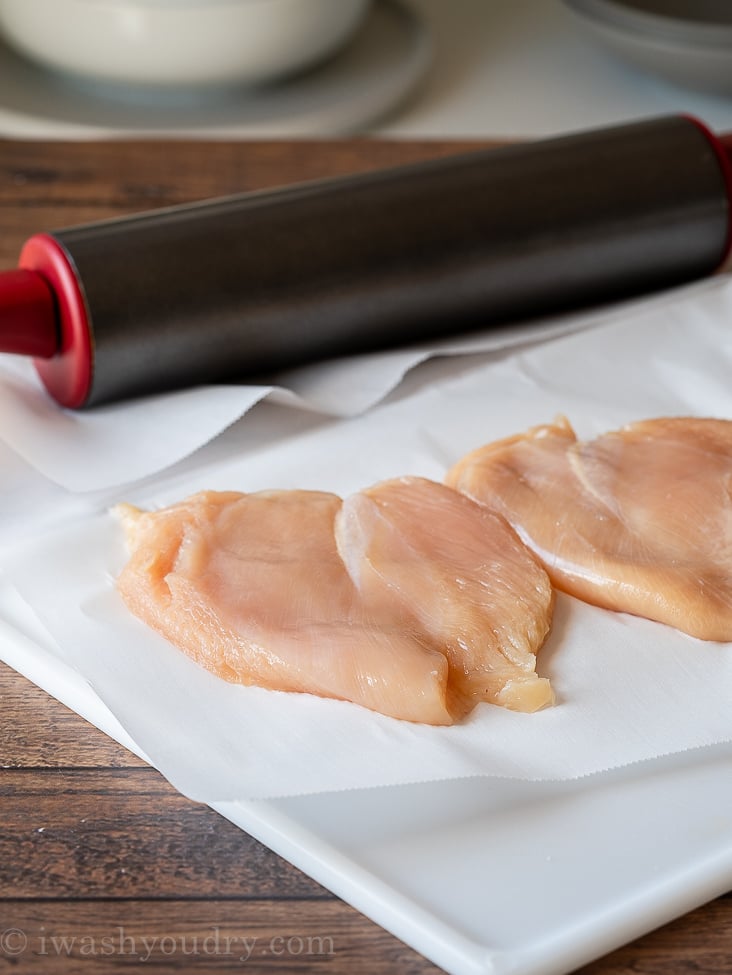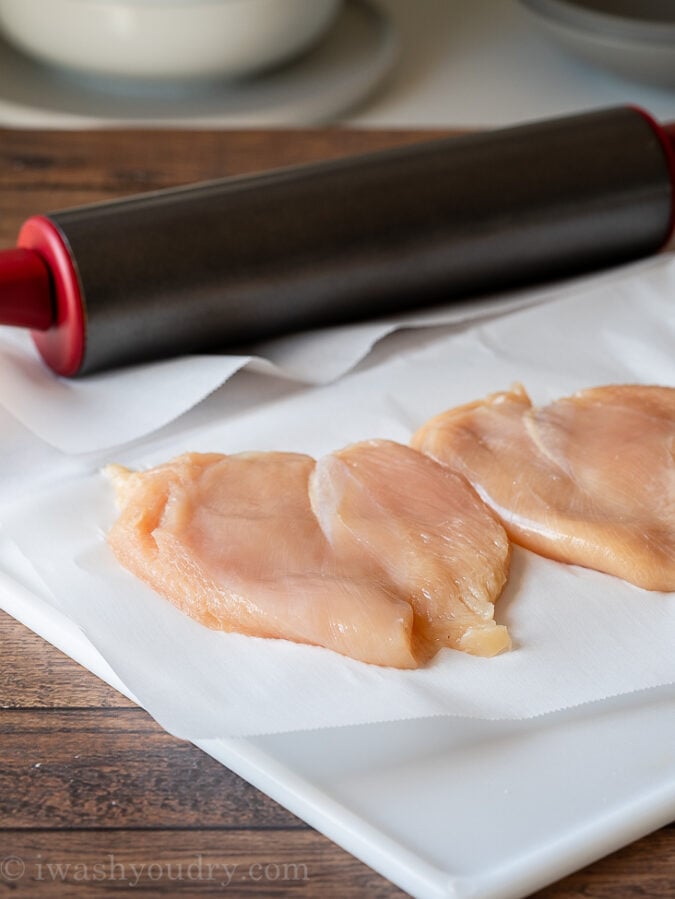 #1 Tip – Pound Chicken To an Even Thickness
Is it really necessary to pound the chicken breasts to an even thickness before baking?
Yes!
It is absolutely necessary if you want juicy oven baked chicken. Here's why…
The natural shape of a chicken breast is teardrop, with a thicker, meatier portion at the bottom of the teardrop. Chicken must be cooked to 165 degrees F before safely consuming. If you do not pound the chicken down, the thicker portion will take longer to cook to the safe temperature, while the thinner section of chicken breast will get overcooked and result in a dried out, choke-it-down chicken breast.
This method also applies to chicken that is to be grilled, and even chicken that you're going to cook on the stove top.
Do yourself a favor and pound the chicken.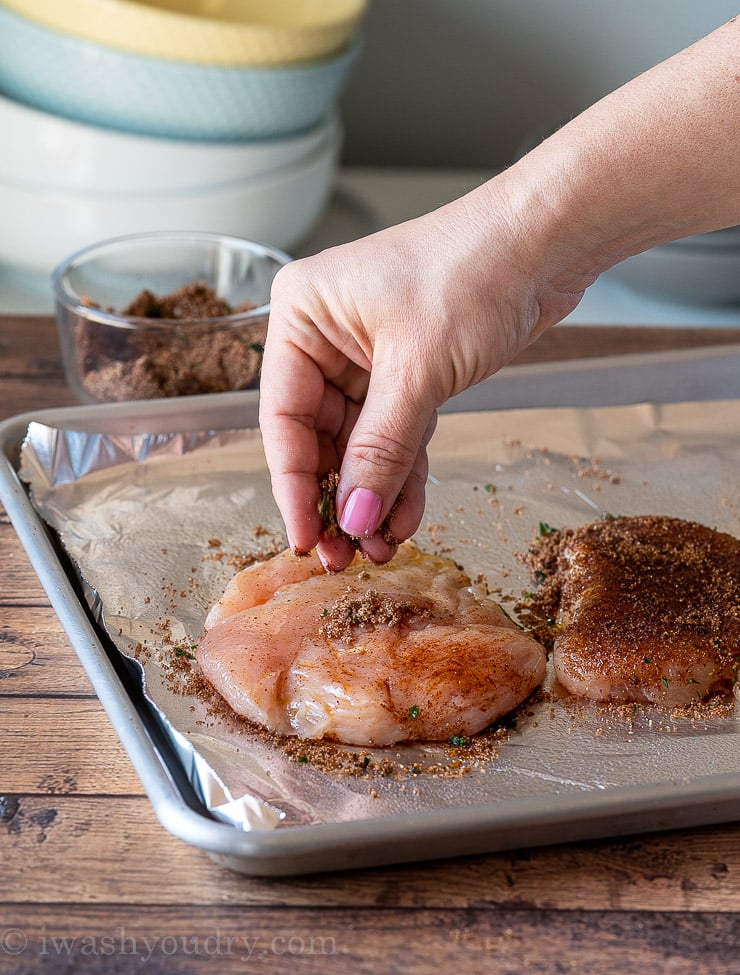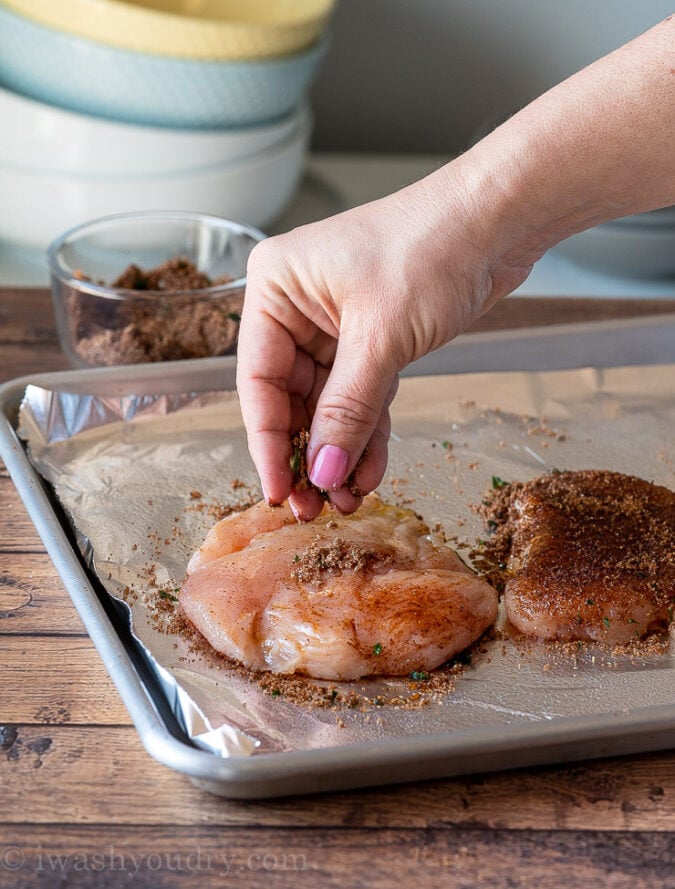 Simple Chicken Seasoning Blend
I spent many, many years working on perfecting my go-to chicken seasoning. It's both sweet and smoky, while not being too overpowering. The simple, yet complex flavors blend perfectly together and are great served alongside any side dish you're serving with your baked chicken.
You could season your chicken breasts with just salt and pepper and they would still come out fine, but this blend of spices will take your baked chicken to the next level.
Brown Sugar – the sugar helps to tenderize the chicken, trust me, it's a good idea.
Chili Powder – adds a delicious smoky flavor, plus gives great coloring to chicken
Parsley – great for adding a balanced herb flavor
Salt – the seasoning of life
Pepper – because it goes with salt
Garlic Powder – adds delicious flavor
Onion Powder – compliments the garlic powder
Cumin – this really gives the chicken something special
Combine the spices together and rub generously into the chicken breast before baking.
PRO TIP: I will usually double or triple the seasoning blend and store any extra in a zip close bag for the next time I'm baking chicken.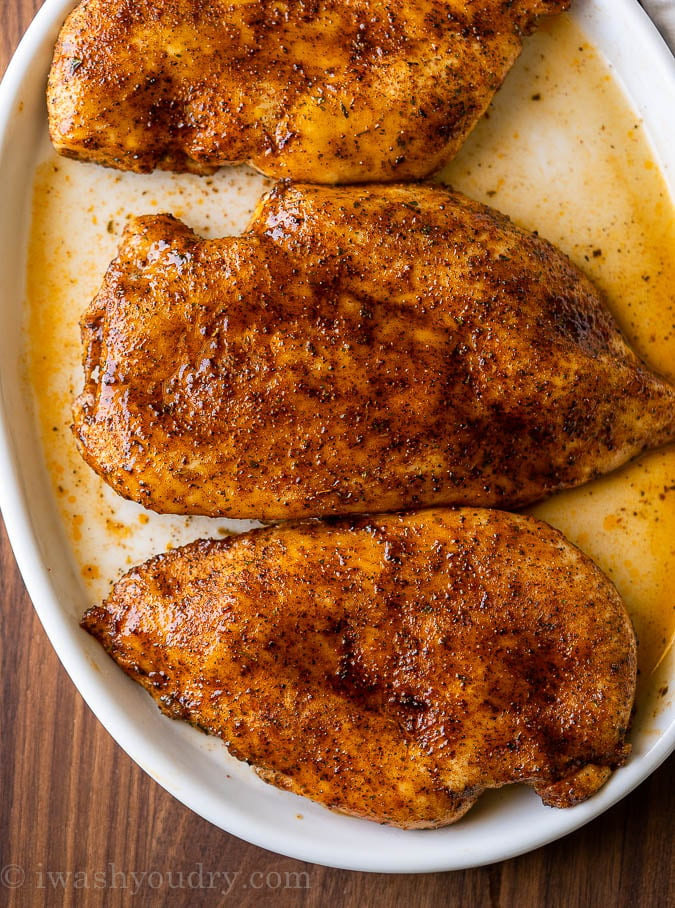 How Long To Bake Chicken Breasts in The Oven?
Since we're not going to sear chicken in a skillet before finishing of in the oven, you'll want to start your chicken at a high temperature in the oven.
Make sure your oven is preheated to 425 degrees F before baking. Cooking at a high temperature will help to lock in those juices, resulting in tender, juicy chicken every time.
4 to 6 ounce chicken breasts – 18 minutes
7 to 8 ounce chicken breasts – 20 minutes
9 ounce and above – 22 minutes
Remember to use a meat thermometer to check for an internal temperature of 165 degrees F.
Resting The Chicken After It's Baked
One of the biggest rookie mistakes when baking chicken is to immediately slice right into it after it's done cooking. Chicken breast is a muscle and what happens to a muscle when it gets cooked? It tightens up! If you cut into the chicken right away it will be tough and chewy, and all the juices that you worked so hard for will immediately run out… resulting in dry, tough chicken. Sad.
Let chicken breasts rest for 5 minutes under a loose sheet of foil before slicing.
When the chicken comes out of the oven (or even off the grill or skillet), let it rest under a loose sheet of foil for about 5 minutes. This will allow that muscle to relax, giving the juices inside the chicken a chance to redistribute throughout, and you'll be left with the most glorious, juicy chicken you've ever had.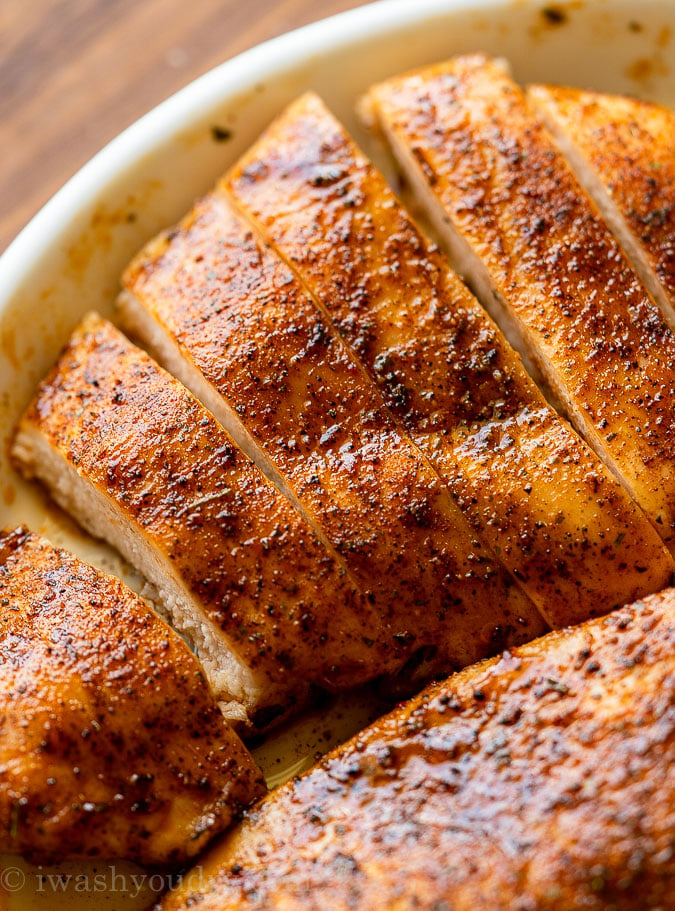 Video On How To Make Juicy Oven Baked Chicken Breast Recipe
Easy Side Dishes To Serve With Oven Roasted Chicken
There really is no wrong answer here, chicken is one of the most versatile proteins in my opinion. It pairs perfectly with just about anything. Serve it sliced up, shredded, or whole for a pretty presentation. We usually slice all the chicken up before serving so it's easy for my kids to eat.
Here are my go-to sides when baking chicken for dinner:
More Easy Baked Chicken Recipes To Try:
I'm confident that you'll get fantastic results with this recipe as long as you follow the tips and method I've shared here.
HELPFUL PRODUCTS TO MAKE THIS RECIPE:
Last updated on May 23, 2022 3:06 pm
Make sure you don't miss a thing! Follow I Wash You Dry here:
FACEBOOK | PINTEREST | TWITTER | INSTAGRAM
Juicy Oven Baked Chicken Breast Recipe
This ultra juicy Oven Baked Chicken Breast Recipe only takes a few minutes of prep, resulting in tender, juicy chicken breast every time!
Instructions
Pre heat oven to 425 degrees F. Line a baking sheet with foil and spray with non stick spray.

Place the chicken breasts between two sheets of parchment paper and pound to an even thickness. Drizzle both sides of chicken with olive oil.

Combine seasonings and sprinkle generously over both sides of the chicken breasts. Bake for 20 minutes. Remove from oven and cover loosely with foil for 5 minutes before slicing. Enjoy!
Notes
If your chicken breasts are smaller in size, reduce the cook time to 18 minutes. If the chicken breasts are larger, increase cook time to 22 minutes.
Be sure to check that internal temperature reaches 165 degrees.
Nutrition
Calories:
214
kcal
|
Carbohydrates:
7
g
|
Protein:
32
g
|
Fat:
6
g
|
Saturated Fat:
1
g
|
Cholesterol:
96
mg
|
Sodium:
393
mg
|
Potassium:
591
mg
|
Fiber:
1
g
|
Sugar:
6
g
|
Vitamin A:
441
IU
|
Vitamin C:
2
mg
|
Calcium:
17
mg
|
Iron:
1
mg
Keywords:
Baked Chicken Breast, Juicy, Oven, Tender
Now Available!
The Everyday Cookbook
Top Favorite Recipes from I Wash You Dry now available in a hard-cover, spiral-bound book that's gorgeous and perfect for everyday use.
BUY IT NOW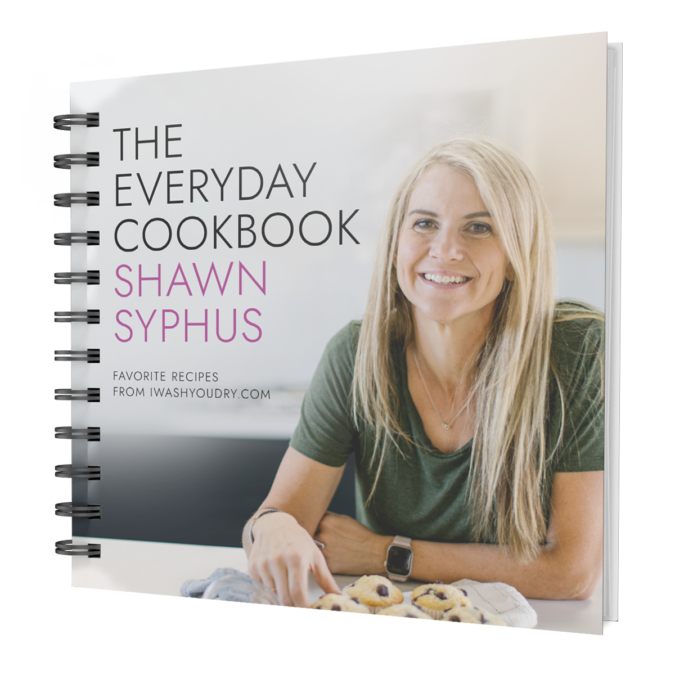 PIN THIS IMAGE TO SAVE THE RECIPE