This Chickpea Quinoa Salad Recipe is filled with crisp cucumbers, feta cheese and tender quinoa, tossed in a deliciously easy dressing.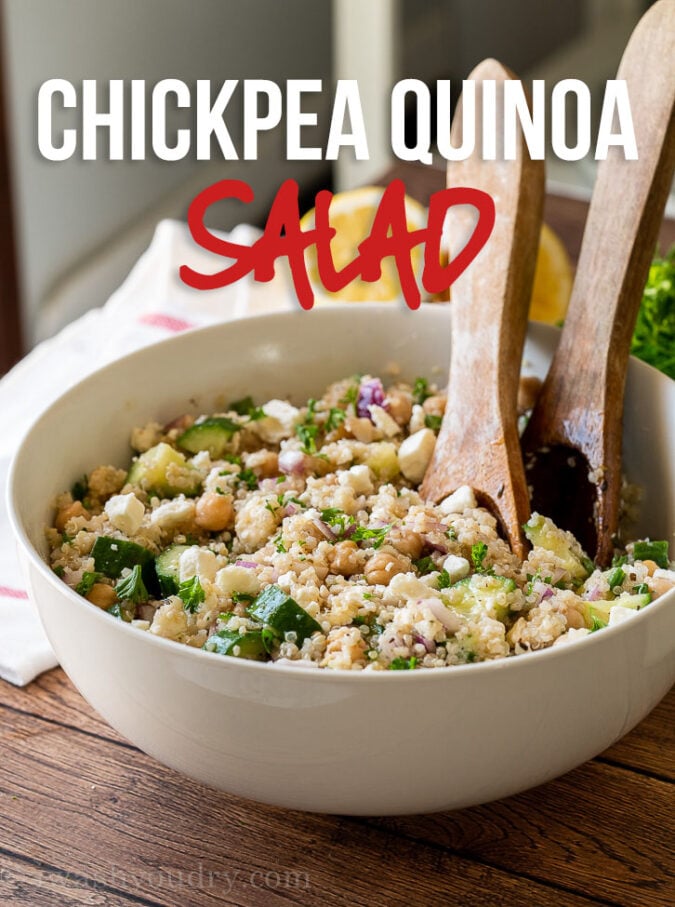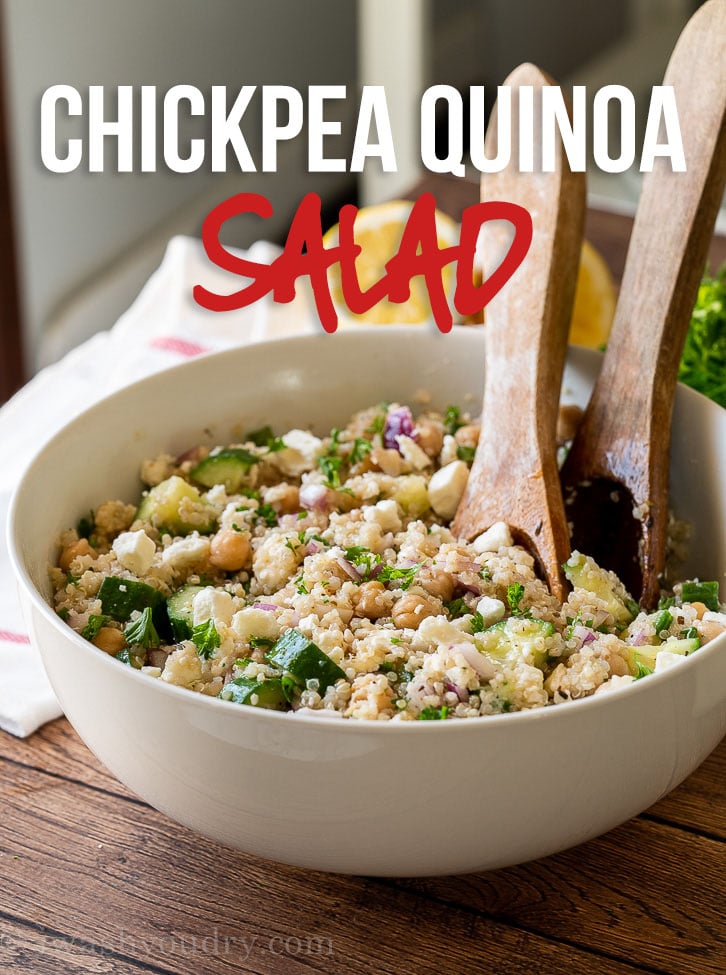 This summer I'm planning on sitting pool-side, watching the kids splash around and enjoying cool and refreshing lunches like this Chickpea Quinoa Salad.
Chickpea Quinoa Salad Recipe:
If you don't already have it, cook up a batch of quinoa and let it cool.
Combine some drained and rinsed chickpeas, chopped cucumber, diced onion and feta cheese in a large bowl.
Toss with the cooled quinoa and some freshly chopped parsley (I like to use the curly leaf parsley for this salad).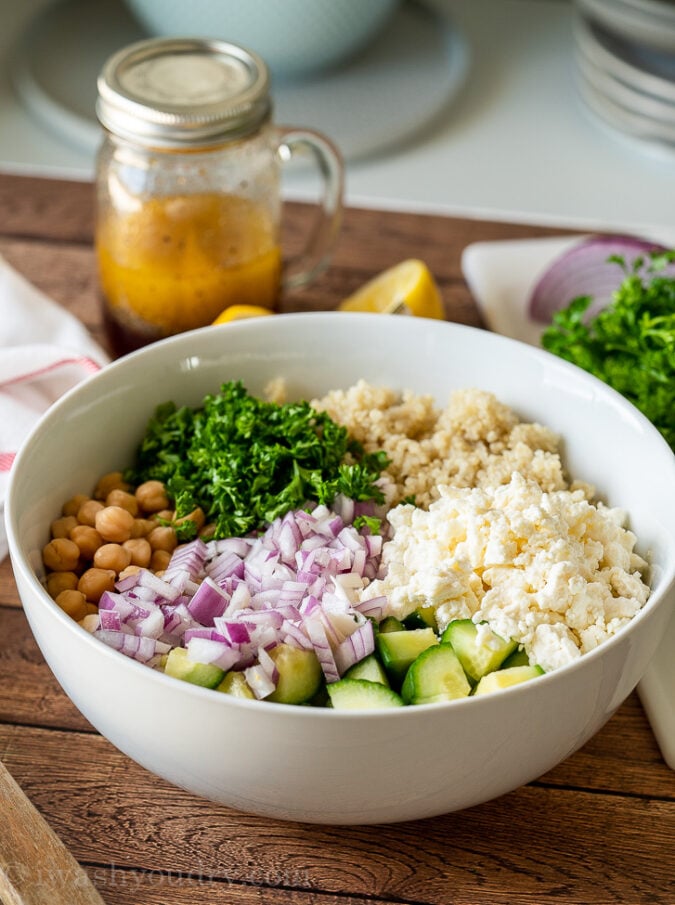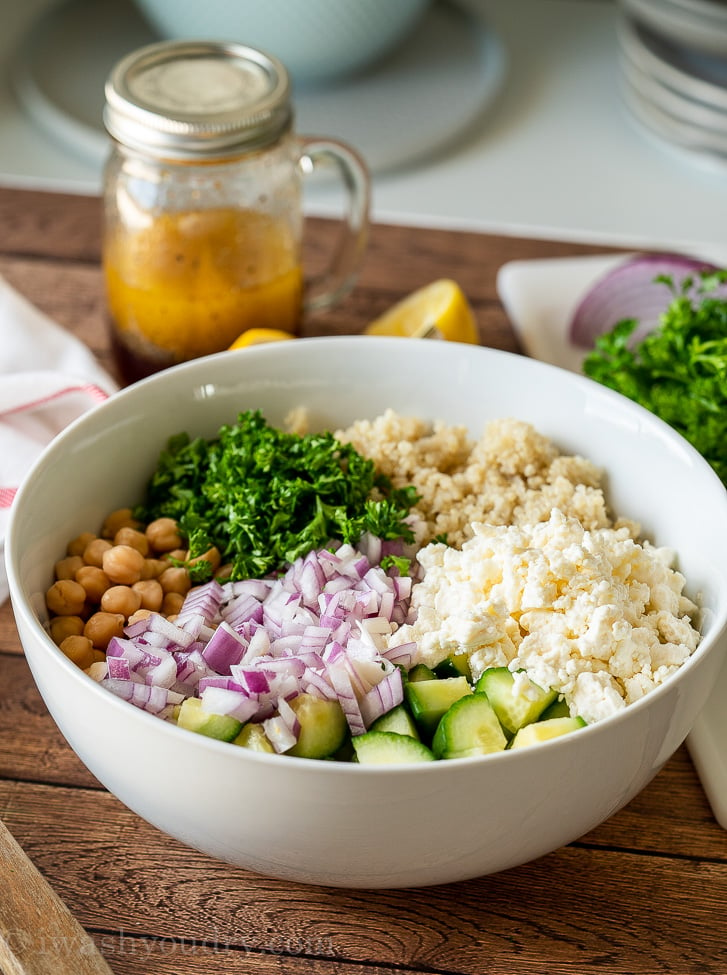 How To Make Easy Homemade Salad Dressing
Don't be intimidated by the task of making your own homemade salad dressing for this quinoa salad. It's just a few ingredients shaken together in a mason jar or salad dressing bottle. You can also use store bought Italian dressing with this salad in a pinch.
Combine Extra Virgin Olive Oil (use a good quality if you can), red wine vinegar, lemon juice (fresh is best), sugar, Italian seasoning, salt and pepper in a jar.
Screw the lid on tightly and shake vigorously until combined.
Pour over the quinoa salad toss to coat.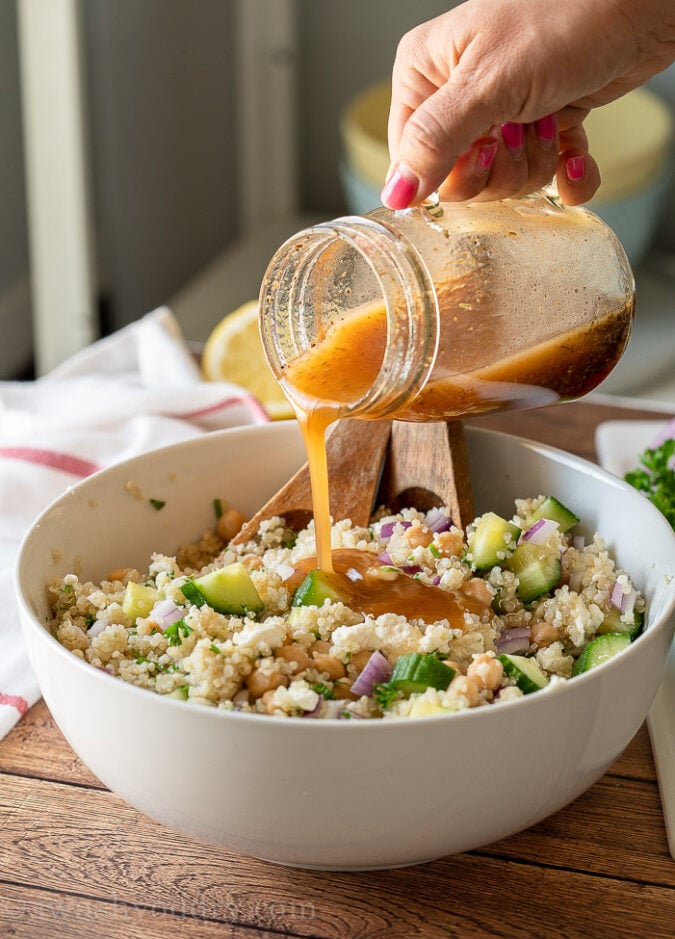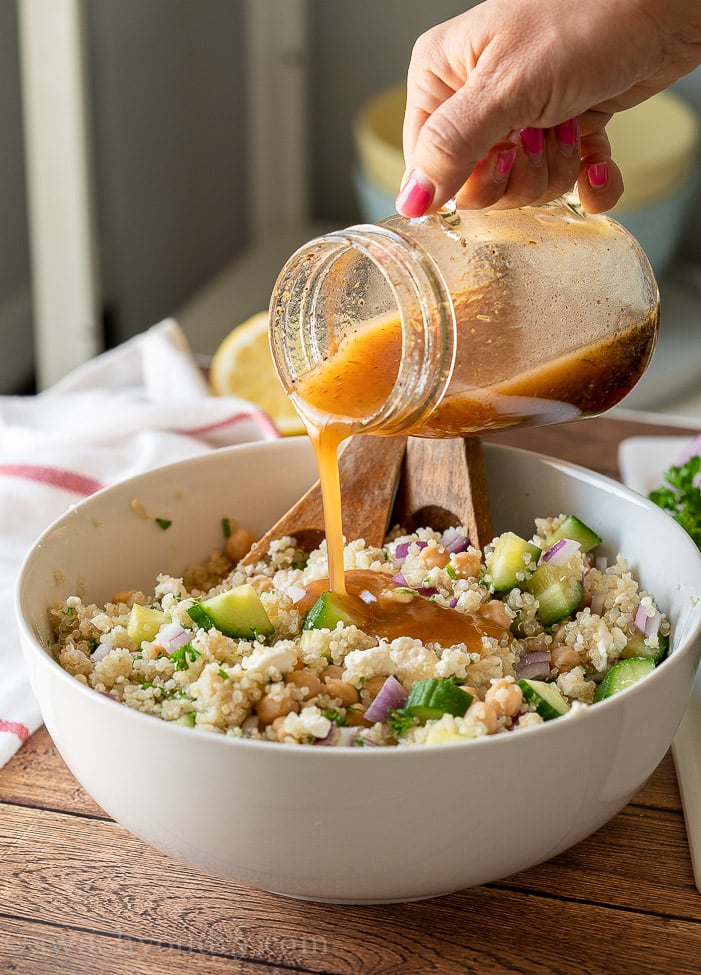 How To Cook Quinoa –
Quinoa (pronounced keen-wa) is a gluten free grain that is found in the rice aisle. The quinoa grain is coated in a lot of starch, so it's crucial to give the quinoa a really good cleaning before cooking to make sure it cooks up nice and fluffy.
Use a fine mesh strainer to run cold water over the quinoa. Use your hands to gently rub the quinoa under the cold water to give it a little "wash."
Keep rinsing until the water running off the quinoa turns clear.
Drain the quinoa and add to a pot of water. (The ratio to cook quinoa is 1 cup quinoa to 2 cups water or stock)
Bring the pot to a boil, cover and reduce heat to a simmer. Cook for about 15 minutes, until liquid is absorbed.
Let sit for 5 minutes with the lid on, then fluff with fork.
How Much Does 1 cup of Uncooked Quinoa Make?
This recipe calls for 3 cups of COOKED quinoa… so exactly how many cups of UNCOOKED quinoa do you need?
1 CUP OF UNCOOKED QUINOA WILL PRODUCE 3 CUPS OF COOKED QUINOA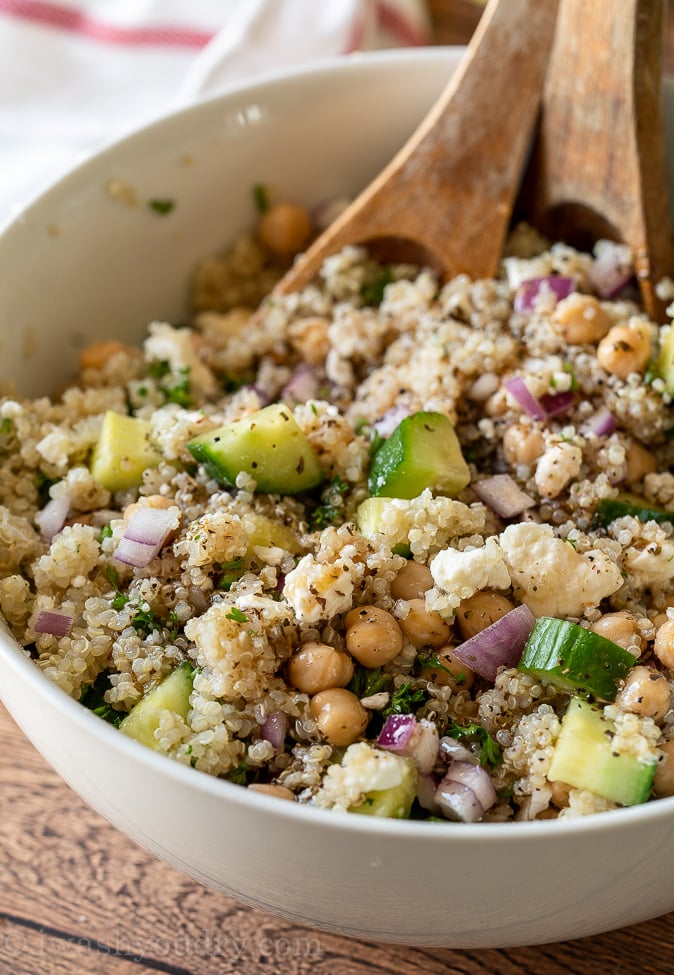 Can You Make This Salad Ahead of Time?
YES! This is one of those salads that tastes great on the first day, but I think tastes even better the second day. The salad dressing has time to penetrate and flavor the quinoa and chickpeas.
If you're wanting to make it more than 48 hours in advance, you'll want to wait to add the feta cheese and salad dressing until ready to serve.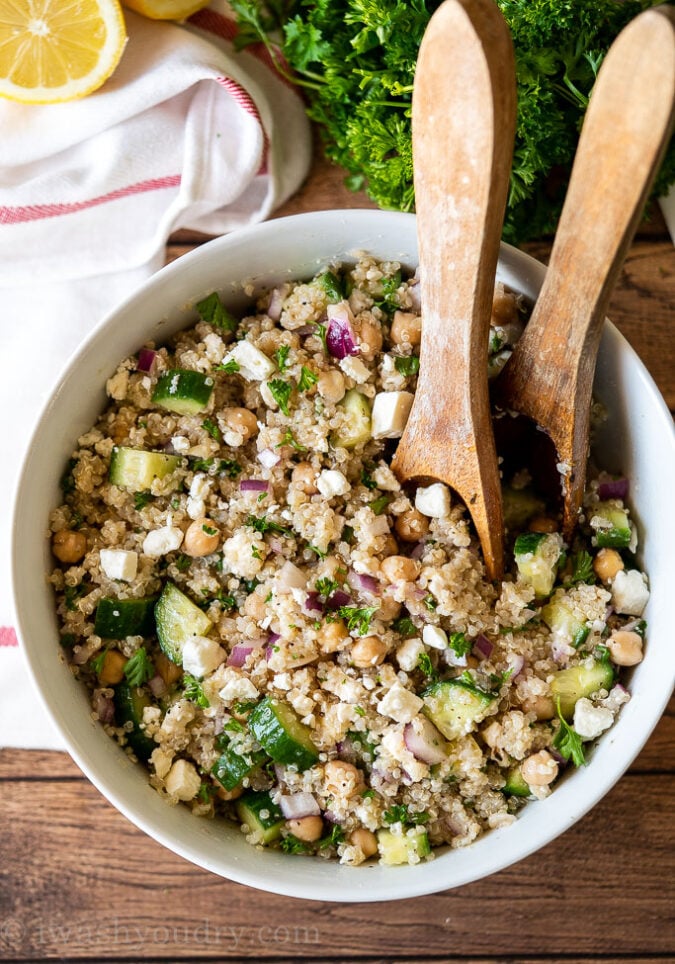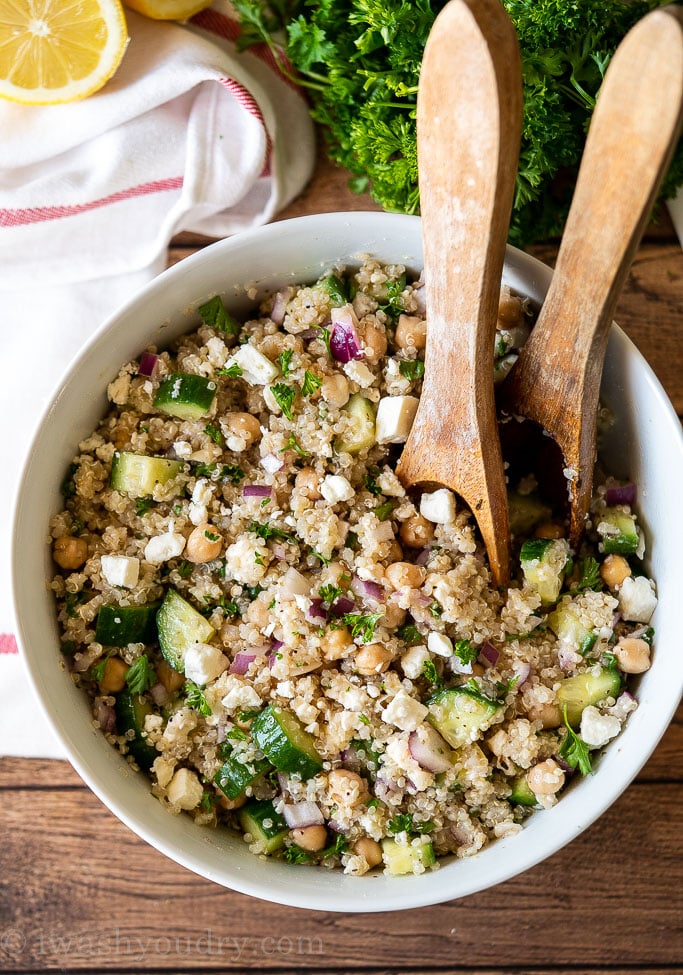 What To Serve with Quinoa Salad?
This salad is a delicious side dish to any bbq, but can easily be made into a vegetarian main dish. Here are some of my favorite recipes to pair it with…
Helpful Products To Make This Recipe:
Last updated on May 31, 2023 9:32 am
Chickpea Quinoa Salad Recipe
This deliciously easy Chickpea Quinoa Salad Recipe is filled with crisp cucumbers, fluffy quinoa and feta cheese in a light and tangy dressing.
Ingredients
1

15oz. cans chickpeas, drained and rinsed

1

English cucumber

,

chopped

½

cup

purple onion

,

diced

¾

cup

crumbled feta cheese

3

cups

chilled

,

cooked quinoa

⅓

cup

freshly chopped parsley
Instructions
Combine the chickpeas, cucumber, onion, feta, quinoa and parsley in a large bowl.

Combine the dressing ingredients in a small mason jar and shake with the lid on until combined. Pour dressing over salad and toss. Keep chilled until ready to enjoy!
Notes
Salad can be made up to a day in advance. If you need to prepare more in advance, do not mix with dressing until ready to serve.
Nutrition
Calories:
204
kcal
|
Carbohydrates:
15
g
|
Protein:
4
g
|
Fat:
14
g
|
Saturated Fat:
3
g
|
Cholesterol:
10
mg
|
Sodium:
191
mg
|
Potassium:
169
mg
|
Fiber:
2
g
|
Sugar:
2
g
|
Vitamin A:
247
IU
|
Vitamin C:
5
mg
|
Calcium:
76
mg
|
Iron:
1
mg
Keywords:
BBQ, Chickpea, Cucumber, Quinoa Salad, Summer
PIN THIS IMAGE TO SAVE THE RECIPE: