If you love that delicious bakery style French Onion Soup, then you'll love this quick and Easy French Onion Soup Recipe!
It's so easy to throw this warming bowl of cheesy goodness together that you'll be making it all winter long!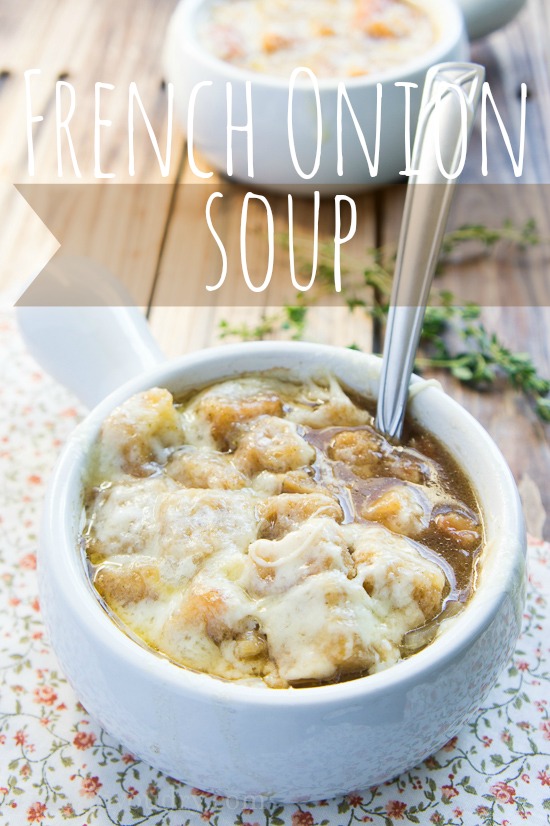 If you're not familiar with French Onion Soup, it's caramelized onions that are infused with thyme in a beef broth. Then it's topped with crusty bread and cheese then quickly broiled in the oven to get a melty gooey and bubbly top.
It's basically heaven in a bowl.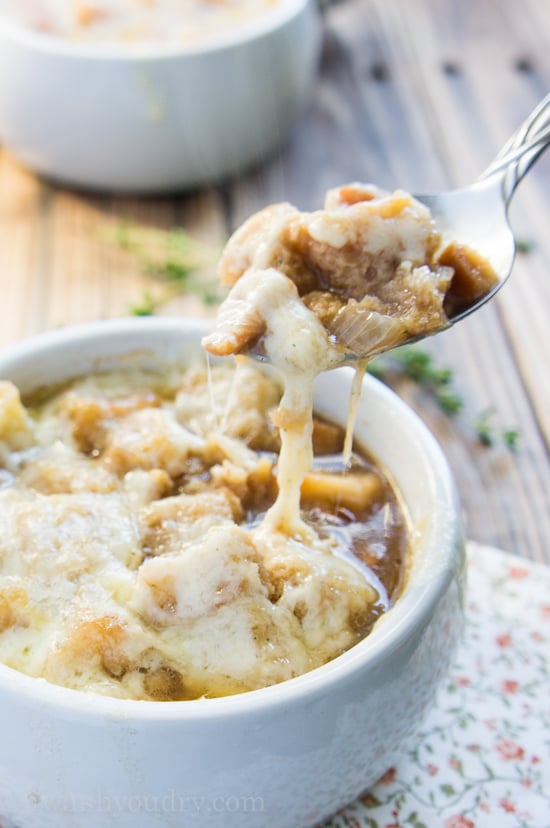 I've quickened this recipe, while still leaving it full flavored and delicious.
You'll start by grabbing a few onions. I prefer the yellow sweet onions. Chop off the top and bottom of the onion, peel it, then cut it in half.
Make thin slices so the onions can cook quicker.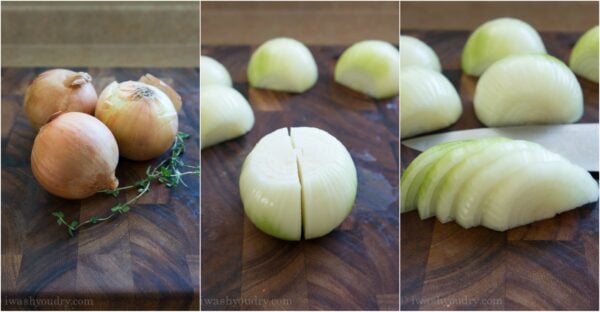 Throw the onions and some butter into a large pot along with some sprigs fresh thyme and a bay leaf. Let it cook, stirring occasionally until the onions are really soft and tender.
Once they are soft and tender add some red cooking wine and stir to break up any browned bits on the bottom of the pan.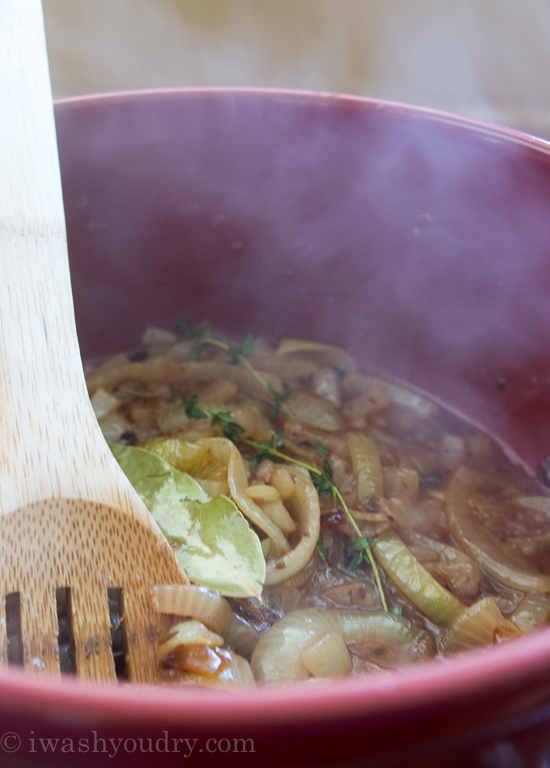 Once the red wine has reduced to half, sprinkle the onions with some flour and stir. This will help thicken the soup and give it some body.
Pour in the beef broth and you're nearly done!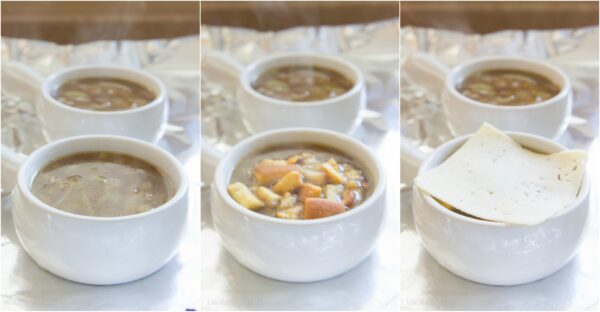 The trick to the French Onion Soup is to get the bread nice and crusty so it doesn't immediately turn to mush when it's placed on top of the soup. Well, I found that using a good garlic crouton yields amazing results. For one, it's easy (I always have croutons on hand), and for two, the croutons hold their shape quite well and have a little crunch to them even after being drenched in soup and smothered with cheese.
Ah… the cheese. I use a nice Havarti cheese, but you can also use Swiss, Gruyere, or maybe even a Gouda. The possibilities are endless, have fun with it!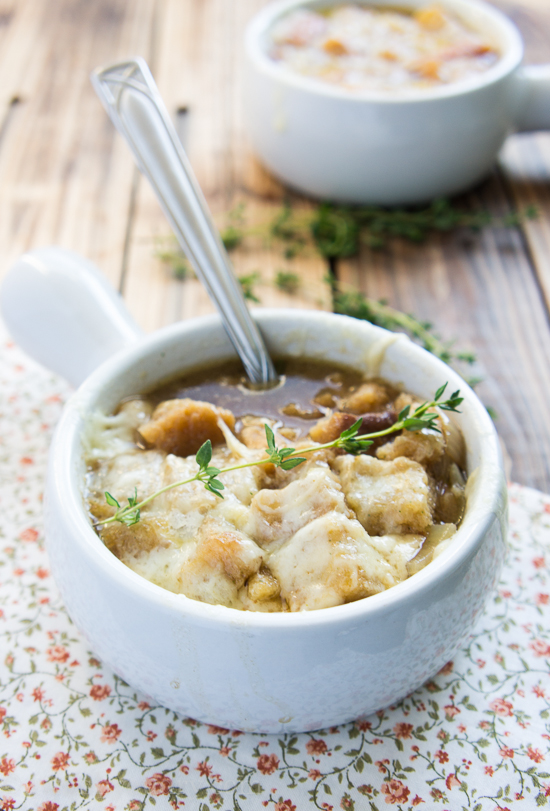 The results are incredible.
This Easy French Onion Soup Recipe will knock your socks off.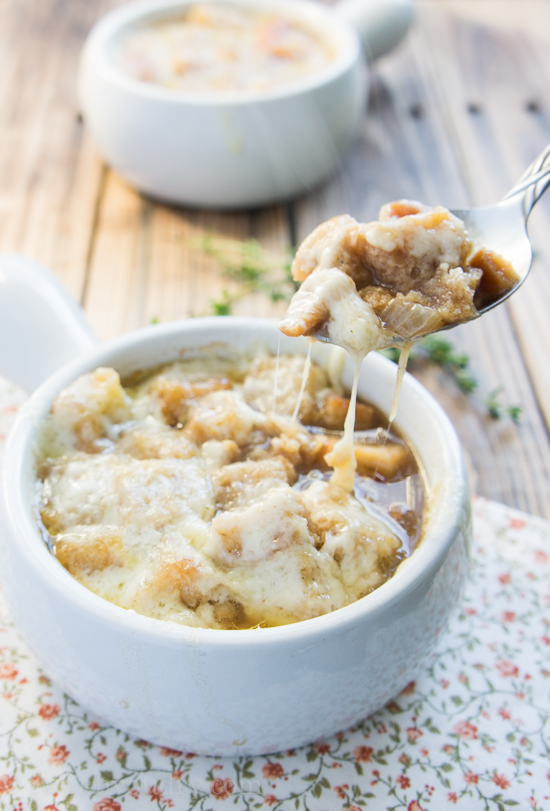 Is it weird that it's eight in the morning and I want a bowl of this right now?
mmmm…
Yields serves 4
Easy French Onion Soup Recipe
Ingredients
3 large yellow onions, sliced thin
3 tbsp butter
2-3 sprigs of fresh thyme
1 large bay leaf
1/2 cup red cooking wine
2 tbsp flour
4 cups beef broth
salt and pepper to taste
1 cup garlic croutons
4 slices Havarti cheese
Instructions
In a large pot melt butter and combine onions, thyme and bay leaf over medium high heat. Stir and cook onions for about 20 minutes or until really soft and tender.
Add red cooking wine and stir, breaking up any browned bits on the bottom of pan, let liquid reduce to half the amount. Sprinkle with flour and stir to coat.
Pour in the beef broth and bring to a boil, then reduce heat and let simmer for 5-10 minutes. Discard thyme and bay leaf.
Meanwhile turn your oven on to broil and prepare oven safe bowl on a foil lined baking sheet.
Ladle the soup into bowls, divide the croutons among the bowls, top each bowl with a slice of cheese. Carefully place in oven and broil until cheese is melted and bubbly.
Use caution when serving, as the bowls will be HOT! Enjoy!
Notes
You can use other types of cheese like Swiss, Gruyere, or Gouda in place of the Havarti.
7.8.1.1
899
https://iwashyoudry.com/easy-french-onion-soup-recipe/