Several years ago I was at a large Church function when I was introduced to the ever so delicious Quick Cherry No Bake Cheesecakes. These cute mini cheesecakes literally take minutes to throw together and are the perfect treat to bring to any gathering, or for just entertaining at home!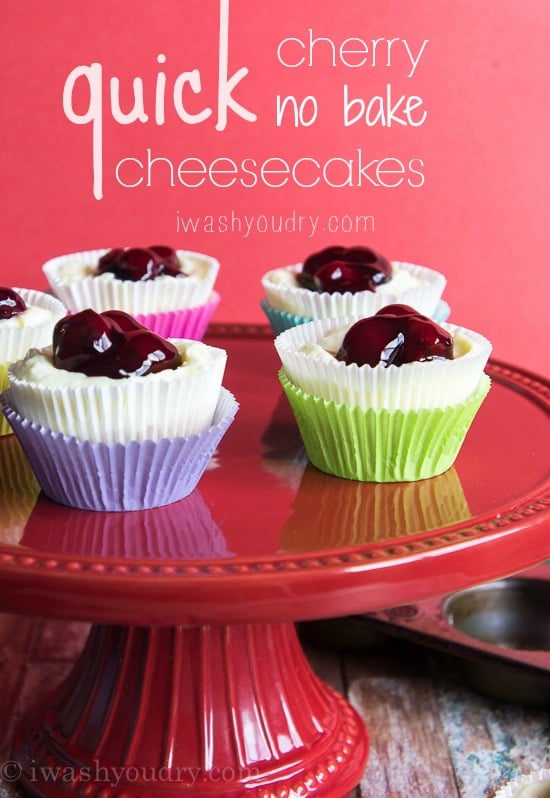 When I made these I sent the rest off to work with my husband (after I had one, or five). Later in the day I got a text message from him that said, "Gave away a cheesecake, guy's mind got blown."
Yup, they're mind-blowing good.
The crust is your typical graham cracker/butter/sugar combo, but I've even seen these made with a simple Nilla Wafer placed on the bottom for an even quicker version.
I love the graham cracker crust though, because it's one of my favorite things about cheesecakes. The buttery, crisp crust is the perfect contrast to the creamy cheesecake filling.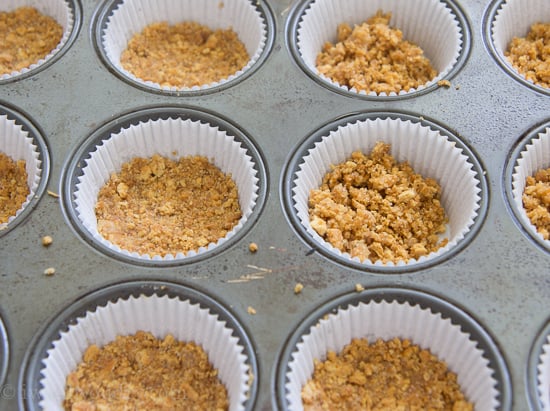 I threw the crusts into the oven for just 5 minutes, then let them cool. BUT – if you truly don't want to turn on your oven, you can simply place the filled muffin cups in your freezer for 10 minutes until they firm up.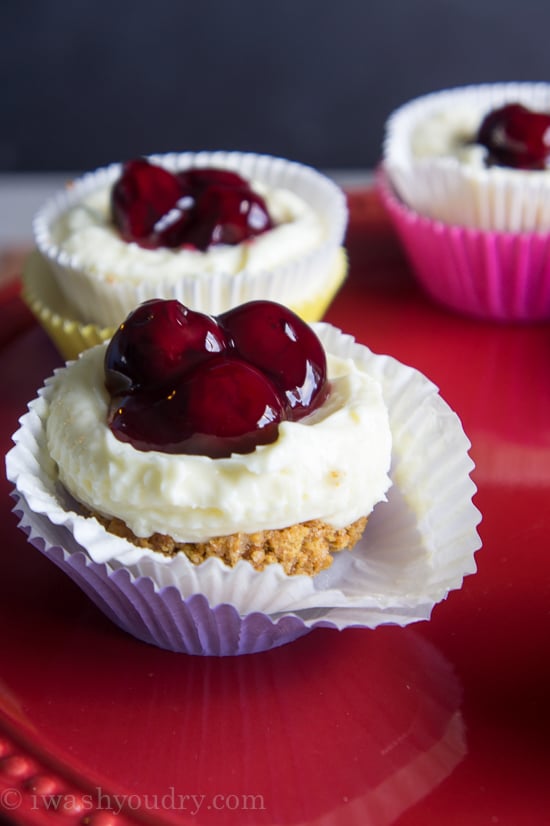 The cheesecake filling is a mixture of cream cheese, milk and vanilla instant pudding mix. So if you really think about it, you could make so many variations of mini cheesecakes just by using different flavors of pudding mix!
Oh the possibilities!!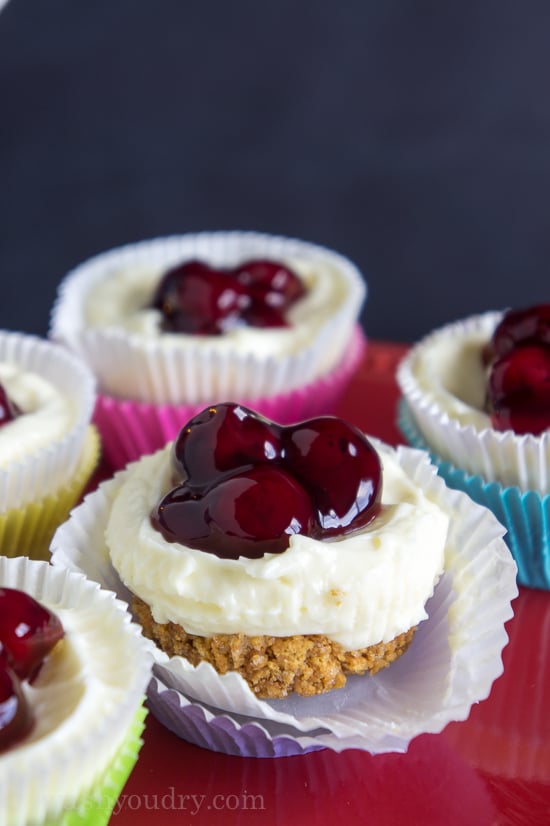 The filling takes all of 2 minutes to blend together, and once you fill the cheesecake cups, top with some cherry pie filling, and ta-da!
The easiest Cherry Cheesecakes you'll ever make!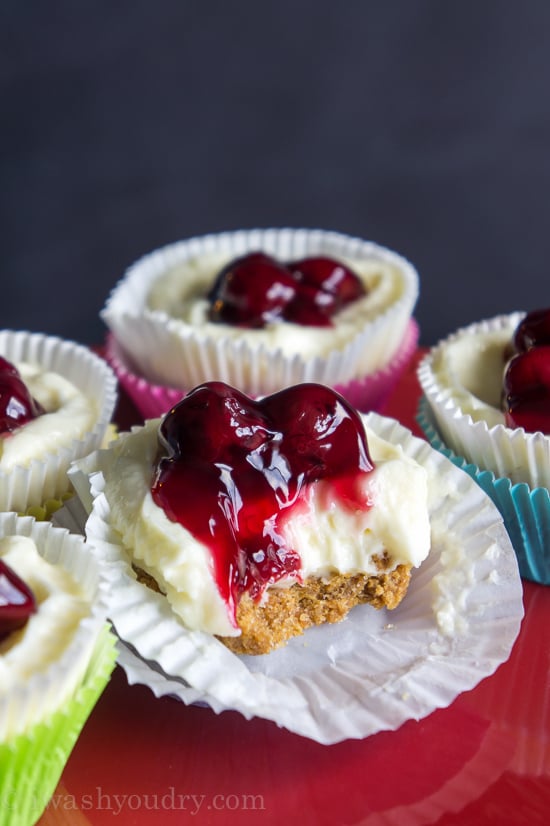 And the taste? Phenomenal.
Some would say, "Mind-blowing." 😉
Make sure you don't miss a thing! Follow I Wash You Dry here:
FACEBOOK | PINTEREST | GOOGLE+ | TWITTER | INSTAGRAM | BLOGLOVIN
Shawn
Yields 12
Quick Cherry No Bake Cheesecakes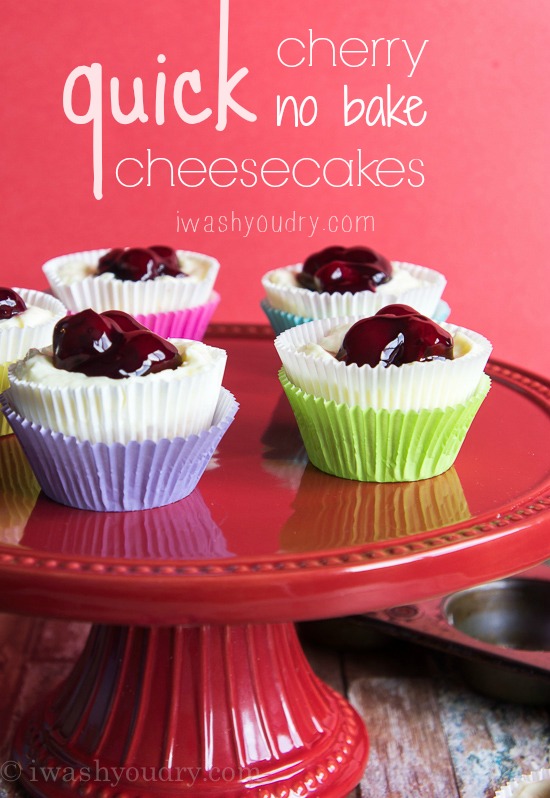 Ingredients
1 1/2 cups graham cracker crumbs
1/4 cup melted butter
1/4 cup sugar
8oz cream cheese, softened
1 1/4 cup cold milk
3.4oz instant vanilla pudding mix
1 can cherry pie filling
Instructions
Preheat oven to 350 degrees F.(See notes below)*
Combine the graham cracker crumbs, melted butter and sugar in a bowl. Divide the mixture into each muffin cup and press down to form crust. Bake for 5 minutes, remove from oven and let cool completely in muffin tin.
Beat the cream cheese until light and fluffy, add the pudding mix and slowly beat in the milk until fully combined. Divide among muffin cups. Refrigerate for 10 minutes.
Top each mini cheesecake with a tablespoon of cherry pie filling. Keep refrigerated until ready to serve. Enjoy!
Notes
*If you prefer to not heat up the oven, you can place the crusts into the freezer for 10 minutes until they firm up. Proceed with recipe as written.
7.6.6
1047
https://iwashyoudry.com/quick-cherry-no-bake-cheesecakes/