I asked you guys on Facebook last night if you wanted a dessert recipe or an easy dinner recipe today. While a lot of you requested dessert, the dinner votes came in as the majority. One follower even said, "Dinner. Gimme a few months and I'll be back on dessert. ;)"
I totally get that. We just got off of a few sugar filled months and we're all trying to make healthier choices. This Honey Dijon Grilled Chicken is one of my new favorite, quick and easy, healthy dinner recipes.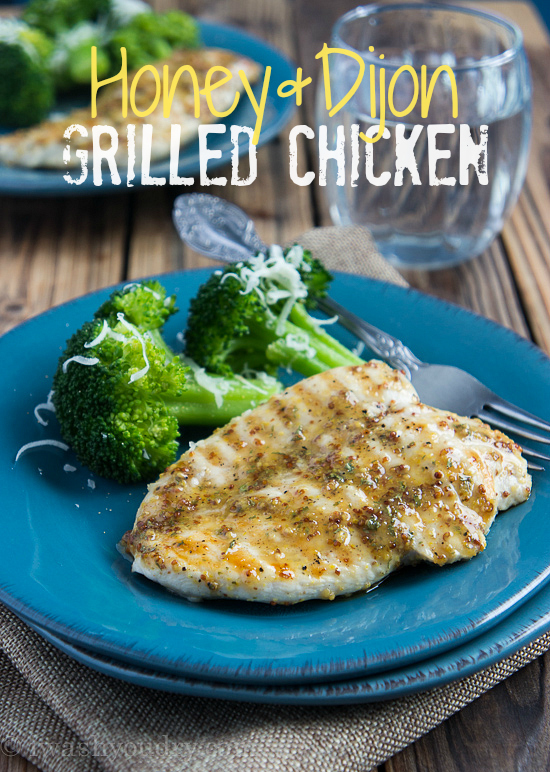 I started doing the T25 Beach Body workouts just two weeks ago and it included a 5 day "Jump Start" meal plan. It was full of delicious, quick dinners, but this one was by far my favorite.
It may have had something to do with this new dijon mustard I found. It's a horseradish dijon, so it has that nice horseradish kick with the tang of the mustard. I prefer to use an old fashion mustard with the seeds and spices in there. I think it gives the chicken so much more to look at, with it's beautiful grainy texture.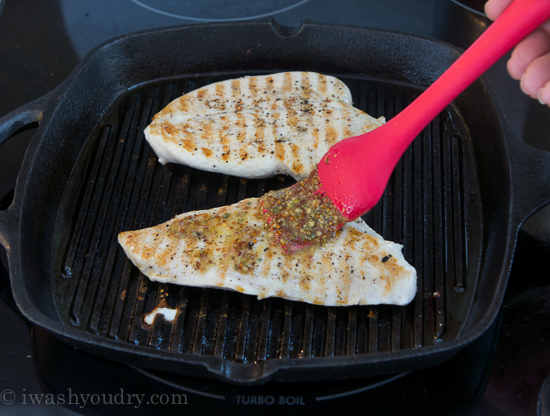 It's a bit cold right now for the grill outside, but I have my trusty cast-iron grill pan and it does the trick.
A few tips when grilling chicken:
1. Preheat the grill (or grill pan) and spray with either non-stick cooking spray or oil oil.
2. Place the chicken breast between two sheets of parchment paper and give it a good whacking with a rolling pin to flatten the chicken to an even thickness. Since a chicken breast is naturally thicker on one end, it can take a long time to heat all the way through the thick part, resulting in a dry, really, really dry, chicken breast. Yuck. BUT, if you pound the chicken to an even thickness it will cook evenly and not get dried out and over cooked.
3. When you're grilling with sauces that have honey or sugar in them, they can burn easily. Baste your chicken in the sauce during the last two to three minutes of grilling to avoid charring or burning.
4. If you want a chicken breast that is moist, tender and juicy, then you MUST tent your chicken and let it rest. Once your chicken is grilled remove it and place it directly onto a plate and loosely cover with tin foil. Let it sit in there for at least 5 minutes to regain it's moisture and marinade a little longer in that tantalizing sauce. Your tastebuds will thank you.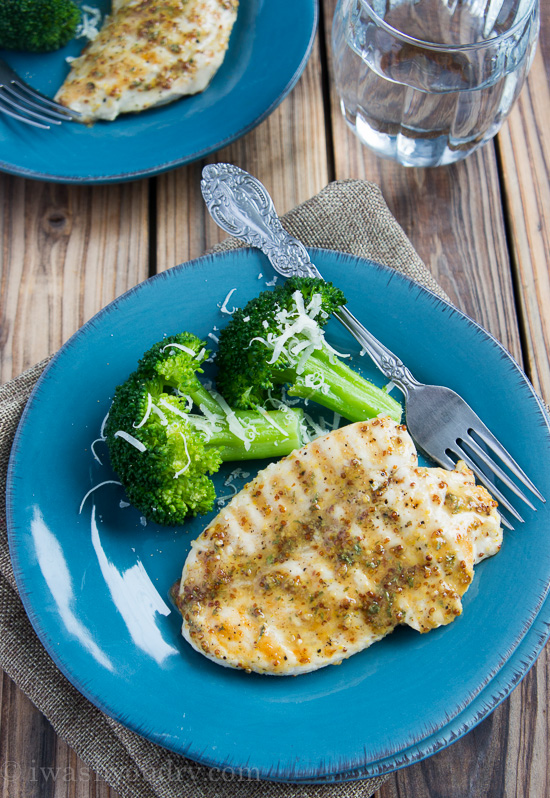 If you follow those tips you'll have one knock-out grilled chicken breast every. single. time.
Without fail!
I promise.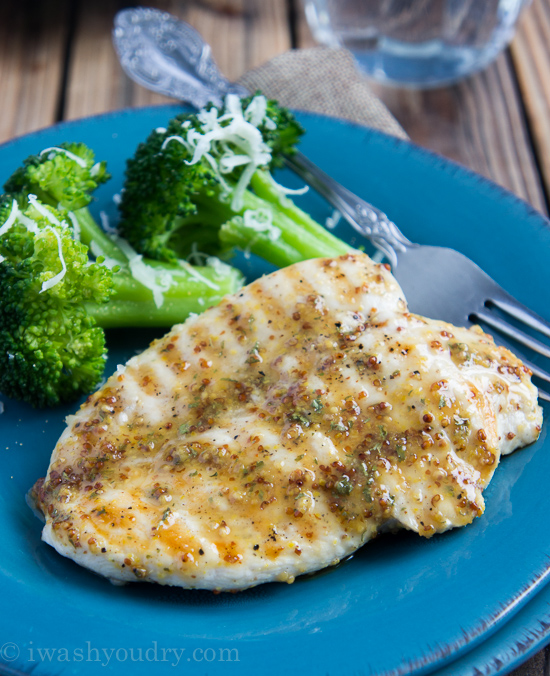 Want to know what's even better than a moist, flavorful grilled chicken?
How about one that's done and ready to eat in 15 minutes! That's right, this is another tasty 15 minute dinner recipe! You're going to love this one, I just know it!
Make sure you don't miss a thing! Follow I Wash You Dry here:
FACEBOOK | PINTEREST | GOOGLE+ | TWITTER | INSTAGRAM | BLOGLOVIN
Yields serves 4
Honey Dijon Grilled Chicken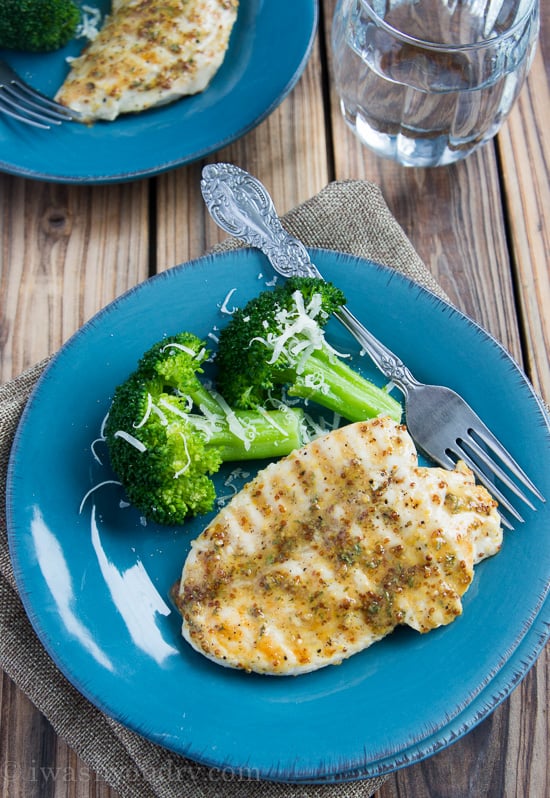 Ingredients
4 (6oz) boneless, skinless chicken breast halves
1/3 cup horseradish dijon mustard (regular dijon mustard will work too)
3 tbsp honey
1 tbsp parsley flakes
salt and pepper to taste
Instructions
Pre heat grill or grill pan on medium high heat and spray with non stick cooking spray or olive oil.
Once pan is hot, reduce heat to just below medium.
In a small bowl combine the dijon mustard, honey and parsley flakes and set aside.
Flatten chicken breasts to an even thickness by placing between two sheets of parchment paper and pounding with a rolling pin or heavy bottomed pan. Season with salt and pepper to your liking.
Place chicken on grill for 3 minutes, then flip over and brush the chicken with the honey dijon sauce. Grill for an additional 2-3 minutes then remove from grill loosely cover with tin foil. Let rest for 5 minutes before enjoying. Serve with any additional sauce on the side for dipping.
Notes
Try serving with a side of steamed broccoli sprinkled with garlic salt and freshly grated parmesan cheese for a complete meal!
7.6.7
1257
https://iwashyoudry.com/honey-dijon-grilled-chicken/
disclaimer: This post contains an Amazon affiliate link. So if you happen to click on that link, and you happen to purchase something, I might happen to make a few pennies. 🙂