This super easy Sautéed Zucchini Recipe is great for cooking that gorgeous green vegetable quickly on the stove top.
Sautéed Zucchini is great as a side dish to baked chicken, grilled steaks, or roasted pork.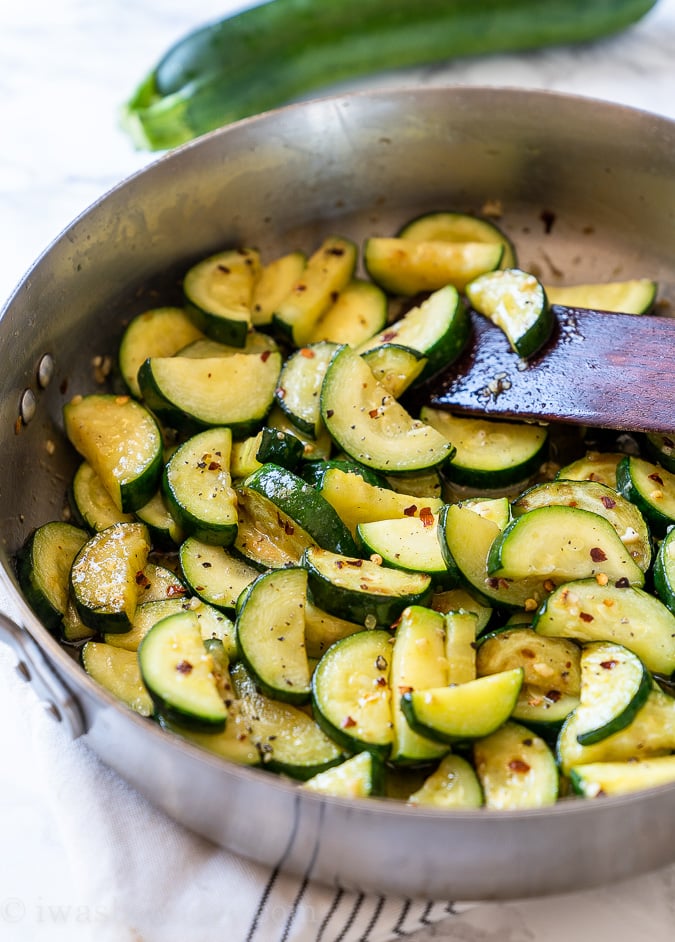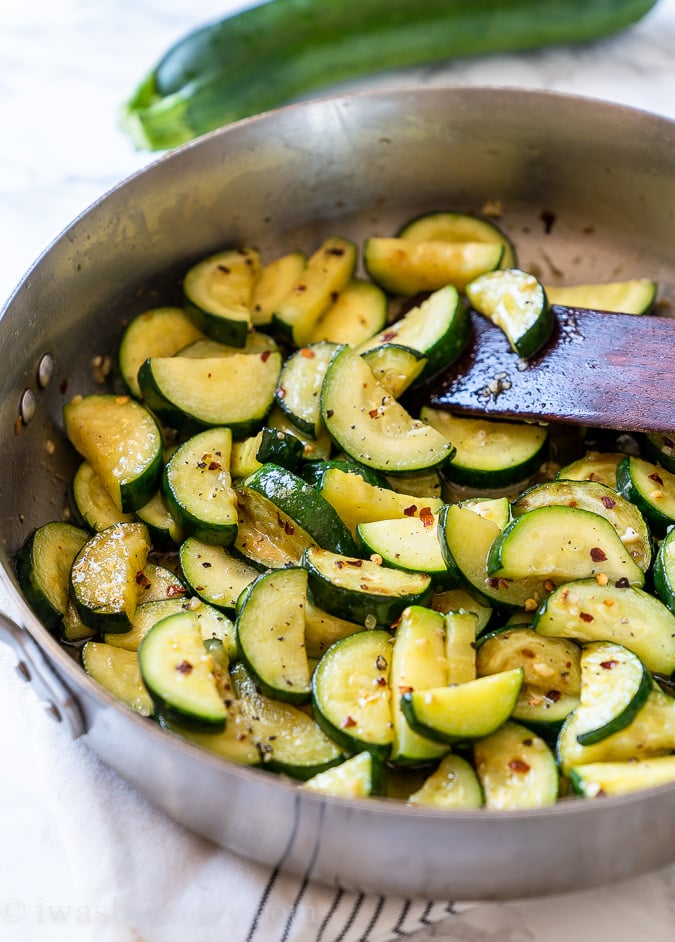 I love love love zucchini! I have so many wonderful recipes that include zucchini because it's a quick and easy vegetable to add into stir fries, casseroles, and even baked goods.
Lately we've been using our garden zucchini as a quick side dish by sautéing it on the stove top with a little butter and olive oil.
Easy Sautéed Zucchini Recipe
I almost didn't post this recipe because it's just so simple. But in reality, aren't we all always looking for those simple side dish recipes to quickly make with dinner? So here we are.
Ingredients for Zucchini on Stove Top-
Fresh Zucchini – use fresh zucchini for the best results. Frozen zucchini will result in a soggy, mushy mess.
Olive Oil – a good quality olive oil or extra virgin olive oil
Butter – I like to use a salted butter. If you're sensitive to salt, use unsalted and then season to taste.
Garlic – freshly minced garlic or minced garlic from a jar works too!
Crushed Red Pepper – use according to your spice preference
Salt & Pepper
Optional – Dried Oregano, Lemon Zest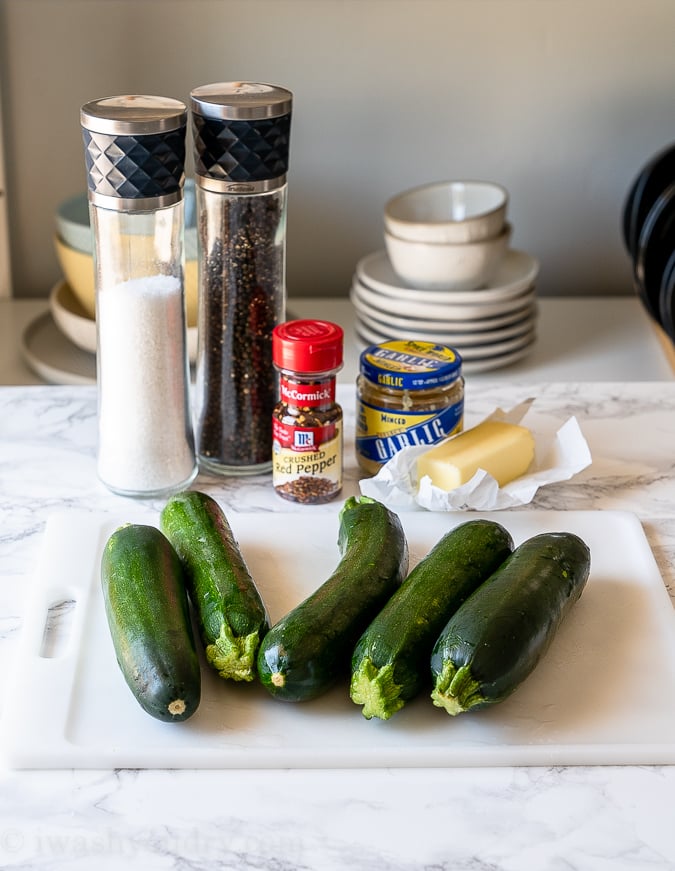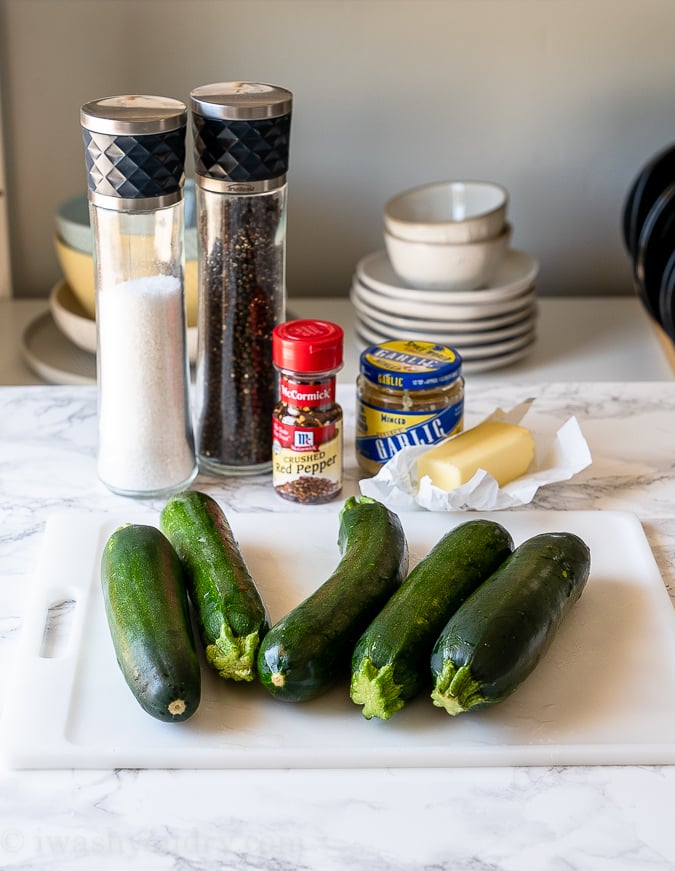 How To Cook Zucchini in a Pan
CUT ZUCCHINI – Start by washing your zucchini, then cutting them into half moon shapes. If your zucchini is rather large, you might want to cut it down even further. If your zucchini is on the smaller side, cut them into full moon shapes. Basically, you want a bite-size shape.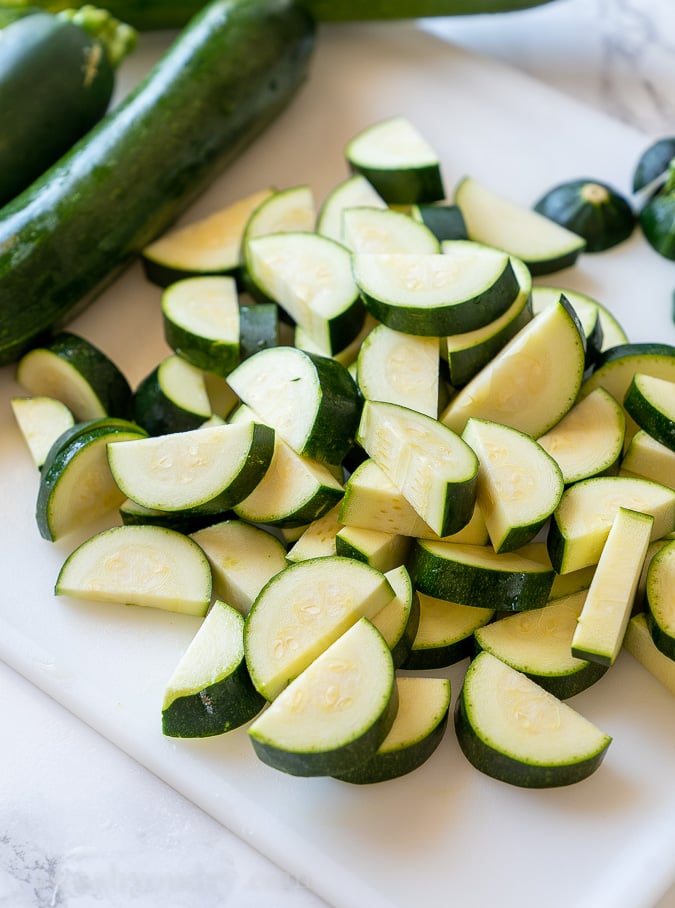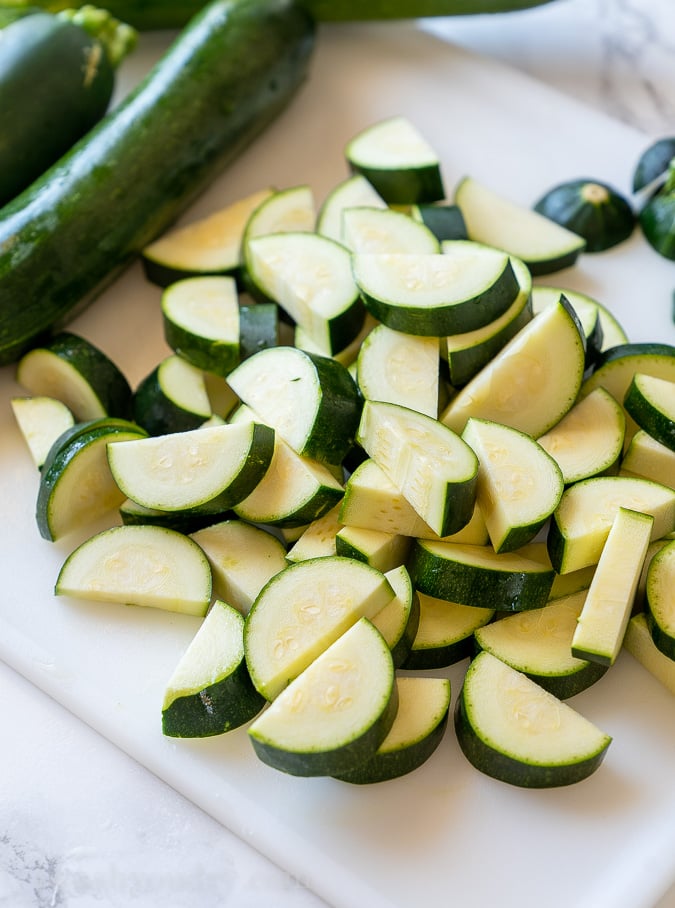 MELT BUTTER & OIL – Melt the butter and oil in a large skillet over medium-high heat. By adding in the oil, this helps to prevent the butter from scorching and burning.
SAUTÉ ZUCCHINI – Add the cut up zucchini to the skillet and cook, stirring occasionally, until the zucchini is golden brown and tender.
SEASON – Just before the zucchini are finished cooking add in the garlic and cook until fragrant (should only take about 30 seconds). Season with salt, pepper and crushed red pepper then serve immediately.
How Do You Cook Zucchini Without It Getting Soggy?
There's nothing worse than limp, mushy and soggy zucchini. We're looking for a tender-crisp zucchini that has a nice crisp bite to the outside, with a tender inside.
So how do you achieve this?
Short Answer – don't overcook your zucchini!
Long Answer – To get the perfect skillet zucchini texture you'll want to make sure your butter/oil mixture is nice and hot. On a scale of 1 to 10, your stove top burner should be set to about a 7. Wait till the butter/oil mixture is nice and bubbly, so when you drop in your zucchini it gives a nice sizzle. If you drop it in too early, the zucchini will try to absorb that buttery goodness and you will have more of a soggy zucchini. The zucchini will start to turn from an opaque color to a more translucent color when it's finally ready.
Pro Tip – Serve the zucchini right away. The longer the zucchini sits, the more tender it'll become.
What Pan Should I Use?
When it comes to sautéing anything in a pan, you're going to want to avoid using a non-stick pan. Using a non-stick pan can make it very difficult for you to get a good browning/sear on the vegetable.
Instead, opt for a stainless steel or seasoned cast iron pan. This carbon steel wok would work great too!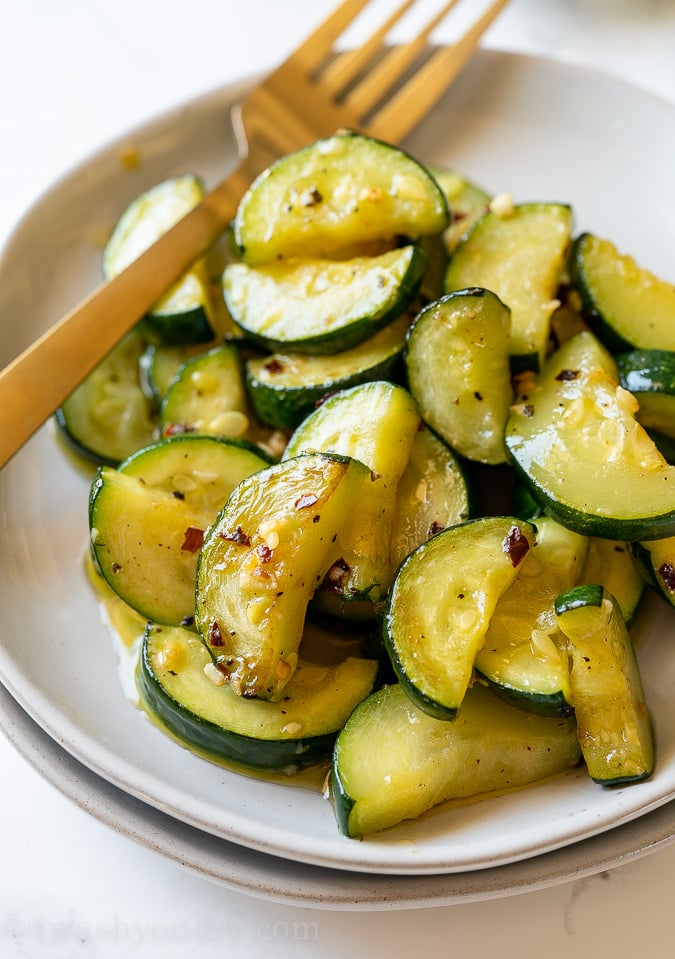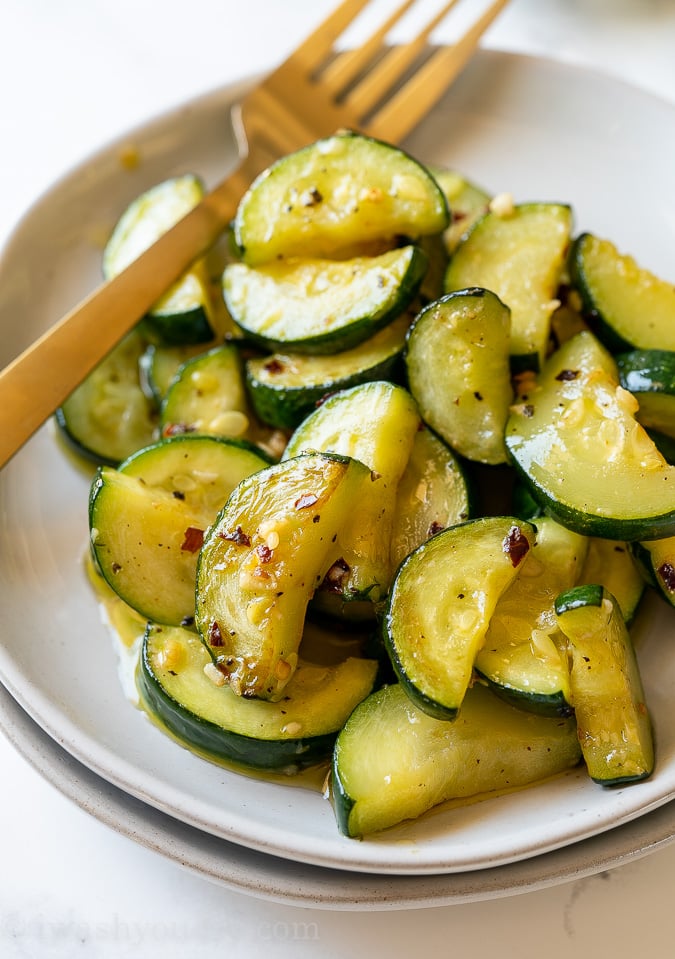 Sautéed Zucchini Recipe Variations and Tips
When you want to jazz up the flavor a little more, here are some of my favorite seasonings that compliment zucchini nicely.
Dried Oregano – add just a 1/2 teaspoon of dried Oregano at the end for an herby flavor.
Lemon Zest – a little bit of lemon zest adds a bright punch of flavor and depth to this easy side dish.
Diced Onion – try adding in some diced onion along with the zucchini for a more substantial vegetable side dish recipe.
Chopped Bell Peppers – zucchini and bell peppers go hand in hand and would pair perfectly here.
Mushrooms – again, another awesome veggie that would go great with zucchini in this recipe.
Parmesan Cheese – sprinkle a little on top when you're finished cooking for a cheesy side dish!
More Zucchini Recipes To Try
Can't get enough of zucchini? Have it growing out of your ears? Here are a few more of my favorite ways to prepare zucchini that I'm sure you'll love!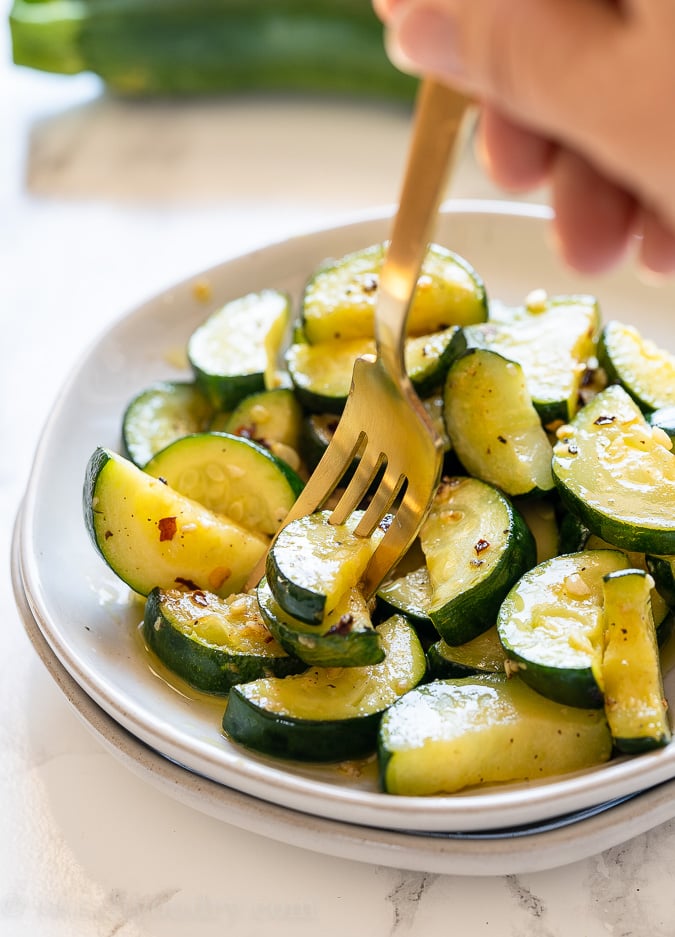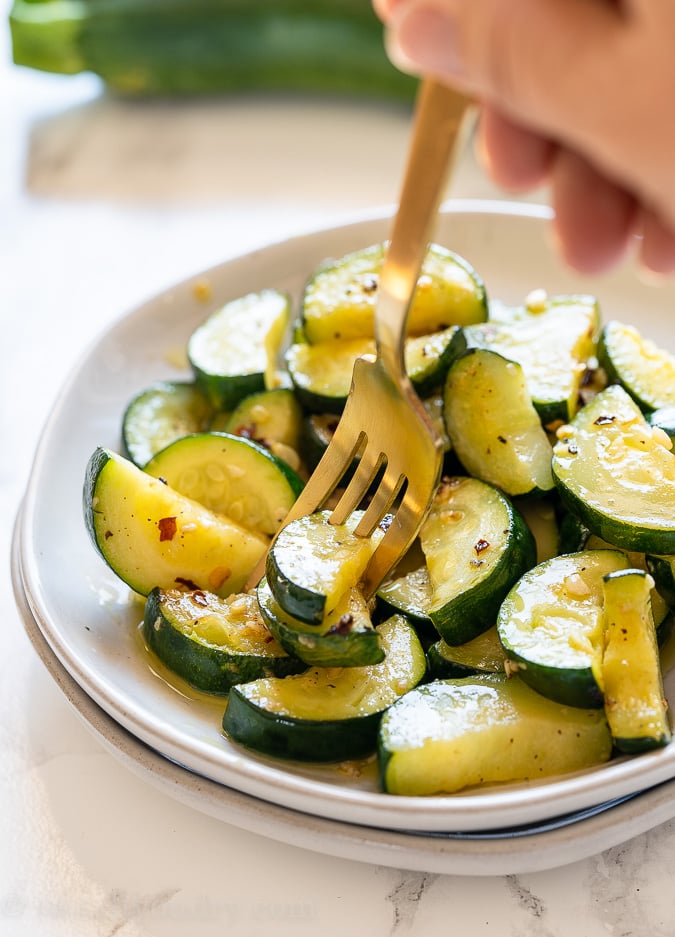 Easy Vegetable Side Dish Recipes –
Since I'm always on a mission to make more veggie side dishes that my kids will eat, here are a few instant favorites that I know your family will love too!
I hope you give this easy Sautéed Zucchini Recipe a try and enjoy it as much as we do!
Easy Sautéed Zucchini Recipe
The perfect stove top zucchini recipe that includes basic ingredients. My family LOVES this easy vegetable side dish recipe!
Ingredients
3

medium

zucchini

,

cut into half moons

2

tbsp

butter

,

salted

1

tbsp

olive oil

2

tsp

minced garlic

½

tsp

crushed red pepper

,

more or less to taste

salt and pepper,

to taste
Instructions
Heat butter and olive oil in a stainless steel or cast iron (not a non-stick) pan over medium-high heat.

Add zucchini when butter mixture is hot and zucchini sizzles when it touches. Cook, stirring occasionally, until the zucchini is lightly browned and tender.

Stir in the garlic, crushed red pepper, salt and pepper and cook until fragrant, about 30 seconds. Serve immediately and enjoy!
Nutrition
Calories:
110
kcal
|
Carbohydrates:
5
g
|
Protein:
2
g
|
Fat:
10
g
|
Saturated Fat:
4
g
|
Cholesterol:
15
mg
|
Sodium:
67
mg
|
Potassium:
384
mg
|
Fiber:
2
g
|
Sugar:
4
g
|
Vitamin A:
546
IU
|
Vitamin C:
27
mg
|
Calcium:
26
mg
|
Iron:
1
mg
Keywords:
15 minute, Sauté, Vegetable, zucchini
PIN THIS IMAGE TO SAVE THE RECIPE: