These Perfectly Delicious Zucchini Recipes are quick to make with fresh produce in the summer, or year-round.
Delightfully tender and incredibly versatile, zucchini is a gem that never fails to inspire creativity in the kitchen. Whether you're crafting a light summer salad, a hearty pasta, or a savory casserole, this vegetable will always have your back.
Pair these savory zucchini based recipes with a protein like my Oven Baked Chicken Breast, or a Grilled Skirt Steak to get a perfectly balanced meal!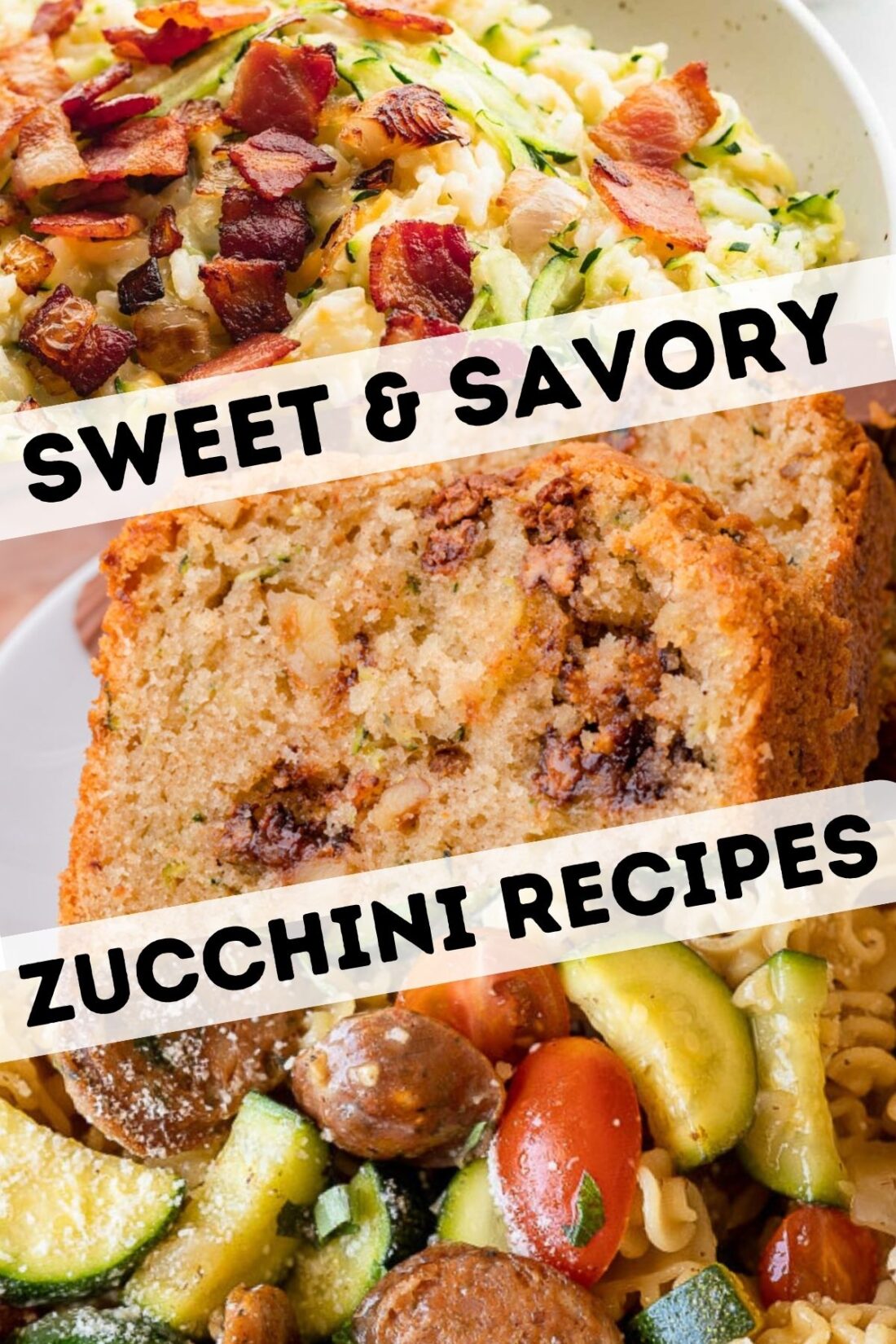 Perfect Zucchini Recipes
These recipes are the easiest way to make the most of your summer bounty of zucchini. Zucchinis' adaptability, versatility, and availability from different sources contribute to their popularity as a year-round ingredient in a variety of dishes. Whether you are looking for a side, main dish, appetizer, or a sweet treat, zucchini is the perfect vegetable to put to use in almost every meal.
Zucchini Side Recipes
These side recipes are so light and flavorful, they are sure to steal the show! A quick tip when it comes to zucchini, typically the smaller to medium sized ones have more flavor, less water content, and a more tender texture compared to the larger ones. Whether you're sautéing, grilling, or incorporating them into sweet treats, the intense flavor of smaller zucchinis can elevate your recipes.
Main Zucchini Recipes
Zucchini pairs exceptionally well with pasta, but it also doubles as a pasta replacment for those watching their carbs! Zucchinis are 95% water making them very low-carb, diet-friendly option.
Add a protein like chicken, pork, or even shrimp to turn the recipe into an easy and satisfying meal. These dinners are so quick to make, and my favorite savory zucchini recipes.
Sweet Zucchini Recipes
The great thing about zucchini, is that not only does it make the most delicious savory recipes, but it also makes the best sweet recipes!
Its mild, almost neutral flavor provides a moist and tender texture while absorbing and enhancing the other flavors. When grated or pureed, zucchini adds natural moisture and a subtle sweetness to baked goods like muffins, cakes, and breads, removing the need for excessive fats or sugars almost completely.
Zucchini, with its mild and versatile flavor, lends itself beautifully to a plethora of delectable recipes. Whether you're aiming for a wholesome and nutritious meal or a delightful indulgence, zucchini has you covered. Zucchini truly shines as a versatile culinary canvas, inspiring an array of recipes to suit every palate and occasion.
How To Freeze And Store Zucchini?
Zucchini makes for the most refreshing and nutritious vegetable, and it's super easy to store for delicious zucchini recipes during all seasons. Here is the full post I made on freezing zucchini as well as a few different ways to use it!
If you have had a bountiful zucchini harvest this year, you might be struggling to use all of them or give them away before they spoil. To preserve it all year round, all you need is a cheese grater, zip close bags, and paper towels or cheese cloth.
Wash your zucchini, and use a medium grate to shred it.
Scoop two cups in to a bowl lined with paper towels or a cheese cloth.
Squeeze as much moisture out as you can and put the shredded zucchini in to a zip close bag.
Spread it out flat, mark the date on the bag, and freeze!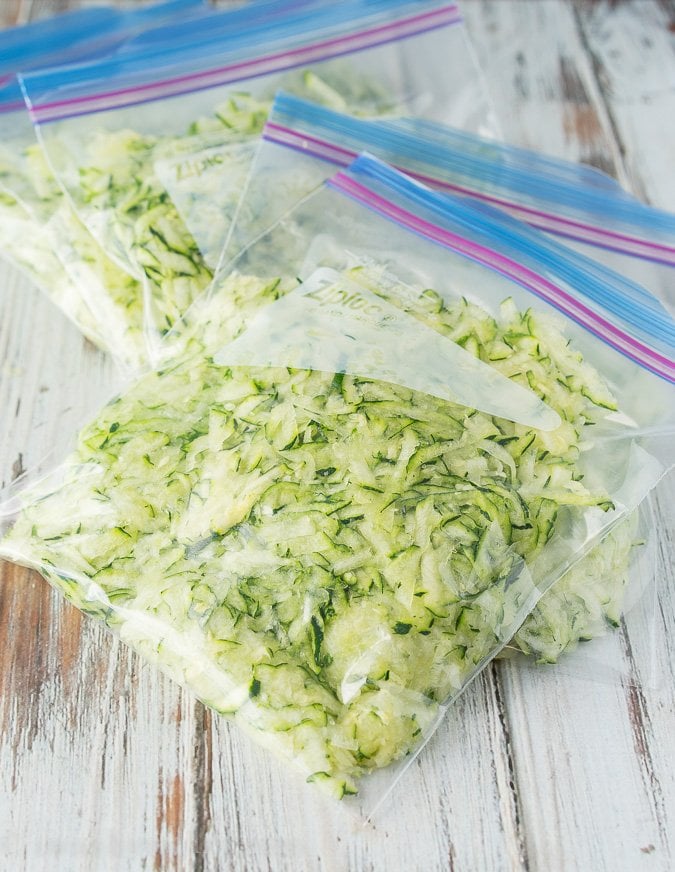 When you are ready for use, remove a bag from the freezer and let it dethaw in the fridge. If you need to speed the process up, you can submerge the bag in a sink full of cool water until it is completely thawed.
When properly prepared and stored, zucchini can last in the freezer for about 10 to 12 months. However, its quality and flavor may start to deteriorate after around 6 to 8 months.
Frequently Asked Questions
How Do You Keep Zucchini From Getting Soggy When Cooking?
Control Moisture: Zucchini contains a high water content, which can lead to sogginess. To minimize this, start by salting the sliced or grated zucchini and allowing it to sit for about 10-15 minutes. This helps draw out excess moisture. Afterward, pat the zucchini dry with paper towels before cooking.
Use High Heat: When sautéing or stir-frying zucchini, use high heat and a wide pan. This allows for quick cooking, which reduces the chances of the zucchini releasing too much moisture.
Avoid Overcrowding: When cooking zucchini in a pan, avoid overcrowding the pan. Overcrowding can trap moisture and prevent proper browning. Cook in batches if needed.
Does Zucchini Need To Be Peeled Before Cooking?
In dishes where zucchini is sliced or diced and cooked quickly, such as sautéing, stir-frying, grilling, or roasting, leaving the skin on is often a good choice. It adds color, nutrients, and flavor to your dish. In fact, most of the flavor and nutrients is contained in the skin. The darker the skin, the more nutrient dense!
However, if you find the skin too tough or if you're making a recipe that requires a very smooth consistency, peeling might be a suitable option.
What Happens When You Cook Zucchini For Too Long?
When zucchini is cooked for too long, it can lead to a variety of undesirable outcomes, primarily affecting its texture, flavor, and nutritional value.
Texture Changes: Overcooked zucchini can become mushy, limp, and overly soft. Its natural crispness and bite are lost.
Flavor Loss: Zucchini's delicate flavor can diminish when overcooked, leading to a bland or dull taste.
Nutrient Loss: Prolonged cooking can cause the zucchini to lose some of its nutritional value, including vitamins, minerals, and antioxidants.
To avoid these issues, it's important to cook zucchini just until it's tender and retains its vibrant color. Ultimately, the goal is to strike a balance between cooking zucchini long enough to achieve the desired level of tenderness and flavor without overdoing it and compromising its overall quality.
Here is a collection of more quick and easy zucchini recipes that you can enjoy and share throughout every season of the year!