This Copycat Kung Pao Chicken Recipe is filled with tender chicken and veggies in a slightly spicy sauce that rivals the popular Panda Express restaurant chain!
We love to serve this tender chicken stir fry up with my Crispy Chicken Egg Rolls, Egg Drop Soup or Quick Fried Rice for a complete meal.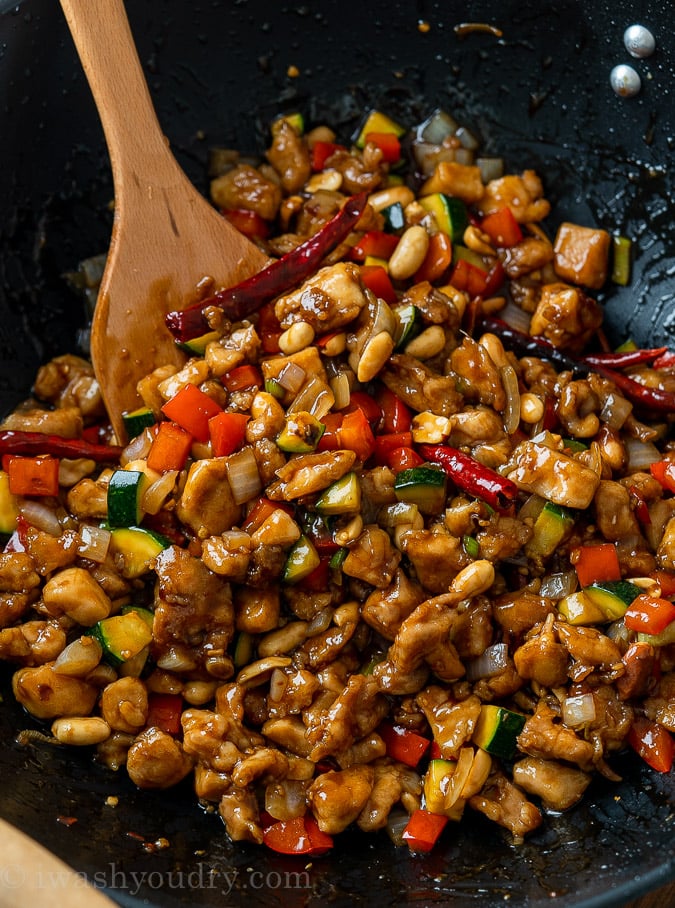 Don't be afraid of the word spicy when it comes to this Kung Pao Chicken recipe. You have complete control of the spice level! You can make it hotter or tame it way down based on your preference.
Easy Kung Pao Chicken Recipe
No matter where you go, there are some distinct ingredients that you'll find in a kung pao chicken that differentiate it from other Asian recipes.
Those ingredients are: dried chili peppers, peppers and onions, a slightly sweet and spicy sauce and peanuts.
Other ingredients can bulk up the recipe, but those listed above are mandatory for a true Kung Pao Chicken.
Ingredients Needed for Homemade Kung Pao Chicken
Here's a basic list of the ingredients you'll need in order to make this kung pao chicken from scratch. As always, you can find the full list of ingredients in the printable recipe card below.
Chicken Thighs – I prefer thighs for this recipe, but you can also use chicken breast
Egg White
Corn Starch
Red Bell Pepper
Onion
Zucchini
Garlic
Ginger
Whole Dried Chili Peppers
Sesame Oil
Roasted, Unsalted Peanuts
Ingredients for Kung Pao Sauce:
Here are the ingredients you'll need to make a delicious kung pao sauce…
Water
Light Soy Sauce
Balsamic Vinegar – or Chinese Black Vinegar (if you can find it)
Chinese Shaoxing wine – or dry sherry
Tamari – or dark soy sauce
Hoisin Sauce
Sugar
Cornstarch
How To Make Kung Pao Chicken
This recipe may contain a handful of ingredients, but it actually comes together quite quickly.
Start by making a quick coating for the chicken with the beaten egg white, cornstarch, salt and a little sesame oil. Let this sit in the fridge for about 20 minutes while you prep the rest of the ingredients.
Cook the chicken in batches in some hot oil until it's nice and crisp on the outside, then move to a plate to keep warm.
Toss the veggies in the pan and cook until nice and tender, then remove those as well.
Finally, stir in the garlic, ginger, peppers and green onions and cook until fragrant. Then pour in the sauce ingredients and cook until thickened.
Add the chicken and veggies back to the pan with the sauce and toss to combine.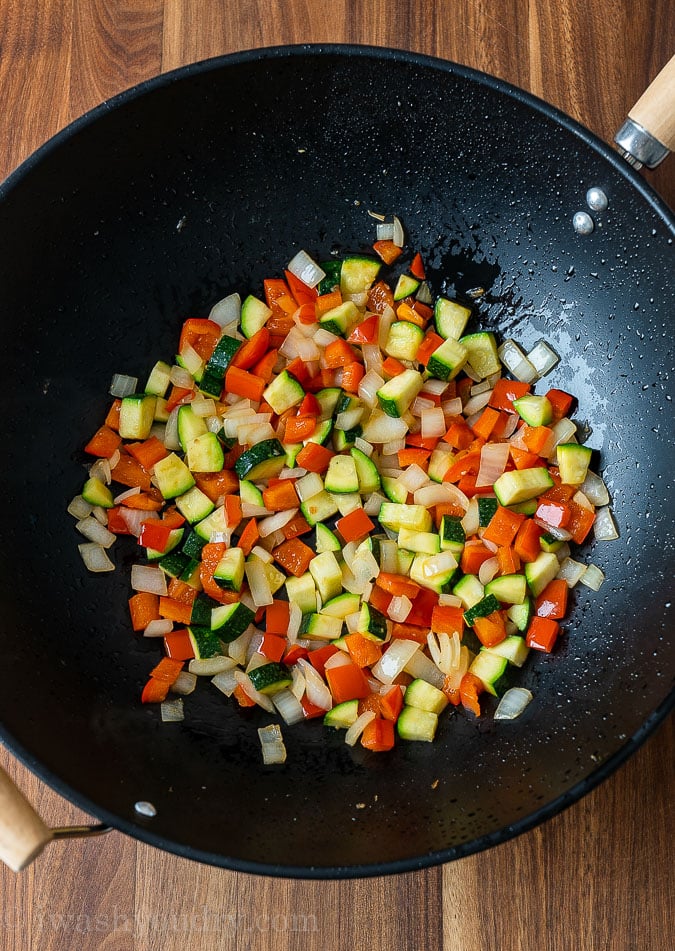 What Is the Difference Between Light Soy Sauce and Dark Soy Sauce?
You'll notice that in the sauce ingredients I call for both light and dark soy sauce.
Dark Soy Sauce is a dark colored soy sauce used mainly for adding color and flavor to dishes. It's richer, slightly thicker, and less salty than other types of soy sauce.
Light Soy Sauce is light in color, almost a see through reddish-brown, and thin in viscosity. It's salty and adds a delightful flavor to the kung pao sauce.
How To Adjust Spice Level
Not ready for the spice power of Kung Pao Chicken? Not to worry! This recipe is easily adjustable to every taste palate.
Reduce or remove the amount of whole dried chili peppers (really, I just add them in for an overall spice, but I usually push them aside when I eat the dish).
You can also reduce the amount of crushed red peppers added, which will really reduce the spice level of the recipe.
Do I Have To Use a Wok?
No, you do not have to use a wok for this recipe, but it sure makes it easier!
A wok is a large, thin pot that is great for stir fries because it heats up quickly, has lots of space and keeps everything contained.
I picked up mine from IKEA years ago for like $15, but here is a similar one on Amazon!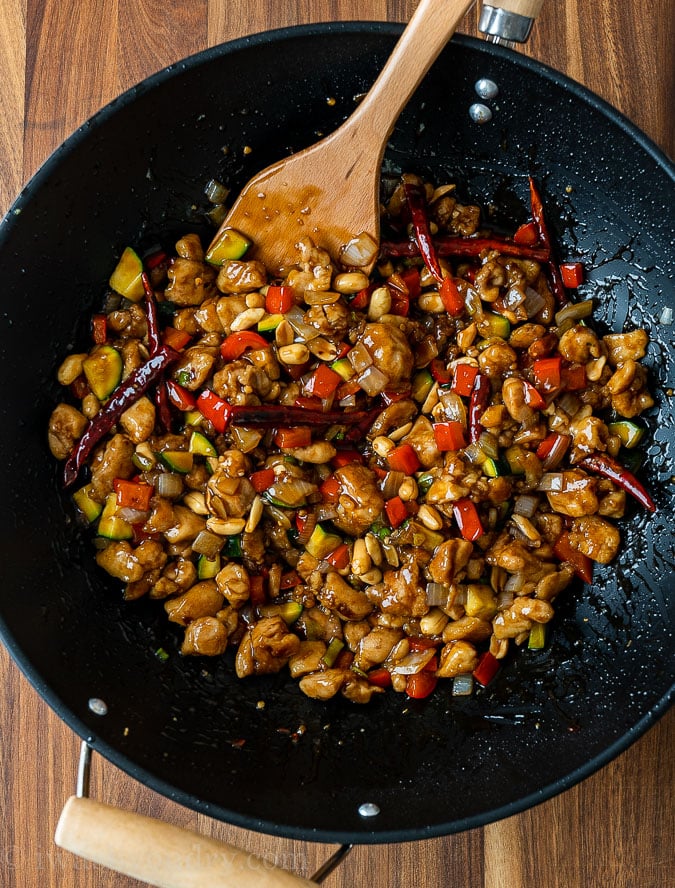 I've had this recipe for Kung Pao Chicken on my site for quite some time now. It was one of the first recipes I ever made, back in 2010! Yikes, don't look at those photos!
I took the same base recipe, but substituted zucchini for the green bell peppers, and adjusted the sauce for a more rich and flavorful taste.
You guys… this recipe is a keeper!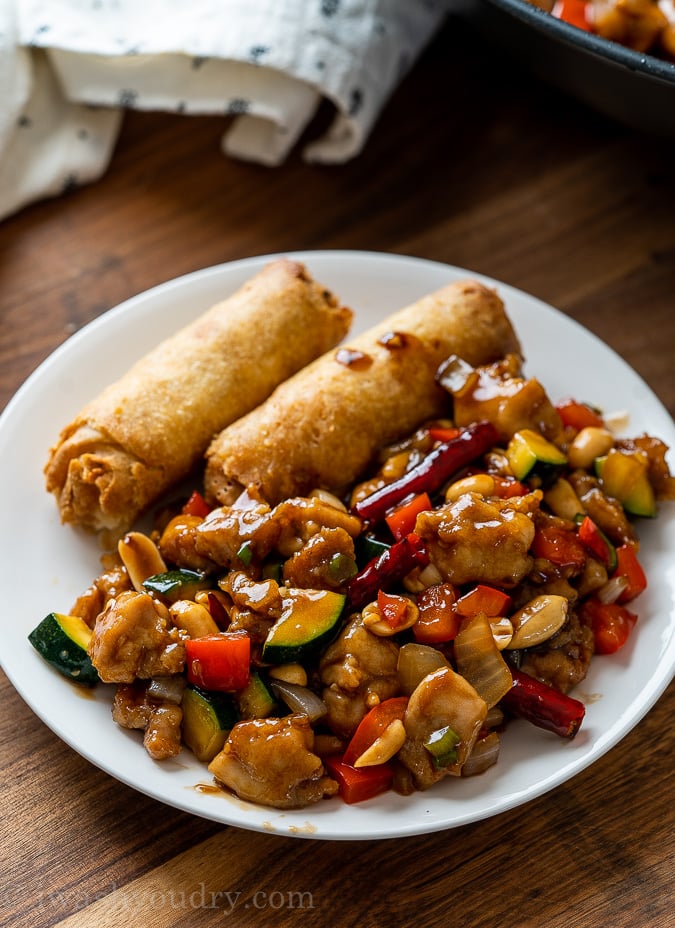 More Asian Recipes To Try:
Craving more? Here are some of our favorite Chinese take-out recipes that you can easily make at home.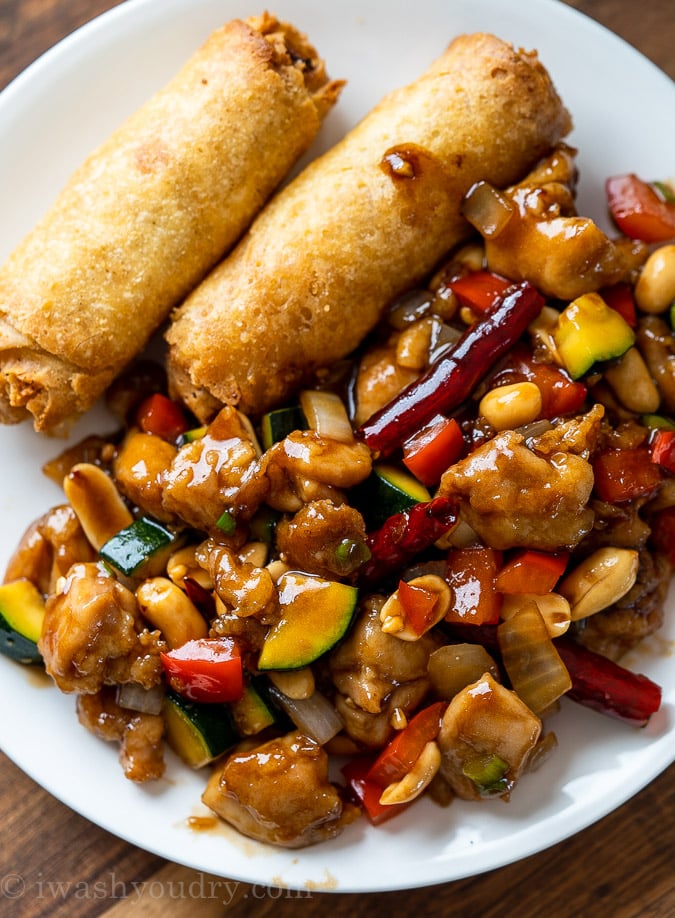 You're going to love this easy recipe!
Copycat Kung Pao Chicken
This Copycat Kung Pao Chicken Recipe is one of my all time favorite dinner recipes. It's filled with tender chicken and veggies in a slightly spicy sauce that rivals the popular restaurant chain!
Ingredients
Instructions
For the Chicken:
Combine the chicken with the salt, lightly beaten egg white, cornstarch, sesame oil and 1 tbsp vegetable oil, until coated. Chill for about 20 to 30 minutes. Heat a large wok over medium high heat and add 1 tbsp vegetable oil. Cook the chicken until browned and cooked through (cook in batches to avoid over crowding of pan). Remove chicken from wok and set aside.
For the Sauce:
Combine the sauce ingredients in a bowl and whisk to combine, until sugar is dissolved. Set aside.
For the Stir Fry Veggies:
Add the remaining 1 tbsp vegetable oil to the wok and turn heat up to high. The wok should be really hot when you add in the veggies. Stir fry veggies for just 2 to 4 minutes, until slightly charred and glistening. Remove from wok and keep warm with the chicken.

Heat 1 tsp sesame oil in the wok over medium high heat. Toss in the dried chili peppers, green onion, ginger, garlic, crushed red pepper flakes and peanuts and cook until fragrant, about 1 minute.

Stir the sauce mixture again and immediately add it to the pan and bring to a small boil, then cook until the sauce thickens.

Finally, add the chicken and veggies back into the sauce and stir to coat. Enjoy!
Notes
You can use a large, heavy bottomed skillet if you do not have a wok.
Nutrition
Calories:
311
kcal
|
Carbohydrates:
17
g
|
Protein:
21
g
|
Fat:
18
g
|
Saturated Fat:
8
g
|
Cholesterol:
72
mg
|
Sodium:
1025
mg
|
Potassium:
560
mg
|
Fiber:
3
g
|
Sugar:
7
g
|
Vitamin A:
1343
IU
|
Vitamin C:
47
mg
|
Calcium:
40
mg
|
Iron:
2
mg
Keywords:
Chicken, copycat, Kung Pao, Skillet, Spicy
PIN THIS IMAGE TO SAVE THE RECIPE: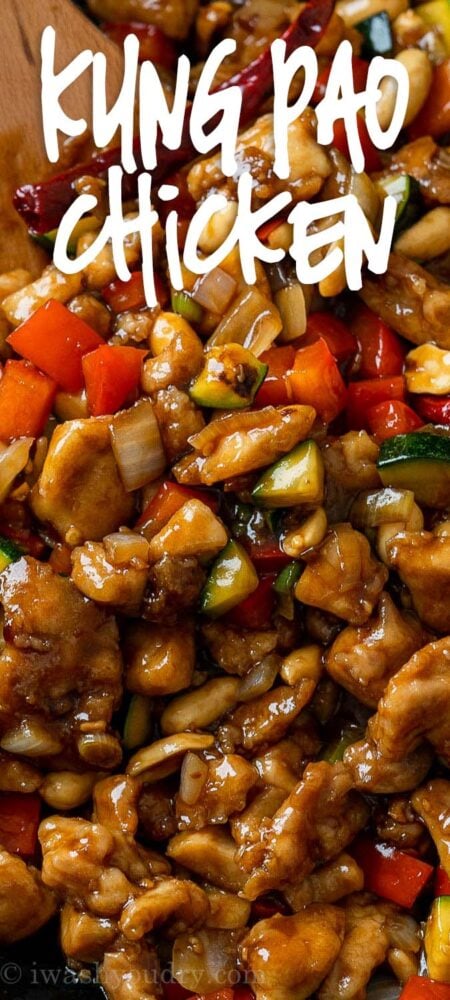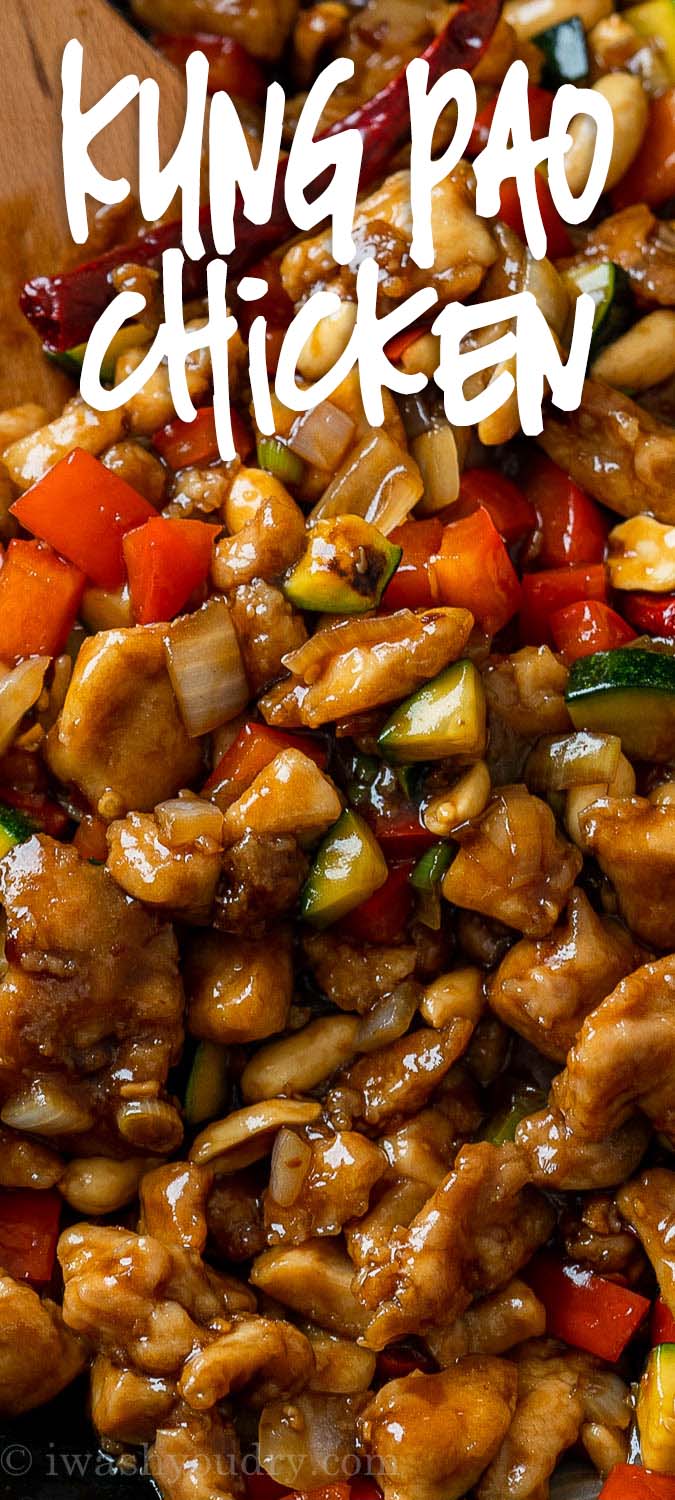 Last updated on September 23, 2023 11:36 pm