I'm so excited about this Cajun Chicken Pasta Skillet! It's a creamy, cheesy and a slightly spicy chicken with pasta that's all cooked in just one skillet!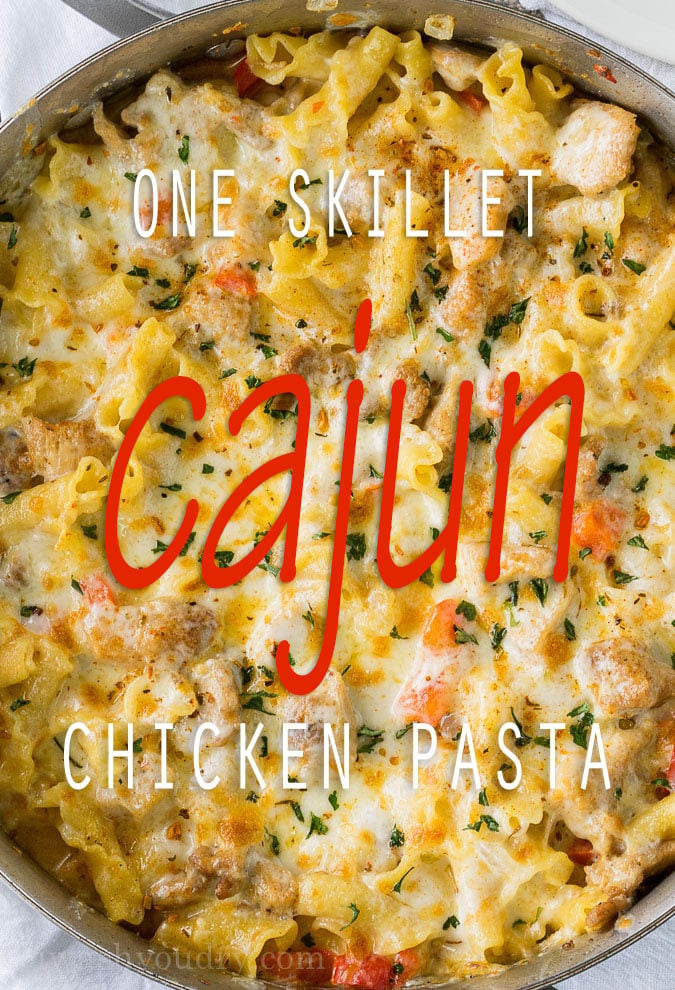 I hope you all had a fantastic Memorial Day Weekend!
We spent the long weekend in Mexico, camping in our trailer on the beach. It was seriously one of the most relaxing vacations I've been on in quite a while. We enjoyed the cool beach breeze, warm sun and a few splashes in the ocean.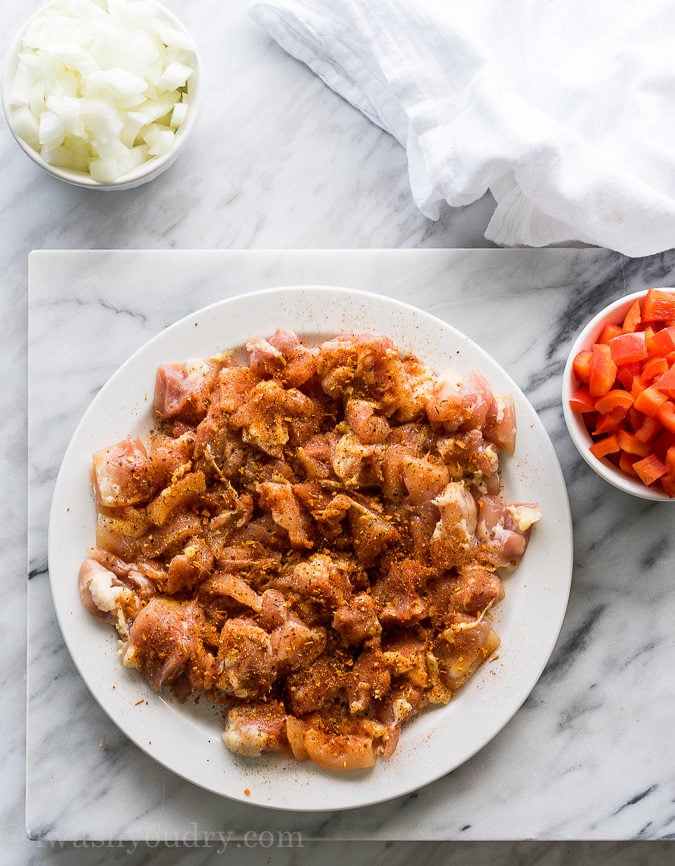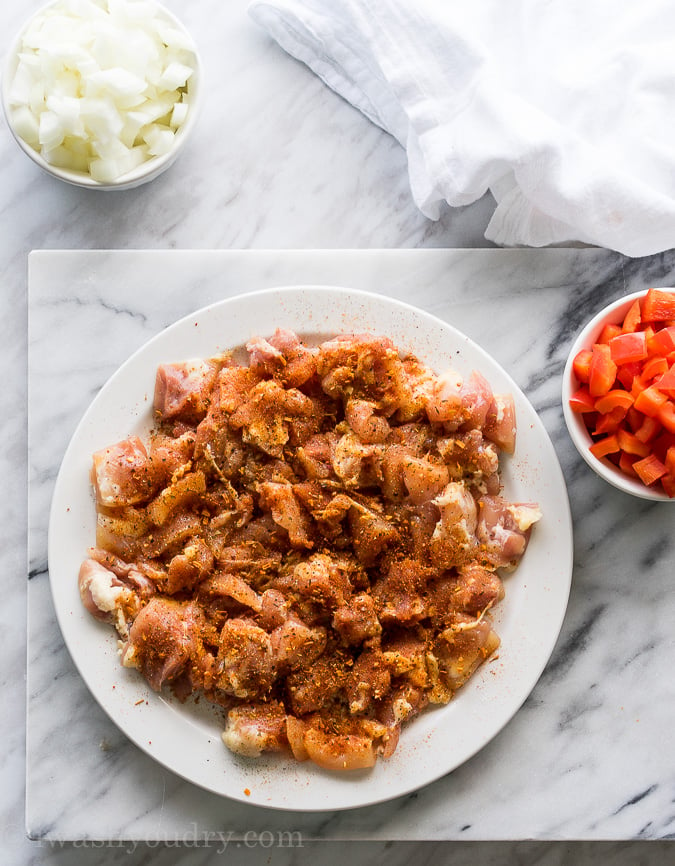 When you have 4 kids, going on vacation can get expensive.
We were able to camp on the beach for just $35 a night, which included full hook-ups for our tiny trailer. Before we left for Mexico we planned a menu and stocked our little fridge and cupboards with food. I think I spent $75 on all of the food we needed for the 6 days we were there.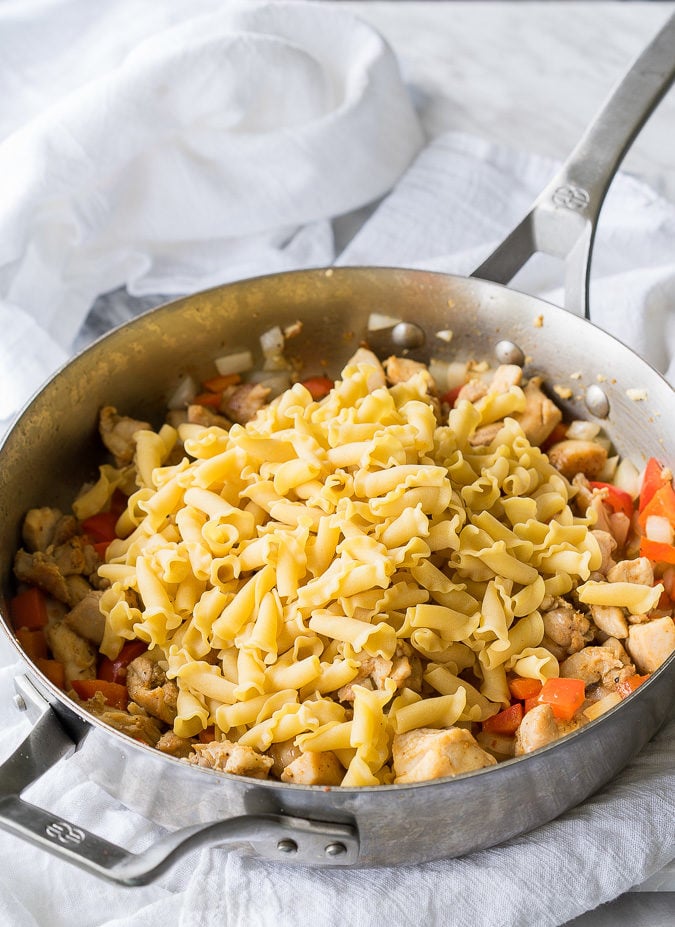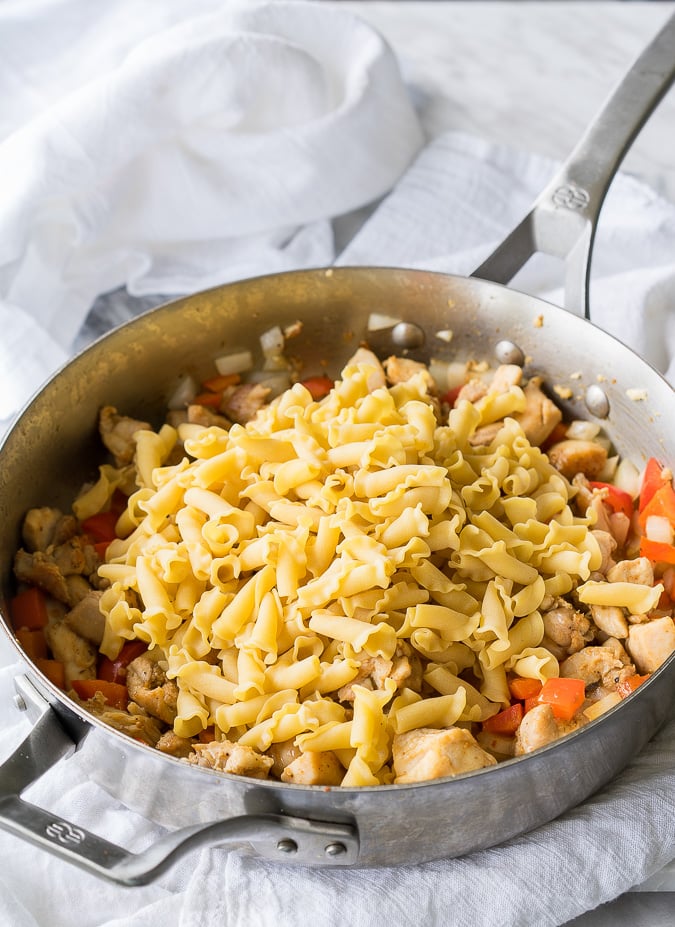 We also left some meals open for going out to eat, cause when in Mexico… eat chips and guacamole!
The first time we went to get some lunch with the kids at a restaurant we ended up spending nearly $70! I was shocked. Basically I never take my kids out to eat unless it's to Chick-fil-A or Jimmy John's, so spending practically the same amount for one meal as I did for the entire week… yeah, no bueno.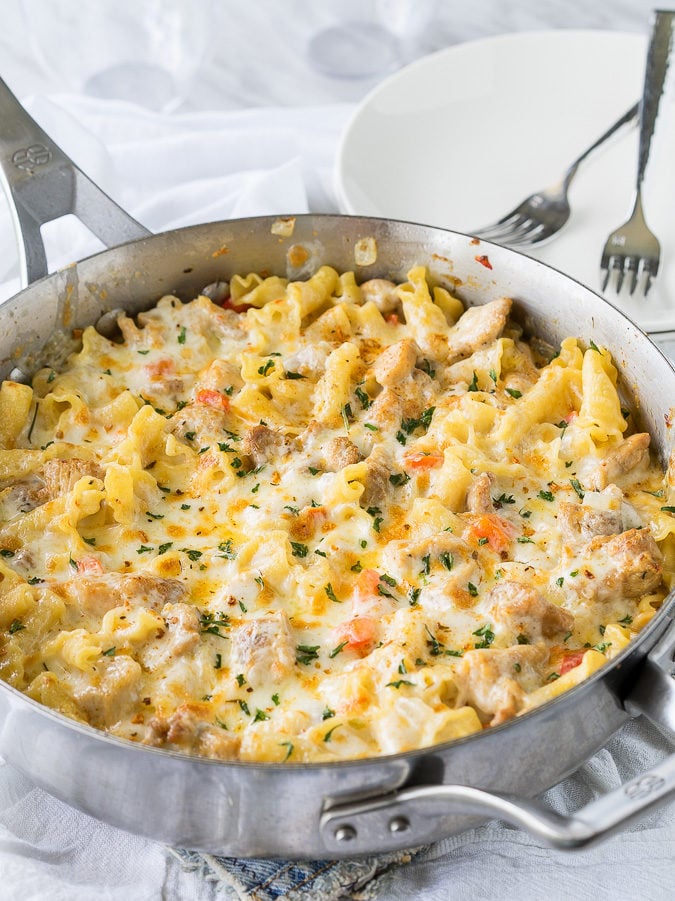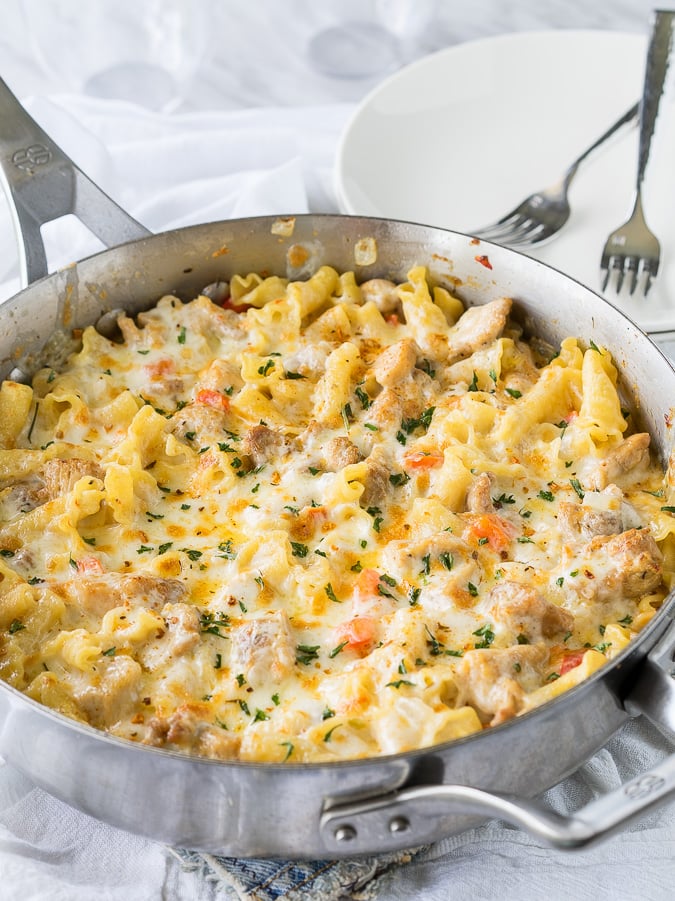 Plus taking my kids out to a restaurant is the equivalent of me trying to pull my hair out while simultaneously stepping in a bucket of broken sea shells.
So yeah, I happily made more one skillet dinners in my tiny trailer kitchen for the remainder of our visit.
We don't have an oven in our trailer, just a small three burner stove top so I made my Mexican Beef and Rice Skillet and this Cajun Chicken Pasta Skillet. We ate like kings.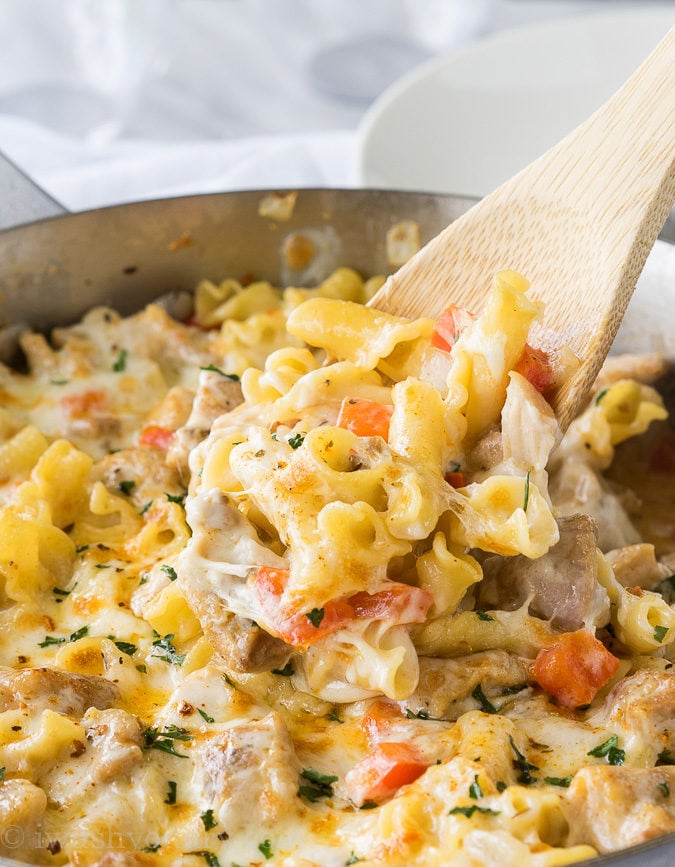 I'm obsessed with this easy skillet recipe. The chicken and pasta are all cooked in one skillet for an easy weeknight dinner.
I used chicken thighs for this recipe, but chicken breast would also work.
The creamy and cheesy pasta is paired perfectly with a slightly spiced cajun chicken. I've plumped up the skillet with diced onion and red bell peppers. You could also add some mushrooms like I did in this pasta skillet recipe I made years ago. So good!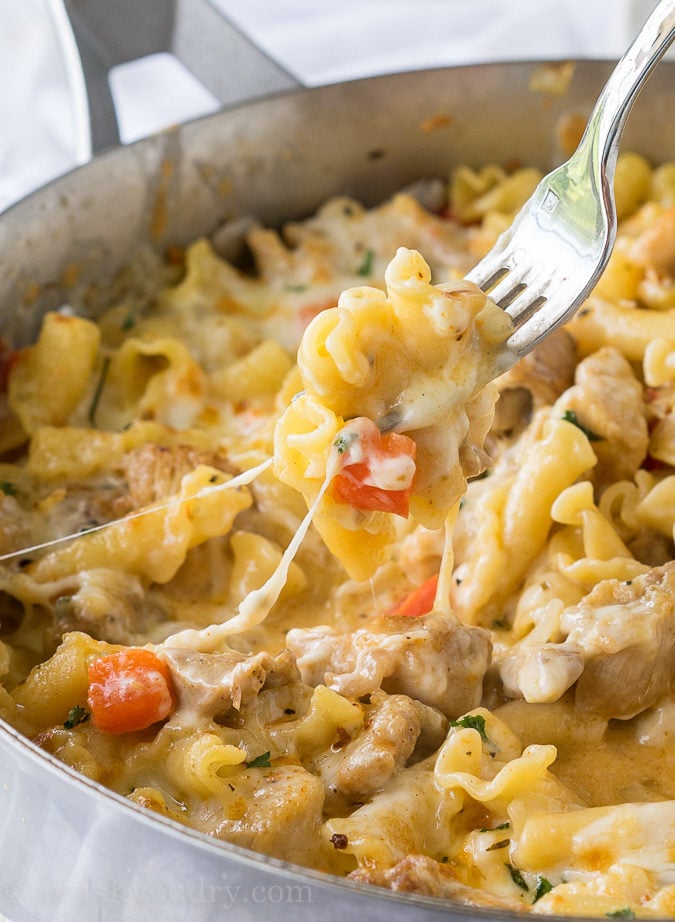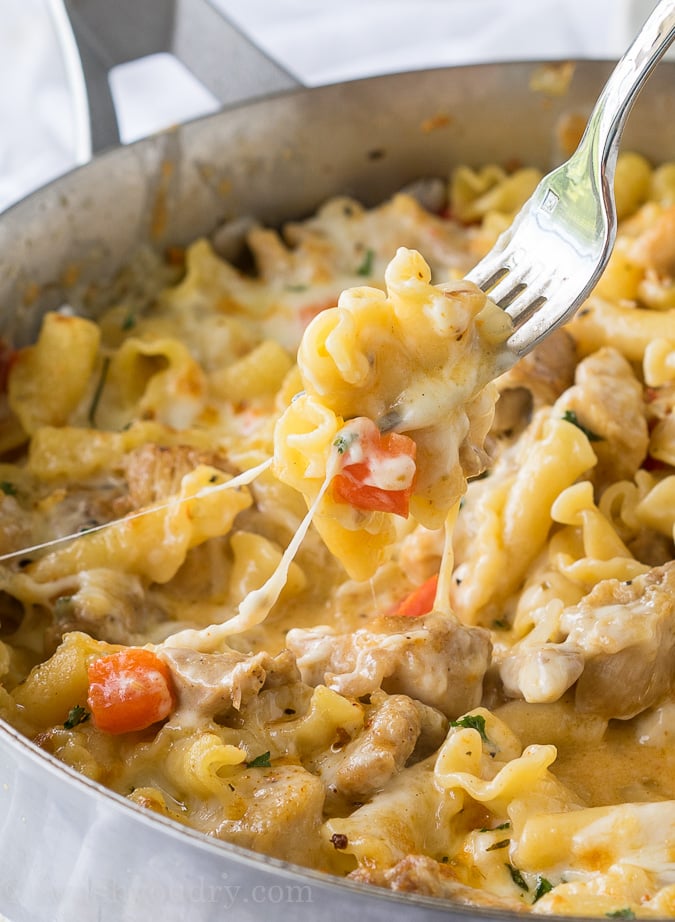 When in doubt, go with a delicious one skillet dinner to save time, money and just a little sanity!
Make sure you don't miss a thing! Follow I Wash You Dry here:
FACEBOOK | PINTEREST | GOOGLE+ | TWITTER | INSTAGRAM | BLOGLOVIN
Print
Cajun Chicken Pasta Skillet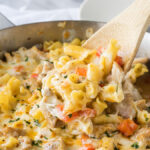 Ingredients
1 1/4 lbs. boneless skinless chicken thighs, cut into bite-size pieces
salt & pepper
2 tbsp cajun seasoning, divided
1 tbsp olive oil
1 red bell pepper, diced
1/2 large onion, diced
2 cloves garlic, minced
2 cups chicken broth
10 oz. uncooked campanelli noodles
2 tbsp heavy cream
1 1/2 cups monterey jack cheese, shredded
parsley for garnish
Instructions
Season the diced chicken thighs with salt, pepper and 1 tbsp of the cajun seasoning.
Heat oil in a large skillet over medium high heat and cook chicken until browned on all sides, stirring occasionally. Add the bell pepper, onion and garlic to the skillet. Cook another couple minutes until the onions and pepper are tender.
Add the chicken broth and uncooked noodles to the skillet, stir to combine. Bring to a gentle boil, then reduce heat to a simmer. Cover and cook for 10 to 15 minutes or until pasta is tender, stirring occasionally.
Stir in the heavy cream and remaining cajun seasoning until combined. Top with the shredded monterey jack cheese and broil about 5 inches away from the heating element in your oven for about 2 to 3 minutes, or until cheese is slightly browned and bubbly. Carefully remove from oven, let cool slightly, garnish with parsley if desired and enjoy!