This Freezer Friendly Baked Ziti is a fantastic Italian casserole that's filled with a meaty red sauce, tender ziti noodles and a creamy, cheesy filling!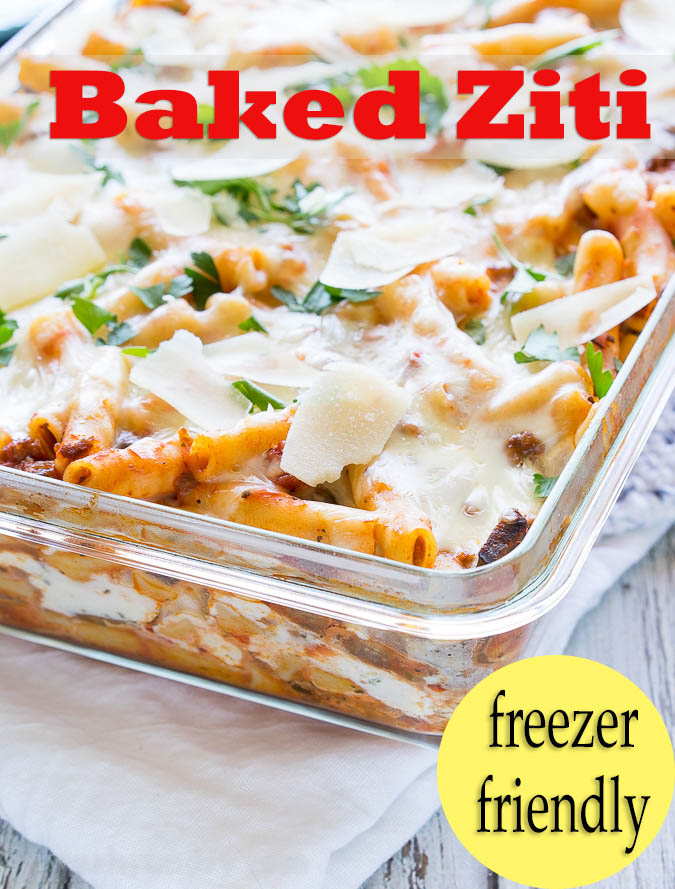 There is nothing quite as satisfying as knowing that you have dinner prepared and ready to go. But when plans fall through, it's always nice to have a back up. That's what I love about this Freezer Friendly Baked Ziti!
More than just this ziti, I am loving these new Zyliss USA Food Storage containers that I received to try out!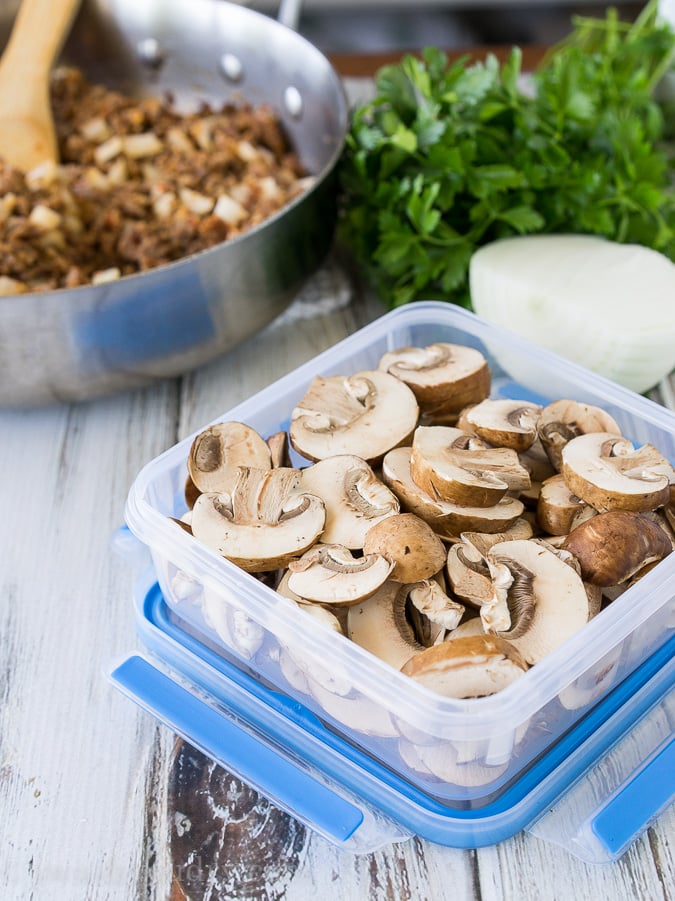 Naturally I've used a lot of different food storage containers in my day. Ones with stacking lids, disposable, locking lids… there are a lot of options out there.
What I'm loving about these ones is the rubber seal between the lid and the container. Typically there is a rubber gasket that goes up in the lid, which eventually leaves gaps and yucky food will get stuck in there and before you know it there is something growing under the lid.
Not with these ones!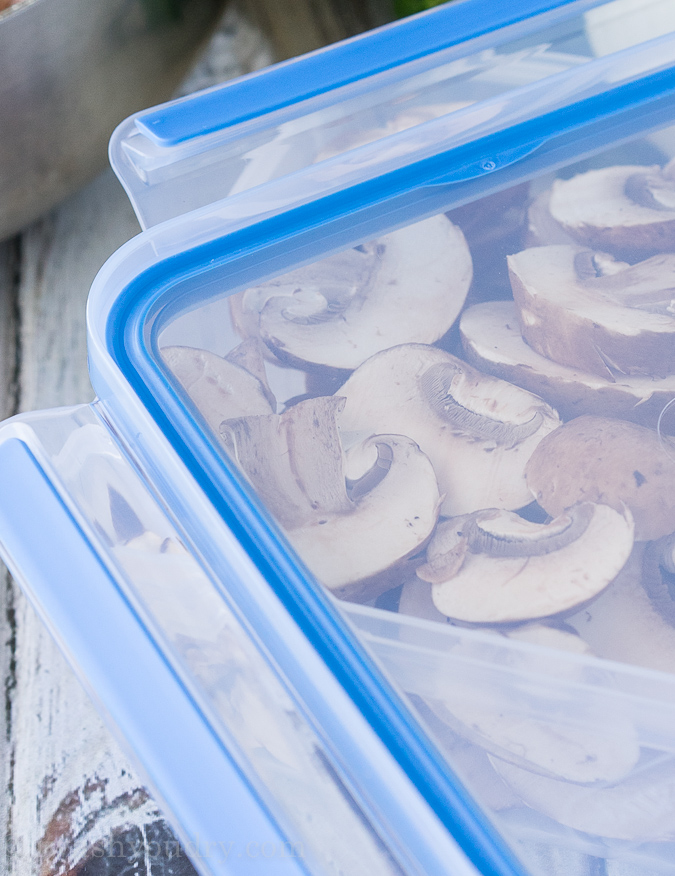 The rubber for this lid is actually a revolutionary patented, injected molded seal that does not allow gaps or food traps!
Brilliant!
Because of this, your food stays fresher up to 2 times longer! Think of all the money you'll save by not having to throw out rotten produce!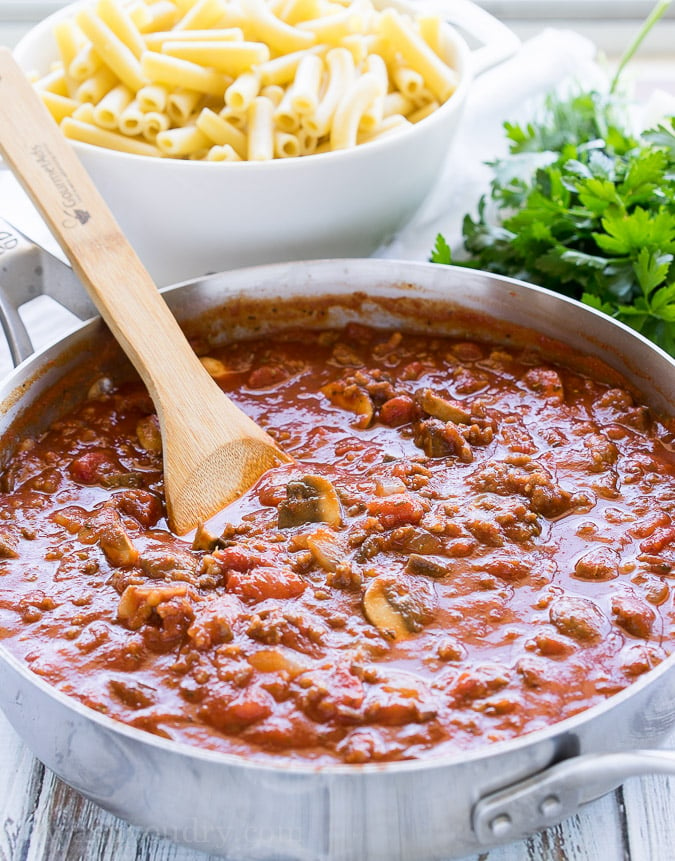 Anyways, back to the recipe…
I'm obsessed with this super flavorful meat sauce that is the base for the baked ziti. It's filled with fresh mushrooms, Italian sausage and plump tomatoes.
By the time the sauce is ready you'll have gathered the remainder of your ingredients, and it's just minutes to pull it all together.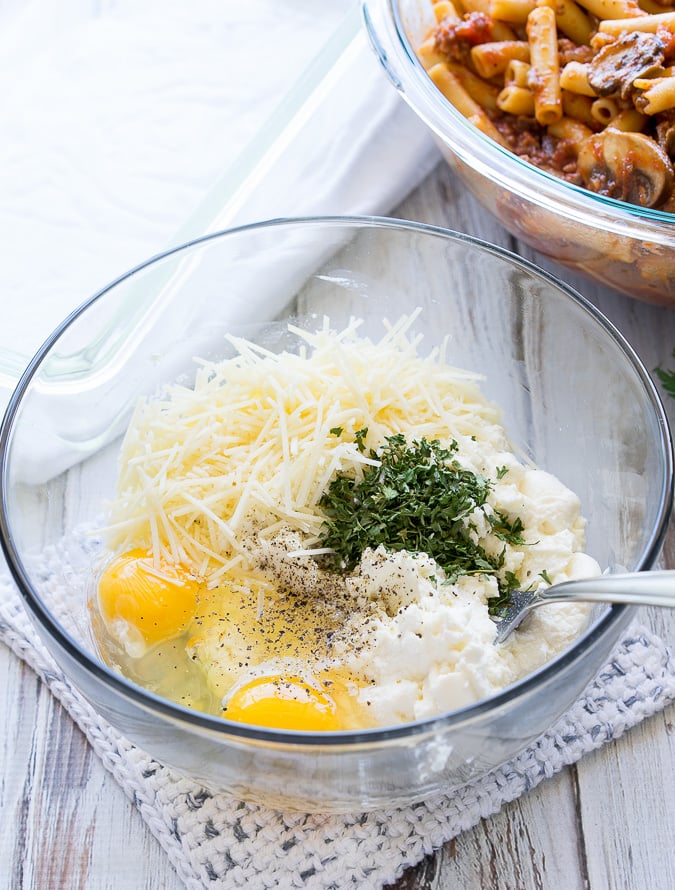 I couldn't do baked ziti without having a layer of lasagna filling in between. It truly makes this dish pop.
Combine some ricotta cheese, parmesan cheese, a couple eggs, a little salt and pepper and good dose of parsley.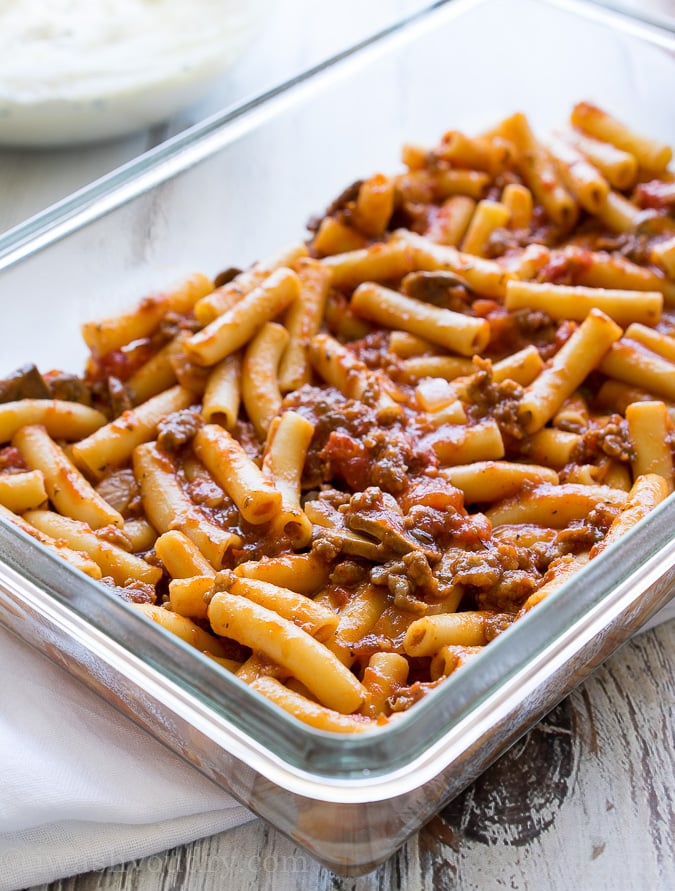 Since this is a freezer friendly dinner, make sure you grab a freezer friendly casserole dish!
Might I suggest this amazing Zyliss USA glass food storage container? 
Go from freezer to oven and right to the table with this bad boy!
It's airtight, so you're not going to worry about freezer burn. Leakproof, so no messy spills in the freezer. Plus it's microwave and dishwasher safe too! It's made from that tough Borosilicate glass and comes with a lifetime Zyliss guarantee too! Can you tell I'm a fan?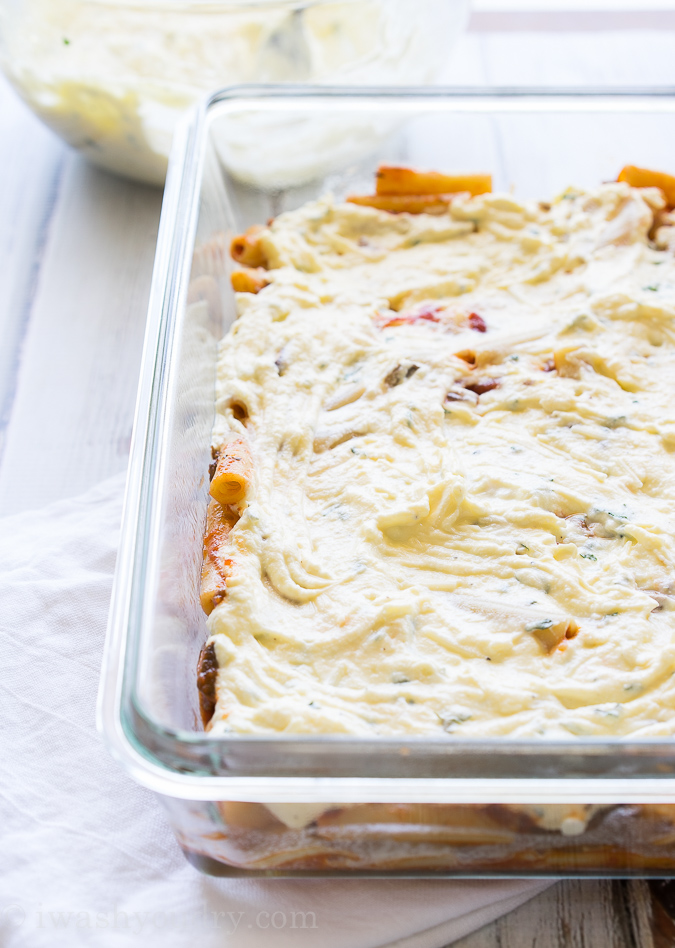 Once you get your first layer of noodles and sauce in there top it with the cheese mixture and a little (a lot) of mozzarella cheese.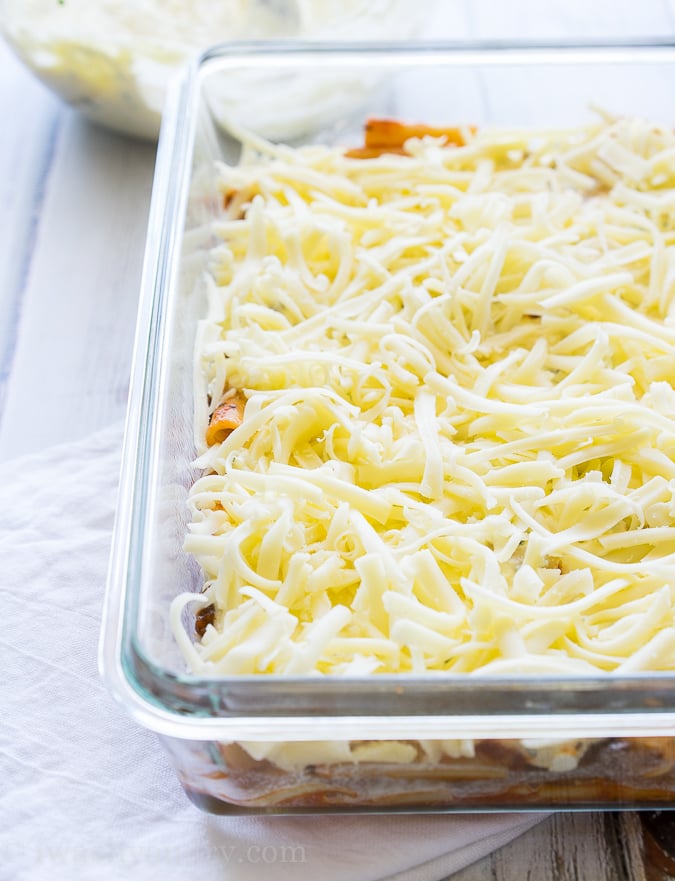 Repeat with another layer of noodles and sauce!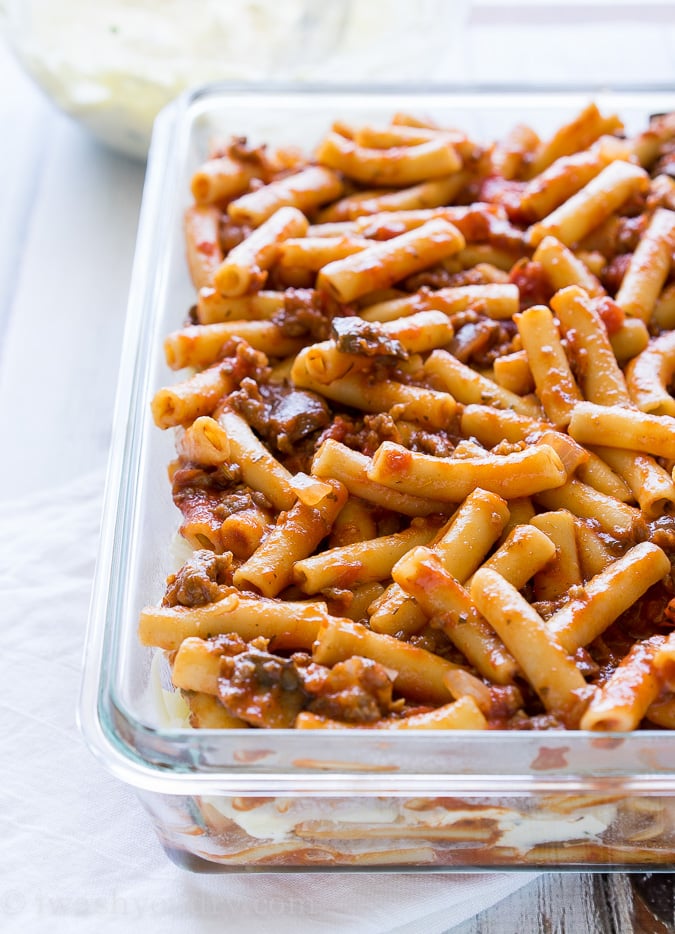 Follow that with another layer of cheese and you're all set to either bake right away or pop it in the freezer for another day!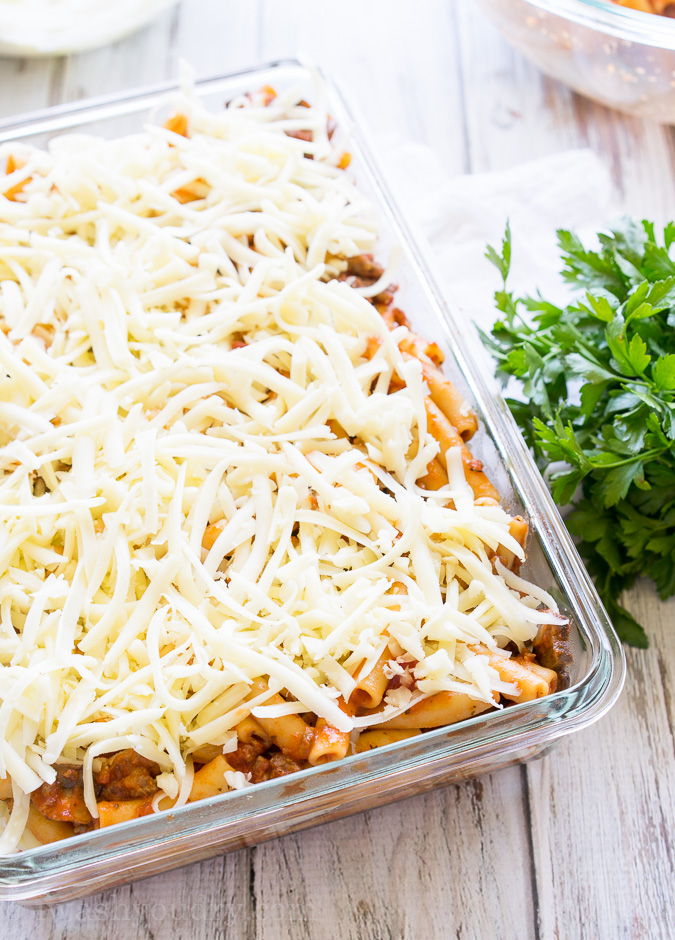 I love making freezer friendly casseroles for when I go out of town and the husband has to watch the kids.
It's so easy for him to just pop a dish in the oven, and it gives me peace of mind that they're not just eating pizza and chips every night.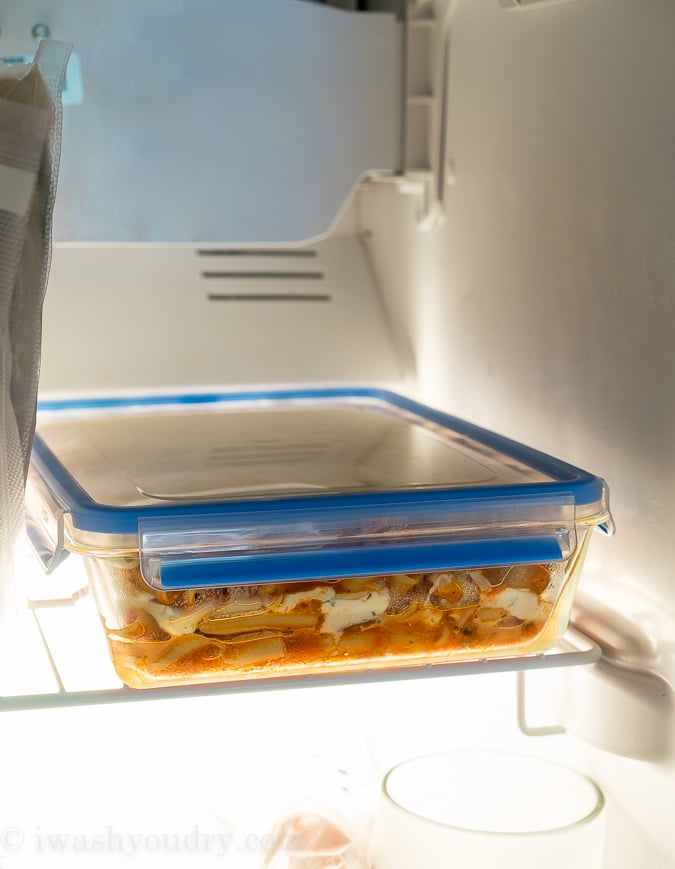 Plus if I ever have a friend or neighbor in need of a good dinner, I can easily just grab one from the freezer and help them out!
You'll be making friends with everyone when they try this baked ziti!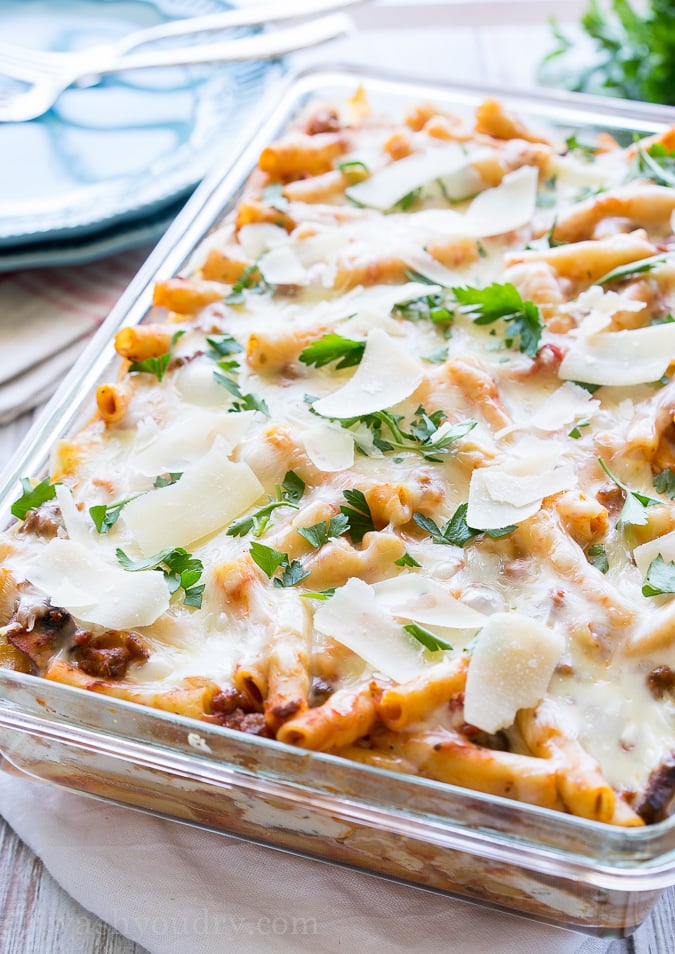 My husband and kids love this one so much. There are usually no leftovers, but when there are, I can just pop that lid right back on and place it in the fridge for leftover night later in the week.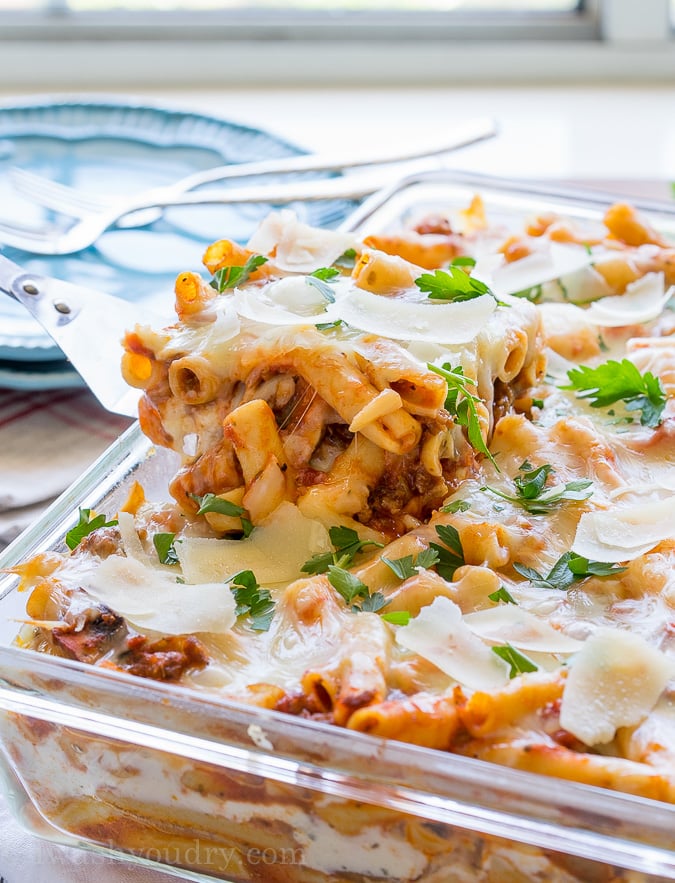 I don't know what I'm more excited about… the ziti or the containers!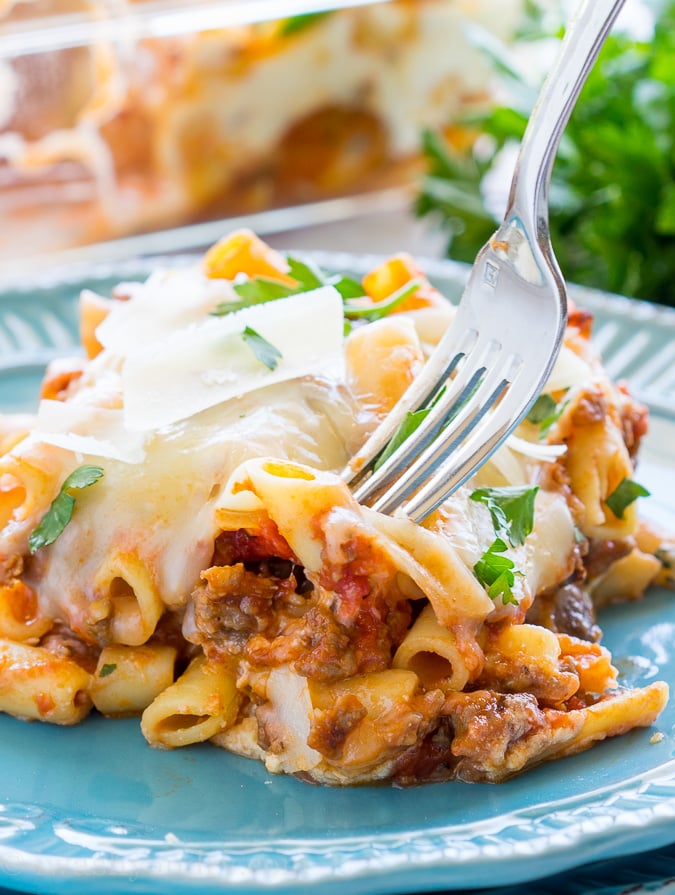 Now who else wants a big slice of this yumminess!?
Make sure you don't miss a thing! Follow I Wash You Dry here:
FACEBOOK | PINTEREST | GOOGLE+ | TWITTER | INSTAGRAM | BLOGLOVIN
Freezer Friendly Baked Ziti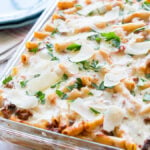 This Freezer Friendly Baked Ziti is a fantastic Italian casserole that's filled with a meaty red sauce, tender ziti noodles and a creamy, cheesy filling!
Prep Time:

25 minutes

Cook Time:

45 minutes

Total Time:

1 hour 10 minutes
Ingredients
For the Sauce:
1 lb. Italian ground sausage
1/2 onion, diced
2 cloves garlic, minced or pressed
8 oz. sliced cremini mushrooms
24oz. jar traditional spaghetti sauce
1 (14oz) can diced tomatoes
1 tbsp Italian seasoning
1 lb. ziti noodles, cooked al dente according to package instructions
For the Cheese Mixture:
15oz. ricotta cheese
1/2 cup shredded parmesan cheese
2 eggs
1 tbsp dried parsley
1/2 tsp salt, 1/4 tsp black pepper
16 oz. shredded mozzarella cheese
Instructions
For the Sauce:
Brown and crumble the sausage in a large skillet or dutch oven over medium high heat and add the onions and garlic, cooking until tender. Stir in the mushrooms and cook until softened.
Add in the sauce, tomatoes and Italian seasoning. Bring to a gentle boil, reduce heat and simmer for 10 minutes, stirring occasionally. If your pan is big enough add the pasta to the sauce and stir to coat. If needed, transfer sauce and pasta to a larger bowl to stir together.
For the Cheese mixture:
Combine the ricotta, parmesan, eggs, parsley, salt and pepper in a small dish.
Assemble the Baked Ziti:
Lightly coat a 9×13″ casserole dish with non-stick spray. Layer half of the pasta mixture on the bottom of the casserole dish. Top with the cheese mixture and spread to an even layer. Sprinkle half of the shredded mozzarella cheese on top. Spread the remaining noodles and sauce over that, followed by the remaining mozzarella cheese.
If baking right away:
Cover with foil and bake in a preheated 350 degree oven for 25 minutes, then remove foil and continue baking for an additional 15 to 20 minutes, or until center is bubbly. Enjoy!
If freezing for later:
Let cool to room temperature then cover with an airtight lid. If no lid is available, cover with plastic wrap and then a double layer of tin foil. Freeze.
To Bake From Frozen:
Take casserole out of freezer and remove lid or any plastic wrap. Cover with foil. Bake in 350 degree preheated oven for 1 hour, remove foil and continue baking for an additional 10 to 15 minutes, or until center is bubbly. Enjoy!
disclaimer: This post is in partnership with Zyliss USA. All thoughts and opinions are 100% my own. Thank you for supporting the brands that help make I Wash You Dry possible!