Oven Roasted Chicken Thighs are affordable and super easy to make while also perfectly seasoned and so juicy on the inside!
Pair this delicious chicken with my Sautéed Zucchini, Mashed Potatoes or Caesar Pasta Salad for a complete meal.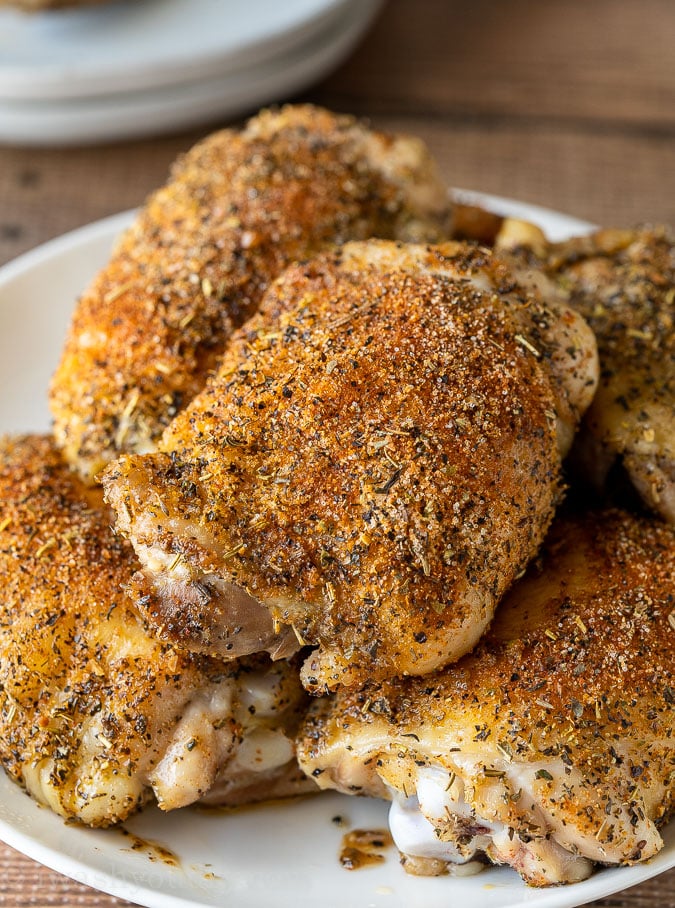 If you're looking for an easy way to bake chicken thighs, this recipe is just what you need!
The combination of seasonings, simple method and cooking temperature create a juicy baked chicken thigh with crisp skin that's sure to become a family favorite.
How To Bake Crispy Chicken Thighs
First thing you're going to want to do is make sure you pat down the chicken thighs with plenty of paper towels to get the skin nice and dry.
Similar to my method of Oven Baked Chicken Wings, a dry skin = a crispy skin.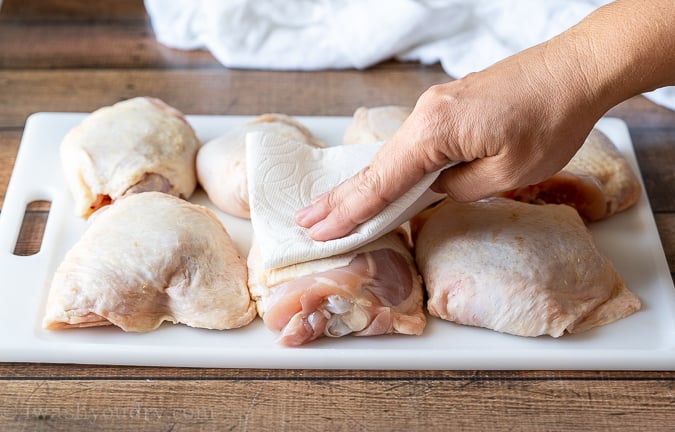 The Best Oven Roasted Chicken Seasoning
All you need are a few simple spices to mix up the BEST Oven Roasted Chicken Seasoning. This spice blend reminds me of the seasonings they put on rotisserie chicken that you can get at the grocery store, but with a little more punch to it!
Italian Seasoning – use my homemade version or store bought
Kosher Salt
Black Pepper
Garlic Powder
Onion Powder
Paprika – try smoked paprika for a nice smoky flavor
Once you have your seasonings mixed up, generously coat the chicken thighs all over with the blend and rub into the skin.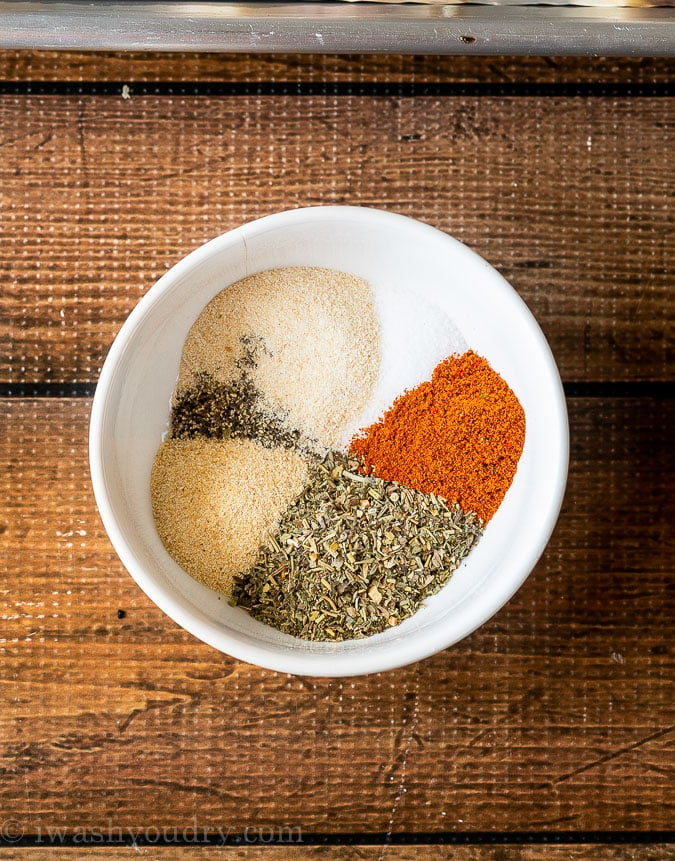 Do I Have To Use Chicken Thighs?
For this recipe we are using bone-in, skin on chicken thighs. Not only is this a super affordable cut of chicken, it also lends to being very flavorful and juicy when cooked properly.
You could also make this recipe using drumsticks or even bone-in, skin on chicken breasts. You'll just want to make sure to check the internal temperature of the chicken while it's roasting to make sure it doesn't over cook.
PRO TIP: If you're using a boneless, skinless chicken thigh I would recommend following my Last Minute Chicken Recipe. If you're wanting the BEST Baked Chicken Breast, follow my fail-proof methods in this blog post.
How To Make Oven Baked Chicken Thighs
Pat the bone-in, skin on chicken thighs with paper towels to completely dry them.
Rub the special seasoning all over the chicken thighs.
Place the seasoned chicken thighs on a lined, rimmed baking sheet (if you have a rack that fits in the baking sheet you can use this to get the skin extra crispy all around).
Bake the chicken thighs until cooked through.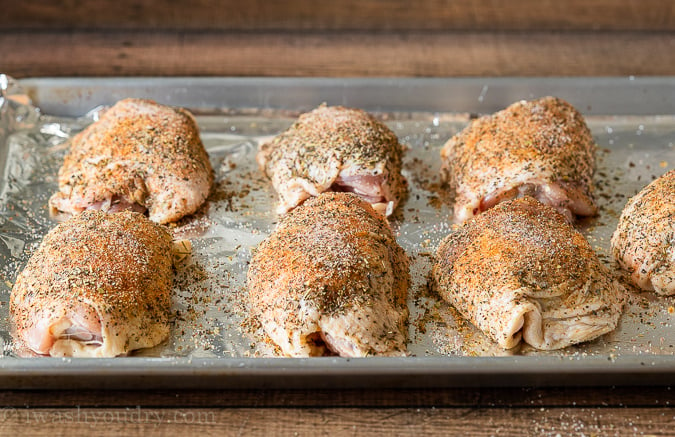 How Long To Roast Chicken Thighs?
Keep in mind that when baking chicken thighs (or any chicken for that matter) that is bone-in and skin-on, the time will take longer than compared to a boneless, skinless chicken. The temperature of the oven can also affect the length of time you bake your chicken thighs. Here is a handy guide to help you when roasting or baking chicken thighs.
350 degrees F    50 to 55 minutes
375 degrees F    45 to 50 minutes
400 degrees F   40 to 45 minutes
425 degrees F    35 to 40 minutes
The absolute BEST way to tell if chicken thighs are cooked is with a meat thermometer. I love this instant read thermometer because it magnets to my fridge so I can quickly check temperature, rinse it off and place it back on the fridge for the next time.
Chicken Thighs are considered safe to eat when they reach an internal temperature of 165 degrees at the thickest portion. What's great about bone-in chicken thighs is that you can actually cook the chicken much higher in temperature (to really get that skin crispy) and it still remains nice and juicy.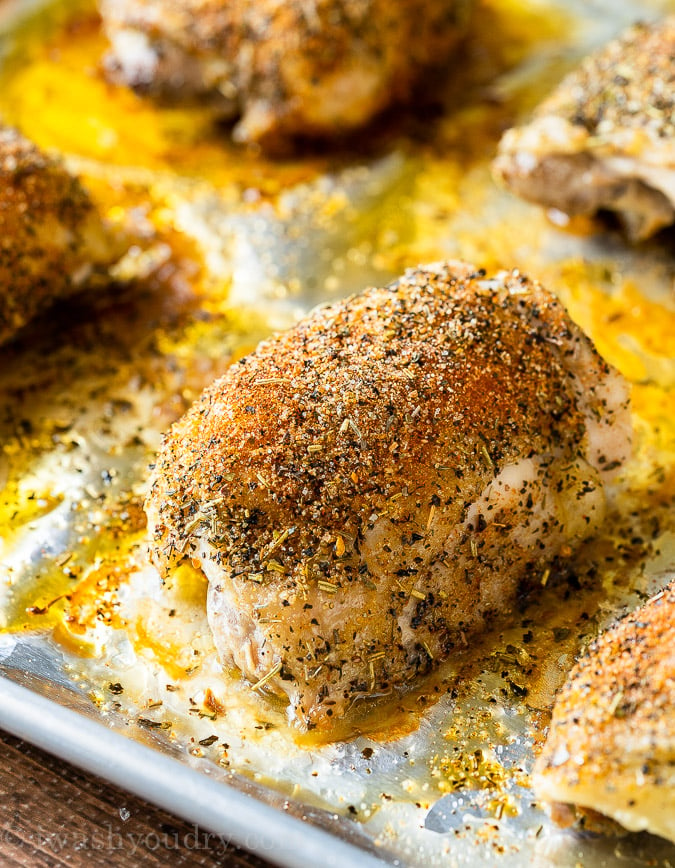 What To Serve with Oven Roasted Chicken Thighs
I love making these juicy baked chicken thighs because they pair with just about anything! Turn it into a comfort meal by serving it alongside some yummy carbs and steamed veggies, keep it light by serving with a salad or low carb with some riced cauliflower. Here are a few more ideas to get you started…
More Easy Chicken Recipes To Try
I'm super excited for you to give this recipe for oven roasted chicken thighs a try! I think you're really going to enjoy it!
Oven Roasted Chicken Thighs
With just a few simple tips, these Oven Roasted Chicken Thighs are juicy on the inside and perfectly seasoned and crisp on the outside!
Instructions
Preheat oven to 425° F and line a rimmed baking sheet with foil, set aside.

Use paper towels to pat dry the skin and chicken thighs until as much moisture is removed as possible. Place chicken thighs on foil lined baking sheet and drizzle with olive oil. Rub into the skin.

Combine the seasonings in a small dish and sprinkle evenly over all sides of the chicken thighs, rubbing into the skin.

Bake for 35 to 40 minutes, until the skin is nice and crisp and chicken thighs reach an internal temperature of 165°F. Let the chicken rest for a few minutes before enjoying.
Nutrition
Calories:
435
kcal
|
Carbohydrates:
2
g
|
Protein:
31
g
|
Fat:
33
g
|
Saturated Fat:
9
g
|
Cholesterol:
185
mg
|
Sodium:
728
mg
|
Potassium:
414
mg
|
Fiber:
1
g
|
Sugar:
1
g
|
Vitamin A:
352
IU
|
Calcium:
29
mg
|
Iron:
2
mg
Keywords:
Baked, Chicken Thighs, Roasted