Move over KFC, this Crispy Fried Chicken Recipe is insanely juicy on the inside with an outrageous CRUNCH to each bite!
Pair this comfort food classic with my Simple Macaroni Salad, Coleslaw or Fluffy Mashed Potatoes for an epic meal.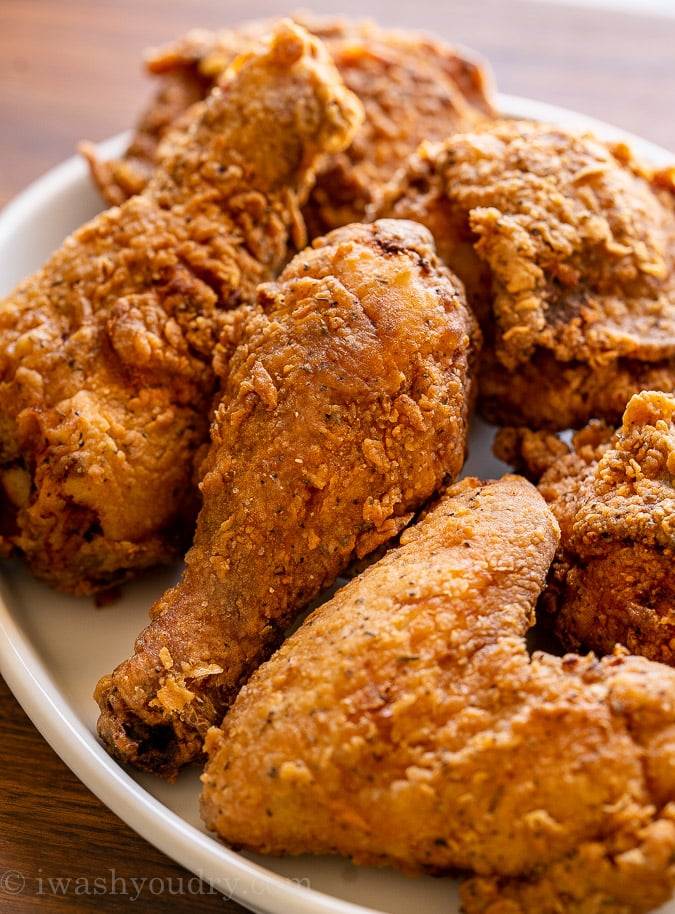 This Fried Chicken Recipe is by far the tastiest I've ever made. My whole family agrees with me too.
It's perfectly crispy on the outside, with little flakey bits of breading that are seasoned just right. Let's not forget about the juicy, tender chicken on the inside. So good!
Crispy Fried Chicken Recipe
Let's get down to the nitty-gritty of fried chicken. If you've tried my Beer Battered Fish Recipe, you know I'm passionate about how to make the BEST fried foods.
You can trust this recipe is top notch.
Fried Chicken Marinade
The first thing you'll want to do is marinate your chicken pieces in a quick buttermilk mixture overnight. Here's what you'll need…
Bone-in, skin-on, Chicken pieces – I like to use a combination of legs, thighs, breasts and wings
Buttermilk – necessary to make the chicken nice and tender
Hot Sauce – optional, but gives the chicken amazing flavor
Egg – lightly beaten
Salt – crucial in helping tenderize the chicken
How Long Should The Chicken Marinate?
Combine all the marinade ingredients in a bag and squish together, getting all the pieces nice and coated.
Refrigerate overnight or up to 24 hours (the longer the better).
The buttermilk will tenderize the chicken, creating a juicy inside that is simply to-die-for.
PRO TIP: You can avoid using a plastic bag by marinating in a glass bowl covered tightly with plastic wrap. Avoid using a metal bowl though, as this may affect the acidity from the buttermilk.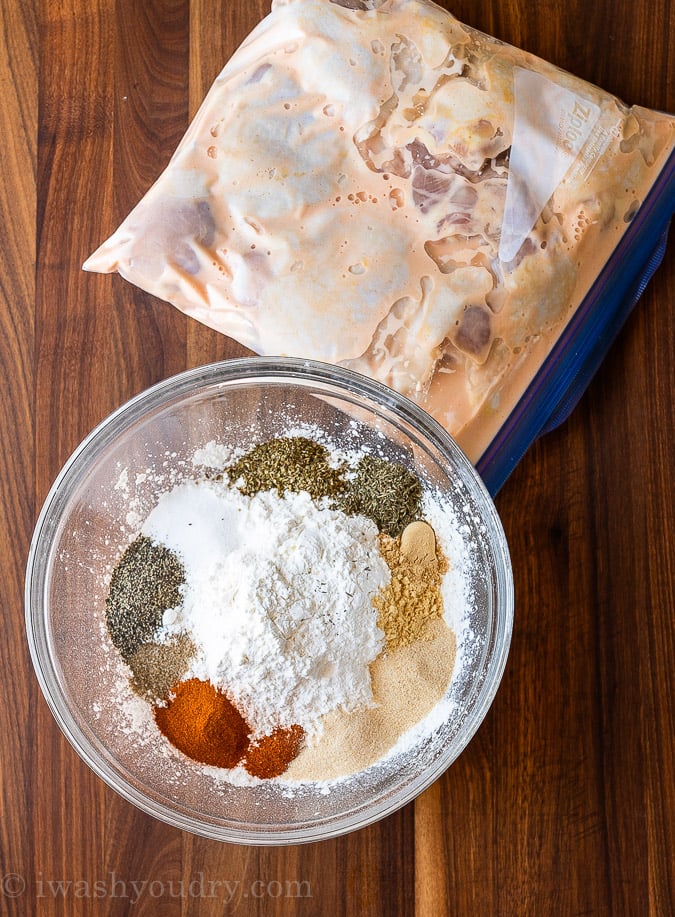 Better Than KFC Fried Chicken Seasoning!
The secret KFC fried chicken seasoning is heavily guarded, but after much testing, trial and error, I feel like I've finally cracked the code.
It's a mixture of 11 herbs and spices that work in harmony to create a true KFC copycat flavor.
Black Pepper
Salt
Garlic Powder
Paprika – sweet, not smoked
Onion Powder
Dried Thyme
Dried Oregano
Mustard Powder
Celery Salt
Ginger Powder
Cayenne Pepper
What Makes The Breading Extra Crispy?
Not only do you need the perfect blend of seasonings for fried chicken, but you also need flour AND cornstarch to give it that signature crunch.
The combination of all purpose flour with cornstarch creates a light and crispy breading that sticks to the chicken when deep fried.
PRO TIP: Drizzle in a little bit of the buttermilk chicken marinade into the breading to create those crispy bits that give the chicken more CRUNCH in every bite.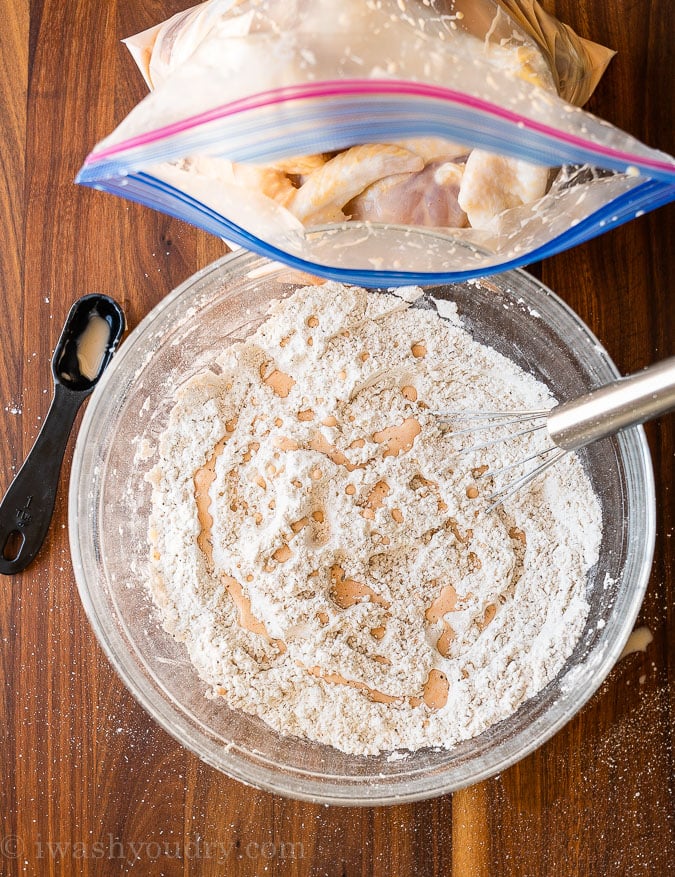 Why Is My Breading Falling Off?
Losing that crispy breading is the pits! There are a few simple tricks to making sure your breading doesn't fall off when you deep fry your chicken.
When removing your chicken from the marinade, make sure to shake off any excess liquid.
Dredge the chicken in the breading, and use your hands to gently apply pressure to the chicken and breading.
Make sure your oil is up to the proper temperature of 350 degrees F.
Once you drop the chicken in the oil DON'T TOUCH IT for at least 2 minutes. This will allow the breading to properly fry and cling to the chicken.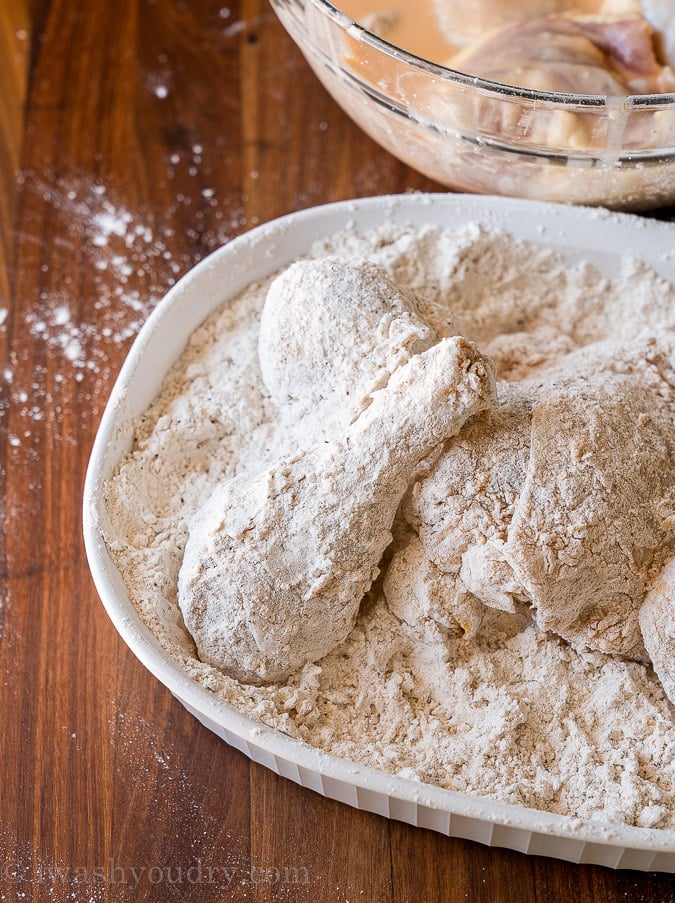 What Type Of Oil Should I Use? Can I Reuse Oil?
When it comes to deep frying, you'll want to stick to a basic Vegetable Oil. You can usually pick up a big gallon jug of it at the grocery store for fairly cheap.
If filtered properly, you can definitely reuse oil a few more times. I just purchased this awesome deep fryer that filters and stores the oil in one easy step!
Do I Need a Special Deep Fryer?
While I really enjoy using my deep fryer because it monitors the temperature of the oil for me, you can also use a heavy bottomed pot, a large pan with deep sides or even a wok!
If you're keeping track of the oil temperature on your own, use an oil thermometer! You'll have the best results when your oil is at the right temperature.
Oil Temperature For Fried Chicken?
You'll want to bring your oil to 350 degrees F. when frying chicken.
NOT HOT ENOUGH- If the oil is not hot enough you'll end up with over saturated breading that's greasy and unappetizing.
TOO HOT – If your oil is too hot, you'll burn the breading and end up with undercooked chicken on the inside.
*Please note that the chicken's temperature prior to going into the oil is cold. This will bring the temperature of the oil down when you add it to the fryer (similar to adding ice cubes to a cup of warm water). It's important not to add too many pieces of chicken at a time to the oil, or else you'll bring the temperature down too much and you won't have a good result.
Can I Bake Or Air-Fry The Chicken?
Yes! Of course you can skip the deep frying, but please understand it's just not the same as deep frying.
OVEN: Place the chicken pieces on a cooling rack over a large baking sheet, so they are elevated and not touching the bottom. (line the baking sheet with foil to catch any drips) Spritz the chicken with oil and bake at 375 degrees F. until chicken reaches an internal temperature of 165 degrees. Carefully flip the chicken pieces halfway through cooking.
AIR FRYER: Cook chicken in small batches, so they do not touch each other in air fryer basket. Spritz with oil and cook at 375 degrees F for 12 minutes, flip, spritz with more oil and finish cooking an additional 10 to 12 minutes, or until the chicken reaches an internal temperature of 165 degrees.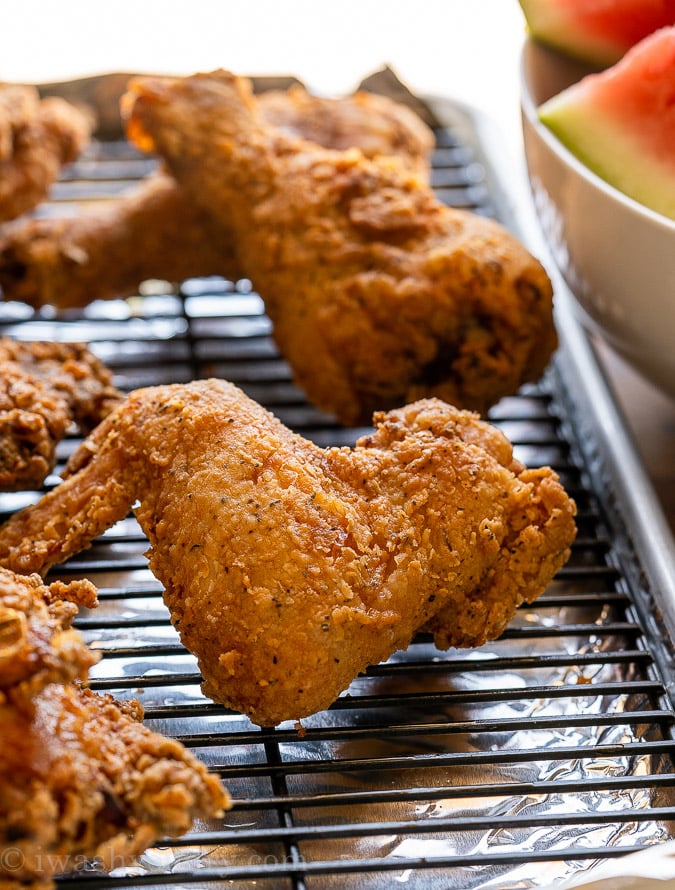 How Can I Keep Fried Chicken Warm AND Crispy?
Alas, not all of us have an industrial size deep fryer in our kitchen, so we must fry our chicken in smaller batches. (*see above for why)
Keep your fried chicken nice and crispy by placing the pieces on a wire cooling rack over a foil lined baking sheet.
Heat your oven to 180 degrees F. and place the chicken in the oven. When a new batch of chicken is fried, add it to the wire rack in the oven and your chicken will remain nice and crispy!
PRO TIP: Don't stack your fried chicken on top of each other in the oven. Steam will get trapped between the pieces and turn your crispy coating into a soggy mess.

What To Serve With Fried Chicken
Here are some of our favorite sides to serve with this extra crispy fried chicken recipe.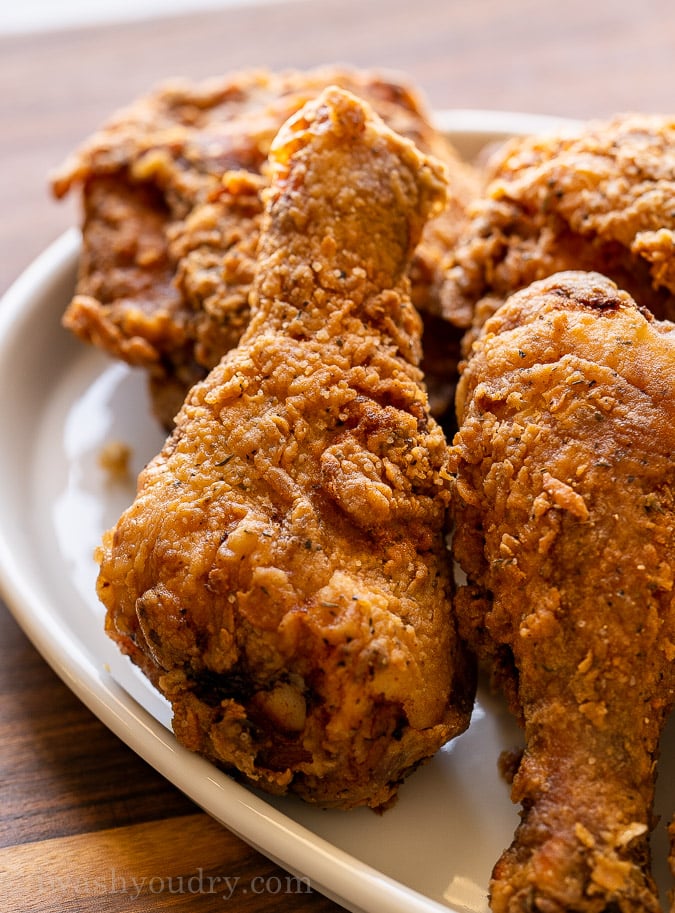 More Crispy Chicken Recipes
We're super passionate about chicken here at I Wash You Dry.
I have so many great recipes on my site that I can't wait for you to try next. Here are a few more you should add to your list…
Crispy Fried Chicken Recipe
Nothing says comfort food quite like this Crispy and juicy Fried Chicken Recipe! The seasonings are perfection!
Ingredients
Instructions
Marinate Chicken
Combine the marinade ingredients in a large glass or plastic mixing bowl and whisk them together. Add in the chicken pieces and stir to coat. Cover with plastic wrap and refrigerate for 12 to 24 hours, rotating pieces of chicken at least one time to ensure they're coated in the mixture.

When you're ready to cook the chicken, remove it from the fridge and add the vegetable oil to a heavy bottomed pan or deep fryer and heat to 350 degrees F.

Line a large, rimmed baking sheet with foil and place a cooling rack on top, set aside.
For The Breading
Combine the flour, cornstarch and remaining seasonings in a large, shallow bowl and whisk together.

Carefully scoop out ¼ cup of the marinade from the chicken and drizzle it into the breading mixture. Use your clean fingers to mix it in and create little lumps in the batter.

Working one piece of chicken at a time, remove it from the marinade and gently shake off any excess liquid. Place in the breading mixture, turning several times to coat completely. Use clean hands to gently press the breading into the chicken.
Frying The Chicken
Preheat oven to 180 degrees F.

Carefully add the coated chicken to the hot oil, only 3 or 4 pieces at a time, giving them plenty of room so they don't touch. *Adding the chicken will drop the temperature of the oil, so keep an eye on it and try to keep it around that 350 degree mark.

Let the chicken pieces fry for at least 2 minutes without touching them to allow time for the breading to stick to the chicken. After that, you can flip them if needed.

Fry chicken until the crust is a deep golden brown and the internal temperature reaches 165 degrees F, about 6 to 8 minutes (depending on the size of your chicken).

Place the fried chicken on the prepared baking sheet right out of the oil. Do not place on paper towels as this will create steam and make a soggy breading around the chicken.
Keeping It Warm
Place the baking sheet of chicken in the preheated oven and continue to add the chicken pieces here until the full batch of chicken is finished frying. Serve warm and crispy and enjoy!
Notes
Reheat leftover fried chicken in an air fryer or oven at 375 degrees F. until heated through.
Nutrition
Calories:
716
kcal
|
Carbohydrates:
20
g
|
Protein:
56
g
|
Fat:
44
g
|
Saturated Fat:
13
g
|
Polyunsaturated Fat:
9
g
|
Monounsaturated Fat:
18
g
|
Trans Fat:
1
g
|
Cholesterol:
238
mg
|
Sodium:
2317
mg
|
Potassium:
648
mg
|
Fiber:
2
g
|
Sugar:
1
g
|
Vitamin A:
788
IU
|
Vitamin C:
9
mg
|
Calcium:
80
mg
|
Iron:
4
mg
Keywords:
Deep Fry, Fried Chicken