Skip the drive through and make these copycat Chick Fil A Chicken Nuggets at home, paired with my famous Chick Fil A Sauce copycat of course!
My kids go absolutely crazy for these tender lil nuggets and so do I!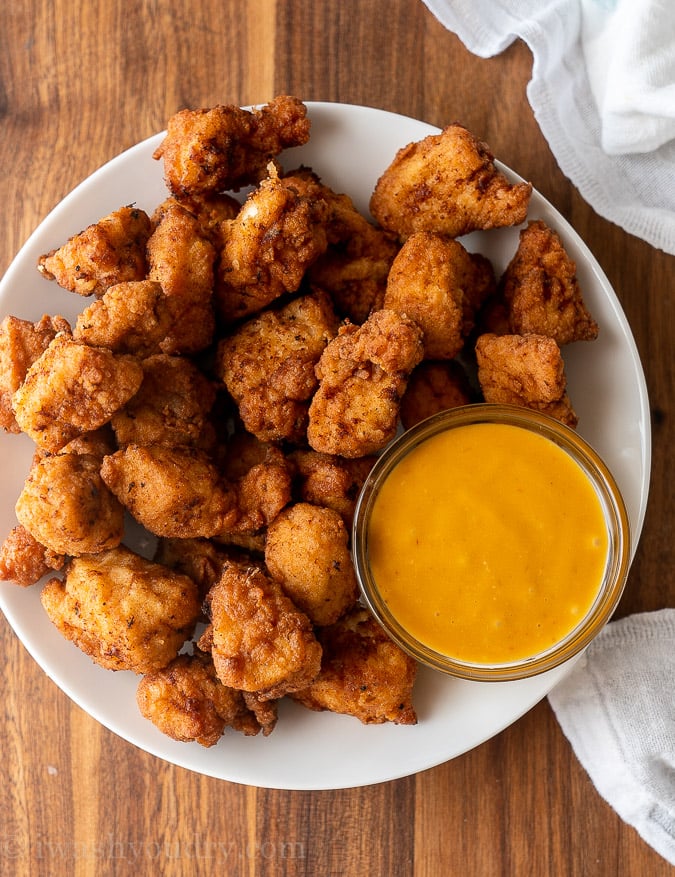 Nothing brings more smiles than a plate of hot chicken nuggets. These juicy and tender little bites are perfectly seasoned and deep fried to a golden brown and superbly crisp coating.
Chick Fil A Chicken Nuggets Copycat Recipe
It's "my pleasure" to bring this ridiculously delicious chicken nugget recipe to you today.
We're working with chicken breasts, marinating them in a quick pickle juice and milk mixture, then coating with a simple breadcrumb mixture before plunging into some hot oil.
YUM!
Ingredients Needed:
Here's the basic list of ingredient you'll need in order to make these chicken nuggets. As always, you can find the full printable recipe located below in the recipe card.
Boneless Skinless Chicken Breast
Dill Pickle Juice – just drain from the jar
Milk
All Purpose Flour
Breadcrumbs
Garlic Powder
Paprika
Salt & Pepper
Powdered Sugar – gives the chicken the perfect amount of sweetness
Baking Powder
Oil – for a classic chick fil a nugget, use Peanut Oil.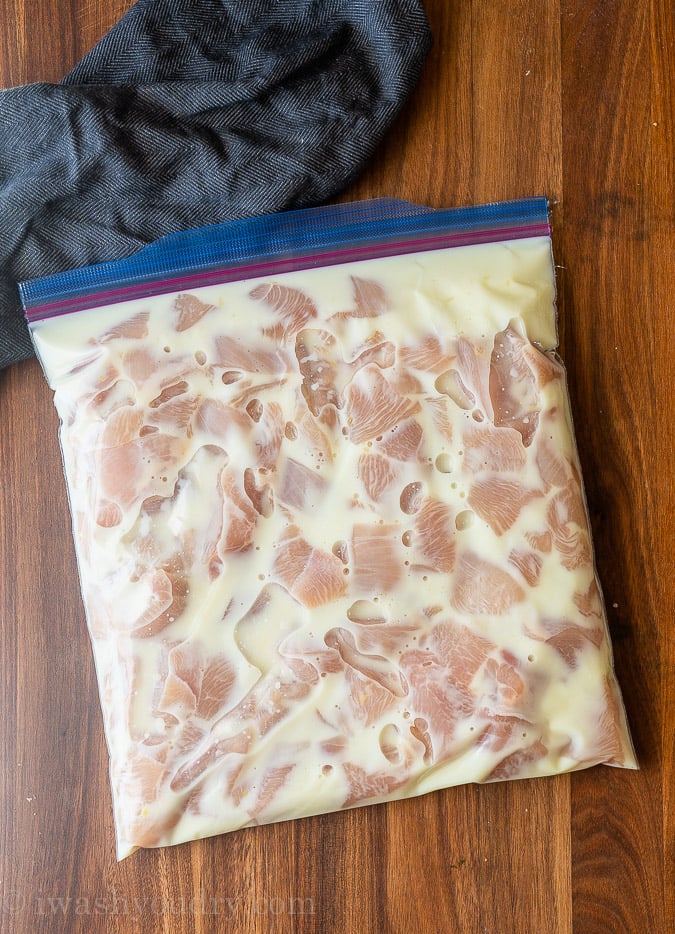 How To Make JUICY Chicken Nuggets
The trick to making JUICY chicken nuggets is all in the brining of the chicken, similar to my Air Fryer Chicken Tenders.
Pickle juice and milk combine like a traditional buttermilk marinade to break down the tough chicken and create a juicy interior.
You don't want to let it marinate for too long though… just 20 to 30 minutes is all you need.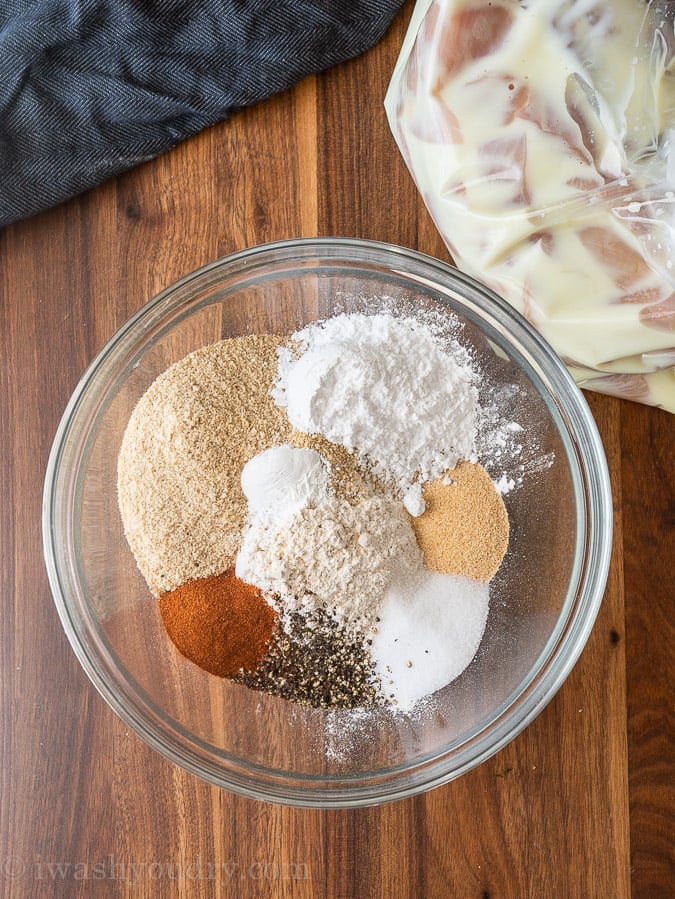 While your chicken pieces are marinating, mix together the special blend of seasonings and breadcrumbs to coat the chicken.
Drain the chicken and coat each piece of chicken in the simple mixture before deep frying in hot oil.
Why Powdered Sugar?
I know it might sound crazy, but the little bit of sugar that goes into the seasoning blend gives the chicken a delicious, yet subtle sweetness that pairs perfectly with the paprika, garlic powder and pepper.
Similar to how I add brown sugar to my Juicy Oven Baked Chicken Breast, it tenderizes and makes all the difference!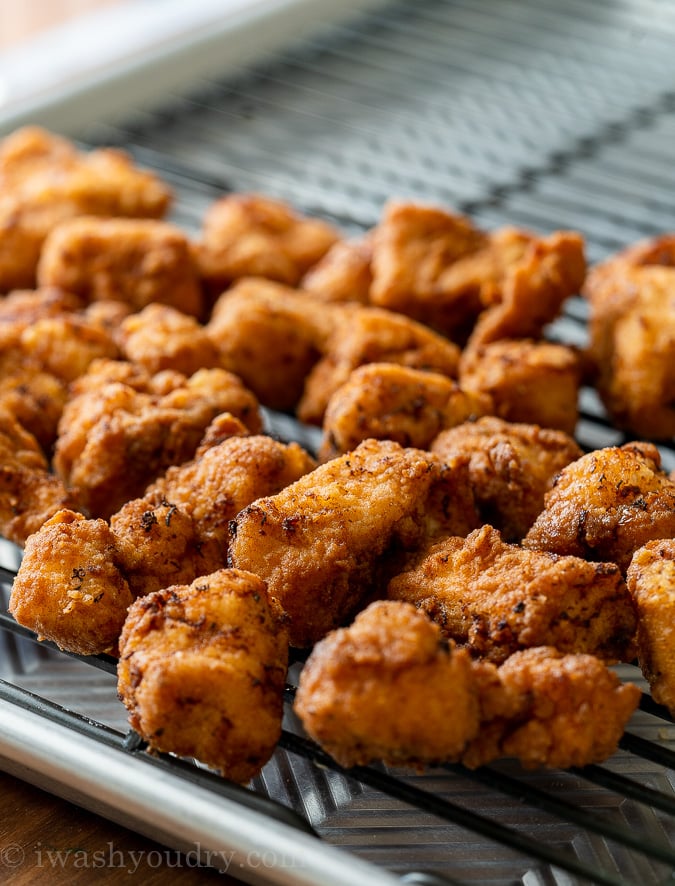 How To Fry Chicken Nuggets
In order to give these chicken nuggets that iconic Chick Fil A taste and perfect golden brown color, we're going to fry them in hot peanut oil.
I have a small fryer that can keep the oil at a consistent temperature, which I love to use for this type of recipe.
However, you can also use a heavy bottomed pot on the stove top and use an oil thermometer to keep track of the temperature.
The temperature of the oil should be 350 degrees F.
Don't overcrowd the pot with chicken, as this will drop the temperature of the oil.
Work in batches and cook for about 3 to 5 minutes, until the nuggets are a deep golden brown.
Remove fried chicken to a wire cooling rack NOT a paper towel.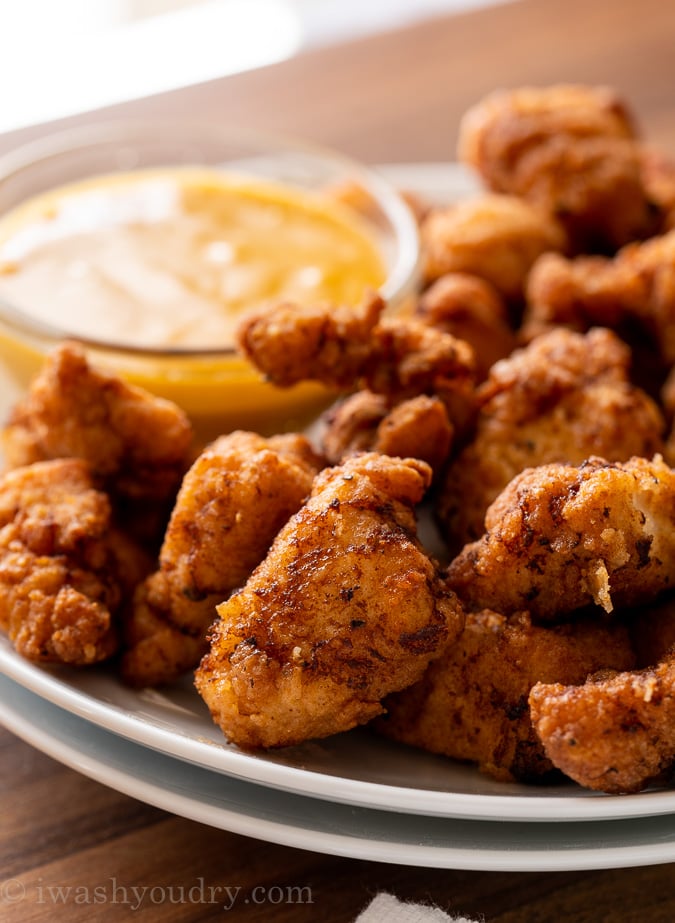 How To Freeze and Reheat Chicken Nuggets
This recipe calls for a whopping 3 pounds of chicken, which makes for a LOT of chicken nuggets.
I make these in big batches so I can freeze and reheat throughout the week for quick and easy lunches and dinners.
How To Freeze:
Once your chicken nuggets are cooled to room temperature, place them in a freezer safe bag and pop in the freezer for up to 3 months.
How To Reheat:
You can toss the frozen chicken straight into the oven or air fryer to crisp back up.
OVEN: Bake in a single layer at 375 degrees F. for 15 minutes, until heated through and crisp.
AIR FRYER: Toss in the air fryer at 375 degrees F. for 8 to 12 minutes, shaking halfway through, until heated through and crisp.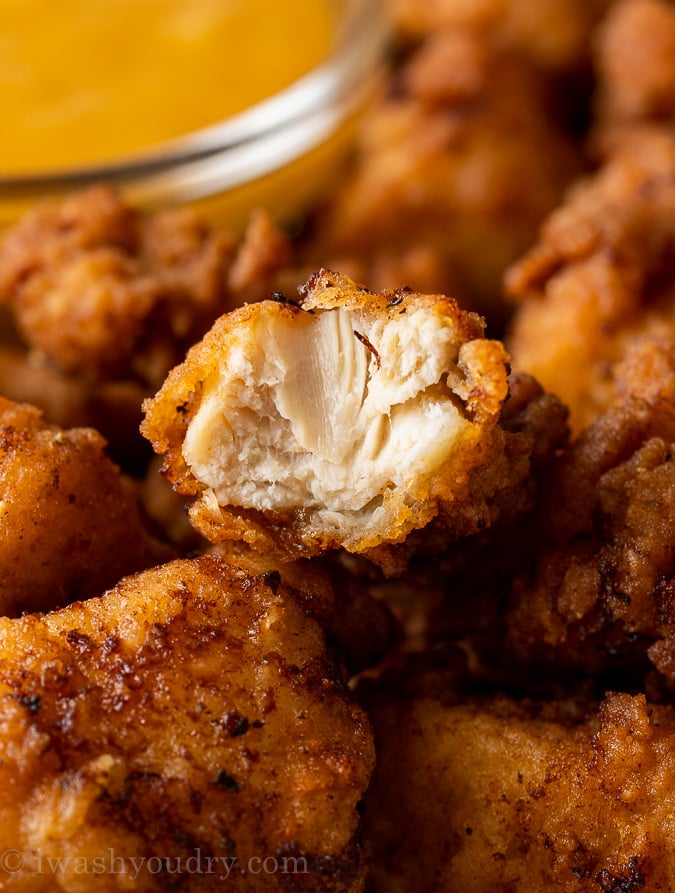 Chicken Nugget Dipping Sauces
Of course you can't have chicken nuggets without an assortment of dipping sauces. Here are a few of our favorites…
Ketchup
BBQ Sauce
Ranch Dressing
I also love to toss these easy chicken nuggets in my Homestyle Mashed Potato Bowls, Chicken Bacon Ranch Potato Salad, or in wraps or salads!
More Crispy Chicken Recipes To Try:
Craving more crispy chicken? I've got you covered with these simple and easy recipes…
I can't wait for you to give these delicious Chick-fil-a chicken nuggets a try! You're sure to enjoy them!
Chicken Nuggets Recipe
Skip the drive through and make these copycat Chick Fil A Chicken Nuggets at home, paired with my famous Chick Fil A Sauce copycat of course! 
Instructions
Start by placing your chicken in a large zip close bag and adding in the pickle juice and milk. Smoosh around to get all the chicken coated and let sit for 20 to 30 minutes.

Meanwhile heat at least an inch deep of oil to 350 degrees F.

Combine the flour, breadcrumbs, powdered sugar, garlic powder, paprika, salt and pepper in a bowl and mix thoroughly.

Drain the marinade from the chicken and discard. Dip each piece of chicken in the breadcrumb mixture, coating completely, and then carefully add to the fryer.

Cook in small batches so you do not decrease the temperature of the oil.

Fry for 3 to 5 minutes, until the chicken is a deep golden brown, then place chicken on a wire cooling rack to cool slightly. Keep cooking until all chicken is done. Enjoy!
Notes
*Peanut oil will give you the iconic flavor of Chick Fil A chicken, but you can also use canola oil or vegetable oil if necessary. 
Nutrition
Calories:
226
kcal
|
Carbohydrates:
19
g
|
Protein:
27
g
|
Fat:
4
g
|
Saturated Fat:
1
g
|
Trans Fat:
1
g
|
Cholesterol:
74
mg
|
Sodium:
886
mg
|
Potassium:
480
mg
|
Fiber:
1
g
|
Sugar:
3
g
|
Vitamin A:
216
IU
|
Vitamin C:
1
mg
|
Calcium:
37
mg
|
Iron:
1
mg
Keywords:
Chick-fil-a, Chicken Nuggets, Crispy
PIN THIS IMAGE TO SAVE THE RECIPE: