These Crispy Oven Baked Chicken Wings have been tested and approved by many! With the perfect seasoning blend, the best oven cooking method and just the right amount of sauce, these wings will blow you away!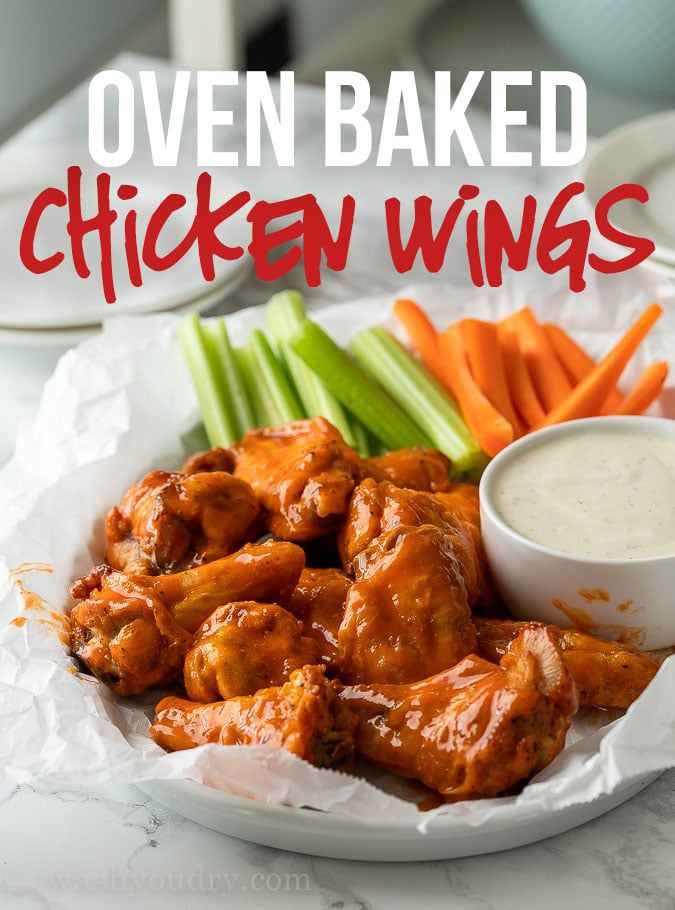 I spent many days, countless hours of research, trial and error and LOTS of chicken wings to finally bring you the very BEST Baked Chicken Wings. It comes down to three important factors – how to properly prep the wings, time and temperature (cooking method) and finally how to sauce them.
I'll break it down for you in this post so you can rest assured that your wings will truly be the best you've ever baked, dare I say, the best you've ever tasted.
How To Bake Chicken Wings in the Oven
First, we're going to need to start by prepping our chicken wings so they're just right for baking. Here's what you'll need to do:
Separate the chicken wings into three pieces, the drumette (the meatier part), the wingette (the middle part) and also the wing tip (see picture below). Go ahead and discard the wing tips. If you purchase "party wings" this will save you a step in prep.
Use a paper towel and blot the wings as dry as possible to remove any excess moisture. This is a critical step as we're trying to achieve maximum crisp level in baking.
Combine the seasoning ingredients in a large zip-close bag and shake. Add in the dried wings and shake until coated.
Line a baking sheet with foil and place an oven-safe rack on top. Line the wings on the rack, making sure they are not touching each other.
Bake at 450 degrees F. for 30 minutes, flip over, then bake another 30 to 40 minutes, until the wings are golden brown and crispy.
Toss in just enough sauce to coat and serve immediately.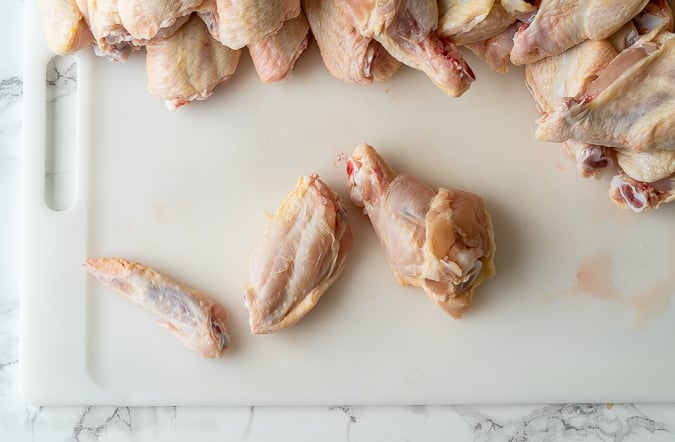 How To Segment a Chicken Wing
You can save a lot of money by purchasing whole wings then cutting them down yourself. You'll need a sharp knife and cutting board.
Start by pulling the wing at the joints to find where the joint is. Cut between the joints as best as possible. When you find the right spot between the joints, it'll actually be very easy to make a cut.
Is Baking Powder Necessary for Crispy Chicken Wings?
Yes! Using baking powder in combination with my spice blend, you'll find that your wings will be ultra crispy without any added fat. As a bonus, the wings are naturally gluten free without having to add any flour.
There is some science behind what happens during the baking process with the chicken wings and baking powder. Essentially the baking powder helps to render down the skin on the chicken, causing it to gain that glorious crispy coating when baked.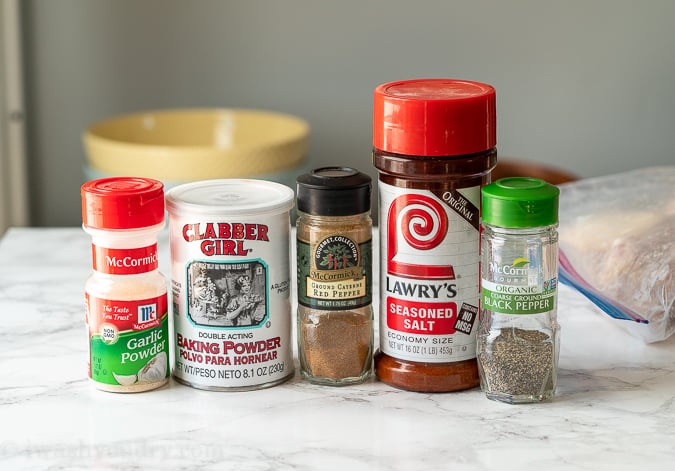 Fresh or Frozen Wings? Which is Best?
For this recipe, you'll want to stick with FRESH chicken wings. Frozen wings will be holding on to too much moisture, which is basically the enemy of crispy wings.
If you can only find frozen wings, that's ok! Just make sure you let them fully defrost in your refrigerator and then use plenty of paper towels to squeeze out any excess moisture.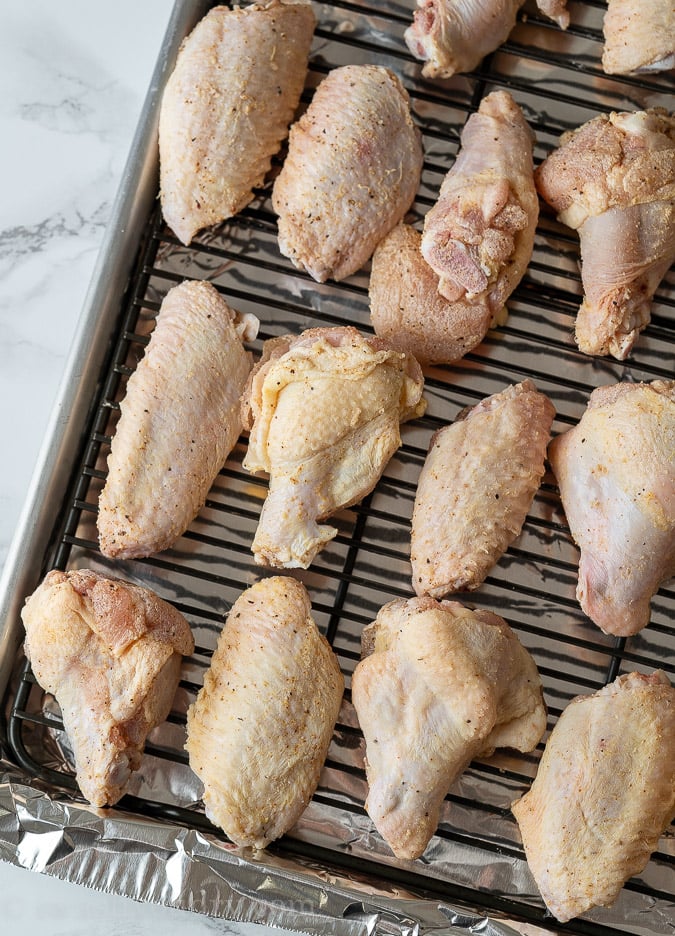 Chicken Wings in Convection vs Conventional Oven
If your oven has a convection setting (meaning when it bakes a fan circulates air in the oven) then you're in luck! The movement of hot air in the oven will help these wings cook faster and get you that crispy skin in no time! If you do not have a convection oven, you can still cook these chicken wings with a conventional oven just as efficiently.
Conventional Oven – cook at 450 degrees F for 1 hour 10 minutes, flipping them halfway through.
Convection Oven – keep the temperature at 450 degrees F, but

reduce the cook time to 50 minutes

flipping them halfway through.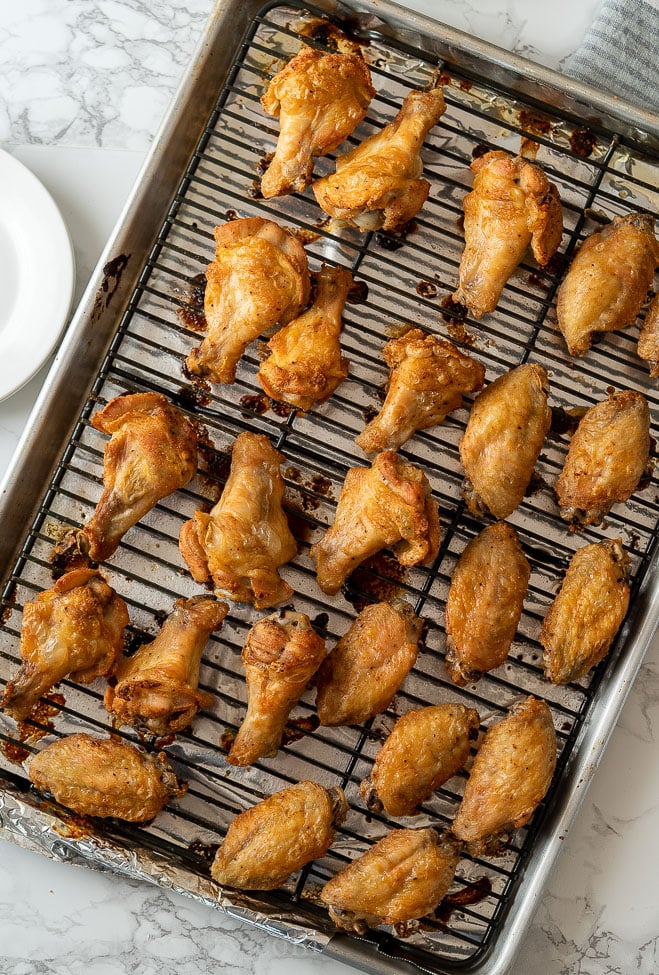 Tips and Variations
Make sure you line the bottom of your baking sheet with foil to catch all the fat that's going to drip down from the wings. It makes for easy clean up!
Spritz the baking rack with non-stick spray for easy clean up.
Be sure to remove as much moisture from the chicken wings as possible before tossing with the seasonings.
When coating the wings with sauce, make sure you use just enough to coat. Too much sauce will make your wings lose that delicious crispy coating.
If you're not a fan of buffalo sauce, use your favorite wing sauce or eat them plain with ranch or blue cheese dressing!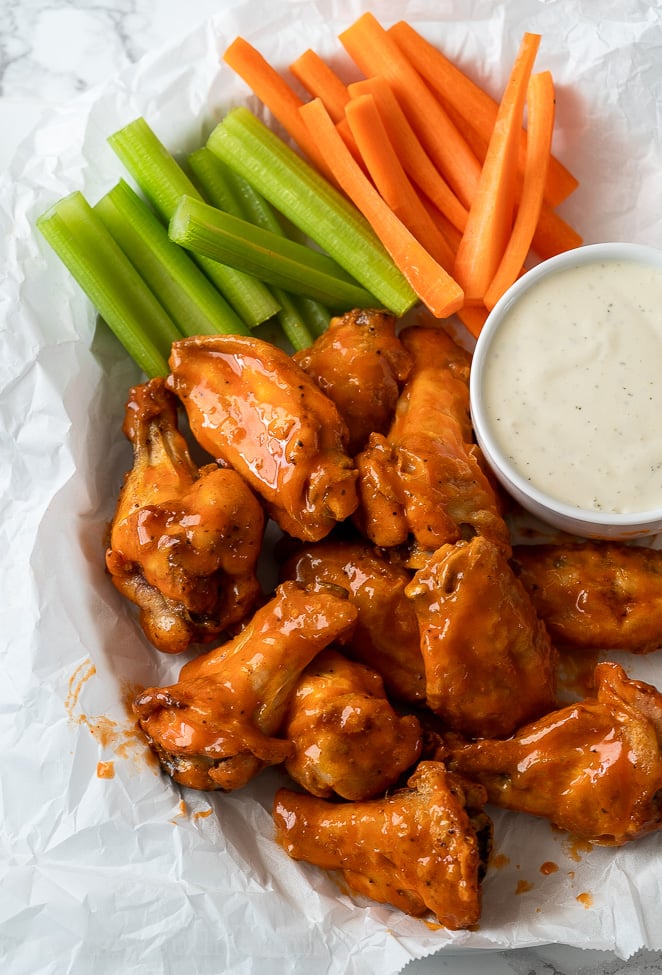 More Chicken Wing Recipes To Try
Crispy Oven Baked Chicken Wings
These Crispy Oven Baked Chicken Wings are crispy on the outside with the perfect spice blend, then tossed in a quick and easy buffalo sauce. The perfect party appetizer!
Ingredients
4

lbs.

chicken wings

,

separated and wing tips discarded

1 1/2

tbsp

baking powder

1

tsp

seasoned salt

1

tsp

garlic powder

1/2

tsp

black pepper

1/4

tsp

cayenne pepper

3

tbsp

butter

,

melted

1/3

cup

Buffalo sauce

,

such as Frank's Red Hot
Instructions
Preheat oven to 450 degrees F. Line a large rimmed baking sheet with foil, then place an oven-safe cooling rack on top. Spritz with non-stick spray and set aside.

Use plenty of paper towels to squeeze as much moisture out of the chicken wings as possible, making sure they're dry.

Combine the baking powder, seasoned salt, garlic powder, black pepper and cayenne pepper in a large bowl (or zip close bag) and whisk to combine. Add in the chicken wings and toss to coat evenly.

Lay chicken wings on prepared baking sheet, making sure to give them room so they do not touch each other. Bake for 30 minutes, then flip and continue baking an additional 30 to 40 minutes, until chicken wings are golden and crispy.

Combine the melted butter and buffalo sauce in a large bowl and whisk to combine. Just before serving, quickly toss the chicken wings in the sauce and serve immediately. Enjoy!
Notes
Wings are best served immediately. If you want to make these ahead of time, bake them but do not toss in sauce. Reheat in hot oven (or air fryer) until heated through then toss in sauce and serve.
Nutrition
Calories:
182
kcal
|
Carbohydrates:
1
g
|
Protein:
14
g
|
Fat:
14
g
|
Saturated Fat:
4
g
|
Cholesterol:
62
mg
|
Sodium:
347
mg
|
Potassium:
119
mg
|
Fiber:
1
g
|
Sugar:
1
g
|
Vitamin A:
163
IU
|
Vitamin C:
1
mg
|
Calcium:
54
mg
|
Iron:
1
mg
Keywords:
Baked Chicken Wings, Buffalo Wings, Crispy, Easy, Oven
PIN THIS IMAGE TO SAVE THE RECIPE: