This flavorful Garlic Herb Pork Tenderloin Recipe is a quick and easy dish, perfect for a busy weeknight dinner!
We love to pair this juicy cut of pork with my Vegetable Rice Pilaf and Brown Sugar Glazed Carrots for a complete meal.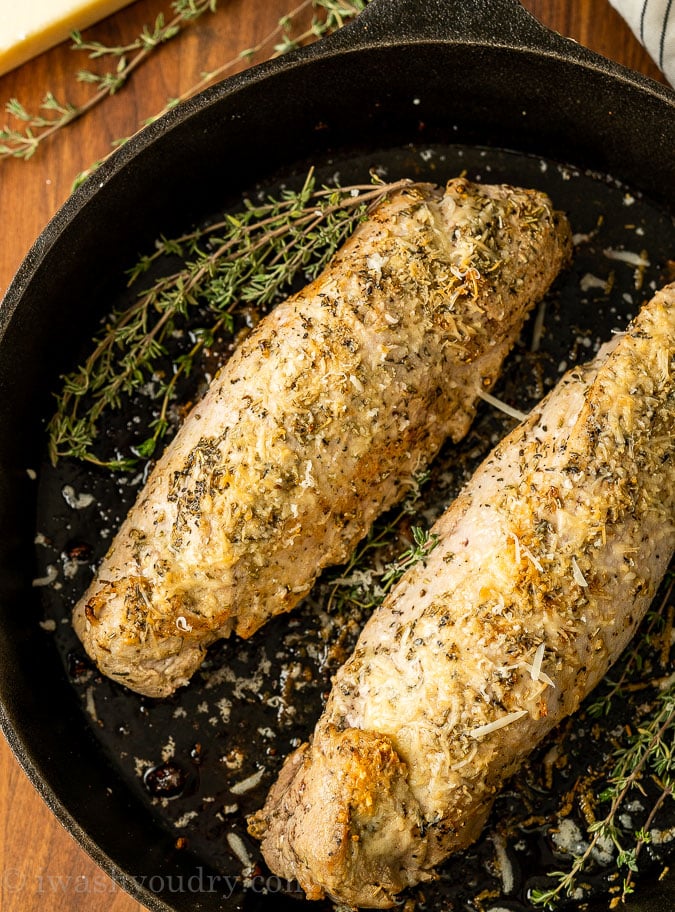 I used to hate pork tenderloin because I always overcooked it, making it tough and dry and just plain old difficult to eat.
If you've experienced this in the past with pork, it's highly likely you've over cooked it too.
Pork Tenderloin Vs. Pork Loin
These two cuts of pork may sound similar, but they are actually quite different.
Pork Loin is a rather large roast that is best cooked low and slow to help render out fat and create a juicy final product.
Pork Tenderloin is a smaller, narrow cut of muscle with much less fat and is best cooked quickly at a higher temperature.
This is why I love using pork tenderloin for a QUICK weeknight dinner. It can be prepped, cooked and on the table in under 45 minutes!
Garlic Herb Pork Tenderloin Recipe
Luckily, I'm here to show you the proper way to cook a pork tenderloin so it's nice and juicy and packed with flavor!
Tenderloins are great because they're naturally lower in fat, making it a very lean cut of pork. The best, most efficient way to cook a pork tenderloin is to sear it on the outside first, then finish cooking it in the oven.
Ingredients Needed For Roasted Pork Tenderloin –
Here's a basic list of the ingredients you'll need to make this tender and flavorful pork. As always, you can find the printable version with amounts in the recipe card below.
Pork Tenderloin
Dijon Mustard – use your favorite brand of dijon mustard
Garlic
Thyme – you can use fresh or dried herbs (check notes in recipe if using fresh)
Rosemary
Salt & Pepper
Olive Oil
Parmesan Cheese – adds a great punch of flavor at the end
That's it! These classic flavors pair perfectly with this tender cut of white meat.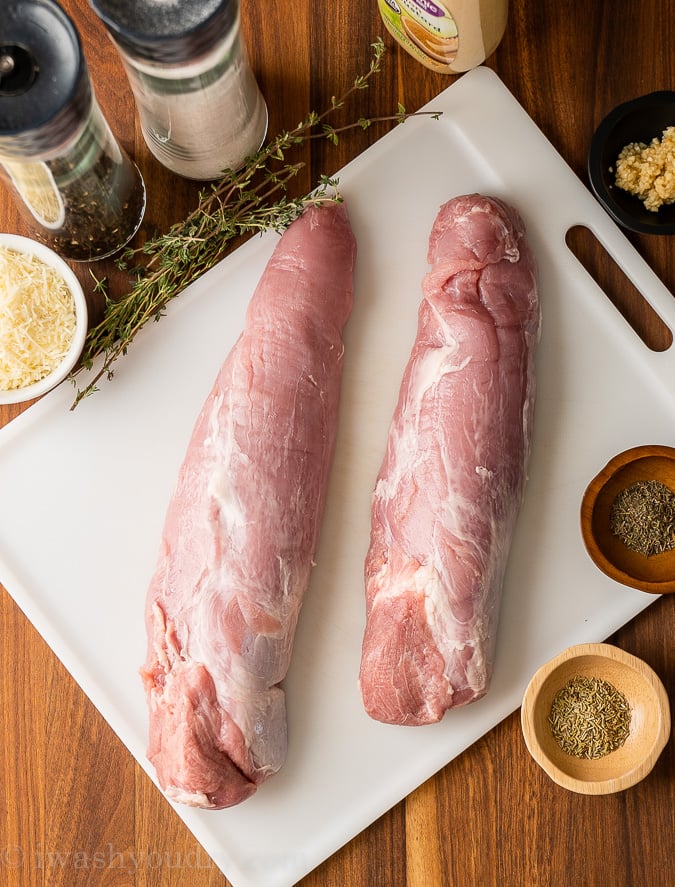 How To Cook Pork Tenderloin
You'll typically get two pieces of pork tenderloin per package. This package came with two pieces that were around 1 lb. each. This is enough to feed my family of 7, but if you have a smaller crowd you're serving, you can reduce the ingredients by half and follow the same instructions and cook times.
Start by brushing the pork tenderloin with the dijon mustard, then season liberally with salt, pepper, thyme and rosemary.
Heat olive oil in a large cast iron skillet and sear pork on all sides, until browned.
Top pork with parmesan cheese, then finish baking in a hot oven until internal temperature reaches 140 degrees F.
Let the pork tenderloin rest for 5 to 10 minutes before slicing and enjoying.
What Should Pork Tenderloin Be Cooked At?
Similar to my Million Dollar Beef Tenderloin recipe, you'll want to sear the outside of the pork first, then finish it in a nice and hot oven.
However, unlike beef, pork should be cooked to an internal temperature of at least 145 degrees F.
So WHY do I recommend pulling out the pork when it is only at 140 degrees F?
Simple – when you let the pork rest for 5 to 10 minutes, then internal temperature will continue to rise and PEAK at the 145 degrees F. We don't want to go much over this temperature or we run the risk of our pork becoming dry and tough.
PRO TIP: Using a digital probe thermometer is the BEST way to get precise temperatures with any cut of meat. I highly recommend having one and they aren't that expensive.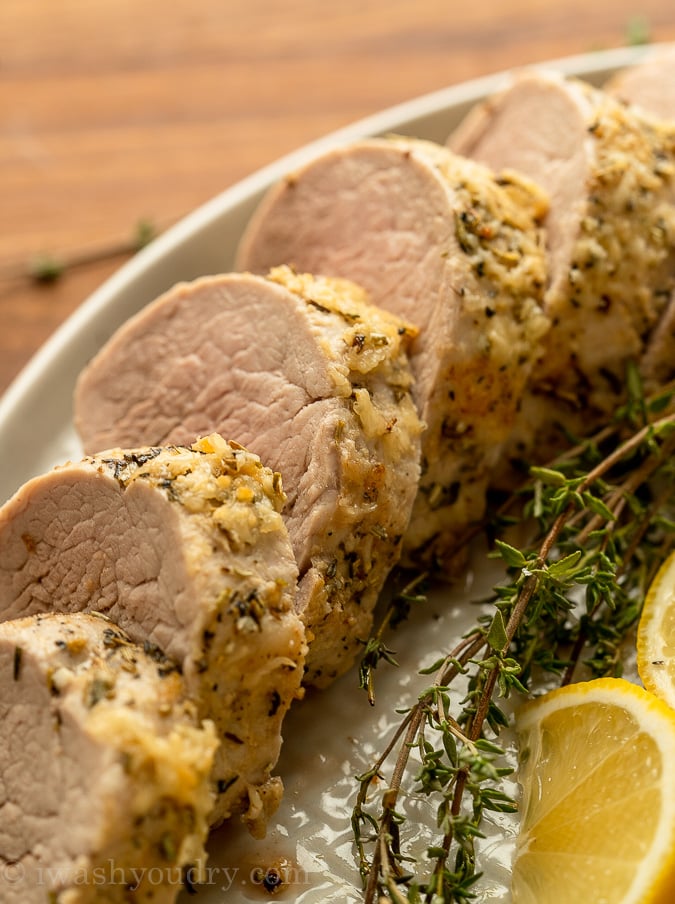 I love the parmesan crust that coats the top of the pork tenderloin. It adds a nice savory finish to the aromatic and juicy pork.
Can Pork Tenderloin Be A Little Pink?
The short answer is YES!
While the pork may have a slight appearance of pink in the center after being cooked, as long as it's reached 145 degrees F. it is safe to eat. Ideally, you'll want to see just a slight color to the center.
If it's very pale white and lacking any juiciness, you have overcooked it. Whomp, whomp. Sad face.
What To Serve With Baked Pork Tenderloin
This juicy and flavorful pork pairs perfectly with just about anything. Here are a few of our favorite side dishes to try…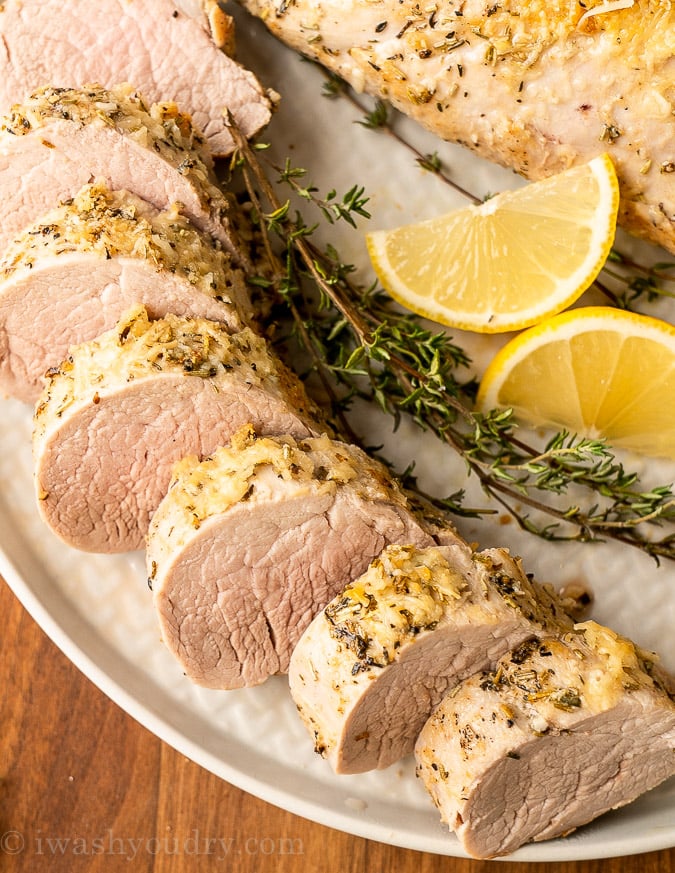 Tips and Common Questions
I tend to get asked these questions a lot, so I'll try and answer them here in case anyone else has the same questions…
Do I Need To Use Cast Iron?  No, you don't need to use a cast iron pan, but you will need to use something other than a non-stick pan. Non-stick pans do not give a good sear on meats. I like cast iron because I can sear then transfer the pan to the oven, essentially using less dishes.
Can I Use Pork Loin Instead Of Pork Tenderloin? No, this recipe is meant for a quick cooking pork tenderloin. I would recommend trying my Slow Cooker Pulled Pork recipe instead.
Can I Use Fresh Herbs? Yes, you can definitely use fresh herbs for this recipe, just double the amounts listed in the ingredients.
Do I Have To Use Parmesan Cheese? No, you do not have to use the parmesan cheese. Simply omit it from the recipe and you should be good!
More 5 Star Pork Recipes To Try
Craving more? Here are a few of my favorite ways to cook pork tenderloin that are sure to please…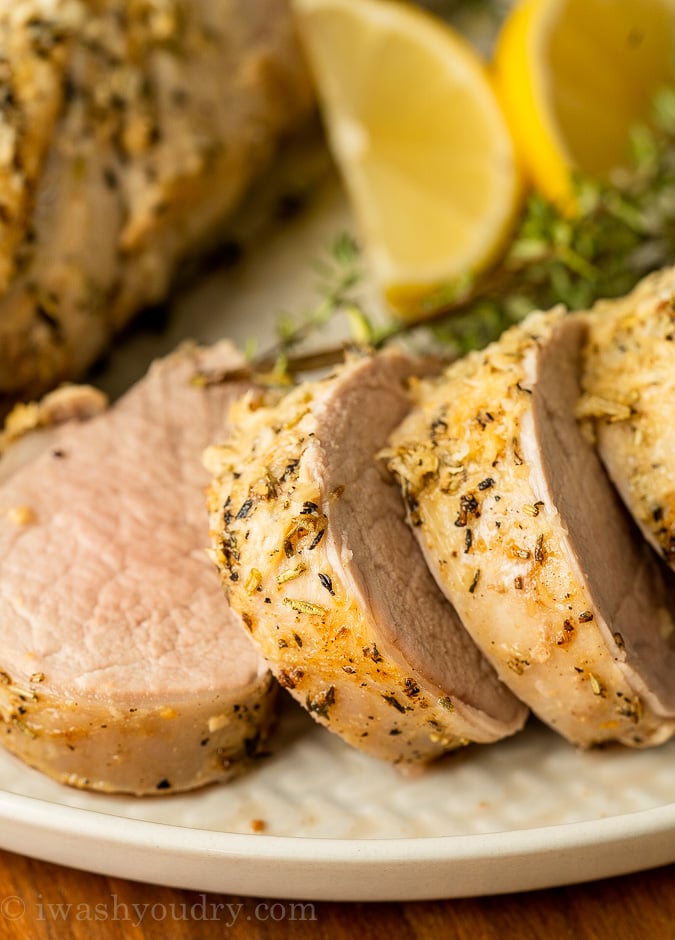 I hope you give this quick and easy Garlic Herb Pork Tenderloin Recipe a try tonight!
Garlic Herb Pork Tenderloin Recipe
This juicy, quick-cooking Pork Tenderloin recipe is ready in a flash and so flavorful!
Ingredients
2

lbs.

Pork Tenderloin

¼

cup

dijon mustard

2

tsp

garlic

,

minced

1

tsp

dried thyme

1

tsp

dried rosemary

½

tsp

salt

¼

tsp

black pepper

1

tbsp

olive oil

⅓

cup

Parmesan Cheese

,

shredded
Instructions
Preheat oven to 425 degrees F.

Slather the pork tenderloins with the dijon mustard, coating completely. Season with the garlic, thyme, rosemary, salt and pepper all over.

Heat oil in a large cast iron (or oven safe skillet) over medium-high heat. Sear the pork tenderloins on all sides, until nicely browned. Sprinkle tops of tenderloins with the shredded parmesan cheese.

Carefully transfer skillet to preheated oven and cook until internal temperature of pork reaches 140 degrees F. (approximately 10 to 15 minutes). When finished carefully remove pan from oven and loosely cover with foil and let rest for 5 to 10 minutes. Slice into 1 inch medallions and enjoy.
Notes
*If using fresh herbs in place of dried herbs, increase to 2 tsp of each. 
Nutrition
Calories:
234
kcal
|
Carbohydrates:
1
g
|
Protein:
34
g
|
Fat:
10
g
|
Saturated Fat:
3
g
|
Cholesterol:
102
mg
|
Sodium:
480
mg
|
Potassium:
609
mg
|
Fiber:
1
g
|
Sugar:
1
g
|
Vitamin A:
43
IU
|
Vitamin C:
1
mg
|
Calcium:
88
mg
|
Iron:
2
mg
Keywords:
Garlic, Herbs, parmesan cheese, pork tenderloin, rosemary, thyme