Gone are the days of tough, dried out pork chops. With this Juicy Oven Baked Pork Chops Recipe you can have perfectly seasoned, juicy and flavorful pork chops every time!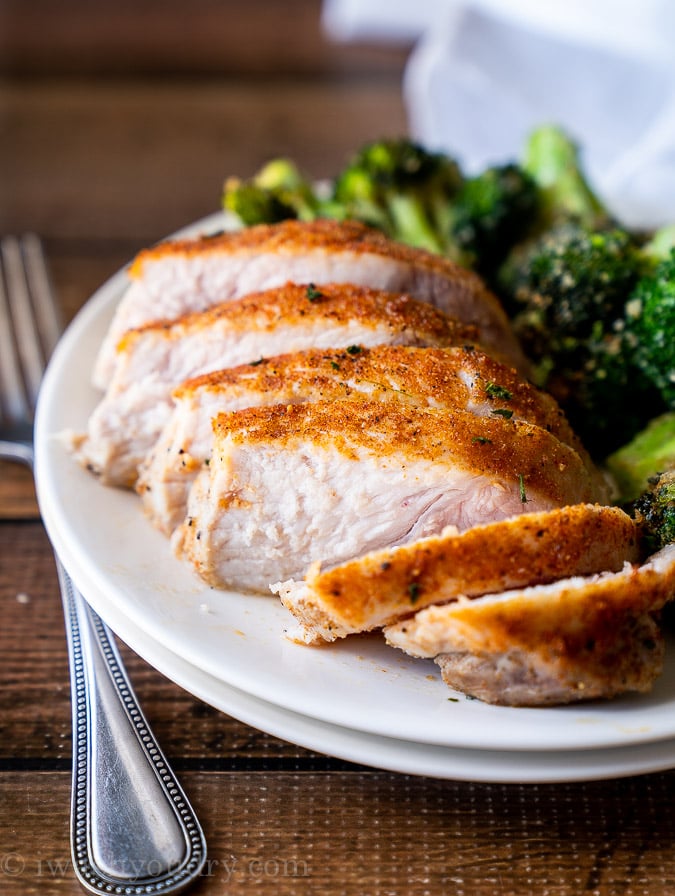 Thousands and thousands of you have enjoyed my Juicy Oven Baked Chicken recipe, so I thought it was time to share my tips and tricks to success with baked pork chops… the other white meat!
It's actually super simple to make juicy, tender pork chops, but there are a few key things that you'll want to do in order to achieve success every time.
How To Bake Pork Chops
Make sure to follow these steps to set yourself up for success with this recipe.
Thickness of Pork Chops – pork chops can come in all shapes and sizes, but if you want to BAKE your pork chops, pick out a nice thick cut pork chop. I like anything over 1 inch thick. This recipe works great with either boneless or bone-in.
Brine Your Pork – My preferred method of brining pork chops is a wet brine, but dry brining can also work. *see notes below on brining and why it's important.
Season – feel free to switch up the seasonings to your taste preference, but my go-to spice blend is written in the recipe.
Bake at a HIGH temperature – we're skipping the searing of meat, so we need to make sure we cook these pork chops at a high temperature of 425 degrees F. to lock in those juices.
Let it Rest – giving your pork a chance to rest under foil after it's baked will help to relax the pork, making it ultra tender and juicy.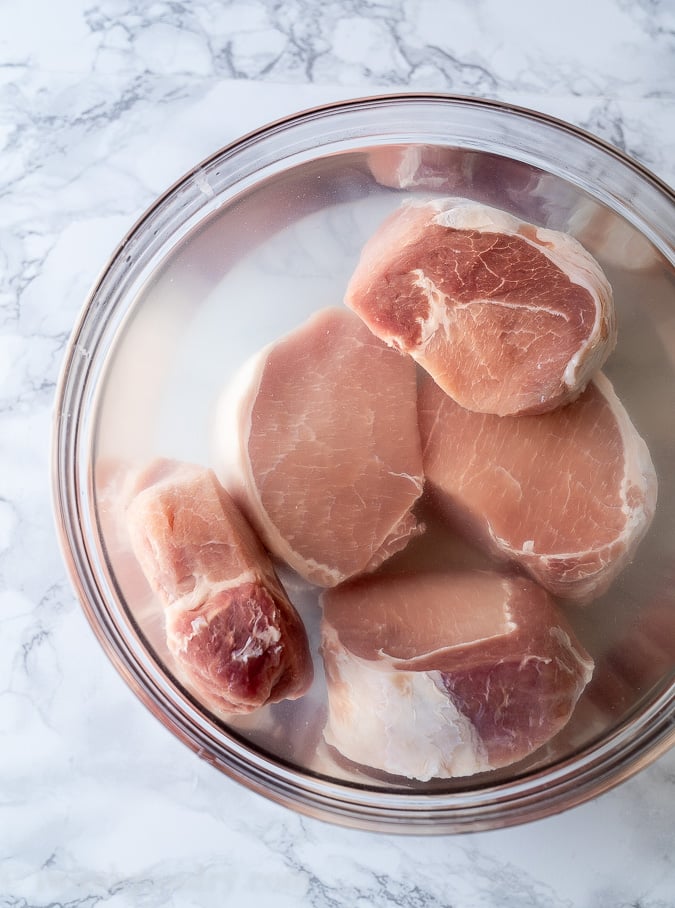 How To Brine Pork Chops… and WHY?
Brining may sounds like a difficult or tedious step, but it's soooo crucial with a thick cut pork chops. And bonus – brining pork chops is actually crazy simple.
The process of brining creates a chemical reaction that happens between the structure of the meat and the salt. It helps to tenderize the lean pork, which is exactly what we want. The longer you can brine your pork chops, the better, but give it at least 30 minutes.
Wet Brine – Fill a large bowl with warm water and stir in 1 tablespoon of kosher salt for every cup of water. Submerge your pork chops in the water and if you're doing a quick brine, let them sit at room temperature for at least 30 minutes. For longer brining, cover the bowl with plastic wrap and place in the fridge for up to 24 hours.
Dry Brine – Place the pork chops on a plate or cutting board and pat dry with paper towels. Sprinkle kosher salt all over the pork chops and cover loosely with plastic wrap. Let sit out on counter until room temperature, at least 30 to 45 minutes.
Pat Dry – After wet or dry brining the pork, make sure to pat dry with paper towels. No need to rinse with water, the pork will not be overly salty when baked.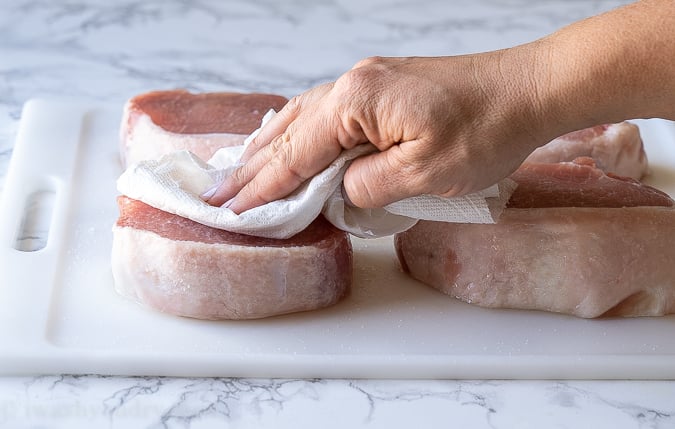 How Long Does It Take To Bake Pork Chops?
There are a few variables when it comes to baking pork chops – thickness, bone-in vs. boneless and temperature of the pork before it's baked. Here are my basic guidelines for baking pork chops and how long it can take.
Let the pork sit at room temperature for at least 30 to 45 minutes. (this is the perfect time to brine!)
If the pork is at room temperature and brined here is how long they should bake

BONE-IN Pork Chops @ 425 degrees F.

1/2 inch thick – 8 to 10 minutes
1 inch thick – 18 to 20 minutes
1 1/2 inch + thick – 25 minutes

BONELESS Pork Chops @ 425 degrees F.

1/2 inch thick – 6 to 7 minutes
1 inch thick – 12 to 15 minutes
1 1/2 inch + thick – 20 minutes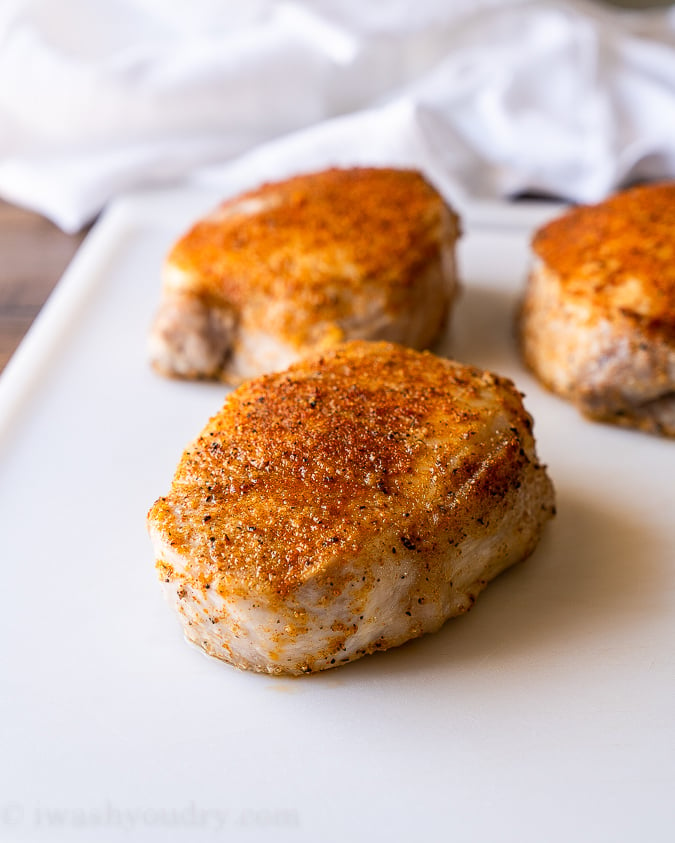 What Temperature Should Pork Chops Be Cooked To?
Pork chops should be reach an internal temperature of 145 degrees F when cooked. The best way to know for sure if your pork is cooked to the appropriate temperature is to test with an instant read meat thermometer. I keep this one on my fridge and use it all the time.
PRO TIP: In order to get the juiciest pork chops, I actually bake them to 143 degrees F before pulling them from my oven. With just two degrees to go, I'll cover them with foil so the residual heat will peak at 145 degrees F while it rests, ensuring that it does not over cook.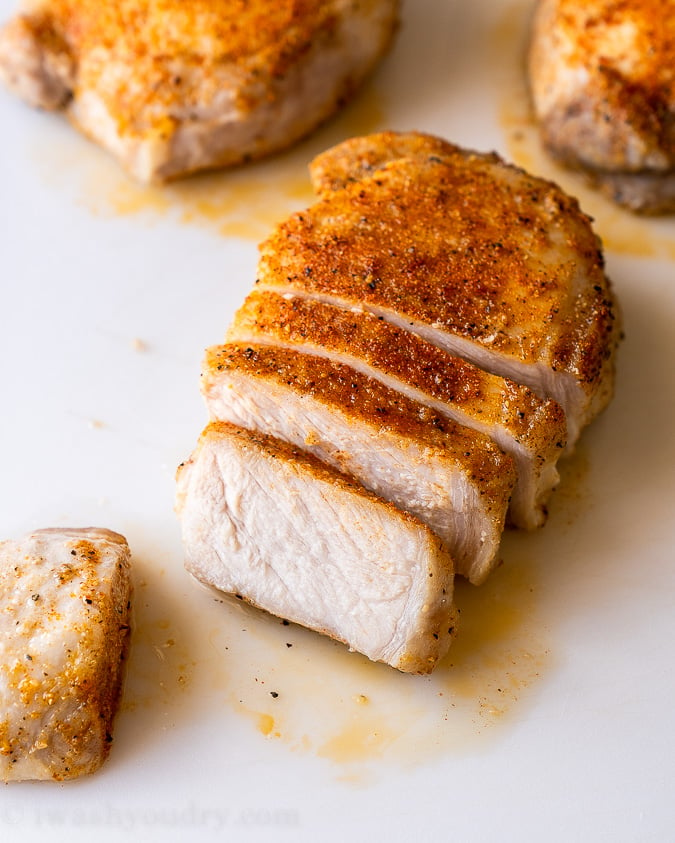 What To Serve with Baked Pork Chops
The simple spice blend makes the flavor of these pork chops very versatile when it comes to side dishes that pair well. Here are a few of my favorites to serve alongside pork chops.
Garden Salad with Ranch Dressing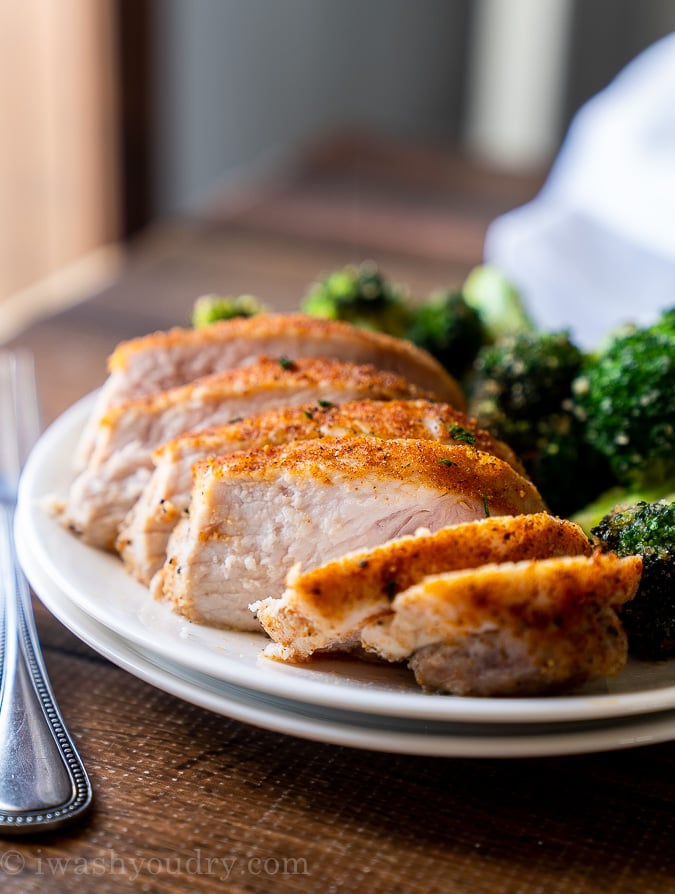 More Pork Chop Recipes To Try:
I'm confident you'll love this recipe and will be blown away at how juicy and tender these pork chops are!
Juicy Oven Baked Pork Chops
Delicious and EASY Baked Pork Chops take only a few minutes of prep and result in the juiciest pork chops you've ever made!
Instructions
Place the warm water in a large bowl and add the salt. Stir until the salt is dissolved and then place the pork chops in the salt water, making sure they're covered (add more if necessary). Let the pork chops sit in the water at room temperature for 30 to 45 minutes, or place in fridge and brine for up to 24 hours. Just make sure to let pork sit at room temperature for 45 minutes before seasoning.

Preheat oven to 425° F. and line a baking sheet with foil or parchment paper.

Remove pork chops from salt water and pat dry with paper towels, making sure to remove all moisture. Drizzle both sides of pork chops with olive oil, then season both sides with garlic powder, pepper and paprika. You should not need to season with extra salt, but you can adjust seasonings to taste.

Bake in oven according to the time chart in the notes section, or until internal temperature reaches 143° F. Remove from oven and cover loosely with foil for 5 minutes before slicing and enjoying.
Notes
If the pork is at room temperature and brined here is how long it should bake:
BONE-IN Pork Chops @ 425 degrees F.

1/2 inch thick - 8 to 10 minutes
1 inch thick - 18 to 20 minutes
1 1/2 inch + thick - 25 minutes

BONELESS Pork Chops @ 425 degrees F.

1/2 inch thick - 6 to 7 minutes
1 inch thick - 12 to 15 minutes
1 1/2 inch + thick - 20 minutes
Nutrition
Calories:
57
kcal
|
Carbohydrates:
1
g
|
Protein:
1
g
|
Fat:
6
g
|
Saturated Fat:
1
g
|
Cholesterol:
1
mg
|
Sodium:
476
mg
|
Potassium:
25
mg
|
Fiber:
1
g
|
Sugar:
1
g
|
Vitamin A:
227
IU
|
Calcium:
6
mg
|
Iron:
1
mg
Keywords:
Baked, Juicy, Pork, pork chops, Tender