This quick (no yeast required) Cheesy Jalapeño Beer Bread Recipe is soft and tender with the perfect blend of cheddar cheese throughout!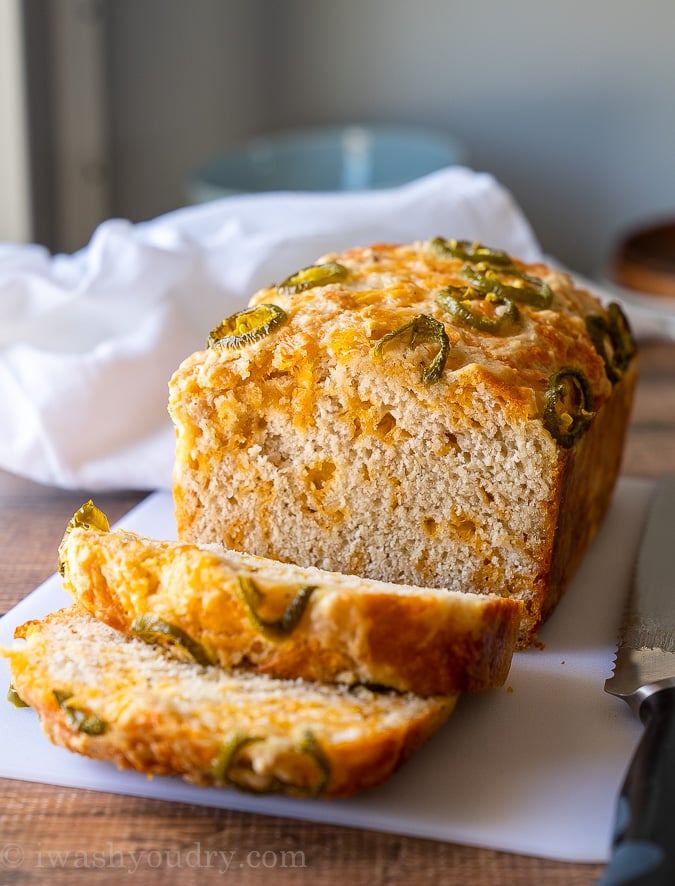 Are you obsessed with warm, fresh bread as much as I am? Toss in some cheddar cheese and pickled jalapeño and I'll over it.
What's even better, is that this super easy beer bread recipe only requires a few basic ingredients, no rise time, and is ready in about 1 hour! The smell of cheese bread baking in your oven is going to make you so so happy!
Ingredients Needed For Basic Beer Bread Recipe:
Self Rising Flour – or a simple homemade blend (see notes below)
Sugar
Salt
Beer – use your favorite flavor! Different beers will change the flavor of the bread. I prefer a dark amber beer.
Butter
The above ingredients will make your basic beer bread. What's awesome about this bread recipe is that it's easily customizable. With just a few more seasonings, some cheese and jalapeños, we can transform it into a savory, delicious loaf!
Garlic Powder
Italian Seasoning
Cheddar Cheese
Pickled Jalapeños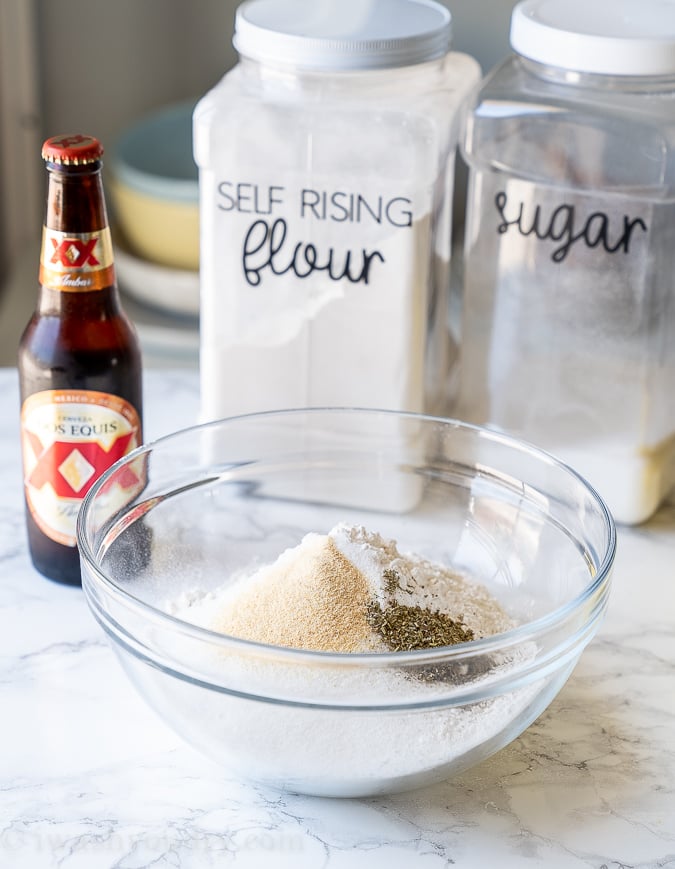 Substitutions For Beer in Beer Bread?
Unfortunately, without the beer, this recipe will not work, and here's why…
The yeast that is in beer is needed to react with the sugar in the bread. This reaction, in addition to the baking powder in the self rising flour, helps give the bread that nice rise and soft, bread-like texture.
Beer bread is a great recipe to make when you don't have any yeast on hand, but still want to enjoy some nice homemade bread. There is no kneading of dough involved, no rise time and it's customizable flavor make it an easy quick bread to make.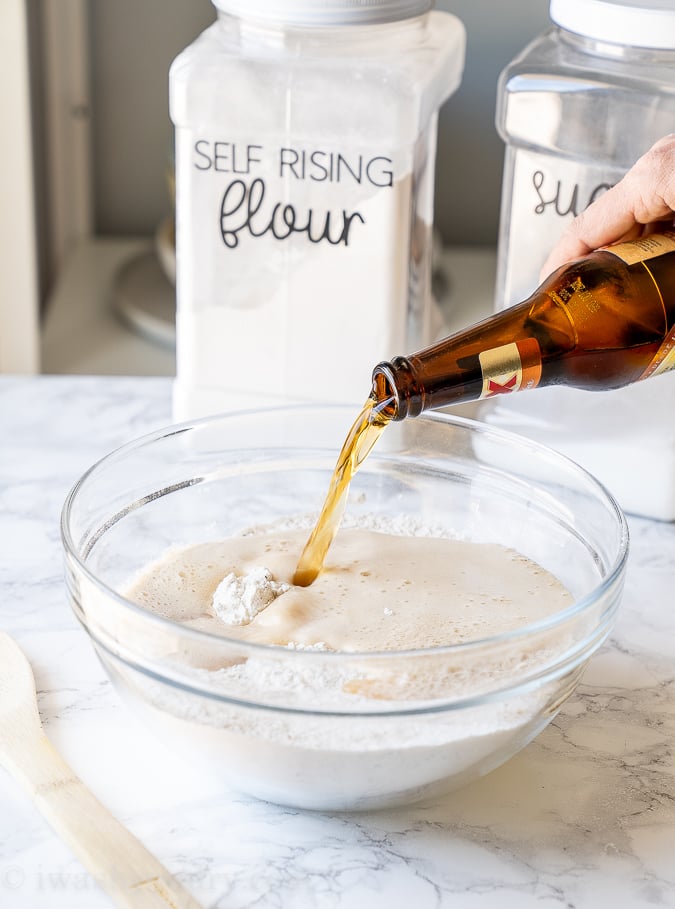 How To Make Self Rising Flour
If you don't already have self rising flour in your pantry, have no fear! It's actually super simple to make! Here's what you'll need…
All purpose flour
Baking Powder
Salt
For each cup of flour, whisk together with 1 1/2 teaspoons of baking powder and 1/4 teaspoon of salt. Make sure to whisk all of these ingredients together well so that the baking powder and salt are both evenly distributed within the flour. I have plenty of recipes that use self-rising flour, so it's something I keep on hand, but it's quick enough to make if I run out.
How To Make Cheesy Beer Bread
Combine the self rising flour, sugar, salt, garlic powder and Italian seasonings in a bowl and whisk together.
Pour in a full bottle (12oz.) of beer and use a sturdy wooden spoon to mix, until a soft, semi-sticky dough forms.
Fold in the cheddar cheese and place in a greased loaf pan.
Top the bread with pickled jalapeños and bake!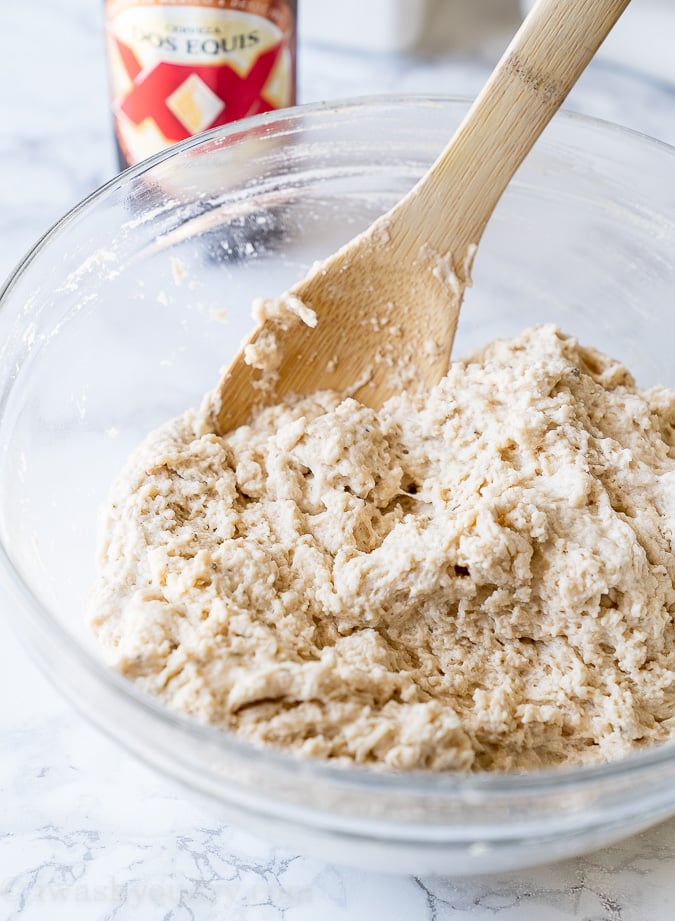 No Yeast, No Knead, No Rise = Delicious Bread!
Beer bread really is fantastic because there is no yeast required, which means you don't have to knead any dough and you also do not have to wait for a rise of the dough (like you do in traditional homemade bread).
This does not mean that the bread will be tough by any means. The reaction between the yeast in the beer and the sugar in the recipe will create just enough oomph for the bread to rise beautifully in the oven. It's definitely not as bouncy of a loaf, but it's still plenty soft and tender.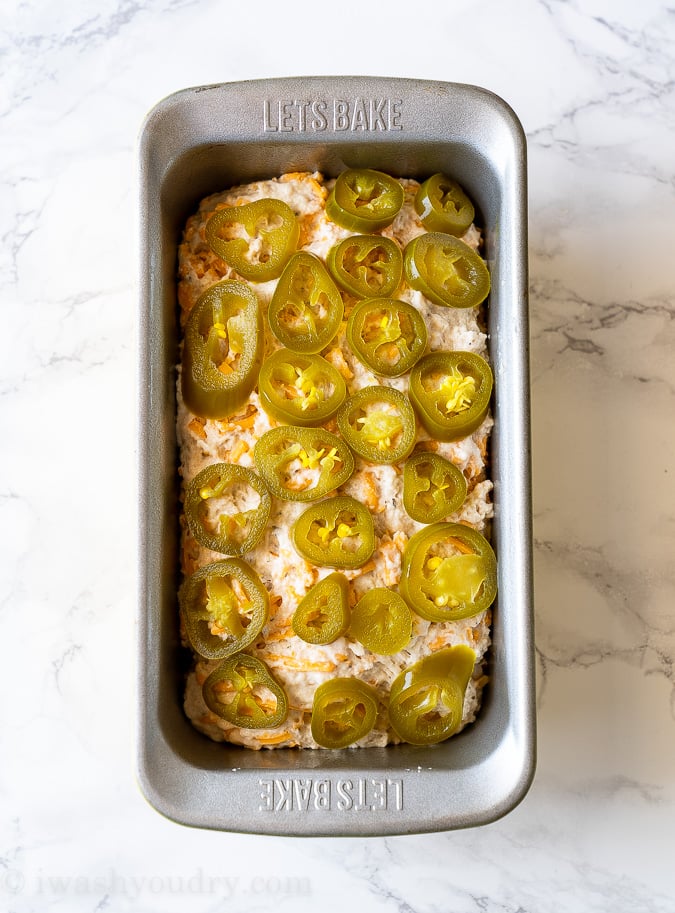 Beer Bread Flavor Variations
Like I said above, this recipe is great because it starts with a basic plan, giving you ample room to go in any direction you want. Sweet, Savory, Plain… it's up to you! Here are some great flavor ideas to try –
Bacon Bread – add crumbled cooked bacon and cheese to the dough
Cinnamon Raisin – add in a cup of raisins and a tbsp of cinnamon to the dough
Herb Bread – mix in fresh herbs like rosemary, thyme and sage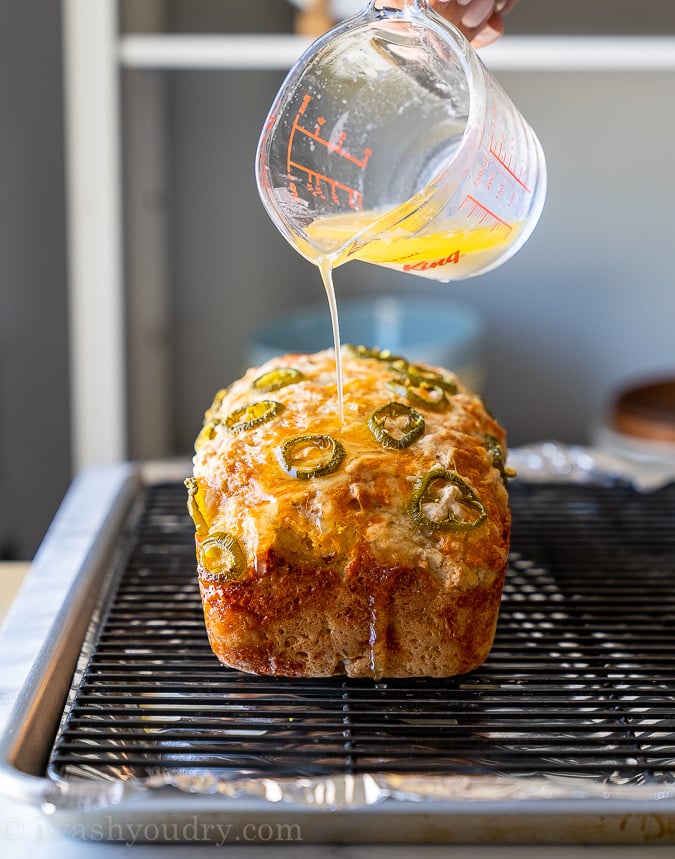 You can really see how much the bread rises when it bakes!
Let the bread cool in the pan for about 5 to 10 minutes before you place in on a wire rack and pour/brush melted butter all over. This helps to soften the outside of the bread and make it extra yummy!
All that's left now is to slice, add extra butter (cause why not?!), and enjoy!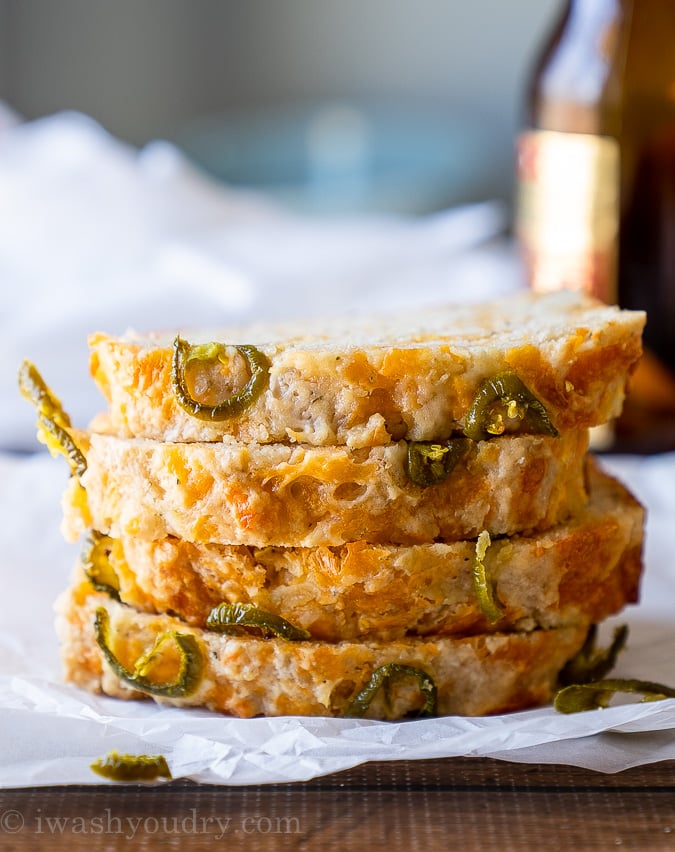 How Long Does Beer Bread Last?
Beer bread can last up to 5 days when kept in an air tight container in the fridge. Or a few days when kept on the counter at room temperature. The flavor of the beer will lessen the longer it is kept, so it's best enjoyed within a few days. You can even freeze the bread for up to 3 months for later use!
We love to reheat slices of bread in the toaster and slather more butter over the top! YUM!
Cheesy Jalapeño Beer Bread
This Cheesy Jalapeño Beer Bread is a quick and easy bread that's soft and tender with a nice savory and spicy kick to it.
Instructions
Preheat oven to 350 degrees F. Lightly grease an 8x4" (or similar size) loaf pan with non-stick spray and set aside.

Combine the self rising flour, sugar, salt, garlic powder and Italian seasoning in a large bowl and whisk to combine.

Pour in the beer and use a sturdy spoon to mix, until a soft and semi-stick dough forms. Add in the cheese and fold into the dough.

Pour the dough into the prepared loaf pan and place the pickled jalapeños on top in an even layer.

Bake the bread for 50 to 60 minutes, until golden brown on top. Remove bread from oven and let cool for about 10 minutes before removing from pan to a wire rack.

Brush or pour the melted butter all over the top and sides of the bread and let soak in. Let cool slightly before slicing into 8 slices. Enjoy!
Notes
Bread can be stored at room temperature for up to 3 days, in the fridge for up to 5 days, or frozen for up to 3 months. 
Nutrition
Serving:
1
slice
|
Calories:
317
kcal
|
Carbohydrates:
43
g
|
Protein:
9
g
|
Fat:
11
g
|
Saturated Fat:
7
g
|
Cholesterol:
30
mg
|
Sodium:
287
mg
|
Potassium:
89
mg
|
Fiber:
2
g
|
Sugar:
5
g
|
Vitamin A:
359
IU
|
Vitamin C:
4
mg
|
Calcium:
116
mg
|
Iron:
2
mg
Keywords:
Beer, Beer Bread, cheddar cheese, jalapeno, quick bread