A couple weeks ago I made a big pot of my Roasted Corn and Potato Chowder for my family.
It needed a roll, but of course I had thought of this too late. So I grabbed a tube of Flakey Dinner Rolls out of my fridge and cranked on the oven.
Then it hit me!
Why not jazz these little dough balls up with a little garlic and cheddar?! By the time the oven was preheated I had my Cheesy Monkey Bread Rolls ready to bake. It's no surprise that these fun little guys were the star of dinner that night.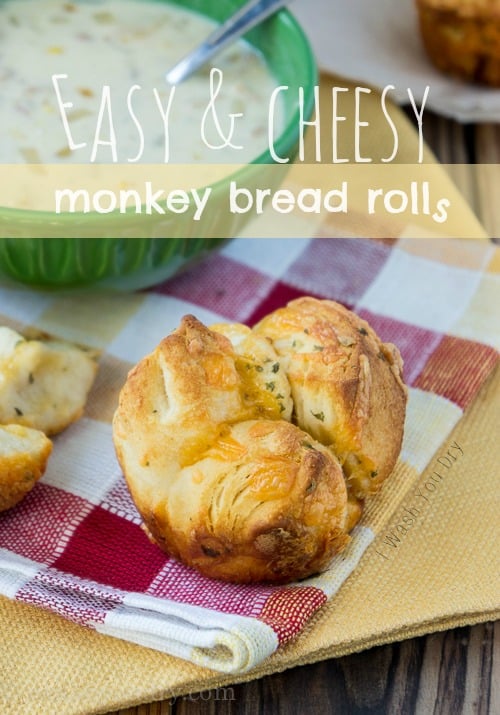 In fact, whenever I make these Easy & Cheesy Monkey Bread Rolls I have to make a double batch because my family goes nuts over them. I go nuts over the fact that they are so easy to make.
With just 5 ingredients, these pull apart rolls are a snap!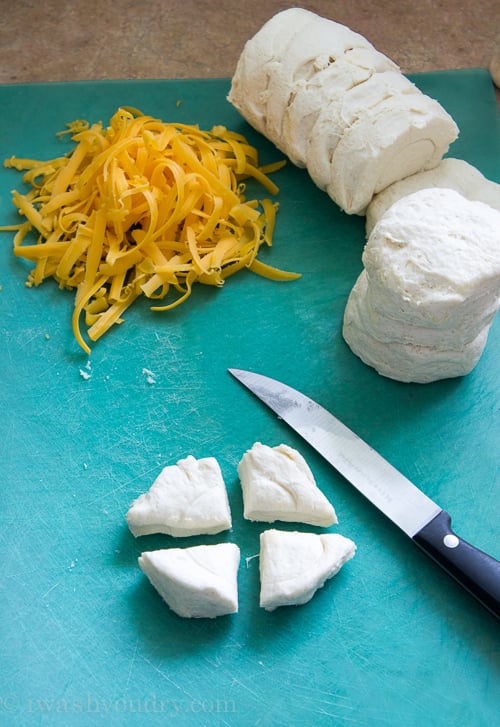 Just grab a tube (or two) of the Flakey Dinner Rolls and cut them into quarters.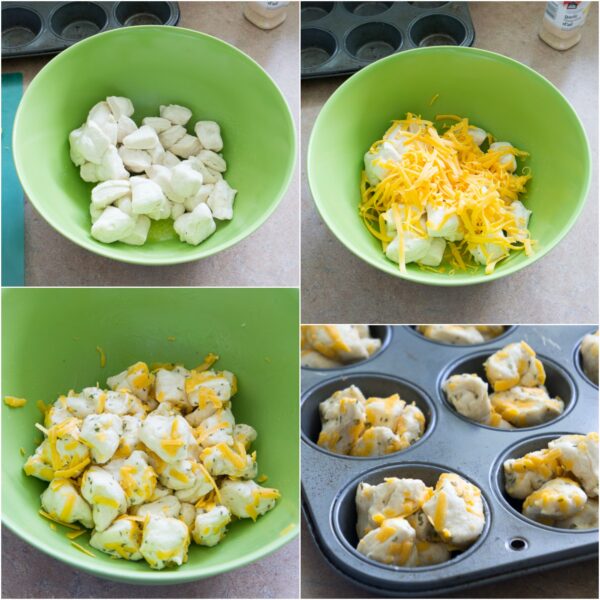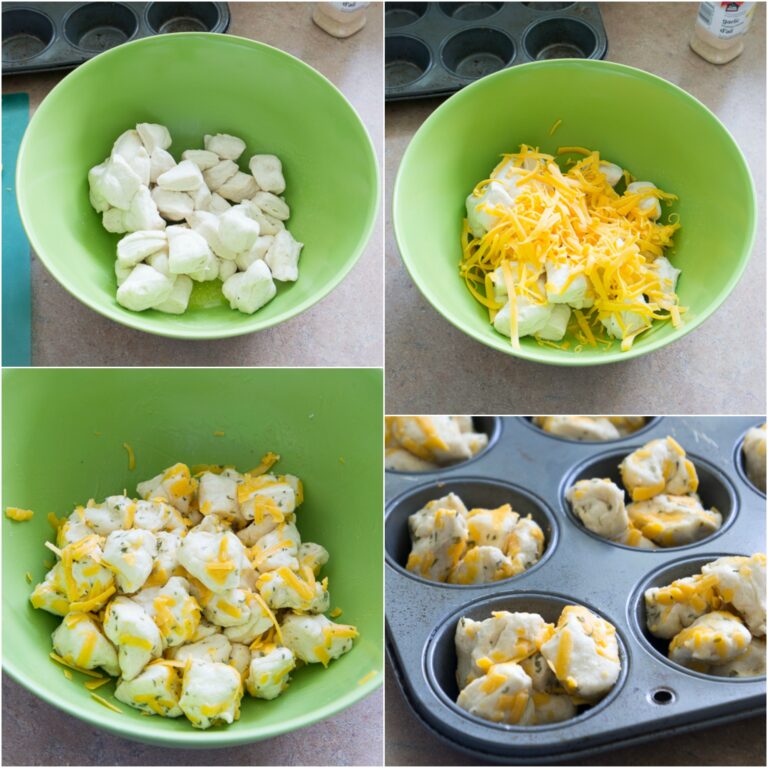 Melt a little butter in a large bowl, throw in the dough balls, top with a little garlic powder, dried parsley, and some shredded cheddar cheese, then give it a good mix so that each dough ball is coated with yumminess.
Divide the dough into your Monkey Bread Rolls…
Here is some math for you: The tube comes in 10 rolls, cut them into fourths and you have 40 balls. Divide that into how many rolls you want (8), which means you place 5 coated dough balls in each muffin cup. Make sense?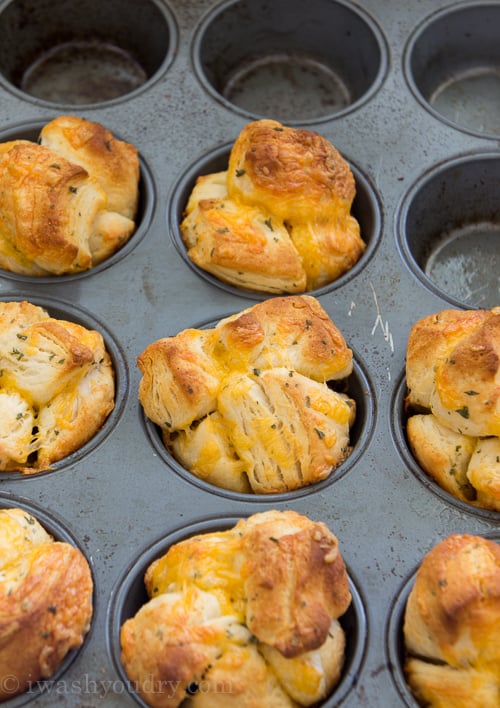 If you want more rolls, I suggest just making a double batch. I think 5-6 dough balls per roll is a good number per cup.
Then you get to pull apart the rolls, which is why they are called Monkey Bread Rolls… cause Monkeys like to pull things apart (??)…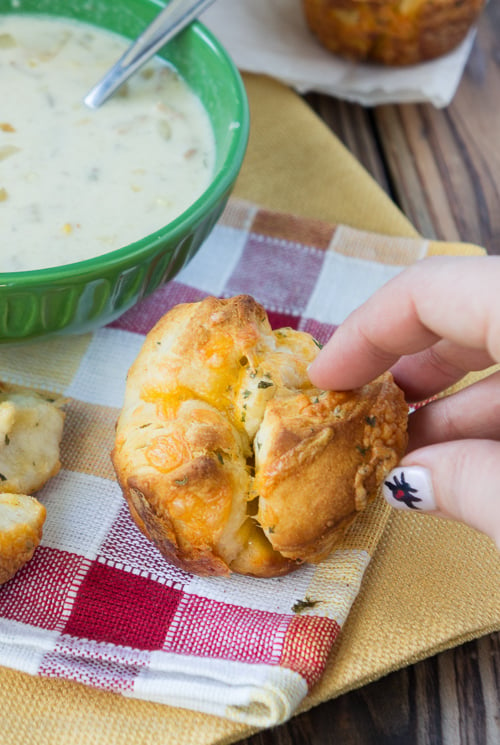 Which makes it especially easy to dip into your soup.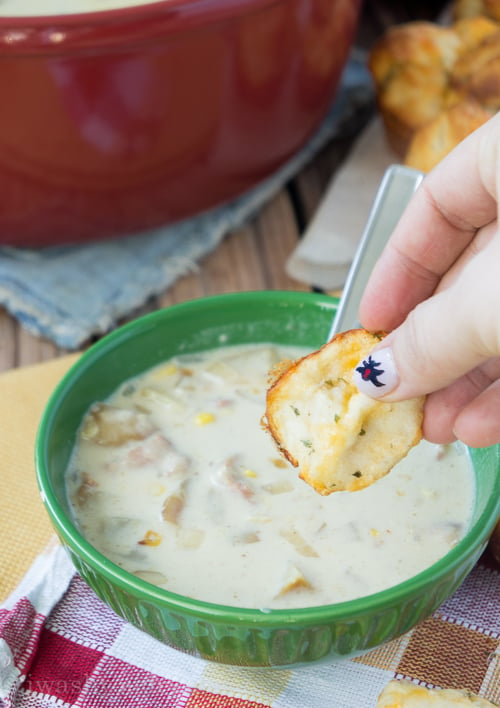 I'm serious guys- these things are legit. BEST. EVER.
The crispy cheese on the outside, the flakey tender roll on the inside, and the buttery, cheesy, garlicky flavor and aroma is to.die.for.
Make it happen.
Easy and Cheesy - Monkey Bread Rolls
Easy and Cheesy Monkey Bread Rolls have crispy cheese on the outside, the flakey tender roll on the inside, and the buttery, cheesy, garlicky flavor is to die for!
Ingredients
1

10 count tube of Flakey Dinner Rolls, such as Pillsbury

2

tbsp

butter

1

tsp

garlic powder

1

tsp

dried parsley flakes

1/2

cup

shredded cheddar cheese
Instructions
Preheat oven to 375 degrees F.

Cut each roll into 4 equal parts.

In a large, microwave safe bowl, melt the butter. Add the cut dough, garlic powder, parsley flakes, and cheddar cheese. Toss to evenly coat each ball.

Divide the dough balls evenly in a muffin tin (5 balls per cup).

Bake for 12-14 minutes or until the rolls are a golden brown and cooked on the inside. Remove from muffin cups and enjoy immediately!
Nutrition
Calories:
68
kcal
|
Carbohydrates:
2
g
|
Protein:
2
g
|
Fat:
5.5
g
|
Cholesterol:
14.6
mg
|
Sodium:
73.3
mg
|
Sugar:
0.4
g
|
Vitamin A:
3
IU
Keywords:
Cheesy, refrigerated roll dough