Wow, how did we already get to November? Before we know it, it'll be December and Christmas will be just a blink away. I love the last three months of the year because there is always so much going on, and it keeps me busy.
Since being here in Canada I've been able to experience a few different things, for instance- Thanksgiving was last month… whaaa??
Sooo…. NOTHING in November?!? No Thanksgiving, not even Black Friday?  I can't handle that. So I am just going to do it again. I'll just treat Canadian Thanksgiving as my test run in preparation for the real Thanksgiving. And bonus for getting to make two turkeys.
Try to hold back your jealousy.
So for the whole month of November I am going to share with you some of my family's traditional Thanksgiving dishes. Since I wont be able to spend the holidays with them (cause it costs a ba-zillion dollars to travel for a family of 6), I thought I would reminisce by creating all of our family favorites on my blog!
FIRST– These 3 ingredient Pumpkin Cloud Cookies with Chocolate Chips!
My dad loves pumpkin cookies. Everyone loves pumpkin cookies! Well, you're going to love these even more because they only take 3 ingredients to make. Well, 4, if you count the chocolate chips- but these are fantastic without the chocolate chips too. I made them both ways.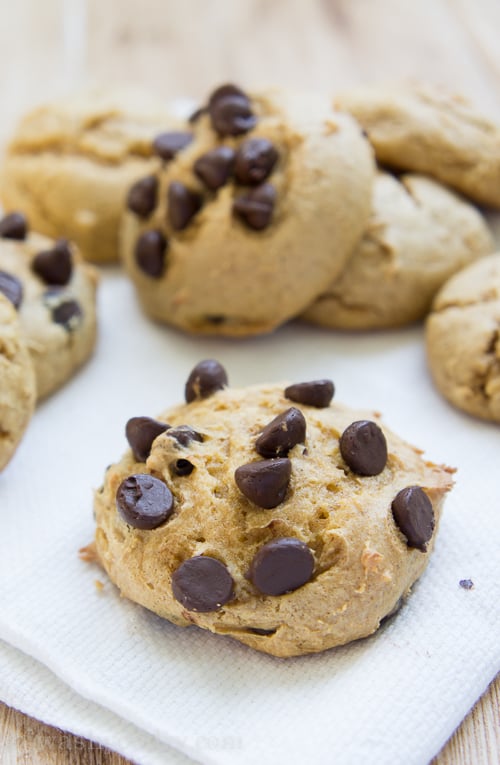 Are you dying to know how I made these with just 3 ingredients?
Spiced Pumpkin Butter, a Vanilla cake mix and an egg.
BAM! Delicious cookies.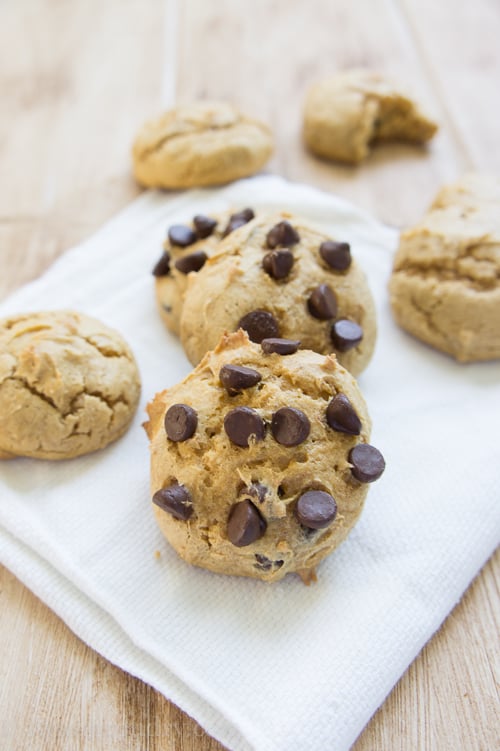 I call them Pumpkin Cloud Cookies because they have this irresistible light and fluffiness to them. When they are fresh out of the oven the outside has a slightly crisp shell to it, while the inside holds a moist, and perfectly spiced, airy texture.
I did notice, however, that when you store them in a closed container, the outer crispy shell is softened and they become moist all over (which is common for a pumpkin cookie), and not necessarily a bad thing.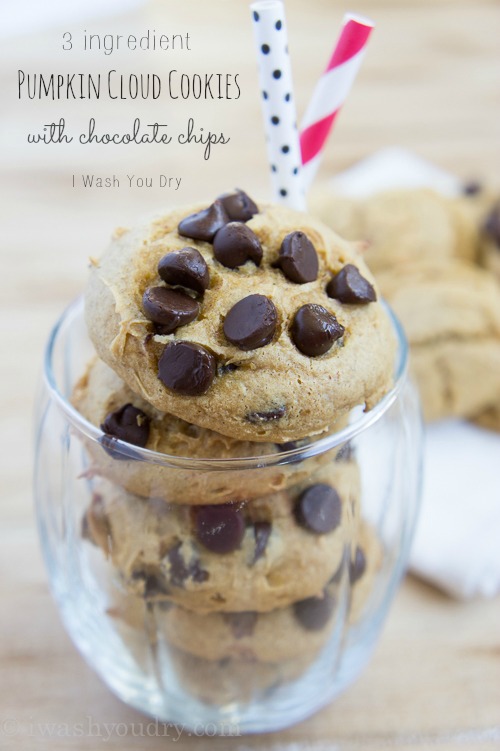 With just 3 (or 4 if you want the chocolate chips) ingredients, these Pumpkin Cloud Cookies are the perfect treat to share this Holiday Season.
You should already have a jar or two of my Spiced Pumpkin Butter in your fridge, but if you haven't done that yet… get on it.
Then make these cookies and revel in the deliciousness of perfectly spiced, airy pumpkin goodness.
3 Ingredient Pumpkin Cloud Cookies with Chocolate Chips
Pumpkin Cloud Cookies are super easy and have this irresistible light and fluffiness to them.
Instructions
Preheat oven to 350 degrees.

In a large bowl combine the cake mix, pumpkin butter, and egg until no longer lumpy. Fold in the chocolate chips if desired. (batter will be sticky)

Use a small

cookie scoop

or two spoons to drop cookie dough by the teaspoonful onto a lightly greased, or

silicon lined

baking sheet. Bake for 10-13 minutes. Let cool for 2 minutes on baking sheet before placing on cooling rack. Enjoy!
Notes
If storing in an airtight container, place a sheet of wax paper between layers of cookies to prevent sticking.
Nutrition
Calories:
178
kcal
|
Carbohydrates:
18
g
|
Protein:
1
g
|
Fat:
11
g
|
Saturated Fat:
7
g
|
Cholesterol:
31
mg
|
Sodium:
207
mg
|
Potassium:
15
mg
|
Fiber:
1
g
|
Sugar:
11
g
|
Vitamin A:
305
IU
|
Vitamin C:
1
mg
|
Calcium:
48
mg
|
Iron:
1
mg
Keywords:
3 ingredient, chocolate chips, Cookie, pumpkin