I remember specifically as a child being thrilled, no… beyond excited, to wake up in the morning and eat my Pancake Sausage Stick for breakfast. It was a rare occasion when my mom would splurge on the frozen sweet and savory Jimmy Dean breakfast, but when it happened I was one happy girl.
Who could resist a warm sausage wrapped in a fluffy pancake… ON A STICK no less!?!
It was magical when dipped in maple syrup. Magical.
So the other day while I was staring blankly into my fridge with my kids at my knees begging for something other than cereal, I spotted a tube of cinnamon rolls, and a package of maple sausage links. I knew what had to happen.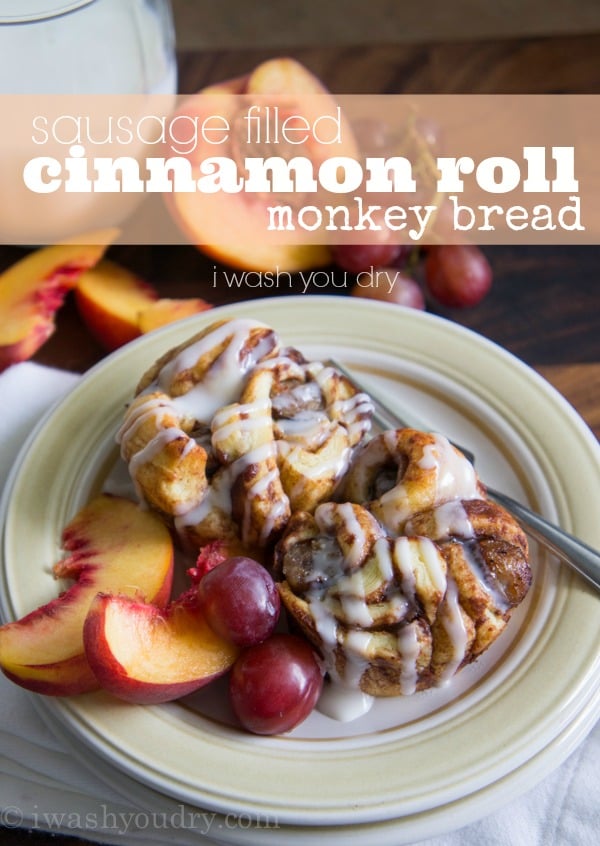 I was so excited to make these Sausage Filled Cinnamon Roll Monkey Bread Muffins, feeling bits of my childhood come rushing back. I was also excited at the thought of how easy this was going to be.
2 ingredients?
Yes please!

Within a few minutes I had my cute little sausage filled cinnamon roll monkey breads in the oven, and I was talking them up like a storm to my kids. Sweet and savory. A package deal. A two-fer.
The smell was incredible. Maple sausage, warm cinnamon rolls – what's not to love?!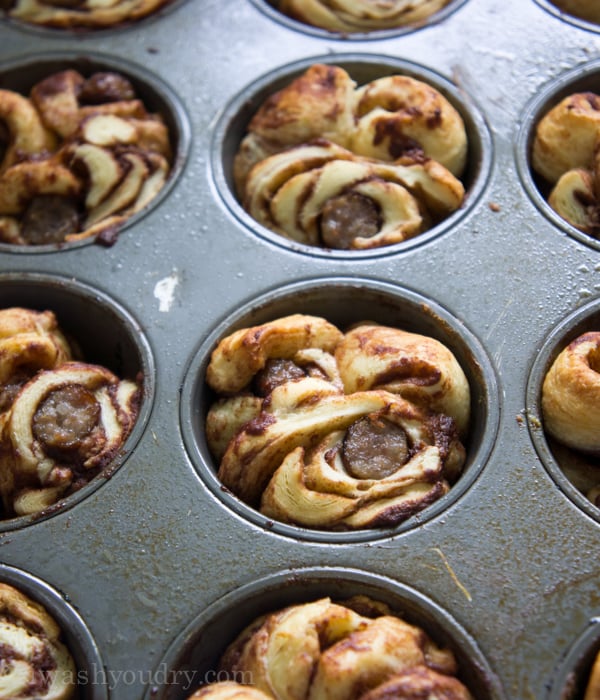 If you've ever had a Sausage McGriddle from McDonald's, you would be familiar with this phenomenon.
It's totally American. I needed this.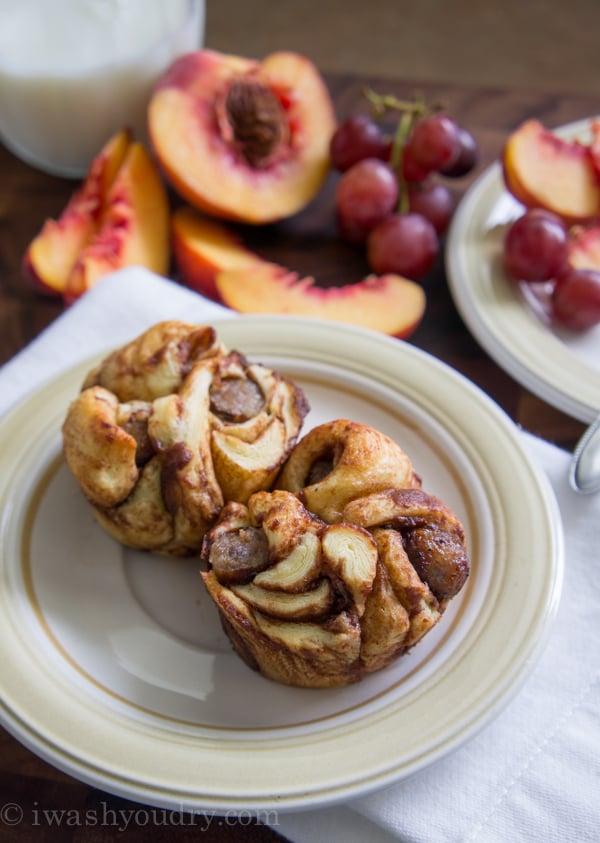 I originally thought I should put these on a stick, because that's more fun. But the lack of sticks, and the thought of the cinnamon rolls expanding and opening up deterred me. Then the monkey bread muffins came to mind. It was perfect. Three little bites of fluffy cinnamon roll, filled with sausages and covered in that sweet icing…
It's a winner.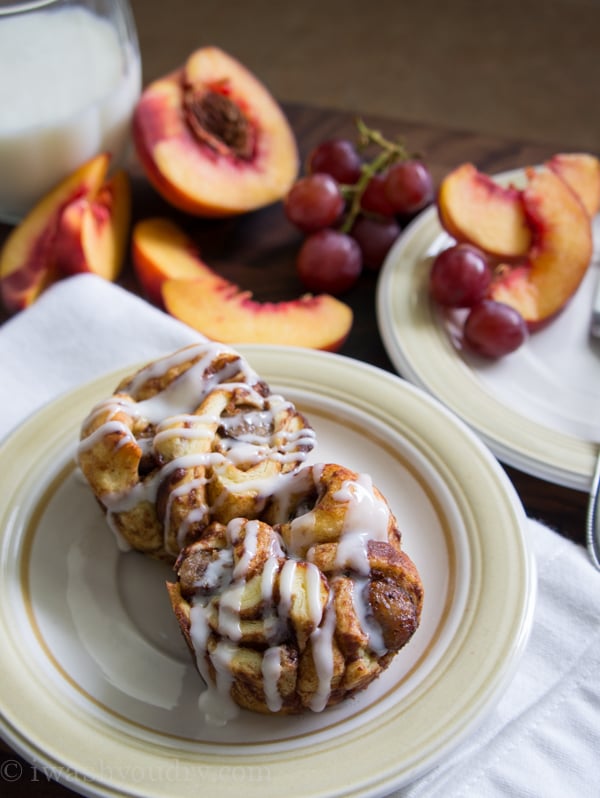 I may of had two for breakfast…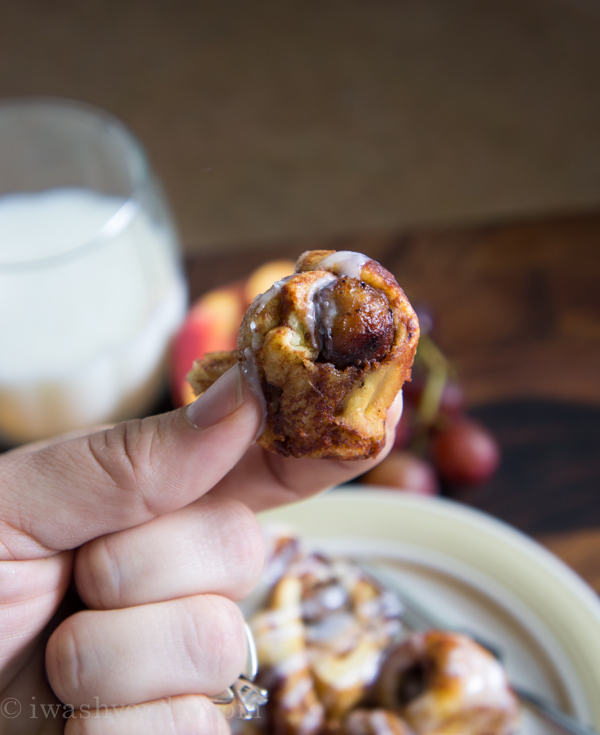 And two for lunch.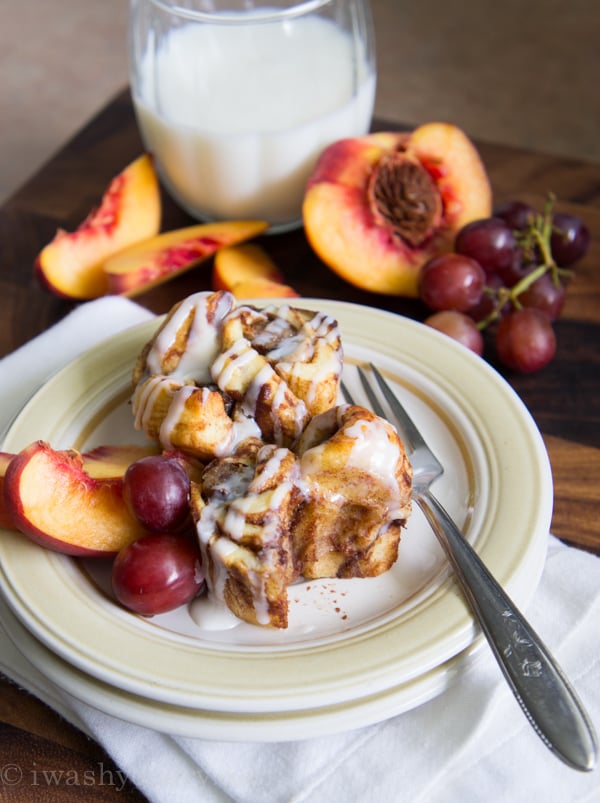 My kids didn't get it. They pulled the sausage out of the cinnamon rolls and ate them separately.
I blame their father. So uncultured.
Sausage Filled Cinnamon Roll Monkey Bread
Maple sausage and warm cinnamon rolls bundled up to make a sweet and savory breakfast.
Servings:
12
cinnamon rolls
Ingredients
2

tubes

,

6 count of refrigerated cinnamon rolls

12

maple sausage
Instructions
Preheat oven to 350 degrees.

Use a rolling pin to flatten each cinnamon roll into a circle that is wide enough to fit the maple sausage link.

Place a sausage link in the middle of the cinnamon roll and roll it up into a tube. Cut into three pieces. Place the three pieces into a lightly greased muffin tin. Repeat with the remaining cinnamon rolls and sausages.

Bake for 20-25 minutes or until the cinnamon rolls are fully cooked.

Drizzle with the provided icing. Enjoy!
Nutrition
Calories:
79
kcal
|
Carbohydrates:
1
g
|
Protein:
6
g
|
Fat:
6
g
|
Saturated Fat:
2
g
|
Cholesterol:
61
mg
|
Sodium:
136
mg
|
Potassium:
99
mg
|
Vitamin A:
22
IU
|
Vitamin C:
1
mg
|
Calcium:
8
mg
|
Iron:
1
mg
Keywords:
cinnamon roll, sausage