Take your backyard cookouts to the next level with this flavor-packed Caramelized Onion Hamburger Recipe!
We love to pair these juicy burgers with my Simple Macaroni Salad or this genius Instant Pot Potato Salad.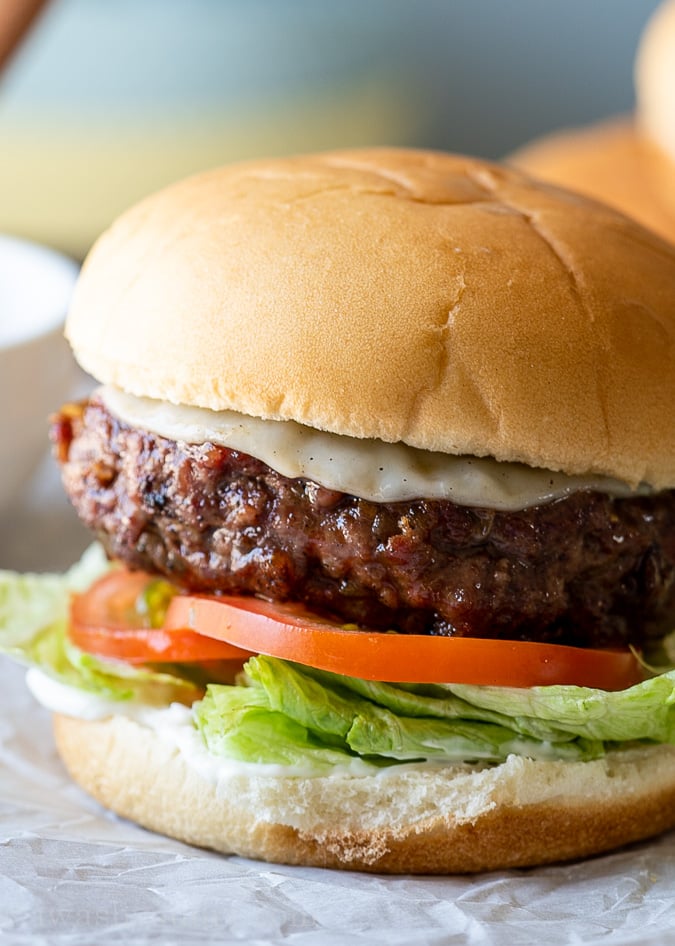 Put down the frozen hamburger patties that taste like cardboard.
You can make juicy, unforgettable burgers with just a few basic ingredients and everyone will truly enjoy them. It's easy!
Caramelized Onion Hamburger Recipe
We're cooking onions down until they become a golden brown, sweet and absolutely delicious, then we stuff the onions into my signature hamburger patties.
Oh yes, this is truly a burger you will want to eat over and over again.
Ingredients Needed For Homemade Hamburgers
Here's a basic list of the ingredients you'll need in order to make this hamburger recipe. As always, you can find the full list of ingredients in the printable recipe card below.
Sweet Onion
Olive Oil
Butter
Ground Beef – preferably 85% chuck
Mayo
Seasoned Salt – like Lawry's
Garlic Powder
Provolone Cheese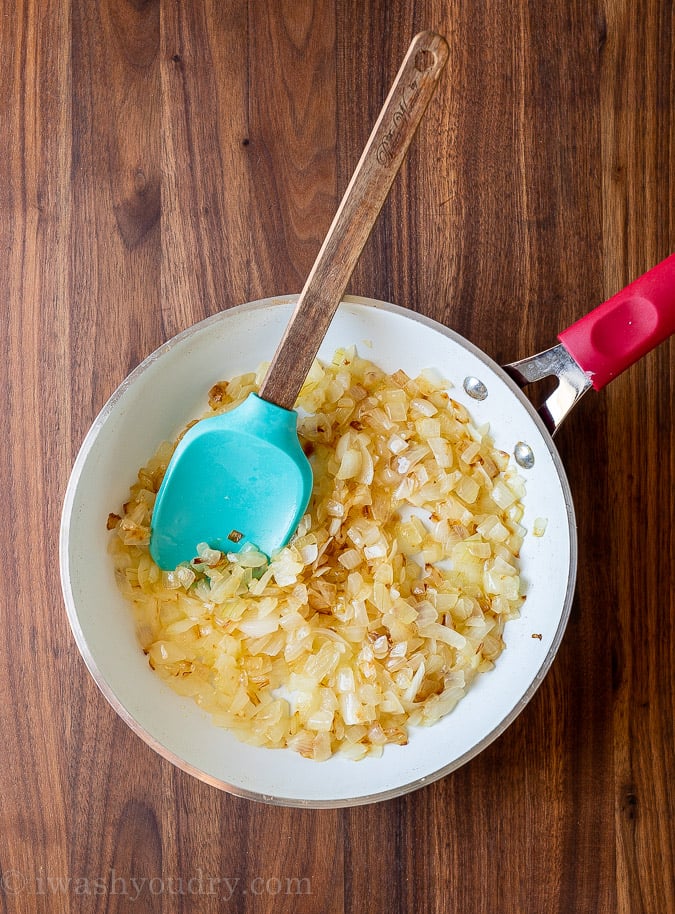 How To Caramelize Onions
Caramelizing onions takes a little bit of time, but not too much effort. It's a great way to add flavor to recipes, and works great as a topping to all sorts of meats.
WHAT TYPE OF ONION IS BEST?   You can caramelize just about any kind of onion, but I prefer a sweet onion or yellow onion. They have a nice mild flavor that turns deliciously sweet and savory when cooked down.
DICE THE ONION SMALL   Since we're adding the caramelized onions straight to the hamburger patty mixture, we want them to be nice and small to start out with.
OLIVE OIL & BUTTER    I like to use a combination of olive oil and butter to start cooking the onions. The butter adds great flavor, while the olive oil helps to prevent any burning.
STIR OCCASIONALLY    It can take about 30 minutes to fully caramelize onions, so be patient and plan ahead. It's not a difficult process, just stir them occasionally over medium heat, so they brown nicely, but try to avoid scorching them. The juices in the onions will release and create a delightfully sweet taste, which compliments the beef patties very nicely.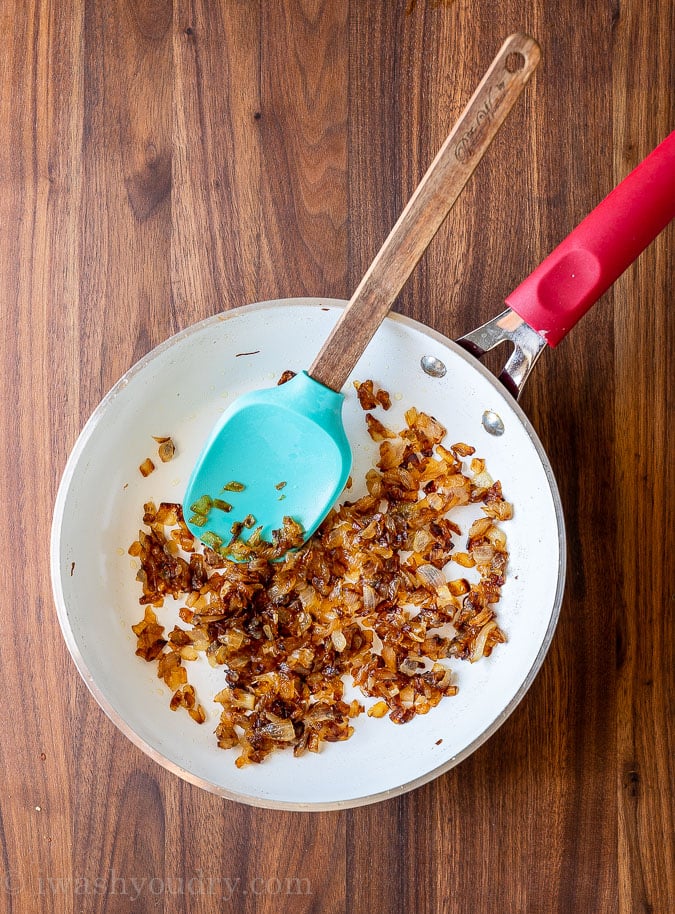 In the picture above you can see that the onions have turned a nice amber, or deep golden brown color. They've reduced in size, so while you might start out with a lot of onion, it does cook down.
Once your onions are cooked to your liking, all you have to do is combine your hamburger ingredients and you're ready to grill!
How To Make Juicy Caramelized Onion Burgers
When it comes to hamburgers, you want something that is juicy and flavorful when you bite into it, right?
Here are my top tips on how to make JUICY burgers…
FAT   Start with a fattier beef like 85% chuck. The fat in the beef will render down when grilled, but keep everything nice and moist.
MAYO   This goes hand in hand with the fat in the beef. Mayo adds a nice element of richness when mixed right into the hamburger patty.
COOK TIME    It's no secret that over-cooking steak on the grill can cause it to be tough, chewy and flavorless. Same goes with burgers. Try cooking your burger to an internal temperature of 155 degrees F to 160 degrees F for a nice medium cooked burger.
PRO TIP- I use this handy-dandy instant read thermometer to always get an accurate temperature on my meats.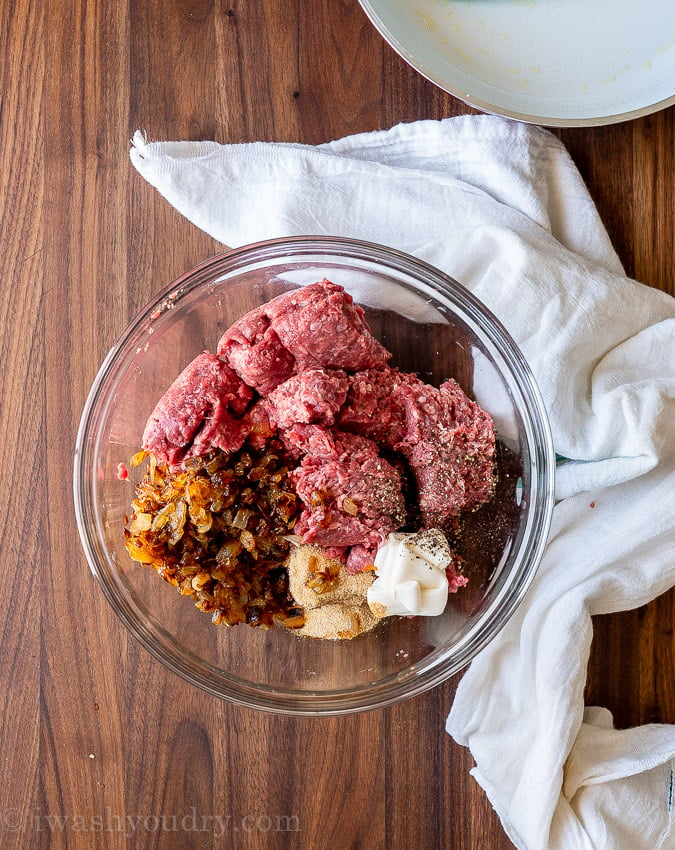 How Big Is A Hamburger Patty?
Sometimes it's difficult to know how big you should make your patties, and if you need to double or triple the recipe for a party.
Here's a good guide that I always stick to…
4 oz – small burger patty (perfect for kids)
5 oz – medium burger patty (great for most adults)
6 oz – large burger patty (also great for adults and hungry teens)
EXAMPLE: If I start with 24 oz of ground beef (1.5 lbs) I can make 4 large burger patties OR 5 medium size patties OR 6 small patties.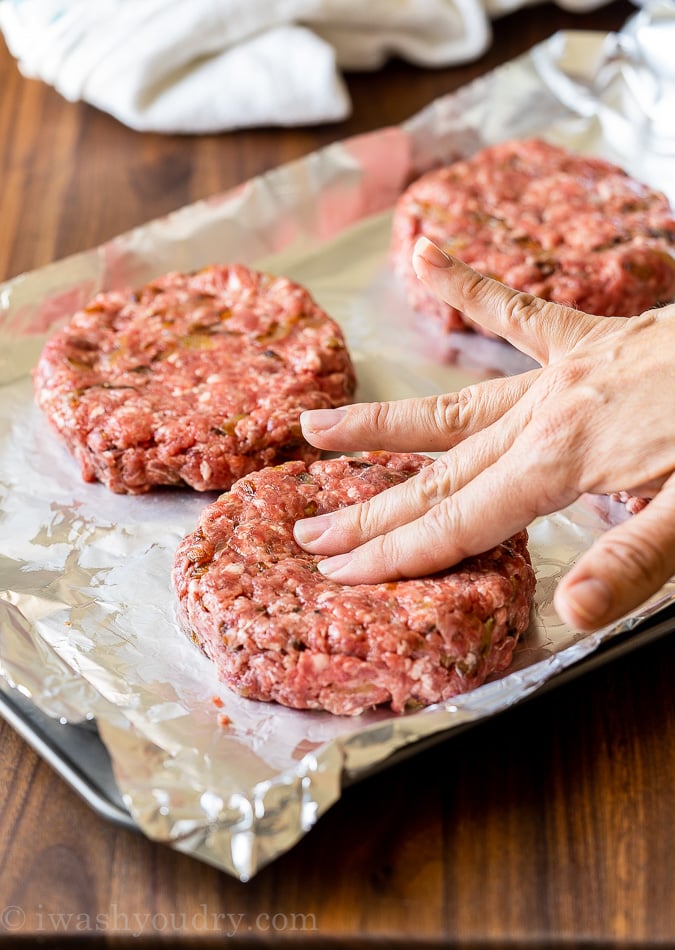 How To Prevent Burgers From Puffing Up/Shrinking
Have you ever made homemade burgers that started out like a nice disc shape, only to have it end up like a smaller ball because it puffed up in the middle once grilled?
Avoid the "shrinking burger" by doing this easy little secret!
USE YOUR FINGER TO PRESS A SLIGHT DIVIT IN THE RAW BURGER PRIOR TO GRILLING. 
This will help the burgers maintain that glorious shape and keep them nice and juicy on the inside! Brilliant!
What Temperature To Grill Burgers?
Whether you're using a propane grill, wood fired, smoker or charcoal, grilled burgers are always a favorite.
Here's a guideline to what temperature you should aim for when grilling burgers….
Get your grill nice and hot (about 375 degrees F – 450 degrees F). You should be able to hold your hand over the hot grill for up to one second.
A high heat will allow your burgers to sizzle and create a nice edge for your burger patty.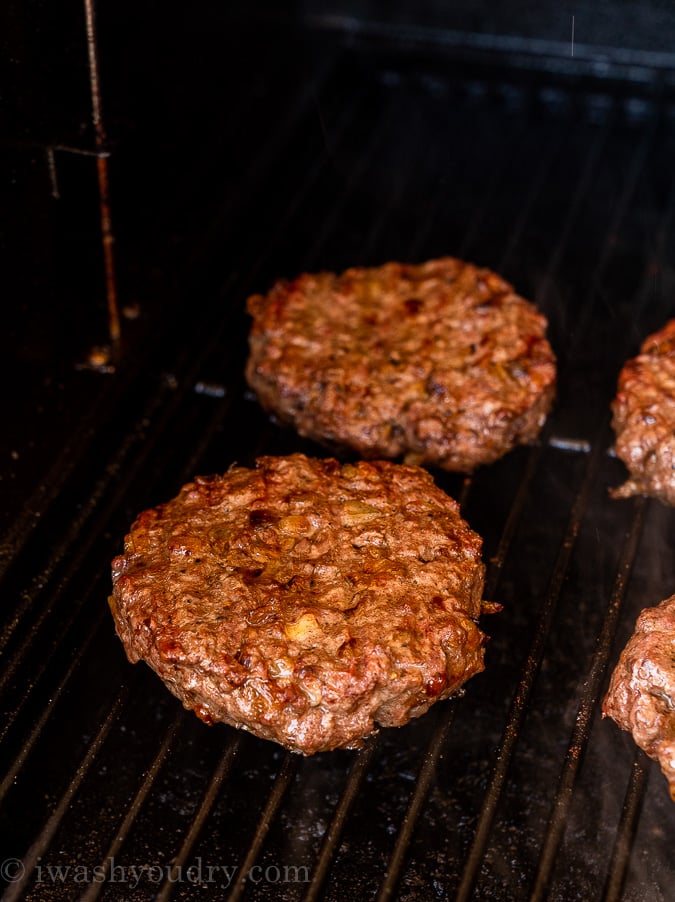 Adding the caramelized onions straight to the INSIDE of these burgers really brings out so much delicious flavor in each bite.
Right before the burgers are done cooking, add on some sliced provolone and let it get nice and melted. I like to use provolone cheese with these burgers because it's a nice mild flavored cheese.
More Burger Recipes To Try
I'm definitely a fan of hamburgers. I have so many great flavor options and varieties to try. Here are a few of my favorites…
What To Serve With Burgers
There are so many great side dishes to go with hamburgers! Obviously there's chips, but let's talk about some other good sides…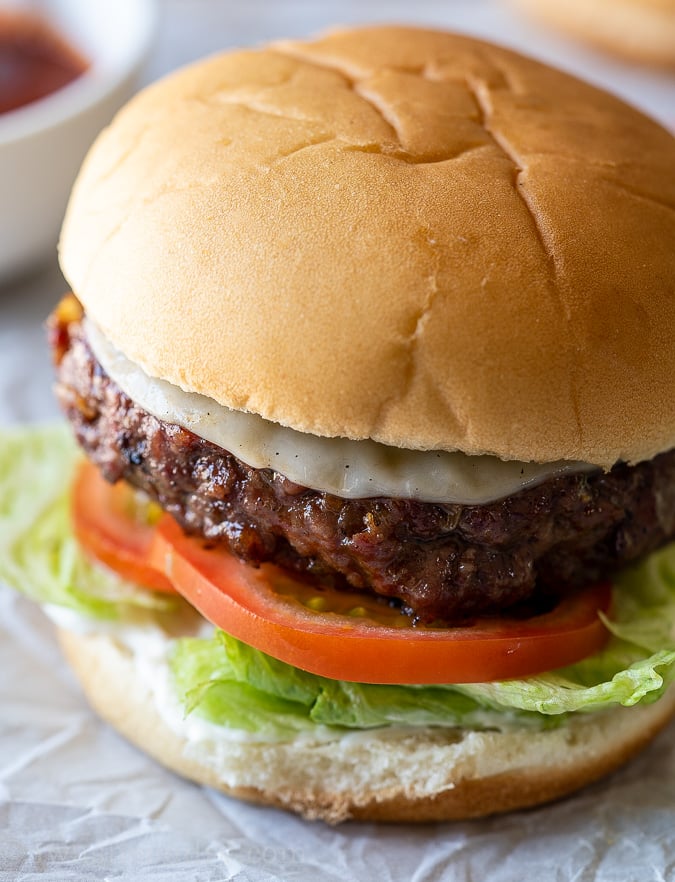 I can't wait for you to take a bite of this delicious Caramelized Onion Hamburger Recipe! You're going to love it!
Caramelized Onion Hamburger Recipe
Thick and juicy hamburgers studded with sweet caramelized onions are sure to be the star of your cookout!
Ingredients
1

large

sweet onion

,

diced

1

tbsp

olive oil

1

tbsp

butter

1.5

lb

ground beef

,

preferably 85% chuck

1

tbsp

mayo

2

tsp

seasoned salt

,

divided

½

tsp

garlic powder

¼

tsp

black pepper

4

slices

provolone cheese
Instructions
Heat a skillet over medium-high heat and add in the olive oil and butter. Toss in the diced onion and cook, stirring occasionally, for about 30 minutes, until the onions turn a deep, golden brown color. Remove from heat and set aside.

In a separate mixing bowl, combine the ground beef, mayo, 1 tsp seasoned salt, garlic powder, black pepper and caramelized onions. Use clean hands to combine the meat mixture and shape into 4 hamburger patties.

Season each side of the patties with the remaining seasoning salt and grill over medium-high heat, until cooked to desired temperature (about 3 to 5 minutes per side).

Just before removing from the grill, top with the provolone cheese and let melt slightly. Enjoy with your favorite burger toppings.
Notes
Nutritional facts are calculated for just burger and cheese, no buns or toppings. 
Nutrition
Calories:
607
kcal
|
Carbohydrates:
7
g
|
Protein:
35
g
|
Fat:
48
g
|
Saturated Fat:
19
g
|
Trans Fat:
2
g
|
Cholesterol:
143
mg
|
Sodium:
1497
mg
|
Potassium:
592
mg
|
Fiber:
1
g
|
Sugar:
4
g
|
Vitamin A:
258
IU
|
Vitamin C:
4
mg
|
Calcium:
194
mg
|
Iron:
4
mg
Keywords:
Burger, caramelized, Cheeseburger, cookout, onions
PIN THIS IMAGE TO SAVE THE RECIPE