These quick and flavorful Air Fryer Ribs are coated with the BEST spice blend and are tender and juicy.
I'll serve these finger-licking-good ribs as an appetizer or pair them with my cool and creamy Macaroni Salad for a delicious dinner.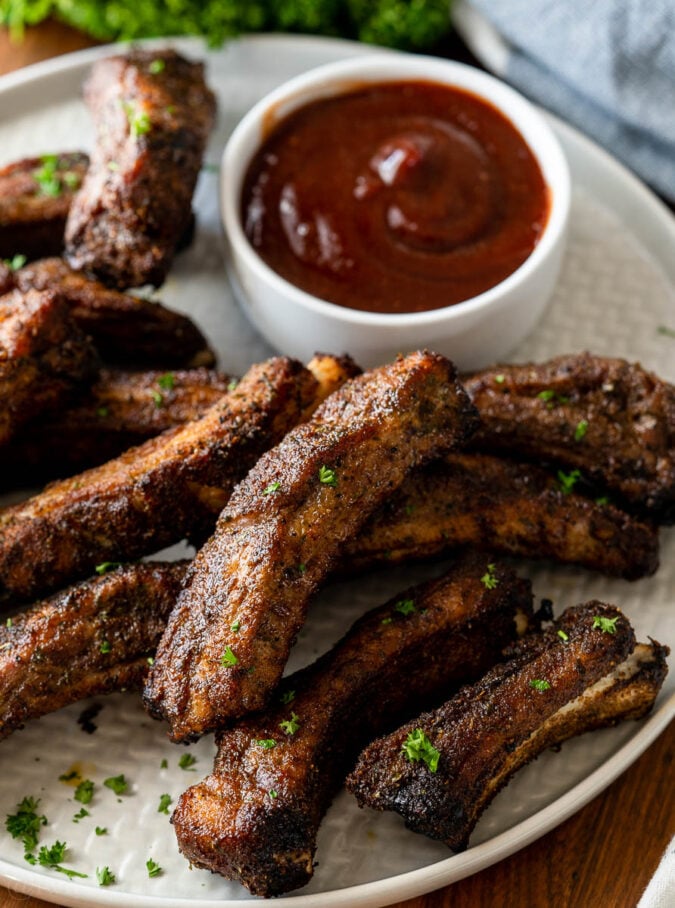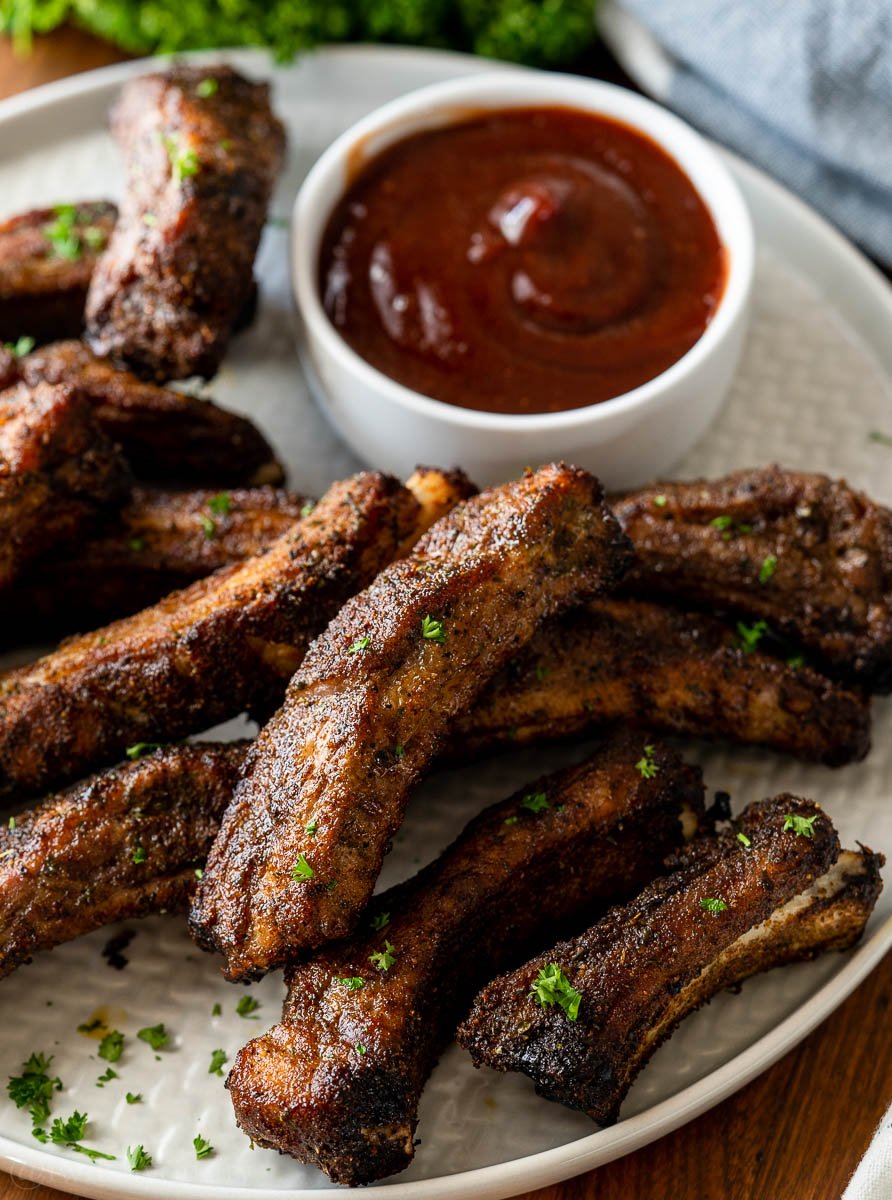 I'm obsessed with my Air Fryer. I know it's just another small appliance to add to the list, but I use mine more than any other appliance, so I highly recommend getting one.
Air Fryer Ribs
I tested ribs in the air fryer several ways, and found the best method was to cut the ribs into individual rib sections BEFORE cooking.
My signature seasoning is then used to coat around the whole rib and they cook so much faster and more efficiently.
Ingredients Needed:
All you need is a rack of baby back ribs and a handful of spices to make my tasty rib rub and you're all set. Here's the basic list of what you'll need. As always, you can find the full printable recipe located below in the recipe card.
Baby Back Pork Ribs – this recipe works best with a small rack of pork ribs. If they are too big you won't be able to fit them in the air fryer.
Brown Sugar
Chili Powder
Dried Parlsey
Salt & Pepper
Cumin
Garlic Powder
Onion Powder
Cayenne Pepper
BBQ Sauce – optional for serving with the cooked ribs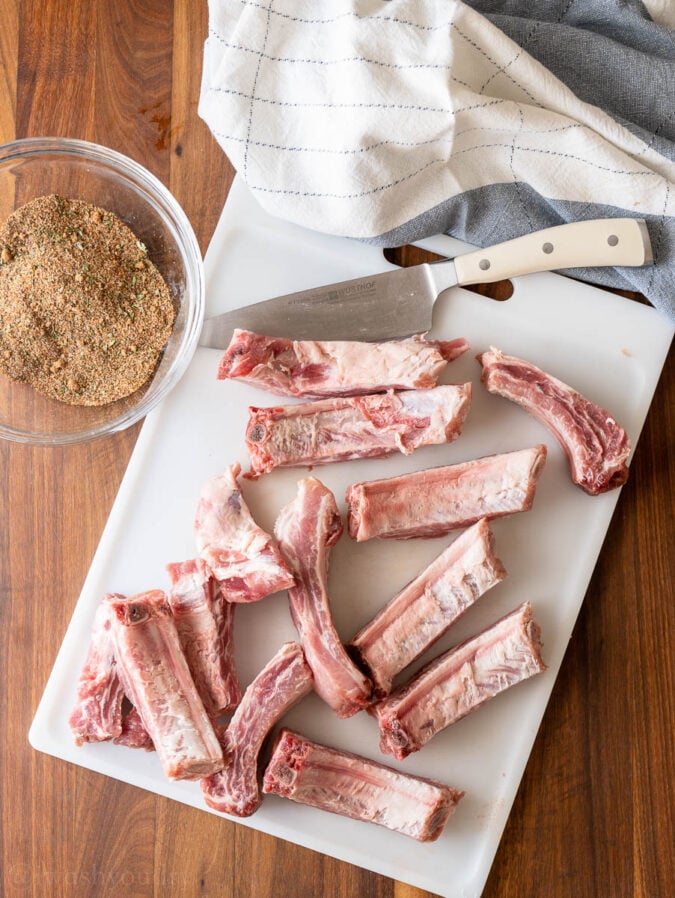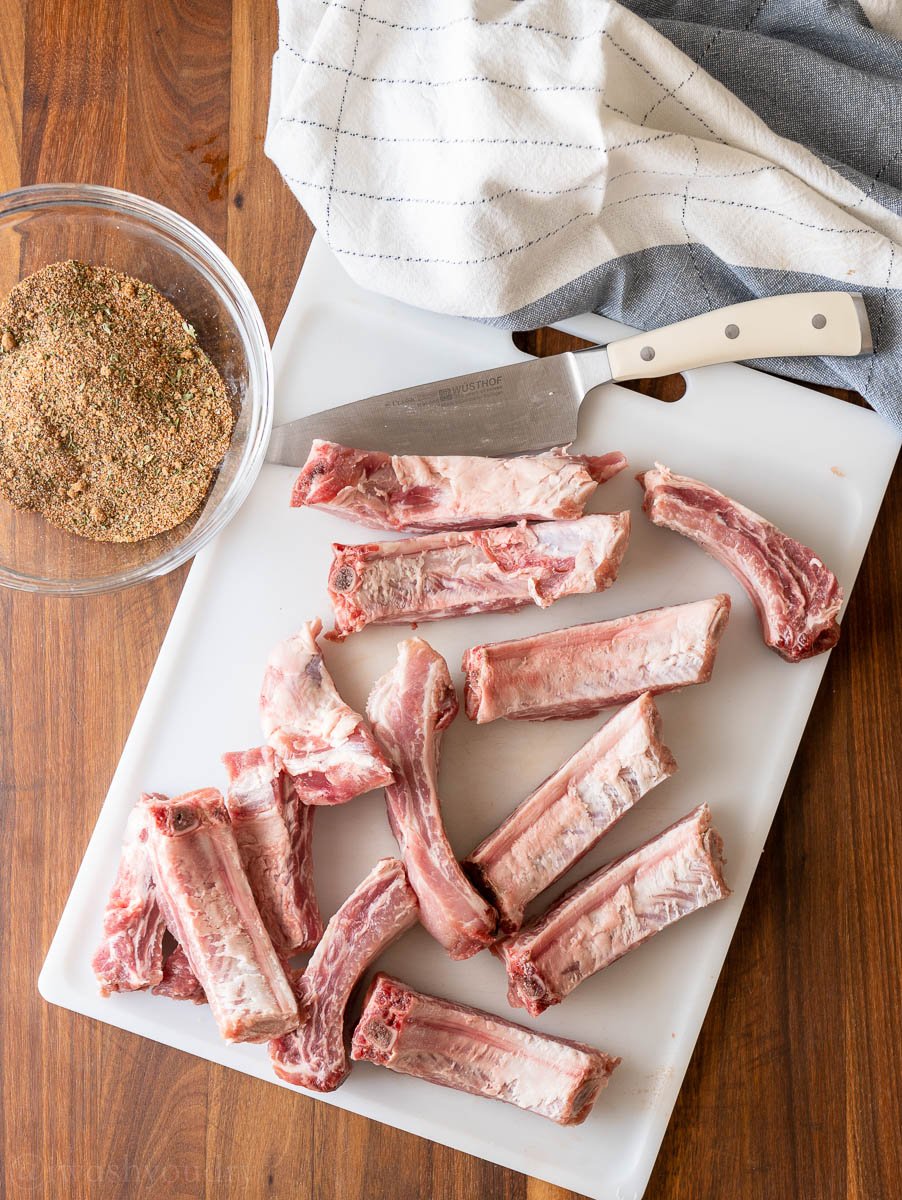 How To Cook Ribs In Air Fryer
REMOVE SILVERSKIN
The very first thing you'll want to do is remove the silverskin from the underside of the ribs. This thin membrane holds the ribs together, but when removed allows the seasoning to fully penetrate into the ribs.
Simply run a butter knife under the membrane to loosen it, and then use a paper towel to grab ahold of it. Gently pull it all the way off. Some racks of ribs already have the silverskin removed when you purchase it, so they saved you a step.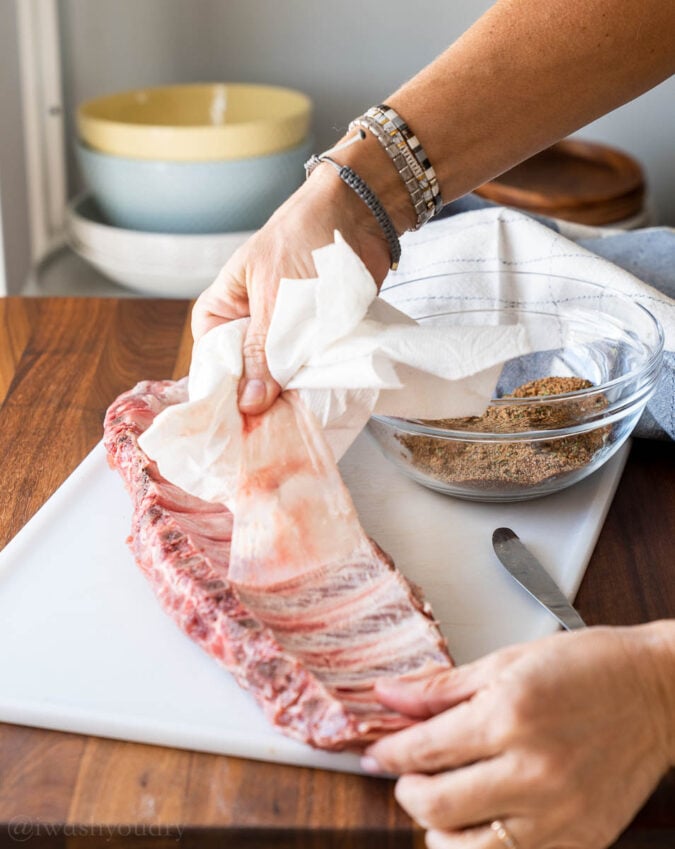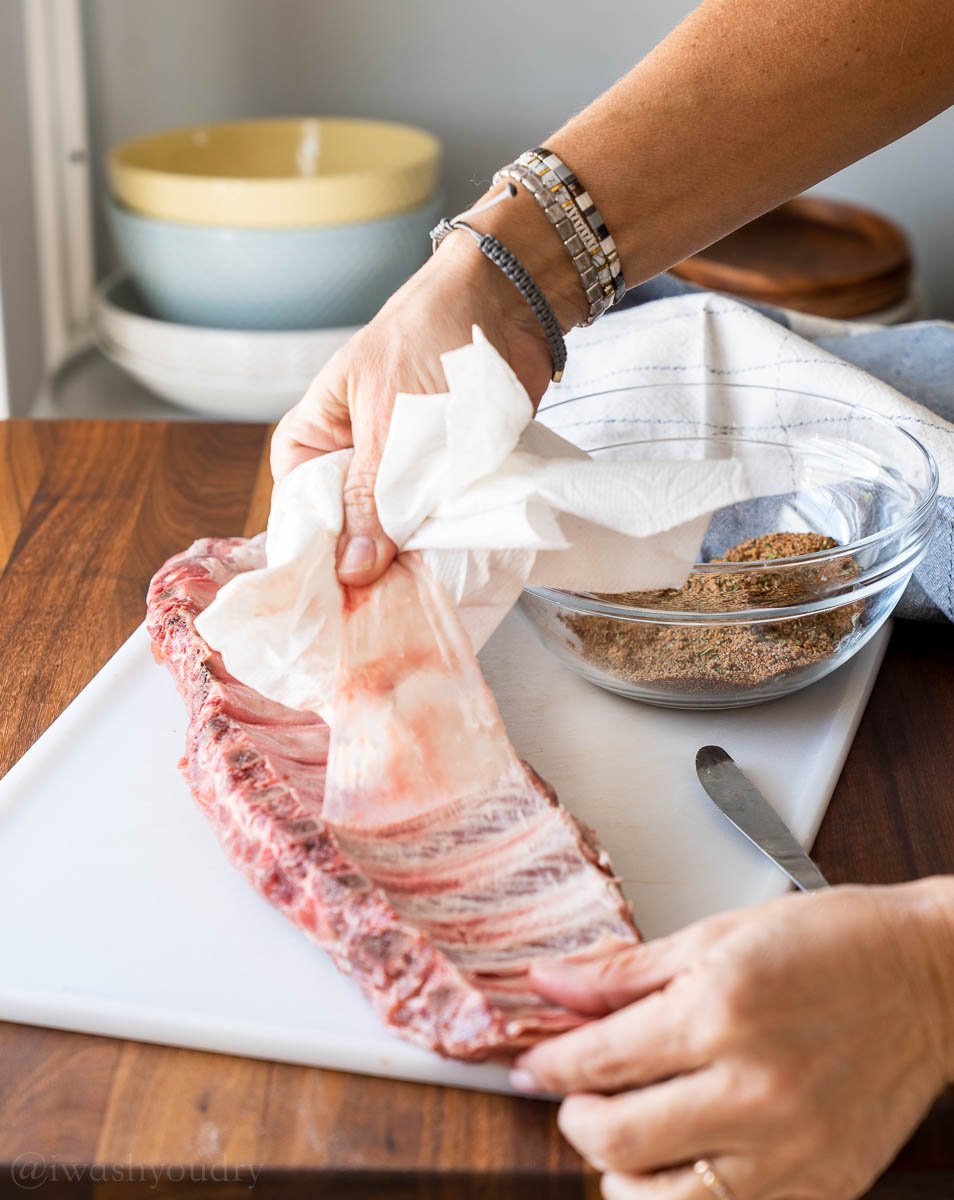 CUT RIBS INDIVIDUALLY
While the ribs are still raw, you'll want to use a sharp knife to cut in between each bone, separating them into individual ribs.
COAT WITH SEASONING
Combine the spices and brown sugar in a bowl and coat each rib on all sides with the seasoning blend.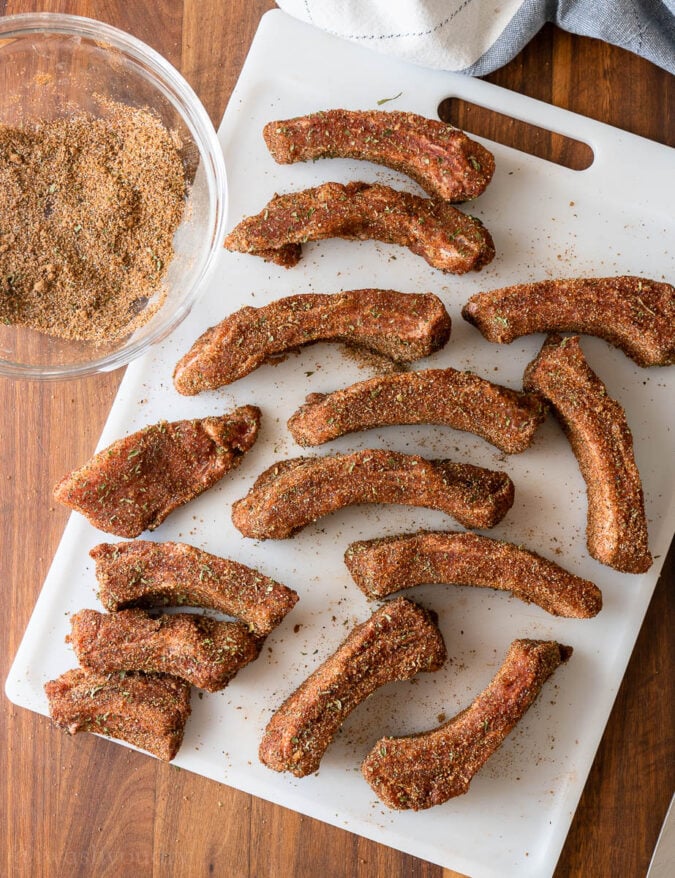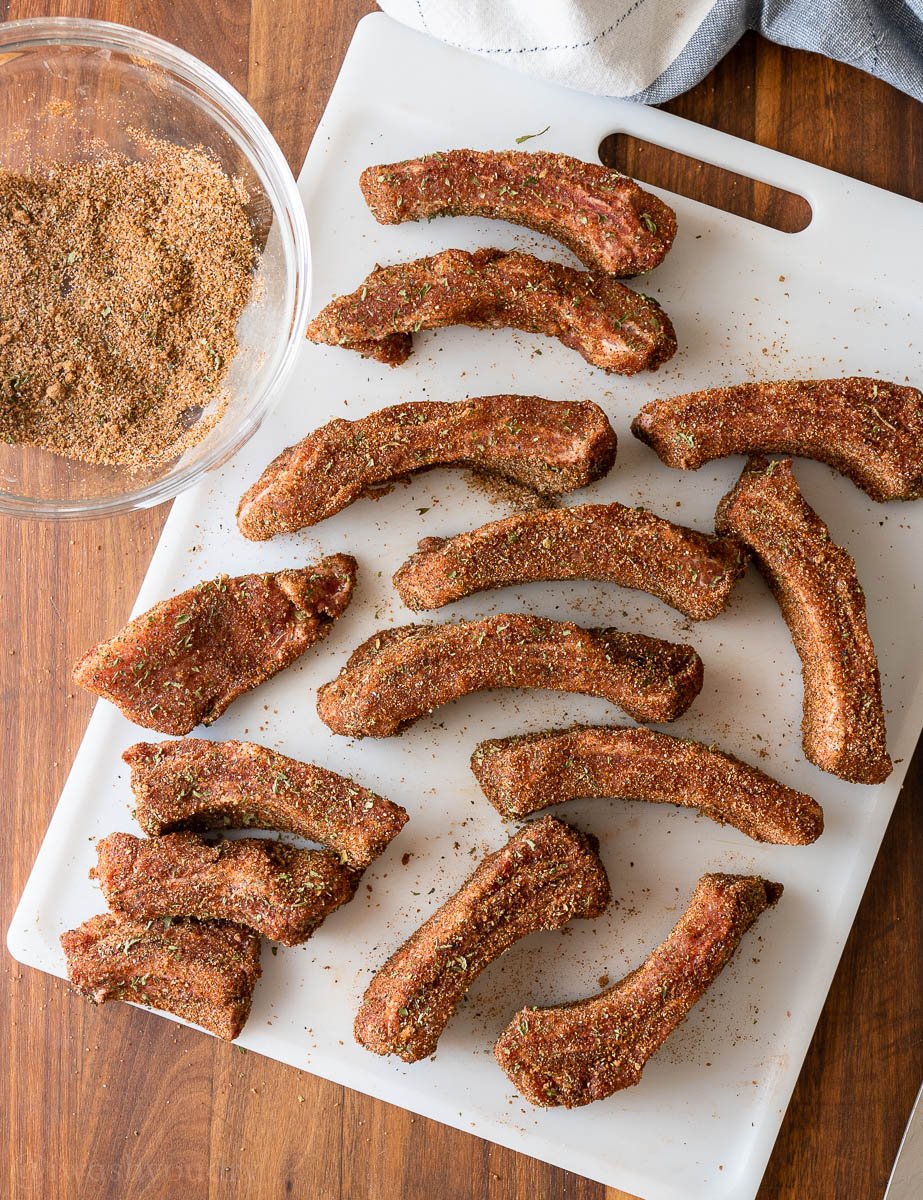 COOK RIBS IN AIR FRYER
Preheat your air fryer so it's nice and hot before adding the ribs. Make sure to space them out so air has a chance to circulate evenly around each rib. Since most air fryers are pretty small, this is why it works best with a small rack of ribs.
I'm using a rack of ribs that's between 2 lbs. and 2 1/2 lbs. for this method.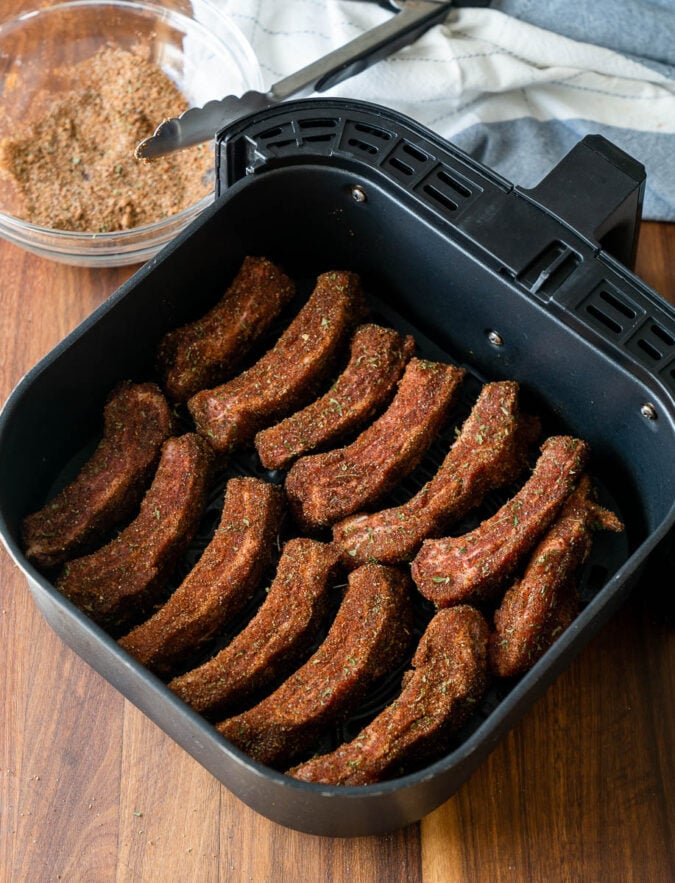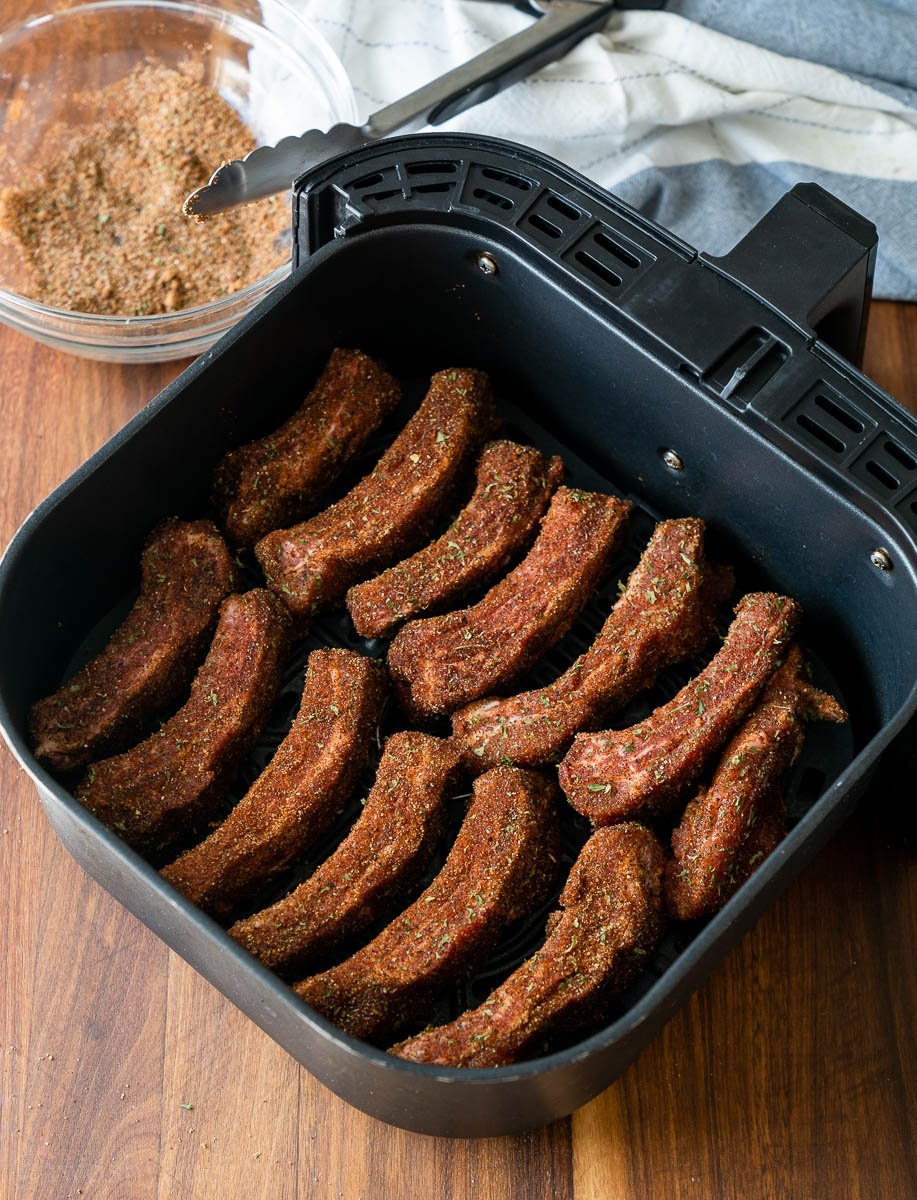 Why This Method Works
A true rib master might turn their nose up at the thought of "quickly cooking" ribs. While it's true that slowly smoking ribs will create a tender and juicy bite, you can achieve similar results with this simple method of air frying them.
Is it the same as smoking ribs? No, it's not.
Will you still be thrilled with the delicious taste of meaty ribs? Yes, I believe so.
The true benefit of this method of cooking ribs in the air fryer is that you'll have one heck of a meal in about 30 minutes.
That's even faster than cooking them in the Instant Pot method!
What Internal Temperature Should Ribs Be?
The internal temperature of the ribs is very important, and I highly recommend investing in an instant read thermometer. (they're usually about $20, and totally worth it)
Pork ribs are edible at 145 degrees F. but tough as heck.
However, something magical happens when the pork reaches about 190 degrees F to 200 degrees F. At this temperature the collagens in the ribs begin to render down, creating that perfect tender and juicy bite.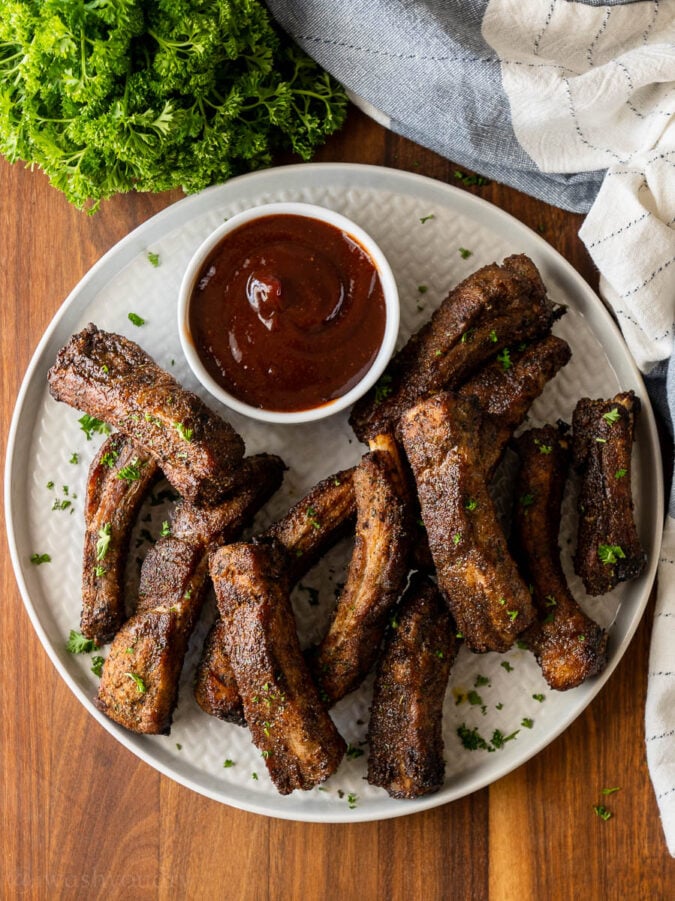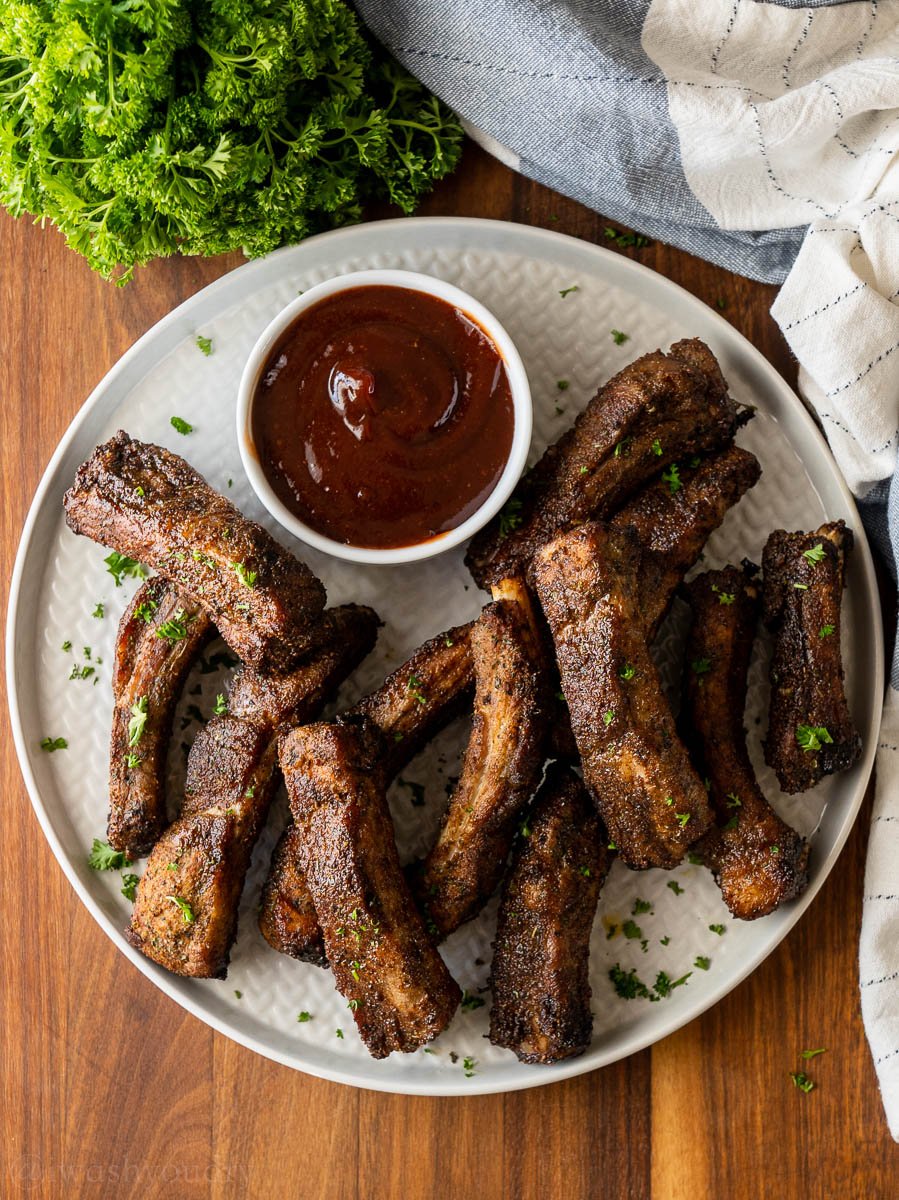 Low and Fast Heat
The reason this method works so fast is because we've cut the ribs into individual segments. This allows each rib to cook much faster and more efficiently.
Start the air fryer at a low 300 degrees for just 10 minutes, then flip each rib and cook an additional 10 minutes.
Finally, flip one more time and increase the temperature to 375 degrees F. and cook an additional 8 to 10 minutes.
This is where the instant read thermometer comes in handy. If the temperature is right around 190 degrees F – 200 degrees F. pull them out and lightly cover with foil and let rest for just 5 minutes.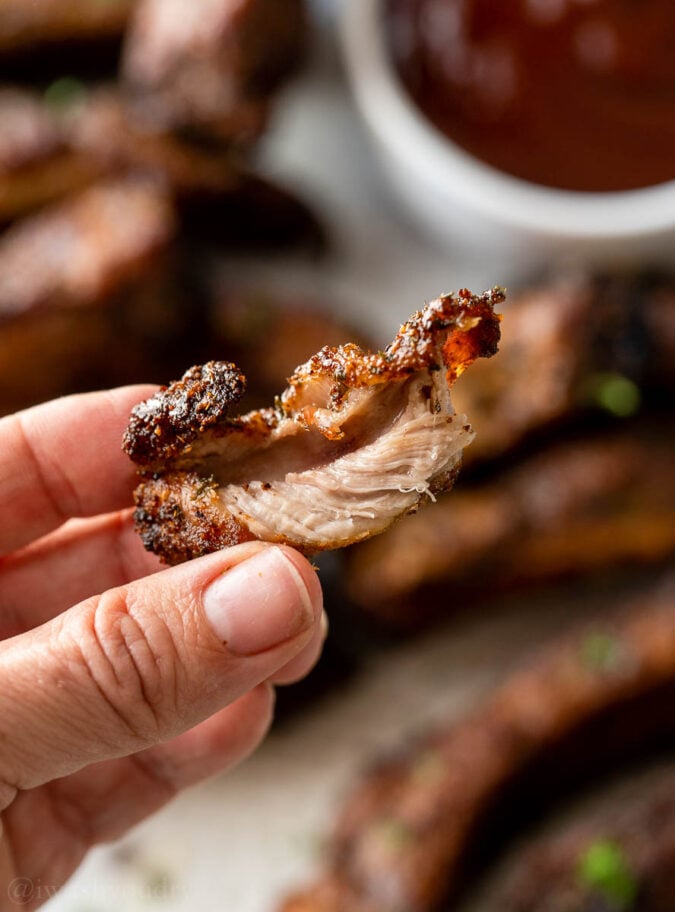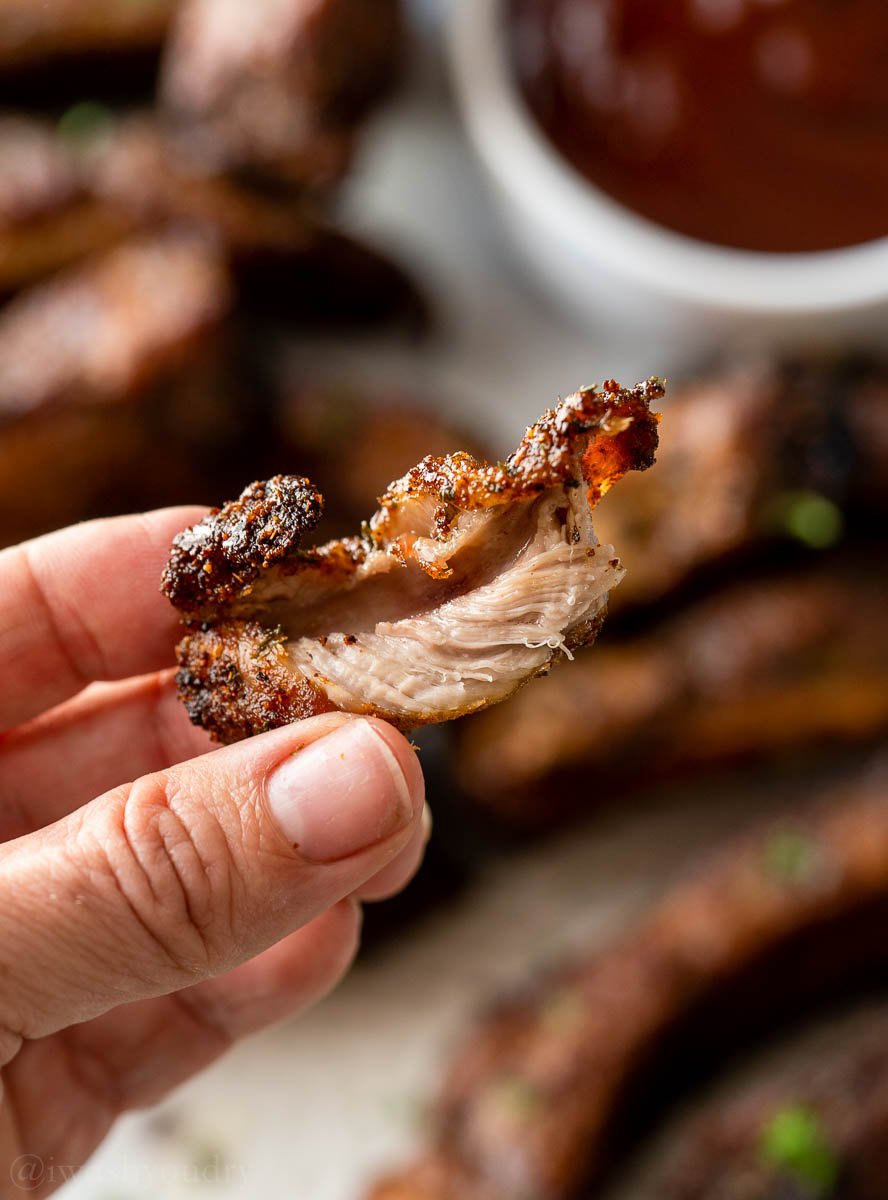 The outside of the ribs will have a nice crispy coating, while the inside should be juicy and tender!
Try pairing these amazing ribs with my Homemade Honey BBQ Sauce. It's seriously a match made in heaven.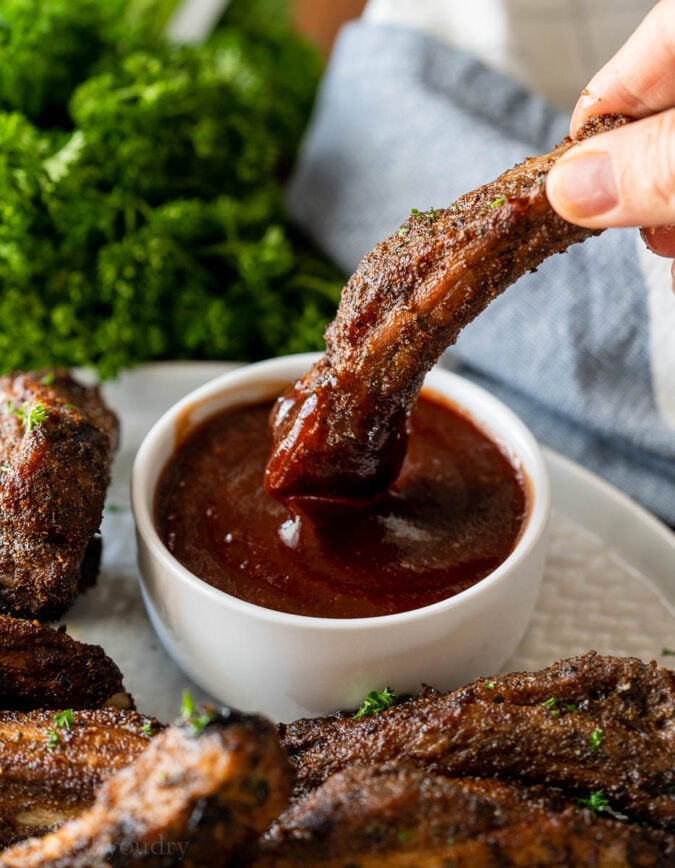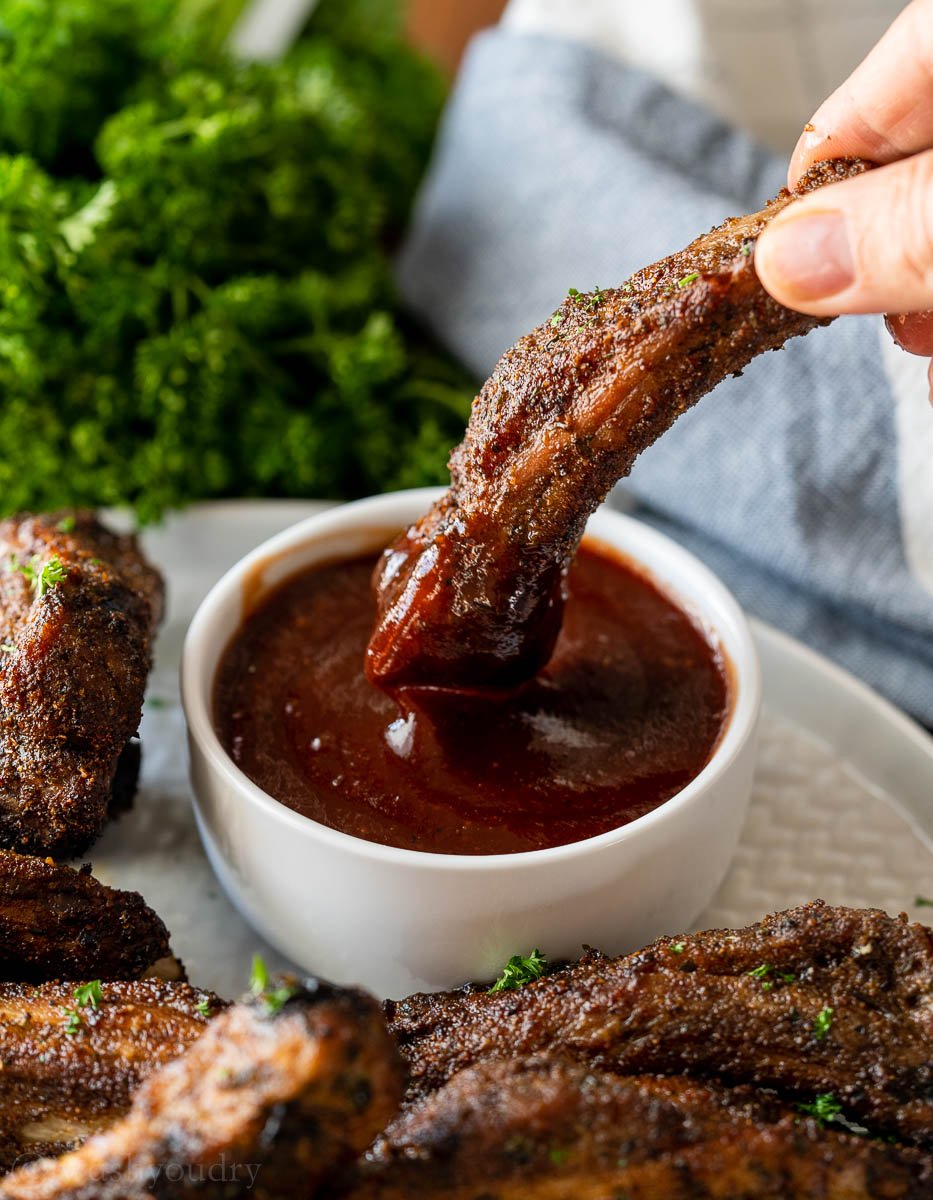 More Rib Recipes
If you're looking for more rib recipes, don't miss these ones! You're sure to love the flavors.
What To Serve with Air Fryer Ribs
Ribs aren't just for backyard bbq's! You can make these ribs any time of the year inside your house with your air fryer. Here are some great side dishes that will make your ribs shine.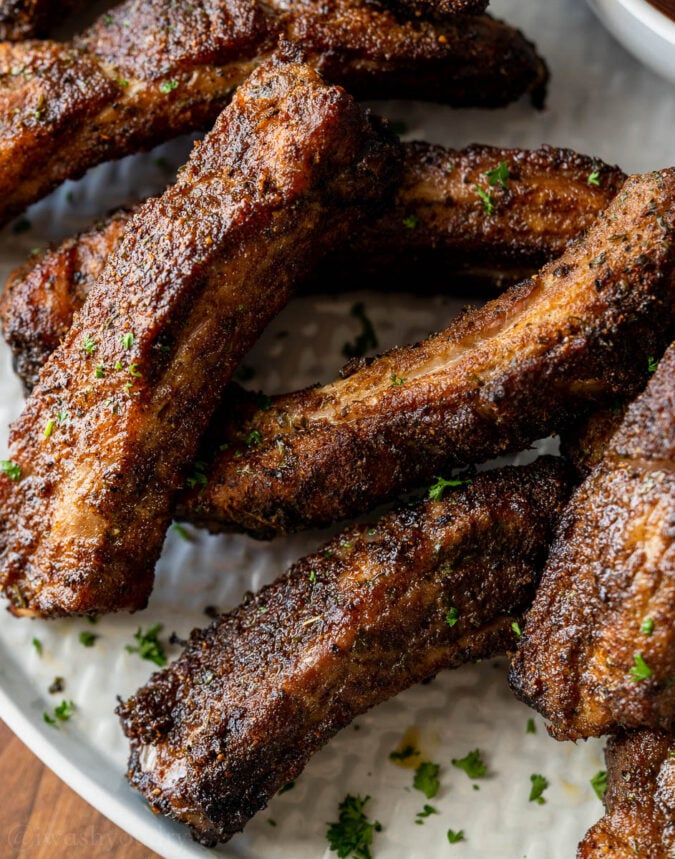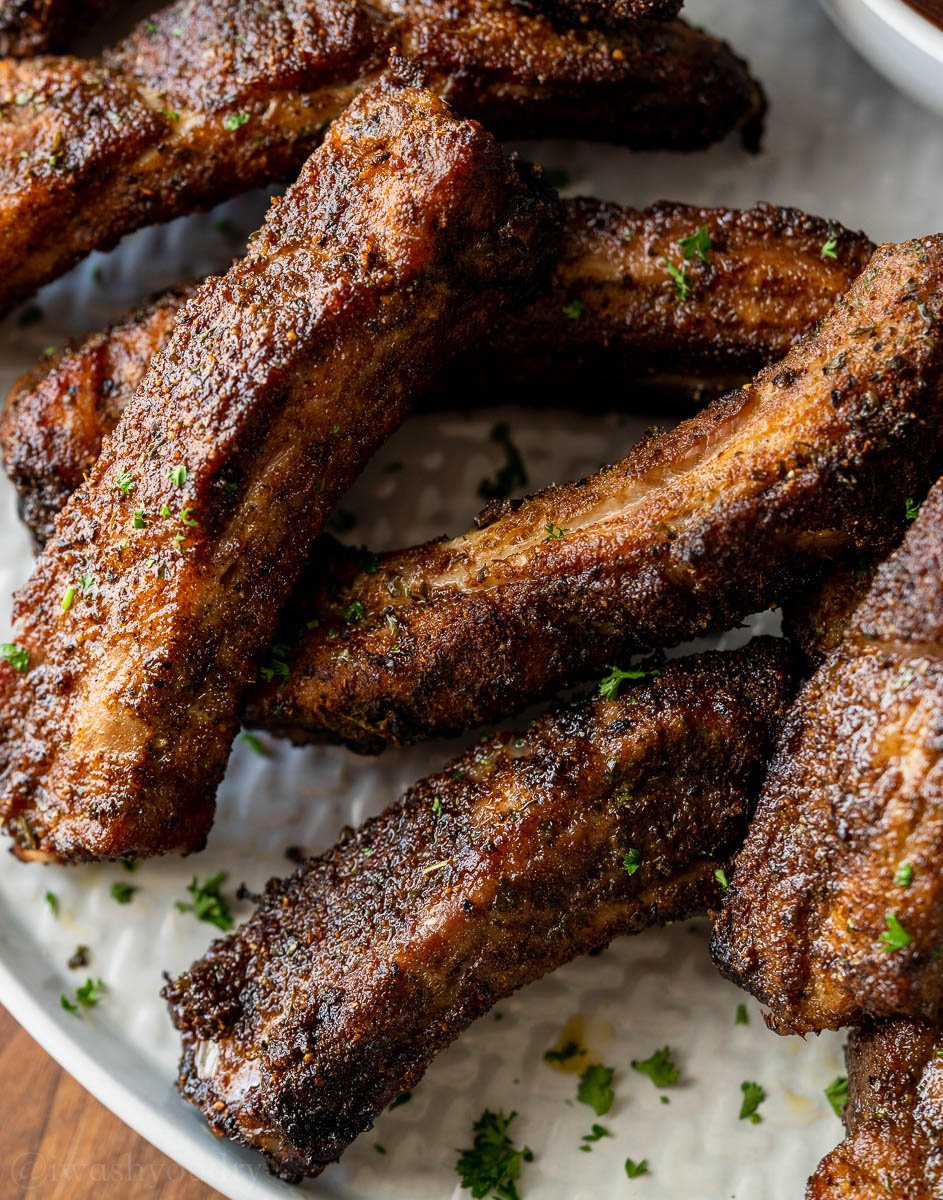 I can't wait for you to give these juicy ribs a try! I know you'll love them!
Air Fryer Ribs
Quick cooking, yet ultra tender and juicy Air Fryer Ribs covered in the best rub you've ever tasted!
Instructions
Preheat air fryer to 300 degrees F. Remove silverskin membrane from the underside of ribs by using a butter knife to get under it, then grab ahold with a paper towel and remove. Cut between each rib bone to create individual rib sections.

Combine the spices in a bowl and add each rib section and coat evenly. Place ribs in the basket of the air fryer, making sure there is room between for air circulation.

Cook at 300 degrees F for 10 minutes, carefully open air fryer and flip each rib over. Cook an additional 10 minutes.

Finally, flip the ribs one more time, then increase the temperature to 375 degrees F. Cook an additional 8 to 10 minutes, until the ribs reach between 190-200 degrees F. Remove from air fryer and cover loosely with foil, let rest for 5 minutes. Enjoy!
Notes
You can use larger racks of ribs, but you may have to cook in batches. Use an instant read thermometer to check internal temperature of the ribs to make sure they're cooked appropriately. 
Nutrition
Calories:
391
kcal
|
Carbohydrates:
17
g
|
Protein:
28
g
|
Fat:
24
g
|
Saturated Fat:
8
g
|
Polyunsaturated Fat:
4
g
|
Monounsaturated Fat:
10
g
|
Trans Fat:
1
g
|
Cholesterol:
99
mg
|
Sodium:
777
mg
|
Potassium:
483
mg
|
Fiber:
2
g
|
Sugar:
14
g
|
Vitamin A:
1280
IU
|
Vitamin C:
1
mg
|
Calcium:
79
mg
|
Iron:
2
mg
Keywords:
Air Fryer, Baby Back Ribs