This super easy Air Fryer Garlic Shrimp Recipe is just a few simple ingredients and ready in minutes!
I love pairing this shrimp with my Homemade Cocktail Sauce, serving with Alfredo Sauce or adding to a salad for extra protein.
Shrimp is my go-to protein for a quick meal because it can go from frozen to serving in no time.
That means I always have bags of frozen shrimp in my freezer ready to help me make an easy dinner or snack. And you should too!
Air Fryer Garlic Shrimp Recipe
Making perfectly tender shrimp in the air fryer is so easy! I've added garlic powder to give my shrimp a little extra flavor, but you can leave it out and just season with salt and pepper to be able to pair it with more dishes.
Ingredients For Air Fryer Shrimp
Here's the basic list of ingredients you'll need in order to make shrimp in the air fryer. As always, you can find the full printable recipe located in the recipe card below.
Shrimp – defrosted, peels removed, tails optional
Oil – use a lighter oil like avocado oil or olive oil
Garlic Powder – optional, but adds great flavor
Salt
Pepper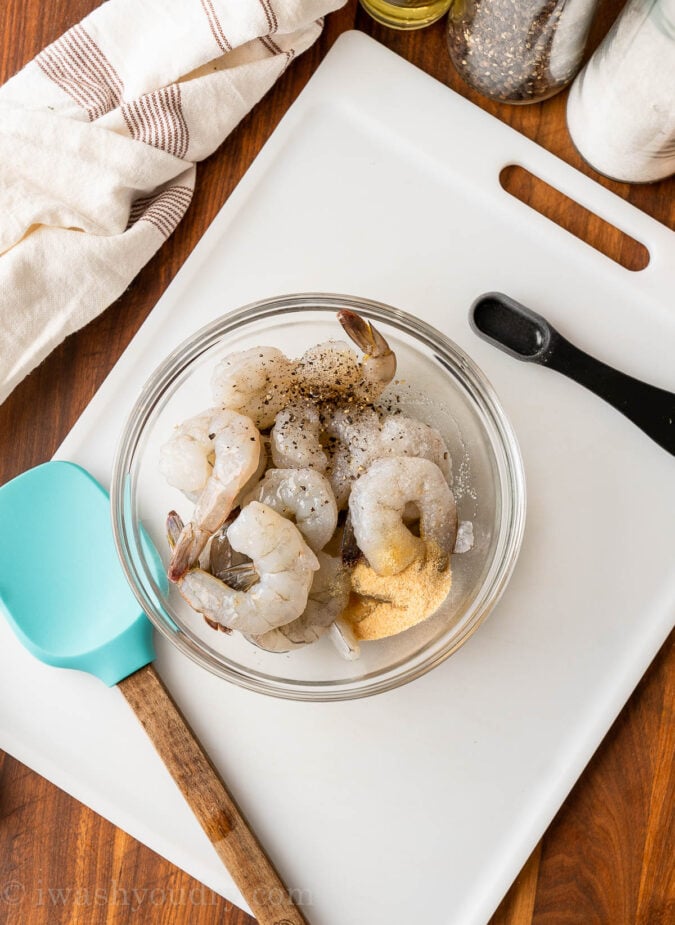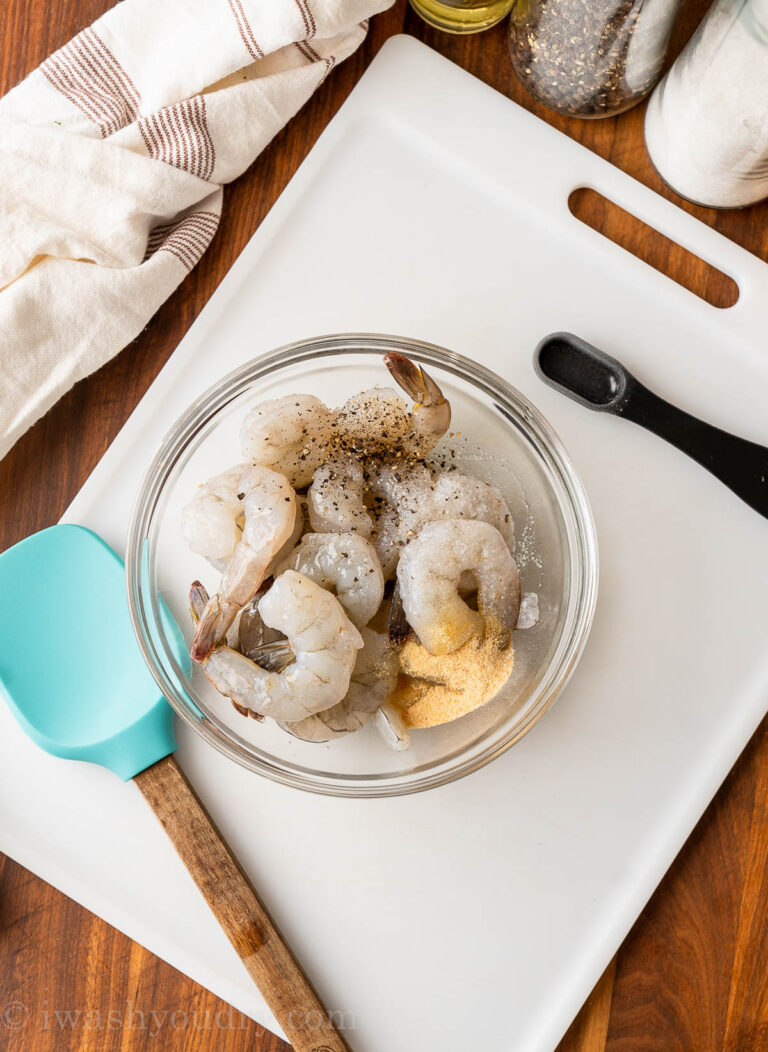 How To Cook Shrimp In Air Fryer
Make sure you start with shrimp that is fully defrosted (see below for defrosting shrimp instructions).
Toss the shrimp with the oil and seasonings and then place in an even layer in the basket of your air fryer.
Cook for just 6 minutes at 360 degrees F., flipping the shrimp halfway through.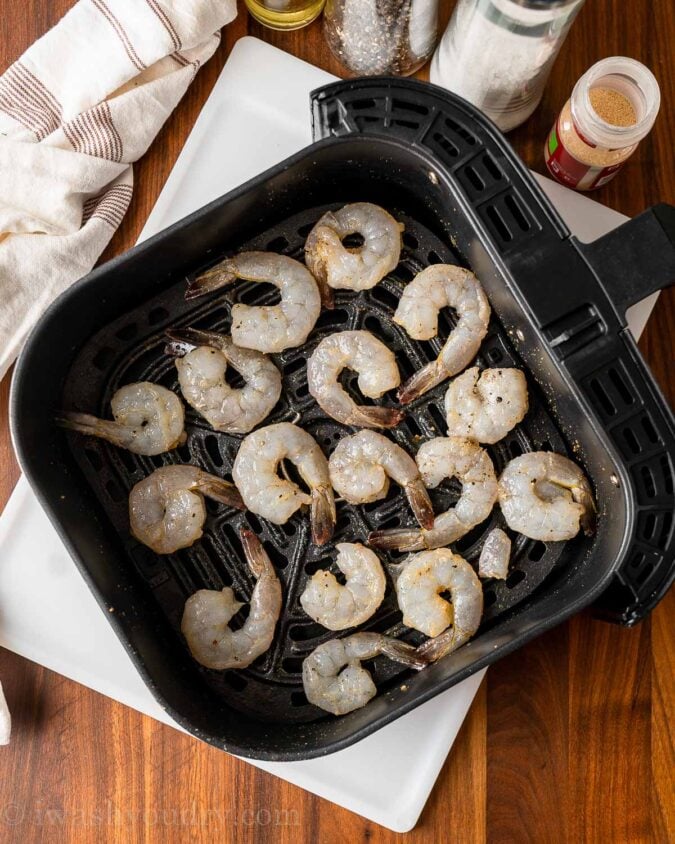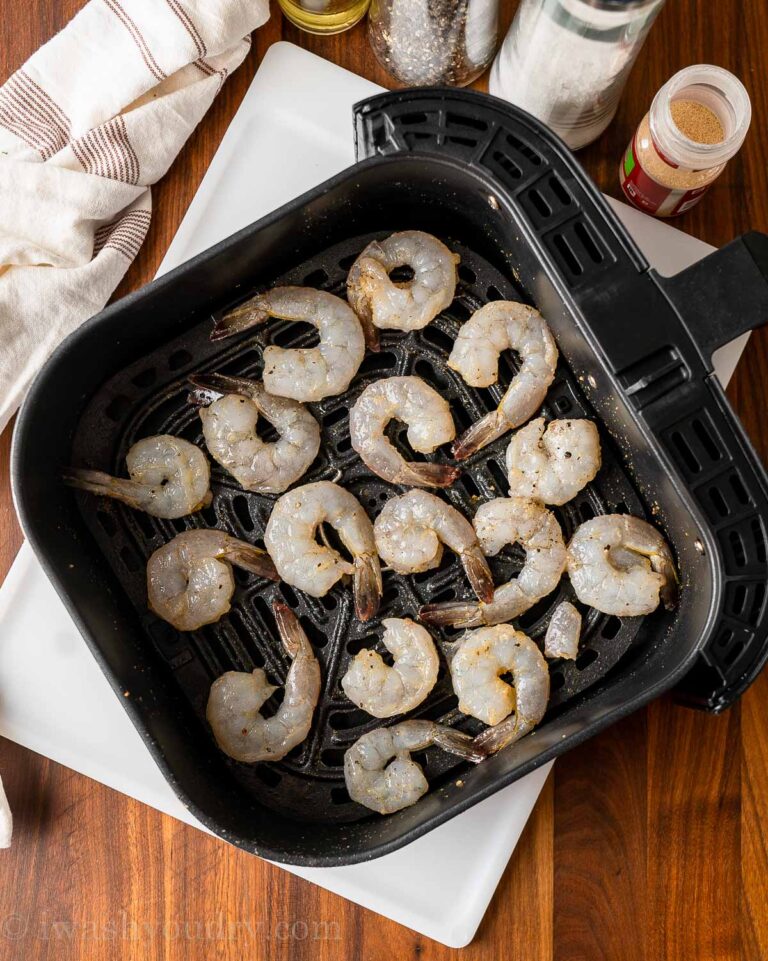 How To Defrost Shrimp
I prefer to buy my shrimp frozen because it can last up to 6 months in the freezer.
To defrost raw shrimp simply place the shrimp in a colander and run it under cool water. Once defrosted, lay the shrimp on a paper towel and pat dry with another paper towel.
What Air Fryer Do You Use?
I get this question all the time.
I love my Gourmia 6 quart air fryer. So much so, that I actually have two of them.
It's large enough to make big batches for my family. If you're looking for an air fryer, this is a great one to start with.
Do I Need To Preheat My Air Fryer?
A lot of people ask me if it's necessary to preheat the air fryer? In this case, you do not need to preheat the air fryer.
However, if you're working in batches and your air fryer is already preheated, check the shrimp at 5 minutes to see if they are fully cooked.
Overcooking shrimp can cause them to be tough and rubbery. Perfectly cooked shrimp with be tender and juicy to the bite.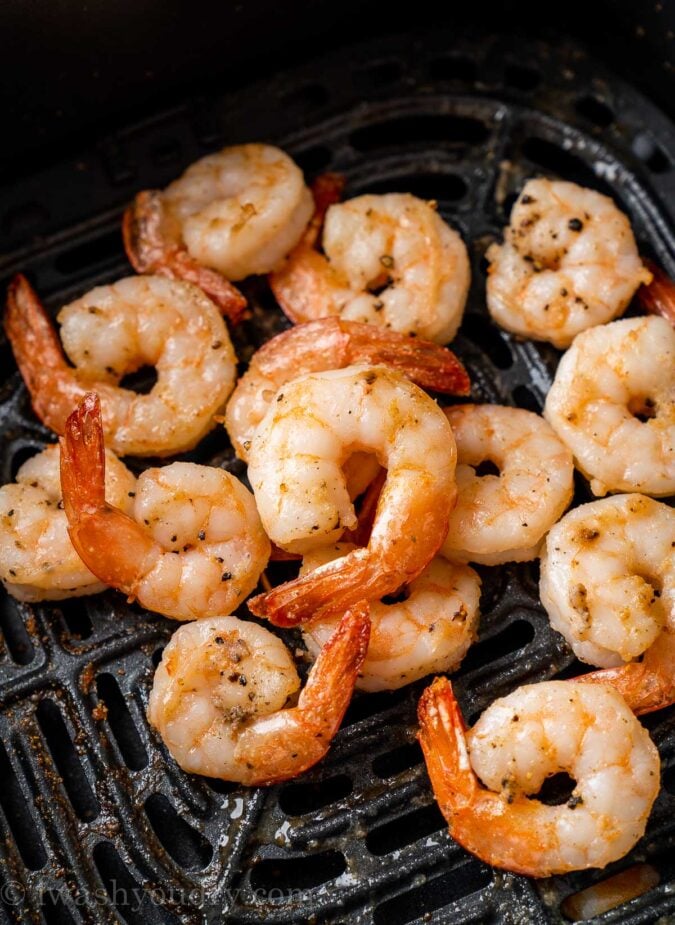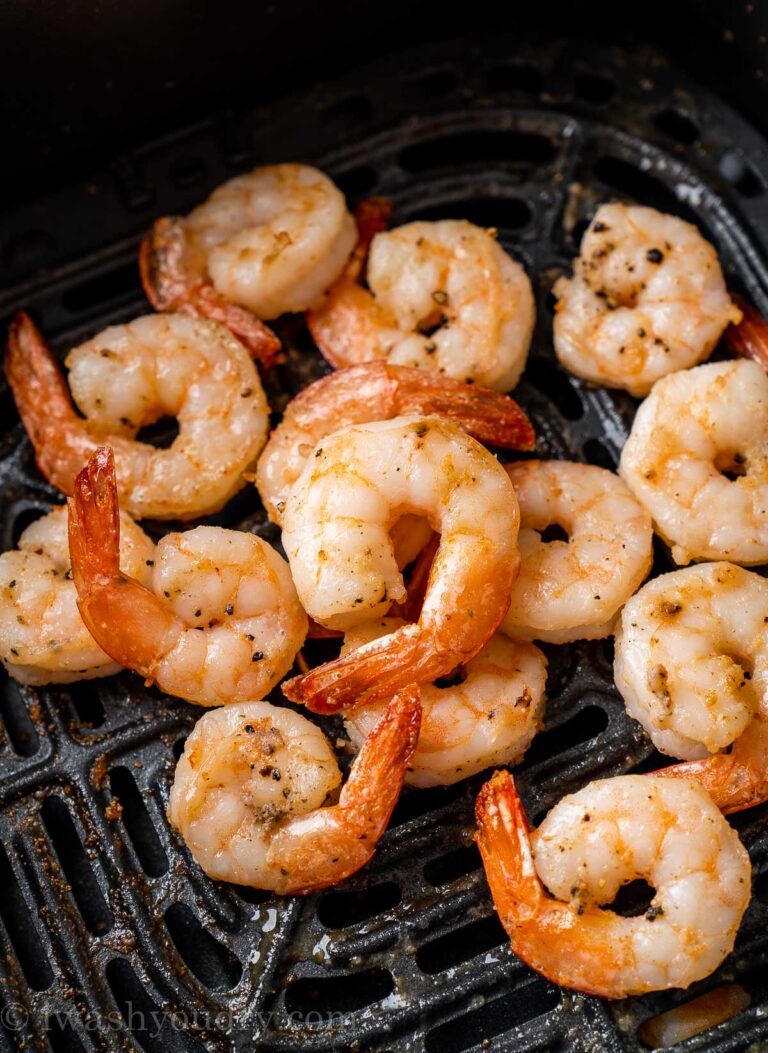 Do I Use Raw or Cooked Shrimp?
How can you tell the difference between raw and cooked shrimp when they are frozen? Did you know they sell already cooked shrimp in the freezer section?
You can tell the difference between the two by reading the packaging, but also by the color of the shrimp.
Raw shrimp is gray in color, sometimes even a blue-ish color. This is the type of shrimp you will need for this air fryer garlic shrimp recipe.
Cooked shrimp is pink in color, even when it is sold frozen. This type of cooked shrimp is great for adding to salads like my Shrimp Pasta Salad. No need to cook, just defrost and enjoy!
What To Serve with Garlic Shrimp
Garlic Shrimp is fantastic with my Homemade Cocktail Sauce. It makes for an elegant appetizer for Valentine's Day or New Year's Eve. It's also great for a game day snack!
Here are some more great ways to serve the shrimp…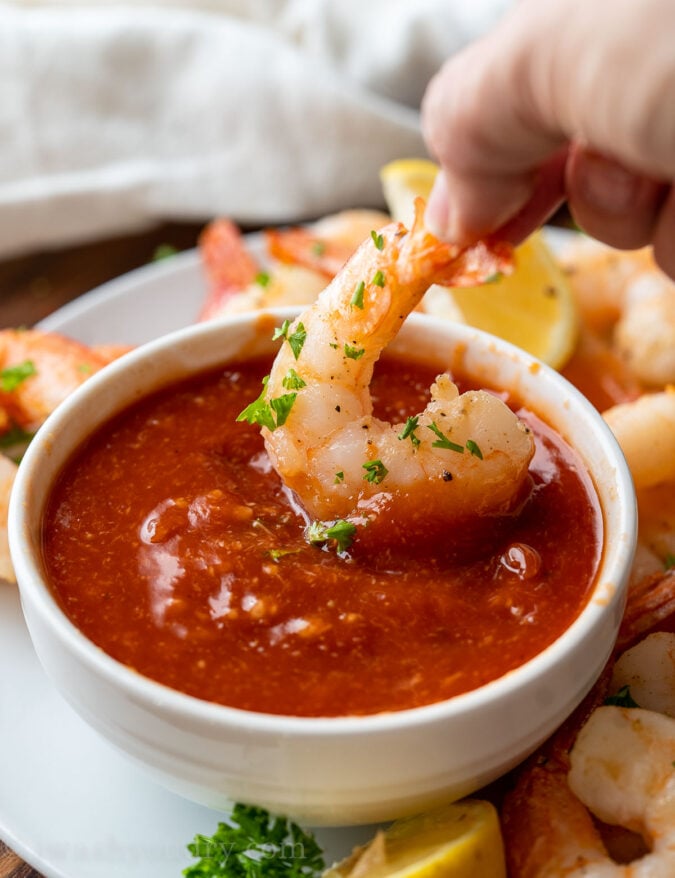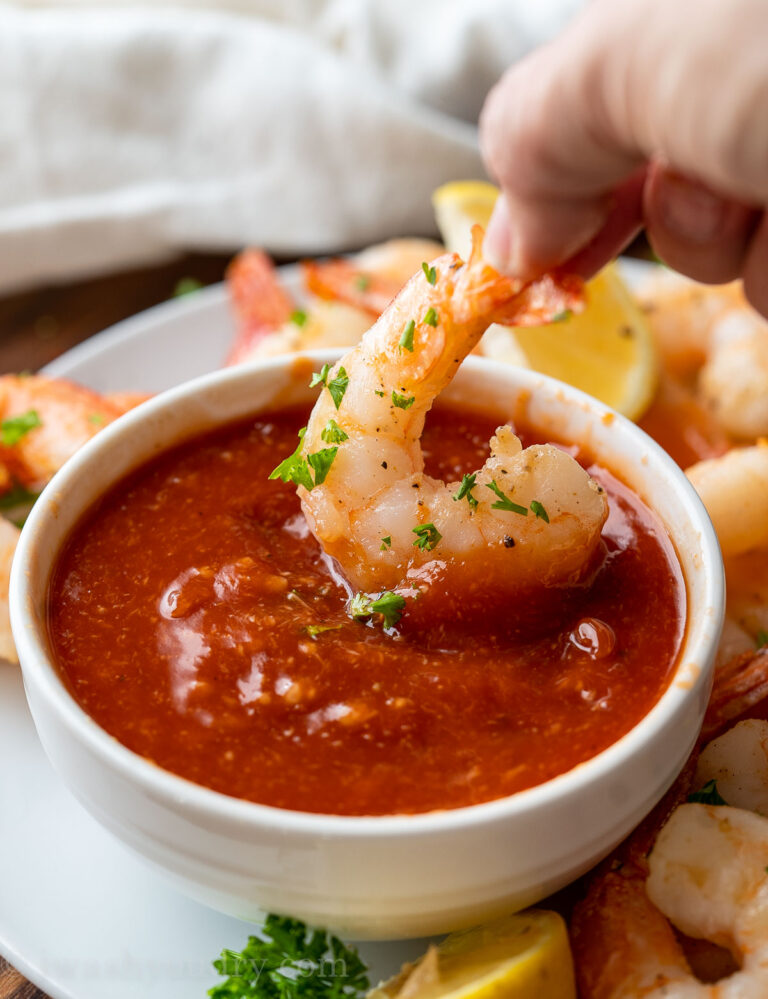 More Shrimp Recipes
Can you tell I'm in love with shrimp? Yes, it's true. Here are some more easy shrimp recipes to try out that I'm sure you'll love just as much as I do.
Air Fryer Garlic Shrimp Recipe
This super simple garlic shrimp is ready in just 6 minutes and uses only 5 ingredients!
Instructions
Run frozen shrimp* under cool water to defrost completely. Lay shrimp on a paper towel lined plate and pat dry with paper towels. Add shrimp to a bowl and toss with oil, garlic powder, salt and pepper.

Place shrimp in even layer in air fryer basket. Cook at 360 degrees F. for 6 minutes, turning shrimp halfway through cooking. Enjoy!
Notes
*This recipe is for large shrimp. If using jumbo, you may need to cook longer. If using smaller, you will not have to cook as long. Check after 3 minutes and keep cooking until shrimp is pink and cooked through. 
WHY SO MUCH SODIUM?  I get this question a lot with seafood recipes. Shrimp live in

salt water, making them naturally high in sodium

. Feel free to remove the added salt to the recipe if desired. 
Nutrition
Calories:
62
kcal
|
Carbohydrates:
1
g
|
Protein:
10
g
|
Fat:
2
g
|
Saturated Fat:
1
g
|
Polyunsaturated Fat:
1
g
|
Monounsaturated Fat:
1
g
|
Trans Fat:
1
g
|
Cholesterol:
95
mg
|
Sodium:
525
mg
|
Potassium:
92
mg
|
Fiber:
1
g
|
Sugar:
1
g
|
Vitamin A:
136
IU
|
Vitamin C:
1
mg
|
Calcium:
41
mg
|
Iron:
1
mg
Keywords:
Air Fryer, Air Fryer Shrimp, shrimp
PIN THIS IMAGE TO SAVE THE RECIPE: