This quick and easy Instant Pot Shrimp Boil recipe is loaded with perfectly cooked potatoes, sausage, corn and jumbo shrimp, then doused in seasoned butter.
I love utilizing my pressure cooker to make full meals just like this Instant Pot Meatloaf with Mashed Potatoes or my Instant Pot Orange Chicken with Rice!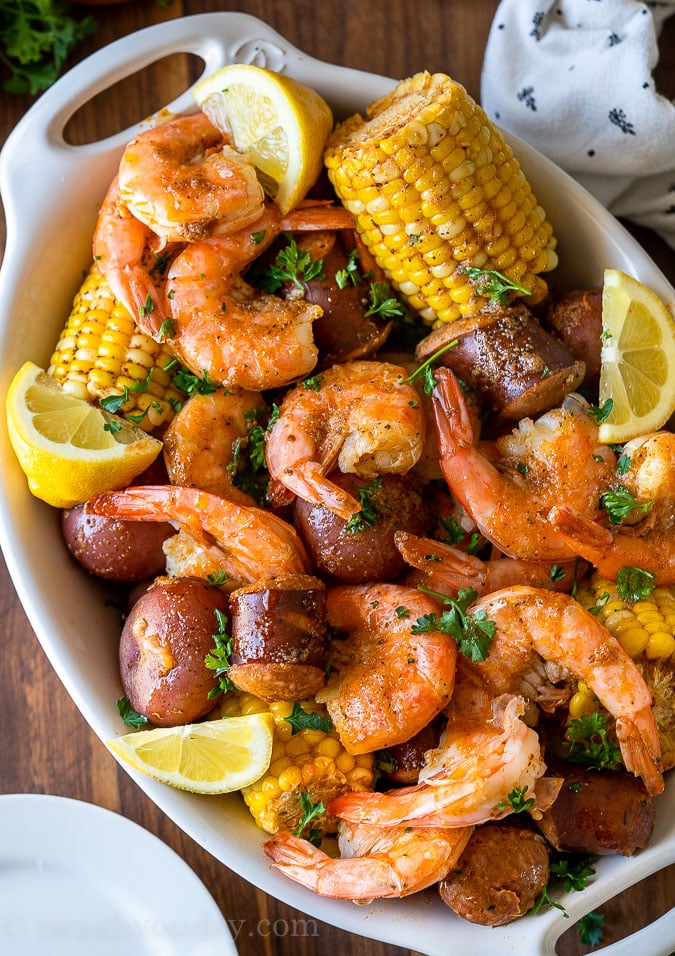 Grab the napkins, cause this shrimp boil recipe is finger-licking-good!
We love to make this simple recipe for friends and family cause it's so fun to have everyone gather around the table and dig in.
Instant Pot Shrimp Boil Recipe
What is a Shrimp Boil? A shrimp boil (or sometimes referred to as a low country shrimp boil) is Southern favorite that is commonly found at parties. It consists of tender potatoes, sausages, sweet corn and shrimp or an assortment of seafood that's generally all cooked in the same pot. Since each seafood does not take very long to cook, it's usually tossed in at the end.
Ingredients Needed For Shrimp Boil
Here's the basic list of the ingredients you'll need in order to make this recipe. As always, you can find the full list of ingredients in the printable recipe card below.
Baby Red Potatoes – can use baby gold or a mix of the two
Andouille Sausage – try different flavors like cajun, smoked, turkey, etc.
Sweet Corn – fresh is best, but frozen can also be used
Onion – you can use pearl onions or roughly chopped onion
Shrimp – use frozen large (or extra large) shrimp. If using smaller size, you will decrease the cook time.
Old Bay Seasoning – essential for the signature flavor
Hot Sauce – a cayenne pepper hot sauce, use more or less for spice level
Chicken Broth – you can also use beer, but the alcohol will not cook out in the pressure cooker, so it would be an adult only meal.
Butter
Lemon Wedges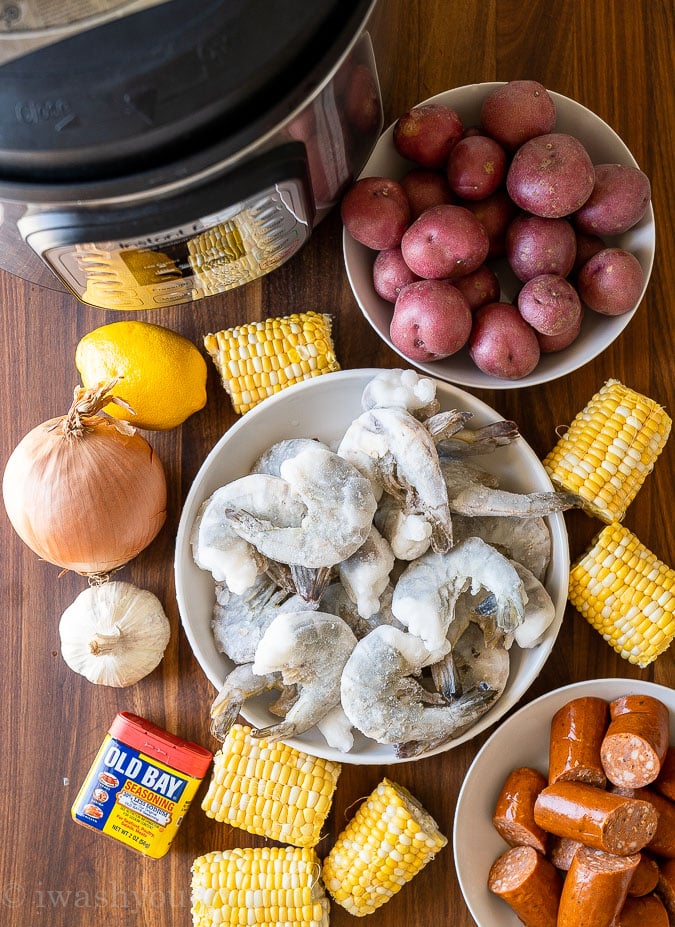 How To Make Shrimp Boil In Instant Pot
I love being able to use my pressure cooker during the summer months so I don't heat up my kitchen while cooking dinner. This recipe is perfect when corn is at it's peak and you can enjoy a nice dinner on the patio!
ADD POTATOES, SAUSAGE AND CORN Start by tossing the potatoes, sausage and corn segments into the liner of your pressure cooker. If you like your onions on the softer side, go ahead and add your onions now.
MAKE SEASONED BROTH Combine the chicken broth with the hot sauce and old bay seasoning, then pour over the ingredients in the instant pot.
HIGH PRESSURE Cook at HIGH pressure for just 5 minutes, followed by a quick release of the pressure valve.
ADD SHRIMP Quickly add the shrimp to the pot and cover again, then cook at HIGH pressure for just 1 minute followed by another quick release.
DRIZZLE WITH BUTTER Combine melted butter with garlic powder and old bay seasoning then drizzle over the shrimp boil and enjoy!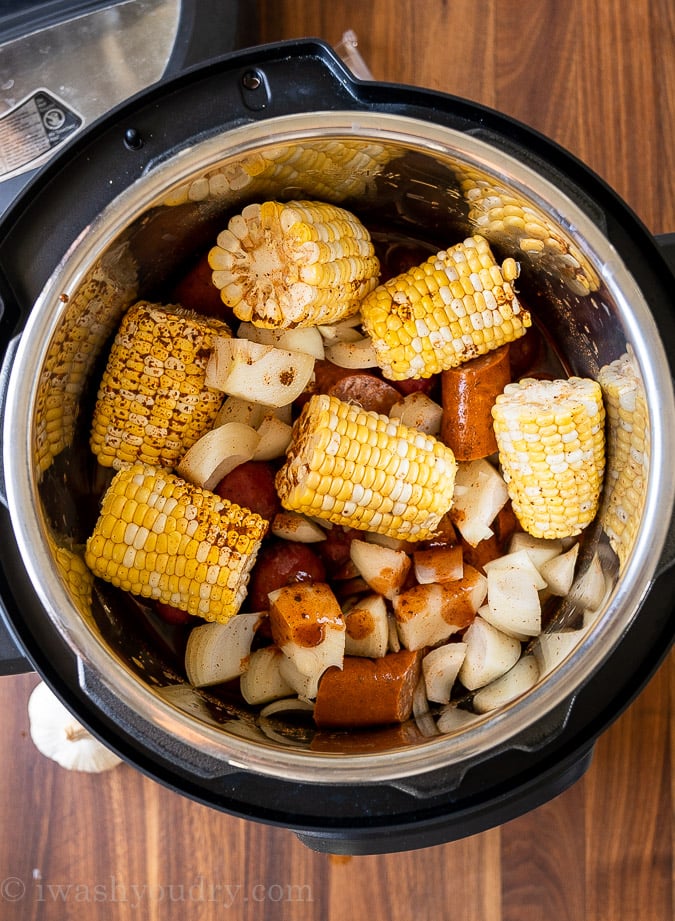 What To Serve With Instant Pot Shrimp Boil Recipe?
Bulk up this southern favorite with these simple side dishes that will pair perfectly…
You could even get away with serving this instant pot shrimp boil recipe by itself, as it's plenty to feed a family of 6!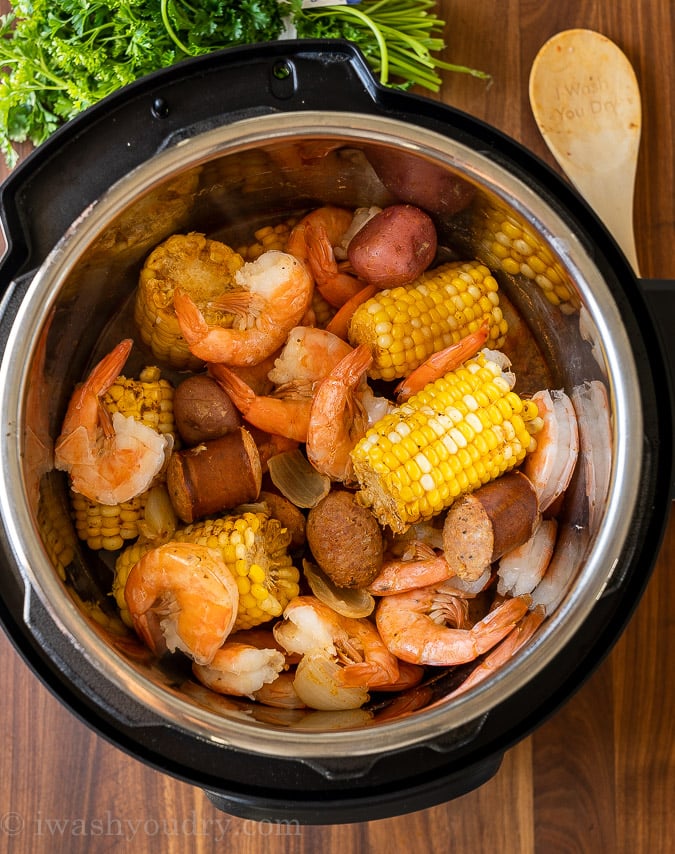 What Size Instant Pot Do I Need?
I'm using an 8 quart instant pot for this recipe. But it would also work well in the 6 quart instant pot.
If you cut the recipe in half, you could possibly fit it into a 3 quart instant pot.
How Long Does It Really Take In The Instant Pot?
While this instant pot recipe only has a total of 6 minutes on HIGH pressure, the actual total time will look more like 35 to 40 minutes depending on the size of your instant pot and temperature of ingredients when starting.
This is because the broth inside must come to a boil and create enough pressure to seal the valve BEFORE the timer starts ticking. Then, when you release the pressure it can also take a few minutes for it to fully release before you can open the pressure cooker.
I still believe this is a great, one-pot recipe that is perfect for busy weeknights, parties and even taking in your camper!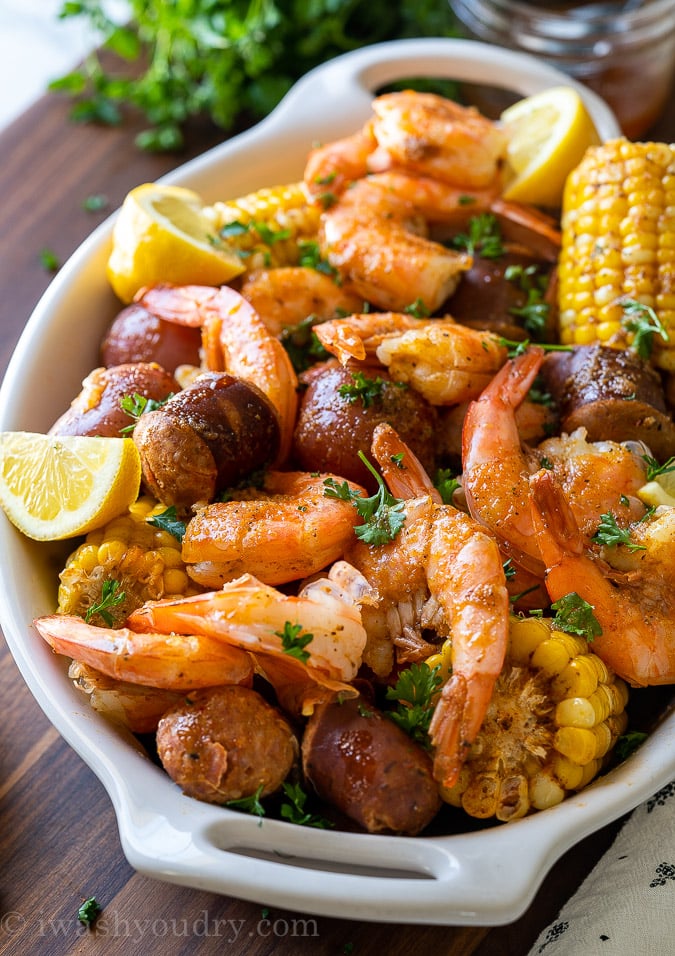 What Size Shrimp Do I Need?
For this recipe I'm using "Super Colossal" size shrimp. Or just an XL size shrimp (about 13 to 15 per lb.)
Shrimp is my favorite part of this recipe so I've amped it up to a full 2 lbs.
PRO TIP: If using a smaller size shrimp, reduce the cook time after you add the shrimp to 0 minutes at high pressure. Trust me, it'll still cook the shrimp and they won't turn out overcooked.
You'll notice that I've left the peels and tails on my shrimp. I think this makes it more fun to eat cause you really get in there with your hands.
If you want to use shrimp that is already peeled and tails off, that works too. No need to make any adjustments to the recipe or cook time.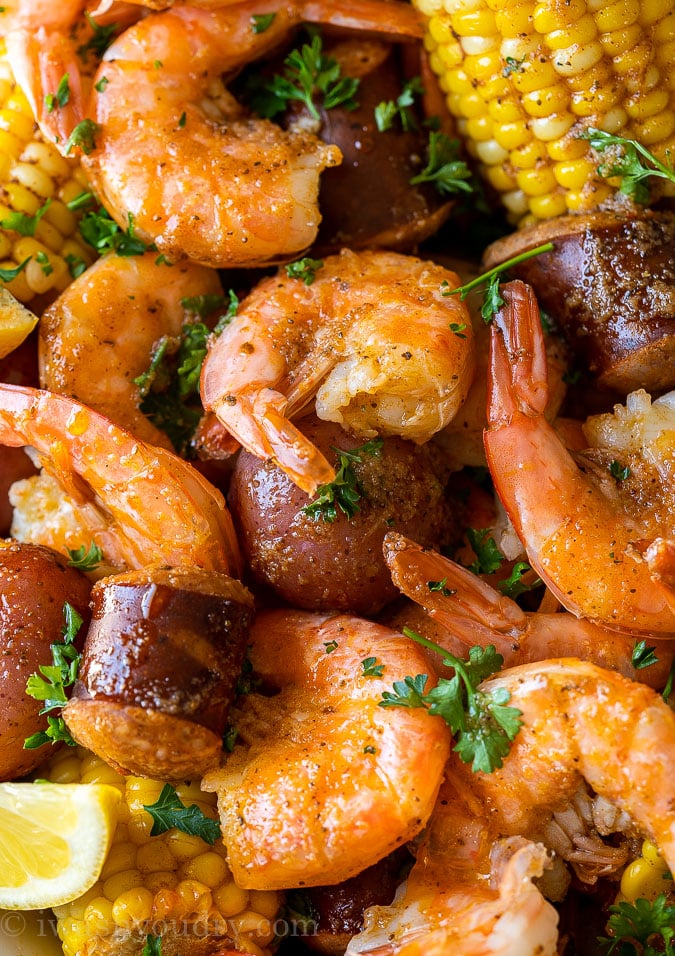 More Southern Favorites To Try
Here are some more delicious, quick and easy southern favorites you'll really enjoy…
I can't wait for you to give this awesome recipe a try! I hope you enjoy it as much as we do!
Instant Pot Shrimp Boil
This quick and easy Instant Pot Shrimp Boil recipe is loaded with perfectly cooked potatoes, sausage, corn and jumbo shrimp, then doused in seasoned butter. 
Ingredients
1.5

lb

baby red potatoes

13

oz

andouille sausage

,

cajun style or smoked, cut into 2" segments

3

medium

ears of corn

,

cut in half

1

cup

onion

,

chopped, or pearl onions peeled

1½

cups

chicken broth

1

tbsp

hot sauce

,

cayenne pepper sauce

4

tsp

old bay seasoning

,

divided

2

lbs

shrimp*

,

frozen, extra large (13-15 per lb.)

¼

cup

butter

,

melted

1

tsp

garlic powder

parsley

,

freshly chopped

lemon

,

cut into wedges
Instructions
Add the potatoes, sausage and corn to the liner of the instant pot. Add the onion if you prefer really soft onions, or add with the shrimp for more texture to them.

Mix together the chicken broth, hot sauce and 3 tsp of old bay seasoning, then pour into pot. Make sure your silicone ring is fitting snuggly, then attach lid to pressure cooker. Close vent to sealed position, cook on HIGH pressure for just 5 minutes, followed by a quick release of pressure (once timer has counted down the 5 minutes open valve to release pressure).

Quickly add in the frozen shrimp and cover the lid, closing the valve again. Cook on HIGH pressure for just 1 minute, followed by a quick release. Drain any excess liquid from pot if desired.

Pour mixture into a large, rimmed tray. Combine melted butter, garlic powder and remaining 1 tsp of old bay seasoning and drizzle over corn, potatoes, shrimp and sausage. Garnish with freshly chopped parsley and serve with lemon wedges. Enjoy!
Video
Notes
*If using a smaller size shrimp (medium is the smallest I would go) - reduce cook time to 0 minutes after adding the shrimp. The pressure cooker will still come to pressure and then you will release the pressure immediately. 
Nutrition
Calories:
570
kcal
|
Carbohydrates:
32
g
|
Protein:
47
g
|
Fat:
28
g
|
Saturated Fat:
11
g
|
Polyunsaturated Fat:
4
g
|
Monounsaturated Fat:
10
g
|
Trans Fat:
1
g
|
Cholesterol:
453
mg
|
Sodium:
2094
mg
|
Potassium:
1062
mg
|
Fiber:
4
g
|
Sugar:
6
g
|
Vitamin A:
405
IU
|
Vitamin C:
28
mg
|
Calcium:
265
mg
|
Iron:
6
mg
Keywords:
corn, Potatoes, sausage, shrimp, shrimp boil
PIN THIS IMAGE TO SAVE THE RECIPE: