You'll never want to buy the bottled stuff again once you try this Homemade Honey BBQ Sauce!
This barbecue sauce is rich and sassy with a touch of brown sugar and honey for sweetness. It pairs perfectly with my Instant Pot Baby Back Ribs or Cowboy Burgers!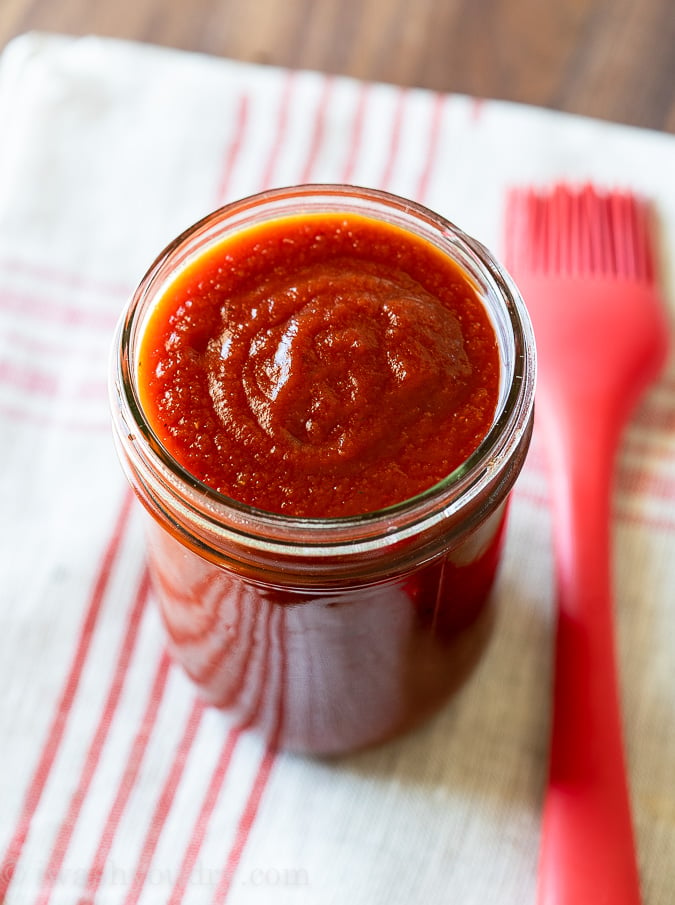 The wonderful thing about making homemade barbecue sauce is that you know all the ingredients going in there.
No corn syrup or artificial flavors here. Just pure goodness.
Homemade Honey BBQ Sauce Recipe
Believe it or not, making bbq sauce is actually very easy!
You can adjust the levels of sweetness, smokiness and even spice to your preference, making it truly your own.
This is the recipe my family really enjoys, and I think you'll like it too!
Ingredients for Honey BBQ Sauce
Here's a basic list of ingredients you'll need in order to make this sauce at home. As always, you can find the full list of ingredients in the recipe card below.
Tomato Purée – make sure to read the ingredients, it should only have tomatoes in it, no other spices or herbs
Tomato Paste 
Brown Sugar
Apple Cider Vinegar
Honey
Liquid Smoke – you can find this in the condiment aisle of the grocery store
Spices – salt, smoked paprika, garlic powder, onion powder, black pepper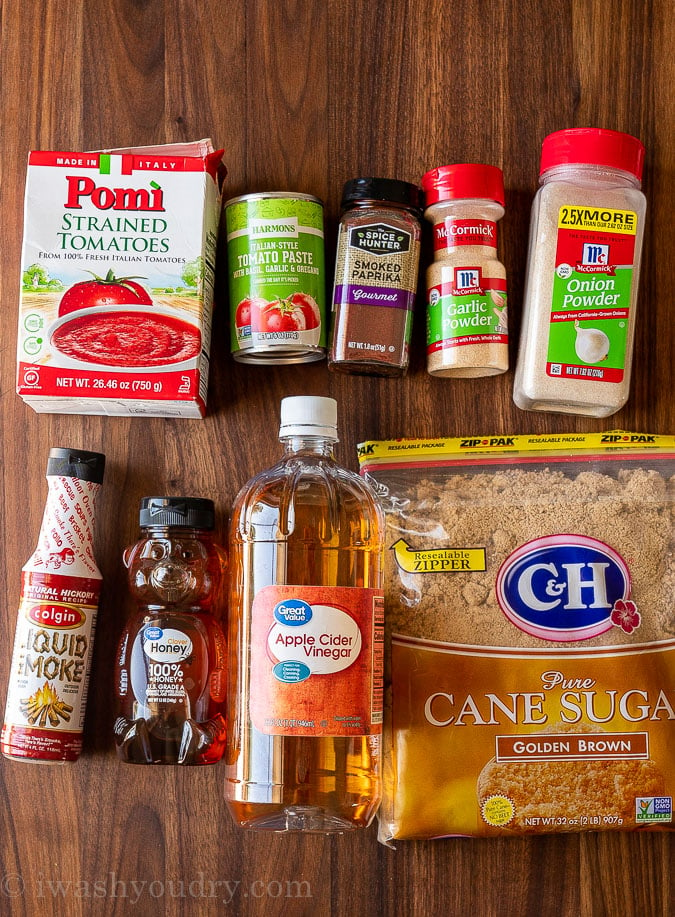 How To Make Honey Barbecue Sauce
This recipe is really straight forward and simple to make.
COMBINE INGREDIENTS   Combine all the ingredients in a sauce pan and bring the mixture to a simmer.
COOK   Let the sauce simmer, stirring occasionally until it's thickened slightly and the flavors have blended.
That's it! So simple and easy!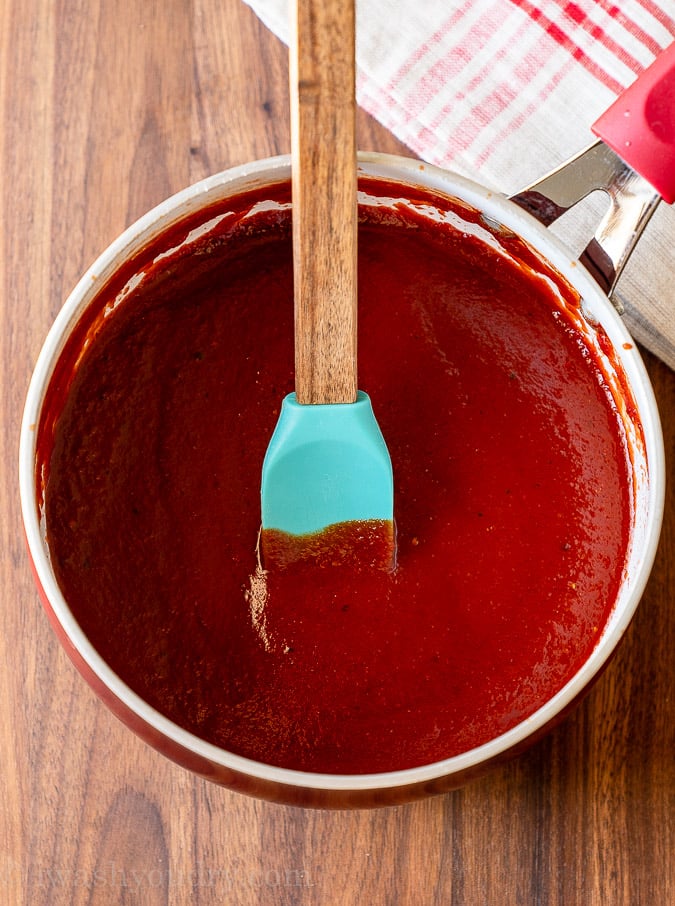 How To Adjust Flavor Profile
Now, obviously there are like a million and one different flavors of bbq sauce out there, so while this is a basic honey bbq sauce… it's very easy to tweak the ingredients here and there to create your own personal favorite.
SWEETNESS  I've tested this recipe with a few different variations in sweetness, and we like the combination of the rich brown sugar with a touch of honey. Too much honey was overpowering, but the addition of brown sugar rounded out the flavors and gave it a nice molasses taste. That being said, you can play around with more or less sugar and honey, or even go for it by adding in molasses.
SMOKINESS  In order to get that classic bbq flavor, we're adding in not only liquid smoke (which is pretty powerful stuff so go easy), as well as smoked paprika. Feel free to increase or decrease the levels of these two ingredients to your desired taste.
SPICINESS   Personally, I love a spicy bbq sauce, but my kids don't. This recipe is not spicy at all, but if you would like a little spice, try adding in 1/4 tsp to 1/2 tsp of crushed red pepper flakes or just a pinch of cayenne pepper.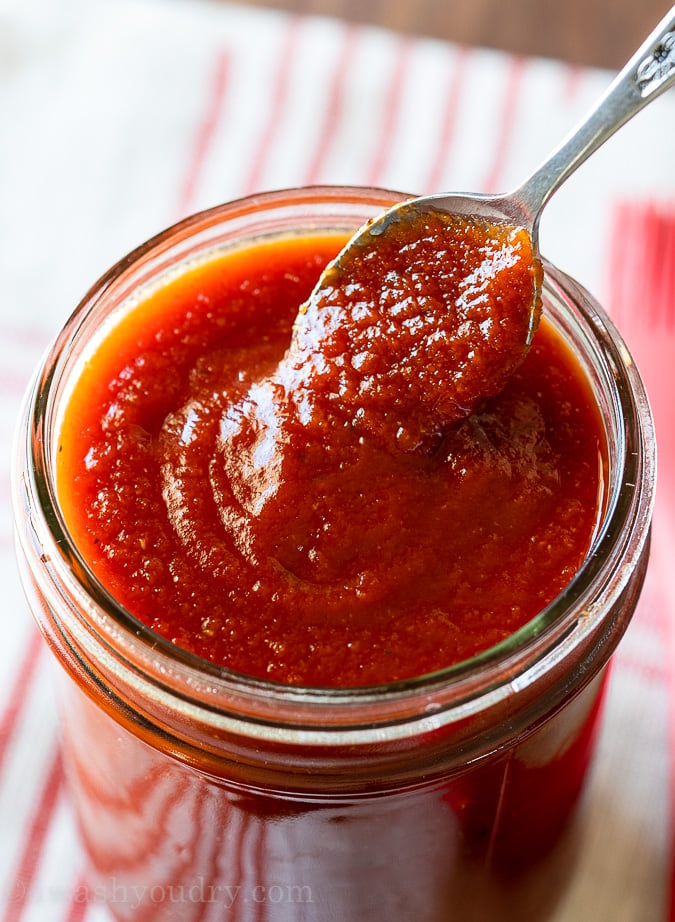 How Long Does BBQ Sauce Last?
Since we don't have any preservatives in this homemade bbq sauce, it won't last as long as the stuff you buy at the store.
Homemade BBQ Sauce can last for up to 14 days in the refrigerator, when sealed tightly.
Since we aren't processing this sauce in a water bath or canner, it will not be shelf stable, and should be kept in the fridge.
Recipes That Use BBQ Sauce
Ready to put this delicious sauce to good use? Here are a few recipes to get you started…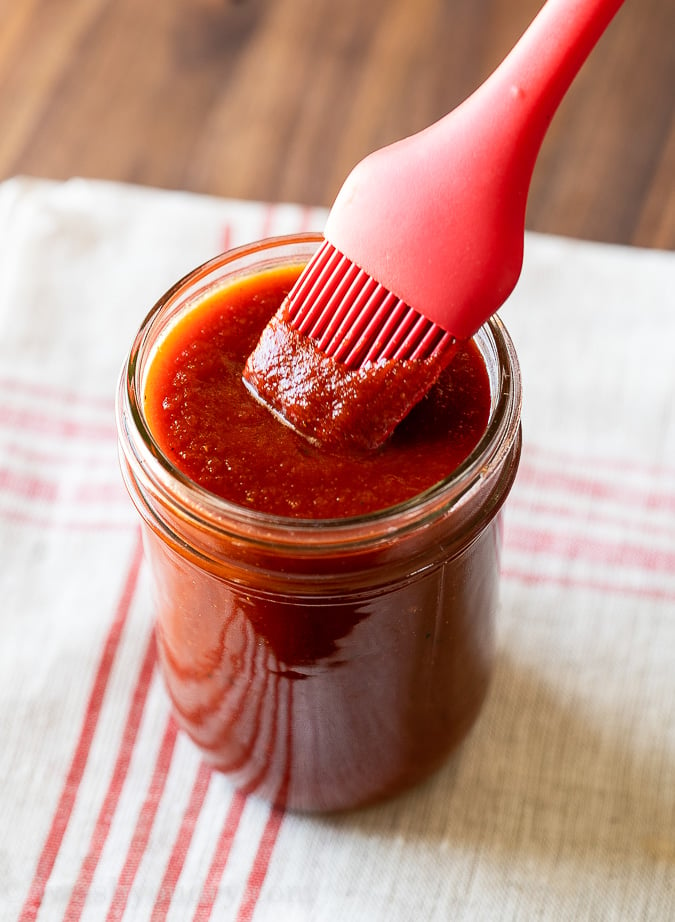 I hope you enjoy this delicious sauce as much as we do!
Honey BBQ Sauce Recipe
This quick and easy homemade Honey BBQ sauce is perfectly spiced and lasts for up to two weeks in the fridge!
Instructions
Combine all the ingredients in a small sauce pot and bring to a slight simmer, mixing completely. Let simmer, uncovered, for 15 to 20 minutes, until thickened.

Use sauce right away or let cool and store in an air tight container in the fridge for up to 1 week.
Notes
Serving size = 1 tbsp of sauce.
Nutrition
Calories:
27
kcal
|
Carbohydrates:
7
g
|
Protein:
1
g
|
Fat:
1
g
|
Saturated Fat:
1
g
|
Sodium:
90
mg
|
Potassium:
85
mg
|
Fiber:
1
g
|
Sugar:
6
g
|
Vitamin A:
122
IU
|
Vitamin C:
2
mg
|
Calcium:
7
mg
|
Iron:
1
mg
Keywords:
barbecue, barbecue sauce, Brown Sugar, Honey
PIN THIS IMAGE TO SAVE THE RECIPE