This Easy Vegetable Lo Mein Recipe tastes just like your favorite Chinese restaurant with the perfect sauce and loads of veggies!
We love to pair this noodle dish with my Shrimp Fried Rice or Egg Drop Soup for a complete meal.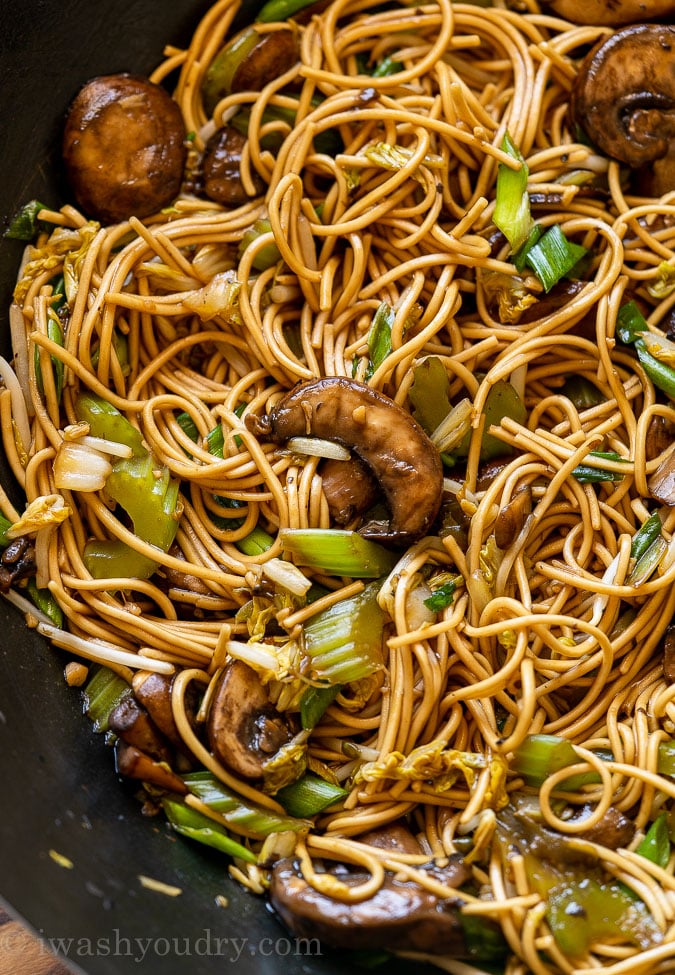 If you're looking for the BEST Lo Mein Recipe to make at home, this is it! I've perfected the flavors in the sauce so it tastes amazing and comes together super quick.
Chow Mein vs Lo Mein
The main difference between the two types of Mein or "noodle" dishes is the way that they are prepared. Lo Mein is a softer noodle, and Chow Mein is a fried, or crunchy noodle.
Technically, this recipe is considered a Lo Mein dish, but most Americans call it Chow Mein. Either way you name it… it's delish!
Easy Vegetable Lo Mein Recipe
In order to achieve restaurant quality at home, you might need to head to your local Asian market to grab a few key ingredients.
We don't have an Asian market in our town, so I went online to Amazon and was able to find some ingredients that I needed.
Vegetable Lo Mein Ingredients:
Here's a basic list of the ingredients you'll need in order to make this recipe. As always, you can find the full list of ingredients in the printable recipe card below.
Cabbage – you can use either Nappa Cabbage or regular green cabbage
Celery – gives it a great crunch!
Garlic
Green Onions
Bean Sprouts – either fresh or canned will work
Mushrooms
Lo Mein Noodles – Look for noodles that are made with EGG for the best consistency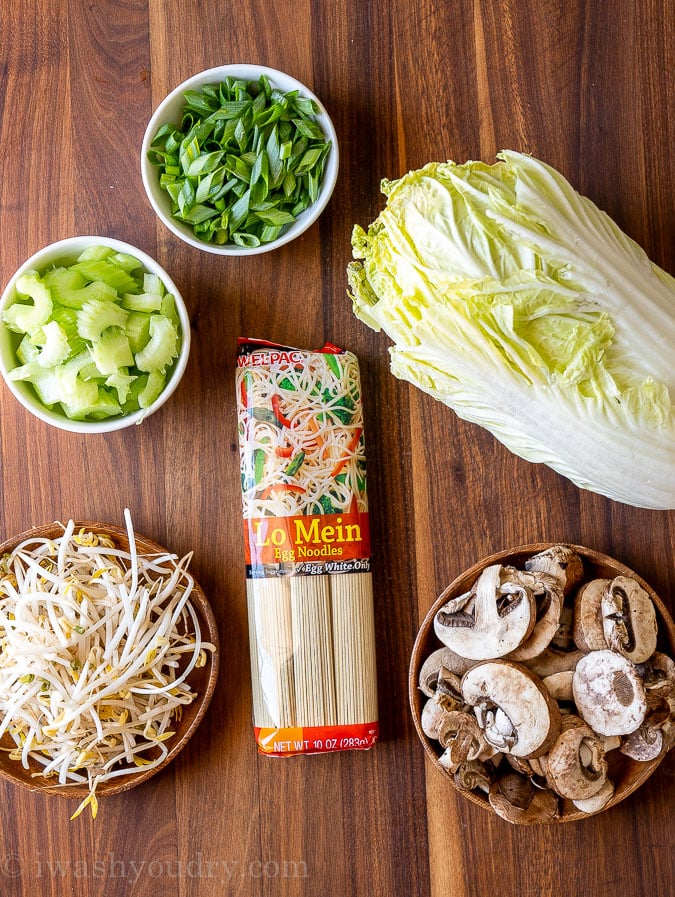 Lo Mein Sauce Ingredients:
The key to the BEST Lo Mein is in the sauce. I've crunched the numbers, tested, retested and eaten my fair share of lo mein to come up with the perfect blend.
Here's what you'll need…
Soy Sauce – I prefer a low sodium soy sauce
Oyster Sauce – has a distinct flavor, please don't skip it!
Chinese Cooking Wine – you can swap with Mirin if you can't find 
Sweet Soy Sauce – a thickened, sweet sauce that has a taste of molasses. You can substitute with one part molasses with two parts soy sauce.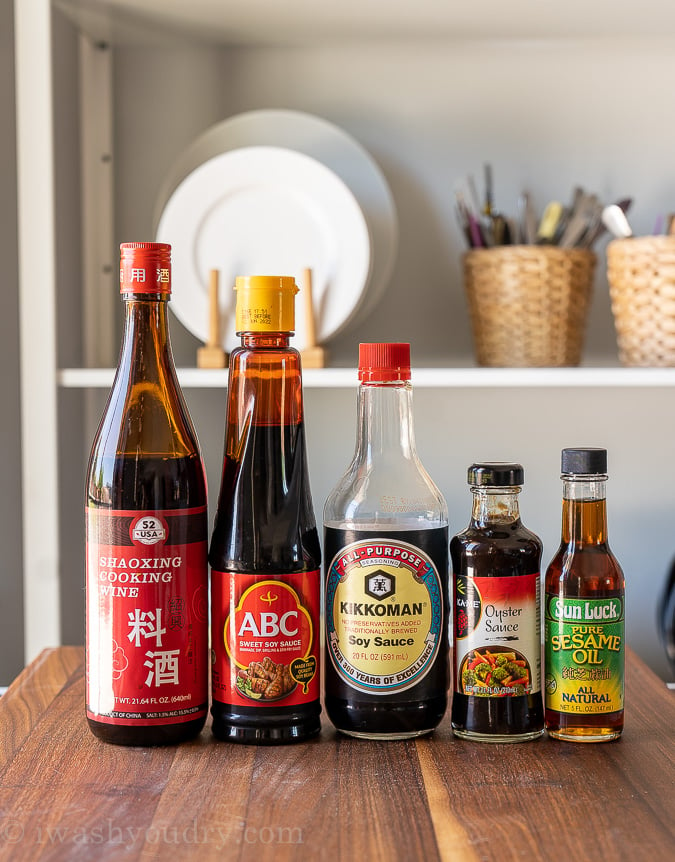 Once you have all your ingredients prepped and ready to go, this noodle dish comes together super quick.
How To Make Lo Mein at Home
You'll want to start by mixing up your sauce ingredients in a dish, so it's ready to add once the vegetables and noodles are cooked and ready to go.
MIX SAUCE  Combine the sauce ingredients in a small dish or measuring cup so it's prepared and ready to go.
COOK VEGETABLES  Prepare the vegetables first, by cooking the more dense vegetables first, then add in the lighter vegetables towards the end.
BOIL NOODLES  The egg noodles only take about 4 minutes to cook, so have the water boiling and ready, drop in your noodles, and be ready to pull them out and add them to the cooked veggies.
COMBINE NOODLES, VEGGIES AND SAUCE  Add the sauce to the hot wok and stir all the ingredients together, letting the sauce thicken slightly.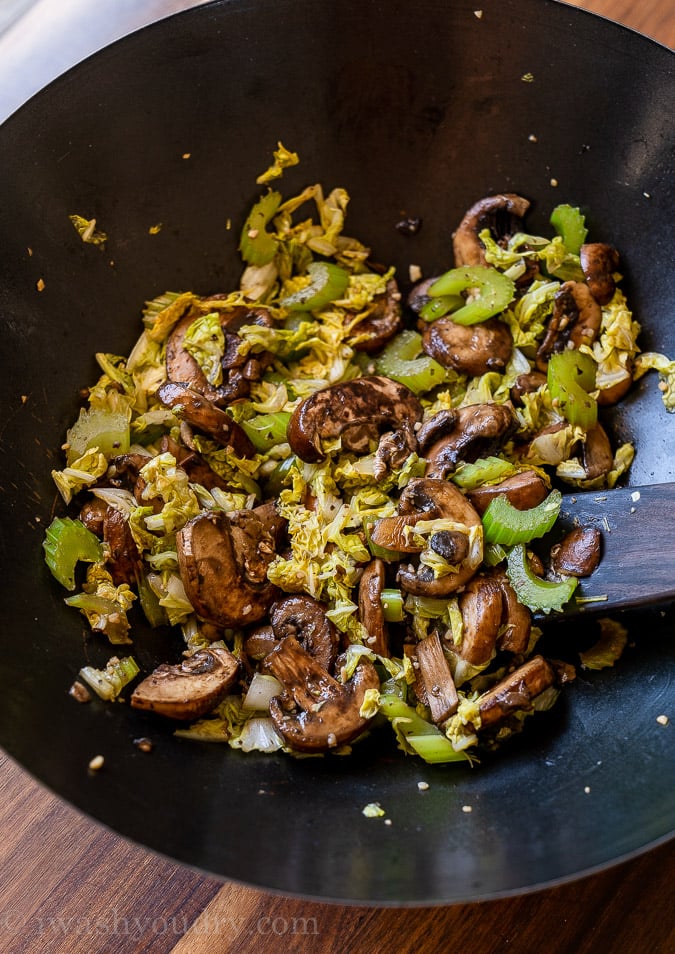 When it comes to the vegetables you're adding to your Lo Mein, the sky is the limit.
You can add in however much you want and any type of veggie you want. This blend is just one that my family and I enjoy, and I love the combination of soft mushrooms with crunchy celery. Adding in shredded carrots or red bell peppers would give the dish a lot of nice color and flavor too.
Tips For The BEST Lo Mein
When you're trying to mimic a restaurant quality recipe, it's important to pay attention to the details.
LO MEIN NOODLES:  I tested many different types of lo mein and chow mein noodles, trying to find the right one that will hold the sauce, not be too sticky and have the right consistency. I ultimately landed on an egg noodle as my winner. That being said, you can also use your basic spaghetti noodle when you're in a pinch. But you'll have the best results using a Lo Mein noodle that has egg or egg whites in the ingredients.
VEGGIES:  Start cooking the more dense veggies first – celery, carrots, and even mushrooms take a little longer to soften. Add in the more delicate veggies at the end – bean sprouts, green onions, etc.
SAUCE:  You can play around with the quantities of the ingredients based on your personal taste preference, but I've found this combination to be right where I like it. Want it sweeter? Add a little more sweet soy sauce. More savory? Add in extra oyster sauce. More Salty? Add in more soy sauce.
PREP INGREDIENTS AHEAD OF TIME:  Since this recipe comes together so fast, you'll want to make sure you have your ingredients prepped and ready to go before you start cooking.
ADDING PROTEIN:  You can easily add proteins like shrimp, chicken, beef or pork to make this a full meal. Cook the proteins first with, then remove from the pan and return to the pan when adding in the sauce.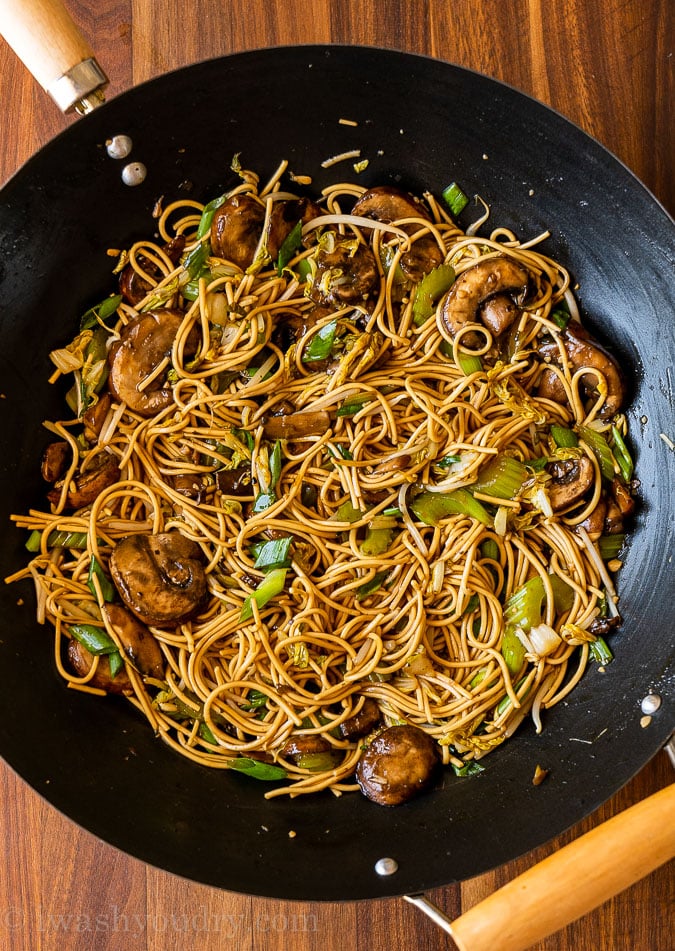 More Asian Inspired Recipes To Try
I love a good Asian dish, and this easy lo mein recipe is a perfect pair to any of these other recipes…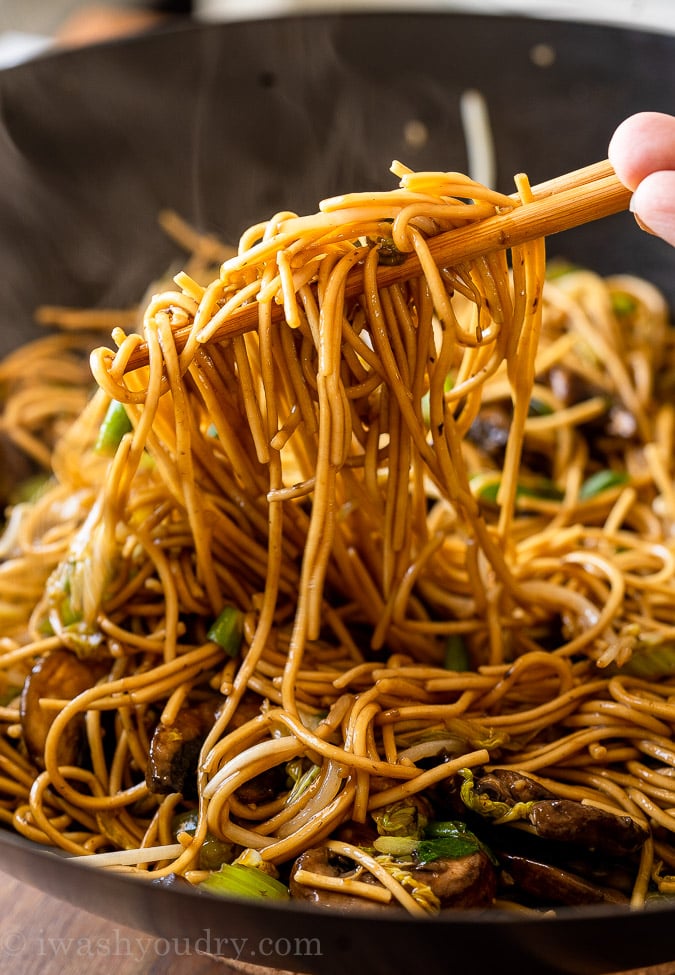 I'm so excited for you to give this easy Vegetable Lo Mein recipe a try! You're going to love it!
Easy Vegetable Lo Mein Recipe
Quick and easy Veggie Lo Mein recipe that tastes just like you get at a restaurant!
Ingredients
For The Veggie Lo Mein
10

oz

Lo Mein Noodles

1

tbsp

vegetable oil

8

oz

mushrooms

,

sliced

1

cup

celery

,

sliced

2

cups

cabbage

,

shredded

1

tsp

garlic

,

minced

1

cup

bean sprouts

1

cup

green onions

,

sliced
Instructions
For The Lo Mein Sauce:
Combine the sauce ingredients in a small dish or measuring cup and set aside.
For The Lo Mein
Bring a large pot of water to a boil and have noodles ready to go in. Noodles should only take 4 minutes to cook, and you want to add the cooked noodles right to the wok, so plan accordingly.

In a separate large wok or skillet heat the vegetable oil over medium-high heat. Add in the mushrooms and celery and cook until softened slightly, about 5 minutes. Add in the cabbage and cook an additional 2 minutes.

Toss in the garlic, bean sprouts and green onions and cook until fragrant, about 30 seconds.

Add in the cooked noodles and sauce and toss to combine, letting the sauce cook and thicken slightly, about 2 to 3 minutes. Serve and enjoy!
Video
Nutrition
Calories:
250
kcal
|
Carbohydrates:
46
g
|
Protein:
7
g
|
Fat:
4
g
|
Saturated Fat:
2
g
|
Sodium:
706
mg
|
Potassium:
297
mg
|
Fiber:
3
g
|
Sugar:
7
g
|
Vitamin A:
269
IU
|
Vitamin C:
15
mg
|
Calcium:
36
mg
|
Iron:
1
mg
Keywords:
Chow Mein, lo mein, mushrooms, noodles
PIN THIS IMAGE TO SAVE THE RECIPE!