The easiest and most efficient method for How To Hard Boil an Egg.
Get ready to master the art of hard boiling an egg. With this simple hack, you'll have perfectly cooked eggs with shells that easily fall off every time!
We love using hard boiled eggs to make Classic Deviled Eggs or my Lemon Caper Egg Salad for a tasty lunch!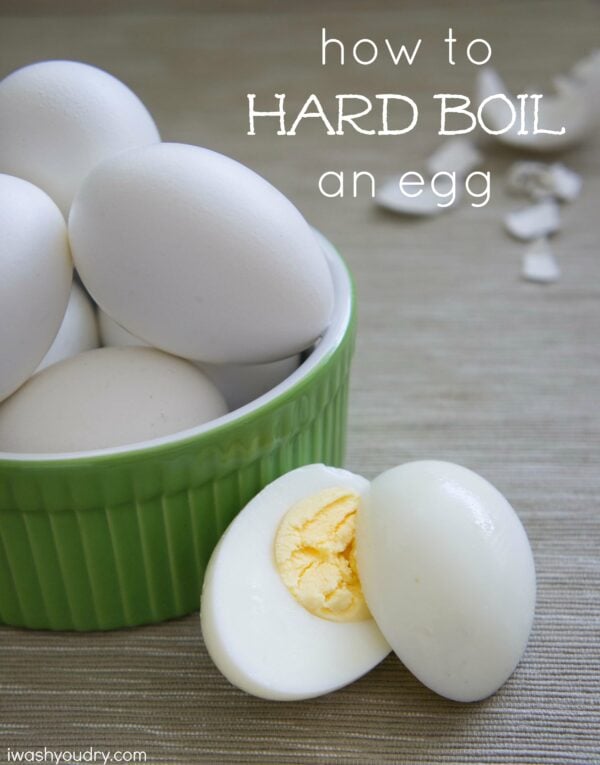 Easter is just around the corner and that means pretty soon your kids will be begging to dye Easter Eggs!
But wait… how do you hard boil those darn eggs again??
How To Boil Eggs
I can't tell you how many times the simple basics can drift out of our brain, and then we're left calling our Mom for all the answers.
Have no fear – hard boiling an egg is super simple! I even have a trick to help you remember for the future, so you'll be prepared for dying all the Easter Eggs you can handle.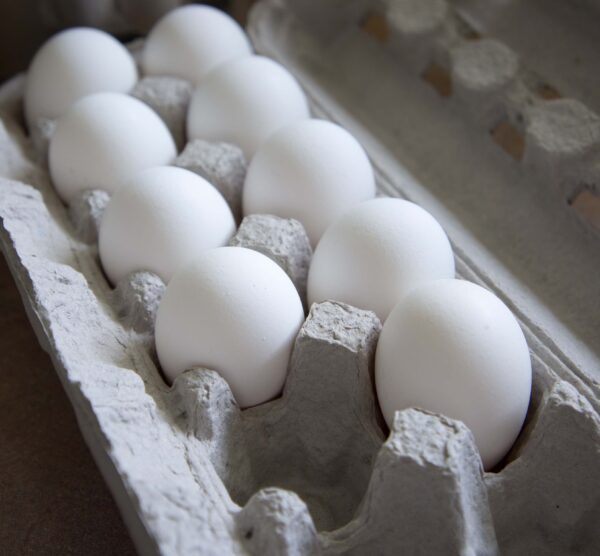 Trick For Stove Top Method of Hard Boiled Eggs
If you can remember that there are 12 eggs in a dozen; then you can remember that it takes 12 minutes to hard boil an egg!
That's not to say that it only takes one minute per egg, because the rule of 12 minutes works for no matter how many eggs you're cooking.
Instructions to Follow
Start off by placing an even layer of eggs in the bottom of your pot.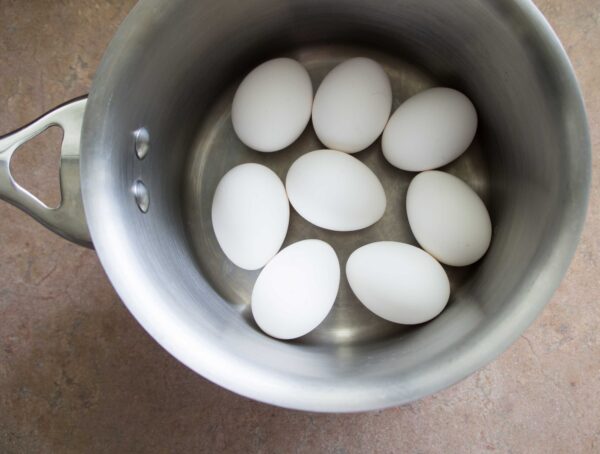 Then fill the pot with enough cold water to cover the eggs by 2 inches.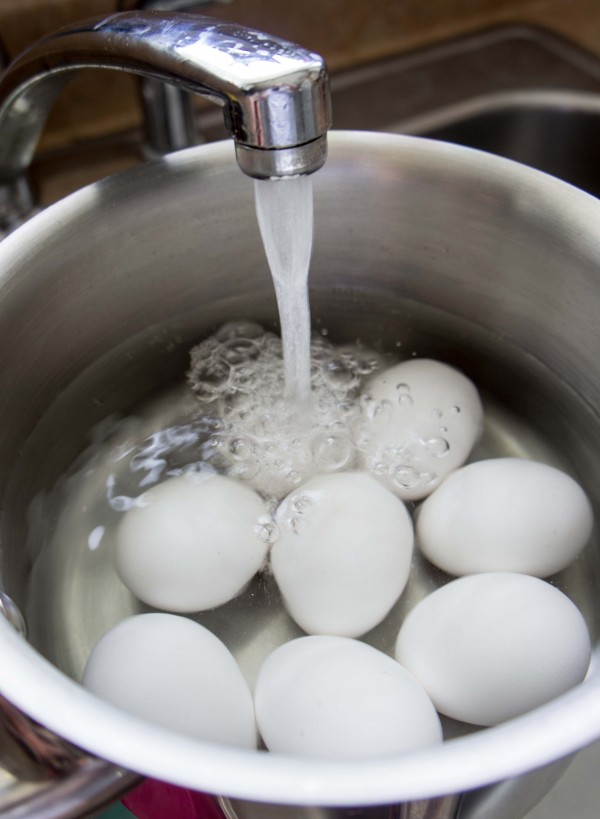 Perfectly Peeled Eggs Every Time
Nothing worse than a delicious hard boiled egg that doesn't want to peel easily, am I right?!
While the egg shells may take a bit of the egg whites with it, it's still safe to eat… just not as pretty.
Here is my secret tip to getting perfectly smooth egg whites every time…
1 tbsp White Vinegar
1/2 tsp Salt
Once you have the right amount of water in your pot, add a tablespoon of white vinegar (to keep the eggs from cracking) and a 1/2 teaspoon of salt (to help make them easier to peel).
Hard Boiled Eggs In The Instant Pot
Ever since I've purchased an instant pot, it's now my go-to method for making hard boiled eggs cause it's just so darn easy.
I wrote a whole blog post about it here, if you're interested…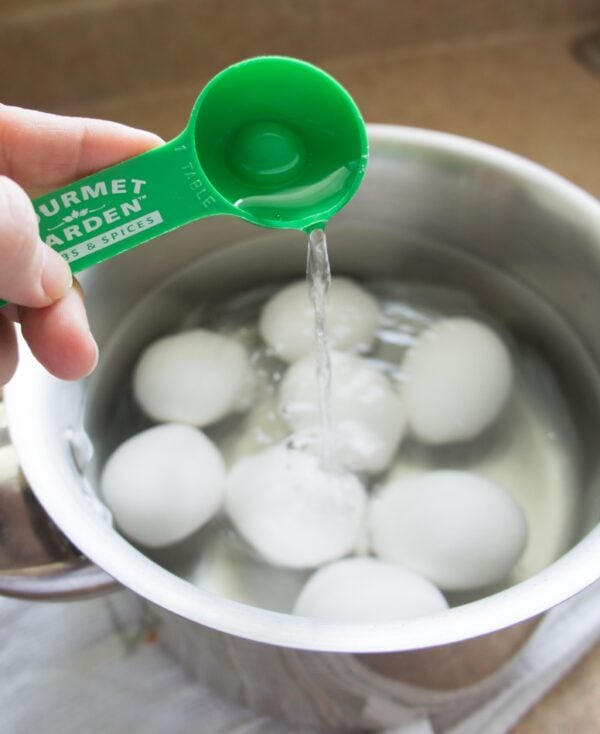 How Long Should Cook My Eggs?
The funny thing about hard boiled eggs is that they are only briefly boiled. In fact, you just want to bring the water to a boil, then immediately turn off the heat.
Place the pot on your stove top and turn it to high heat.
Bring the water to a rolling boil, then turn off the heat.
Cover, and let sit for 12 minutes for a perfectly hard boiled egg.
How Long For Soft Boiled Eggs?
If you want your egg yolks a little more on the softer side, you can reduce the amount of time you let the eggs sit before dunking in cold water.
4 Minutes will get you a more runny,

soft boiled yolk

6 Minutes will be more cooked, but still a deeper yellow,

soft yolk

8 Minutes and your yolk should be harder with a lightly pale outside to the yolk and a deeper yellow inside
10 Minutes will give you a more consistent pale yellow yolk
12 Minutes will give you a perfect, light and fluffy, hard boiled egg yolk.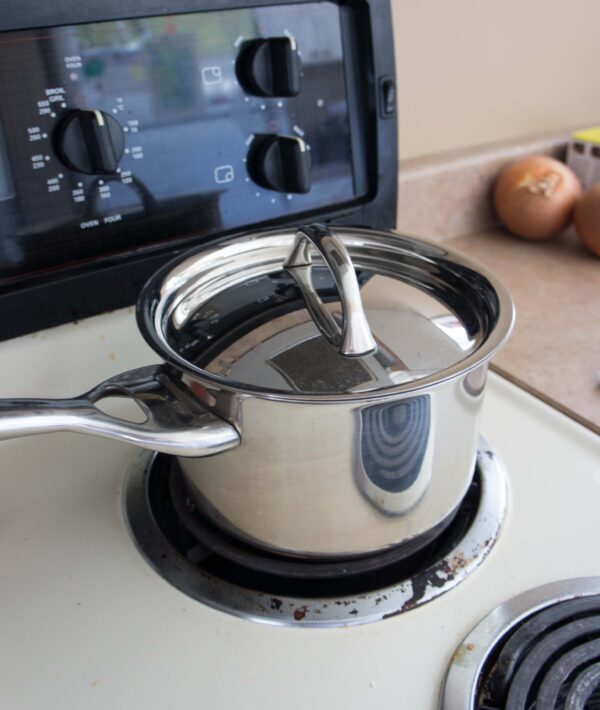 How To Cool Boiled Eggs
After 12 minutes use a slotted spoon to take one egg out. Run it under cold water till it cools enough to touch it, then gently crack it open to test it's doneness.
If it's cooked to perfection, then drain the hot water from the pot and run cold water over the rest of the eggs.
PRO TIP: If for some reason it's not done to your liking yet, let the eggs sit on the stovetop for a little longer (keep them covered).
Ice Bath Method
If I'm enjoying the eggs right away I'll prepare a large bowl with lots of ice and water and gently submerge the eggs in the ice water to instantly cool them and stop them from cooking any further.
How To Store Hard Boiled Eggs
Store unpeeled, hard boiled eggs in an airtight container in the fridge for up to 1 week.
If the hard-boiled eggs are peeled, use within the same day for best quality.
Why Does My Yolk Have A Green Circle Around It?
If you're finding that your egg yolks have a green circle around them, it's likely that you've cooked the eggs either too long or too hard.
Luckily, the green color is just a chemical reaction that happens with the hydrogen in the egg whites and the sulfur in the egg yolk, and it's completely safe to eat.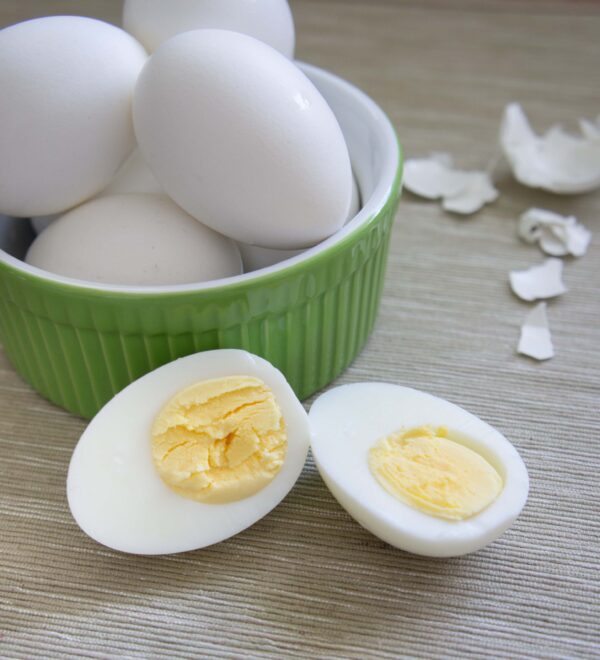 Easy-peasy right?
Don't forget…. 12 eggs in a dozen – 12 minutes!
Make sure you don't miss a thing! Follow I Wash You Dry here:
FACEBOOK | PINTEREST| TWITTER | INSTAGRAM | BLOGLOVIN
How to Hard Boil an Egg
This easy stove-top method for hard boiling eggs is perfect every time!
Ingredients
8

large

Eggs

Water

1

tbsp

White Vinegar

1/2

tsp

Salt
Instructions
Start by placing the desired amount of eggs in a pot, in an even layer. Fill the pot with enough cold water to cover the eggs by 2 inches.

Add the vinegar and salt. Place the pot on a stovetop over high heat. Bring water to a rolling boil.

Turn OFF heat, and use a lid to tightly cover the pot. Let the pot sit on the stovetop, covered, for 12 minutes.

Use a slotted spoon to test one egg for doneness. Run the egg under cold water till it's cool enough to handle. Gently crack the shell and peel it off. If it's cooked perfectly (the egg whites will be firm and the yolk will be a pale yellow, and firm), then drain the hot water from the pan and run all the eggs under cold water till they have cooled down. If the eggs need longer, keep them covered for another minute or two.

Keep (unpeeled) hard boiled eggs in an airtight container in the fridge for up to 1 week.
Nutrition
Calories:
72
kcal
|
Carbohydrates:
1
g
|
Protein:
6
g
|
Fat:
5
g
|
Saturated Fat:
2
g
|
Cholesterol:
186
mg
|
Sodium:
71
mg
|
Potassium:
69
mg
|
Sugar:
1
g
|
Vitamin A:
270
IU
|
Calcium:
28
mg
|
Iron:
1
mg
Keywords:
eggs, hard boiled