This quick and easy Spaghetti Salad is a perfect summer side dish for potlucks and parties. Filled with fresh veggies, mozzarella cheese, zippy Italian dressing, and loads of pepperoni.
If you're looking for potluck recipes or a side dish for dinner, you're in the right place. This spaghetti salad is a great side dish for a barbecue, or these easy Instant Pot Baby Back Pork Ribs
What Ingredients Are In Spaghetti Salad?
Not only does this unique pasta salad recipe boast cold spaghetti noodles, it's also packed with veggies like fresh crunchy cucumbers and bell pepper (I'm using an orange bell pepper, but you can use any color you like), juicy grape tomatoes, black olives, tangy pepperoncinis and purple onion.
I also add mini pepperoni and some fresh parsley as well as cubed mozzarella cheese. I always have mozzarella string cheese on hand, it's so easy to cut up and add to this pasta salad recipe. Extra parmesan cheese on top for sure!
The great thing about California Spaghetti Salad is that it is so easy to customize!
PRO TIP: You can add more vegetables or leave out the ones you don't like to make it fit your taste.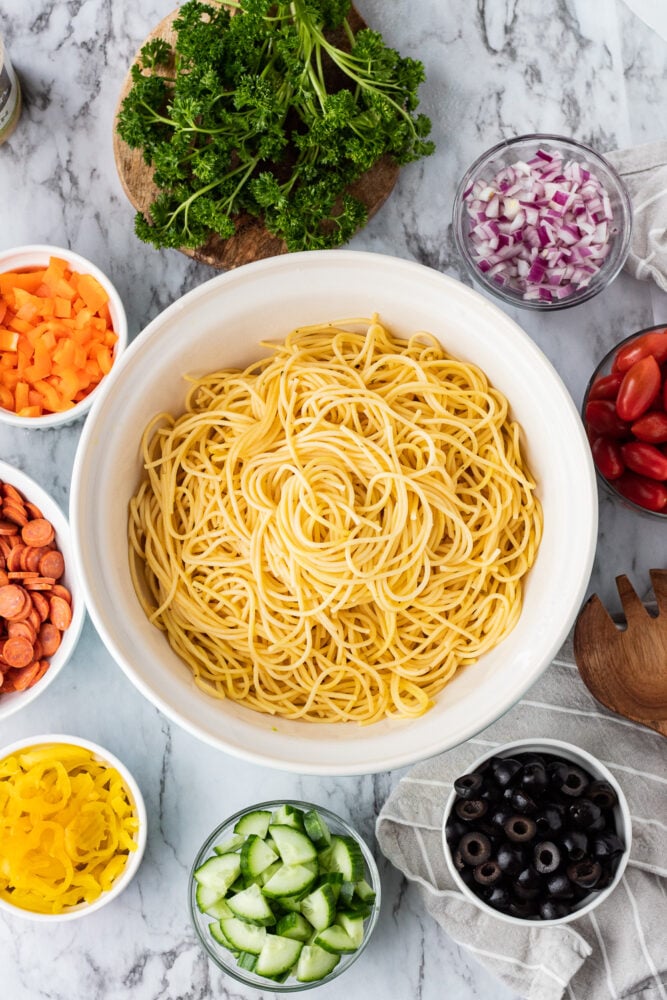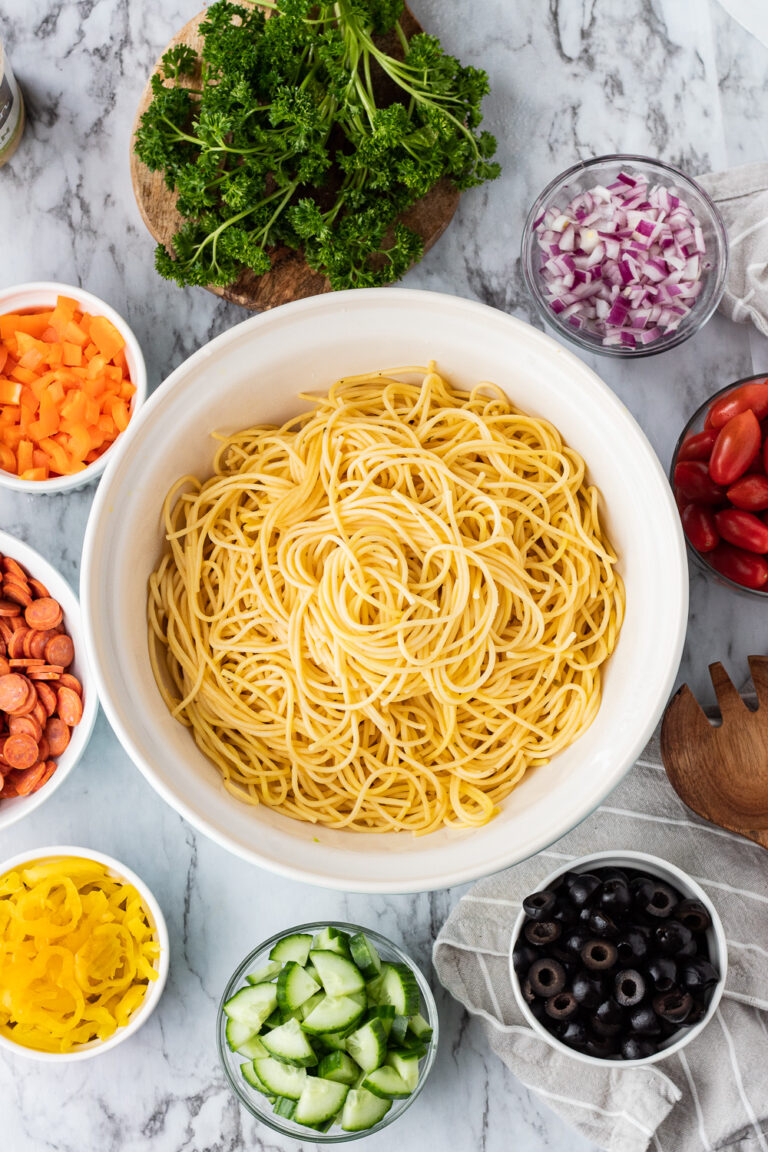 How to make Spaghetti Pasta Salad Recipe:
Start by making spaghetti noodles according to package directions. Boil for about 10 minutes for al dente pasta, then drain and rinse with cold water to stop the cooking process.
Stir in 1/2 cup Italian dressing, then cover and refrigerate for 20-30 minutes (to soak in the lovely flavor!) while chopping/preparing the other ingredients.
Stir in remaining ingredients and Italian dressing and serve.
Do you rinse pasta when making pasta salad?
Yes! Just for making cold pasta dishes like this spaghetti salad recipe.
Rinsing with cold water stops the cooking process and helps prevent the spaghetti noodles from sticking together in clumps.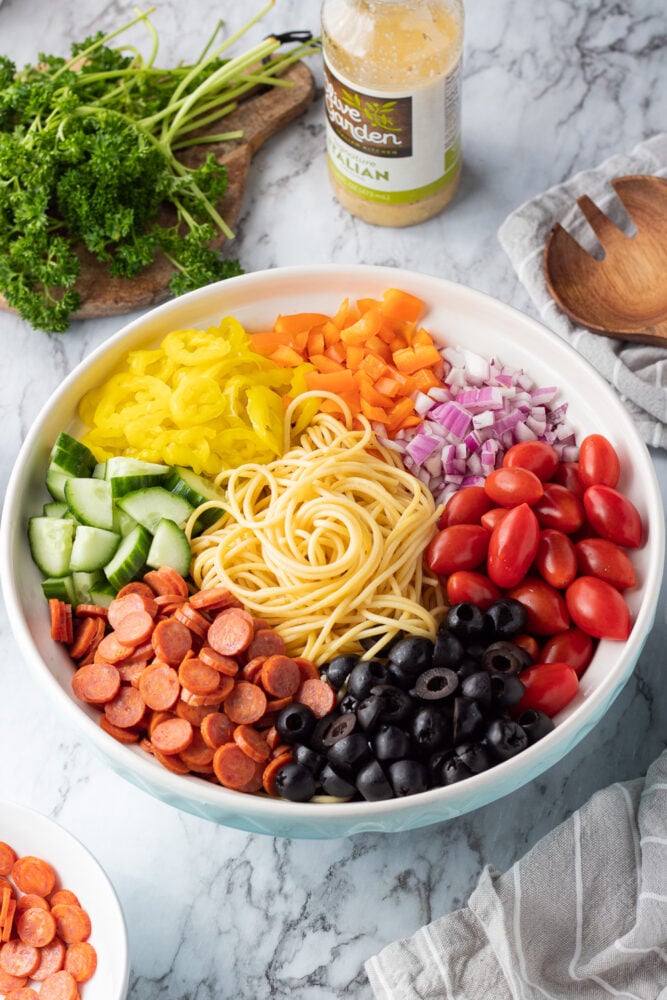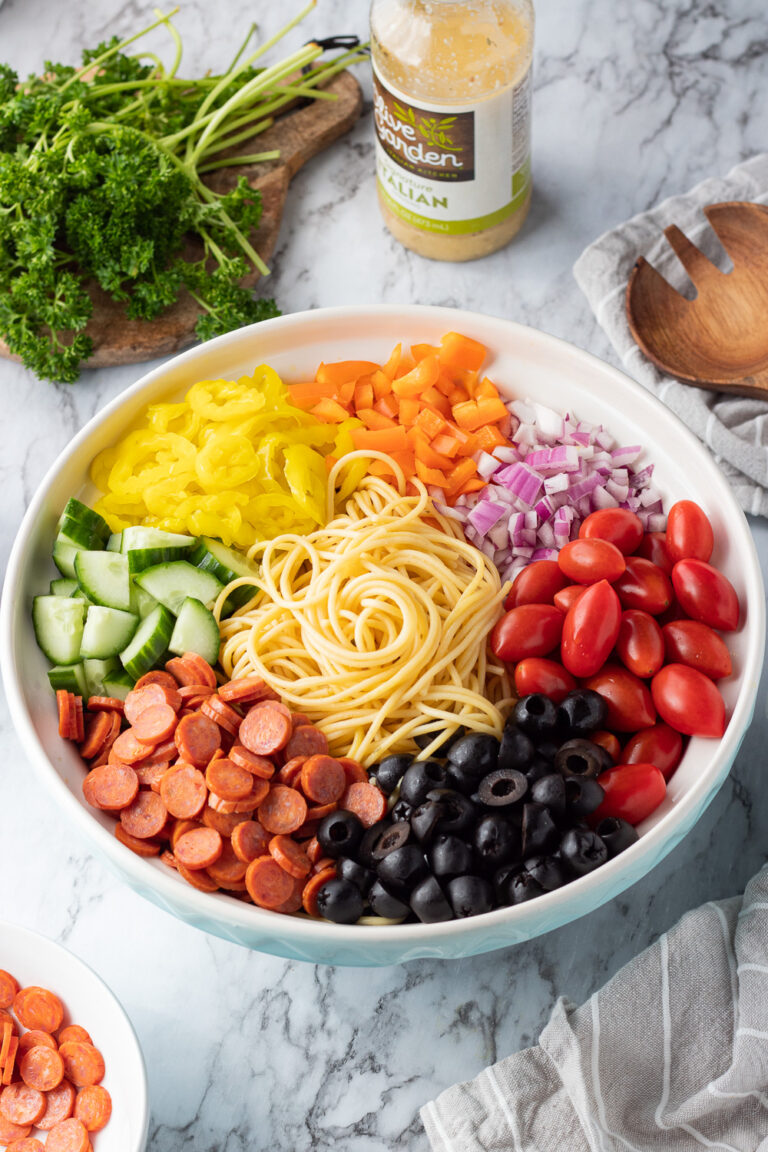 How long does Cold Spaghetti Salad last?
Spaghetti salad is best eaten the day of, or day after it is made, but it will last 2-3 days in the refrigerator, covered.
Can you make spaghetti salad in advance?
Yes! You can easily make ahead pasta salad by preparing the spaghetti the day before or earlier in the day and storing covered in the refrigerator.
You could even add all ingredients (even the Italian dressing) except the cucumbers. Leave the cucumber unsliced and whole until you're ready to serve and then slice and add it into the pasta salad right before serving to keep the salad fresh for longer, and so the cucumber doesn't become mushy in the salad.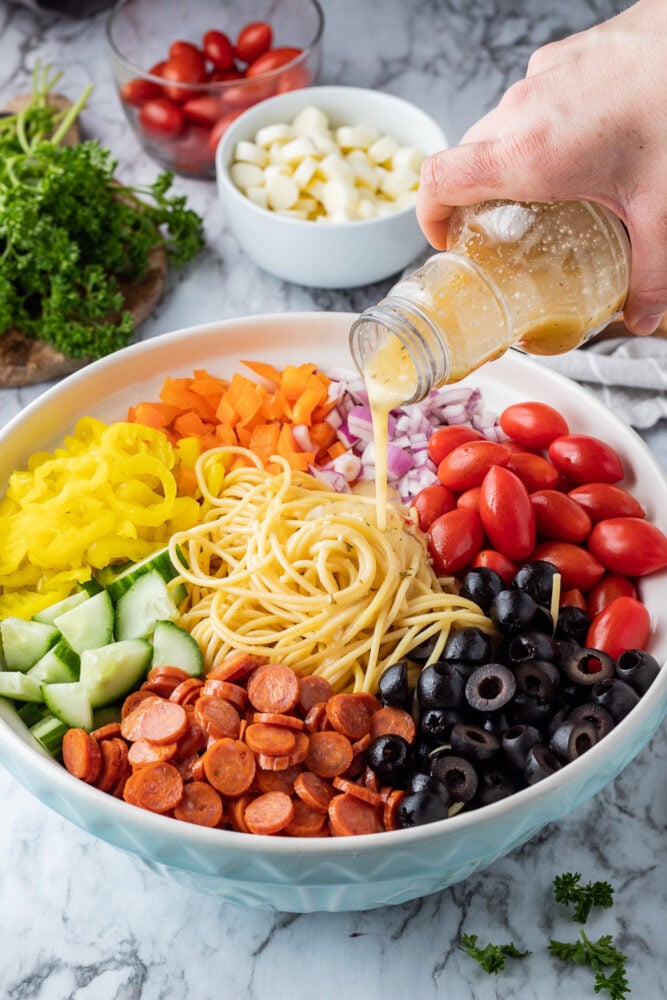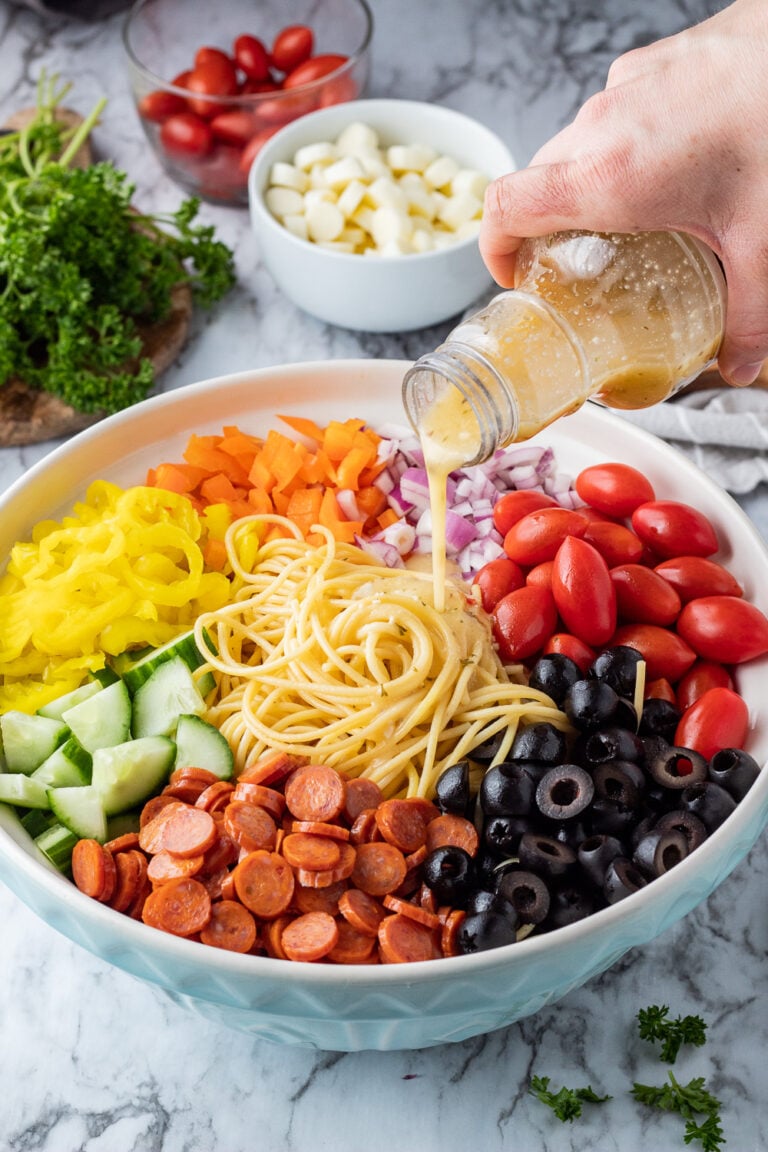 What is the best store bought dressing for pasta salad?
Any high quality Italian dressing will do, I used the Olive Garden brand of Italian dressing for this recipe.
Use your favorite Italian salad dressing and you can't go wrong.
I would stick with an Italian dressing, other flavors of salad dressing might not mix well with the pepperoni and pepperoncini in the salad.
Tips and tricks for the best Spaghetti Salad
Rinse the noodles in cold water after cooking. This will stop the cooking process and help prevent overcooking the noodles and making them stick together in clumps.
Mix in 1/2 cup of Italian dressing and chill in the fridge for 20 minutes while preparing and slicing other ingredients. It helps the flavor soak into the noodles and cools the noodles down even more before adding the other ingredients.
Use a good quality Italian dressing and fresh parsley for garnish. It adds flavor and looks amazing!
What To Serve With Spaghetti Salad
This super easy, chilled Spaghetti Salad is perfect for serving at a potluck or bbq. You really can't go wrong with any of these great dishes to accompany it…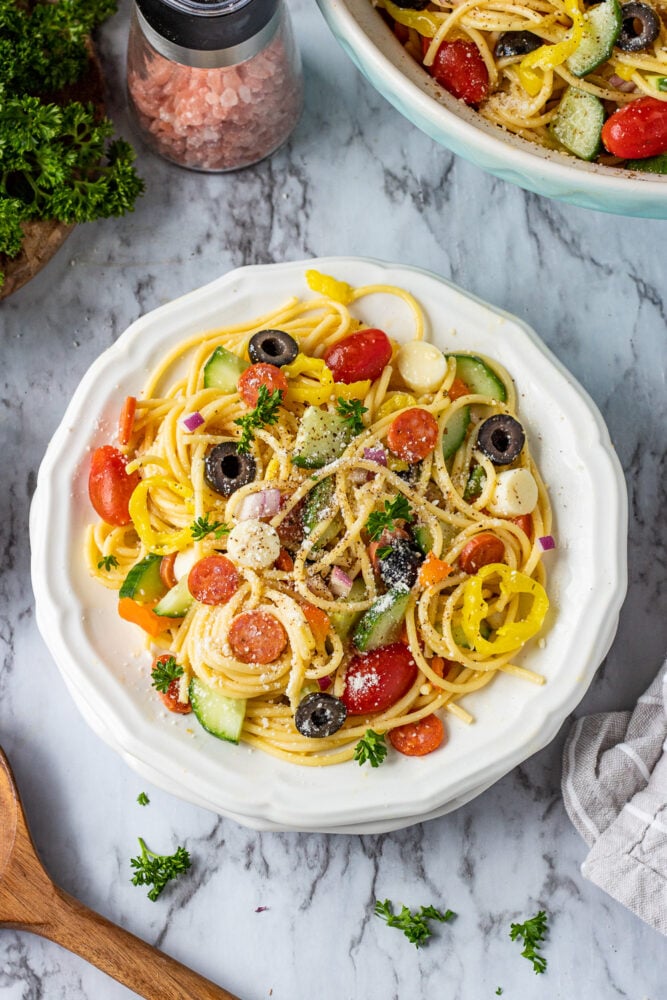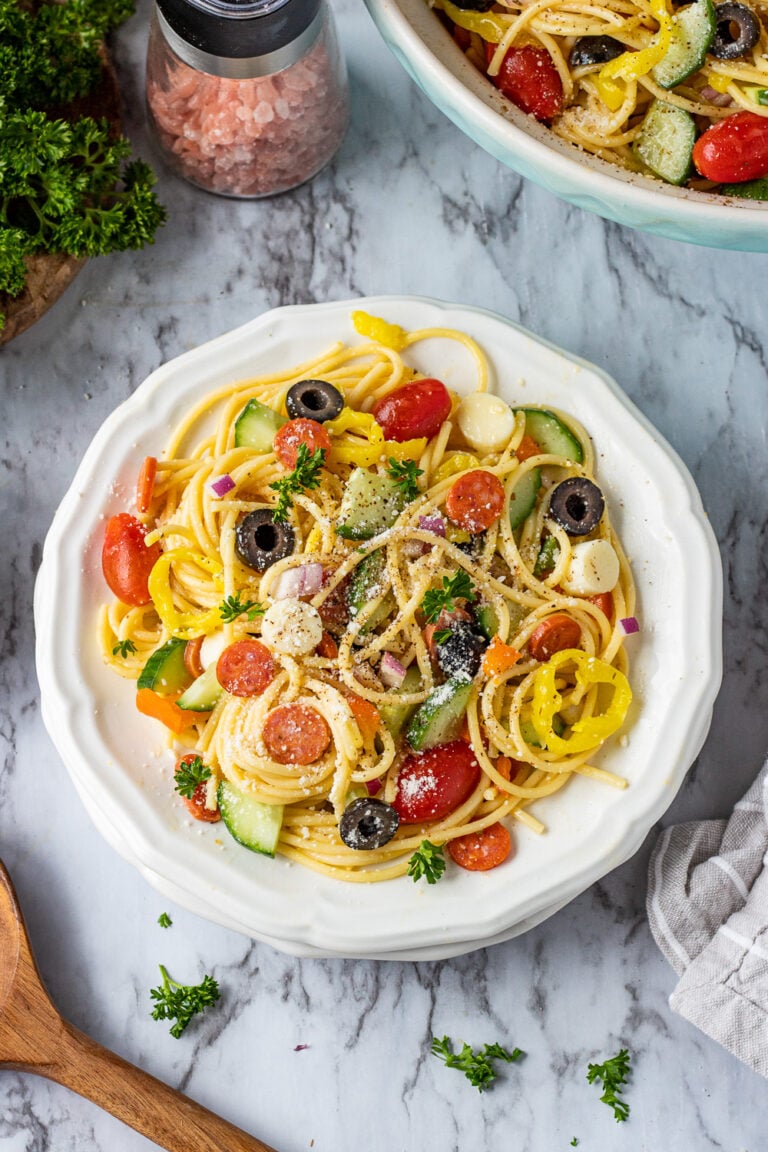 More Easy Pasta Salad Recipes to try:
Looking for more pasta salads and summer side dishes? I've got you covered.
Spaghetti Salad
Spaghetti Salad is a perfect summer side dish for potlucks. Filled with veggies, mozzarella cheese, Italian dressing, and pepperoni.
Ingredients
1

lb

spaghetti noodles

,

uncooked

16

oz

Italian Salad Dressing

5

oz

package mini pepperoni

2

cups

whole grape tomatoes

6

oz

can of sliced black olives, drained

12

oz

pepperoncini peppers, drained

,

(or mild deli style banana peppers)

1

cup

diced orange bell pepper

6

oz

cubed mozzarella cheese

,

(6 mozzarella sticks)

2

cups

sliced english cucumber

½

cup

diced purple onion

optional: grated parmesan cheese, fresh parsley, salt and pepper to taste.
Instructions
Cook the noodles according to package instructions, then drain and rinse with cool water. Drain and add pasta to a large bowl.

Add in ½ cup italian dressing, and mix well. Cover and refrigerate 20 minutes while preparing and slicing the olives, peppers, cheese, cucumber, and onion.

Add mini pepperoni, tomatoes, and remaining vegetables and mozzarella cheese to bowl of pasta. Add remaining italian salad dressing and gently mix, coating salad ingredients evenly. Optional: top with grated parmesan cheese and fresh parsley to serve.
Notes
Spaghetti Salad can be made up to a day ahead of time. Keep refrigerated and stir just before serving.
Nutrition
Calories:
372
kcal
|
Carbohydrates:
38
g
|
Protein:
12
g
|
Fat:
19
g
|
Saturated Fat:
5
g
|
Trans Fat:
1
g
|
Cholesterol:
20
mg
|
Sodium:
924
mg
|
Potassium:
348
mg
|
Fiber:
3
g
|
Sugar:
7
g
|
Vitamin A:
782
IU
|
Vitamin C:
44
mg
|
Calcium:
45
mg
|
Iron:
1
mg
Keywords:
Italian Pasta Salad, Pasta Salad, Side Salad, Spaghetti Salad
PIN THIS IMAGE TO SAVE THE RECIPE: