There's something so nostalgic about this Easy Homemade Vanilla Cake Recipe.
It's light and fluffy, yet perfectly moist inside. Top with my Chocolate Cream Cheese Frosting and plenty of sprinkles for an epic homemade birthday cake!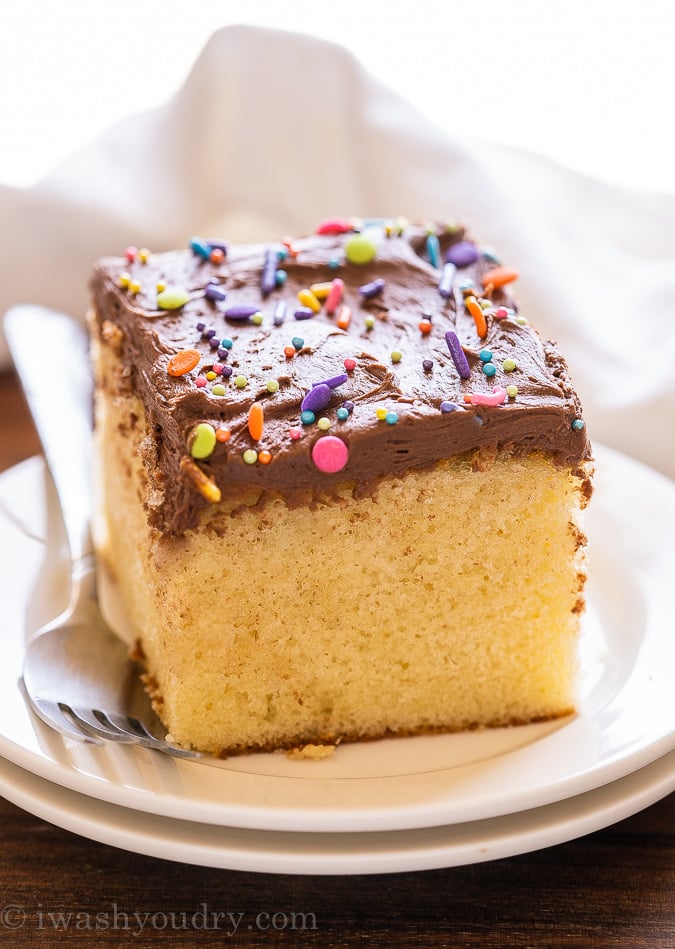 Growing up, my mom would let us pick out our own birthday cake. Each and every year I would choose a vanilla cake with chocolate frosting.
It's the perfect combination for those that love a little bit of chocolate and vanilla.
Easy Homemade Vanilla Cake Recipe
Bake in the day my mom would always start our cake with a boxed mix, which is great… but if you're looking for something extra special, this homemade vanilla cake recipe is where it's at.
This cake is prepared in a 9×13″ baking dish, just like I grew up with, and is so soft and fluffy with a delicious vanilla taste throughout. I topped the cake with my favorite Chocolate Cream Cheese Frosting that's just 5 simple ingredients.
Ingredients Needed For Vanilla Cake
Here's a basic list of ingredients you'll need in order to make this super simple cake at home. As always, you can find the full list of ingredients in the printable recipe card below!
Cake Flour – please don't swap for all purpose flour, use cake flour!
Sugar
Baking Powder – check to make sure it's not expired.
Baking Soda
Salt
Butter – room temperature
Milk – room temperature
Vegetable Oil – you can swap for canola oil if desired
Eggs – room temperature
Vanilla Extract – use real vanilla extract for that delicious flavor!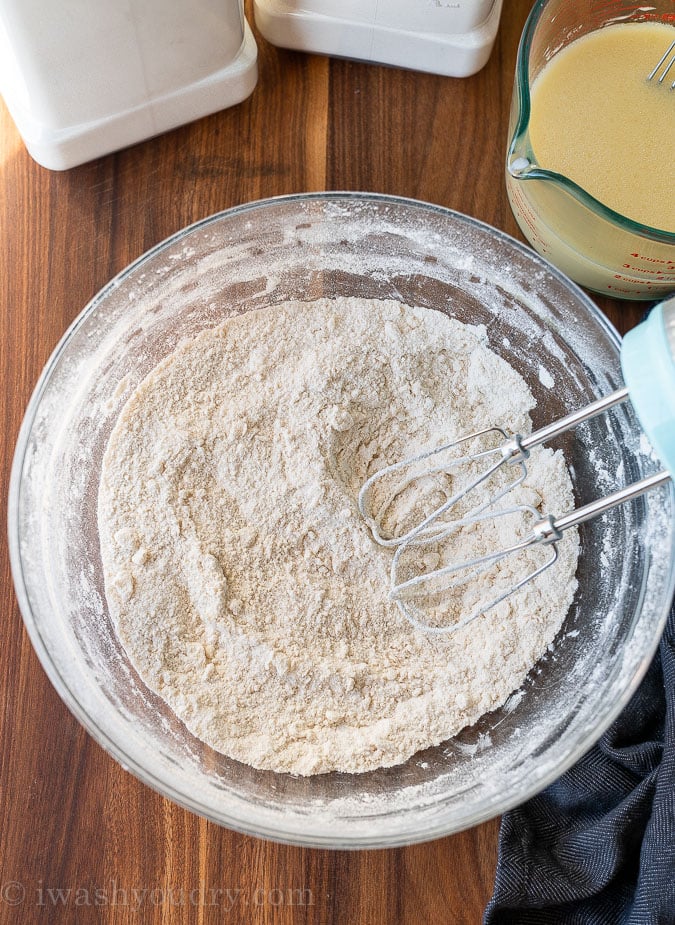 How To Make Vanilla Cake From Scratch
If the thought of making a vanilla cake from scratch sends you running, don't fear! It's actually quite easy, and you probably already have all the ingredients you need to get started!
Start by combining the dry ingredients in a large bowl, then use a mixer to beat in softened butter, until the mixture resembles coarse sand.
In a separate bowl or large measuring cup, whisk together half of the milk and oil and then pour that into the dry ingredients and mix on medium speed for 2 full minutes, until light and fluffy. Scrape down the sides of the bowl.
Gradually add in the remaining milk, eggs and vanilla extract on low speed until the cake batter is nice and thick.
Finally, pour the batter into a prepared cake pan, bake and let cool completely.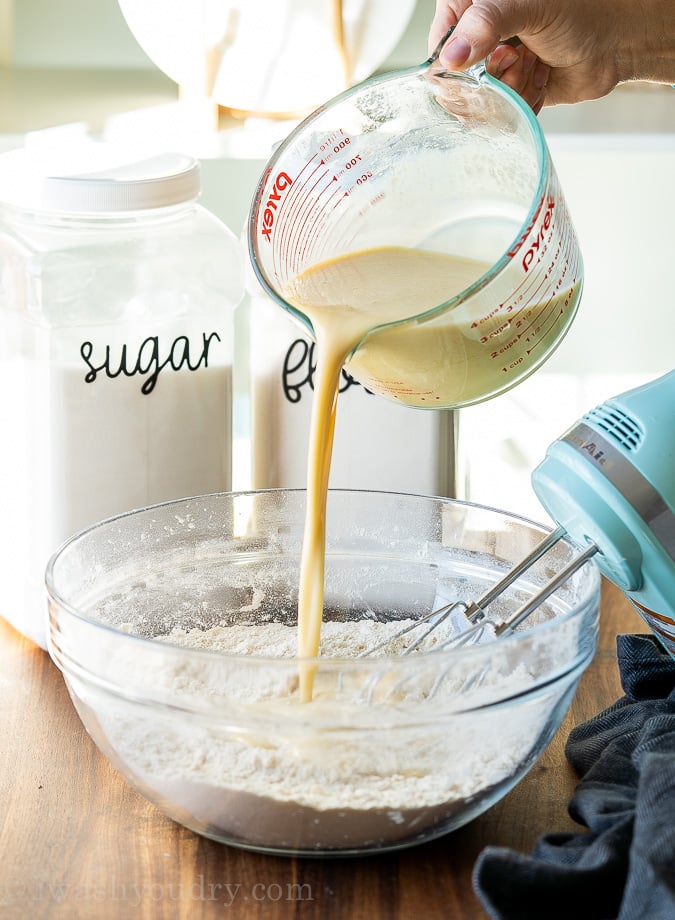 Making a vanilla cake from scratch is almost as easy as opening up a box mix and adding in the ingredients.
There aren't any extra added chemicals or preservatives, and you get a true vanilla taste in each bite.
Tips For Making The BEST Vanilla Cake
This recipe really does come together quickly, so here are a few of my best tips for making a delicious Vanilla Cake…
Room Temperature Ingredients – bring ingredients like butter, eggs and milk to room temperature before starting the recipe.
Use CAKE Flour – to avoid a cake that's coarse and crumbly, reach for CAKE FLOUR rather than all purpose flour. It does make a big difference.
Mix Batter For 2 Minutes – once you combine the milk and oil with the dry ingredients you will want to beat with your mixer for 2 minutes to create a nice and moist cake. *Similar to how box mixes are prepared
Line Cake Pan with Parchment Paper – lining your cake pan with parchment paper will ensure a nice finish to the cake and assist in easy removal.
Cool Cake Completely – let the cake cool completely before attempting to frost.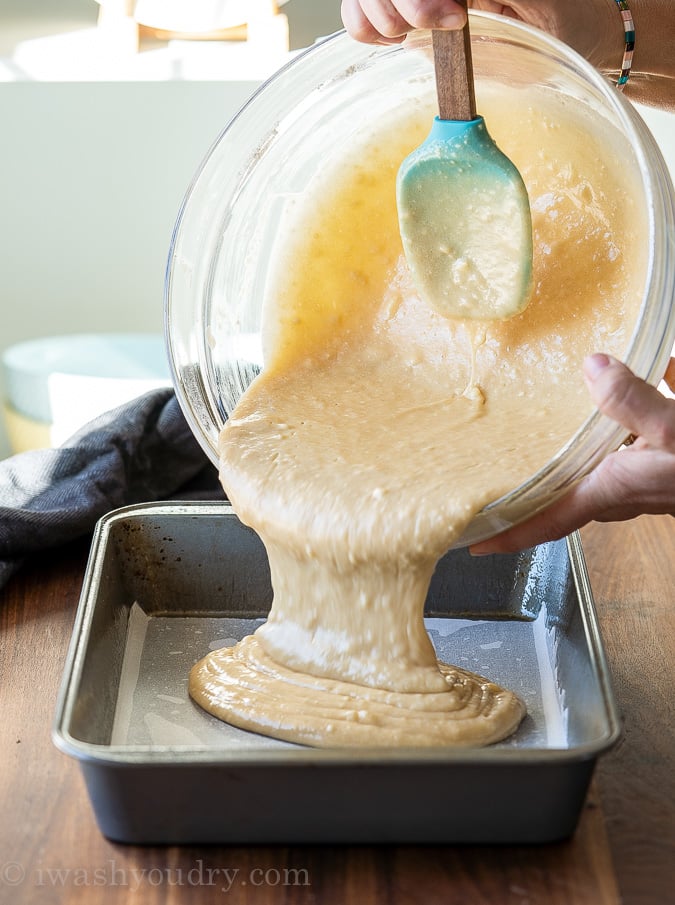 Reverse Creaming Method
When you typically make a cake from scratch it starts off with creaming the butter and sugar together.
The method that we're using today is called the Reverse Creaming Method.
We're mixing our dry ingredients together first, then adding in the butter until the mixture resembles a coarse sand. The butter coats the flour, which actually inhibits the gluten from developing.
Add in a mixture of oil and milk and use either a stand mixer or hand mixer to beat them together for 2 FULL MINUTES, creating a creamy, light and fluffy emulsion.
Finally, you'll gradually add in the remaining wet ingredients, until the cake batter is nice and thick.
Using this reverse creaming method allows us to add extra liquids compared to the standard creaming method, creating an incredibly moist and delicious cake!
Can I Make This Into a Layer Cake?
Looking for a cake with a little more height? You can definitely turn this 9×13″ cake into a layer cake.
I love using these 8″ cake pans (you'll need two), as well as these bake-even strips to help the cake bake nice and even on top.
Bake the cakes at 350 degrees F. for just 25 to 30 minutes, using a toothpick to check the center for doneness.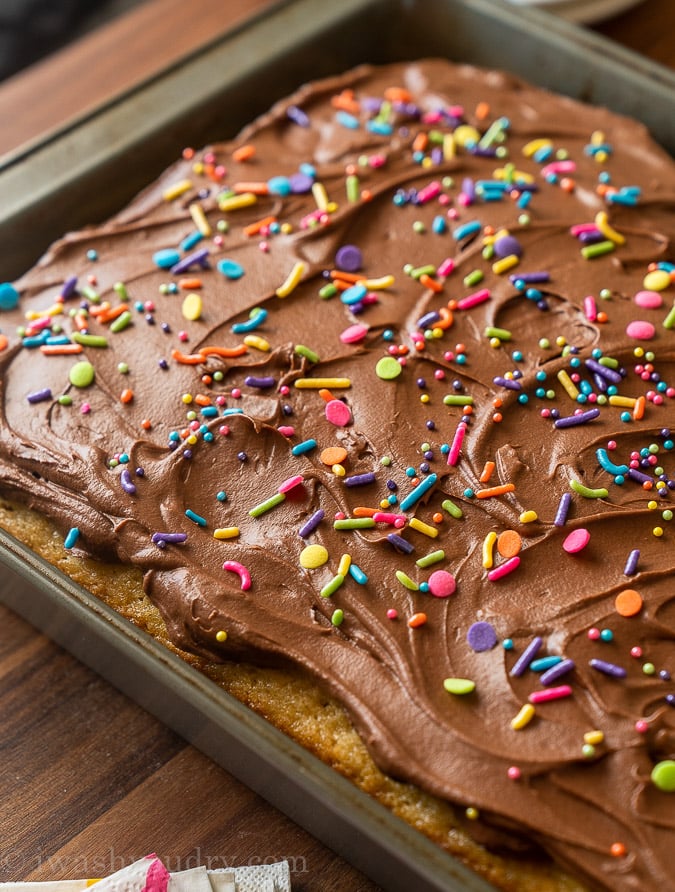 As for me, I love a good ol' fashion 9×13″ cake with plenty of frosting and sprinkles on top. It's perfect for feeding a crowd and way easier to make in my opinion.
In fact, this cake is our go-to for celebrating birthdays and any day that needs cake.
Can I Turn This Cake Into Cupcakes?
Due to the nature of the reverse creaming, this recipe is best suited for either the 9×13″ cake or layer cakes.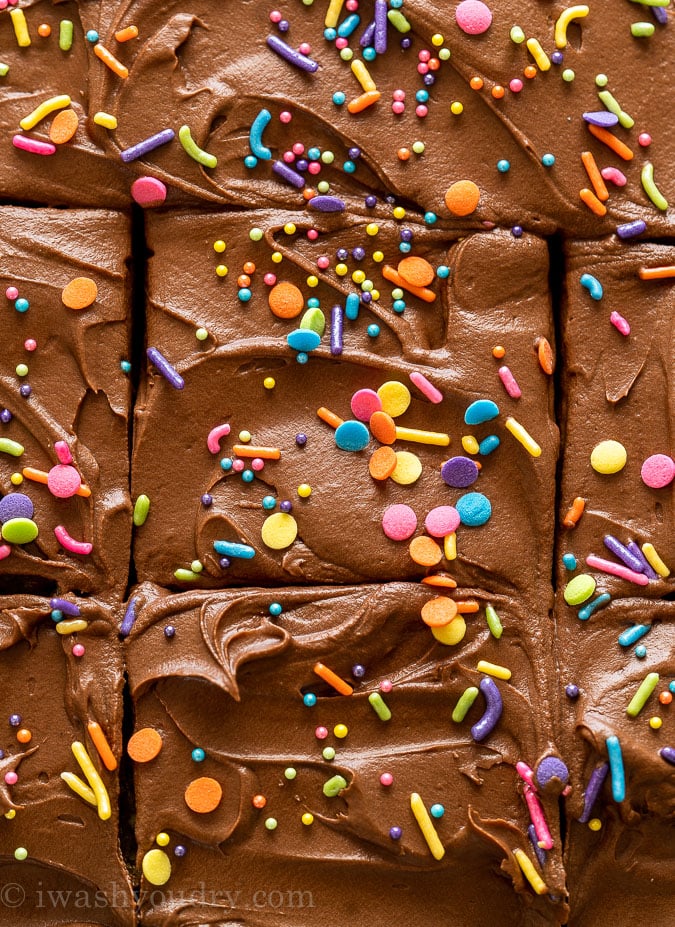 Better Than Box Cake Mix
What I love about this easy vanilla cake recipe is that it's made with basic ingredients and tastes way better than box cake mix.
There's something so satisfying about making your own homemade cake from scratch too. It's just magical.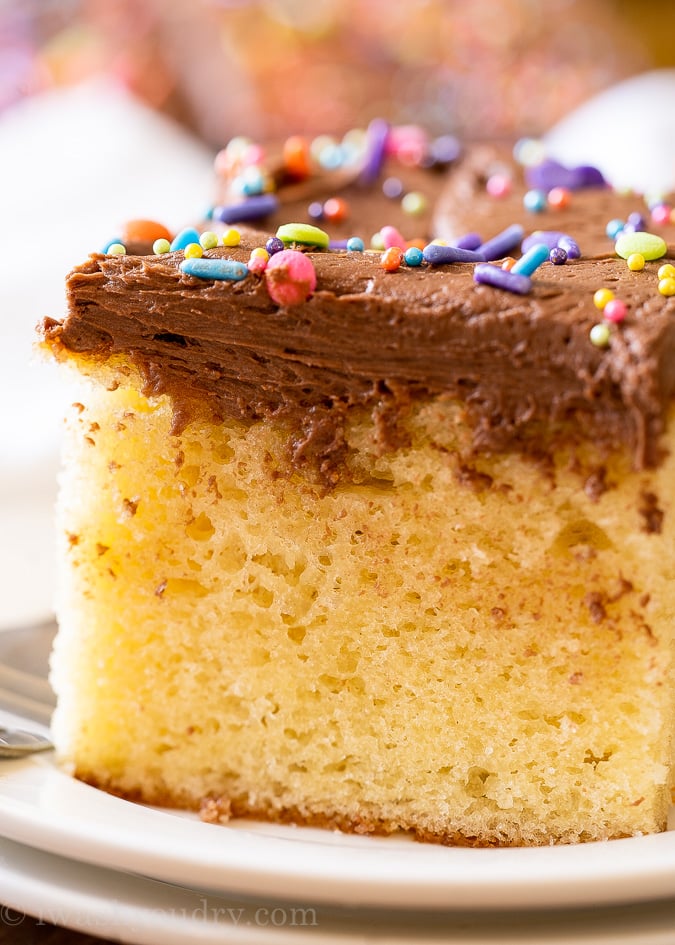 More Homemade Cake Recipes
Get the party started with these other delicious homemade cake recipes! You're sure to fall in love.
Homemade Vanilla Cake Recipe
Quickly and easily make this homemade vanilla cake recipe with basic ingredients for any occasion! Top with your favorite frosting and plenty of sprinkles for an amazing birthday cake treat!
Ingredients
2¼

cup

Cake Flour

,

or pastry flour

1½

cup

sugar

1

tbsp

baking powder

¼

tsp

baking soda

½

tsp

salt

1

cup

unsalted butter

,

room temperature

1

cup

whole milk

,

room temperature, divided

½

cup

vegetable oil

4

large

eggs

,

room temperature

1½

tbsp

vanilla extract

1

batch

Chocolate Cream Cheese Frosting
Instructions
Preheat oven to 350 degrees F. Line a 9x13" cake pan with parchment paper and spritz with non-stick spray and set aside.

Bring milk, eggs and butter to room temp.

Combine the cake flour, sugar, baking powder, baking soda, and salt in a large bowl and whisk together. Add in the room temperature butter and mix with a hand or stand mixer until the mixture resembles a coarse sand.

Combine ½ cup of milk and the ½ cup of oil together and pour into the dry ingredients. Turn your mixer up to medium speed and mix for 2 minutes, scraping down the sides and bottom of the bowl as needed. The mixture will be light and fluffy.

Combine the rest of the milk, eggs and vanilla extract in a large measuring cup and whisk gently to break up the eggs. Gradually add this mixture to the cake batter and mix on low speed, until the mixture is combined and nice and thick.

Pour the cake batter into the prepared pan and bake for 30 to 35 minutes, until a toothpick inserted in the center of the cake comes out clean. Let cool completely before frosting.
Notes
I used my Chocolate Cream Cheese Frosting Recipe to frost this cake. Feel free to frost with whatever frosting you enjoy.
*Cover cake with foil once cooled and store in fridge for up to 7 days, or wrap tightly with plastic wrap and freeze for up to 3 months. 
Nutrition
Calories:
437
kcal
|
Carbohydrates:
44
g
|
Protein:
6
g
|
Fat:
27
g
|
Saturated Fat:
18
g
|
Trans Fat:
1
g
|
Cholesterol:
105
mg
|
Sodium:
261
mg
|
Potassium:
81
mg
|
Fiber:
1
g
|
Sugar:
26
g
|
Vitamin A:
596
IU
|
Calcium:
100
mg
|
Iron:
1
mg
Keywords:
Birthday Cake, cake, cake batter, vanilla
PIN THIS IMAGE TO SAVE THE RECIPE: