This Easy Naan Bread Recipe comes together in minutes, rises for just one hour, and cooks in seconds on a hot skillet!
We love to pair this quick flatbread with my Authentic Indian Butter Chicken, or use it as a sandwich wrap.
What Is Naan Bread?
Naan Bread is a leavened flatbread that is commonly found in cuisines of West Asia, South Asia, Myanmar, Indonesia and the Caribbean. The dough consists mainly of all purpose flour, with active dry yeast and baking powder as rising agents.
The signature look of Naan Bread is an elongated circle, with browned bubbles throughout.
This soft Naan Bread is great for dipping into thick sauces, wrapping up sandwiches or using as a pizza dough. It's very versatile!
Ingredients Needed To Make Naan Bread
You probably already have all the ingredients needed to make this super simple flatbread in your fridge and pantry now. Here's what you'll need…
As always, you can find the full list of ingredients, as well as the printable recipe, located in the recipe card below.
Warm Water
Sugar
Active Dry Yeast – you can also use rapid rise yeast
Warm Milk
Plain Yogurt
Olive Oil – use a good quality olive oil
All Purpose Flour – I have not experimented with other types of flour with this recipe
Baking Powder
Salt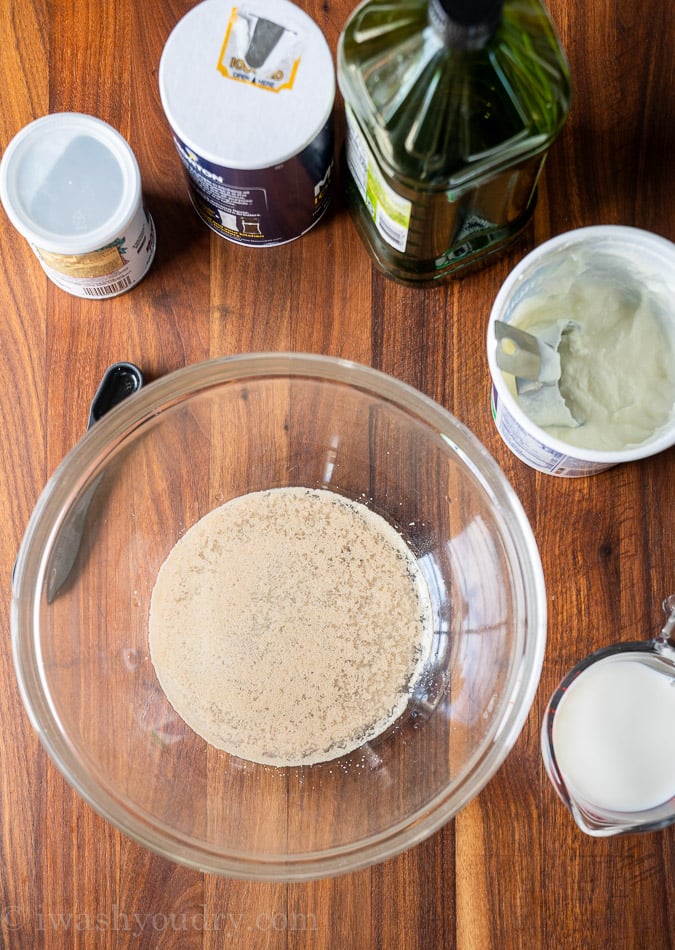 How To Make Soft Naan Bread
As with most yeast breads, we're going to start by proofing our yeast. This means, we will combine warm water and sugar until it's dissolved, then sprinkle the yeast over the top of the water.
The yeast will begin to activate by eating the sugar in the water, creating a foaming on the surface after about 5 minutes.
What If My Yeast Doesn't Foam?
If you notice that your yeast doesn't get foamy on top, then it's a sign that the yeast is dead. Either your water was too hot or your yeast is just old and not active anymore.
Either way, toss it out and start over. This time, use less hot water, or replace with fresher yeast.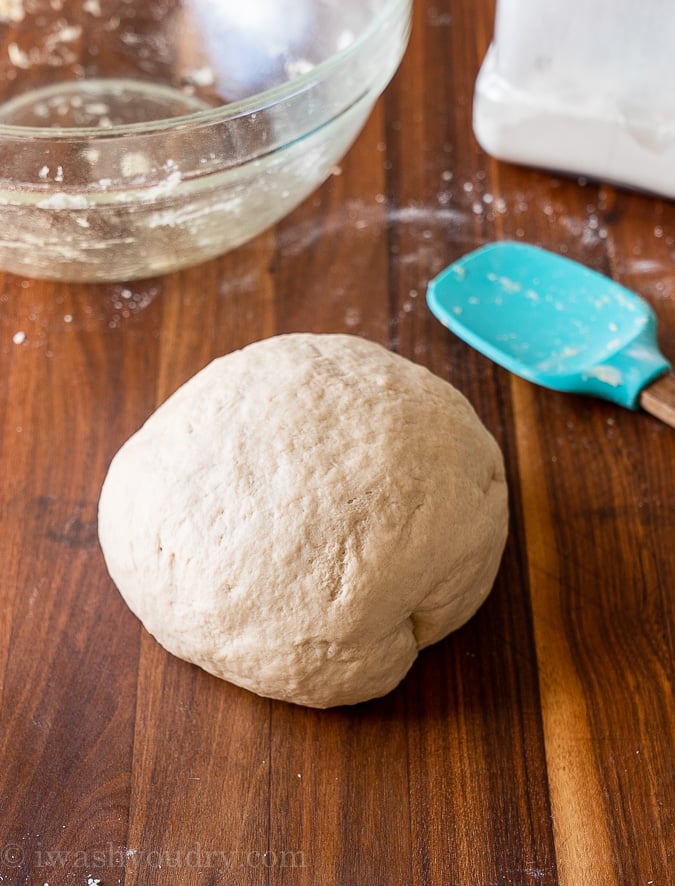 Once the yeast is active, add in the remaining ingredients and use clean hands to combine until a dough ball is formed.
Then, pour out the dough onto a lightly floured surface and knead the dough with your hands for about 3 to 5 minutes, until it's nice and smooth and elastic.
Coat the inside of the mixing bowl with olive oil, place the dough ball inside and cover.
We're going to let this dough rise in a warm spot for about one hour, or until it's doubled in size.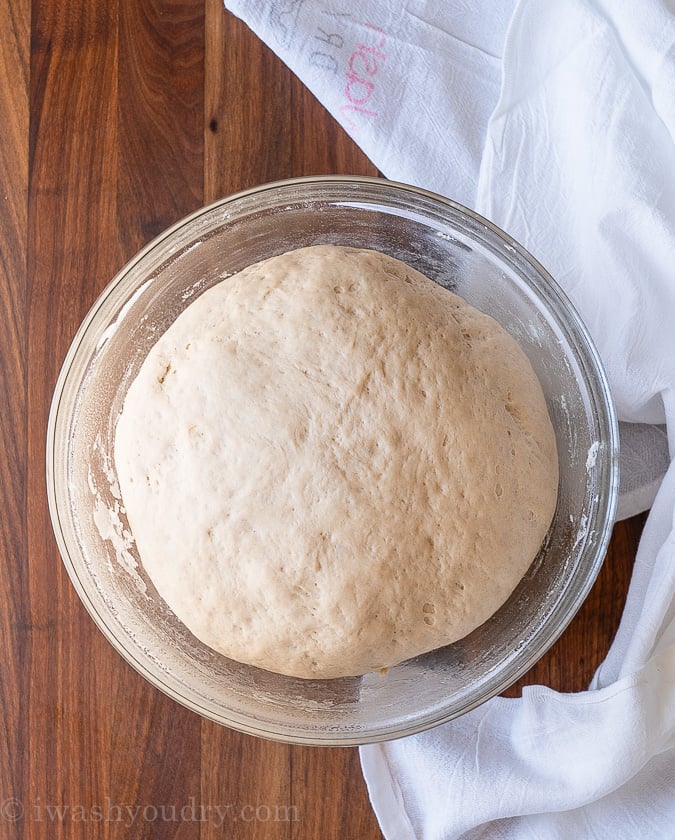 How Much Does This Recipe Make?
This recipe makes about 10 large pieces of naan bread. You can divide them smaller or larger, depending on your preference and the size of your pan.
I like to use this handy bench scraper or a large knife to cut into the dough.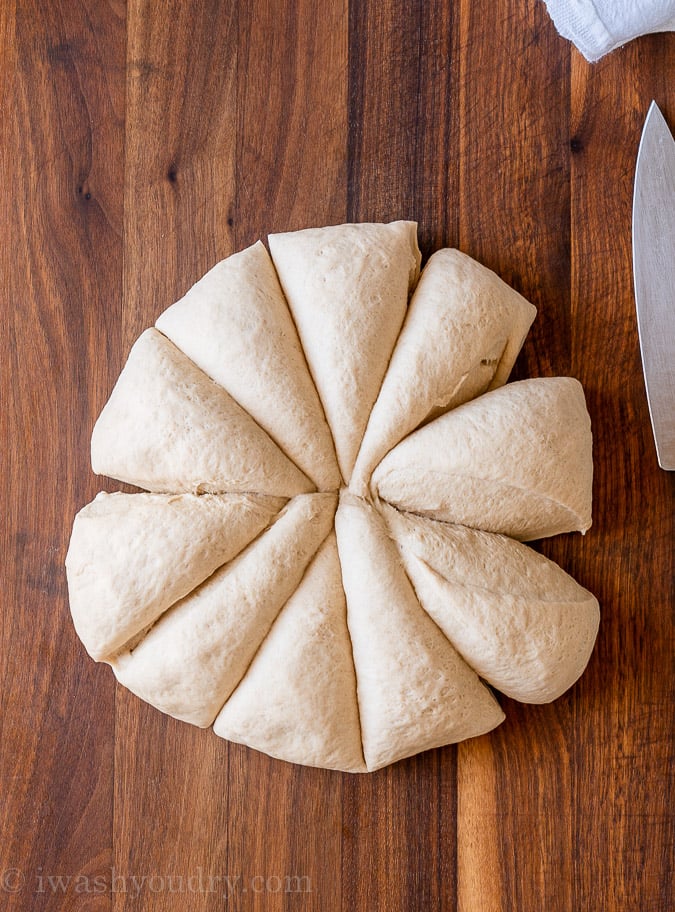 How To Cook Naan Bread On Stove Top
Traditional Naan Bread is cooked in a tandoor oven, which is a clay oven that can get very hot (up to 900 degrees F!). Not all of us have one of those in our kitchen… luckily we can still make it on the stove top with ease.
I'm using a large cast iron pan, either a 10″ or 12″ pan will work great.
Once you've divided your dough, use a rolling pin to roll it out in an elongated circle (oval shape) and try to get it about 1/8″ to 1/4″ thin.
Heat the skillet until it's nice and hot and add just a bit of olive oil to the pan.
Lay the naan dough in the hot skillet and let it cook until bubbles start to form, about 30 to 60 seconds, brush with melted butter.
Flip the bread over, cook for an additional 30 to 60 seconds, until the dough is cooked through and browned slightly.
PRO TIP: Cast iron can get hot pretty fast, so once it's piping hot, you'll want to lower the temperature so you don't scorch your bread during cooking.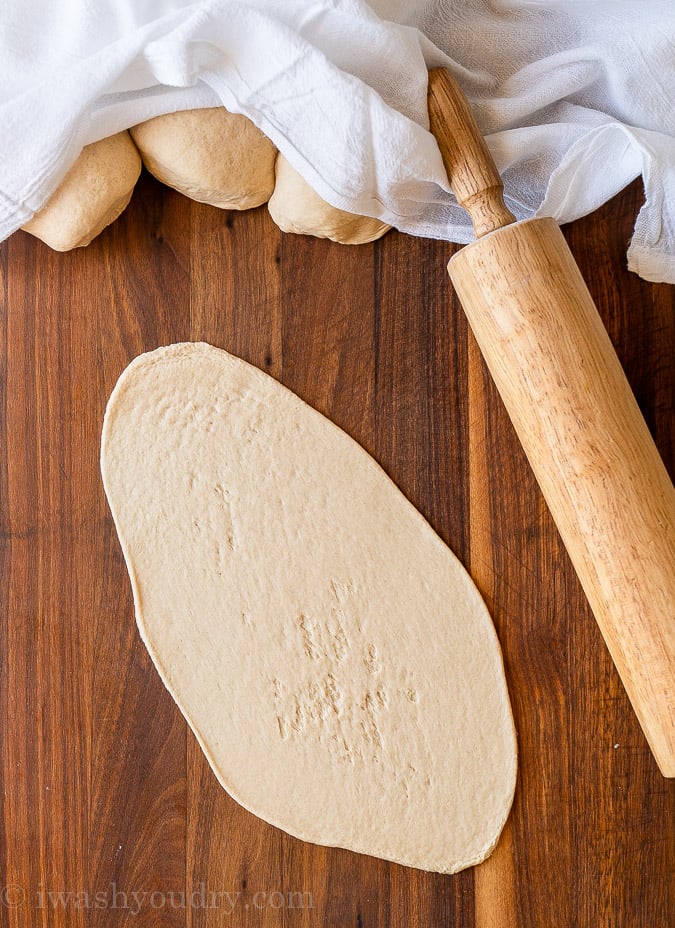 While you're rolling out your dough, keep the other dough balls covered with a damp paper towel or rag, so they do not get dried out.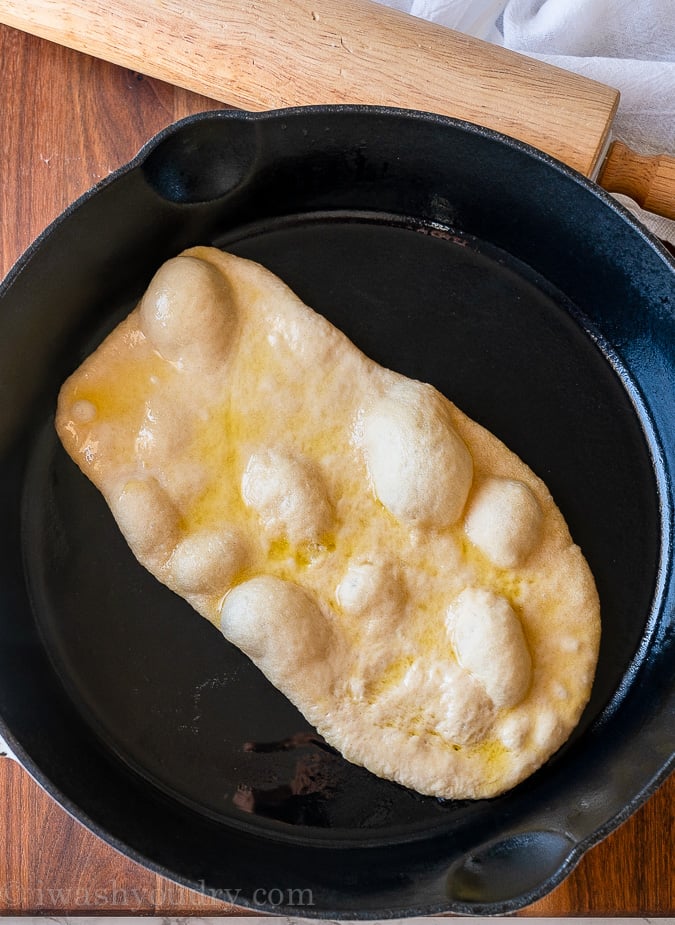 How To Flavor Naan Bread
You can easily add flavor to this simple naan bread recipe by infusing some butter with either garlic or onion.
As you pull the cooked naan bread from the skillet, brush with more butter (flavored if desired), sprinkle with coarse sea salt and top with freshly chopped parsley or other herbs of choice.
What To Serve With Naan Bread
Naan bread is fantastic with any sort of stew, curry, or used to make sandwiches or even flatbread melts.
Try these easy recipes and let me know what you think in the comments below…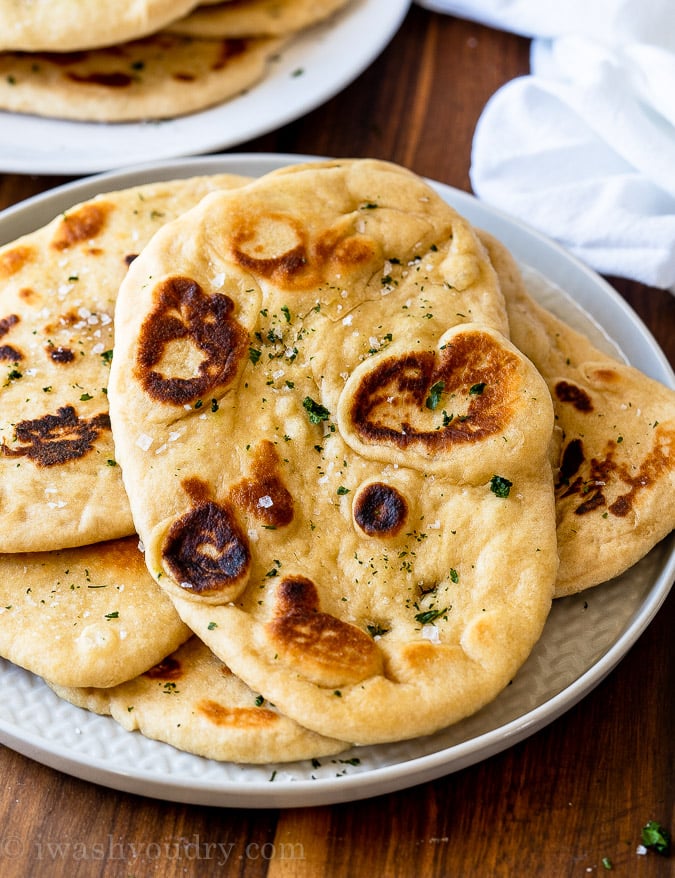 More Quick Bread Recipes
Looking for more quick bread recipes to try? Here are some great recipes that are sure to give you amazing results…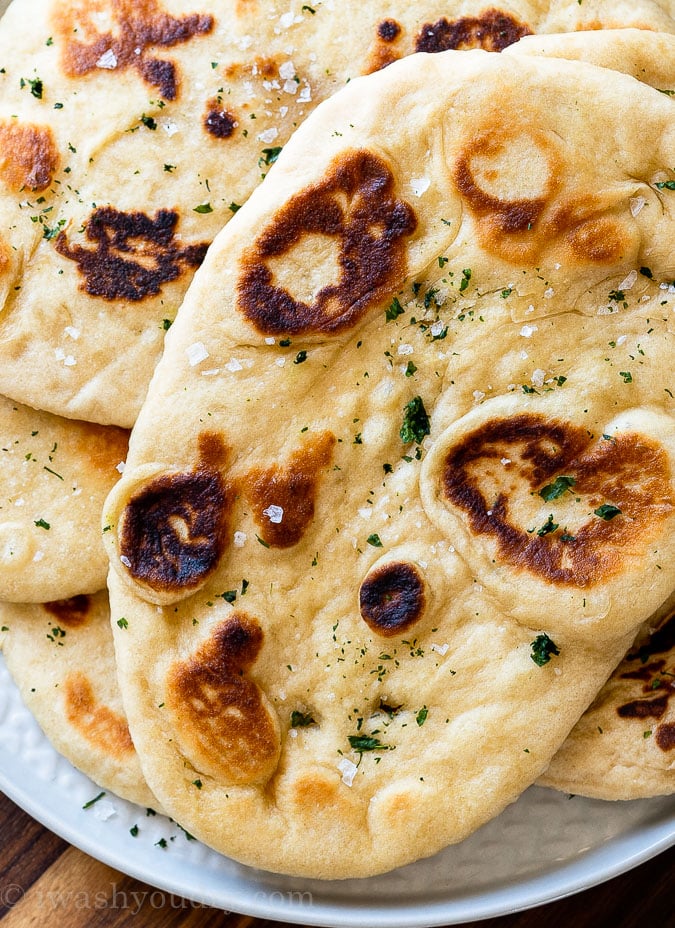 I can't wait for you to give this easy Naan recipe a try!
Easy Naan Bread Recipe
Super easy Naan Bread recipe is great for a quick bread to go with dinner and Indian cuisine!
Ingredients
¼

cup

warm water

,

from tap

2

tsp

sugar

1½

tsp

active dry yeast

,

or instant yeast

¾

cup

warm milk

¾

cup

plain yogurt

¼

cup

olive oil

1

tsp

baking powder

1

tsp

salt

4¼

cup

all-purpose flour,

plus extra for dusting

¼

cup

butter

,

melted

1

tsp

salt

2

tbsp

freshly chopped parsley
Instructions
Combine the warm water and sugar in a large mixing bowl and stir until sugar is dissolved. Sprinkle in the yeast over the top and let sit for 5 minutes, until foamy.

Add in the warm milk, yogurt, olive oil, baking powder, salt and all purpose flour. Combine with your hands or sturdy wooden spoon until a dough ball forms. Turn out onto a lightly floured surface and knead the dough for 3 to 5 minutes, until smooth and elastic.

Coat the mixing bowl with olive oil, add the dough ball back to the bowl and cover. Let sit in a warm location for about 1 hour, until the dough is double in size.

Divide the risen dough into 10 equal wedges and then roll into an elongated circle (oval shape), about ¼" to ⅛" thin.

Heat a large cast iron skillet over medium high heat and coat with oil. Once pan is nice and hot, you may want to reduce the heat so you don't scorch the bread.

Add the rolled out dough to the pan, let it cook for about 30 to 60 seconds, until bubbles start to form. Brush with melted butter and flip over. Cook for an additional 30 to 60 seconds, until the bread is browned and cooked through.

Remove the naan bread from the skillet, brush with butter and sprinkle with coarse or flakey sea salt and freshly chopped parsley. Serve warm.
Video
Notes
Store cooked naan in an air tight container for up to 3 days. 
Nutrition
Calories:
314
kcal
|
Carbohydrates:
44
g
|
Protein:
8
g
|
Fat:
12
g
|
Saturated Fat:
4
g
|
Trans Fat:
1
g
|
Cholesterol:
16
mg
|
Sodium:
567
mg
|
Potassium:
133
mg
|
Fiber:
2
g
|
Sugar:
3
g
|
Vitamin A:
257
IU
|
Vitamin C:
1
mg
|
Calcium:
78
mg
|
Iron:
3
mg
Keywords:
bread, Naan, Quick
PIN THIS IMAGE TO SAVE THE RECIPE: