Instant Pot Meatloaf Mashed Potatoes is a complete meal that's prepped and cooked in minutes in your pressure cooker!
I've taken my Classic Meatloaf Recipe and Instant Pot Mashed Potatoes and combined the two for an irresistible supper made in a fraction of the time!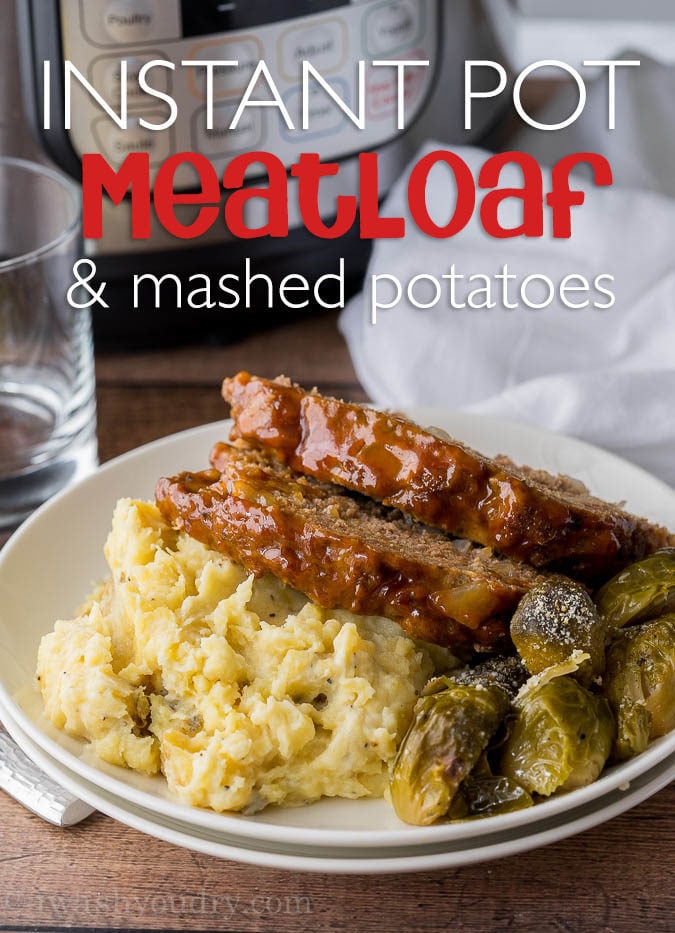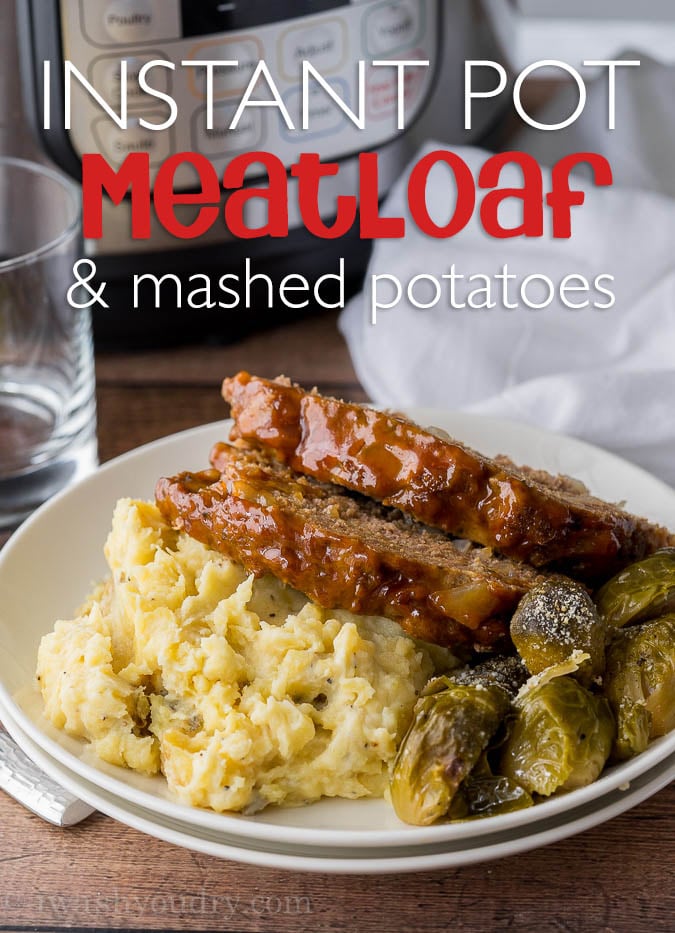 Instant Pot Meatloaf Mashed Potatoes combines two classic comfort foods into one super quick and easy meal. Get dinner on the table in a hurry with this easy recipe!
Instant Pot Meatloaf and Mashed Potatoes
You guys, I'm kind of freaking out about how much I'm in love with this recipe! If you haven't taken the Instant Pot plunge, do it now. This machine is such a time saver in the kitchen. I whipped up this tender meatloaf, fluffy mashed potatoes and even steamed Brussels sprouts in just 20 minutes!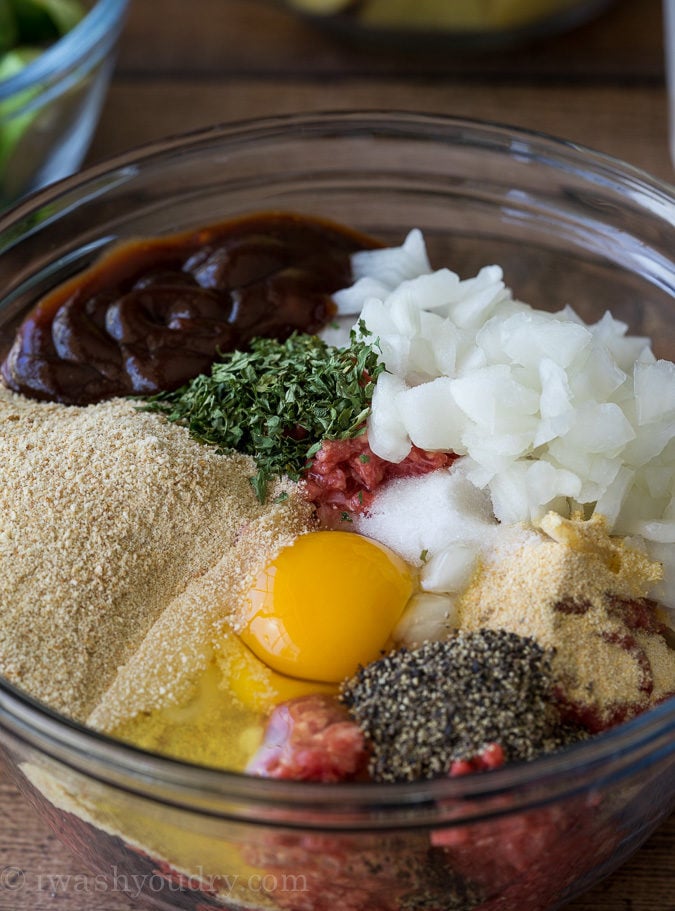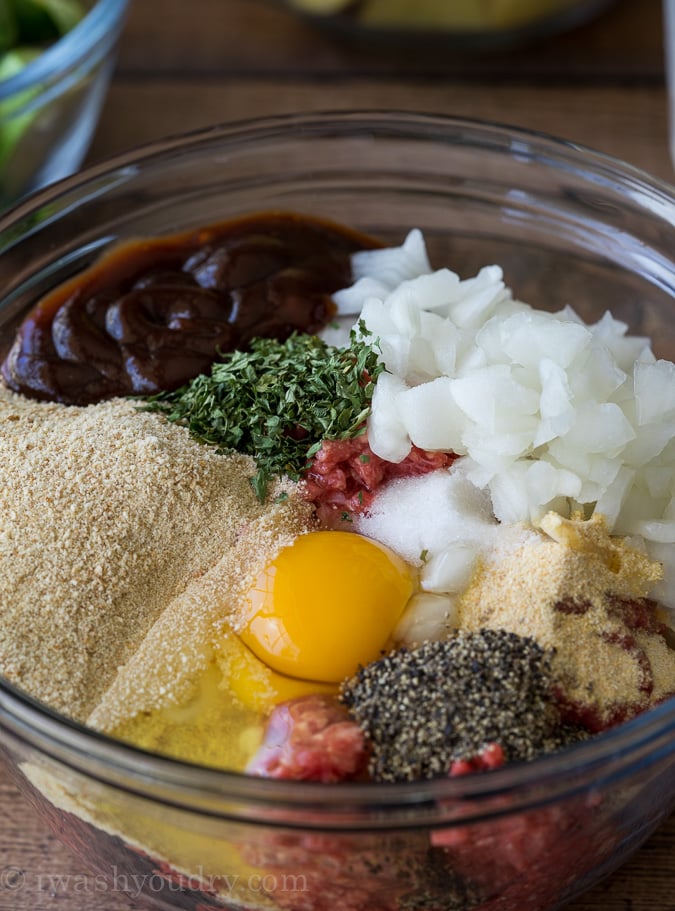 Ingredients for Instant Pot Meatloaf
The first thing you'll want to do is whip up your super flavorful meatloaf.
I used some honey bbq sauce to give this meatloaf some extra zip and sweetness. It's a game changer for sure. Even my pickiest eater asked for seconds of the meatloaf!!
Here's a basic list of the ingredients you'll need to make meatloaf in the instant pot. As always, you can find the full list of ingredients in the printable recipe card below.
Ground Beef – use a lean ground beef to avoid any excess fat
Breadcrumbs – Italian seasoned breadcrumbs add extra flavor
Eggs – used to help bind the meatloaf
Diced Onion – use onion powder if you don't like the added texture
Garlic Powder
Dried Parsley
Salt and Pepper
BBQ Sauce – my secret ingredient to making extra flavorful meatloaf!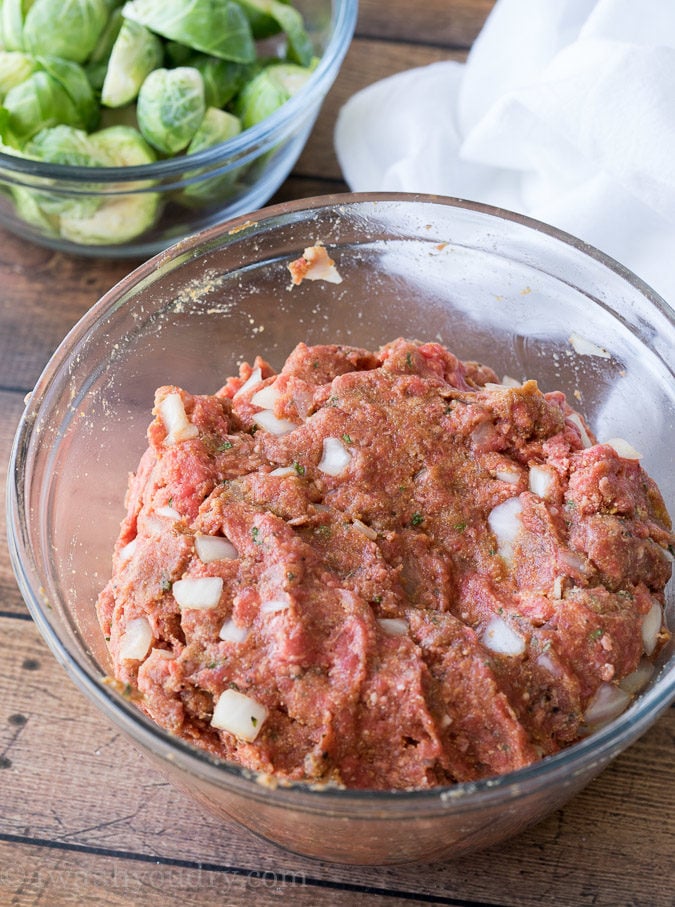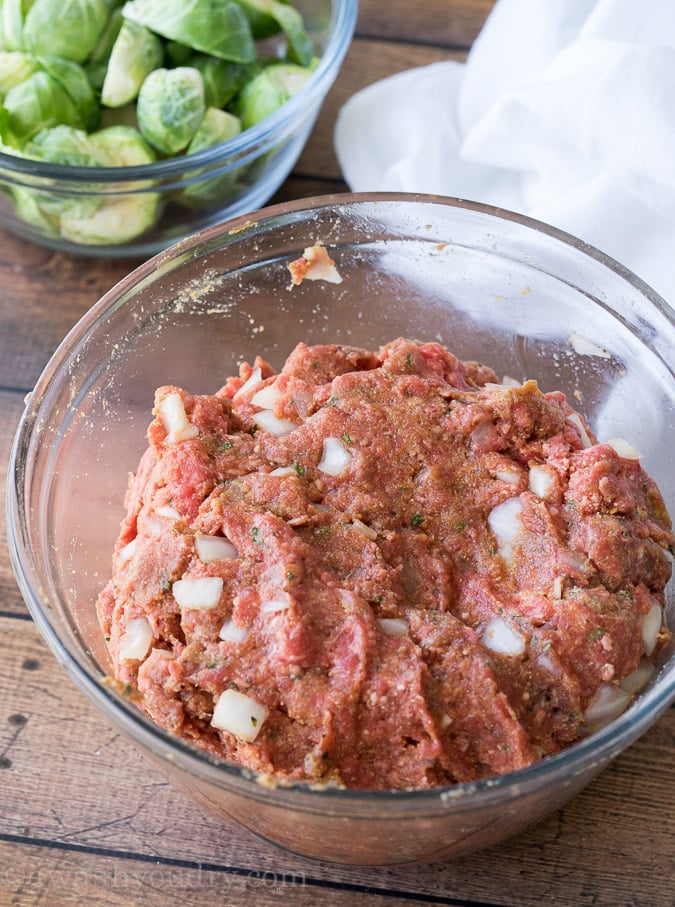 How To Make Multiple Things In The Instant Pot at the Same Time
The trick with this super easy recipe is to layer everything.
Start by layering your cut up (raw) potatoes and placing them on the bottom of your pressure cooker in an even layer.
I'm using Yukon Gold Potatoes here because you don't have to peel the thin skins off, making prep time faster!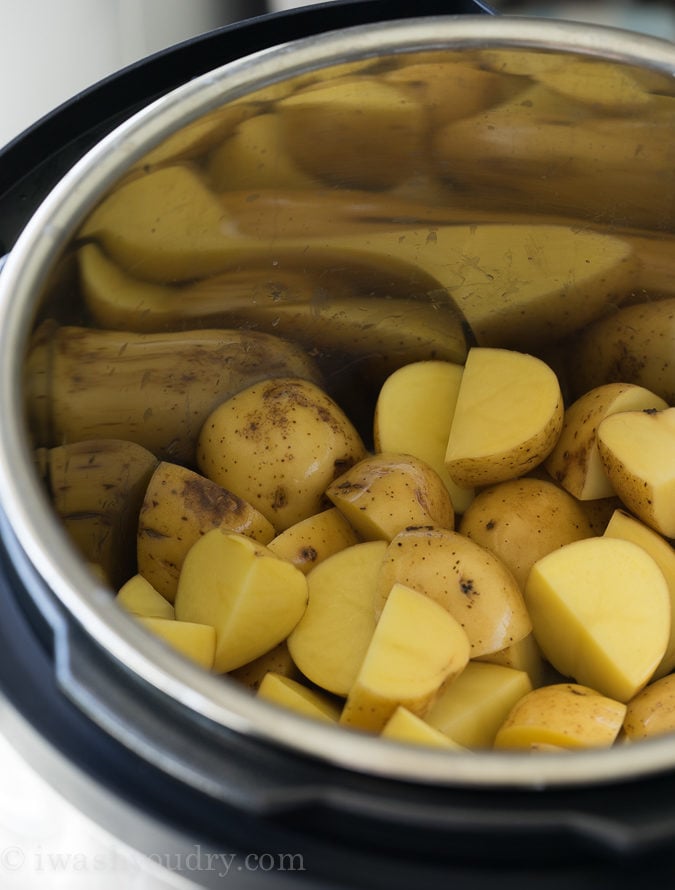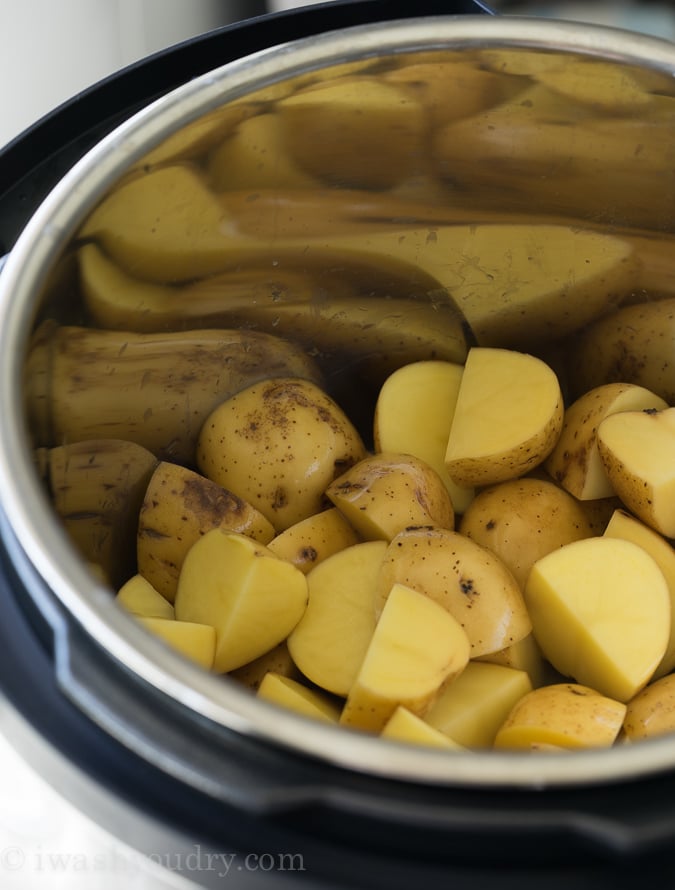 Most pressure cookers will come with a steamer rack that you can lay on top of the potatoes for a steady platform for your meatloaf.
Lay this rack on top of the potatoes, adjusting any potatoes that are sticking up and preventing an even surface.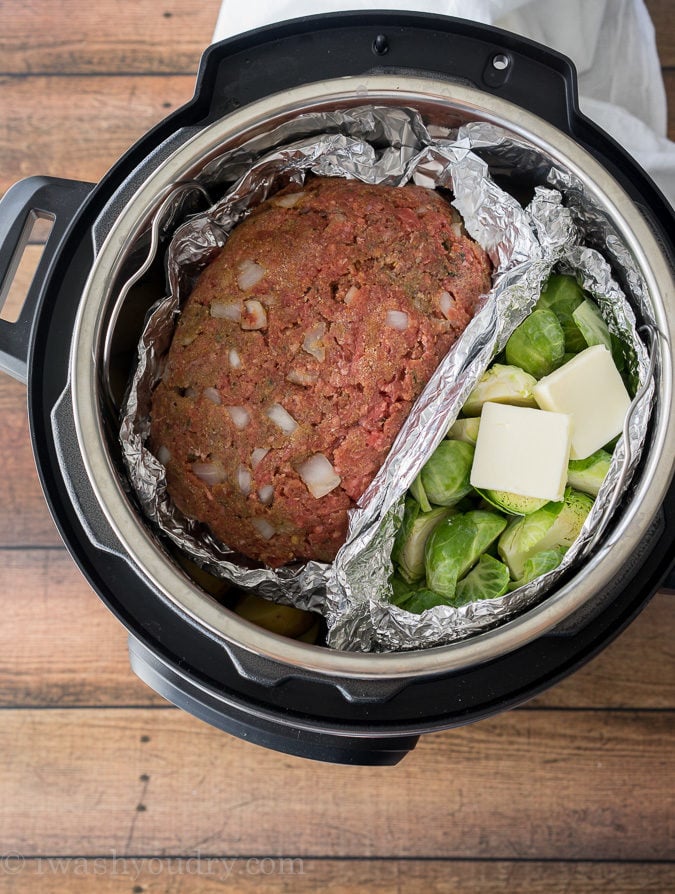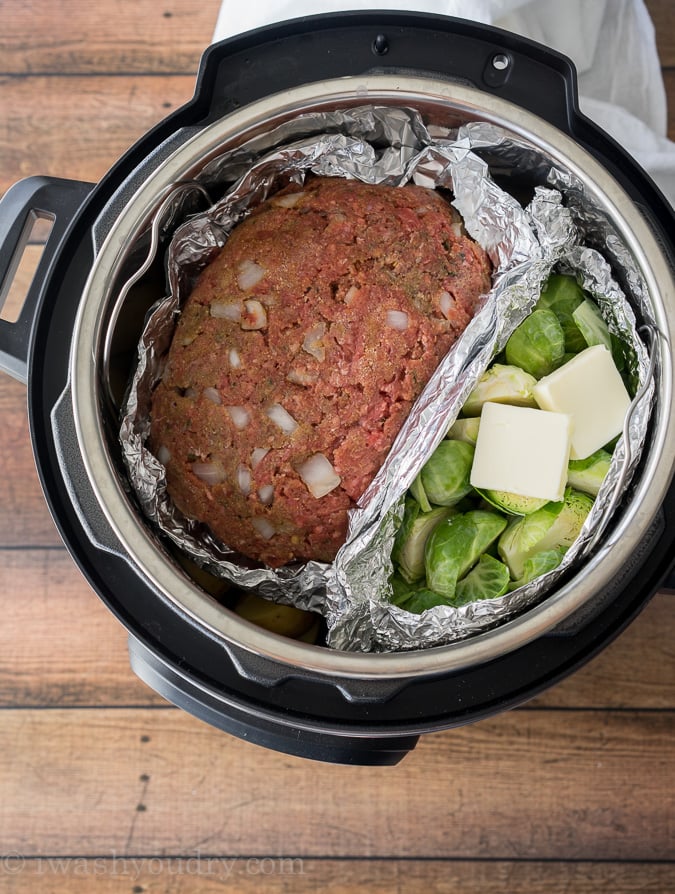 Tips and Tricks For Pressure Cooker Meatloaf
Create a foil pocket that's small enough to fit into your instant pot and place your shaped meatloaf inside.
You don't have to use foil, you could also use a small meatloaf pan that fits inside your pressure cooker.
Keep in mind that there will be fat and juices that run off of the meatloaf and you want enough room around the meatloaf for it to catch and not run into the potatoes.
Carefully remove the meatloaf and drain any fat and juices and then brush the top with the meatloaf glaze and finish in the oven.
What To Serve with Meatloaf?
I tried to add some Brussels Sprouts to the instant pot (pictured above), but because Brussels Sprouts take only a few minutes to cook in the pressure cooker, the texture that resulted from being in there too long was less than desirable.
My kids still ate them though!
I think if you're going to try and cook some sort of vegetable alongside the meatloaf and mashed potatoes you'll want a thick cut carrot.
Here are some more of our favorite vegetable side dishes to serve with meatloaf…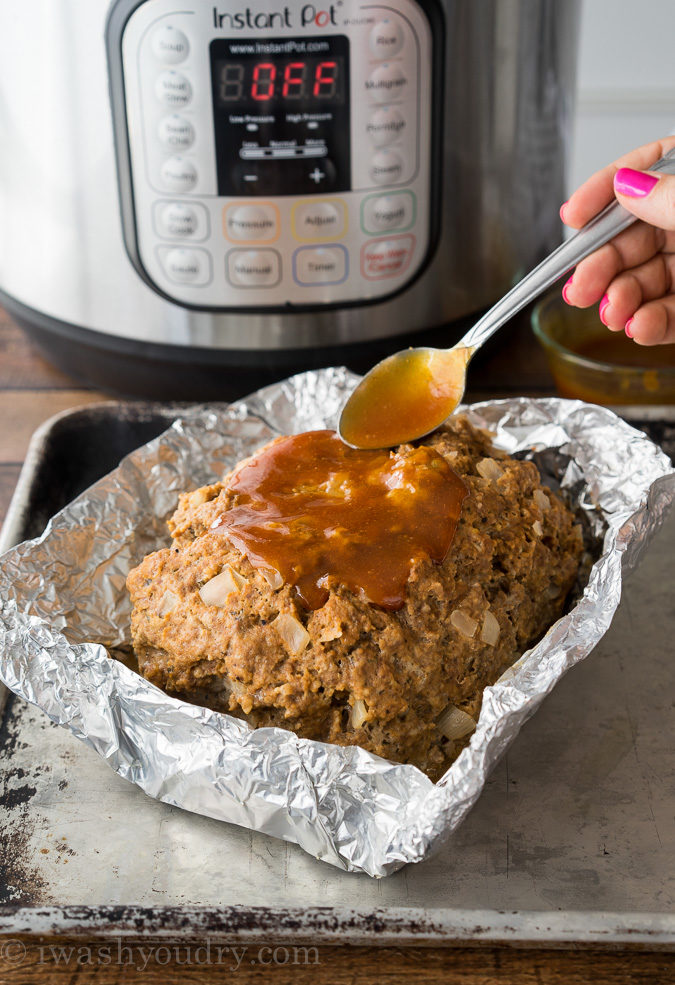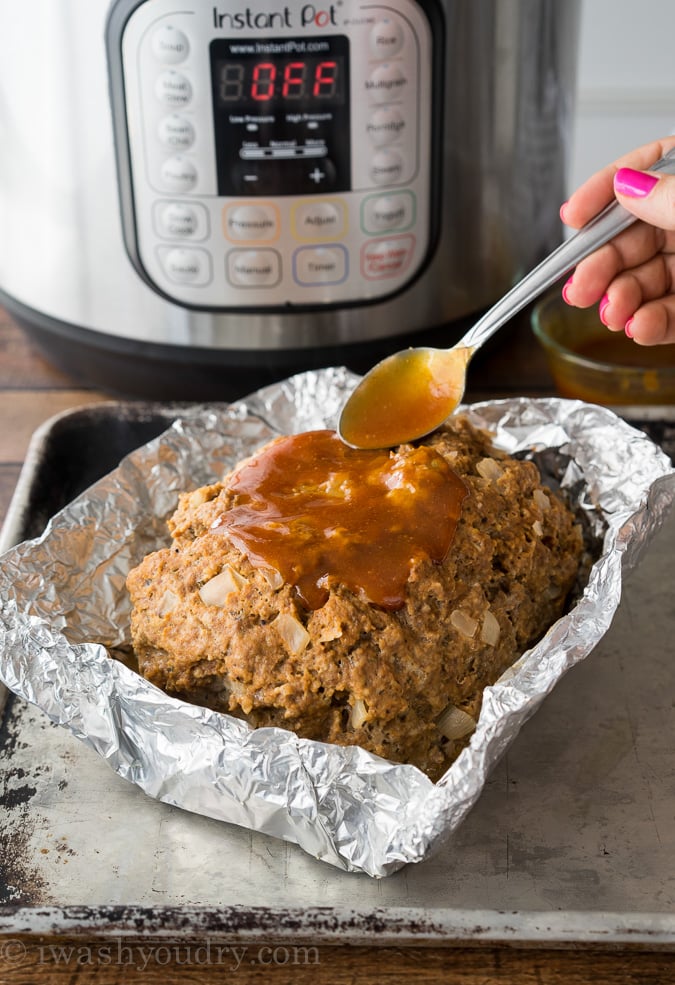 Easy Meatloaf Glaze Recipe
Once the meatloaf is cooked, you'll carefully pull it out (lifting the rack out makes this part easy).
Brush on the simple glaze (made of brown sugar, ketchup and a little yellow mustard) and pop it under the broiler for a few minutes till it is nice and bubbly and slightly caramelized.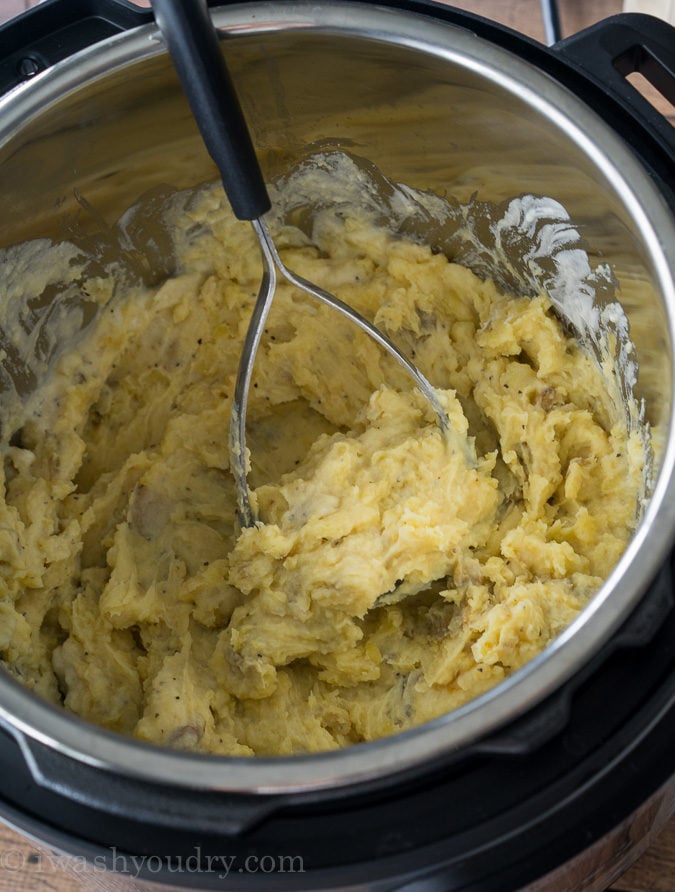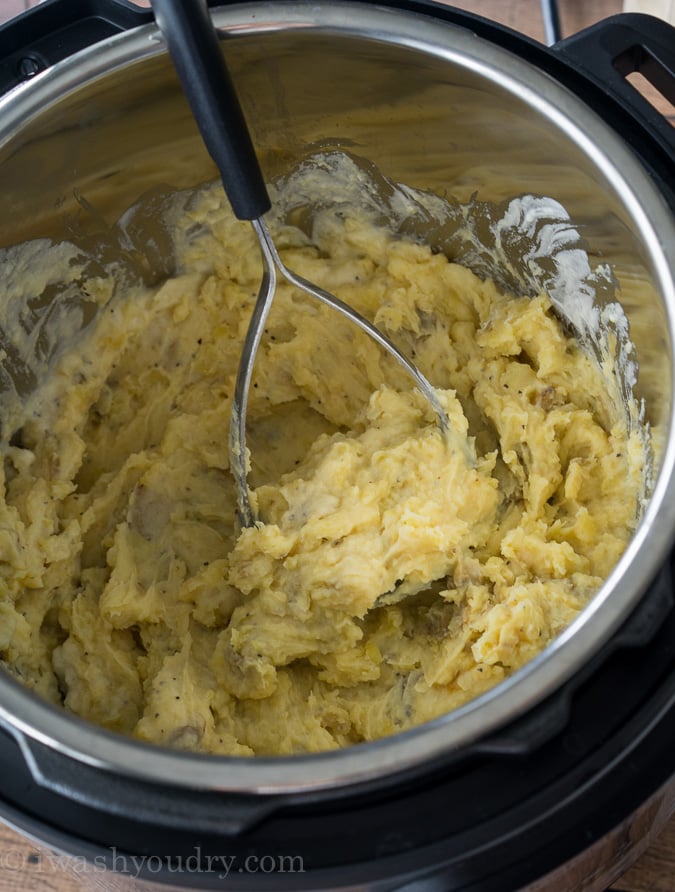 Finishing Mashed Potatoes In The Instant Pot
Meanwhile, add a few simple ingredients to your perfectly cooked potatoes and mash them right in the instant pot!
Taste and season the potatoes how you would like
Serve alongside the perfectly cooked meatloaf and enjoy!
You guys, let's talk about how many dishes we saved in this one meal! So genius!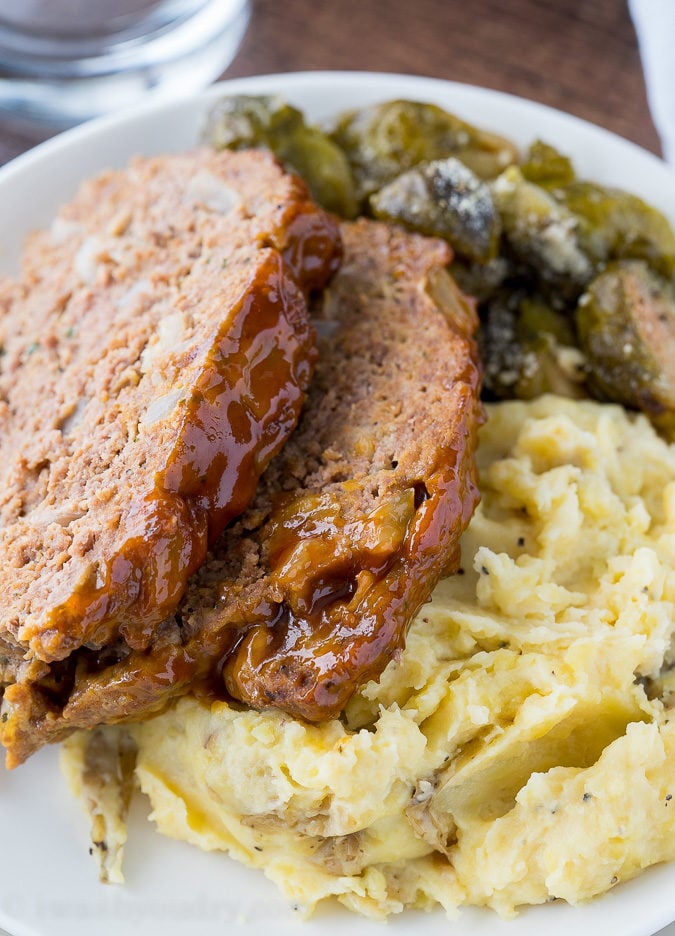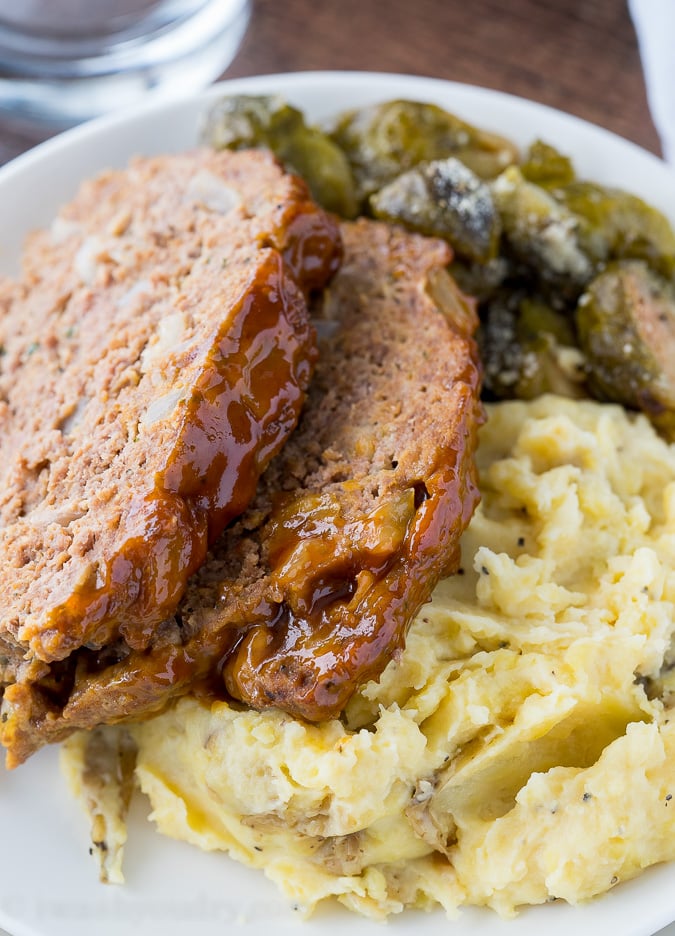 Customize Your Meatloaf!
Ready to jazz up your classic meatloaf and make it your own? Get creative or try these tasty additions!
Add a 1/3 cup of shredded parmesan cheese to the mix
Chop up 1/2 cup of mushrooms and add to the meat mixture
Substitute ground turkey for the ground beef
Mix in 1/2 cup finely chopped apples for a sweet surprise
Can I Double This Recipe?
I've been asked this question A LOT!
Since this recipe is originally tested in an 8 quart and also approved for a 6 quart, I'm going to say NO. I do not feel there will be enough room in the pot to accommodate the extra ingredients.
Can I Halve This Recipe?
Yes, you can halve this recipe! Here's what you need to know…
Use the scale feature in the recipe card to adjust the quantities needed in the meatloaf and potatoes.
You will still need at least 1 cup of chicken broth in the potatoes to allow the instant pot to gain enough pressure.
After the potatoes have cooked, strain off about half the liquid and continue with the recipe.
The cook time should remain the same.
What Temperature Should Meatloaf Be?
The meatloaf should be cooked to an internal temperature of at least 160 degrees F.
Keep in mind that you'll finish the meatloaf under the broiler, where it will still increase in temperature, but only by about 5 to 10 degrees.
*If your meatloaf is not to at least 155 degrees F. after the initial 20 minutes in the pressure cooker (use an instant read thermometer to check), place the lid back on and continue cooking for an additional 5 minutes.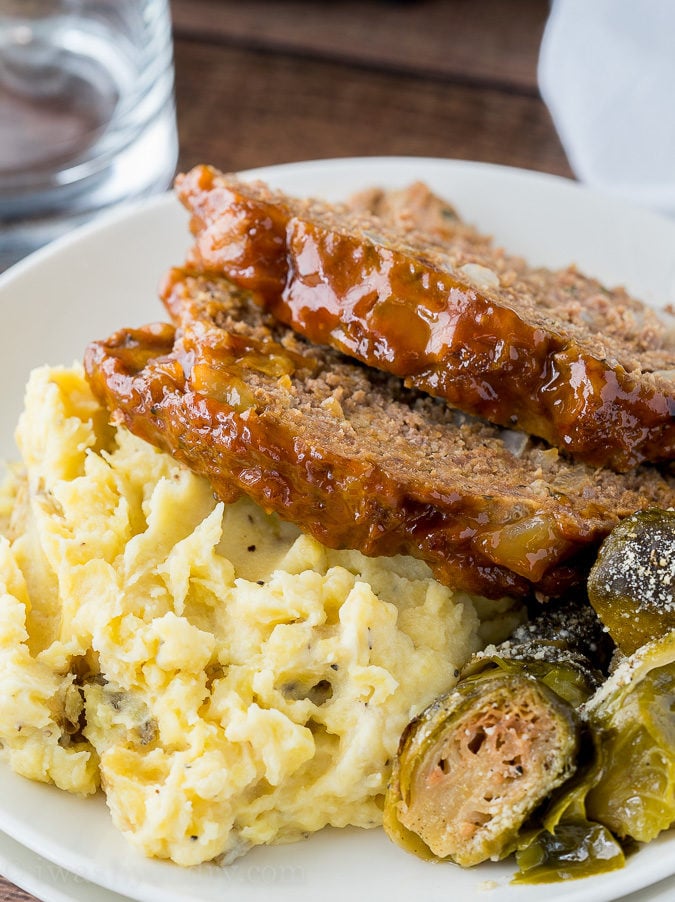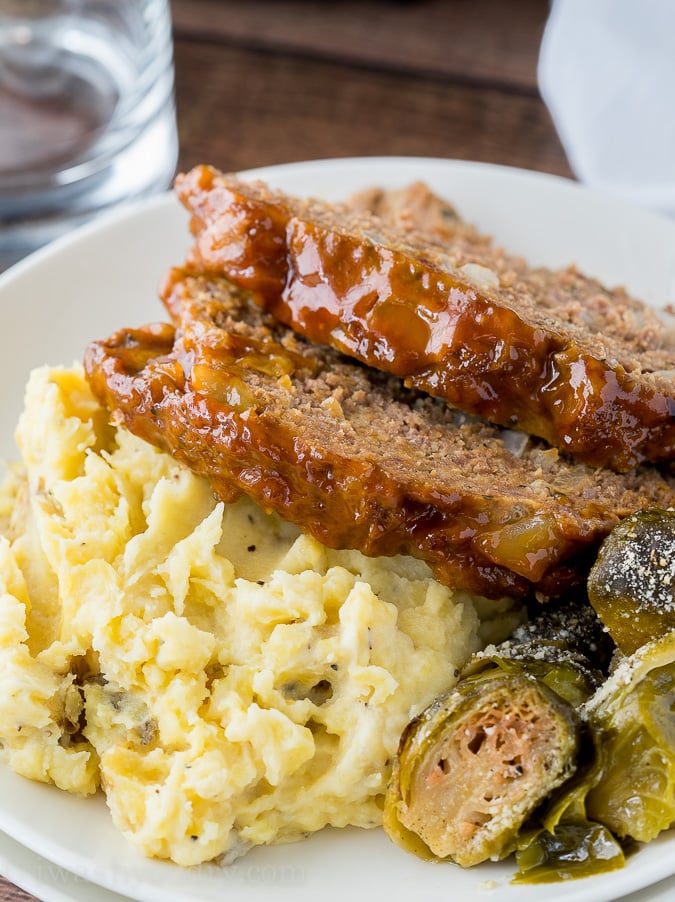 Either way you dress it up, this Instant Pot Meatloaf Mashed Potatoes will seriously rock your world!
Instant Pot Meatloaf Mashed Potatoes
Make a whole nutritious dinner in one pot with this quick and easy Instant Pot Meatloaf and Mashed Potatoes recipe!
Ingredients
Instructions
Start by laying the quartered potatoes in the bottom of your pressure cooker in an even layer. Pour the chicken broth over the top. Lay the rack that comes with your pressure cooker over the top so it lays flat.

Combine the ingredients for the meatloaf (minus the topping) in a large bowl until fully combined. Shape the meat mixture into a loaf and place on a piece of tinfoil. Shape the tinfoil up and around the edges of the meatloaf, creating a pocket for it. Place the meatloaf on top of the rack in the pressure cooker and secure lid.

Ensure that the steam release is closed and turn pressure cooker to Manual mode for 20 to 25 minutes*. Once finished cooking, use the quick release method to let the steam escape. Check meatloaf for internal temperature of 155 degrees F.

Carefully lift the meatloaf out of the pressure cooker and place on a baking sheet. Mix the ingredients for the topping and brush all over the meatloaf. Place meatloaf under the broiler for just 3 to 4 minutes, until the top is bubbly and caramelized.

Meanwhile add the remaining ingredients (half and half, butter, sour cream, garlic powder, salt and pepper) to the instant pot and mash the potatoes until smooth and creamy.

Serve the meatloaf in slices with the mashed potatoes. Enjoy!
Notes
UPDATE
Some people are finding that 20 minutes is not enough time to fully cook their meatloaf. I use an 8 quart Instant Pot for this recipe and 20 minutes works great. If your meatloaf still hasn't reached 155 degrees F in the pressure cooker, cover and cook an additional 5 minutes at high pressure. Once it's cooked through finish with the topping and broil.
Nutrition
Calories:
732
kcal
|
Carbohydrates:
83
g
|
Protein:
44.8
g
|
Fat:
23.7
g
|
Cholesterol:
185.6
mg
|
Sodium:
1512.3
mg
|
Sugar:
19.6
g
|
Vitamin A:
11
IU
|
Vitamin C:
28
mg
Keywords:
Ground Beef, Instant Pot, Mashed Potatoes, meatloaf
PIN THIS IMAGE TO SAVE THE RECIPE!