This Orange Crush Cake, also called Orange Soda Cake, is made a light and fluffy cake with a dreamy whipped topping infused with more orange soda flavor.
If you're looking for more fun cake ideas, try my Root Beer Float Cake or this Cherry Surprise Cake for a fun and tasty treat!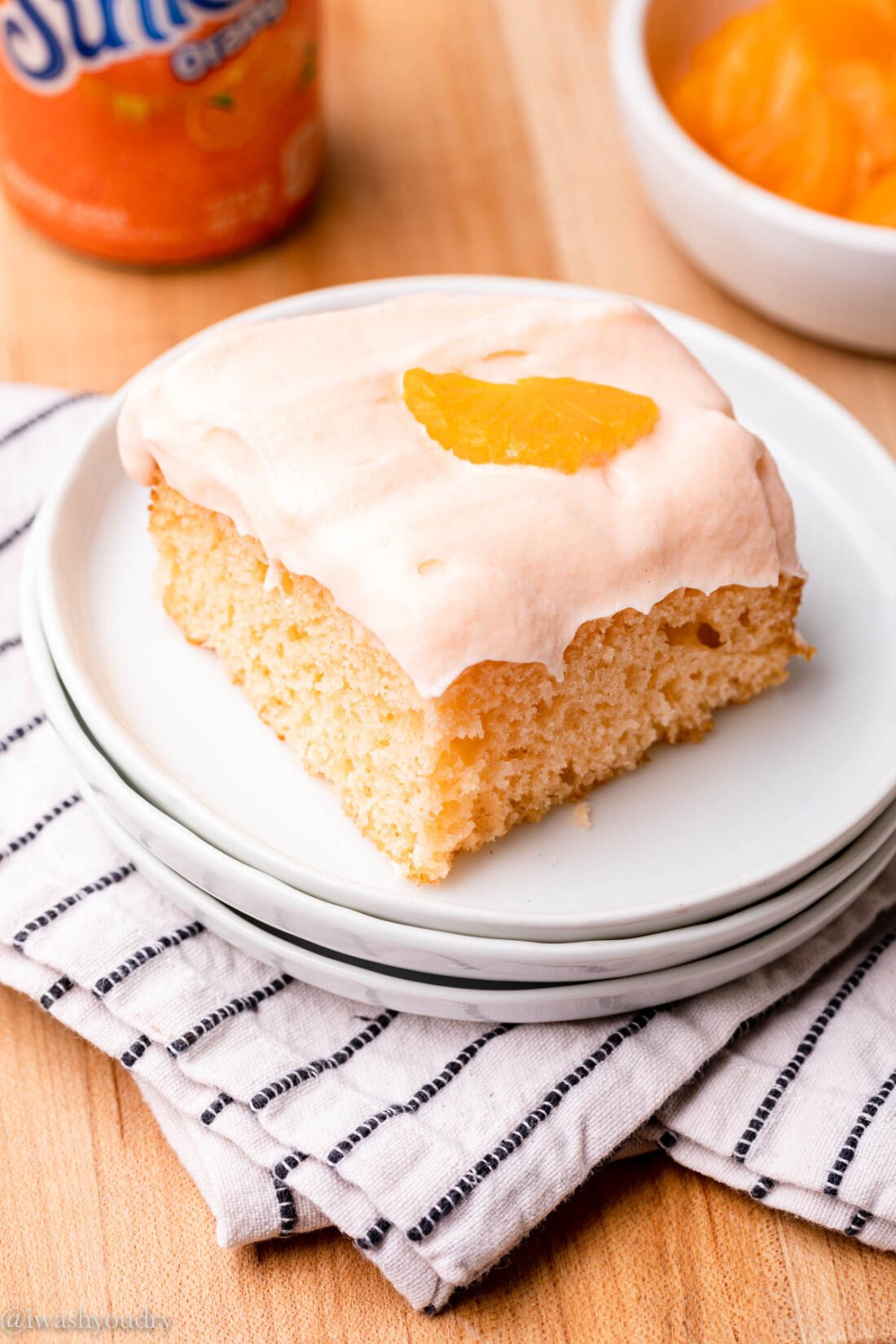 Ingredients for Orange Soda Pop Cake
This delicious cake recipe comes together even easier than you think it does, thanks to a box of cake mix and a couple of cans of orange crush soda.
Ingredients:
Cake Mix : just a standard white or yellow cake mix will work
Orange Soda: Insert your favorite orange pop here.
Canola Oil: You could swap with vegetable oil if that's what you have on hand.
Eggs: Two large eggs, please!
Dream Whip: Found in the baking aisle or on Amazon.
Mandarin Oranges: The canned version, drained.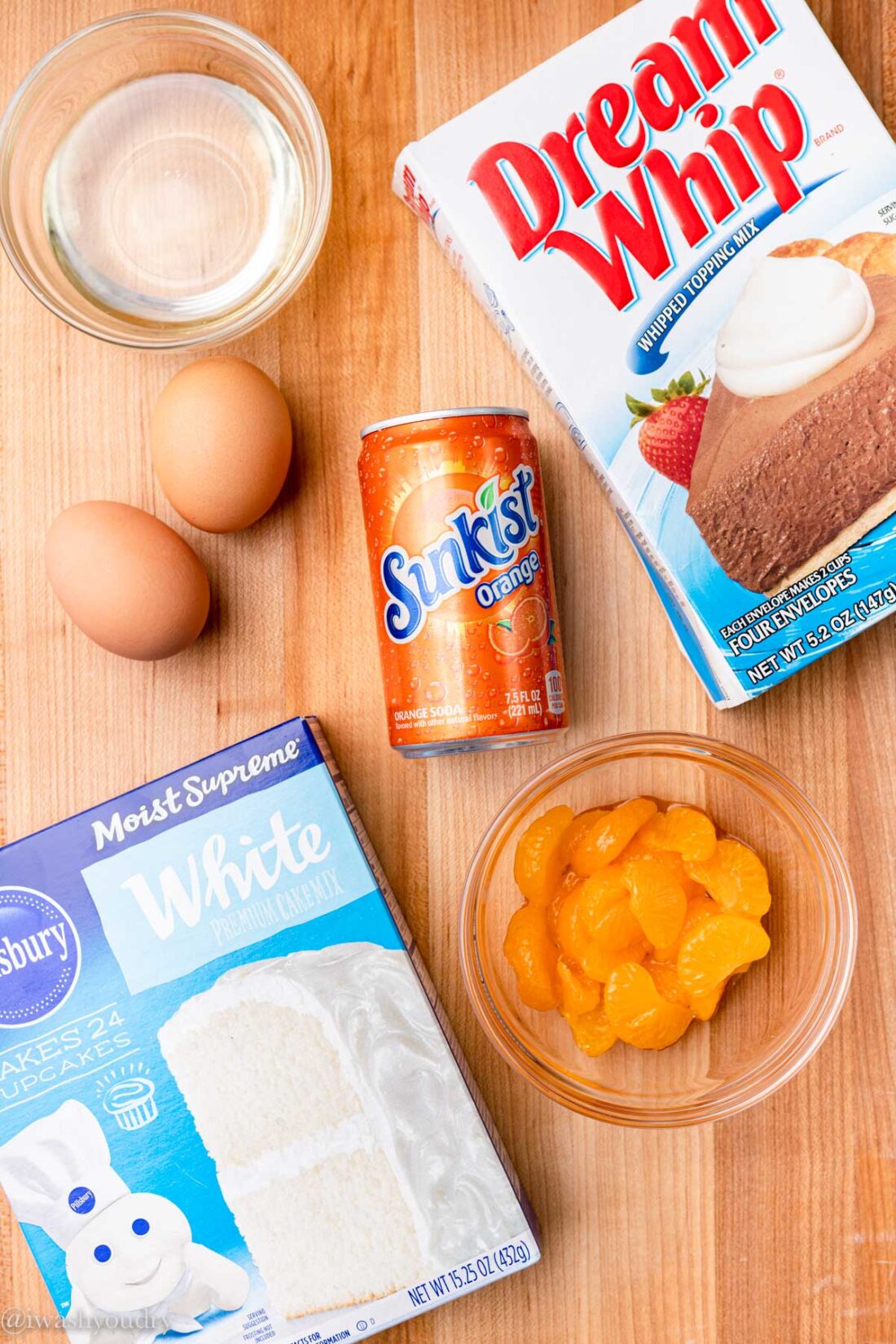 How to Make Orange Crush Cake
This fluffy cake is packed with summery flavors that no one can resist.
PREHEAT OVEN
While your oven preheats to 350 degrees F, lightly grease a 9 x 13 cake pan with cooking spray and set aside.
COMBINE INGREDIENTS
Combine the box of white cake mix, cold orange soda, canola oil, and eggs in a large mixing bowl.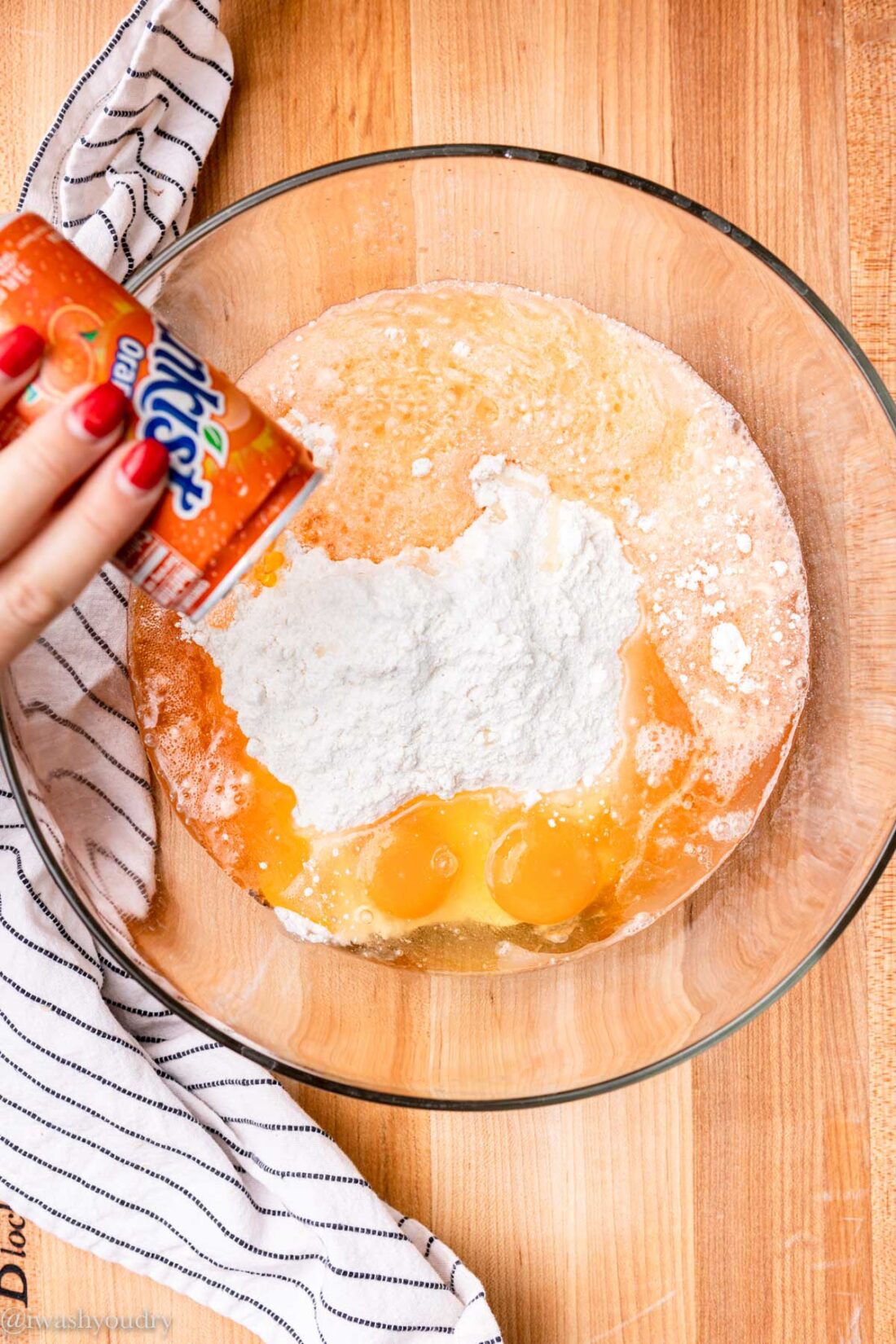 WHISK
Whisk for 30 seconds on low, then for 2 minutes on medium until smooth and fully incorporated.
PRO TIP – Beating the cake for the full time is important to get air into the cake and help it rise nice and tall when baked.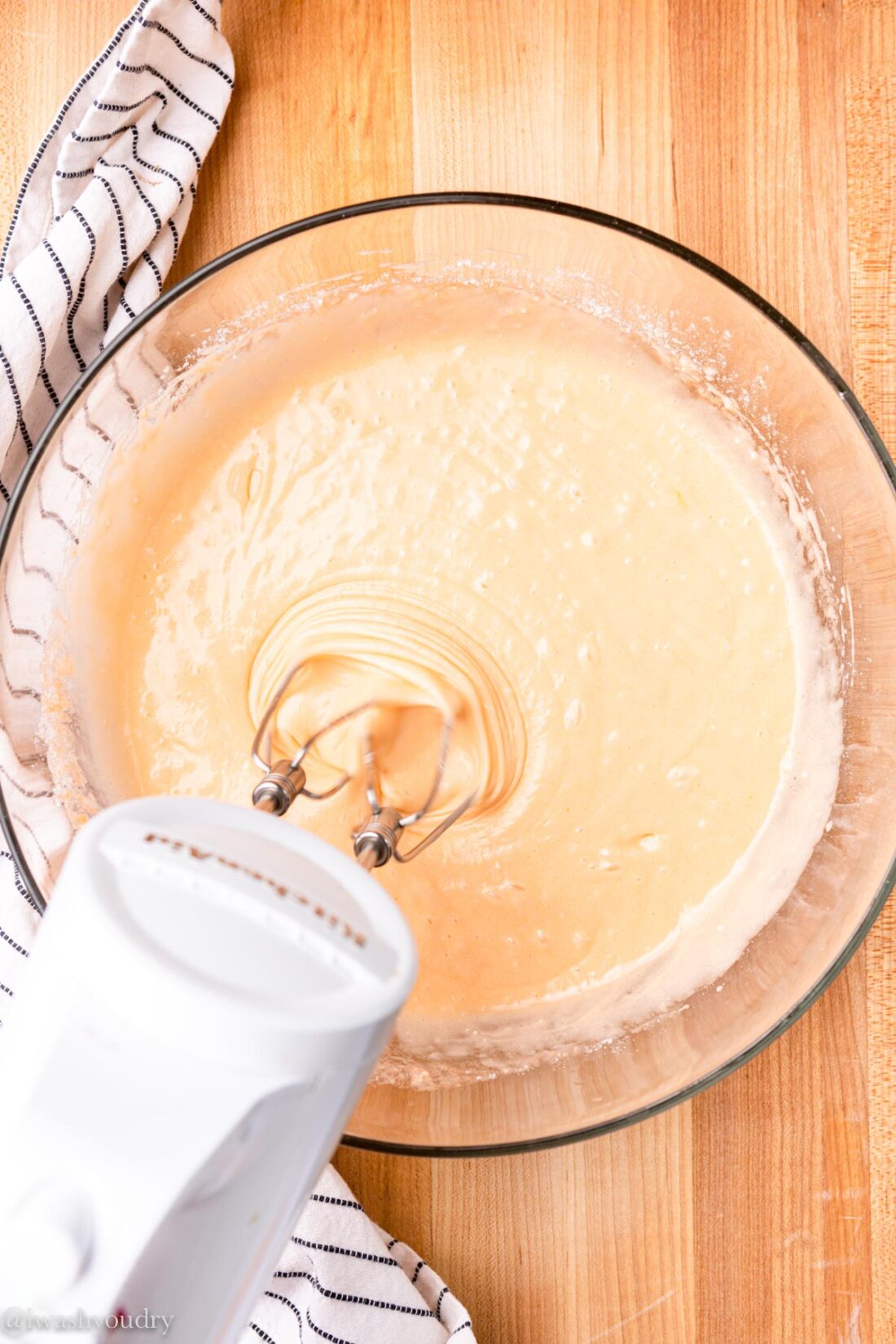 BAKE ORANGE SODA CAKE
Slowly pour the cake batter into the previously greased pan.
Bake for 30-35 minutes or until an inserted toothpick comes out clean. Make sure to toothpick test the center of the cake to ensure it's fully cooked.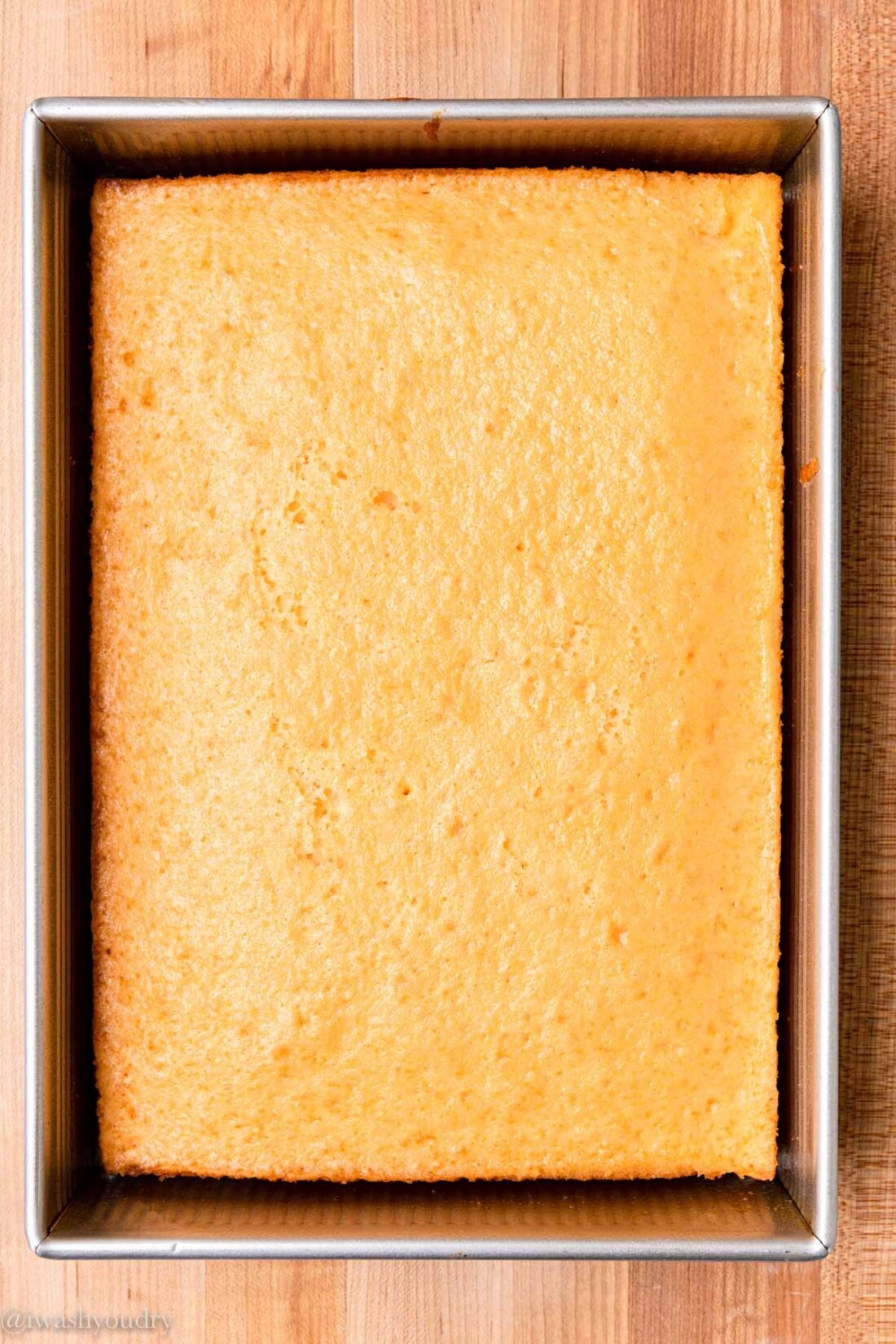 MAKE DREAM WHIP FROSTING
As your cake cools, pour the remaining orange soda and Dream Whip mix together in a bowl. Mix on low for 30 seconds, then on medium until soft peaks form.
The frosting may seem to take a few minutes to get those soft peaks, so don't give up! It'll happen!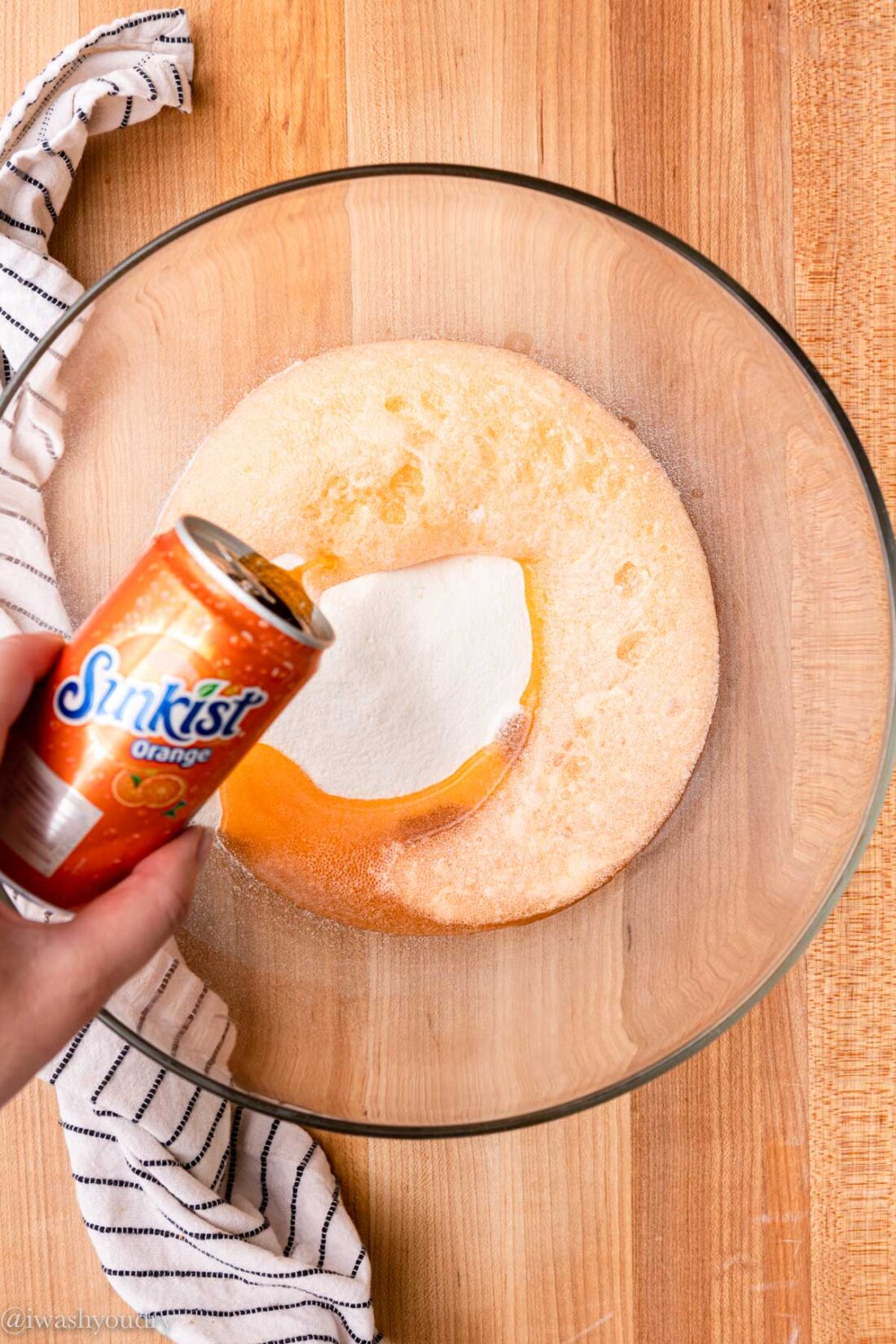 FROST CAKE
Once the cake is completely cool, begin frosting to your heart's desire!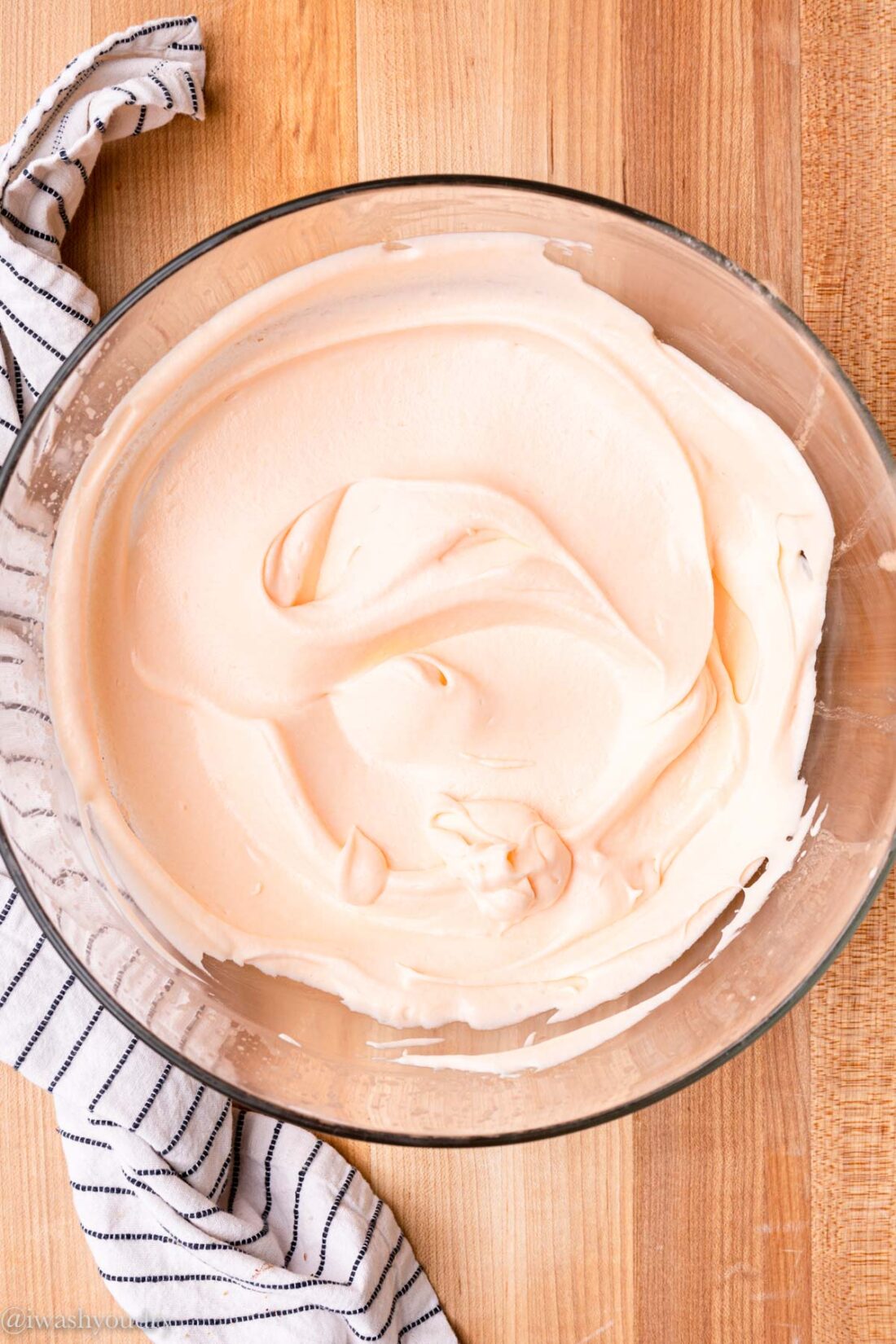 FINAL TOUCH
Gently place mandarin orange slices in a pattern of your choice! I like placing them so that each slice has an orange in the center. My kids love it too!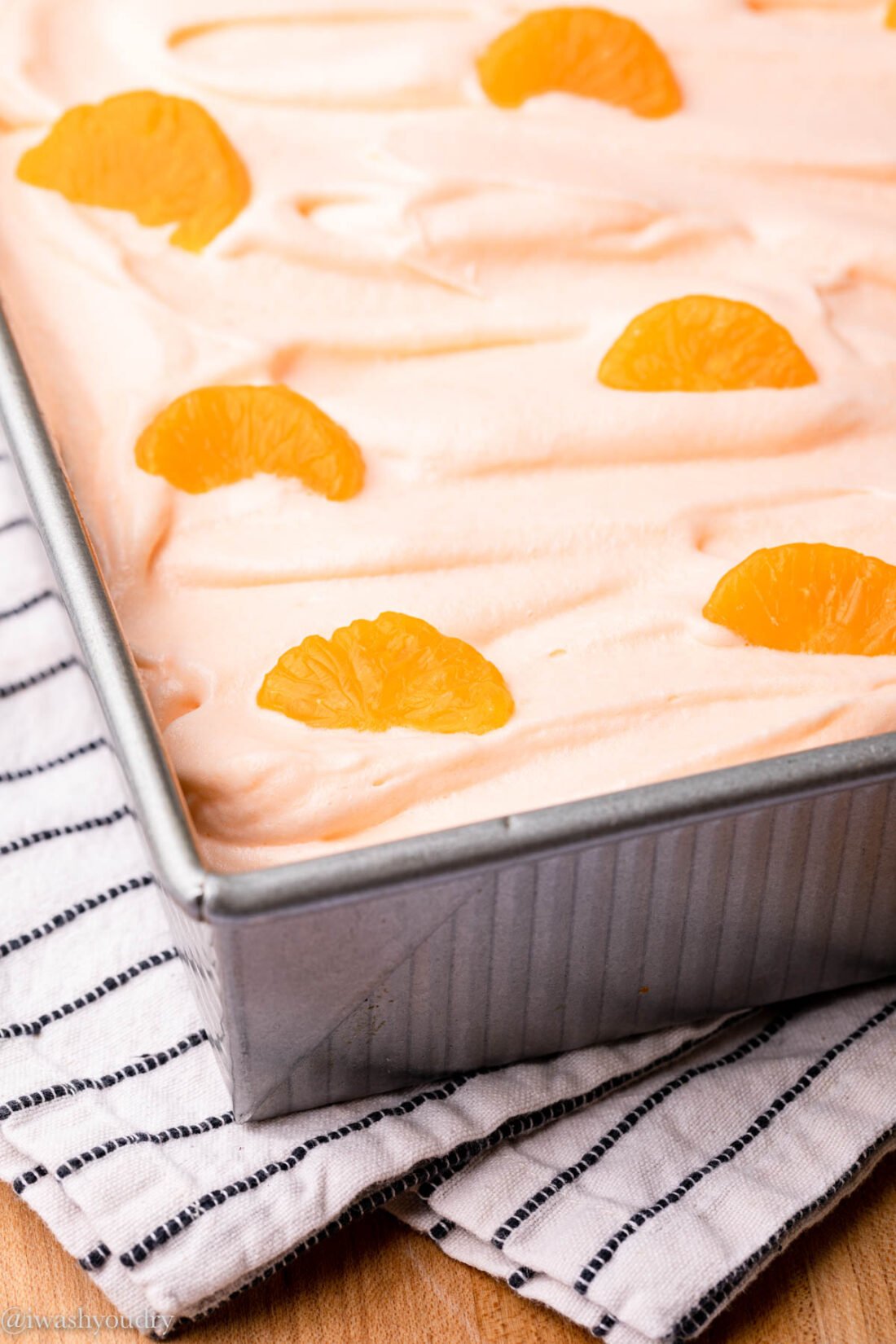 Mix It Up
We all know that a slice of cake and a can of soda go hand in hand at any birthday party, but think about all the other ways you can improve on these family favorites.
Swap out the brand of orange soda or switch the kind of soda you use entirely! Try my Root Beer Float Cake version!
Add a drop of orange extract to your cake mix or frosting for an extra boost of citrus.
Have any oranges hanging around? Sprinkle orange zest over the frosting before you add the mandarin orange slices for an almost too beautiful presentation.
Can I make this Orange Soda Cake ahead of time?
You sure can! This cake can be made up to three days ahead of time before it starts losing moisture and becomes dry.
PRO TIP: cakes last longer if you store them in the fridge. Make sure to store the pre-made cake or leftovers in an airtight container.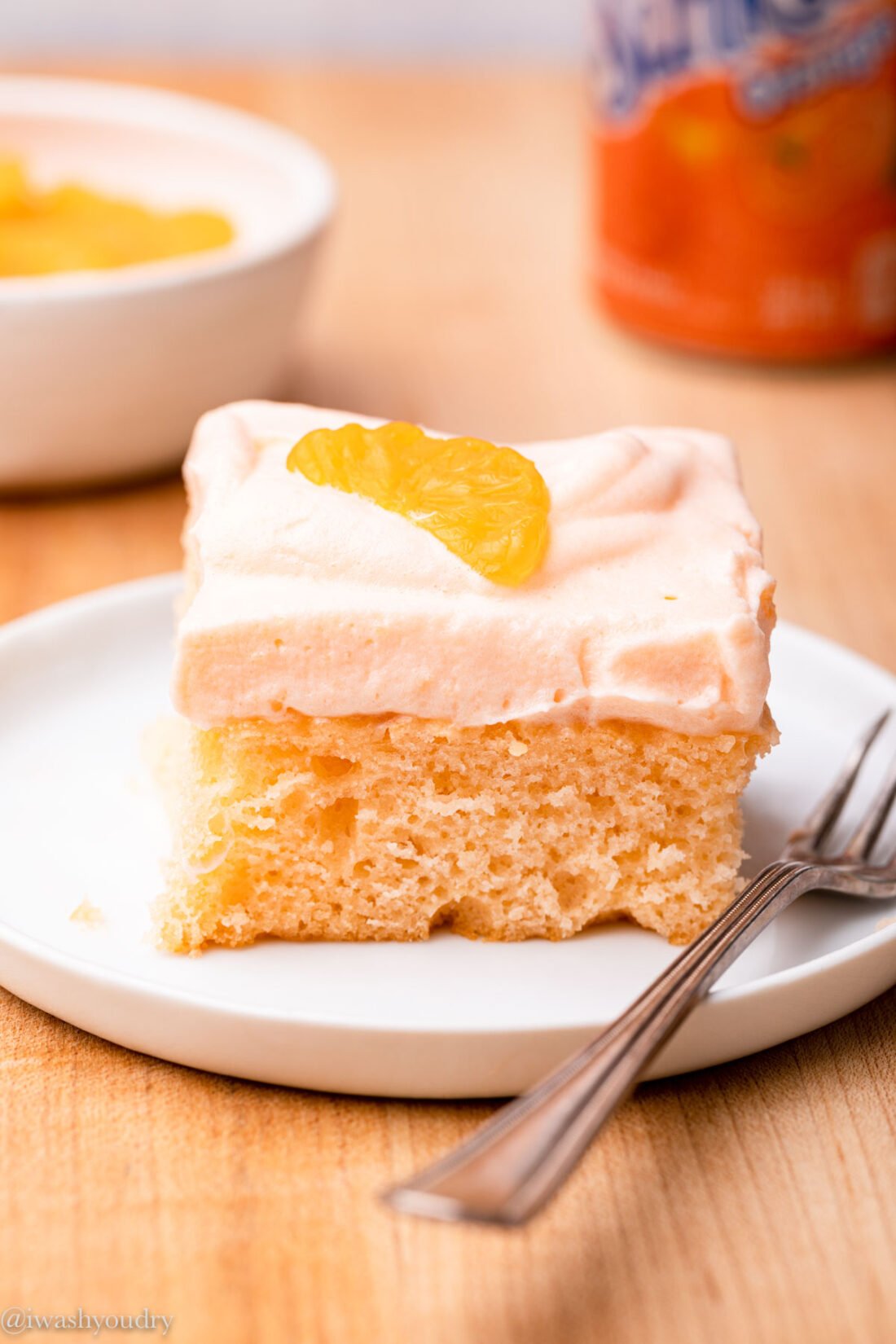 What does the soda do in the cake?
The soda acts as a rising agent, much like baking soda! The carbonation and sugars make the cake airy while also providing a concentrated orange flavor.
What is the best orange soda brand to use?
Whatever brand you like! I've used Orange Crush, Sunkist, and even Fanta in this recipe, but whatever you prefer will work just as beautifully.
Is this the same as those orange bundt cakes in the grocery store?
Almost! Bundt cake is specifically made in the fluted bundt cake pan and is usually topped with an orange glaze. Depending on the recipe, the flavor will be similar.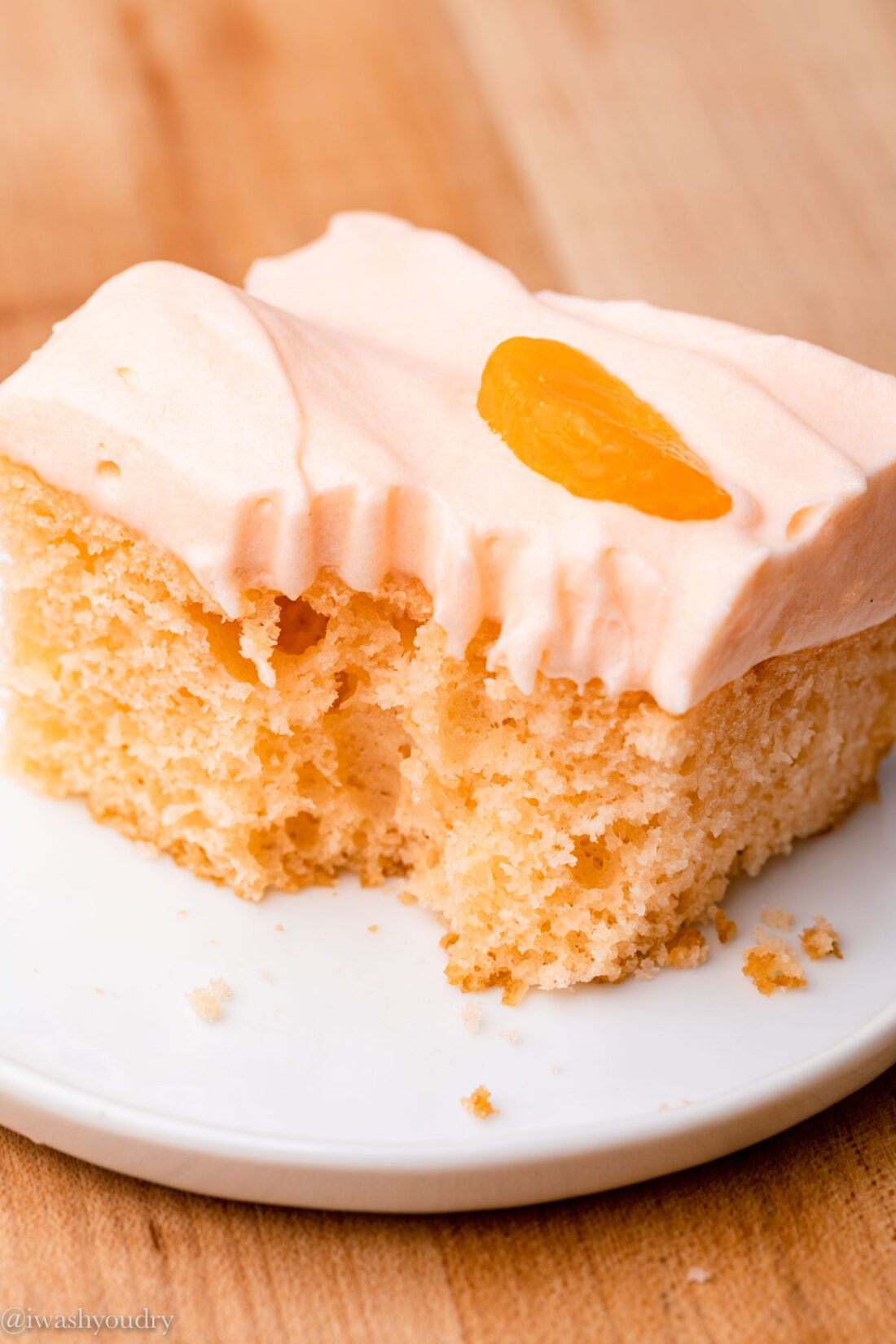 What to Serve with Orange Crush Soda Cake
Perfect for a weekday summer night, this cake is a delicious end to a great cookout.
Orange Crush Cake
This Orange Crush Cake is a light and fluffy cake that is infused with Orange Crush Soda, in both the cake and frosting, for a delightfully moist and orange fragranced cake!
Ingredients
1

white cake mix

,

box

2 1/4

cups

orange soda

,

cold (divided)

1/4

cup

canola oil

2

large

eggs

2

envelopes Dream Whip

,

whipped topping mix

1

mandarin oranges

,

small can (drained)
Instructions
Preheat oven to 350 degrees F. Lightly grease a 9x13" cake pan with cooking spray and set aside.

Combine the cake mix, 1 1/4 cups of cold orange soda, canola oil and eggs in a large bowl. Whisk on low speed for 30 seconds then increase speed to medium for 2 minutes.

Pour cake batter into prepared pan and bake for 30 to 35 minutes, until toothpick inserted in center comes out clean. Let cake cool completely.
Frosting:
Combine 1 cup of the cold orange soda with 2 envelopes of the Dream Whip topping mix in a large bowl and beat on low for 30 seconds, then medium speed until soft peaks form. Spread topping over cooled cake and garnish with mandarin orange segments. Enjoy!
Nutrition
Calories:
240
kcal
|
Carbohydrates:
39.6
g
|
Protein:
2.4
g
|
Fat:
8.4
g
|
Cholesterol:
23.4
mg
|
Sodium:
242
mg
|
Sugar:
28.8
g
|
Vitamin A:
1
IU
|
Vitamin C:
5
mg
Keywords:
cake, orange crush, soda pop, whipped topping
PIN THIS IMAGE TO SAVE THE RECIPE: