This cool and creamy Raspberry Pretzel Salad Recipe is the perfect summer treat with three layers of salty-sweet deliciousness!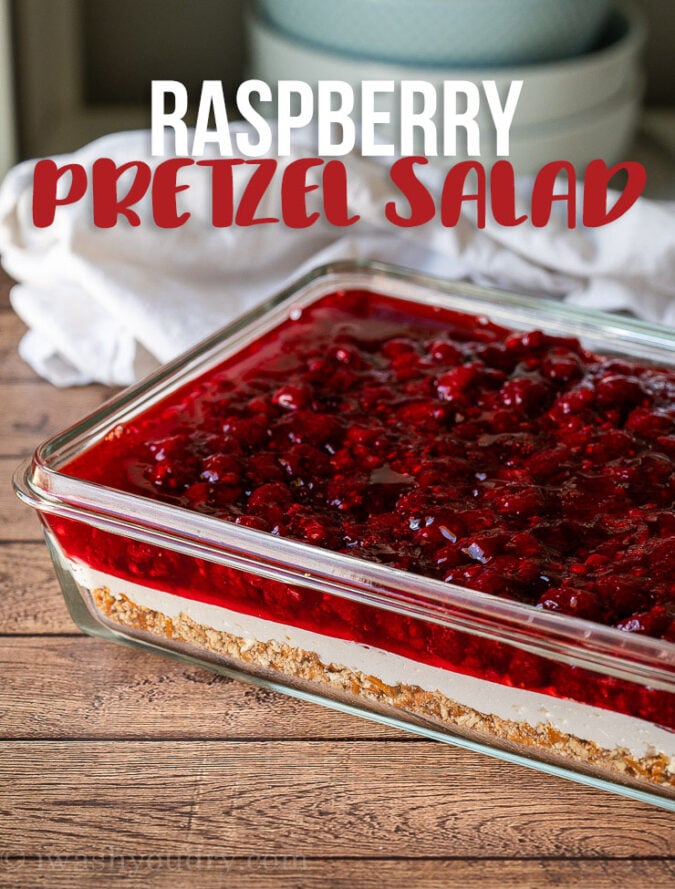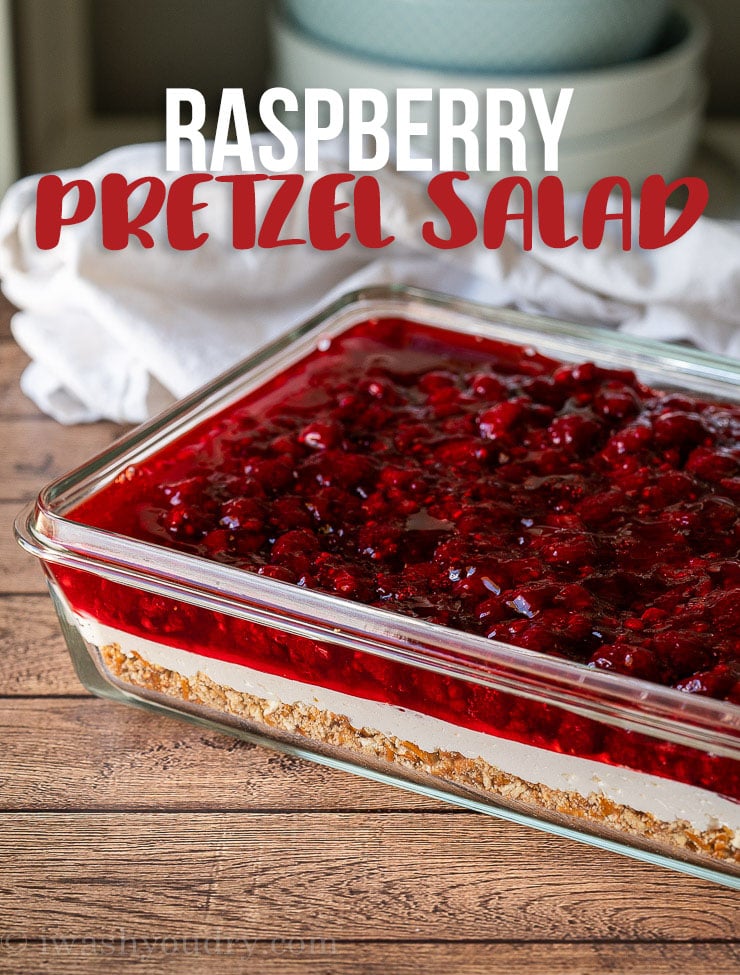 There is something so satisfying with the flavors and textures of this sweet, salty, creamy and fruity dessert… you'll find yourself licking your plate clean and going back for seconds!
Raspberry Pretzel Salad Recipe
Technically speaking, this is far from a "salad" recipe, but that's the common name for this layered jello cheesecake dessert, so salad it is!
Start by lightly crushing 2 cups of salted pretzels. After much recipe testing, you really only need to do a light crush, so there are still larger pieces of pretzels visible.
Combine the pretzels with butter and sugar and press into a 9×13″ baking pan to form a crust.
Bake for about 12 minutes and then let cool completely.
What Kind of Pretzels are Good for Pretzel Salad?
You'll want to use a small, hard and salted pretzel. My recipe calls for 2 1/2 cups of pretzels that are lightly crushed. You'll first measure out 2 1/2 cups of pretzels, then crush them. That's why it's easier to use the small pretzels to measure first.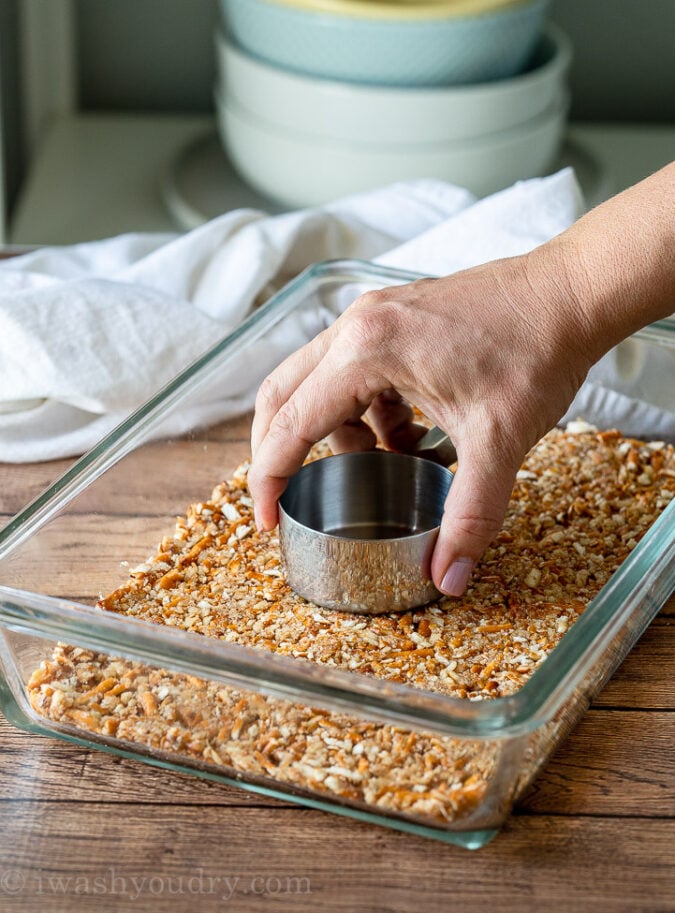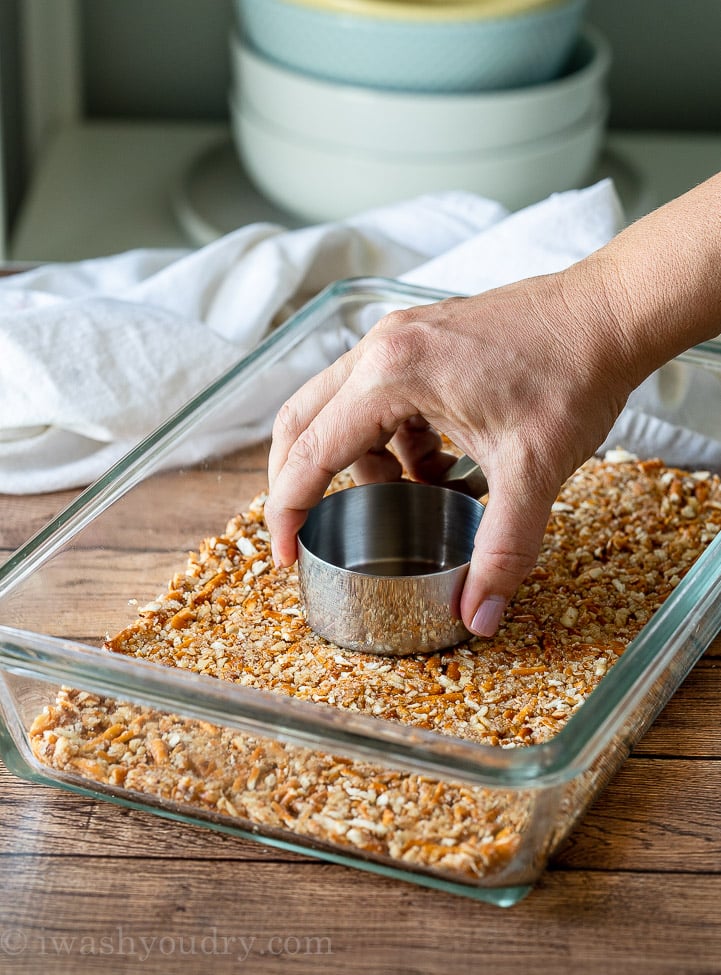 Layered Jello Cheesecake Recipe
Once your pretzel crust is cooled you'll quickly mix together a no-bake cheesecake layer and spread it over the top of the pretzels. Make sure you spread the cream cheese layer all the way to the sides of the baking pan to seal off the pretzel layer.
PRO TIP: Use a damp paper towel to run along the edges of the glass dish to get a clean line above the cheesecake layer. It makes for a pretty presentation when the jello layer is added.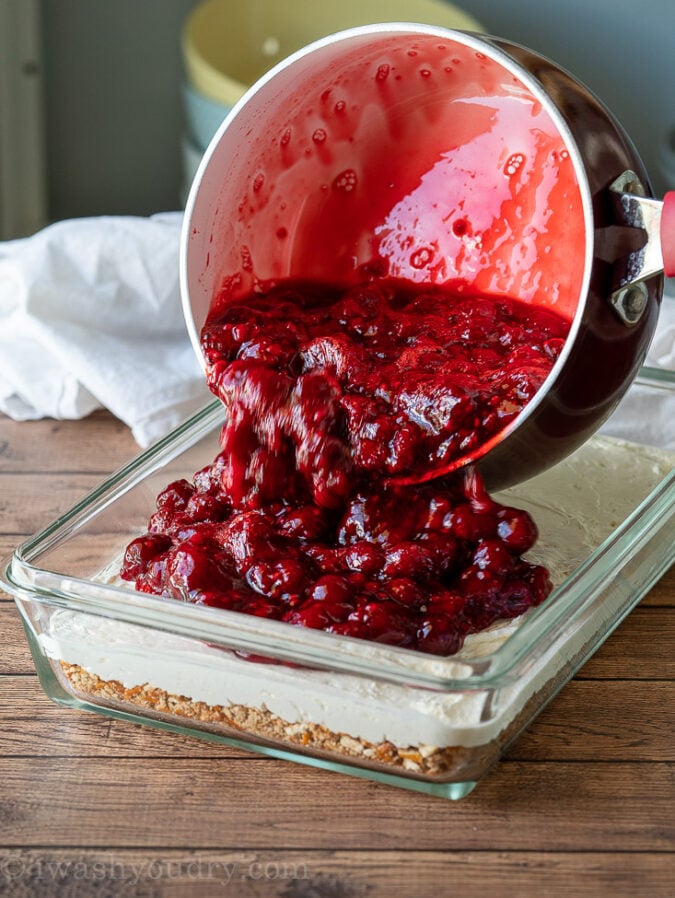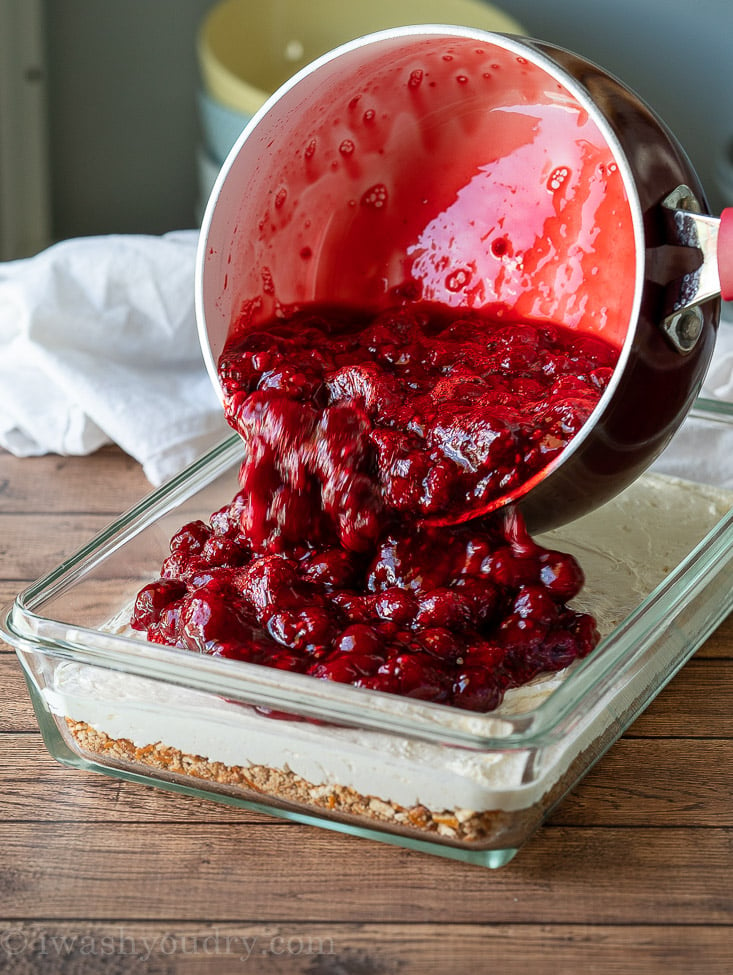 Tips for Making a Layered Jello Salad:
The flavor options for this simple dessert are endless, here are some varieties you can try, plus some of my best tips for optimal results.
Not a fan of raspberries? Try using strawberry jello and frozen strawberries!
Orange jello with mandarin oranges is another fun and fruity option.
Not into the salty-sweet combo? Skip the pretzels and go with a graham cracker crust (use 3 cups crushed graham crackers).
Recipe can be made up to 24 hours in advance.
Can I Use Fresh Fruit Instead of Frozen?
YES! You can definitely use fresh fruit in place of the frozen, but here is WHY I prefer to use frozen…
The frozen fruit is added to the boiling hot jello, which in return immediately starts cooling down the jello, helping it to set up super fast. If you're using fresh fruit it'll take about 30 minutes for the jello mixture to cool enough to pour over your cheesecake mixture, then another couple hours in the fridge to set up firmly.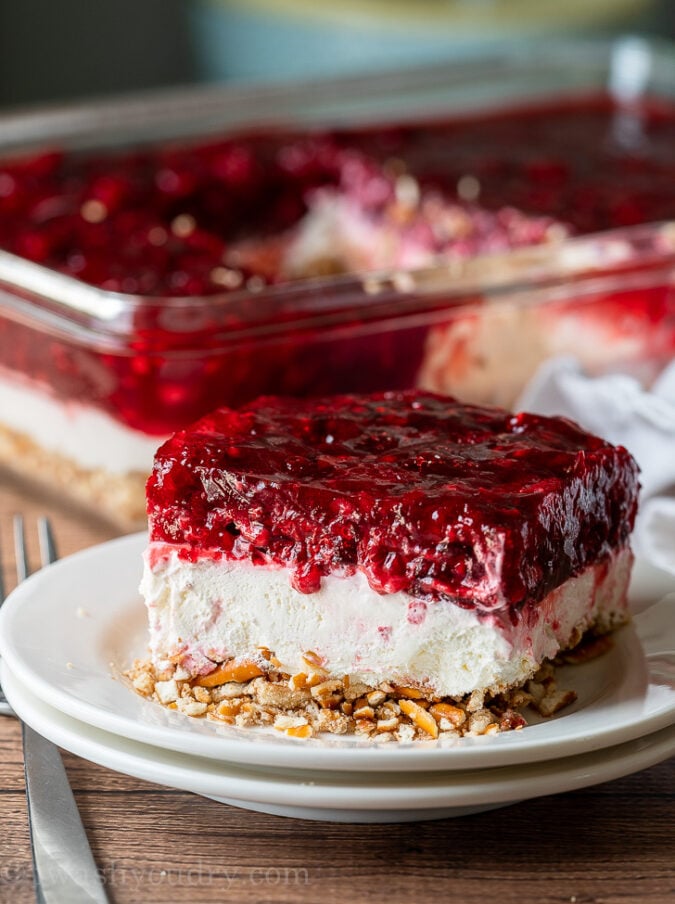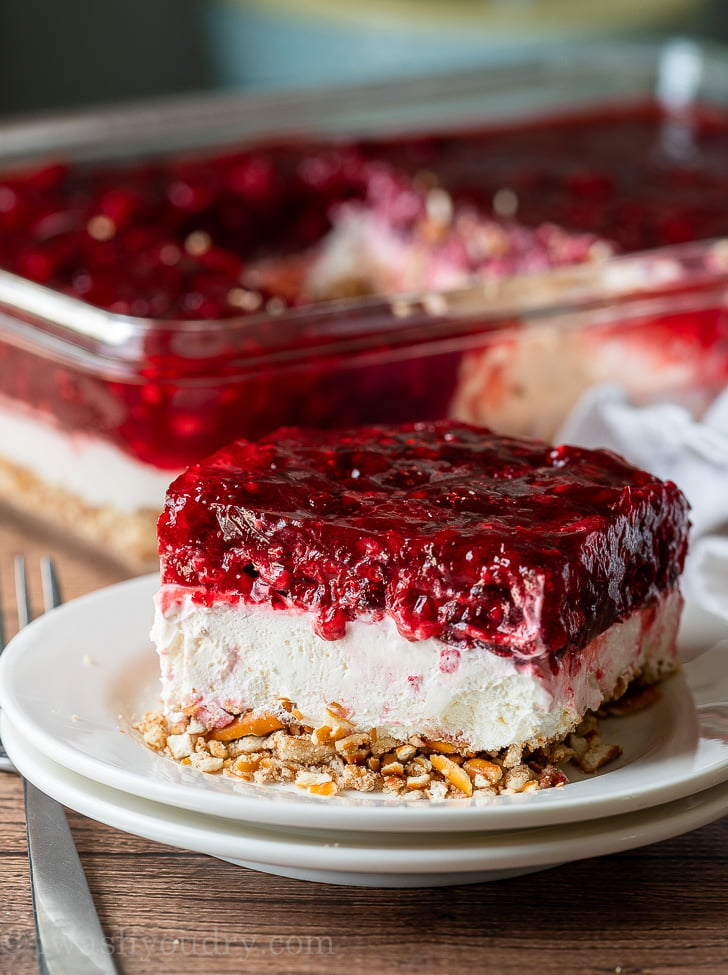 More Fruity/Creamy Dessert Recipes: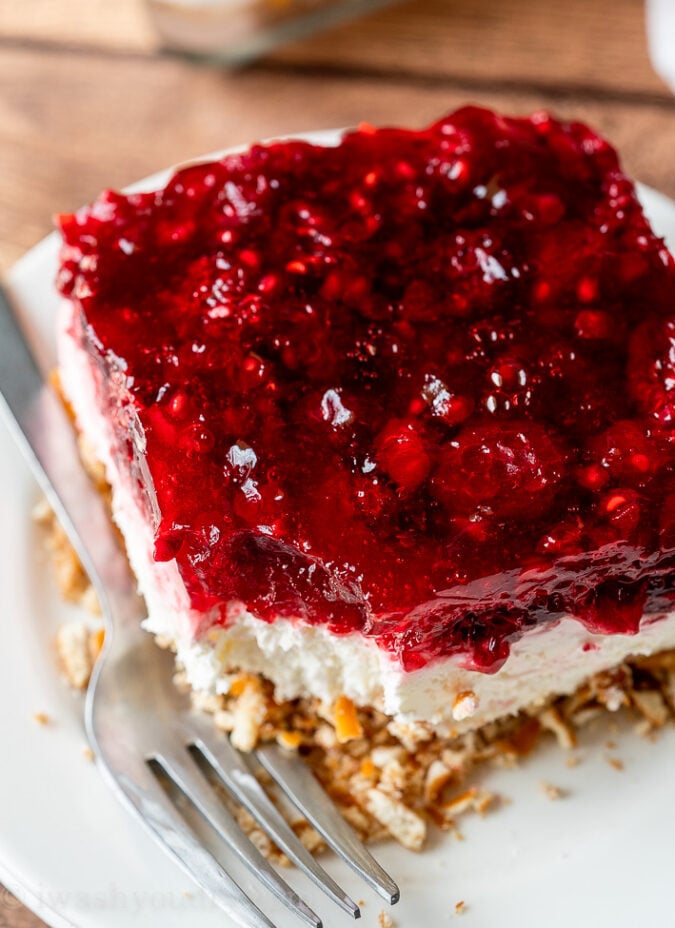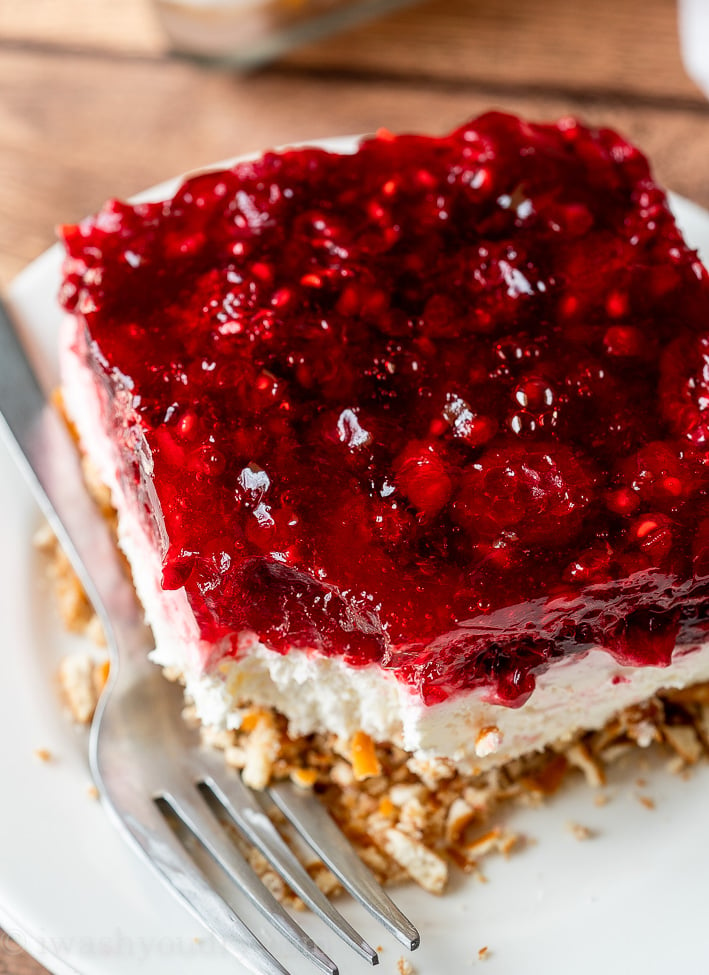 Be prepared for everyone to ask for this simple recipe. It's definitely a keeper!
Helpful Products To Make This Recipe:
Last updated on September 23, 2023 1:37 am
Raspberry Pretzel Salad Recipe
This cool and creamy Raspberry Pretzel Salad is filled with salty sweet flavors and delicious textures!
Instructions
Preheat oven to 350 degrees F.

Combine the crushed pretzels, sugar and melted butter in a bowl or large ziplock bag. Pour mixture into 9x13" pan and press to form a crust. Bake for 12 minutes, then let cool completely.

Meanwhile, beat the cream cheese, lemon juice and ½ cup sugar until smooth and fluffy. Fold in cool whip and spread mixture over cooled pretzel crust, making sure to go to the edges to seal.

Bring 2 cups water to a boil and stir in raspberry jello mix until dissolved. Remove from heat and stir in frozen raspberries. Pour mixture over the cream cheese layer and refrigerate until jello is set, about 2 to 4 hours.
Nutrition
Calories:
238
kcal
|
Carbohydrates:
35
g
|
Protein:
5
g
|
Fat:
12
g
|
Saturated Fat:
7
g
|
Cholesterol:
33
mg
|
Sodium:
358
mg
|
Potassium:
97
mg
|
Fiber:
2
g
|
Sugar:
13
g
|
Vitamin A:
402
IU
|
Vitamin C:
8
mg
|
Calcium:
42
mg
|
Iron:
1
mg
Keywords:
Cheesecake, Pretzel, Raspberry Jello, Salad
PIN THIS IMAGE TO SAVE THE RECIPE: