This Easy Lemon Bar Recipe has a buttery shortbread cookie crust with a sweet and tart lemon custard filling.
We love easy lemon treats like these Mini Lemon Cream Pies and this 5 Ingredient Lemon Pudding Cake.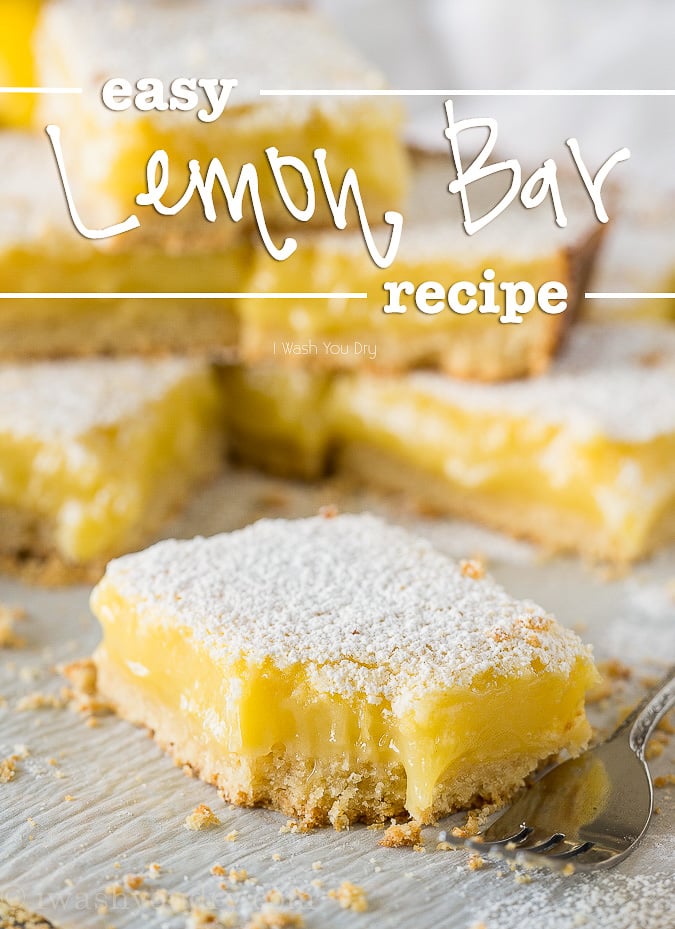 I combined my favorite buttery crust from these Pecan Pie Bars and my lemon bar filling from my Lemon Bar Magic Cake.
Easy Lemon Bar Recipe
Whenever I get a surplus of lemons, this recipe is sure to be made. You're going to LOVE the taste and texture of these lemon bars.
Lemon Bars Ingredients:
Here's a basic list of the ingredients you'll need in order to make this recipe. As always, you can find the full printable recipe located below in the recipe box.
Lemons – use fresh lemon juice for the BEST flavor
Butter – I prefer to use salted butter here, but you can also just add a pinch of salt to the crust if using unsalted
Flour – all purpose
Brown Sugar
White Sugar
Eggs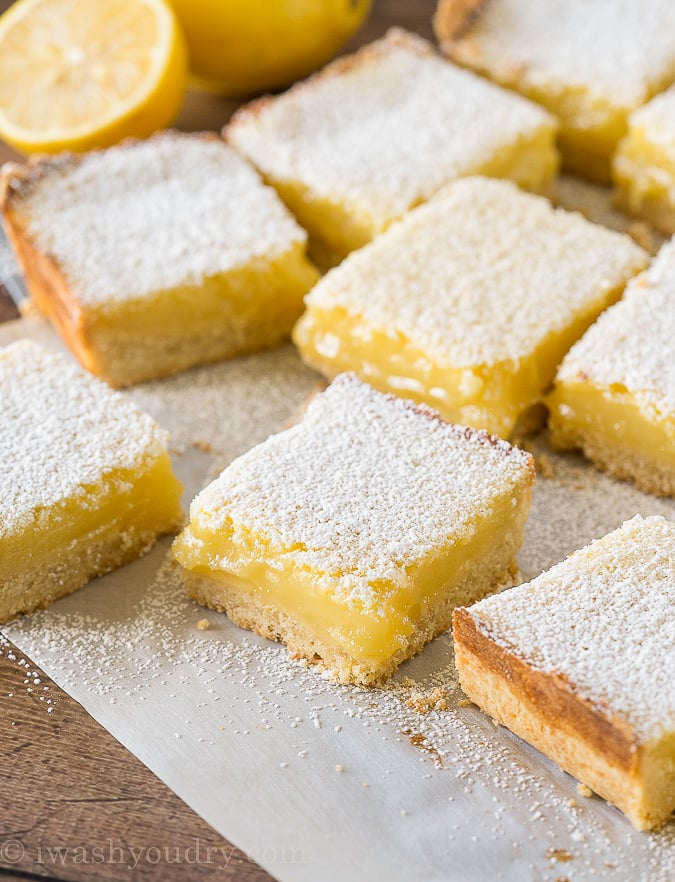 How To Make Lemon Bars Crust
The first step in making delicious lemon bars is to create an irresistible crust.
I prefer to use a food processor and letting the machine do all the work to blend the cold butter with the flour. You can also use a pastry cutter and mix by hand.
Once your crust is prepare, press it into a 9×13″ baking dish and bake for just 20 minutes.
PRO TIP: Line the baking dish with parchment paper to easily lift bars out of pan when done.
How To Make Lemon Bars Filling
The filling is thick and creamy, with a silky smooth texture and the perfect balance of sweet and tart.
Use a lemon juicer (I have one like this and this) and make sure to discard any seeds that might have gotten in the liquid.
Whisk in the eggs, sugar, lemon zest and flour until the mixture is nice and combined. Then just pour the filling over the partially baked crust and return to the oven to finish baking.
How Much Lemon Juice Comes From One Lemon?
I've found that I can get about 1/4 cup of fresh lemon juice from ONE medium sized lemon.
For this recipe you'll need just over 1 cup total, so I would get at least 5 medium sized lemons.
PRO TIP: Zest the lemons prior to juicing them. I love this lemon zester!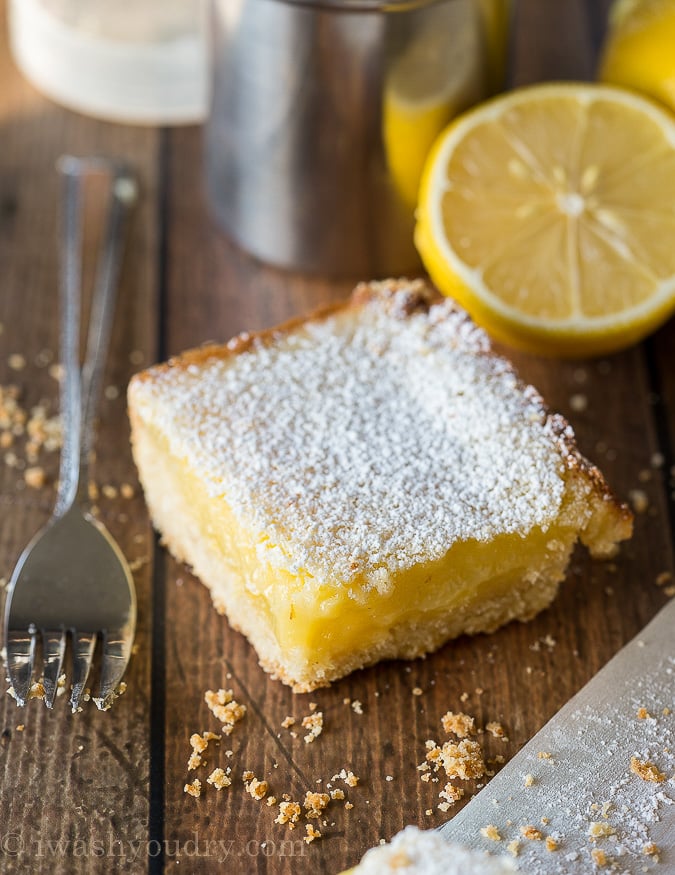 How Long To Bake Lemon Bars?
The total time it takes to bake these lemon bars, including the time it takes to bake the crust is just 45 minutes.
You'll bake the lemon bars at 350 degrees F.
Once the bars are cooled you can remove them from the pan, top with powdered sugar (optional) and serve!
How Do I Know When Lemon Bars Are Done Baking?
You'll know when lemon bars are done baking if you jiggle the pan and the filling doesn't move.
If it's still jiggly, keep cooking a few more minutes and test again.
PRO TIP: Let the lemon bars cool completely before slicing.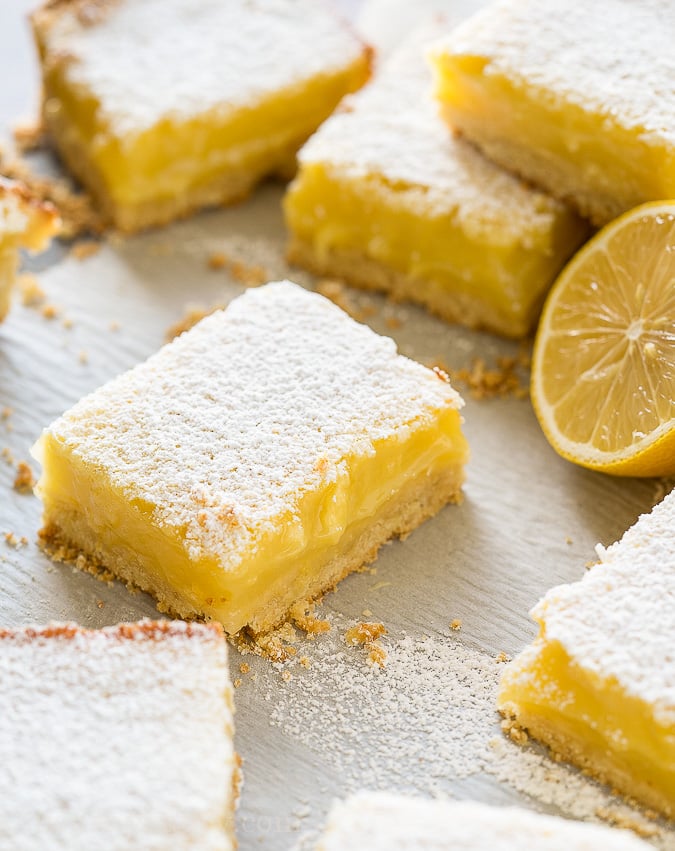 How To Store Lemon Bars
Since the filling for lemon bars is a custard, the lemon bars should be refrigerated.
However, they should be fine at room temperature for a few hours, when serving.
To store: simply place in an air tight container, with sheets of parchment paper between layers, in the fridge for up to 7 days.
This is one delicious and easy Lemon Bar recipe that you'll want to save and make over and over again!
Easy Lemon Bar Recipe
These easy Lemon Bars have a buttery bottom crust, a thick and creamy topping with a silky smooth texture and the perfect balance of sweet and tart.
Ingredients
Instructions
Preheat oven to 350 degrees F. Line a 9x13" pan with parchment paper or tinfoil so the paper comes over the edges of the pan, making it easier to remove the bars once cooled.
For the Crust:
Combine the ingredients for the crust in a large bowl and use a pastry cutter to make a coarse and crumbly mixture. Alternatively you can place the ingredients into your food processor and pulse until mixture becomes crumbly.

Press the mixture into an even layer in the prepared 9x13" pan. Bake for 15 to 20 minutes or until a pale golden brown.
For the Filling:
While the crust is baking combine the ingredients for the filling in a large bowl and whisk until smooth. Pour mixture over the crust and bake for an additional 30 to 35 minutes, or until the center is set.

Let bars cool completely and then lift out of the pan by holding the sides of the paper and lifting straight up. Cut into bars and dust with powdered sugar. Keep refrigerated. Enjoy!
Notes
Store lemon bars in an airtight container in the fridge for up to 7 days.
Separate layers of bars with sheets of parchment paper to avoid sticking.
Nutrition
Calories:
275
kcal
|
Carbohydrates:
45
g
|
Protein:
4
g
|
Fat:
9
g
|
Saturated Fat:
5
g
|
Cholesterol:
75
mg
|
Sodium:
90
mg
|
Potassium:
59
mg
|
Fiber:
1
g
|
Sugar:
28
g
|
Vitamin A:
315
IU
|
Vitamin C:
5
mg
|
Calcium:
17
mg
|
Iron:
1
mg
Keywords:
bar cookie, Easy, Lemon
DON'T FORGET TO PIN THE RECIPE TO SAVE IT!