This Sour Cream Lemon Pie is the perfect summer pie with a creamy and tart flavor and buttery pie crust.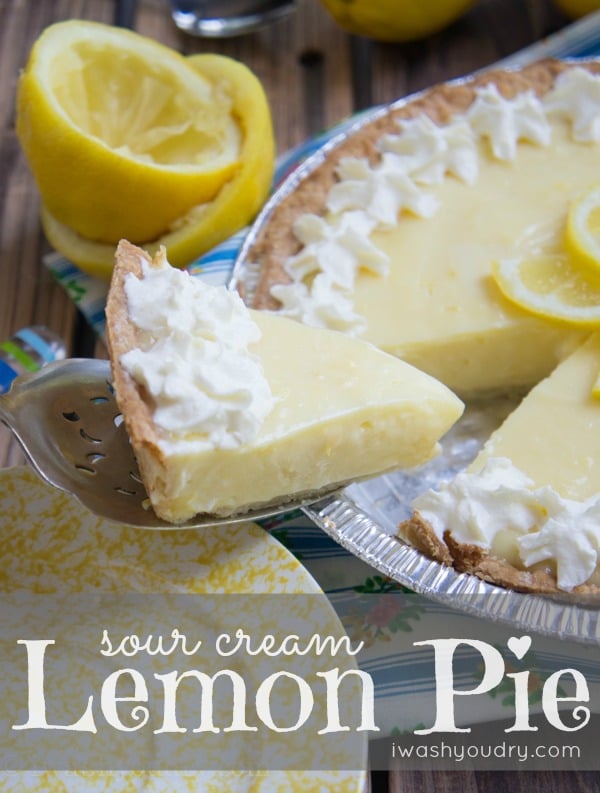 My friend called me up last week and pleaded with me to make some sort of citrus pie on my blog. She was craving a taste of summer, and that craving hit me too. She requested a Lemon Meringue Pie, but I had recently tried a Sour Cream Lemon Pie from the bakery section at the local grocery store and it was so good.
So good in fact that I had to re-create it and share it with you.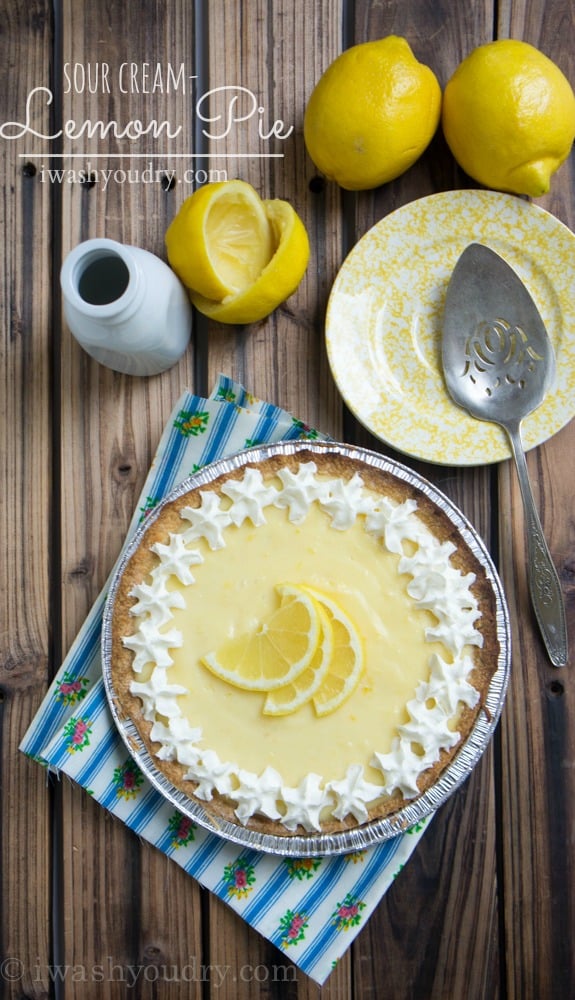 It was actually really easy to make. The hard part was waiting for it to chill completely in the fridge.
Sour Cream Lemon Pie
I used a pre-made  frozen pie crust to cut down on my prep time. My husband casually asked me, "Shouldn't you be making your own pie crust?" To which I calmly and sweetly(?) responded, "I'm not Martha Stewart, lay off me."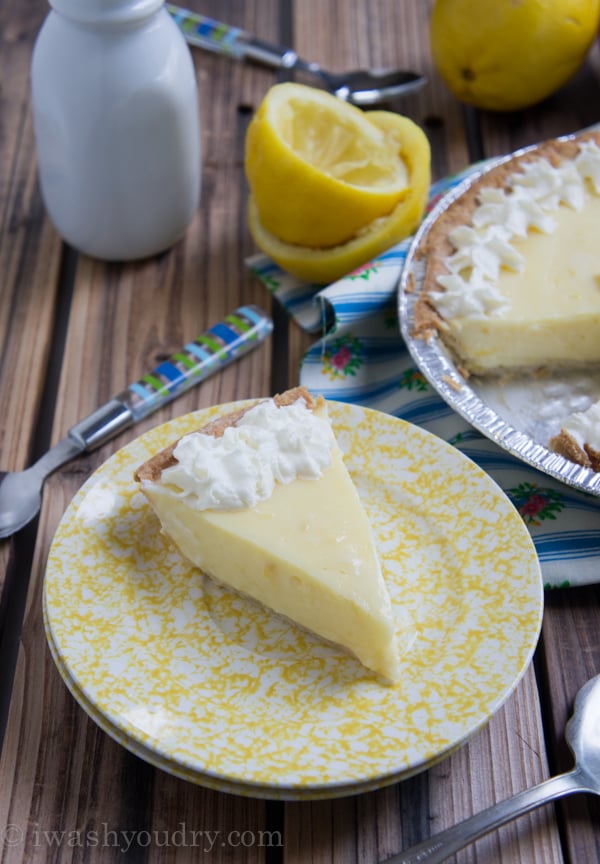 I do have a homemade butter pie crust recipe, but seriously folks, don't feel bad if you take little shortcuts like a pre-made crust. And if you get grief from anyone about it, say "No pie for you." (in the most "Soup Nazi" way you know how)
They will shut right up, because this pie is out of this world delicious!  It's sweet, tangy, and just the right amount of lemony-sour. It's dreamy with some whipped cream on top. Again, don't feel bad for using the canned whipped cream. No shame. We are only human, and we do have lives outside of the kitchen…am I right?!?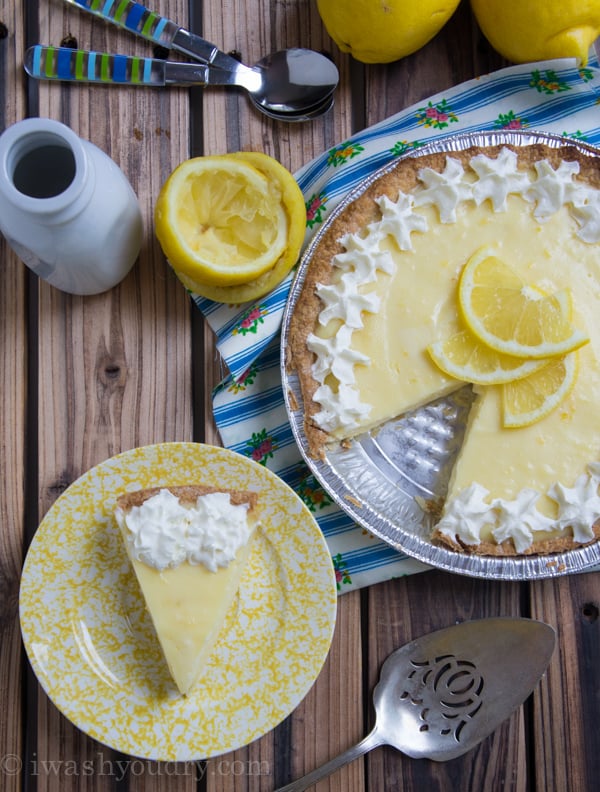 If you've never had a Sour Cream Lemon Pie before, it's texture is similar to a Key Lime Pie. Sort of a pudding/custard base.
A little bit of summer in every bite.
recipe slightly adapted from: Taste of Home
Sour Cream Lemon Pie
This Sour Cream Lemon Pie is the perfect summer pie with a creamy and tart flavor and buttery pie crust.
Ingredients
1

pie crust

,

9 inches

1

cup

sugar

4

tbsp

cornstarch

1

cup

Milk

2

Lemons

,

juice of (approximately 1/2 cup) + lemon peel (1 tbsp); divided

3

egg yolks

,

lightly beaten

5

tbsp

butter

,

COLD, cubed

1

cup

Sour Cream

Whipped Cream

,

optional
Instructions
Preheat oven to 450°.

Line the pie crust with a double thickness of foil. Fill with pie weights, dried beans or uncooked rice. Bake 8 minutes or until bottom is lightly browned. Remove foil and weights; bake 5-7 minutes longer or until golden brown. Cool on a wire rack, set aside.

In a large saucepan whisk together the sugar and cornstarch. Gradually add the milk and lemon juice, still whisking until smooth. Turn the heat on to medium-high and continue to cook and stir until thickened and bubbly. Reduce the heat to low; continue to stir 2 minutes longer. Remove from heat.

Remove a 1/4 cup of the hot mixture and place in a small bowl with the lightly beaten eggs. Whisk together, then pour the egg mixture back into the pot. Bring the mixture to a gentle boil and cook for an additional 2 minutes. Remove from heat and stir in the lemon peel and butter.

Let cool (without stirring) on counter top for about 45 minutes. Stir in the sour cream, and pour into the pre made pie crust.

Chill completely in the fridge for at least 3 hours. Top with whip cream and enjoy!
Nutrition
Calories:
378
kcal
|
Carbohydrates:
42.1
g
|
Protein:
3.7
g
|
Fat:
22.4
g
|
Cholesterol:
97
mg
|
Sodium:
150.1
mg
|
Sugar:
29.4
g
|
Vitamin A:
8
IU
|
Vitamin C:
10
mg
Keywords:
Lemon, pie, sour cream
disclaimer: I am proud to be a paid ambassador for the Arizona Milk Producers. All thoughts and opinions are my own.