It's pie season folks! This is my favorite All Butter Pie Crust Recipe, perfect for making deliciously flakey pie crusts.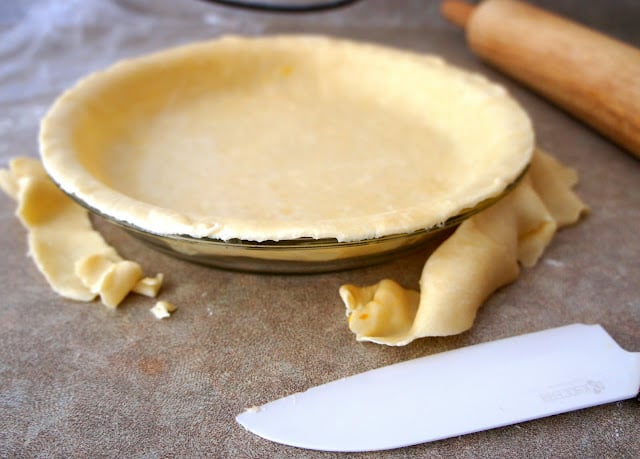 All Butter Pie Crust Recipe:
A few things you'll want to know when making pie crust is that it requires the butter to be cold.
Really cold.
I found the best thing to do is to take your butter out of the fridge and cut it into little pieces, place it in a bowl and put it into the freezer for at least 30 minutes.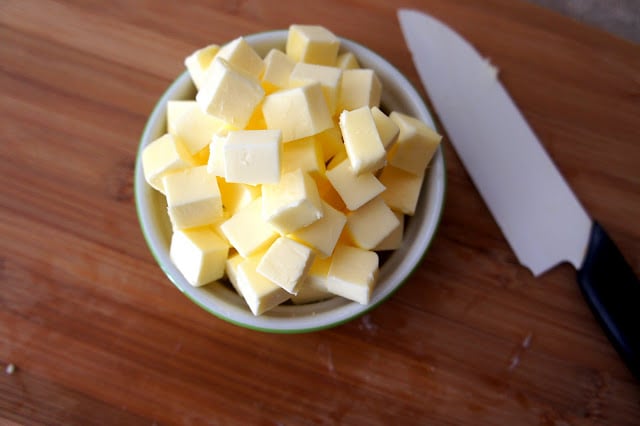 It makes it a lot easier if you have a food processor to make the dough.
Start by adding your flour, a tiny bit of sugar, and a tiny bit of salt as well.
Pulse it a few times to mix it all together.
Pull out your freezing cold butter and throw it in the flour mixture.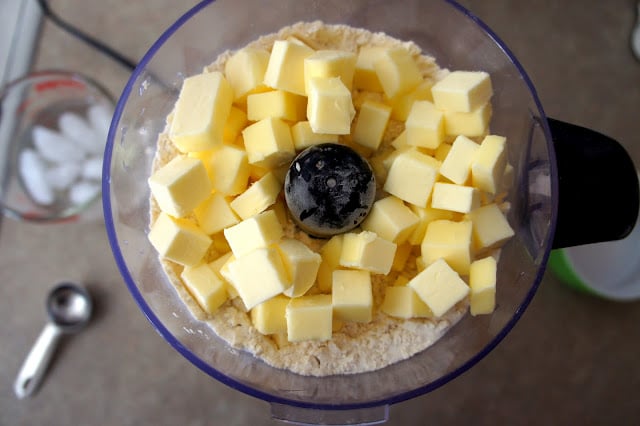 Pulse it a few times until the flour is coarse and crumbly looking.
Using ice cold water, add a tablespoon at a time and pulse until the dough starts coming together.
It took me 7 tablespoons to get the right texture.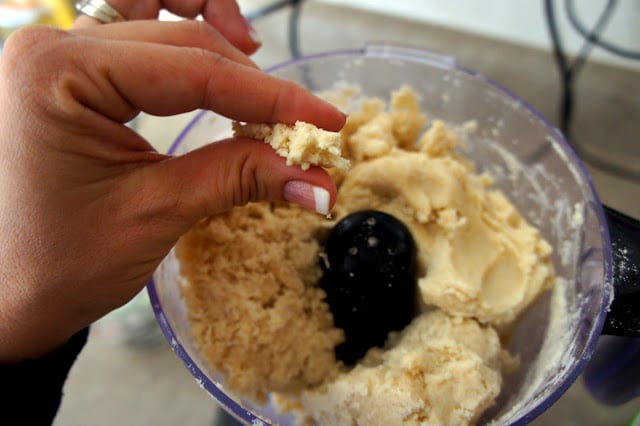 The dough should be able to stick together when you pinch it. If not, then add just a little bit more water and pulse again.
Turn out your dough onto a lightly floured surface and cut into two equal balls. Form into small discs and wrap in plastic wrap.
Try to not handle it with your hands for very long. Your hands are warm, and you want the dough to stay cold. It is key to a flaky crust.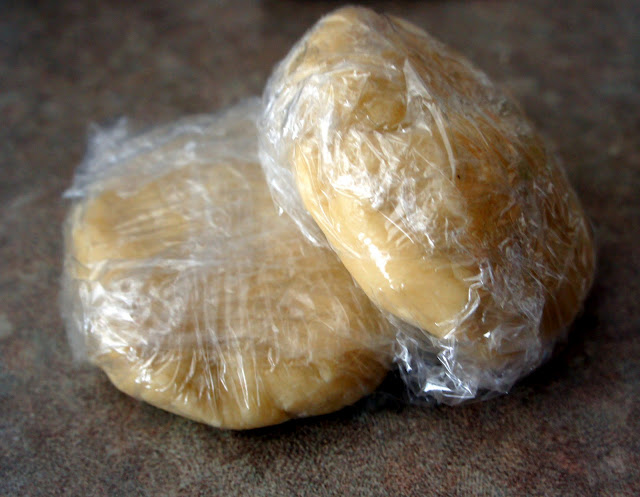 Place the dough in the fridge and let chill for at least 1 hour.
When you're ready to make your pie pull out the dough and let it rest for 10-15 minutes at room temperature before placing on a lightly floured surface.
Roll out to a thin sheet about 12 inches in diameter.
Carefully place the dough into a 9 inch pie pan.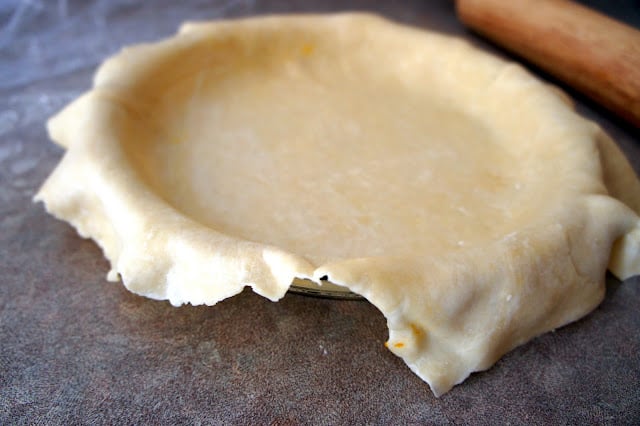 Trim the dough around the edge and you're ready to fill with whatever your little heart desires!
My heart desired pumpkin pie… you can grab the recipe for the BEST pumpkin pie HERE.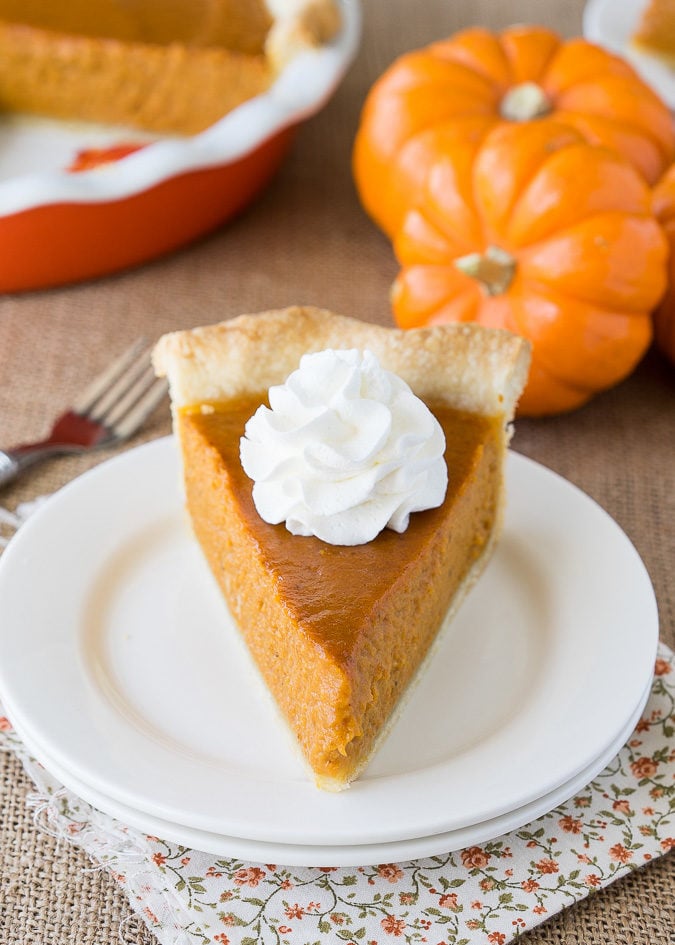 If you want to try my other pie crust recipe with a mix of butter and shortening, you can find that one HERE!
Make sure you don't miss a thing! Follow I Wash You Dry here:
FACEBOOK | PINTEREST | GOOGLE+ | TWITTER | INSTAGRAM | BLOGLOVIN
All Butter Pie Crust Recipe
A simple recipe for a deliciously flaky all-butter pie crust!
Instructions
Pull out butter and cut into small cubes, place in a bowl and put in the freezer for at least 30 minutes.

In a food processor add the flour, sugar and salt. Pulse a few times to mix.

Place the freezing cold butter into the food processor and pulse 5-6 times or until the flour becomes crumbly.

Add 1 tablespoon of ice cold water at a time and pulse a few times between each tablespoon until the dough will stick together when pinched (it took me 7 tablespoons).

Turn out dough onto a lightly floured surface and cut in half to make two equal balls.

Trying not to handle the dough too much, quickly shape into a small disc, wrap in plastic wrap and place in the fridge for at least 1 hour.

When you're ready to make your pie pull out the dough and let rest at room temperature for 5-10 minutes.

Roll out to a thin 12 inch diameter circle. Carefully place in a 9 inch pie pan and trim the extra dough around the edges. Fill with your choice of pie filling, and bake!
To Pre-Bake the Crust:
If your recipe calls for a pre-baked crust, as many custard pie recipes do, follow all the steps above until you get to the point where it says to put in the filling. Note that you will need to make only a half recipe if you are only doing a bottom crust. Freeze the crust for at least a half hour, until chilled. This is an important step in pre-baking. Otherwise the crust will slip down the sides.

Preheat your oven to 350°F.

When the pie crust is sufficiently chilled, line the pie crust with parchment paper, wax paper, or aluminum foil. Fill at least two-thirds full with pie weights – dry beans, rice, or stainless-steel pie weights.

Bake with weights for 20 minutes. Remove from oven, cool a few minutes and carefully remove pie weights. Poke small holes in the bottom of the pie crust with a fork and return to oven (without the weights) and cook for an additional 10 minutes, until the crust is golden. Cool completely before filling. You may need to tent the edges of the pie with aluminum foil when you bake your pie, to keep the edges from getting too dried out and burnt.
Notes
Makes 2 pie crusts (nutrition is for 1 slice out of 16 total slices)
Nutrition
Calories:
174
kcal
|
Carbohydrates:
15
g
|
Protein:
2
g
|
Fat:
12
g
|
Saturated Fat:
7
g
|
Cholesterol:
31
mg
|
Sodium:
247
mg
|
Potassium:
24
mg
|
Fiber:
1
g
|
Sugar:
1
g
|
Vitamin A:
355
IU
|
Calcium:
6
mg
|
Iron:
1
mg
Keywords:
Butter, Pie Crust